Top 15 Famous Mountains in Japan Worth Exploring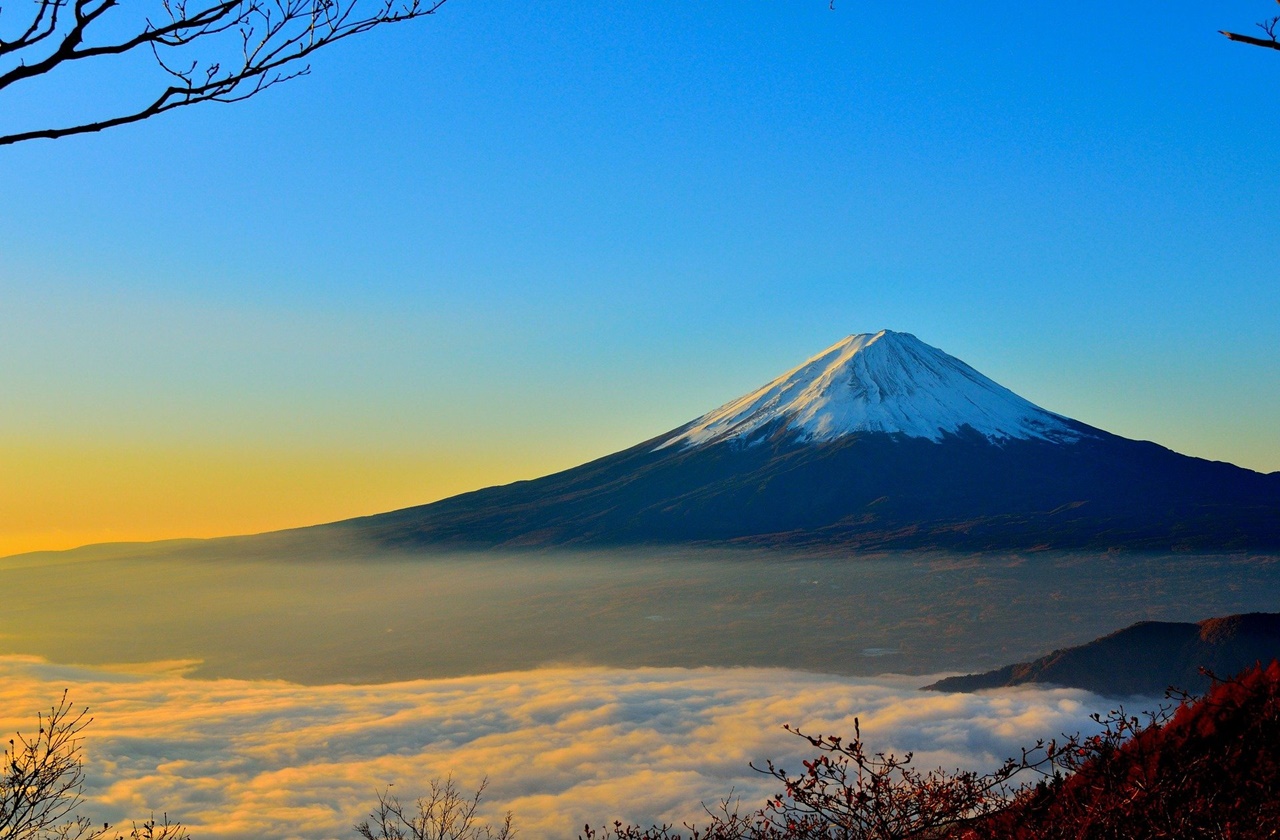 Japan is a nation blessed with both natural and man-made wonders. From the ethereal bamboo groves in Kyoto and the dunes in Tottori to the beautiful temples and Japanese castles, tourists can enjoy the best of both worlds. Out of all these picturesque and popular destinations, Mount Fuji remains to be the most popular and easily recognizable attraction. After all, it has appeared in millions of postcards, billboards, films, and has been the inspiration of several poets, writers, and artists. But aside from the iconic structure of Mount Fuji, there are other mountains in Japan worth visiting, either for a multi-day hike or a one-day sightseeing tour.
So, whether you're a tourist looking for the next destination or a seasoned hiker wanting to conquer another summit, here are 15 mountains in Japan to visit!
How Many Mountains Are There in Japan?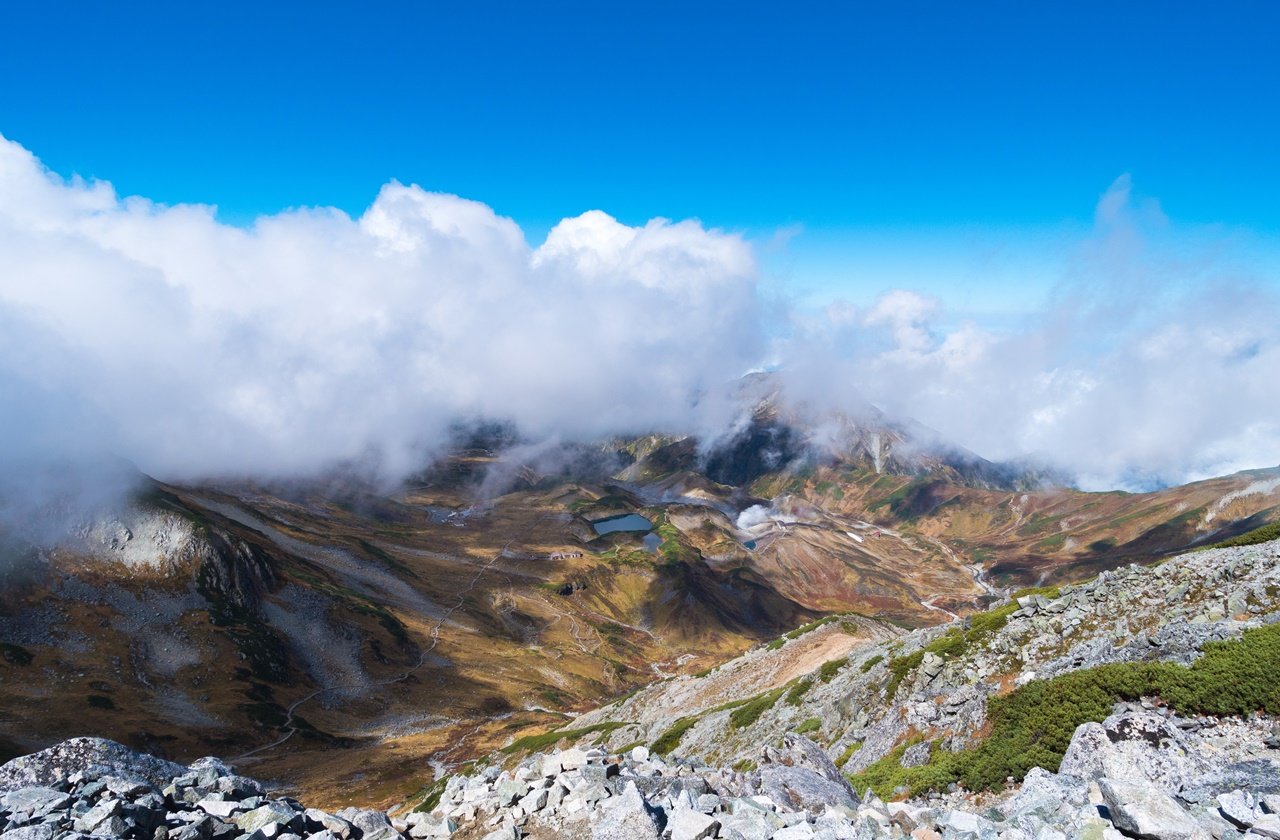 Photo by Sora Sagano on Unsplash
Because of its location in the Pacific Ring of Fire, Japan has plenty of mountains, most of which are active and inactive volcanoes. There's no exact number of Japanese mountains, so the numbers vary between 16,667 and 18,032 depending on your source. According to the Japanese Alpine Club, there are 16,667 mountains in Japan. However, the book Complete Guide to Mountains in Japan lists about 18,032 mountains. Another source, the Encyclopedia of Mountains in Japan, says there are more than 25,000 mountains in the country, but this includes mountain ridges, ranges, and their peaks. Although there are no accurate numbers, it's safe to say that Japan has plenty of mountains.
If you're wondering why there are so many mountains in the country, these were formed from the collision of the Pacific oceanic crust and the Asian continental crust. Similar to the mountains in the Philippines, some of these mountains are active and inactive volcanoes. However, there's no need to worry about hiking on a dangerously active volcano as the Japan Meteorological Agency and the local government unit actively monitor a volcano's activity. If ever a volcano displays volcanic activity, they would immediately take action and limit the entry or close the hiking trails.
Must-See Mountains in Japan
1. Mount Fuji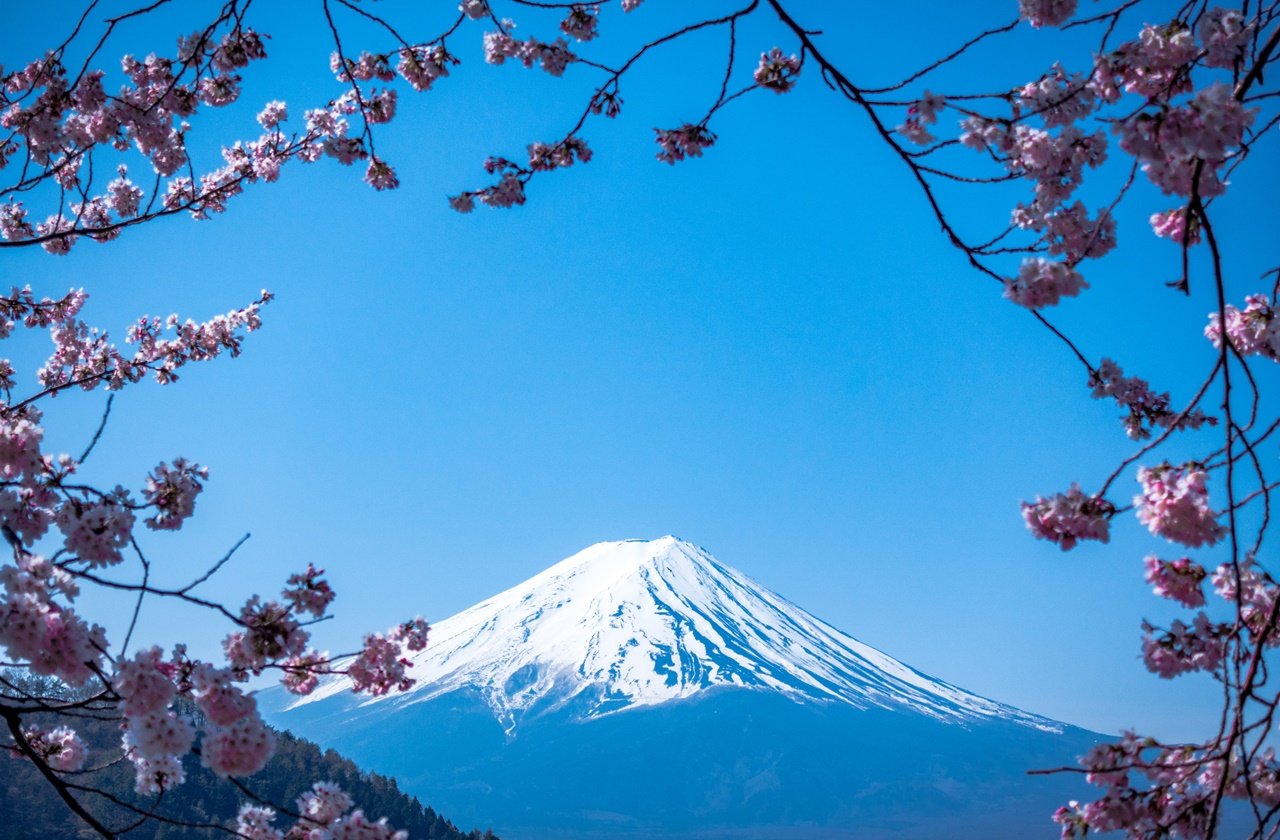 Photo by JJ Ying on Unsplash
Elevation: 3,776 meters
Location: Shizuoka Prefecture, Yamanashi Prefecture
Difficulty: Difficult
Mount Fuji is a no-brainer when it comes to the must-see mountains and landmarks of Japan in general. Its symmetrical and snow-capped peak has been a cultural icon of the country, featured in several works of art and literature. It is also one of Japan's UNESCO World Heritage Sites, proof that it is indeed one of the most beautiful and breathtaking places on Earth. This mountain in Japan is also one of the so-called Three Holy Mountains along with Mount Haku and Mount Tate, considered to possess special powers and are the subject of many Shinto and Buddhist myths.
You can see Mount Fuji from several vantage points from its neighboring cities and is one of the popular day trips from Tokyo. The mountain is also best viewed from Lake Ashi in Hakone or from one of the Fuji Five Lakes. But for avid hikers, climbing to the summit is an unforgettable experience. July to September is the main climbing season and there are plenty of tour operators organizing group or private hikes to Mount Fuji.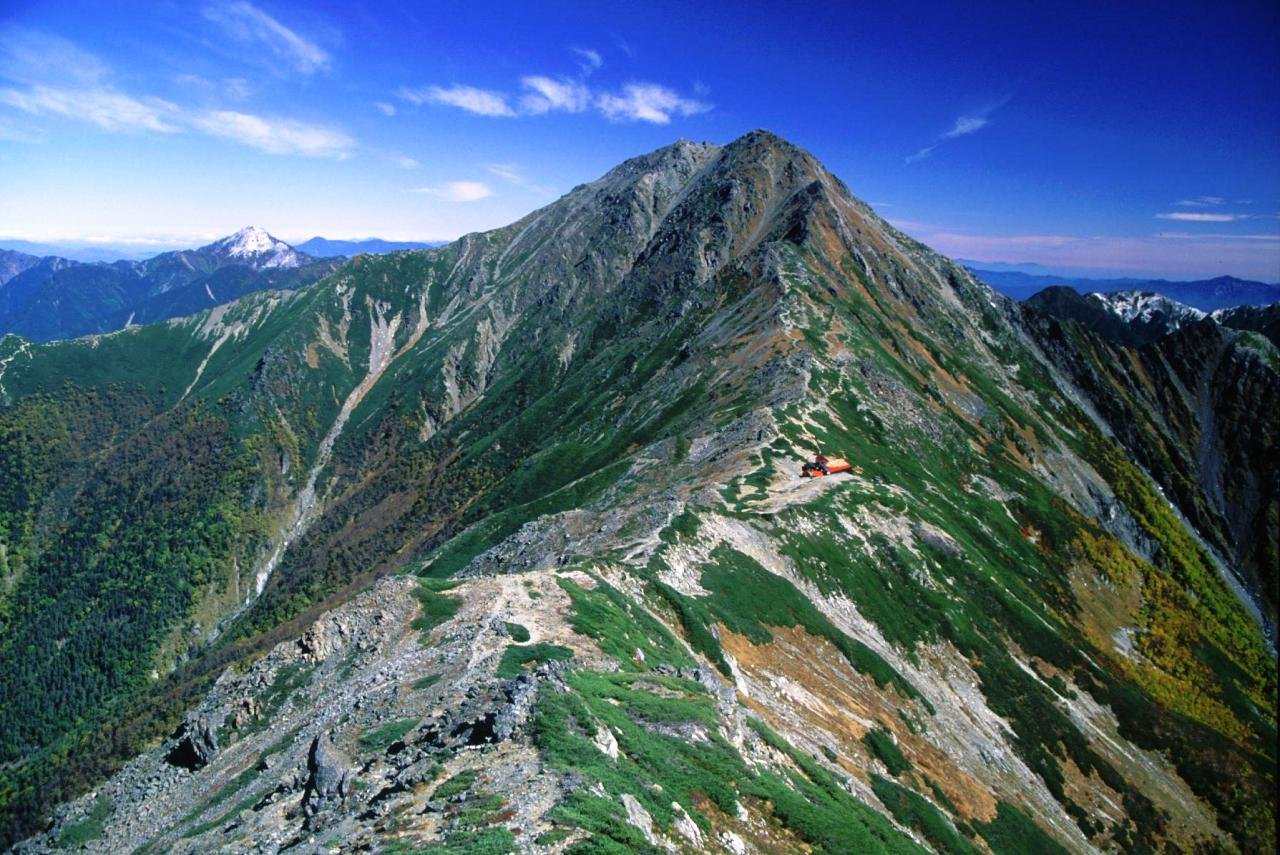 Photo by alpsdake on Wikimedia Commons
Elevation: 3,192 meters
Location: Yamanashi Prefecture
Difficulty: Difficult
The second highest mountain in Japan, Mount Kita stands proudly above the Southern Alps in central Honshu. It is included in the book 100 Famous Japanese Mountains, chosen by the author and mountaineer Kyūya Fukada. While it isn't as famous as Mount Fuji, the "leader of the Southern Alps" is definitely one of the most beautiful mountains in Japan. It offers rugged yet stunning Alpine scenery, with trails dotted with beautiful Alpine flora and picturesque landscapes.
For hikers looking for a less crowded mountain with the same level of difficulty as Mount Fuji, Mount Kita is the best option. Additionally, it offers diverse wildlife and you can get a glimpse of Japan's rich flora and fauna. Depending on your jump-off location, you can see rocky ridges, snow valleys, or colorful flower fields. Lastly, you can get a view of Mount Fuji from the summit of Mount Kita, a rewarding sight after a strenuous hike.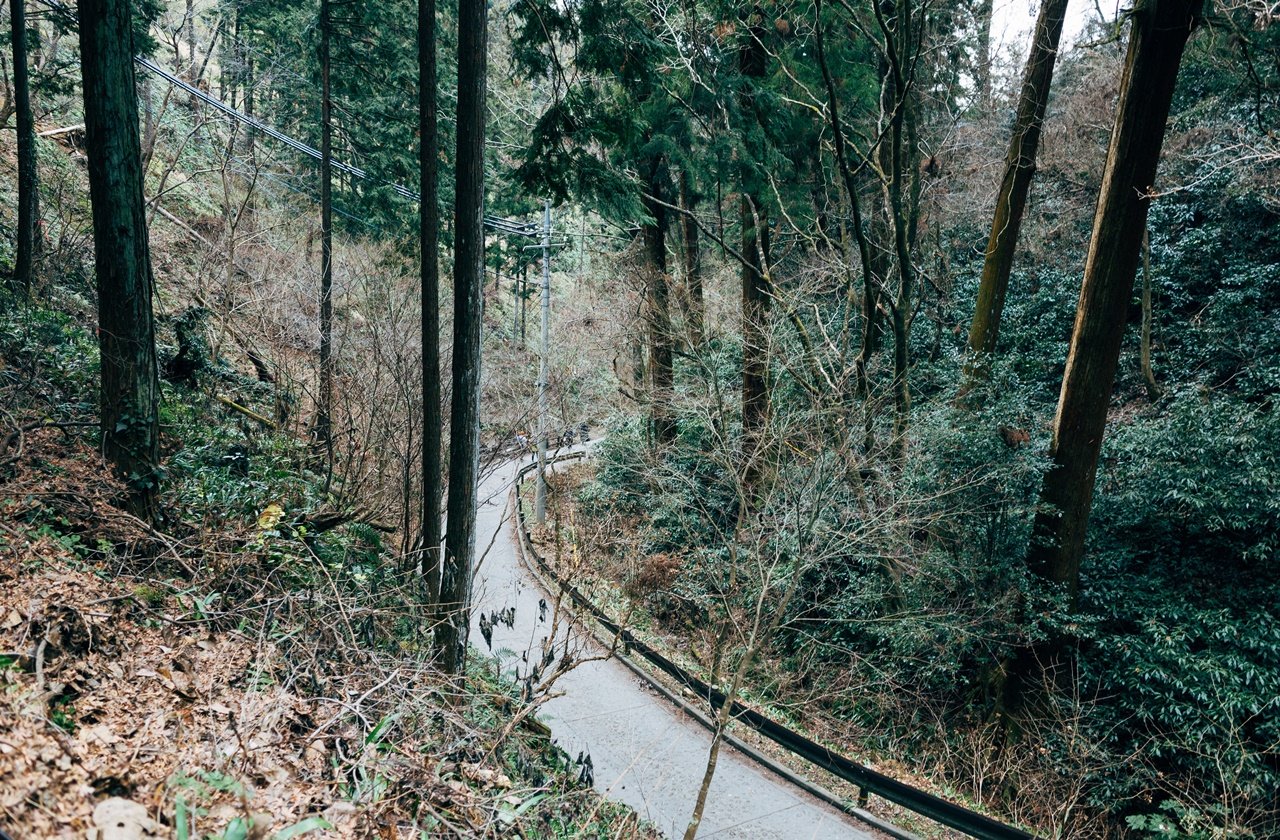 Photo by Markus Winkler on Unsplash
Elevation: 599 meters
Location: Hachiōji, Tokyo
Difficulty: Easy to Medium
Mount Takao may be one of the lower mountains in Japan at 599 meters, but the scenery it provides is nothing short of splendid. It is also a popular day trip from Tokyo, located only a few hours away by train or by bus. And unlike other mountains which are open to the public for a limited time, Mount Takao is best visited all year round. This mountain is also considered a sacred mountain and visitors can pay a visit to the Yakuoin temple near the summit, guarded by several tengu (a supernatural being in Japanese folktales) statues. Other attractions on the mountain include a monkey park, an onsen (hot spring bathhouse), and a nature museum.
If you're looking for an easy and tranquil escape from the busy streets of Tokyo, head to Mount Takao. It has different trails with easy to medium levels of difficulty, and those with limited mobility won't be left out as there is a ropeway available. However, take note that Mount Takao can get crowded especially on weekends.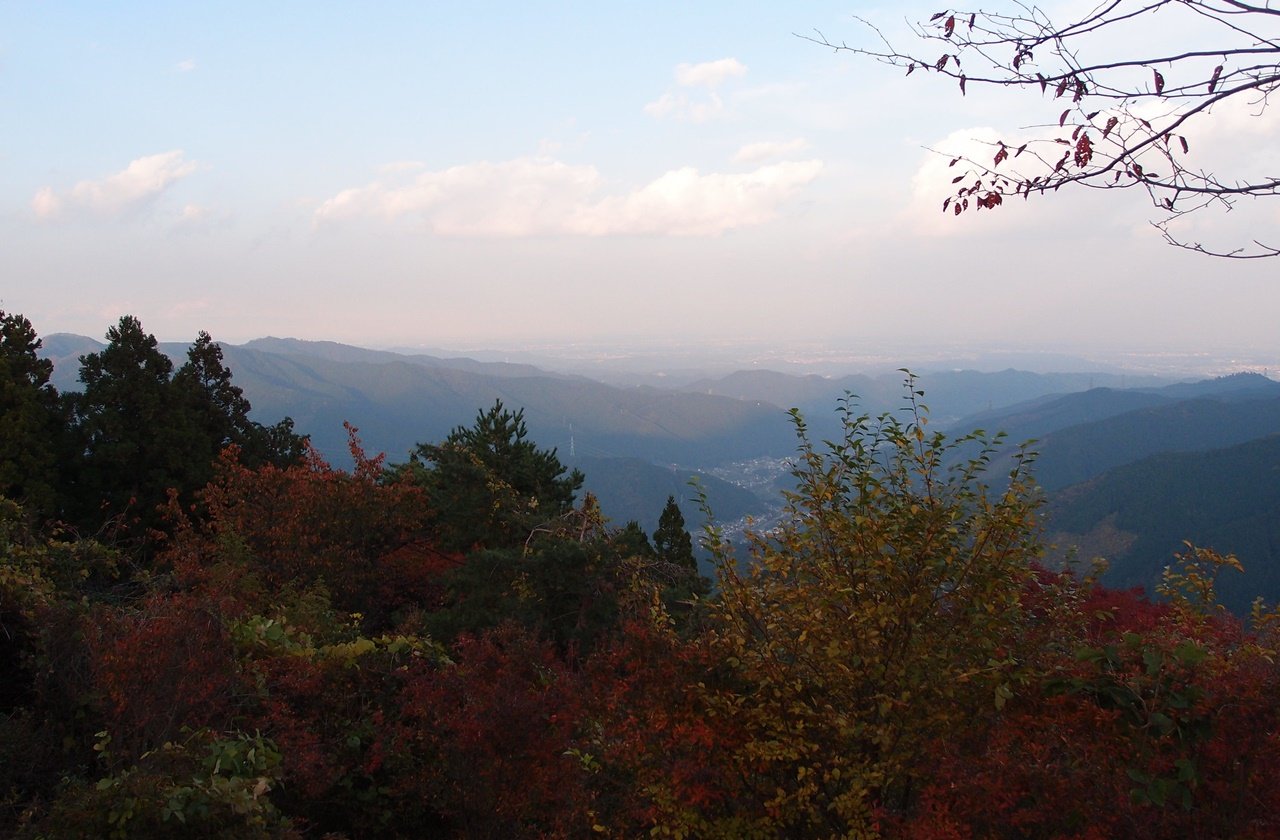 Photo by Guilhem Vellut on Flickr
Elevation: 929 meters
Location: Chichibu Tama Kai National Park
Difficulty: Easy to Medium
Mount Mitake is perhaps the highlight of the Chichibu Tama Kai National Park, just 90 minutes away from Tokyo. The mountain offers gorgeous and unspoiled trails, a welcome change from the towering skyscrapers and bustling streets of the city. However, unlike Mount Takao, Mount Mitake is relatively less crowded, perfect for those who prefer off-the-beaten-path destinations. Aside from its beginner-friendly trails, Mount Mitake is also famous for its shrine, the Musashi Mitake Shrine.
Head to Mount Mitake and marvel at the beauty of Mother Nature. Pass through dozens of moss-covered rock gardens, waterfalls, and cedar trees believed to be a good omen for expecting parents. Pay a visit to Musashi Mitake Shrine and don't forget to get an omamori (good luck charm) for your pets. Since Mount Mitake is a popular pilgrimage site, you can find traditional-style lodging with tatami rooms and shared bathing facilities. If you can spare a day or more in your itinerary, it's best to experience staying in these inns.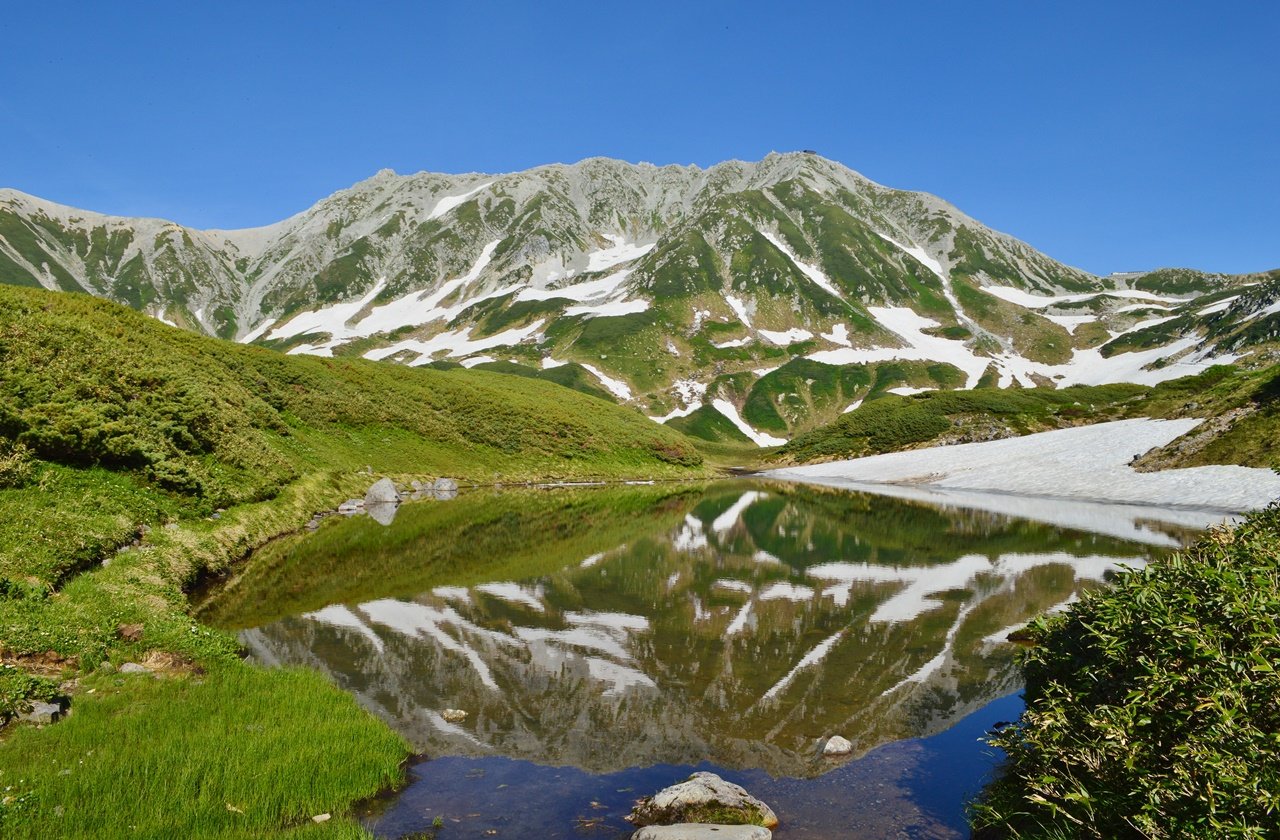 Photo by Saigen Jiro on Wikimedia Commons
Elevation: 3,015 meters
Location: Toyama Prefecture
Difficulty: Medium
Like Mount Fuji, Mount Tate in Toyama Prefecture is revered as one of the Three Holy Mountains. Located along the Northern Alps, Mount Tate is believed to possess the power of the departed souls. Since the 1600s, the mountain has been a popular pilgrimage site and is where Buddhist monks underwent spiritual training. Today, it is one of the more popular mountains in Japan, flocked by visitors for its onsen and the iconic snow walls along the Tateyama Kurobe Alpine Route.
Hiking Mount Tate is relatively easy as compared to Mount Haku and Mount Fuji and it can be completed in a day. Along the way, you'll also pass by several notable landmarks and sights like mirror-like lakes, blue ponds, and the ever-changing environment. On a clear day, get a chance to see Shōmyō Falls, the tallest waterfall in Japan. At the summit, also known as Oyama Peak, drop by the Oyama Shrine and receive a blessing and warm sake from a priest. You can also purchase souvenirs, food, and refreshments at the rest area.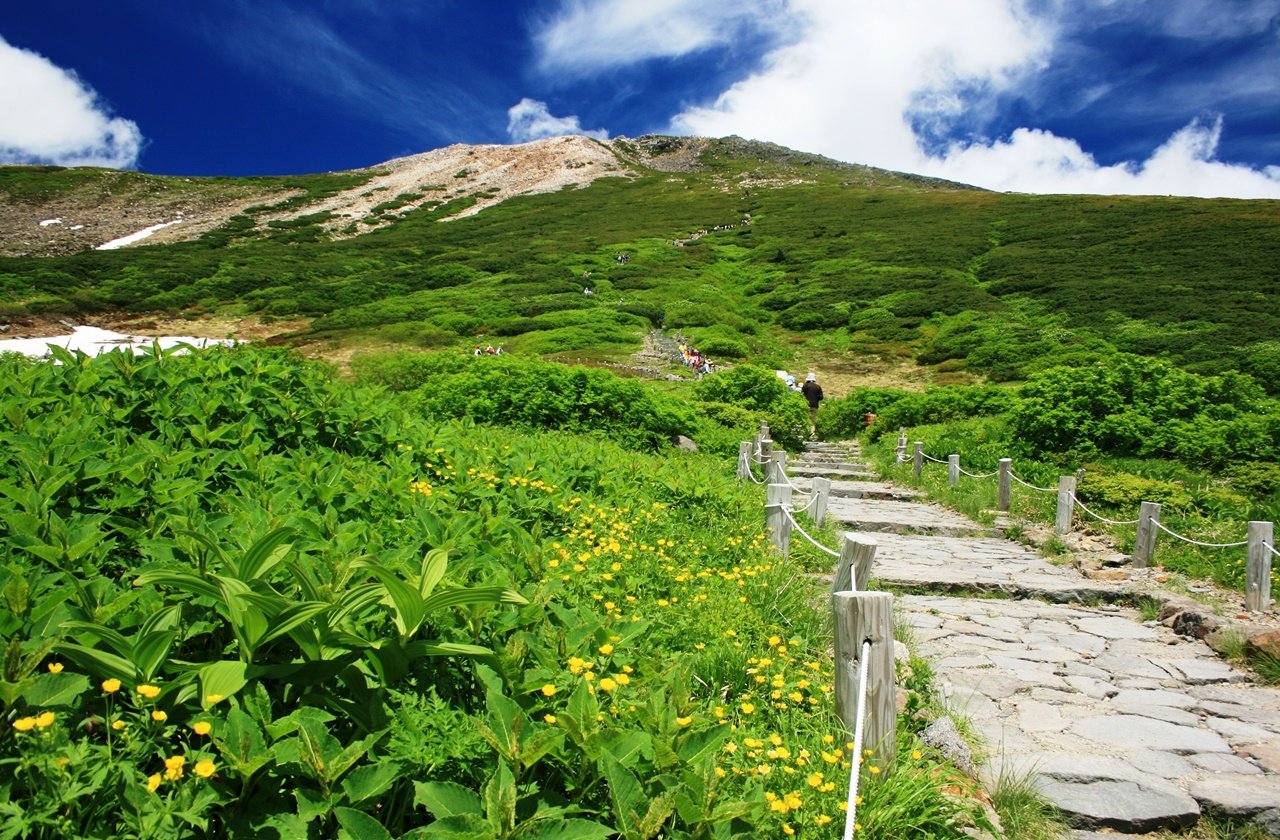 Photo by Alpsdake on Wikimedia Commons
Elevation: 2,702 meters
Location: Gifu Prefecture, Fukui Prefecture, Ishikawa Prefecture
Difficulty: Difficult
Translated as the "White Mountain", Mount Haku got its name from the layer of snow covering the mountain for most of the year. As part of the Three Holy Mountains, this mountain is believed to have special powers related to water. It is also the main source of water for the Kuzuryu River, the Nagara River, and the Tedori River and is essential for farming done by locals. In winter, Mount Haku becomes a favored spot for skiing, snowboarding, and other outdoor activities.
Because of its significance, Mount Haku was designated as a national park, renamed as Hakusan National Park. As a national park, there are only a few trails in the mountain, most of which are long and challenging. Upon reaching the summit, marvel at the view and stop by the Shirayamahime Shrine. Nonetheless, Mount Haku remains to be one of the most beautiful mountains in Japan.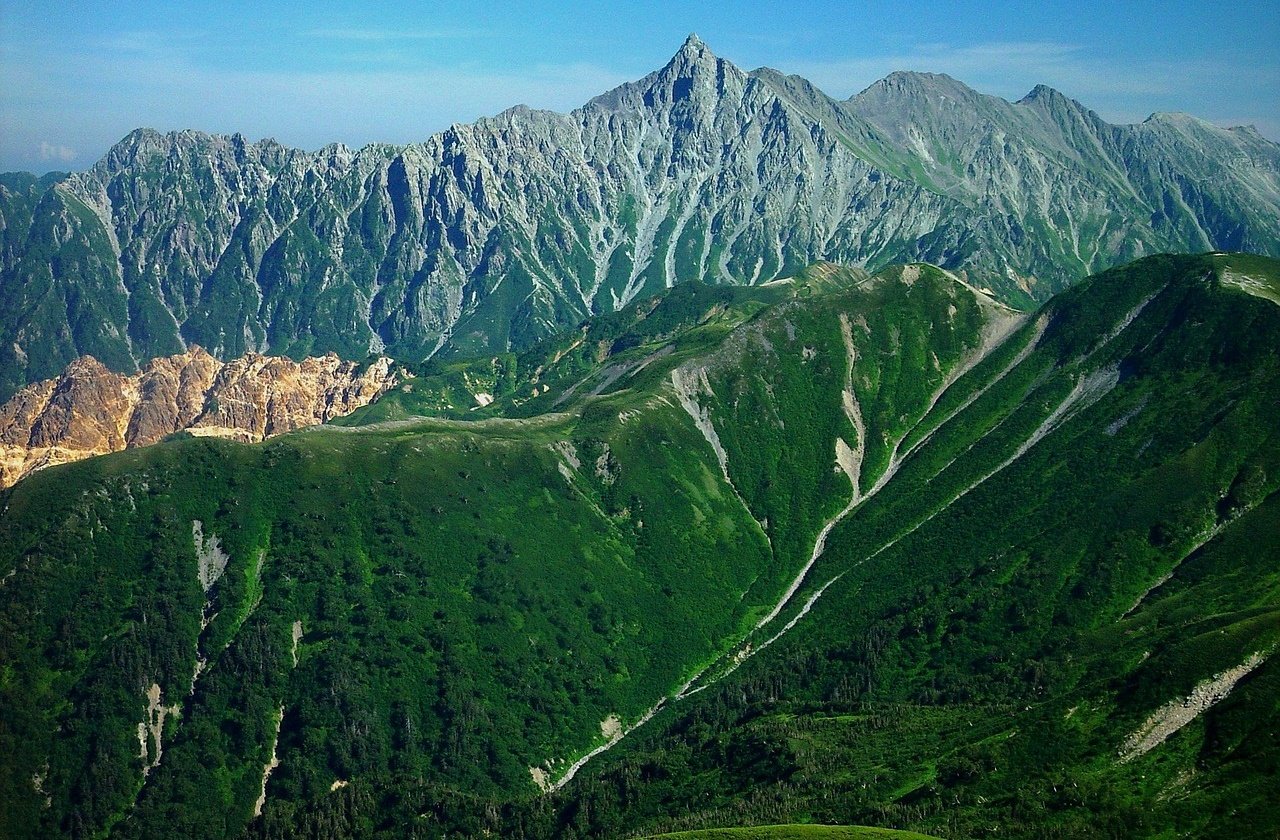 Photo by 12019 on Pixabay
Elevation: 3,180 meters
Location: Gifu Prefecture, Nagano Prefecture
Difficulty: Difficult
Because of its spear-shaped summit, Mount Yari is also known as the Matterhorn of Japan. It offers panoramic views of the surrounding mountains in Japan, including Mount Fuji. Hiking trails in Mount Yari are open from late April to early November and it is highly recommended to go on a hike in autumn. The trails are highlighted in bright colors of red, gold, and yellow and the view of the surrounding forests is breathtaking to look at.
As the fifth-tallest mountain in Japan, hiking to the top is challenging, but rewarding. Along the way, you'll find mountain lodges and huts where you can stay overnight. From the summit, you can take different trails and routes to neighboring mountains of the Kita Alps. Because of its challenging terrain and access to nearby mountains, Mount Yari is at the top of the must-climb Japanese mountains for most hikers.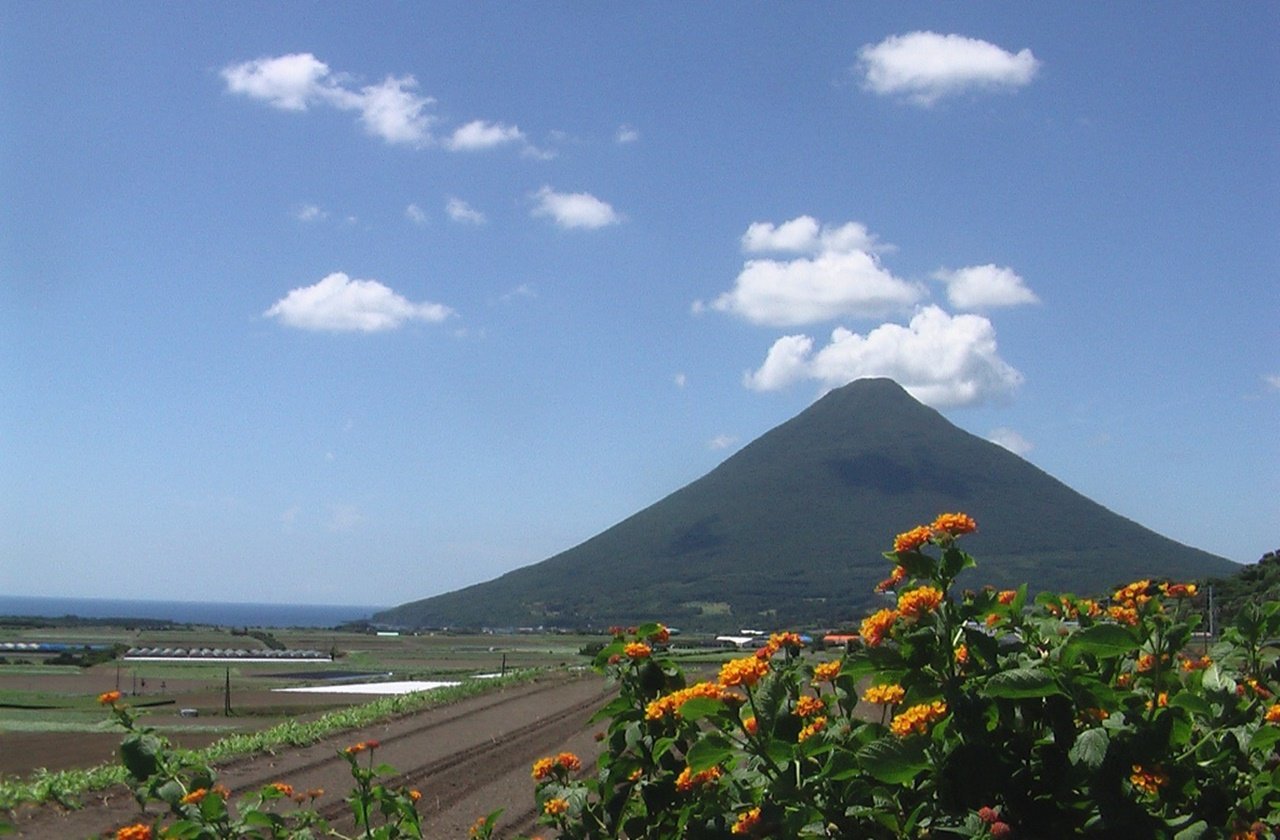 Photo by kat on Wikimedia Commons
Elevation: 924 meters
Location: Kagoshima Prefecture
Difficulty: Easy
Mount Kaimon, is a beautiful volcano located in Kagoshima Prefecture in Kyushu. Also called the "Fuji of Satsuma", the mountain also has the same conical shape as the iconic Mount Fuji, although not as refined and perfect. Despite its reputation as a volcano, it is already dormant, having its last eruption way back in 885 AD.
Hiking Mount Kaimon is relatively easy and going up and down the mountain takes about 4 to 5 hours only. Pass through huge boulders and dirt paths and climb ladders on your way to the summit. On the summit, marvel at the beautiful coastline and the vibrant waters of the sea. Unlike most Japanese mountains, the summit of Mount Kaimon is underdeveloped, marked by a torii gate and a shrine. Since Mount Kaimon is in the southern part of the country where summer is hotter, it is highly recommended to bring plenty of water when hiking. In addition, there are no water sources in the mountain.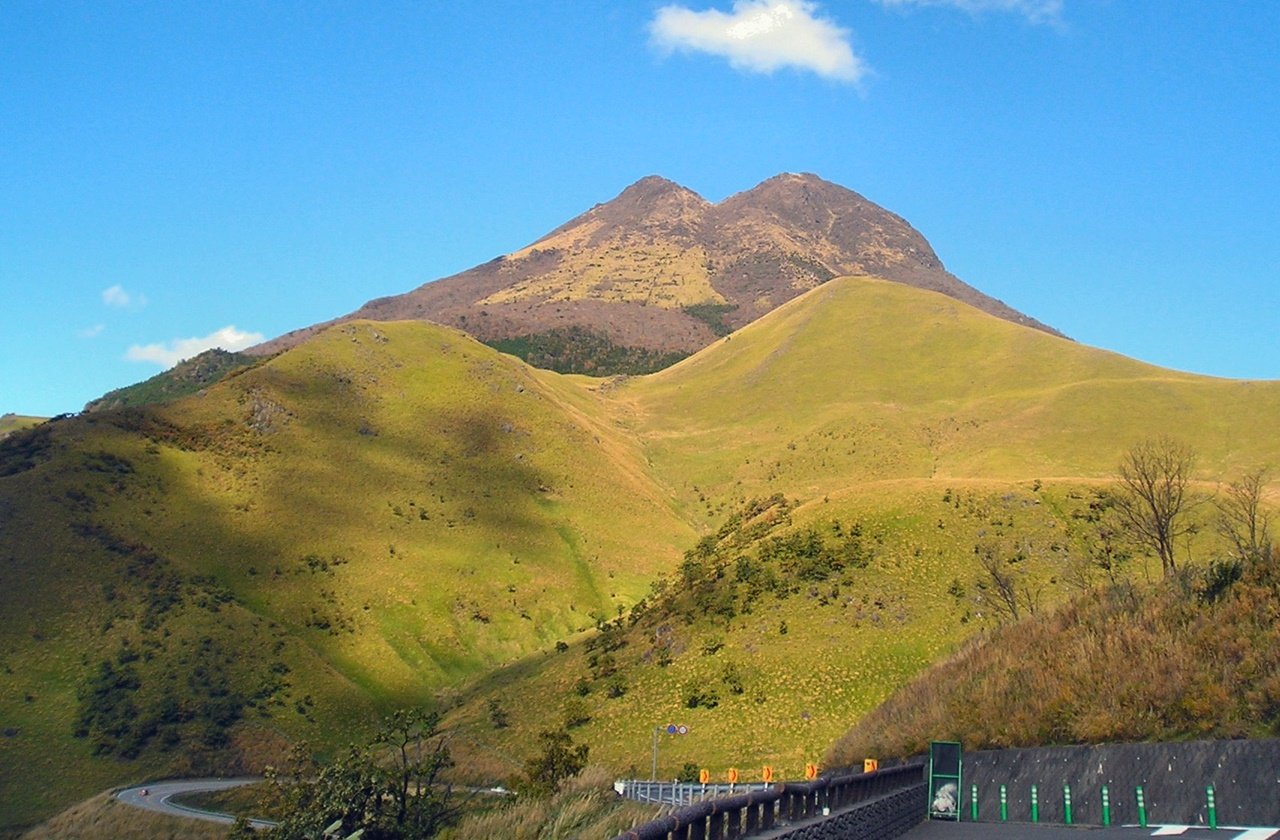 Photo by STA3816 on Wikimedia Commons
Elevation: 1,583 meters
Location: Ōita Prefecture
Difficulty: Medium to Difficult
Ōita Prefecture in Kyushu is famous for its hot springs and ryokans, especially in the city of Beppu. However, in between Beppu and Yufu is another mountain worth hiking. Mount Yufu towers 1,583 meters above and overlooks grasslands, plains, and neighboring cities. What makes Mount Yufu different from other mountains in Japan is its two peaks, 'Higashi-mine' (East Peak) and 'Nishi-mine' (West Peak). The West Peak is higher and is more difficult as compared to the East Peak.
Choose which peak to conquer (or both!) and brave the challenging trails to get to the summit. Depending on which trailhead you'll follow, it will take about 2 to 3 hours to get to the peak. Different flowers also give color to the trails all year round, including primroses in spring, Kyushu azaleas in summer, globe thistles in autumn, and hoarfrost in winter. Both peaks have panoramic views of Beppu Bay and Mount Takasaki, but the trail along West Peak is narrower and some parts require using chains to climb.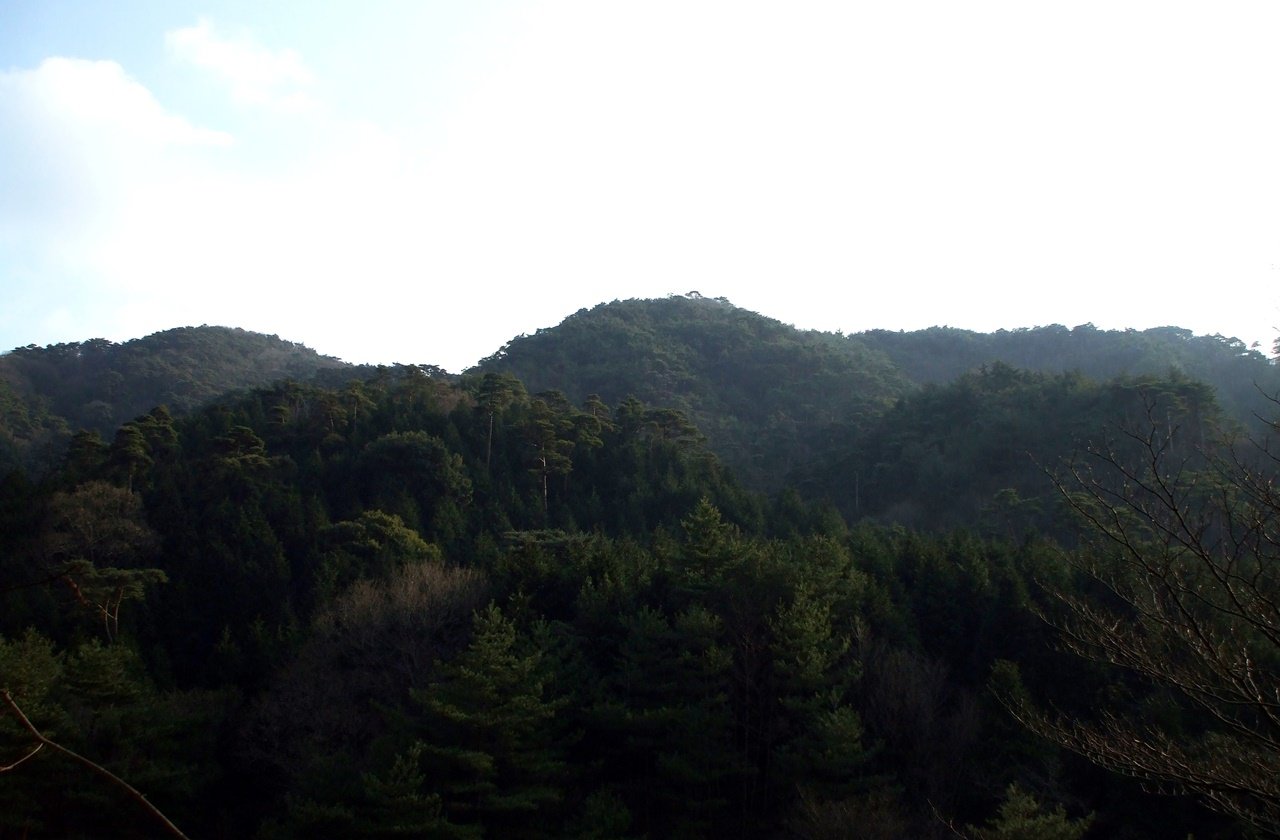 Photo by Mass Ave 975 on Wikimedia Commons
Elevation: 699 meters
Location: Hyōgo Prefecture
Difficulty: Medium
When in Kobe, don't miss the chance to hike Mount Maya. The mountain, one of the major peaks of the Rokkō Mountains, boasts a 10-million-dollar view of Kobe and Osaka at night, hailed as one of Japan's Three Great Nightscapes. Mount Maya's main attraction is the Kikuseidai Observation Platform, visited by thousands of tourists and locals. In addition, Mount Maya is a popular destination as both hikers and non-hikers can reach the summit.
For hikers, start near the Shin-Kobe Station and hike past the Nunobiki Falls. The trails covered in lush greenery also provide a good escape from the summer heat. Aside from the waterfall, other highlights you can see along the trail include Tenjo-ji Temple and Lake Hodaka. On the other hand, there's a ropeway 40 minutes away from Shin-Kobe Station for those who prefer a more relaxing way to get to the top. The ropeway leads to the Kikuseidai Observation Platform where you can marvel at the city views. You can bring food and have a picnic or drop by the cafes for drinks and snacks.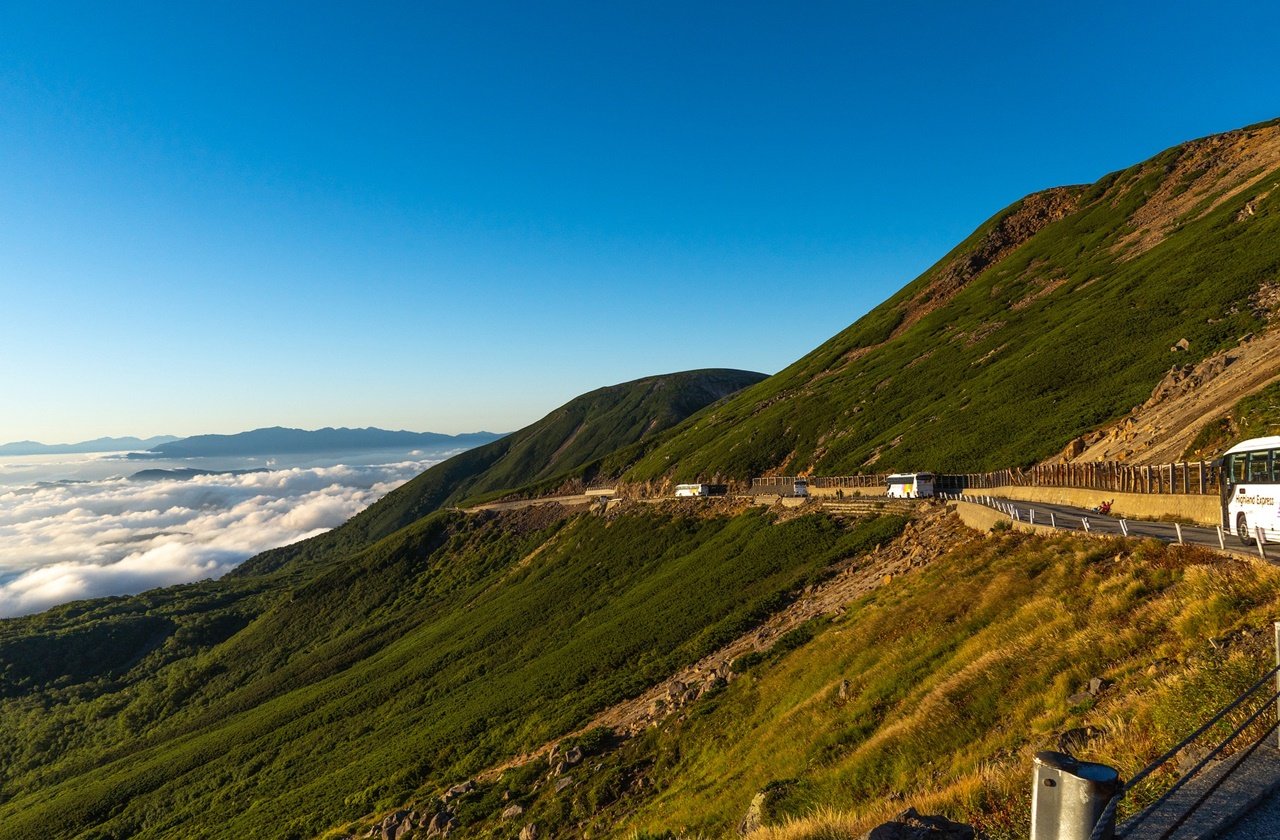 Photo by skatenaoki on Pixabay
Elevation: 3,026 meters
Location: Gifu Prefecture, Nagano Prefecture
Difficulty: Easy to Difficult
Along the Northern Alps is one of the highest mountains in Japan, Mount Norikura. It stands more than 3,000 meters above sea level and is also one of the easiest mountains to climb that are above 3,000 meters. Other than being one of the highlights of the Northern Alps, the mountain is famous among hikers and tourists alike because of its accessibility. Several buses run as far to the summit.
Getting to Mount Norikura is fairly easy and the trailheads are well-paved, save for the rocky area where you'll have to use your hands to remain balanced. But apart from that, the mountain is nothing short of gorgeous. From July to August, the alpine flower fields are in bloom and create picture-perfect scenery as you head up the stairway. Along the way, pass by different crater lakes and marvel at the mirror-like reflection of the water. There's a small hut near the peak where you can purchase souvenirs and have some refreshments before descending.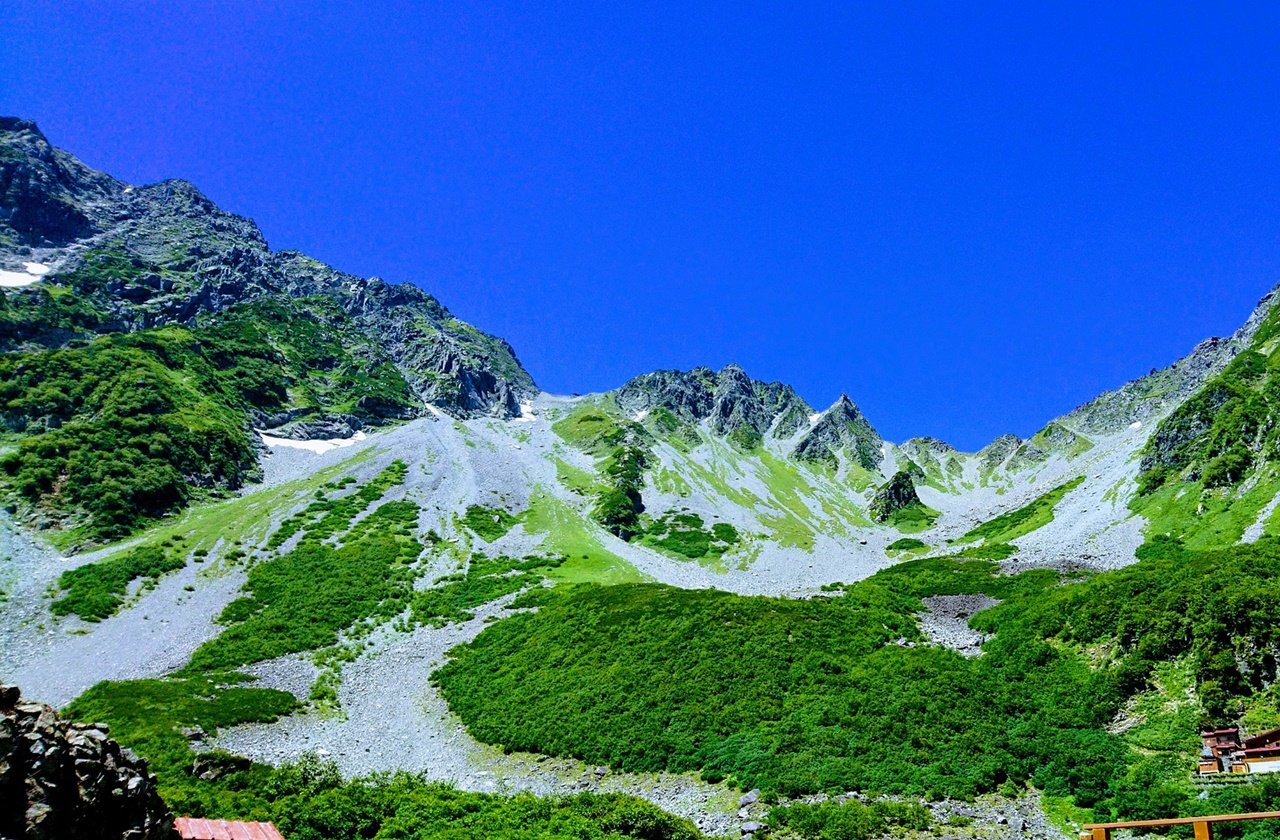 Photo by boby510 on Pixabay
Elevation: 3,190 meters
Location: Gifu Prefecture, Nagano Prefecture
Difficulty: Difficult
Reaching almost 3,200 meters is Mount Hotaka, one of the so-called 100 Famous Japanese Mountains. Like Mount Tate and Mount Norikura, it's located along the Northern Alps and is between Gifu and Nagano Prefectures like Mount Yari. But as the "Leader of the Northern Alps", Mount Hotaka is reserved for the thrill-seekers and expert hikers due to its terrain and ridges. It is also rockier than other mountains in Japan, so non-advanced hikers will have to look for another mountain to conquer. Potential hikers also need complete alpine climbing equipment as the hike turns more of a rock climbing adventure halfway.
However, the views from Mount Hotaka are rewarding, and in autumn you can see the stunning fall foliage from a bird's eye view. At the summit, you can rest, rent a room, and even pitch a tent (additional fee required) at the Hotakadake Lodge. This is the perfect place to stay if you want to take a breather or have a meal before trekking down.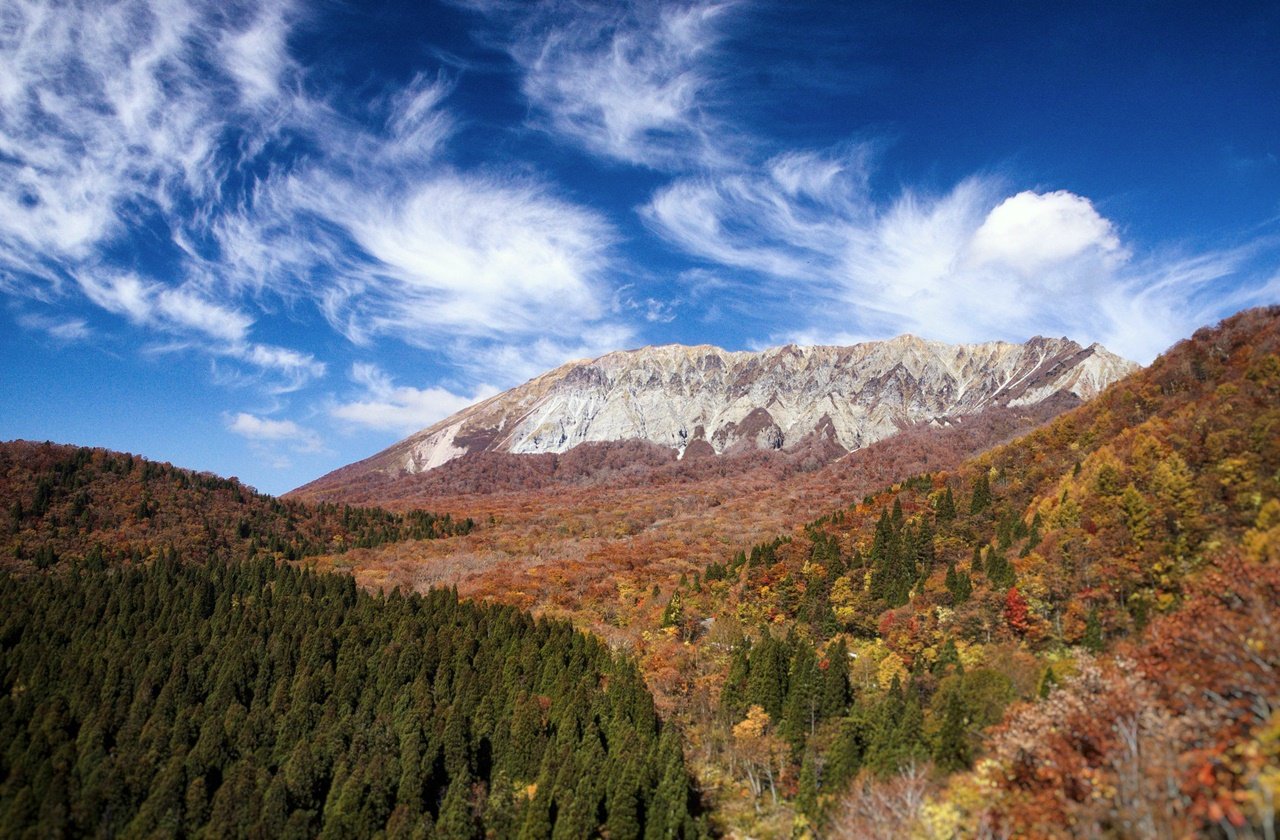 Photo by mstk east on Flickr
Elevation: 1,729 meters
Location: Tottori Prefecture
Difficulty: Medium to Difficult
On the western end of the Tottori Prefecture is Mount Daisen, a large volcano that is also ranked on the 100 Famous Japanese Mountains list. It may be a volcanic mountain, but its last eruption was over 20,000 years ago. Because of its location near the Sea of Japan, Mount Daisen is considered to be one of the most important mountains for the Japanese Shugendō religion. Hikers will also find a Buddhist temple halfway through the mountain, founded in 718 and was a place of worship back then.
Because of its religious background, common folk couldn't climb the mountain until the Edo period. Additionally, hikers needed to be accompanied by a monk of the Daisen-ji to climb the mountain. Today, anyone can climb the mountain as long as they are fit for it. Its trails are strenuous but the fall foliage and stunning views are a good motivation to continue. Before hiking, some would visit Daisen-ji to pray for a safe hike.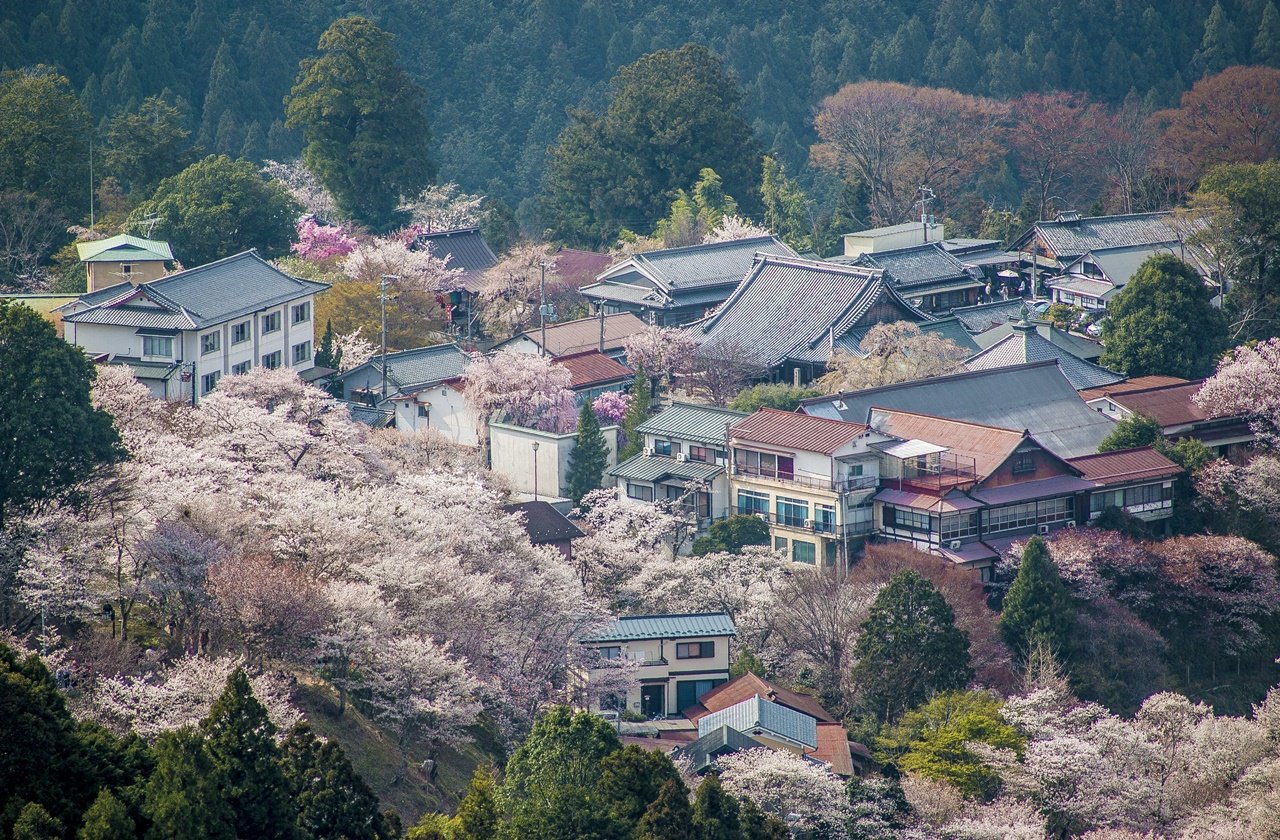 Photo by QUENTIN Mahe on Unsplash
Elevation: 350 meters
Location: Nara Prefecture
Difficulty: Easy
Hanami (cherry blossom viewing) season is one of the main festivals in Japan, much anticipated by both locals and tourists because of the delicate pink blossoms surrounding the area. If you find yourself in Japan during this season, visit Mount Yoshino! It is one of the best cherry blossom viewing spots in the country with over 30,000 trees scattered around its 83 acres. Aside from being a top cherry blossom viewing location, Mount Yoshino is also a UNESCO World Heritage Site as one of the pilgrimage sites in the Kii Mountain Range. In addition, the mountain has long inspired poets, writers, and artists.
Don't miss the chance to climb Mount Yoshino and be in awe of the sakura trees in spring. The cherry trees are also strategically planted in different altitudes so they would bloom at different times. The mountain also has several temples that you can visit, including Yoshimizu Shrine, where you can view the sakura-covered mountainside.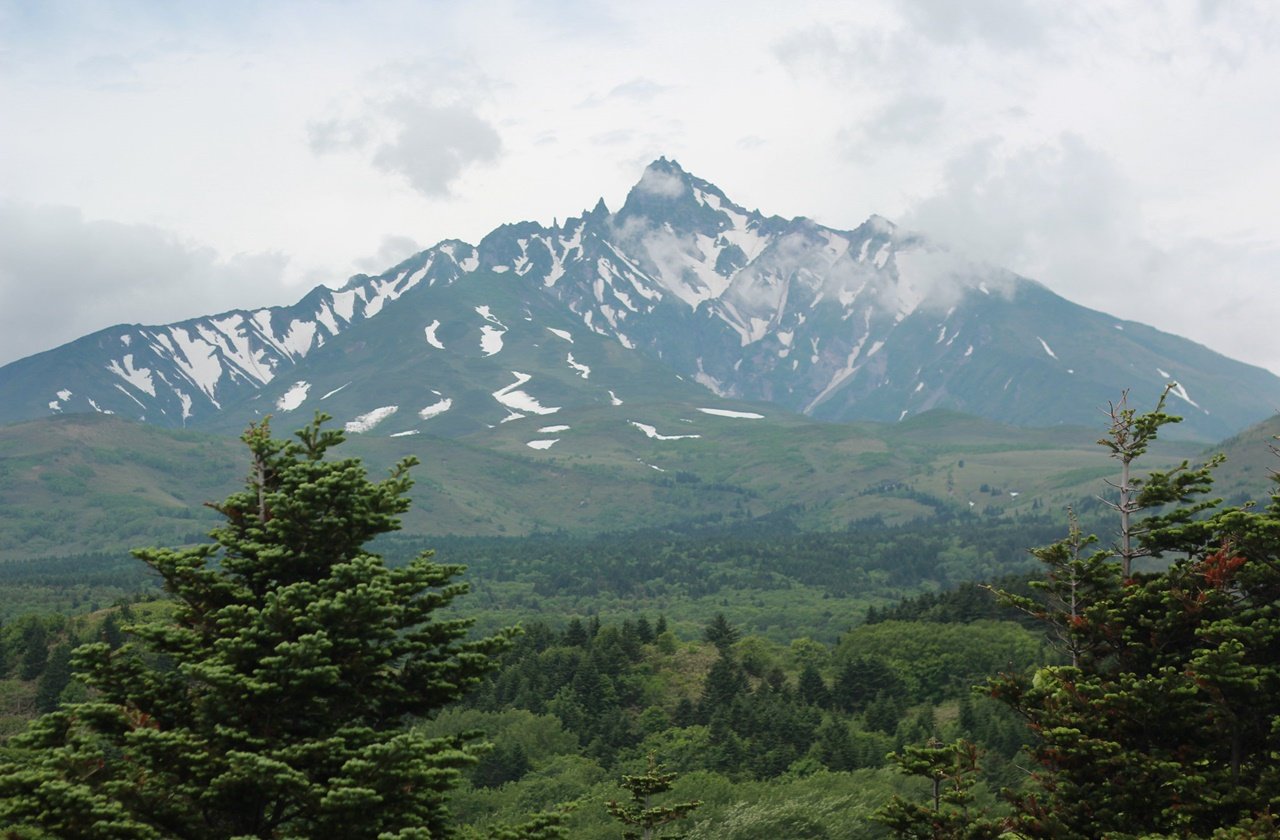 Photo by Japanexperterna.se on Flickr
Elevation: 1,721 meters
Location: Rishiri Island
Difficulty: Medium
Rounding up the list of the 15 famous mountains in Japan is Mount Rishiri, located on an island in Hokkaido. It is a majestic conical mountain that was the first mountain to appear on the prestigious 100 Famous Japanese Mountains list and has since brought a surge of climbers wanting to hike it. The mountain is also featured in the package of Shiroi Koibito, a popular European-style cookie in Japan.
There are two trailheads on Mount Rishiri in Oshidomari and Kutsugata, with the former being a popular choice among hikers since it's closer to the ferry terminal. The hike up is challenging and is suited for intermediate to advanced hikers. At the summit, like most Japanese mountains, is a small shrine and a sitting area where you can soak up the views. Additionally, there's also an onsen where you can take a rewarding post-hike bath.
What You Need to Know About Hiking in Japan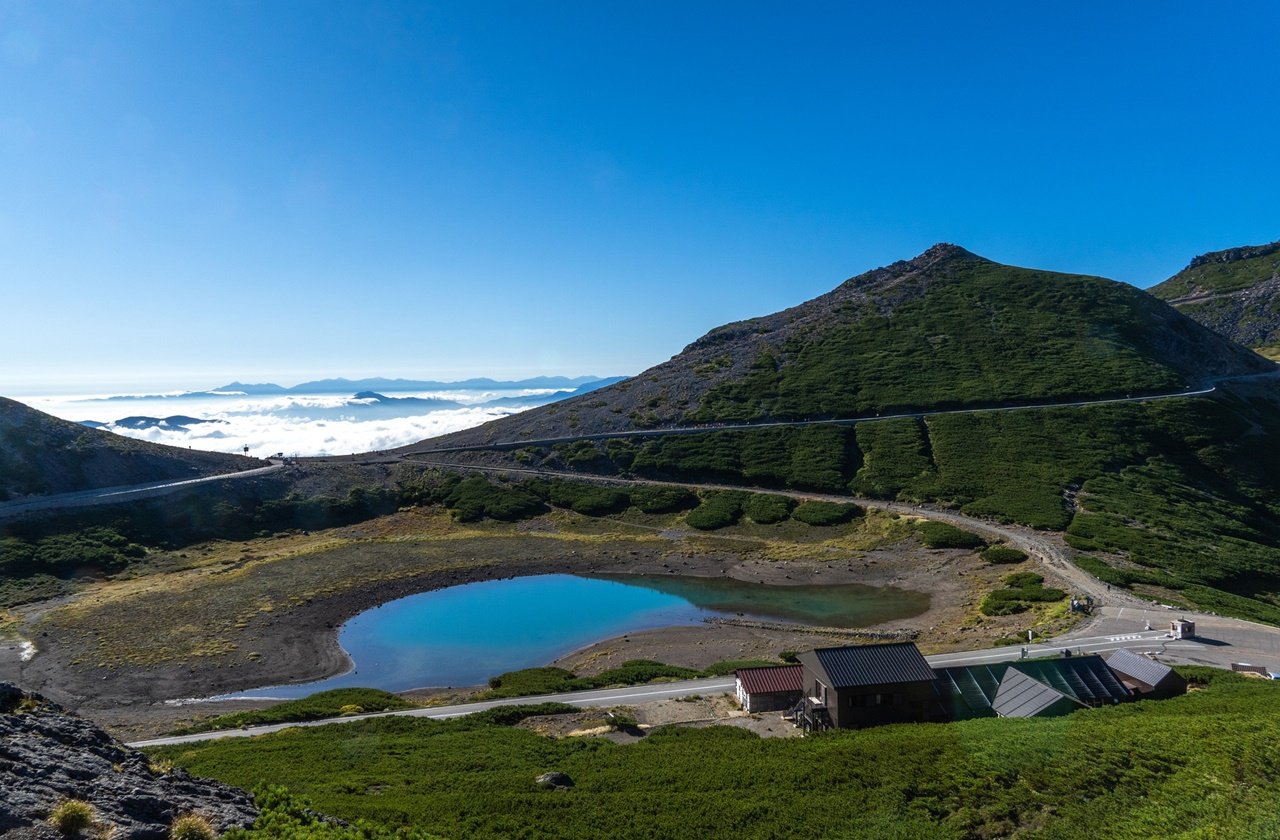 Photo by skatenaoki on Pixabay
Levels of Difficulty
Before hiking mountains in Japan, it's important to be aware of the different levels of difficulty. These are helpful especially if you're not used to difficult hikes and you made the mistake of choosing a relatively challenging mountain. There are three classifications:
Easy: Easy hikes can be done in a day and trails are well-marked. These mountains are also accessible by public transportation and have nearby accommodation. In addition, you don't need special equipment like hiking boots and poles to complete the hike. If you're traveling with children or you want a mountain that isn't too difficult to climb, go for easy ones.
Medium: Mountains that are classified as medium include steep and long sections which can be challenging for those without hiking experience. Some mountains may not be suited for young children and hiking boots are recommended, although not necessary.
Difficult: These are long and challenging hikes that could take a day or more to complete. For mountains with a difficult classification, it's best to go with a guide rather than hiking alone. Hikers will need appropriate boots, poles, and additional equipment when going on these mountains.
When to Visit Mountains in Japan
Aside from knowing which mountain to hike, it's also important to know when to hike. What may seem like an easy trail can become slippery and dangerous during the off-season, so the weather conditions can definitely make or break a hiking trip. Because of its diverse climates, knowing when to hike Japanese mountains can also be tricky. Some mountains allow hiking throughout the year while others have a specific hiking season or are closed during winter.
Generally speaking, the best time to hike in Japan is in summer where the weather conditions are ideal. For lower mountains, summer may be hot and humid so spring and fall are other alternatives.
Conquer New Heights and Hike Japanese Mountains
Aside from its temples, ramen booths, and traditional inns, mountains are a highlight of the Land of the Rising Sun. These mountains offer splendid views and offer a bit of the history of the country. But one shouldn't just limit themselves to just seeing or hiking Mount Fuji, for there are plenty of mountains worth seeing. There are picturesque mountains perfect for viewing cherry blossoms and night skyline, as well as rocky mountains that will challenge even the most expert of hikers.
If you're looking for a new peak to reach, look no further and climb at least one or two of the many mountains in Japan!