Uncover The Most Beautiful Sights You Can Find In Ohio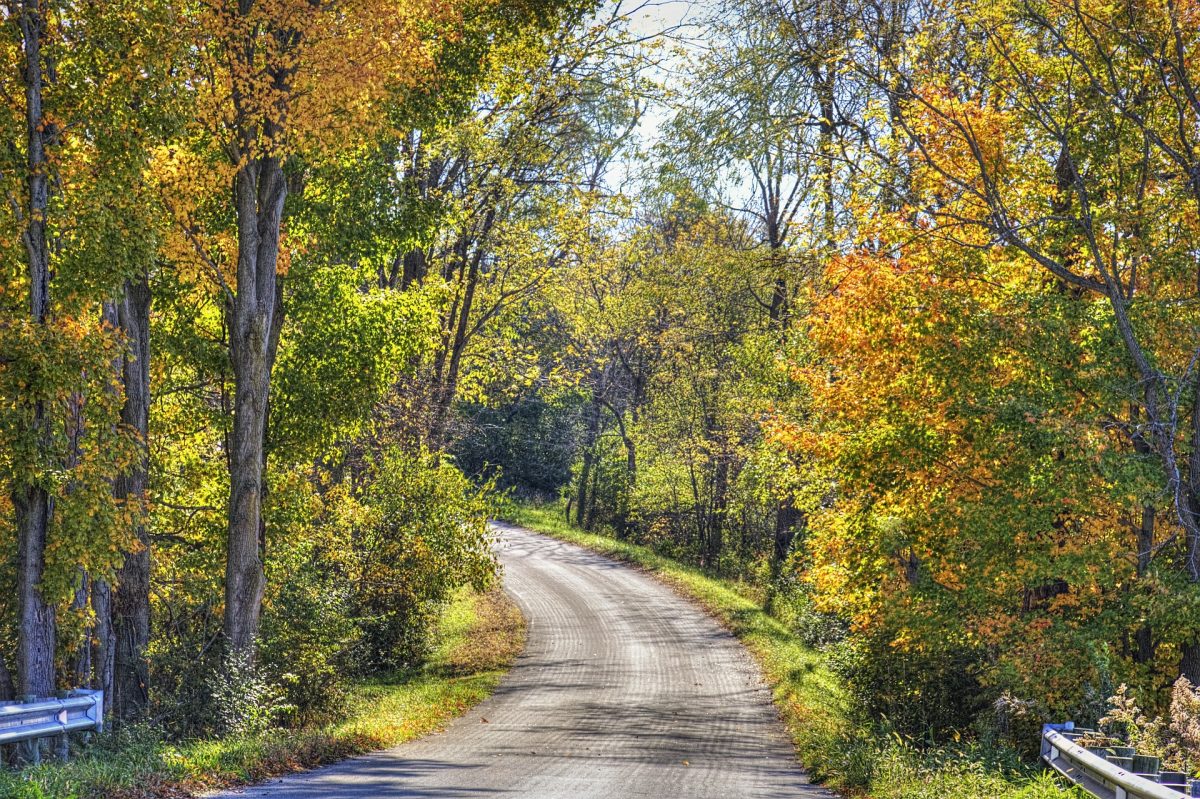 Ohio might be the smallest state west of the Appalachian Mountains, but what it lacks in size it makes up for in beautiful sights and scenes. This naturally gorgeous state is crisscrossed with waterfalls, caverns, flowery meadows, thriving wetlands, a lakefront beach scene, and dense woodlands. There are vast hiking and biking trails, countless campsites, quaint rental cottages and cabins, historic landmarks, and botanical gardens waiting for you in Ohio.
Most people who have never been to Ohio probably wouldn't think of it when thinking about national parks and spectacular scenery. However, this place has both and in plentitude. If you are nature-lover, this state will surely surprise you with its natural wonders!
1.
Hike The Wonderful Trails Of Hocking Hills State Park
Ohio's famous Hocking Hills State Park is a nature lover's utopia. The beautiful woodlands that makeup Hocking Hills are interlaced with ancient caves, winding hiking trails, majestic waterfalls, and inviting rivers. In fact, you could hike a different trail for each day of the week here, so you might as well stay for at least seven days! The picturesque Corkscrew Falls, Old Man's Cave, Cedar Falls, and Conkle's Hollow are absolute must-sees. You can explore Hocking Hills State Park entirely on foot, which is really the best way to absorb all the natural beauty and serenity that exudes from these dense woodlands.

There is a great selection of cabins, cottages, and camping grounds to accommodate all different budgets and preferences for those interested in staying overnight. The park is open year-round, and throughout the year there are all sorts of naturalist programs and guided hikes, as well as special events. Canoeing and kayaking are two other popular activities if you want to switch it up from hiking. Hocking Hills State Park even has a petting zoo!
2.
Admire The Beauty Of Brandywine Falls
Brandywine Falls is by far the most sought-after natural attraction in the Cuyahoga Valley National Park. The Brandywine Creek naturally carved this unique 65-foot water feature. Some say it resembles a beautiful white bridal veil. A boardwalk and a series of steps allow you to view the waterfall head-on and from a close enough vantage point that you can observe the Berea sandstone that forms the top layer of this geological structure. The area around the waterfall is covered in moss and surrounded by magnificent Eastern hemlock and red maple trees. It is truly a mystical sight to see.

In 1814, this waterfall was actually used as a source of power by early settlers in the valley. George Wallace built a sawmill at the top of the falls. The village of Brandywine and its numerous mills were dependent on the Brandywine Falls. Now, most of the mills are gone, but George Wallace's son's house still remains and is now a bed and breakfast called The Inn at Brandywine Falls.
There are two trails that you can take to hike to the Brandywine Falls, the 3.8-mile trail from the Stanford House or the 1.5-mile Brandywine Gorge trail. If you have time, you might even want to hike both trails. The longer one tends to be less crowded, but keep in mind this waterfall is a popular tourist attraction.

3.
View Ohio's Cuyahoga Valley National Park Scenic Railroad
What started as a coal-transporting route in 1880 later became a purely scenic and leisurely railroad route through the Cuyahoga Valley. Since 1972, the Cuyahoga Valley Scenic Railroad has been taking passengers on a two-and-a-half-hour round-trip ride through the stunning Cuyahoga Valley National Park. This is one of the best ways to see a wide range of Ohio's enchanting scenery.
From aboard the train, you will have the chance to spot bald eagles, beavers, deer, and river otters thriving in their natural habitat. While trains used to be a very common form of transportation in the United States, a scenic train ride now is more of a novelty. This is an especially good activity option during the colder months of winter.

You can choose from a variety of seating options, ranging from coach to an executive suite. There is even an option to bike or hike into the valley and then catch the train back, if you want to experience the Cuyahoga Valley National Park from both outside and inside the train.
From June to October, the railroad is open Wednesdays through Sundays. However, the train does continue to run January through May but operates less often. There are multiple stations that you can board the train from depending on where you are. This is a tourist experience in Ohio that everyone will enjoy!
4.
Explore The Ohio Caverns
Located below the earth in West Liberty are "America's most colorful caverns." You have a choice between two different guided tours. One takes you through the part of the cave system that was discovered and explored between 1897 and 1925, and the other takes you through the caverns that were found after 1925. On the second tour, you will have the chance to observe the largest stalactite in Ohio; The Crystal King. It will blow your mind that such magnificent treasures are sparkling underground. This is a one-of-a-kind experience.

If you happen to be in Ohio during the winter, there is a special hybrid tour that blends both of the above tours. If that's not enough, you can also opt to take a tree tour, a limestone tour, or go mining for gems and fossils. Regardless of which tour or combination of tours you decide to do, experiencing this colorful and ancient cave system will be absolutely mesmerizing and memorable. The caverns are open every day of the year, except Thanksgiving and Christmas Day from 9:00 am to 5:00 pm. And, whether it's summer or winter outside, it's a constant 54 degrees Fahrenheit inside the caverns.
5.
Admire The Ashtabula County's Covered Bridges
Ashtabula County is the covered bridges capital of the United States. There are nineteen covered bridges in this charming county in Ohio. While any time of the year is a lovely time to take a drive through the covered bridges, the last week in September is a particularly gorgeous time of the year to enjoy this leisurely activity. This is when the leaves start to turn, and the colors of fall transform the landscape into a magical kaleidoscopic display.

If it's not too much of a stretch, renting a convertible will really take this experience to the next level! Also, you don't want to forget your camera for this drive. Ashtabula County is also a wonderful place to spend a few days. You can enjoy over two dozen wineries, beautiful orchards, several historical sites, boutique shops, and nearly one hundred different restaurants. Ashtabula County basically has something for everyone.
6.
Camp In Oak Openings Preserve Metropark
Oak Openings is the largest Metropark in Ohio. It is nestled between Whitehouse and Swanton, covering 5,000 acres. Most of the preserve is made up of oak savanna, which is a rare ecosystem. The Nature Conservancy called the Oak Openings one of the "200 Last Greatest Places on Earth." This exquisite preserve is more than just a bunch of oak trees, though. With 50 miles of trails to explore, you will also encounter spruce and pine trees, prickly pear cactus, sand cherry blossom, and wild lupine.

This region is also noted for its fantastic bird watching. Aside from wandering around the woods and fields of flowers, you can also go horseback riding or mountain biking here. One day at Oak Openings might not be enough for you, though. Fortunately, there are camping options as well as cute cottages available for rent. This is Ohio scenery at its best! Being in the presence of such ancient and towering trees and surrounded by such natural beauty is really good for the soul. The preserve is open every day from 7 am until dark.
7.
Take In The Scenery Of Lake Erie Bluffs
Lake Erie Bluffs offers the epitome of classic Ohio scenery. This expansive protective area along the shoreline of Lake Erie is an extraordinary place to visit. The terrain is a mix of dramatic rocky bluffs, sandy and pebble stone beaches, meadows, and wetlands. These various ecosystems are home to an impressive collection of rare wildlife, and especially birds. In fact, Lake Erie Bluffs is a known birding hotspot. Bald eagles are commonly spotted in this park, as well as the lesser-seen bohemian waxwing, willow flycatcher, and yellow-breasted chat.

You can also enjoy a wide range of activities here, including biking, boating, fishing, hiking, and camping. There is even a 50-foot observation tower with several viewing platforms. From the tower, you will be treated to a 360-degree view of this captivating region.
Lake Erie Bluffs is where you can really get away from it all and just immerse yourself in nature. Every season has something different to offer. But regardless of the time of the year, Lake Erie Bluffs holds onto its magic. Whether you come as a family, a couple, or solo, Lake Erie Bluffs is a place that will long remain in your heart and memory bank.
8.
Be Around Nature In Cleveland Botanical Garden
Open every day except for Mondays, the Cleveland Botanical Garden is full of beautiful sights to see! There are twenty ever-changing gardens to explore, as well as a dazzling glasshouse that contains both a desert and rainforest biome. This is a lovely place to spend the morning or afternoon, especially if you love flowers and nature. For families with children, there is a hands-on garden specifically designed for kids.

Aside from inspiringly gorgeous gardens, the Cleveland Botanical Garden has a café, a garden shop, and an art gallery. There are guided tours available, as well as educational children, adults, students, and family programs. These gardens are also a popular place for weddings and other special celebrations. Make sure to check their calendar before your visit, as there are often amazing events taking place at the gardens. You might get lucky and be there for a special occasion like Gourmets in the Garden, the Magical Garden Railroad, or the Harvest Moon Benefit.
9.
Brighten Your Day At The Lighthouse in Marblehead State Park
The Marblehead Lighthouse Historical Society is responsible for the preservation of the historic village and lighthouse in Marblehead State Park. This charming and picture-perfect village sits on the shores of Lake Erie and Sandusky Bay. The lighthouse is definitely the main attraction here, but not the only. Between Memorial Day weekend and Labor Day weekend from noon until 4 pm, you can climb the seventy-seven stairs to the top of the lighthouse.

Aside from the lighthouse, there is also a museum and a replica lifesaving station. Visiting this village is almost like stepping back in time. The waterfront here is a beautiful place to have a picnic too! From here, you will also be treated to picture-worthy views of Kelley's Island, South Bass Island, and Cedar Point. Visiting the Marblehead State Park should make your list of things to do in Ohio.
10.
Bask In The Sun On Headland's Beach
Headlands Beach is recognized as Ohio's best beach. It is also the longest natural beach in the state. Located in Mentor, nearly two million people a year visit this mile-long stretch of soft sand. During the summertime, picnicking and sunbathing here is a very popular activity. After all of the hiking, boating, cave exploring, and waterfall viewing you have been doing in Ohio, a relaxing day at the beach is the perfect way to recharge.

Bring a beach chair, some tunes, a book, sunscreen, and a cooler packed with cold drinks and sandwiches, and you will be set for the day. This is your chance to really kick back and relax. If you need a bit more activity though, you can also go boating, fishing, and hiking in the park. What's unique about this beach is that it is a freshwater lakeside beach. So, you don't have to worry about getting salty!
What's strange about this coastal area though is that plants that are common to the Atlantic coastline such as sea rocket, seaside purge, beach pea, and purple sand grass can also be found on the lakeside dunes of Lake Erie.