5 Hidden Caves To Spot Glow Worms In New Zealand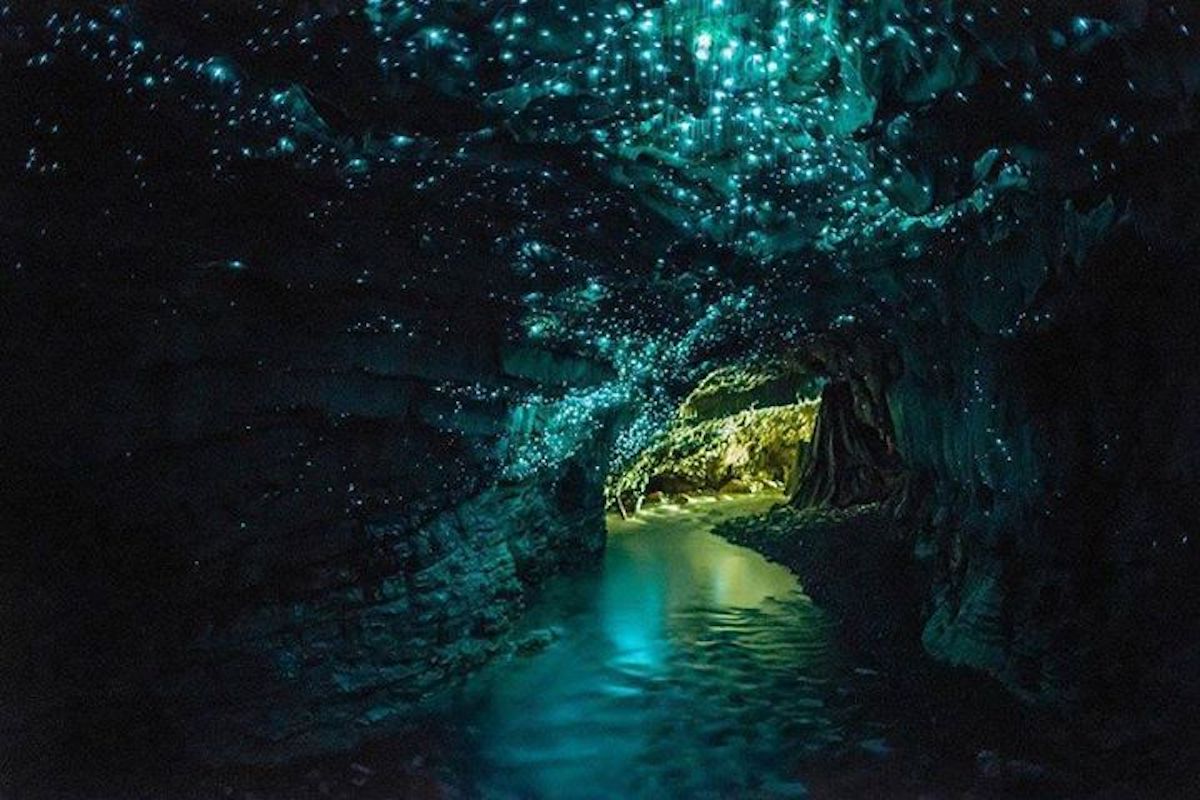 Planning to catch a glimpse of glow worms in New Zealand? This rare sighting should be on anyone's list when visiting New Zealand. Glow worms are New Zealand's underground stars emitting a gorgeous blue-green glow. This natural beauty has been attracting tourists all over the world. And while they may be small, they will leave a spectacle like no other. To enjoy the glimmering world of glow worms, here are 5 hidden caves to spot them in New Zealand.
What Is A Glow Worm?
A glow worm is a crawling insect capable of emitting a prolonged or continuous glow of light. Their tails produce a glow because of bioluminescence. This is the reaction between the chemicals their bodies give off and the oxygen in the air. Glow worms emit light to attract food, burn off its waste, warn predators, or attract mates. What do glowworms grow into? While maggots grow into houseflies, glowworms grow into fungus gnats, which are like mosquitoes.
Glowworms are normally found in New Zealand and Australia populating cave ceilings. These cave bugs also inhabit undisturbed woodland areas where there's an abundance of prey. Glowworms predominantly feed on snails and slugs. These make up the majority of their diet. They also eat smaller insects and small invertebrates.
How Bright Is A Glow Worm?
The light emitted by glowworms in New Zealand is helpful when attracting insects in the dark. This is also a defense mechanism for these cave bugs to ward off predators. When they're hungry, their light shines brighter. The colors that glowworms emit include red, yellow, orange, blue, and green. With its high population, when shining together, glowworms can illuminate a cave.
Get ready to discover the unique magic of the glow worm caves in New Zealand!
1.
Waitomo Glow Worm Cave
Aside from water rafting and caving, Waitomo is an excellent choice to spot some glow worms. Lying under the hills of Waitomo is a labyrinth of underground rivers and caves where the glimmering bug caves inhabit. Just venture 150 ft underground, and you get to enjoy a magical glow worm cave New Zealand experience.
Glow worm tour: There are plenty of glow worm tour options to choose from. Try the Waitomo Glowworm Caves tour, where a boat ride will cruise around the cave leading to the glow worm grotto.
Highlights of the tour:
Marvel at the thousands of glowworms as you ride on a boat.

Immerse yourself in geology and history of the Waitomo caves with the help of a tour guide.

Explore the Cathedral Cave.
Other activities in Waitomo Glow Worm Cave:
Caving

Eco-friendly boat tour

Underground walking tour
Location: Waitomo Glowworm Caves, 39 Waitomo Caves Rd, Waitomo Caves, Otorohanga 3943, New Zealand.
2.
Te Anau Glow Worm Cave
At only 12,000 years old, Te Anau caves are one of the youngest in New Zealand. Nestled on the shores of Lake Te Anau, Te Anau is also home to the glittering glowworms.
Just like any cave tour, hop on a boat and glide through the caves and narrow passageways. Enjoy the views of whirlpools and underground waterfalls until you reach the glow worm grotto. The view of the spectacular sparkling ceiling is nothing short of ordinary.
Glow worm tour: Enjoy a return scenic cruise on Lake Te Anau and watch the glowworms light up the cave!
Highlights of the tour:
See the glow worms in illuminating the pitch-black cave.

Learn the history of the rock formations in the caves.

Enjoy listening to the roaring water flowing through the caves.

Learn about the unique flora of the region through an optional short guided forest tour.
Other activities in Te Anau Glow Worm Cave:
Enjoy a scenic flight over or a leisurely cruise at Milford Sound.

Cruise along the lake.

Visit the Te Anau Bird Sanctuary.

Enjoy the lake.
Location: Lakefront Drive, Te Anau, Fiordland National Park, New Zealand.
Sitting in the heart of the Waiomio Valley is another excellent spot for some glow worm cave New Zealand experience. Also known as Waiomio Cave, the Kawiti glow worm cave continues to attract visitors to its glimmering cave network. Aside from the glow worms attraction, the caves are worth marveling at, too. Kawiti glow worm cave is known for its karst features and stalactite formations. This makes the underground journey underground through caves and chambers breathtaking.
Glow worm tour: Discover thousands of glowworms creating a starry night's sky in the Kawiti caves. There are guides that will share the history surrounding the caves and the life cycle of glowworms.
Highlights of the tour:
See thousands of glowworms up close and hear about their life cycle.

Enjoy breathtaking stalagmites and stalactites.

Explore and discover karst rock formations and pristine rainforest.

Learn more about the Maori culture and its history.
Other activities at Kawiti glow worm cave:
Bay guided tour

Cave tours

Explore the area via car or bike rentals.
Location: Waiomio, Bay of Islands, Northland, North Island.
4.
Lake Mclaren Glow Worm Cave
Another best glow worm cave New Zealand experience is at Lake Mclaren. After taking in the beauty of the Mclaren Lake, watch the gorgeous sunset over the hills. Then at dusk, there are plenty of boat tours that will take you to see the glow worms.
Glow worm tour: The glow worm tours won't bring you to a cave, rather to a canyon. Glowworms in Lake Mclaren are found in a narrow, high-sided canyon above the lake.
Highlights of the tour:
Enjoy a fully guided kayak tour to see the glow worms.

Most tours have fantastic refreshments for guests.

Enjoy the beautiful scenery of Mclaren Lake.
Other activities at Lake Mclaren Glow Worm Cave:
Cycling and mountain biking

Local food and wine

Hot pools and spas
Location: 190 Mclaren Falls Road, Omanawa 3171, New Zealand.
Visiting the Waipu glow worm cave is a bit of a mission. The path is made of gravel roads and hills, but the trip there is very rewarding. The cave formations are not just spectacular but also isolated. This lets you explore and enjoy the caves with fewer crowds.
For the best experience, bring a headlamp or torch and wear water shoes as there are some shallow water areas to walk on.
Glow worm tour: You can either go on an unguided tour or book from the plenty of glow worm cave tours.
Highlights of the tour:
Embark on an exciting cave journey as there are no tracks or paths in the cave.

Go on a little adventure walking on water and mud banks.
Other activities at Waipu glow worm cave:
Things To Take Note When Doing A Glow Worm Cave Tour
As exciting as it may seem, make sure to prepare well before doing a glow worm cave tour. This means knowing what to bring, what to wear, what to do, and even what to expect. All this preparation will make your trip more fun, comfortable, and safe.
What To Wear In Glow Worm Cave
What you wear during your glow worm cave visit can make or break your trip. Since you'll be entering and cruising underground caves and pathways, wear comfortable outdoor clothing. How comfortable depends on your preference, but keep in mind that there are lots of low-ceiling cave spaces, narrow paths, and wet areas.
Visitors are advised not to wear anything heavy, especially those that get heavier when wet such as denim jeans.

Warm clothes are recommended as the caves can get hot inside.

Wear comfortable shoes (waterproof is recommended).

Forget wearing accessories as they may drop along the tour.

Carry a money belt for safety and convenience.
What To Bring When Visiting the Glow Worm Caves
What to pack for a glow worm New Zealand experience depends on when you're visiting. During the warmer months, you may want to bring a small towel and a bottle of water. Meanwhile, in winter, pack an extra jacket. If tubing is on your list, bring a wetsuit.
Here are several essential items you need to pack for the best glow worm cave New Zealand experience:
Water shoes

Swimsuit for him and for her

Adventure camera or a selfie stick

Waterproof dry bag

Head torch or flashlight

Dry bag
Etiquette When Visiting A Glow Worm Cave
When visiting glow worm caves in New Zealand, it's important to observe proper etiquette. This is to ensure the comfort and safety of all the visitors. Aside from that, this is to ensure the protection of the glow worms and cave resources.
Here are some important etiquette tips to follow:
Listen to and follow the instructions: Keep in mind that you're entering a sensitive environment so it's important to follow the rules. If the cave rules say no food and drinks allowed, please respect that.

Be respectful to the guide and other visitors: Just as it's important to follow the rules, it's equally important to respect the guide and other visitors. Keep your voice low throughout the tour so everyone can understand the guide well. Maintain a harmonious and respectful atmosphere throughout the glow worm tour.

No taking of photos: Photography is not allowed inside most of the glow worms caves in New Zealand. This is due to the sensitivity of the glow worms. Lights and flashes are harmful to the glowing nature of these bug caves. However, there are caves that allow non-flash photography and video. Make sure to clarify this before entering the cave.

No touching of anything: Don't touch or move anything when inside the cave. These include rocks and the glow worms. Should there anything that needs to be moved, let your guide do it.

No light-up shoes in the cave: Electronic gadgets are not allowed inside the caves. These also include light-up shoes or any other form of gadgets that light up. Flashlights are allowed but use them only when needed. Unnecessary light can easily disturb and harm glow worms.

No loud noises: Aside from light, loud sounds can disturb and harm glow worms. Refrain from making unnecessary loud sounds. This also means don't bring music devices that can be disturbing throughout the tour.

No littering: Just like in any other tour, don't litter. Maintain cleanliness on the boat and the surroundings. Should you have any disposables, keep them in your bag first.
When To See Glow Worms In New Zealand?
Knowing the best time to visit the glowworms is important for the best experience. Although it can vary from year to year, they say the perfect time to see glowworms is during the warmer months. Between December and March, glowworms in New Zealand abound in the caves. The females start glowing at around 10 pm until after midnight.
If you want to visit during the warmest months, pick late January and early February. Meanwhile, the colder months are from June to August.
How Much Time To Spend At Glow Worm Cave In New Zealand
Glowworms cave tours usually last 45 minutes. Regular tours depart every half hour from 9 am to 5 pm daily. The cave tours normally include walks inside the cave followed by a boat ride through the sections. An hour is enough to spend at a glow worm cave in New Zealand. However, there are tours that last for three hours.
Also, if you want to make the most out of your trip, engage in other activities in the area. If you have the whole day to spend, pick from any of the relaxed or outdoor activities available. Staying for a night or two in the area is also an excellent idea.
However, if you're pressed for time, you can opt for a half-day tour of the glow worms caves. The tour activities are very flexible.
Where To Stay In Waitomo?
The glow worms destinations in New Zealand can get packed, so it's best to book your rooms well ahead. In the months between December and March, tourists flock to see the glowworms.
In Waitomo, here are the best hotels depending on your budget.
Budget – Kiwipaka Waitomo: Nestled in lush trees, this hostel has everything a budget-traveler needs. Boasting clean rooms, large sunny decks, and a communal kitchen, Kiwipaka makes for an excellent choice. Aside from that, the famous glowworms caves are just nearby.
Address: Hotel, Access Road, Waitomo 3977, New Zealand
Midrange – Waitomo Caves Hotel: Exuding in 19th-century style, Waitomo Caves Hotel provides a grand hotel experience. Strategically positioned above the Waitomo village, guests are treated to sweeping views of farmland and hills.
Address: Access Road, Waitomo 3977, New Zealand
Luxury – Waitomo Boutique Lodge: Not only does it offer a luxurious experience, but it offers privacy as well. Waitomo Boutique Lodge promises to pamper its guests with world-class amenities and a relaxing stay. Aside from that, they are free to participate in farm activities.
Address: 256 Waipuna Road, Waitomo 3985, New Zealand
What Type Of Insect Is A Glow Worm?
Glow worms are often mistaken as worms, but they are actually not. Glow worms are adult beetles or their larvae. These cave bugs belong to the Lampyridae family. Currently, there are over 2,000 lampyrid species existing.
What Does A Glow Worm Look Like?
Glowworms are narrow beetles with medium-sized bodies. The males are more beetle-looking, while the females look similar to the larvae as they don't have wings. Glowworms mostly inhabit under rocks or limestones and feed on snails and slugs.
What Makes Glow Worms Glow?
The glowworms in New Zealand are among the creatures that have the ability to produce light naturally. This process is called bioluminescence. It's a result of a chemical reaction between some components from their bodies and the oxygen in the air.
Why Do Glow Worms Glow?
Glowworms glow mainly as part of their hunting behavior. This light greatly attracts smaller insects that they feed on. The glow becomes even more attractive because glow worms live in dark places.
Glowworms spin sticky threads that they use to hang from caves. This sticky thread eventually traps the smaller insects that get attracted by their glow. The excellent combination of their glow, sticky thread, and dark habitat makes glow worms successful hunters.
How Was The Glow Worm Cave Formed?
Glow-worm caves form when the hard limestone under the ocean, through the years, move and rise above the seafloor. When these rocks are exposed to air, they will separate and create cracks, allowing water to flow in and dissolve the limestone. After many years, caves are formed. Insects are the common animals that live in these caves. Some of these include albino cave ants, giant crickets, and the glowworms as the most popular.
Top FAQs On Glow Worms Cave
Do I need to book in advance?
If you're visiting during the summer season, which is the busiest season for a glowworms tour, it's best to book in advance. This allows you to secure your tour slots as well as the other activities and accommodation. The blackwater rafting tours are also in-demand and can only accommodate a small group at a limited time. This means booking in advance saves you so much time and spares you from disappointment.
Are there group and package discounts?
The prices vary for adults and children as well as for the different tours. There are packages on offer to suit your preferences and needs. The combo packages are a great way to get a good deal and make the most of your trip. If you're traveling with kids, there are special rates for them.
Can children join the glow worms tour?
Children are allowed to join the tour as long as they're up for it. However, take time to brief the kids on what they should expect from the tour. Some small children may find it scary, making them become unsettled in the cave. If this happens, make sure to know how to pacify them to avoid making any inconvenience to other visitors. Rest assured, too, that tour guides are always willing to help and assist you whenever you need help.
What are my options to get the best photos in the caves?
There are caves that allow cameras and will even tell you the best spots to take snaps. However, for glowworms caves that don't allow cameras, your guide will take snaps for you. The photos will be available at the end of the tour.
Other FAQs
Aside from the boat tour, are there other exciting glow worm tours?
An alternative to the boat tour is the blackwater rafting tour. This is definitely for the more adventurous souls. Here's what to expect:
Explore the glow worms caves safely while riding on rubber tubes.

Get ready to jump into underground waterfalls and drift into narrow passageways with glimmering glow worms above.

Indulge in a hot shower and enjoy complimentary hot soup and bagels after the tour.
Can I still do the blackwater rafting tour even if I can't swim?
You don't necessarily have to know how to swim but you need to be comfortable in the water. You will be riding on a tube during the blackwater rafting tour. There are also expert guides to go with you during the tour.
Are the caves wheelchair-friendly?
Most caves provide access to wheelchairs and strollers. The caves have well-paved paths that let you enjoy the fascinating corners even while in a wheelchair.
If it's raining, will the tour be canceled?
Glowworms tours don't normally get canceled when it's raining. Just expect to get a little wet when you walk to the caves. Most tours provide raincoats in instances such as this. During heavy rains, the caves have alternate routes that keep visitors safer and dryer.
However, if there's is extreme flooding, most tours offer complete refunds and rescheduling of tours.
Ready, Set, Glow!
New Zealand is home to popular and interesting cities — and amazing caves, too! If you're visiting soon, make sure to see the glowworms caves. Seeing the glimmering glowworms inside the caves is truly a rare and wonderful experience. For the best glow worm cave New Zealand experience, book your tour ahead and know what to bring and wear.
Time to bring out those weekender bags as the glow worms are all aglow and waiting!