Top 7 Stunning Skydiving Spots In New Zealand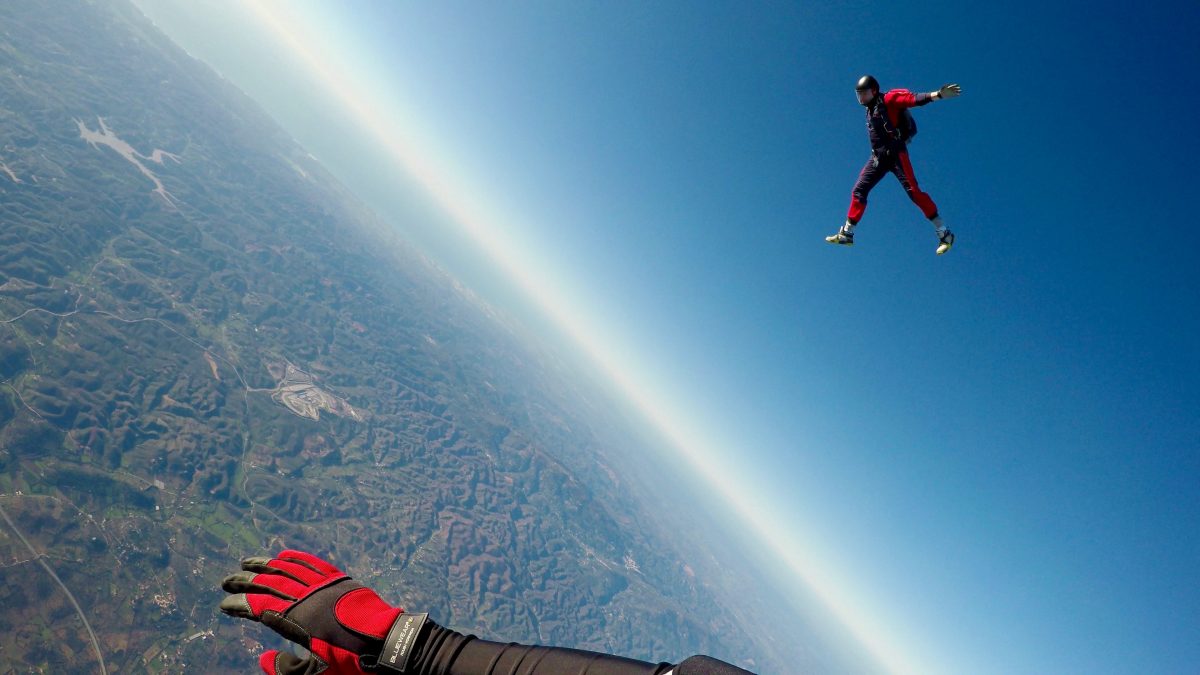 Skydiving is the thrill seeker's ultimate rush. Jumping out of a moving plane at 5400 meters above the ground while wearing only a large piece of fabric and some rope is on many people's to-do lists. Whether you're a seasoned pro or a newbie, one of the best places to get that thrill is in the gorgeous countryside, if not over New Zealand's stunning glaciers.
New Zealand is known for its gorgeous landscapes. It's been the backdrop of many beautiful films! These include The Lord of the Rings trilogy, The Chronicles of Narnia, and The Last Samurai. While this may seem like an unimportant factor, there's a significant amount of time that you'll spend looking at the scenic surroundings (particularly after the parachute has opened). There's nothing quite like having the adrenaline rush of your life and then slowly (relatively) floating down and seeing some of the most spectacular landscapes the world has to offer.
What Is Tandem Skydiving?
For the beginners (and plenty of experienced divers as well), you can try tandem skydiving. That means you'll have a very experienced skydiver strapped to your body. The professional skydiver will ensure you have a fun and safe experience. Many first-timers freeze or forget to pull a cord to open their parachute, but you won't have to worry about that with a pro on your back (literally). The most important thing you'll have to do is jump and just enjoy the experience.
Why Choose Tandem Skydive?
In addition to pulling the cord and releasing the parachute, your skydiving partner will also direct your landing. You don't want to end up like people in movies — stuck in a giant tree, waiting for someone to rescue you. Landing is crucial and thankfully, the pro skydiver takes care of that. Even if you've gone skydiving a few times, you'll still want to have a trained, experienced partner to help you land. That is, at least until you've been trained and have proven your landing abilities.
Many divers end up going for diving tandem because it allows them to enjoy the experience instead of calculating when to release the parachute or the best place to land. They're able to relax (as much as one wants after jumping out of an airplane) and enjoy the ride. Whether you're diving or landing, you can enjoy taking an unlimited amount of photos. Of course, with all the thrill, you'll unlikely to forget your instructor who guided you from the sky to the ground.
When you've finally decided to take the plunge, you'll need to decide where to skydive. Hopefully, this information will help you select the perfect skydiving spots for the ultimate experience. Plus, since you're already in New Zealand, you might as well take an excursion from the Middle Earth!
Lake Taupo is the largest lake in New Zealand, which means even before you head to the sky, you'll be well-treated with these lovely landscapes. Though it's nice to roam around the area, when you plunge out of the plane, you'll instantaneously realize that Lake Taupo is more than just a calm lake. One thing for sure is the majestic view of Mount Ngauruhoe, aka Mount Doom from The Lord of the Rings trilogy will never leave your sights.
Aside from all the mythical scenes your nerdy heart desires, you'll also enjoy the views of other natural wonders — volcanoes, the expansive shores of Lake Taupo, and kilometers of beautiful coastline up and down the island. Depending on what company you decide to jump with, you may also find additional benefits like — video recording, photoshoot, and more.
Taupo Tandem Skydiving is highly recommended, especially for its reputable status, reliability and excellent reviews online. Plus, it's possibly the cheapest skydive in New Zealand. In addition to the awesome deal, divers who wished to spice things up can opt for the pick-up service. Unlike your ordinary pick-up vehicle, be prepared for the extravagant pick-up by the yellow Hummer limousine.
Not convinced? Look it up online, don't be surprised that Taupo Tandem Skydiving is rated number one on Trip Advisor too! But no matter what company you choose to dive with, you definitely experience some of the best views in the world. The skydiving price ranges from $134 USD per person to $376 USD depending on the height and packages you're taking.
If you're not spending a lot of time in New Zealand and want a more convenient location for skydiving, Queenstown is perfect for you. Though Queenstown may not be the most affordable skydiving experience, it's certainly more scenic. Unlike Lake Taupo that is closer to Auckland, you may still end up seeing concrete walls and bustling cities.
Queenstown, however, is situated between the glorious mountains and seemingly infinite ocean. If you go during the wintertime, you'll be treated with views of snowcapped mountains against an icy blue ocean. However, if you visit any other time of the year, you'll see rich, rolling green hills, craggy mountains, and azure sea. Either way, they are unique and it's a great excuse for you to go for a second skydiving experience. Queenstown is found in New Zealand on the South Island. So, if you're flying from Auckland, you should know you can't drive or take a train to Queenstown. Fly to Wellington instead, it's far more convenient and lesser travel time.
Seasonal Skydiving In Queenstown
Keep in mind that even during the summer season, skydiving can be cold because of the sheer altitude. In winter, it will be absolutely freezing. Though it's not favorable to go on a skydive during winter, you still can challenge yourself with the extreme weather. However, if the sky is clear, you might even be able to see New Zealand's highest mountain, Aoraki Mt Cook.
At many Queenstown skydiving locations, you can learn about the history of the sport and how it came to be so popular in New Zealand. Most companies also offer the option to watch other people fling themselves out of an airplane. This might make some people nervous, but it provides the advantage of seeing people land safely with excitement. They're sure to tell you all about the beautiful mountain views when they finally calm down, but if you want even more beautiful mountain views, you should look into skydiving at the Southern Alps.
3.
The Southern Alps and Fox Glacier
The Southern Alps run up and down most of the southern island of New Zealand. The highest peaks are found on the western coast and even boast the highest mountain range in the Australia/Asia region. While the smaller mountains are about 900 meters, but some do soars over 3000 meters in height. To give you a frame of reference, the most typical range for skydiving is between 2700 meters and 4800 meters. Relatively, you could potentially be inches away from the mountain tops during your skydiving adventure! Apart from the enormous mountains, don't forget about the stunning glaciers, too. Try out the skydive from Skydive Southern Alps, the price starts from $195 USD onwards.
Fox Glacier
As one of the most famous glaciers in New Zealand, Fox Glacier is located just at the bottom edge of Southern Alps. For those who wish to explore and conquer the Fox Glacier, there's a small village nearby. This is a good place to get ready and rest up before a guided hike through the glacier. However, if you prefer a bird's eye view of the glaciers, opt for skydiving!
You'll not only see the surroundings of the glaciers but also the ocean and the lush rain forest. Believe it or not, it's a beautiful tapestry full of natural wonders that no words are sufficient to justify. In fact, Fox Glacier was given a prestigious award for being the Most Scenic Skydive in the World by the Travel Channel. But don't take their word for it, find out for yourself!
Who says you can't have both stunning scenery and adrenaline rush at the same time? Skydiving at Franz Josef is a complete package to your fulfill your wish. Franz Josef boasts one of the highest drops in the world offering a dive over 19,000 Ft. That's about a minute and a half of freefalling. It may not seem like a lot, but it might just be the longest and most exhilarating 90 seconds of your life.
In addition to the thrill of a lifetime, you also have the perfect scenery to enjoy. You'll jump above the clouds and see mountaintops perching out in the sky. Once you get past the clouds, you'll be able to see the highest mountains in New Zealand, long and glossy glaciers, reflective and almost white-blue lakes and rivers, and beautiful and lush rainforests. We recommend skydiving with Skydive Franz, the price starts at $282 USD onwards. Though the prices are slightly higher, it's well worth for the unique experience.
Franz Josef Glacier is listed as a World Heritage site, so you know it's extra special aside from being the highest skydiving location in New Zealand. It's stunning, and you'll likely want to go again just to absorb the stunning views over and over. If you're looking for more incredible scenery, another good stop is Wanaka!
Wanaka has a lot of beautiful lakes and mountains. So if you love seeing long, glassy surfaces surrounded by rich green mountains, you'll love jumping out of a plane there. It's just north of Queenstown so if you're making skydiving rounds, you can easily get from one spot to another.
The resort town of Wanaka is set on the beautiful Lake Wanaka. It is so pretty that you won't believe it's a real place people live in. It looks like it came out of a postcard than a place of commerce and tourism. If you need a short reprieve from heart-pumping adrenaline, Lake Wanaka offers hiking, boating, swimming, fishing and so much more.
Another notable skydiving location in Wellington. While this is the capital of New Zealand and you don't particularly think of skydiving when you think of cities, the lush green hills and beautiful lakes make it a great skydiving spot. Wellington also offers the scenic harbor and the prettiest suburbs you can imagine.
If you want the best of both worlds, with all of the scenery New Zealand has on offer but the luxuries and amenities a city can provide, Wellington is the best. This is probably the best option for those looking to slowly ease into the skydiving culture.
Conversely, it's also a great place for an experienced diver to go and get his/her certification. Do note that, it's not cheap to get certified (at least 5000 New Zealand dollars). However, getting an international certification definitely sounds like a good idea. This means you can go anywhere in the world and skydive with or without professional help.
7.
iFly, Indoor Skydiving in Queenstown
If heights and the thrill of mortal danger don't sound like how you want to start out your skydiving experience, New Zealand also has a modern take; indoor skydiving. Queenstown has the only indoor skydiving experience in New Zealand (as of 2019) called iFly. Due to its popularity, it's not likely to be the last location. New Zealand is arguably the skydiving capital of the world. Hence, indoor skydiving is a fantastic way to get a taste of free-falling before going for the real skydiving experience.
There is comparatively no danger. But, it gives you the free-falling experience without actually falling at terminal velocity with only a parachute to save you. It's safe, fun, and thrilling. Additionally, it can also last a lot longer than a normal skydive. Many skydiving experiences allow you to free fall for about sixty seconds, sometimes less.
With indoor skydiving, you can pay a base rate and fly to your heart's content (or until the adrenaline makes you sick to your stomach).
Other Benefits Of Indoor Skydiving
Indoor skydiving also operates all day and night, regardless of the weather change. As compared to the traditional skydiving, indoor skydiving is definitely more versatile. Don't expect to for outdoors skydive when it's raining, below-freezing temperatures, and certainly not in the dark. Indoor skydiving doesn't have to wait for the perfect conditions. Even if it's cold and rainy outside, you can still get the thrill of a free-fall experience.
Indoor skydiving is friendly for all ages. Even children (typically 6 years and older) can skydive, while you have to be of legal age (18 years old) to dive the normal way. They even offer family flight packs that allow you to experience the adventure with your loved ones.
There are certainly some people who prefer to see the astounding vistas, but iFly has thought of that, too. iFly has combined the free-falling experience with the feeling of virtual reality. A VR headset allows you to see footage from an actual skydive as if you're the one living it! This has all the feeling of a traditional dive experience with none of the impending danger.
Despite having a helmet and headset, it also doesn't feel any more cumbersome because you're required to wear even more safety gear in a traditional setting.
This is a great option for those looking to enter the world of skydiving without any of the typical dangers. Some people will swear it's not the same; however, some people swear they'll never jump out of a plane. This is a nice compromise.
Takeaway
No matter your skydiving of choice, whether it is a 2000 meter jump out of an airplane or a virtual reality experience indoors, New Zealand has some of the best options the world has to offer. So, strap on your GoPro or pull on your VR goggles and get ready to experience the thrill of a lifetime. Just know that once you do take the plunge, nothing else may ever satisfy your adrenaline riddled urges again!