10 Best Beaches You Must Visit In Australia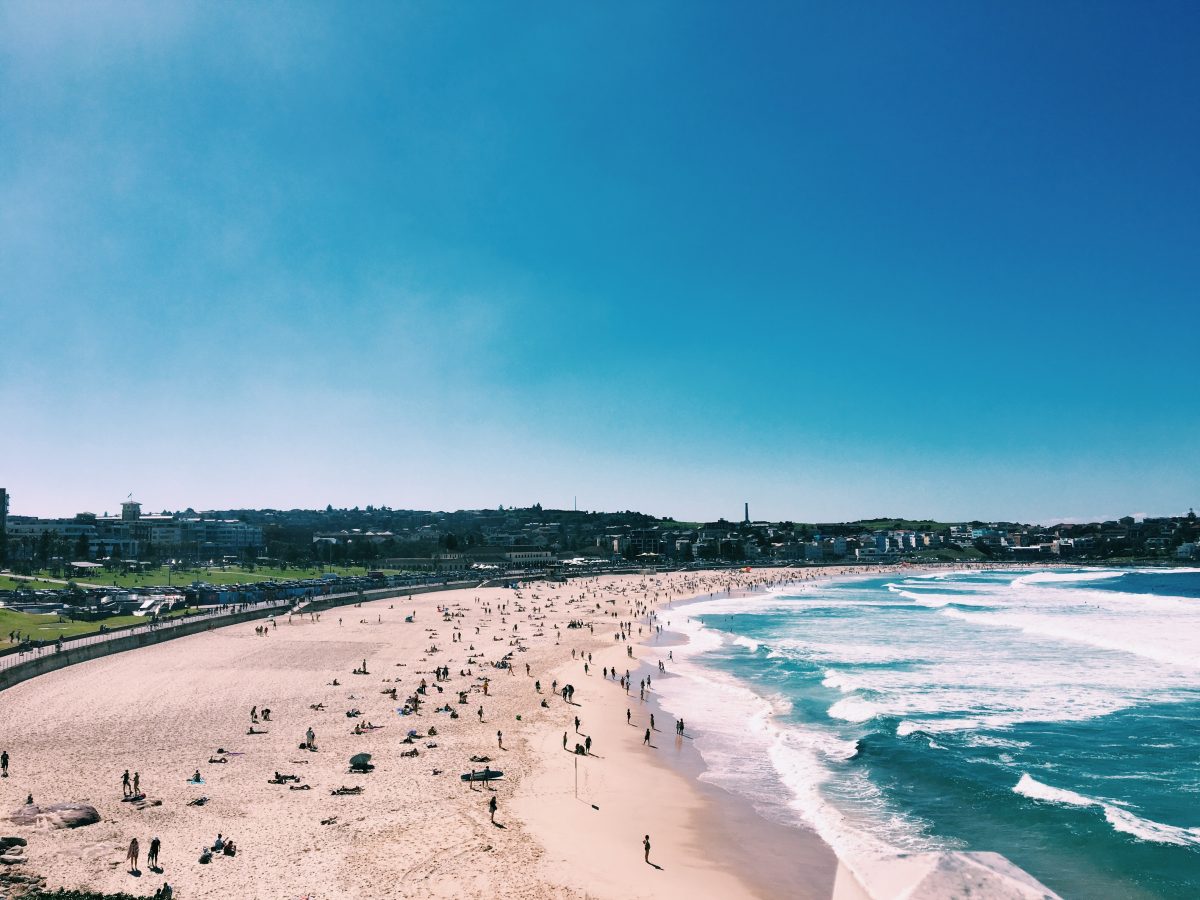 Most people can't think of anything better than the warm sun on their skin, a cold cocktail in hand, and an easy-breezy read on the beach! However, there's just one thing that outdoes precisely that – doing so on Australia beaches! The world knows Australia beaches is considered the best in the world. Here, we've compiled a list of ten Australia beaches you should visit. Trust us, they're worth their dime.
Best Time To Visit Australian Beaches
It is useful to note that because Australia is literally in the Down Under, seasons work a little opposite than the rest of the world! Australia is located in the Southern Hemisphere, so seasons are inverse. For example, summers are from December through February, and winter from June through August. Even so, because Australia beaches are situated in different parts of a vast continent, the type of weather you'll experience depends largely on the region you're visiting! Here, we list out several regions for you.
Most of the popular Australia beaches are located in southern Australia, including Adelaide and Melbourne. In this region, summer temperatures are usually 70 degrees Fahrenheit (or 21 degree Celsius), and winters are slightly cooler. If you fancy visiting this region, we recommend going in January or February for warm, beach-worthy weather! Psst, if you're lucky, you can also see baby kangaroos around in Kangaroo Island, just southeast of Adelaide!
Now, the Gold Coast is one of the most popular destinations in Australia, mainly because of Surfer's Paradise, which we will get into! This particular Australia beach has perfect weather most of the year, so you're good to go. If you're heading to Sydney, temperatures in the summer is just perfect, as it is just the ideal level of warm.
We know you're wondering about the Great Barrier Reef as well – it's cited as one of the top reasons why people visit Australia beaches! You're in luck because the Reef tends to be warm year-round. Even so, in the summer temperatures can rise to nearly 90 degrees Fahrenheit (32 degrees Celcius), with plenty of tropical rain to boot.
Bondi Beach is probably THE ultimate of all Australia beaches. Furthermore, you may not know that Australia's beach culture started right here! Located in Sydney, this Australia beach paved the way for the bikini to be included as part of popular beach culture.
Bondi Beach is popular with locals and tourists all congregating at its shores all year round. The beach's popularity is owed to the fact it is easily accessible from the city, surrounded by trendy café streets. Who's up for a spot of café hopping next to a beautiful Australia beach – we know that we are!
A perfect day in this beach would definitely be frolicking amongst the clear turquoise waters and basking in the sunshine! A few must-do things here on Bondi Beach include surfing and seeing the quintessential beach houses – a must go for the 'gram!
Lizard Island in the Great Barrier Reef is undeniably the picture-perfect island getaway you should go to. With over twenty-three stunning spotless beaches to choose from, you'll never be bored island hopping! Even though it's not the most affordable of holidays, you know that it would be well worth it.
Imagine this: Laze around in your own private villa at the island resort and enjoy private access to some of the most secluded beaches in the country. This Australia beach is perfect for the sea lovers amongst us, too. Lizard Island has incredible diving and snorkeling spots close to shore, and great facilities to boot! Furthermore, if you're into hiking, it's time to take a relaxing hike to Cook's Look, where the unforgettable James Cook himself climbed hundreds of years ago.
If you ask us, Lizard Island sounds like an amazing Australia beach to rest up and indulge in – so what are you waiting for?
While not as widely known as Bondi Beach or Surfer's Paradise, the local secret is that this beach is the most beautiful of all Australian beaches! This is as voted by Australians, so you know you've got the real deal right here. Think long expanses of white sands and crystal clear waters.
To sweeten the deal, it really does look that spectacular when you have the luck to see it in real life. Just imagine diving into vivid cerulean waters and you've got yourself a magical experience.
In addition to being such a beautiful beach, there are also a ton of things to do. Spot the turtles and other marine life on the beach or scale the lookout on Tongue Point. Furthermore, the myriad of coves, lagoons, and inlets with scenic lookouts dot its surrounds and add to the gorgeous and untouched mystique of this picture-perfect Australian beach! Come along for a visit and you'll know why Whitehaven Beach is the most gorgeous of all Australia beaches.
4.
Surfer's Paradise Beach
For any curious visitor, Surfer's Paradise Beach comes to mind when they think of Australia beaches. Surfer's Paradise is famous for great waves. As a result, its shorelines are packed with many surfers and other surfing enthusiasts!
As touristy as it is, there are a lot of incredible things you can do on this Australia beach! You can take advantage of the dreamy sunsets at the Sunset Bar, or take a luxurious River Cruise or even a heart-stopping jet boat ride. The atmosphere is electric with people from all walks of life mingling together. If you ask us, the people-watching is almost as good as swimming or surfing in the cool waters.
Beyond the shore and the beach though, Surfer's Paradise is in close proximity to other great tourist attractions like DreamWorld and Currumbin Wildlife Sanctuary where you get to see the animals native to Australia – cuddly koalas and adorable kangaroos! So, once you're done sun tanning on this preppy Australian beach, why not take some time to visit these places?
One thing that you must know is that the Gold Coast has a huge range of contenders in the best Australia beaches category. Other than the above mentioned Surfer's Paradise, another fan favorite is Burleigh Heads.
Burleigh Beach is a go-to tropical paradise warmly embraced by the locals. No matter where you go, you see happy families picnicking, having a stroll, and just enjoying the simple pleasures of the beach. There are plenty of trendy new dining options nearby – from restaurants, street food, or even cozy cafes!
If you're a fan of wildlife and animals, then you're in luck! Visitors taking a stroll along the stretch will also get the chance to catch a glimpse of the local wildlife on land and in the sea. From seabirds to pods of dolphins and humpback whales, try to see how many you can spot!
Noosa Main Beach is the ultimate standout among the many breathtaking Australia beaches on the Sunshine Coast. The golden sands, pristine waters and patrolled beach make it an ideal swimming spot for the whole family. If you're a nature enthusiast, you may even observe dolphins joining you in the waters and humpback whales can be spotted in the distance during their annual migration. It's definitely can be seen spectacularly on Australian beaches!
Noosa Beach is also surrounded by the famous Hastings Street, which features world-class restaurants and boutiques. The street, which is just a few minute's walks away from the Noosa Australia beaches, is the place to go to after a long lazy day at the beach. Some things you can do in Hastings Street would be to grab a drink or an ice cream cone and take a nice, long stroll. Sounds like the perfect day to us.
It's only fitting that the largest sand island in the world should also be home to one of Australia's best beaches. 75 Mile Beach on Queensland's Fraser Island gets its name from its length. That should clearly tell you just how expansive this stretch of coastline is.
75 Mile Beach has much more going for it than simply its size. You'll see multi-colored sands form a vivid mosaic of white, orange and ochre hues along the shore. So why not take a walk down this beautiful Australia beach and see if you can make the entire 75 Miles? It's a check off your bucket list, we think!
One of the most impressive Australia beaches is located in Tasmania — the Wineglass Bay in the Freycinet National Park. Pink granite peaks and lapping turquoise waters surround the clam-shaped shoreline on Tasmania's east coast. There are plenty of things to do in Wineglass Bay. The wide range of activities includes snorkeling, kayaking, wildlife spotting, and hiking. With the myriad of things to do, this greatly appeals to families and couples!
A pro tip: Wineglass Bay can best be viewed from a dedicated lookout after a 1-hour hike along a well-maintained path, while the beach can be accessed by a downhill portion of the track. If you want an authentic Wineglass Bay experience, make sure to go for a walk or swim along its shores! According to both locals and tourists alike, this is one of the must-do nature-based experiences in Tasmania.
Most ordinary travelers often overlook Western Australia in favor of the East Coast. But if you make the hike, you'll be rewarded with amazing Australia beaches. Mandalay Beach, south of Perth near the town of Walpole is a perfect example of this. The isolated location of the beach only adds to its untouched beauty with rocky headlands and untamed wilderness. Mandalay Beach is definitely impressive and different to any other beach on the list.
One of the highlights of Mandalay Beach is the nearby island of Chatham Island which sits just a few miles off the coast. The island's greenery contrasting with the white crests of waves form a picturesque scene. If you're looking to make the hike to the secluded Mandalay Beach there are two entry points suitable for regular vehicles 30 minutes drive from Walpole. The journey is worth it to experience one of the most unique Australia beaches.
If you ask us, Byron Bay is another must-go amongst all Australia beaches. It is popular for its beautiful and boundless beaches, as well as exquisite surfing and diving sites. Not only that, but this Australian beach also comes equipped with modern resorts, cafes, and boutiques popping. The lovely, long stretch of coastline is a short trip from the Gold Coast and the powder-like sand beaches are a treat for those looking for someplace less crowded in the Gold Coast!
The gorgeous Byron Bay sits on the eastern point of mainland Australia in Northern NSW. It is considered one of the must-go Australia beaches in the world. So why not pack up your bag and head over?
Final Thoughts
It is so clear to us that Australia beaches are some of the best in the world. So what are you waiting for? It's time to throw on your swimsuit, pack a nifty picnic basket, and hit the beach! Even better if you're into surfing – surf's up! Remember, every region differs in terms of the optimal time to head to the beaches, so plan your visit wisely. Have a fantastic and well-deserved holiday!