Things To Do In Gold Coast, Australia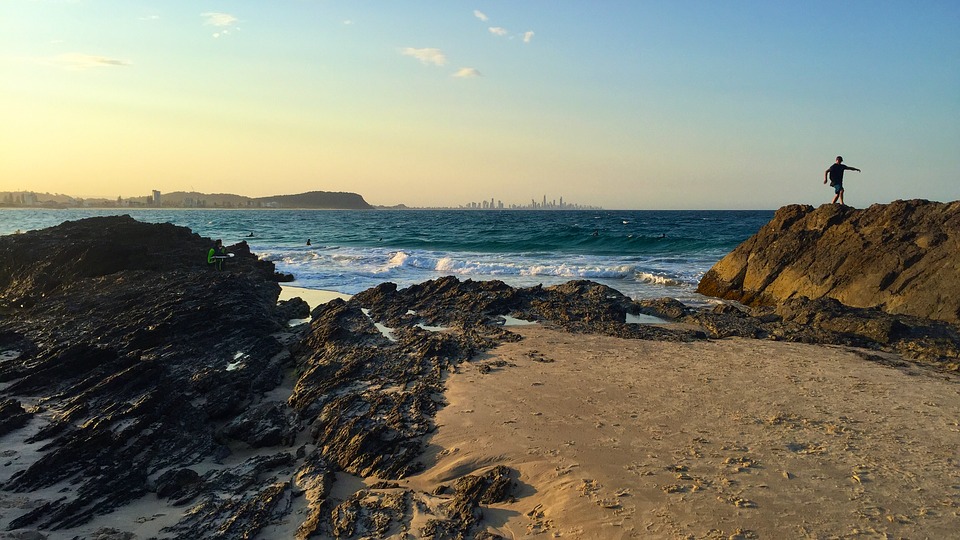 On the east side of Australia lies the Gold Coast, an area of pristine, unique nature. A golden sand coastline stretches far beyond the horizon of a surfing paradise. With 300 sunny days a year, this is one of the most popular tourist destinations in Australia. The Gold Coast has so much to see, do, and experience.
1.
Begin Your Day At The Beach In Burleigh Heads
Your adventure at Gold Coast begins with the sunrise at Burleigh Heads. Set your alarm early, and catch the breathtaking sunrise from the beach at Burleigh Heads. Besides, every seasoned traveller knows that to see and experience a place entirely, you need to start early.
Burleigh Heads in Gold Coast sits in the middle of Surfers' Paradise and Coolangatta. Burleigh Beach offers the best of both worlds, calm waters for swimming on some days and perfect waves to catch some surf on others. Alternatively, if you're not one for the water, pack a picnic, bring a mat, and simply sprawl out on the sand!
2.
Take Surfing Lessons at Surfers' Paradise Beach
Surfers move with vigour and calm, a slice of easy living that many of us long for. You're in luck, at Surfers' Paradise in Gold Coast you can get a dose of the surfer's lifestyle.
Known as a surfing mecca and a world-famous surfing community, Surfers' Paradise offers waves for both pros and rookies alike. For beginners, surfing lessons will cost approximately AUD$70 for a group and AUD$160 for a private, more intimate session.


Surfers Paradise is located in the heart of the Gold Coast and is connected by major public transport branches. For more detailed info about transportation services, visit Queensland's official transportation website.
Insider's tip
Get yourself a "GO" card for cheaper fares and easy transfers.
3.
Climb Atop What Was Formerly The Tallest Building In The World, SkyPoint
Inland from Surfers' Paradise you will find SkyPoint, the 5th tallest building in the world. At the top of its 77 floors you will be met with an unbeatable panoramic view of the Gold Coast. Sunset is the best time to see the strokes of marvellous lights over the coast. Skypoint also features a restaurant for an all-in-one attraction.
SkyPoint is located at 3003 Surfers Paradise Boulevard. It will cost you AUD$97 for a top deck climb and AUD$17 to get to the observatory. If you're opting for the observatory, an extra 10 bucks will give you a AUD$20 voucher that can be used at the local bistro and bar.
4.
Take A Ride To The Lamington National Park
Located South-West from the city, Lamington National Park is a great alternative to the many beaches that you will find in Gold Coast. Featuring some of the most extensive subtropical regions on the planet, the park is home to 160km of walking trails and caves.
Among the best is the O'Reilly's Tree Top Walk. Get ready for nine suspension bridges hanging between treetops a whopping 15 meters above the ground! These suspension bridges at the Lamington National Park offer a mesmerising view of the rainforest. Ancient trees and volcanic origins are covered in vines and circled by birds; it is simply majestic.
The Lamington National Park is located 45 km from Gold Coast city, so the best way to get there is by taxi. Unless, of course, you've decided to rent a car during the entirety of your trip!
5.
Get On A Tour At The Majestic Mount Tamborine
A mere 30 minutes from the main city area, Mount Tamborine awaits to take you up into the clouds. Way up high on Mount Tamborine, you'll find rope bridges, forest tours, and wild waterfalls. Look out for Curtis Falls where you are welcome to take a dip in.
While Mount Tamborine is all about connecting with nature, it does have a developed infrastructure with cafes and restaurants as well as cosy accommodation for multi-night stays.
There are various tours available for you to choose from with everything from a day of exploring multiple mountains to meditating amongst the lush greenery. In other words, you're about to be pretty spoilt for choice. Tours are typically priced at AUD$150 and up.
6.
Find Your Way To The Lost World Valley
If you just can't get enough of Gold Coast's rainforests, there is one additional you must-see during your visit. On the periphery of Lamington National Park, there is the absolutely stunning Lost World Valley.
Be warned, however that this is a more difficult hike, so prepare yourself! We must say that it is also a rewarding one as you will be greeted by mesmerising waterfalls, stunning jungles, and landscapes that look like they're straight out of Jurassic Park.
7.
Step on Ice for The Penguin Antarctic Adventure at Sea World
Our first theme park recommendation in Gold Coast is Sea World. Cast away the heat from the abundance of sunny days and dive into the cool world of the Antarctic with exclusive penguin programs featuring the King Penguin.
In addition, Sea World has many other attractions and animal-based entertainment options. Our favourite would have to be the Shark Bay Glass Bottom Boat rides at Sea World Gold Coast. Here you will get to see majestic sharks swimming just below you through a glass panel in the middle of your boat.
You can find SeaWorld on Seaworld Drive, Main Beach. Sea World Gold Coast is open every day from 9:30 AM to 5:00 PM. Entrance to Sea World Gold Coast will set you back roughly AUD$85. Do take note that some attractions within the park may require you to purchase additional tickets.
8.
Get Your Adrenaline Pumping At DreamWorld, Australia's Largest Theme Park
Enormous and diverse, DreamWorld is a must visit on the Gold Coast. With over 50 attractions, the park will be perfect if you're looking for things to do in the Gold Coast as a family. The whole park consists of 13 areas represented by what they refer to as different worlds. Each world has its own set of shows, rides, and animal exhibitions.
Dreamworld is located at Dreamworld Parkway, Coomera and it is open from 10 AM to 5 PM every day. If you want to make the most of your trip to Dreamworld Gold Coast, we recommend a 3-day pass that costs AUD$89. For just and additional 5 bucks on top of the 1-day ticket you will also get a PhotoPass that allows you to take your own pictures.
9.
Be Spooked By A Ghost Tour Of Old Surfers Paradise
For those of you who are interested in the paranormal, you absolutely must get on the Ghost Tour of Old Surfers' Paradise. This tour will lead you through the dark side of the city. Walking through hidden authentic alleyways, you will discover the city's skeletons!
If you dare, you can also take part in spiritual rituals featuring black mirrors and dowsing rods. The tour departs from outside Fiddlers Green, 39 Cavill Avenue Surfers Paradise 4217.
While the Ghost Tour of Old Surfers' Paradise is available all day, we suggest you opt for the evening tour for full immersion. Adult tickets are priced at AUD$29.
10.
Escape To The Sunshine Coast
Are you a true summer lover? If you are then we know that you're on the hunt for the best beaches no matter where you are in the world. Thankfully, Gold Coast in Australia does not disappoint. After all, it is called the Sunshine Coast.
To get to the actual Sunshine Coast, you will need to drive approximately 80 kilometres. We have good news if you don't have a car, public transportation is also available! The beautiful beaches at Mooloolaba are home to wildlife and seaside towns like Noosaville.
Choose between sunbathing on a pristine beach or take a walking tour through the hidden gems of the Sunshine Coast. You may even meet a kangaroo for company along the way!
11.
Appreciate The Colorful Sands Of Rainbow Beach
If you're already on the Sunshine Coast in the north, we suggest you to make time for Rainbow Beach. Rainbow Beach is appropriately named after the rainbow sand that can be found. There is a legend that the sands were coloured by the spirit Yiningie, while it fought off an evil tribesman.
Aside from relaxing on beaches, you can also kayak with dolphins for AUD$80. Alternatively, you can ride beautiful horses across the beach for AUD$300. As an added bonus, Rainbow Beach can be your starting point to explore Fraser Island. The access point is located only 10 minutes from the coastal town.
12.
Spend Some Time with Unique Animals At Currumbin Wildlife Sanctuary
Located within the 27 hectares of the Currumbin Rainforest, the sanctuary is a zoological-garden with fascinating flora and fauna. Experience wild lorikeet feeding and Aboriginal performances you won't soon forget. After that, spend some time with one of Australia's most famous inhabitants—koalas. Koala hugging included!
To get to the Currumbin Wildlife Sanctuary you may choose between a taxi or a bus ride from Gold Coast city. For a one-day pass to the Currumbin Wildlife Sanctuary, you'll have to pony up AUD$49.95 per adult.
13.
Choose Between The North Or South Of Stradbroke Island
Alternatively, if you hate choosing, simply visit both! Each of these islands will be a great place to go if you're looking to leave civilisation behind. The only way in is to travel across the waters. So, unless you have a private boat, opt for a ferry or water taxi from Brisbane Harbour.
"South Straddie," as the locals call it, will give you a perfect one-day trip for enjoying the wildlife of an 1800 hectare conservation park. "North Straddie", on the other hand, features the Gorge Walk with stunning views for observing marine life.
At North Stradbroke Island, interaction with kangaroos and koalas are guaranteed! Just keep an eye out for the wallabies, those sneaky creatures may steal some of your food!
14.
Lose Yourself At Dracula's Cabaret Gold Coast
Feel a monstrous appetite creeping up on you? Well we have a great place for you to satiate it. Dracula's Cabaret Gold Coast is a bizarre place of eccentric comedy and good food.
Your evening in this fascinating vaudeville-centred diner starts with a ride on a spooky ghost train. You'll arrive at the Vampire Theatre where you will be thrilled by extraordinary performances. Waiters and performers will serve you while baring their sharp teeth and cheeky gazes.
To take part in this performance you need to book a table in advance on their official website. Ticket price starts from AUD$59 for the show alone and AUD$95 for the show and meal. Dracula's Cabaret Gold Coast is located on 1 Hooker Boulevard, Broadbeach, so you can easily get there by public transport.
If you're looking for great things to do with the kids while in Gold Coast, do check out their affiliated Drax 4 Kids!
15.
Get Your Booze On At The Famous Local Brewery, Balter
While you're at Currumbin, make the time to check out the interesting brewery, Balter. Here, you can find numerous beers, each one unique and custom made. Even if you don't normally drink beer, you'll want to give them a try during the brewery tours every Friday and Saturday.
For AUD$35, you will receive an in-depth tour and learn about the brewing process, degustation. Make sure you get your Balter stubby holder during the course of your tour. You wouldn't want to miss out on a nifty little souvenir.
16.
Have Your Supper With A Side Of Live Music At The Miami Marketta
At the Miami Marketta in Gold Coast we bet you will forget where exactly in the world you are. This is due to the fact that you will be surrounded by street food from all around the world. There's no limit to what you can expect!
Under fairy-lights strung almost romantically across the venue, you will be spoilt for choice. Nearby bars offer cocktails and beers that you can pair with your meal.
Stalls sell local artwork, and live music is featured every Wednesday, Friday, and on the weekends. Could you ask for a better night out than at the Miami Marketta in Gold Coast? The Miami Marketta is open from 5 PM till 11 PM and located 23 Hillcrest Parade, Miami which is a mere 20-minute bus ride from the city centre.
17.
Soar Across The Gold Coast In A Hot Air Balloon
For more spectacular views of the urban panorama, hop on a hot-air balloon. Get a ride up to 2000 metres above the ground, and breathe in the fresh air. Allow the light breeze to blow you across the city as you recap all the amazing memories you've made in the Gold Coast.
There are plenty of companies that provide balloon rides that cater to a wide range of budgets. However, on average, it will cost you around AUD$250 for a 30-minute ride and AUD$300 for an hour in the sky. Balloon rides are available only early in the morning so we recommend an early night in the day before. Many companies also offer breakfast on the launch site for an extra buck.
Let us know…
With so much to see and do in Gold Coast, Australia, you might not be able to do everything in one trip. So, if you don't have the luxury of time remember that the Gold Coast is the perfect place to visit again—and again. Sunbathe, surf, hike, and enjoy the best things life has to offer in this fascinating region of endless summer.
Do let us know which spots were your favourites and if we've missed anything that you think definitely deserves a spot on out list of things to do in Gold Coast, Australia!