Travel In Australia – The Greatest Guide To Seeing It All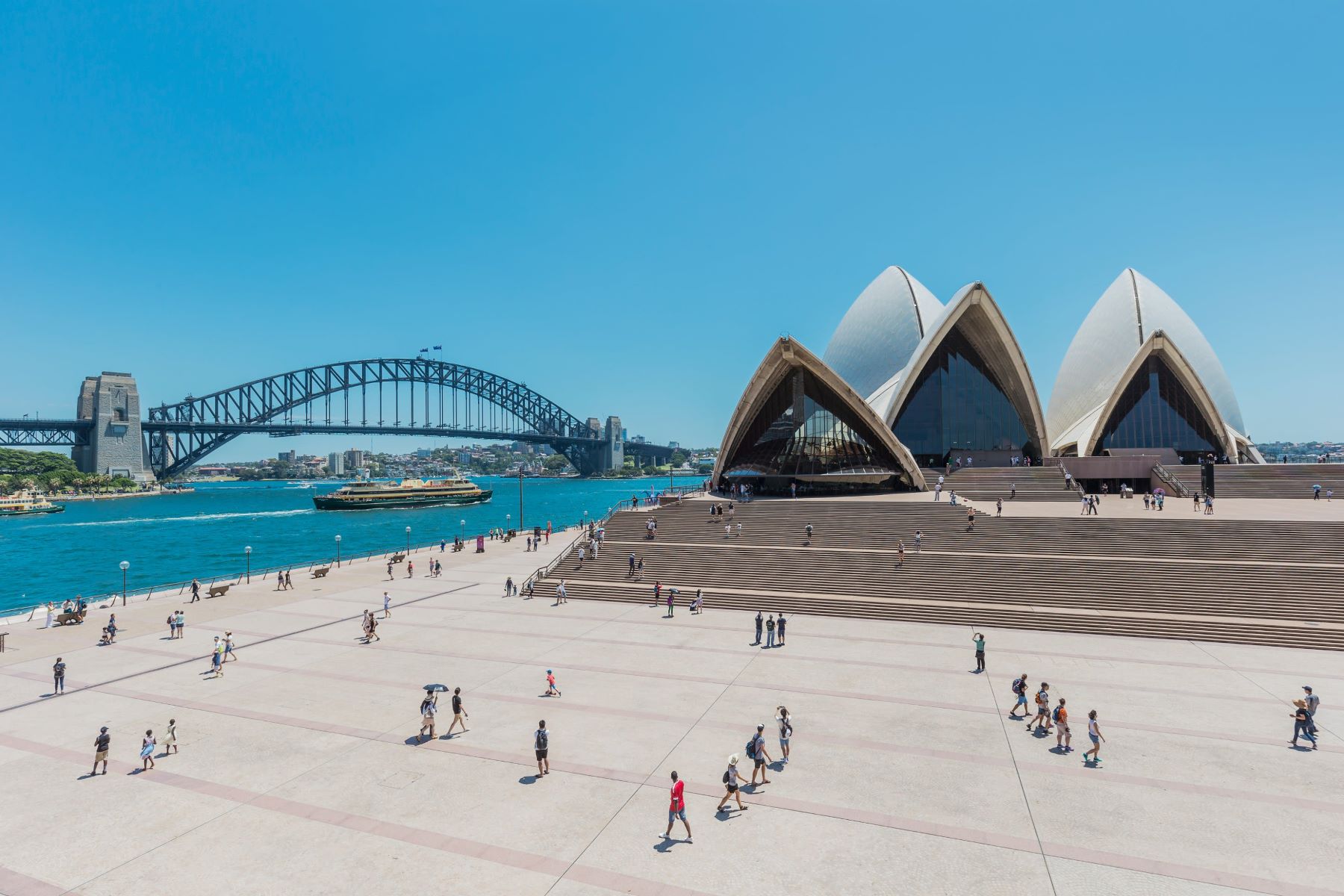 Introduction
Australia, the land Down Under, is a vast and diverse country that offers travelers a wealth of experiences. From breathtaking landscapes to unique wildlife and vibrant cities, Australia has something to captivate every traveler. Whether you are a nature enthusiast, an adventure seeker, a food lover, or a culture enthusiast, Australia has it all.
Getting to Australia is fairly easy, with major international airports in Sydney, Melbourne, and Brisbane, among others. Once you arrive, you'll be greeted by friendly locals and a welcoming atmosphere. The country's well-developed infrastructure makes it convenient to explore and navigate, whether you choose to travel by plane, train, bus, or car.
One of the highlights of visiting Australia is discovering its major cities. Start your journey in Sydney, home to iconic landmarks like the Sydney Opera House and the Harbour Bridge. Enjoy the vibrant cultural scene, shop at trendy boutiques, and indulge in world-class cuisine. Melbourne, known for its artistic flair and coffee culture, is another must-visit city. Explore its laneways and street art, dine at renowned restaurants, and catch a live performance. Other cities like Brisbane, Perth, and Adelaide also offer their own unique charm and attractions.
Beyond the cities, Australia boasts some of the most awe-inspiring landscapes on the planet. From the vast deserts of the Outback to the ancient rock formations of Uluru, the natural wonders here will leave you speechless. Explore the beautiful coastal scenery along the Great Ocean Road or dive into the wonders of the Great Barrier Reef, a UNESCO World Heritage site. Don't miss the chance to visit the breathtaking national parks, such as Kakadu, the Blue Mountains, and the Daintree Rainforest.
Australia is also renowned for its diverse and unique wildlife. Encounter kangaroos in the wild, cuddle a koala, or spot the elusive platypus. Take a trip to Kangaroo Island or Tasmania to witness the abundance of native animals firsthand. If you're a bird lover, head to the wetlands and national parks where you can spot a wide variety of bird species.
As you journey through Australia, take the time to immerse yourself in the rich Indigenous culture. Learn about the history, art, and traditions of the Aboriginal people, who have lived on this land for thousands of years. Visit cultural centers, join guided tours, and witness mesmerizing traditional performances.
For thrill-seekers, Australia offers a wealth of adventure activities. Go surfing on the world-famous beaches of Byron Bay or catch a wave at Bondi Beach. Dive with sharks in the deep ocean or go skydiving over stunning landscapes. Hike through national parks, go off-roading in the Outback, or try your hand at rock climbing and abseiling.
When it's time to unwind, Australia's beautiful beaches are the perfect escape. From the golden sands of the Whitsundays to the pristine coastline of Perth, there are endless options to relax and soak up the sun. Enjoy snorkeling, swimming, or simply basking in the beauty of these idyllic beach destinations.
No trip to Australia is complete without indulging in its delicious cuisine. From fresh seafood and multicultural fusion dishes to world-class wines and gourmet treats, Australia's food scene is a gastronomic delight. Sample local specialties like meat pies, Vegemite, and a barbeque feast. Don't forget to visit the famous wine regions, such as the Barossa Valley and Margaret River, for a true taste of Australian wine.
Australia is also known for its vibrant festivals and events. From the Sydney New Year's Eve fireworks spectacle to the Adelaide Fringe Festival, there's always something happening in this lively country. Experience the excitement of major sporting events, music festivals, and cultural celebrations that showcase the diversity and creativity of the Australian people.
Before embarking on your Australian adventure, consider some practical tips for traveling in the country. Remember to apply for the necessary visas, plan your itinerary in advance, and pack appropriate clothing and gear for the diverse climates. Observe the local customs and respect the environment, as Australia takes pride in its sustainability efforts.
In this comprehensive guide, we will explore each of these aspects in detail, providing you with all the information you need to make the most of your trip to Australia. Get ready to embark on an unforgettable journey through this remarkable country!
Getting to Australia
Getting to Australia is relatively easy, thanks to its well-connected international airports located in major cities. The most popular entry points for international travelers are Sydney Airport, Melbourne Airport, and Brisbane Airport. These airports offer direct flights from various destinations around the world, making it convenient for visitors to reach the country.
If you are traveling from Europe, expect a long-haul flight that can take anywhere from 18 to 24 hours, depending on your departure city and layovers. Flights from North America usually range from 14 to 20 hours, with direct options available from Los Angeles to Australian cities. From Asia, the flight duration is considerably shorter, ranging from 5 to 10 hours, depending on your departure location.
Australia has a range of airlines that operate both domestic and international flights. Some of the major airlines include Qantas, Virgin Australia, Jetstar, and Tigerair Australia. These airlines offer a variety of fare options, from economy to business class, allowing travelers to choose the level of comfort that suits their needs and budget.
When planning your trip, it's important to note that Australia requires visitors to have a valid visa. The type of visa you need will depend on your nationality and the purpose of your visit. Fortunately, the Australian Government offers an efficient electronic visa system, known as the Electronic Travel Authority (ETA), for most eligible nationalities. This allows travelers to apply for their visa online prior to their trip.
Once you arrive in Australia, you'll go through immigration and customs clearance. Make sure to have all the necessary documents ready, including your passport, visa, and any required health certificates. Australia has strict biosecurity regulations to protect its unique ecosystem, so be prepared for thorough baggage inspections.
After clearing customs, it's time to explore Australia. The country's transport infrastructure is well-developed, making it easy to get around. Domestic travel options include flying, driving, and taking the train or bus. Australia has several domestic airlines that offer regular flights between major cities and regional areas. If you prefer a road trip, renting a car or a campervan is a popular option. Australia has a vast network of well-maintained roads and highways, making it easy to navigate between cities and attractions.
In addition to flying and driving, Australia has an extensive rail network. The iconic Indian Pacific and The Ghan are two famous train journeys that traverse the country, offering passengers the opportunity to witness the diverse landscapes from the comfort of a train. Buses are another affordable and convenient option for traveling within and between cities.
When it comes to public transportation within cities, Australia offers a range of options. Major cities like Sydney, Melbourne, Brisbane, and Perth have reliable and efficient public transport systems, including trains, trams, buses, and ferries. You can easily purchase tickets or use a contactless travel card to hop on and off public transport.
Overall, arriving in Australia and getting around the country is straightforward and accessible. With a variety of transportation options at your disposal, you can enjoy the convenience of exploring this vast and beautiful land.
Exploring the Major Cities
Australia is home to several vibrant and diverse major cities, each offering its own unique blend of culture, attractions, and entertainment. Exploring these cities is a must for any traveler looking to experience the essence of Australian urban life.
Sydney, the largest city in Australia, is often the first stop for many travelers. Known for its iconic landmarks, such as the Sydney Opera House and the Sydney Harbour Bridge, Sydney offers a mix of cosmopolitan energy and natural beauty. Stroll along the picturesque waterfront at Circular Quay, explore the historic neighborhood of The Rocks, or relax at the famous Bondi Beach. Immerse yourself in the vibrant arts scene at the Museum of Contemporary Art, enjoy world-class dining options, and experience the bustling nightlife in areas like Darling Harbour and Kings Cross.
Melbourne, Australia's cultural capital, is renowned for its creativity, arts, and coffee culture. Explore the city's hidden laneways and vibrant street art scene, shop at the trendy boutiques in Fitzroy, or visit the iconic Queen Victoria Market. Indulge in culinary delights at the city's many world-class restaurants or immerse yourself in the arts at the National Gallery of Victoria and the Melbourne Museum. Don't forget to catch a performance at one of Melbourne's famous theatres or attend a major sporting event at the Melbourne Cricket Ground.
Brisbane, the capital of Queensland, offers a more relaxed and laid-back atmosphere. Discover the city's thriving music and arts scene at live music venues and art galleries. Take a leisurely stroll along the Brisbane River and enjoy the city's beautiful parks and gardens. Explore the South Bank precinct, which features a man-made beach, restaurants, and cultural institutions like the Queensland Art Gallery and the Gallery of Modern Art. For nature enthusiasts, a trip to the nearby Moreton Bay and the North Stradbroke Island is a must, with opportunities for swimming, snorkeling, and spotting marine life.
Perth, the capital of Western Australia, is known for its sunny weather, pristine beaches, and vibrant city life. Take a walk along the picturesque Swan River or explore the vibrant neighborhood of Fremantle, known for its maritime history and charming architecture. Visit the cultural precinct of Northbridge, home to art galleries, theatres, and cafes. Take a day trip to Rottnest Island, where you can cycle, snorkel, and meet the adorable quokkas. Don't miss the opportunity to sample the local produce and wines in the nearby Swan Valley, known for its vineyards and gourmet food.
Adelaide, the capital of South Australia, is renowned for its festivals, wine regions, and cultural attractions. Explore the vibrant food scene and eclectic shops in the Central Market, or visit the vibrant precinct of Glenelg for beachside fun and entertainment. Immerse yourself in art and history at the Art Gallery of South Australia and the South Australian Museum. Indulge in the world-class wines of the nearby Barossa Valley and McLaren Vale, or take a scenic drive to Kangaroo Island, where you can spot wildlife, explore stunning coastlines, and sample local produce.
These are just a few examples of the major cities in Australia that offer a wealth of experiences and attractions. Each city has its own distinct personality, so be sure to explore beyond the well-known landmarks and discover the hidden gems that make these cities truly special.
Discovering the Stunning Landscapes
Australia is known for its stunning and diverse landscapes that will leave you in awe. From the vast deserts of the Outback to the lush rainforests and pristine coastline, there is a breathtaking natural wonder to explore in every corner of the country.
The Outback is an iconic Australian landscape that spans across the interior regions. Explore the dramatic red sands of Uluru-Kata Tjuta National Park, home to the iconic Uluru (Ayers Rock) and the unique rock formations of Kata Tjuta (The Olgas). Witness the changing colors of the desert at sunrise or sunset and learn about the rich Indigenous culture and spiritual significance of these sites.
The Great Barrier Reef, a UNESCO World Heritage site, is another must-see natural wonder. Stretching along the Queensland coast, it is the largest coral reef system in the world. Dive or snorkel among vibrant coral gardens, swim with a myriad of tropical fish, and marvel at the diverse marine life, including turtles, dolphins, and even whales. For those who prefer to stay dry, you can take a scenic helicopter tour or embark on a boat trip to experience the beauty of this underwater paradise.
The stunning coastline of Australia offers a wealth of natural beauty. Along the Great Ocean Road in Victoria, you will encounter the famous Twelve Apostles, towering limestone stacks that emerge from the Southern Ocean. Journey through spectacular coastal scenery, dramatic cliffs, and secluded beaches. While in Victoria, don't miss the opportunity to explore the rugged landscapes of the Grampians National Park, known for its striking sandstone mountains, waterfalls, and abundant wildlife.
If you're seeking lush greenery and tropical landscapes, head to Queensland's Daintree Rainforest. As one of the oldest rainforests in the world, it is teeming with unique flora and fauna. Take a guided tour through the dense jungle, spot rare species like the cassowary, and cool off with a swim in pristine freshwater streams. Alternatively, visit the Blue Mountains National Park in New South Wales, just a short drive from Sydney. Marvel at the majestic sandstone cliffs, hike through the eucalyptus forest, and admire the iconic Three Sisters rock formation.
Australia is also home to several incredible national parks, each offering its own distinct beauty. Kakadu National Park in the Northern Territory showcases stunning landscapes, ancient Aboriginal rock art, and an abundance of wildlife. Discover the rugged gorges of Karijini National Park in Western Australia, with its spectacular waterfalls and crystal-clear pools. Tasmania's Cradle Mountain-Lake St Clair National Park offers breathtaking alpine landscapes, serene lakes, and diverse wildlife.
When exploring Australia's landscapes, it's important to respect nature and follow Leave No Trace principles. Stick to designated trails, take only photographs, and avoid disturbing or feeding wildlife. Remember to check weather conditions and be prepared for the outdoors, especially if you're venturing into remote areas.
With its diverse and awe-inspiring landscapes, Australia offers endless opportunities for outdoor adventure and unforgettable experiences in nature. Whether you're captivated by the arid beauty of the Outback, the vibrant colors of the Great Barrier Reef, or the tranquility of the rainforests, you're sure to be mesmerized by the natural wonders that await you.
Experiencing the Unique Wildlife
Australia is renowned for its unique and diverse wildlife, with many species found nowhere else in the world. From adorable marsupials to fascinating reptiles and incredible birdlife, experiencing the country's wildlife is a must for any nature lover.
One of the most iconic Australian animals is the kangaroo. These gentle, hopping creatures can be spotted in various parts of the country, particularly in open grasslands and national parks. Seeing kangaroos in the wild is a truly special experience that allows you to observe their natural behavior and grace. Wallabies, smaller relatives of kangaroos, are also abundant and can be found in forested areas across the country.
No trip to Australia is complete without encountering the cuddly koala. These lovable creatures are native to the eucalyptus forests along the eastern coast, with prime viewing spots in regions such as Queensland, New South Wales, and Victoria. Visit a wildlife sanctuary or national park where you can observe koalas up close, learn about their conservation, and even have the opportunity to hold one (with proper supervision).
The platypus is a truly unique Australian animal, often referred to as a "duck-billed platypus" due to its distinctive appearance. This semi-aquatic mammal can be found in freshwater habitats along the east coast of Australia, particularly in Tasmania and Queensland. Spotting a platypus in the wild can be a challenge, but guided tours and wildlife cruises offer the best chances of observing these fascinating creatures in their natural habitat.
Australia is also home to an astounding array of reptiles, including the crocodile. The saltwater crocodile, known as the "salty," is the largest living reptile and can be found in the northern regions of the country, particularly in the Northern Territory and Queensland. Join a guided cruise along the rivers and estuaries to witness these impressive predators up close while learning about their behavior and conservation efforts.
The Great Barrier Reef is not only home to vibrant coral and colorful fish but also hosts an abundance of marine wildlife. Snorkeling or diving in these waters provides the opportunity to encounter sea turtles, rays, and an array of other enchanting marine creatures. Keep an eye out for the elusive dugong, or "sea cow," which can sometimes be spotted grazing on seagrass in shallow coastal areas.
Australia's birdlife is equally fascinating, with over 800 species found across the country. From majestic eagles and colorful parrots to unique songbirds and iconic emus, bird enthusiasts will be delighted by the abundance of avian wonders. Birdwatching hotspots include the wetlands of Kakadu National Park, the forests of Tasmania, and the coastal areas of Victoria and New South Wales.
When encountering wildlife in Australia, it's important to respect their natural habitats and observe from a distance. Avoid feeding or touching wild animals and ensure that you do not disturb their natural behavior. It's always best to join guided tours or visit reputable wildlife sanctuaries that prioritize the welfare and conservation of the animals.
Experiencing Australia's unique wildlife is an unforgettable part of any trip to the country. Whether you're spotting kangaroos and koalas, getting close to crocodiles, or marveling at the vibrant underwater world of the Great Barrier Reef, the rich biodiversity of Australia will leave you with lasting memories and a deep appreciation for its incredible natural heritage.
Uncovering Indigenous Culture
Australia is home to the world's oldest continuous living cultures, with Indigenous peoples having inhabited the continent for tens of thousands of years. Uncovering and appreciating Indigenous culture is not only a fascinating journey but also a way to gain a deeper understanding of Australia's rich heritage.
There are over 500 distinct Indigenous nations in Australia, each with its own unique language, traditions, and cultural practices. Many Indigenous communities welcome visitors and offer opportunities to learn about their customs, art, and storytelling.
Start your exploration by visiting cultural centers and museums that showcase Indigenous history and art. The Museum of Aboriginal and Torres Strait Islander Art in Queensland, the National Museum of Australia in Canberra, and the Koorie Heritage Trust in Melbourne are just a few examples. These institutions provide insights into the diverse cultures, histories, and contributions of Indigenous peoples.
A highlight of any Indigenous cultural experience is the opportunity to witness traditional performances. From mesmerizing song and dance ceremonies to storytelling and didgeridoo performances, these engaging displays bring ancient traditions to life. Performances can be found in various locations across the country, such as cultural centers, festivals, and specialized Indigenous tourism experiences.
Joining guided tours led by Indigenous tour operators is another fantastic way to immerse yourself in Indigenous culture. These tours offer the chance to visit sacred sites, hear Dreamtime stories, and learn about traditional hunting and gathering practices. Guides often share their personal stories and provide valuable insights into their connection with the land.
Indigenous art is a significant aspect of the culture and is displayed in galleries throughout the country. Aboriginal art, characterized by its vibrant colors and intricate dot patterns, is renowned globally. Visit art galleries and exhibitions to appreciate the richness and diversity of Indigenous artwork, including paintings, sculptures, textiles, and carvings. Many galleries work directly with Indigenous artists or community-owned art centers, ensuring that the artists receive fair recognition and compensation for their work.
When engaging with Indigenous culture, it's crucial to show respect and sensitivity. Indigenous peoples have faced historical injustices and ongoing challenges, so it's important to approach cultural experiences with a genuine desire to learn, understand, and support Indigenous communities. Seek permission before taking photographs, observe cultural protocols, and purchase authentic Indigenous art and crafts from reputable sources.
Indigenous culture is an integral part of Australia's identity, and exploring it allows for a deeper appreciation of the country's past and present. By learning about Indigenous customs and traditions, we can celebrate the resilience and contributions of Australia's First Peoples, fostering a greater understanding and respect for their enduring culture.
Enjoying Adventure Activities
Australia offers countless adrenaline-pumping adventure activities that cater to thrill-seekers of all kinds. From soaring through the sky to diving into the depths of the ocean, the country's diverse landscapes provide the perfect playground for adventure enthusiasts.
One of the most popular adventure activities in Australia is surfing. With its extensive coastline and world-class waves, the country attracts surfers from around the globe. Whether you're a seasoned pro or a beginner, you'll find surf spots to suit your skill level. Head to iconic locations like Bondi Beach in Sydney, Bells Beach in Victoria, or the world-renowned breaks of the Gold Coast in Queensland for an unforgettable surfing experience.
If you're looking to take your adventure to new heights, consider skydiving or bungee jumping. Leap out of a plane and freefall over stunning landscapes, experiencing the ultimate rush of adrenaline. Popular skydiving locations include Byron Bay, the Great Ocean Road, and the Whitsunday Islands. Alternatively, challenge your limits with a bungee jump off the AJ Hackett Bungy Tower in Cairns, surrounded by lush rainforest.
For those seeking a unique and thrilling experience, consider cage diving with sharks. Head to Port Lincoln in South Australia or Ningaloo Reef in Western Australia for the opportunity to come face-to-face with incredible marine predators, such as great white sharks or whale sharks. Join a professionally guided tour that ensures your safety while allowing you to witness these magnificent creatures in their natural habitat.
Australia's stunning landscapes provide ample opportunities for outdoor adventures such as hiking and rock climbing. Lace up your hiking boots and tackle one of the country's many picturesque trails, ranging from the challenging hikes in the Grampians National Park to the scenic walks along the cliffs of the Blue Mountains. For rock climbing enthusiasts, destinations like the stunning cliffs of Arapiles in Victoria or the granite boulders of the Grampians offer thrilling challenges for all levels of climbers.
For those seeking an off-road adventure, Australia's vast deserts and rugged terrain provide the perfect playground. Explore the iconic tracks of the Australian Outback by joining a guided 4WD tour. Traverse the famous Gibb River Road in Western Australia, tackle the challenging trails of the Simpson Desert, or embark on an epic journey along the Old Telegraph Track in Cape York Peninsula. These experiences showcase the remote and untouched beauty of Australia's outback.
For a thrilling aquatic adventure, consider whitewater rafting or kayaking. Tackle the raging rapids of the Tully River or the Franklin River for an exhilarating rafting experience. Alternatively, explore the breathtaking gorges and crystal-clear waters of the Katherine River or the Fitzroy River by kayak. These water-based adventures allow you to immerse yourself in stunning natural landscapes while enjoying the adrenaline rush of conquering turbulent waters.
It's important to prioritize safety when participating in adventure activities. Choose experienced and reputable operators who prioritize safety measures and provide proper equipment and guidance. Follow the instructions of your guides and be aware of your own limits and abilities.
Embarking on adventure activities in Australia ensures an adrenaline-filled journey like no other. Whether you're conquering waves, leaping from great heights, or exploring rugged terrain, these thrilling experiences will leave you with lifelong memories and a sense of accomplishment.
Relaxing at Beautiful Beaches
Australia is renowned for its stunning beaches, with thousands of kilometers of coastline offering pristine sands, crystal-clear waters, and breathtaking coastal scenery. Whether you're looking to swim, sunbathe, surf, or simply unwind with a book, Australia's beautiful beaches provide the perfect setting for relaxation and rejuvenation.
One of the most iconic beach destinations in Australia is Bondi Beach in Sydney. This world-famous beach is known for its golden sands, vibrant atmosphere, and excellent surf conditions. Take a dip in the refreshing ocean, stroll along the promenade, or enjoy a beachside picnic while soaking up the stunning coastal views. Bondi Beach is also surrounded by trendy cafes, restaurants, and boutique shops, providing the perfect blend of beachside relaxation and urban buzz.
Further up the coast, you'll find the stunning Whitsunday Islands in Queensland. Surrounded by the Great Barrier Reef, the islands boast picturesque white sand beaches and crystal-clear turquoise waters. Relax on the famous Whitehaven Beach, known for its incredibly fine white silica sand, or snorkel among the colorful coral gardens and abundant marine life.
In Western Australia, the coastline of Esperance dazzles with its pristine beaches and dramatic rock formations. Lucky Bay, with its dazzling turquoise waters and friendly kangaroos that often wander the beach, is a must-visit. Explore other nearby gems like Twilight Cove and Hellfire Bay, where you can unwind on secluded stretches of sand and revel in the stunning coastal landscapes.
The Great Ocean Road in Victoria is not only famous for its scenic drives but also for its beautiful beaches. Visit the iconic Twelve Apostles and enjoy the breathtaking views of the limestone stacks rising from the Southern Ocean. Stop by popular surf spots like Bells Beach and Torquay, or unwind on the picturesque Jan Juc Beach, known for its stunning cliffs and rock pools.
A trip to Australia's Northern Territory offers unique coastal experiences. Visit the coastal town of Darwin and relax at the popular Mindil Beach, renowned for its breathtaking sunsets and vibrant night markets that offer an array of delicious food and crafts. Take a scenic drive to the pristine beaches of Kakadu or venture to the remote Tiwi Islands, where you can immerse yourself in the rich Indigenous culture and enjoy the untouched coastline.
While Australia is known for its beautiful beaches, it's important to prioritize safety. Always swim between the flags at patrolled beaches and follow any safety instructions provided by lifeguards. Be aware of surf conditions, as some beaches have strong currents or rips.
When visiting Australia's beaches, take the time to appreciate the natural beauty of the coastal landscapes. Pack a picnic, read a book, or simply soak up the sun while listening to the sound of crashing waves. Australia's beaches provide a tranquil escape, allowing you to unwind, connect with nature, and enjoy the serenity of the stunning coastal scenery.
Indulging in Delicious Cuisine
Australia's culinary scene is as diverse as its landscapes, offering a delightful fusion of flavors influenced by a rich multicultural heritage. From fresh seafood to unique Australian specialties, indulging in the country's delicious cuisine is a must for any food lover.
One of Australia's most iconic dishes is the classic meat pie. This savory pastry is a staple in Australian cuisine, typically filled with minced meat, gravy, and sometimes added ingredients like cheese or vegetables. Enjoy a traditional meat pie at a local bakery or during a sporting event, and savor the hearty flavors that make it a favorite among locals.
Australia's multicultural heritage has resulted in a vibrant food scene, with cuisines from around the world available in every major city. Explore the eclectic laneways of Melbourne to discover hidden eateries serving everything from Italian pasta to Vietnamese pho. Sample flavors from the Middle East, South America, and Asia, and immerse yourself in the cultural melting pot that is Australian cuisine.
Fresh seafood is a highlight of Australia's culinary offerings. With its extensive coastline, the country boasts a rich variety of fish and shellfish. Indulge in succulent prawns, delicate oysters, and tender barramundi. Head to Sydney's Fish Market, one of the largest seafood markets in the Southern Hemisphere, where you can enjoy a seafood feast or take in the hustle and bustle of the vibrant market.
Australia is also known for its love of barbecues, or "barbies," as they are affectionately called. Embrace the outdoor lifestyle and join locals for a barbecue in a park or at the beach. Sizzle delicious steaks, sausages, or even kangaroo meat on the grill, and enjoy the relaxed atmosphere and camaraderie that comes with this quintessential Australian pastime.
Wine lovers will be delighted by Australia's renowned wine regions. Embark on a wine-tasting tour in the Barossa Valley, known for its bold, full-bodied reds, or visit the picturesque wineries in Margaret River for elegant Chardonnays and complex Cabernet Sauvignons. Pair your wine tasting with a gourmet food experience, as many wineries offer fine dining restaurants that showcase the region's local produce.
No food journey in Australia would be complete without trying Vegemite, a popular Australian spread made from yeast extract. While its strong and salty taste may be an acquired one, Vegemite is an iconic part of Australian culture and is often enjoyed spread on toast or in sandwiches.
Australia is also home to unique native ingredients that add a distinct flavor to its cuisine. Sample dishes featuring the Australian bush tomato, wattleseed, or lemon myrtle, which have become increasingly popular among innovative chefs who are incorporating indigenous ingredients into contemporary Australian cooking.
When dining out in Australia, expect a relaxed and casual environment. From trendy cafes to fine dining establishments, the country's food scene caters to all tastes and budgets. Embrace the laid-back atmosphere and enjoy the friendly service that is characteristic of Australian hospitality.
Indulging in Australia's delicious cuisine is a feast for the senses. From traditional favorites to multicultural delights and unique native ingredients, the country's culinary offerings reflect its diverse heritage and commitment to quality, making it a haven for food enthusiasts.
Immersing in Vibrant Festivals
Australia is a country that loves to celebrate, and its vibrant festivals provide a lively and immersive experience for locals and visitors alike. From music and arts to cultural and sporting events, there's always something happening in Australia to entertain and captivate all interests.
Sydney's New Year's Eve fireworks spectacle is one of the most famous celebrations in the world. The iconic Sydney Harbour sets the stage for an incredible display of pyrotechnics, illuminating the night sky as millions of people gather to welcome the new year. Enjoy the festivities from prime vantage points such as the Harbour Bridge or take a cruise to marvel at the fireworks from the water.
The Adelaide Fringe Festival is the largest open-access arts festival in the Southern Hemisphere and a true celebration of creativity and diversity. For four weeks, the city transforms into a vibrant hub of performances, exhibitions, live music, and street art. Discover local and international artists as they showcase their talents and embrace the festival's inclusive and vibrant atmosphere.
For sports lovers, Australia offers a host of exciting events throughout the year. The Melbourne Cup is Australia's premier thoroughbred horse race and is known as "the race that stops a nation." Held on the first Tuesday of November, it attracts spectators from around the world who come to witness the excitement and glamour of this iconic event.
The Royal Easter Show in Sydney is a beloved annual tradition that brings together agriculture, entertainment, and family fun. Experience the best of rural life as you enjoy agricultural shows, petting zoos, carnival rides, and live performances. Indulge in delicious food and witness traditional competitions, showcasing the skills of farmers and artisans.
The Vivid Sydney festival transforms the city into a mesmerizing outdoor gallery of lights, music, and ideas. For several weeks, iconic landmarks like the Sydney Opera House and the Harbour Bridge are illuminated with stunning light displays and projections. Explore the interactive installations, attend music and art performances, and immerse yourself in the creative energy that fills the city.
Australia's Indigenous communities also host a range of vibrant cultural festivals throughout the year. The Garma Festival in Arnhem Land, Northern Territory, showcases traditional Indigenous music, dance, art, and storytelling. Experience the richness of Indigenous culture, learn about ancient traditions, and engage in meaningful dialogue and discussion.
In addition to these major festivals, Australia hosts a variety of music festivals that cater to different genres and tastes. From the eclectic musical lineup of the Byron Bay Bluesfest to the electronic beats of Perth's Origin Fields, there's a festival for every music enthusiast to enjoy. Dance, sing along to your favorite artists, and embrace the exciting atmosphere of these lively events.
It's important to plan and book accommodations well in advance if you plan to attend any of Australia's major festivals, as they attract large crowds. Keep an eye on festival schedules and check local event listings for information on upcoming festivals and events during your visit.
Immersing yourself in Australia's vibrant festivals allows you to connect with the local culture, experience the country's passion for celebration, and create lasting memories. Soak up the lively atmosphere, embrace the diversity of artistic expressions, and join in the collective joy that these festivals bring to Australia's communities.
Practical Tips for Traveling in Australia
Traveling in Australia can be an exciting and rewarding experience, and with a few practical tips, you can make the most of your trip. From visa requirements to weather considerations, here are some important factors to keep in mind when planning your visit to the country.
1. Visa & Entry Requirements: Ensure that you have the appropriate visa to enter Australia before your trip. Most visitors can apply for an Electronic Travel Authority (ETA) or eVisitor visa online. Make sure your passport is valid for at least six months beyond your planned departure date.
2. Seasons & Weather: Australia's location in the Southern Hemisphere means that its seasons are opposite to those in the Northern Hemisphere. Consider the weather and pack accordingly. Be prepared for hot summers, especially in the northern regions, and cooler temperatures in the southern parts during winter.
3. Medical Precautions: Ensure you have comprehensive travel insurance that covers medical emergencies. The sun in Australia can be intense, so pack sunscreen, a hat, and sunglasses to protect yourself from harmful UV rays. Check with your doctor if any vaccinations are recommended before your trip.
4. Transportation: Australia has an extensive transportation network, but distances between destinations can be vast. Consider the most suitable mode of transportation for your itinerary, whether it's flying between cities, renting a car, or using public transportation like trains and buses.
5. Driving & Road Safety: If you plan to drive, familiarize yourself with Australian road rules as they may differ from those in your home country. Remember to drive on the left side of the road. Be mindful of wildlife, particularly in rural areas, and take regular breaks during long drives.
6. Currency & Payments: The currency in Australia is the Australian Dollar (AUD). Make sure to have some local currency with you for small purchases, as some smaller shops and markets may not accept card payments. Credit cards are widely accepted in most places.
7. Respect Indigenous Culture: Australia's Indigenous culture is deeply respected and should be treated with utmost respect. Learn about local customs and traditions, and observe any cultural protocols when visiting Indigenous sites. Seek permission before taking photographs of Indigenous people or sacred places.
8. Safety & Emergency Services: Australia is generally a safe country, but it's always wise to take precautions. Keep an eye on your belongings, especially in crowded tourist areas. In case of emergency, dial Triple Zero (000) for immediate assistance.
9. Environmental Responsibility: Australia is known for its unique and fragile ecosystems. Practice responsible tourism by following the principle of "Leave No Trace." Respect the natural environment, dispose of waste properly, and refrain from damaging or removing any flora or fauna.
10. Explore Beyond the Main Tourist Areas: While iconic destinations like Sydney and the Great Barrier Reef are a must-see, consider exploring lesser-known regions and attractions to discover Australia's hidden gems. Consult with locals, explore regional tourism websites, and venture off the beaten path for a more authentic experience.
By keeping these practical tips in mind, you can navigate Australia with ease and make the most of your time in this remarkable country. Embrace Australia's diverse landscapes, immerse yourself in its rich culture, and create cherished memories that will last a lifetime.
Conclusion
Australia is a country of boundless beauty, diverse landscapes, vibrant cities, and rich cultural experiences. From exploring the stunning landscapes of the Outback to immersing yourself in the vibrant festivals and indulging in delicious cuisine, Australia offers a wealth of opportunities for unforgettable adventures.
Whether you're exploring the major cities, uncovering Indigenous culture, enjoying adrenaline-pumping adventure activities, relaxing on beautiful beaches, or indulging in the diverse and mouth-watering cuisine, Australia has something to offer every type of traveler.
It's important to be well-prepared and informed when planning your trip to Australia. Consider visa requirements, pack for the season, and protect yourself from the sun's rays. Understand the local customs and respect Indigenous culture, and take necessary safety precautions during your journey.
Australia's stunning landscapes, unique wildlife, fascinating Indigenous heritage, and lively festivals create a tapestry of experiences that will leave you in awe. Whether you're swimming with colorful fish on the Great Barrier Reef, witnessing the sunset at Bondi Beach, joining in the excitement of a music festival, or delving into Indigenous traditions, Australia is a country that will captivate your senses and leave an indelible mark on your heart.
So, embark on your Australian adventure with an open mind and a spirit of exploration. Immerse yourself in the local culture, connect with the welcoming locals, and create memories that will last a lifetime. Australia awaits you with its wonders, ready to provide a truly unforgettable journey.