10 Awesome Things To Do Near Jimbaran, Bali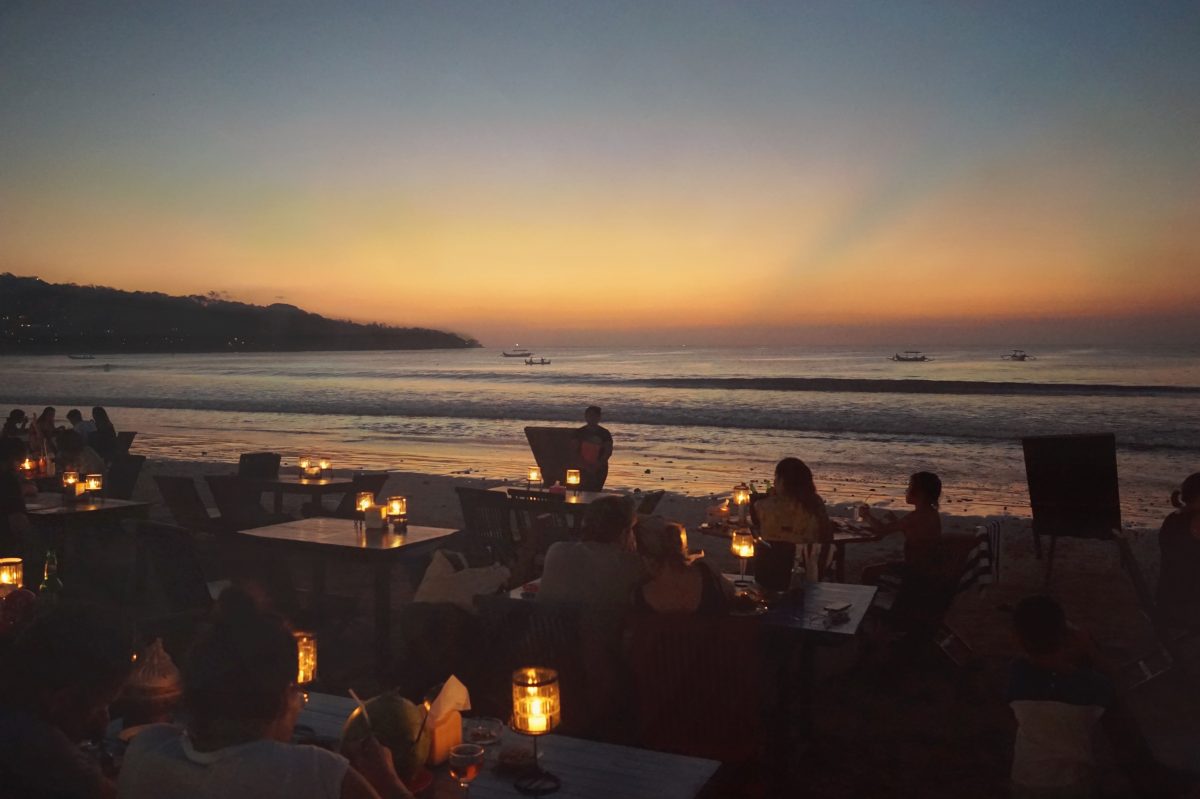 Undeniably Bali is a paradise on earth, particularly for its surreal islands and beaches. Beyond its astonishing rivals, Jimbaran stood out mainly for its majestic views. As a pride of the Southwestern coach of Bali, Jimbaran's dramatic cliffs, stunning beaches, and luxury resorts grab the attention of many globe trotters and well-financed beach bums the world over.
Jimbaran itself is rarely worth a day trip, but it does make an excellent base if you love luxury hotels, relaxing and quiet evenings. Unlike other famous Bali destinations (like Kuta), Jimbaran remains somewhat untouched. Although you won't be enjoying the vibrant nightlife like in Kuta or Seminyak, you can spend time at an upscale alfresco bar overlooking the azure waters.
Lucky for all food-lovers especially if you love seafood, Jimbaran is an excellent choice to satisfy your palate. From seafood dining on the beach to exclusive dining in luxury resorts like Four-seasons Jimbaran, a few days here will leave you feeling relaxed, recharged, and ready to take on the rest of the island.
Here are a few low-key things to do in Jimbaran to make the most of the quiet life.
1.
Enjoy Sun-kissed skin and refreshing dip at Jimbaran Beach
You can't miss Jimbaran Beach in Jimbaran Bay, but it's worth reiterating just how beautiful the area is. Even if you come from a coastal community, you will still be shocked by the tranquility of the area.
Though, many of the beaches are taken up by the five-star resorts that dot the area. So, if you're not a guest at one of these properties, head down to Four Seasons Jimbaran to pick up the Sundara Bali Day pass. For less than $100 USD, you'll get to enjoy swimming in the infinity pool, lounging on double-day beds accompanied by the exclusive service. To make the best out of it, stay until evening as Sundara turns into a high-end seafood restaurant and dance club.
Do you fancy yourself a future surfer? The local surf gurus recognize Jimbaran beach as the perfect place on the southwest coach for beginners. You get to learn in a sheltered bay with gentle waves.
Be prepared: if you book a surf lesson, they may ask you to be up and ready at dawn for the best beginner surfing in Bali.
2.
Visit the Uluwatu Temple (Pura Luhur Uluwatu)
The Uluwatu Temple is a popular item on the list drawn up by daytrippers to Jimbaran. Why this temple? Simple, it is one of Bali's six spiritual pillars and you can't omit the beauty of it.
Like other destinations in the Jimbaran region, it boasts a stunning location on top of a 70-meter cliff, which makes it a stunning spot to catch a sunset. The temple is open from 8 AM to 6 PM and hosts a fire dance in the late afternoon. If you want to beat the crowd, come early! Also, if you come early enough, you don't even need to pay for the entry ticket. However, please try it on your own risks. We might be lucky the last time.
Do note that, the temple's monkey inhabitants are cute, but they run the show. Don't bring in anything you don't mind handing over to the monkeys. They are particularly fond of sunglasses and bags. Also, follow general monkey business rules and don't touch them or make eye contact with them. Their happiness is most likely your loss.
3.
Get a Spa Treatment at Butter & Scrub Spa
Bali is chock full of spa opportunities. Some are more affordable than others, but there is one in particular that stands out across the whole island. Butter & Scrub Spa sits inside the Bali Paragon Resort Hotel in Jimbaran. The spa offers a complete range of treatments for women, men, and children.
The spa's atmosphere is cozy with dim lights and French architectural details. And if you don't find a treatment that appeals to you, then don't worry. Jimbaran's long list of luxury hotels each offer spas with sophisticated therapies and dreamy treatment spaces.
AYANA (formerly the Ritz Carlton) boasts the largest aqua-tonic seawater therapy pool in the world and provides spa treatments overlooking the beach. So, don't miss out on the black rice bath or the volcanic lava body scrub. (But be prepared to splurge on treatment costs). Otherwise, Jar Menari is a great option which offers incredible treatments for guests. Their expert Balinese massage is for sure the highlight!
Do you burn easily under the sun? Consider making your booking early in your stay. Treatment therapists are for sure knowledgeable to diagnose and offer treatments cater to your needs. If your skin shows signs of sunburn, here's the solution to your problem.
4.
Watch the Sunset at Jimbaran's Rock Bar
Rock Bar in Jimbaran is a world-renowned bar best known for its cliffside views of the dramatic Balinese sunsets. Sitting 14 meters above the ocean, guests find their way to the top of the rock via the AYANA Resort and Spa funicular.
This isn't your typical Bali bar. Rock Bar enforces a strict, stylish dress code – no shirt, no shoes, no entry. It's a place for you to make an excuse to dress up. So, be prepared to see all guests bring on their A-game to dress to impress for the evening. Daytrippers should note that anyone with backpacks or other oversized bags will need to put them in another bag.
In order to secure a seat, come early. The Rock Bar is open from 4 PM onwards. And don't be surprised to see visitors lining up for a table to catch the sunset. If you wish for an alfresco dining experience, the dinner service begins at 7 PM. As a head's up, only guests at the AYANA resort are allowed to book tables (and they also receive the best tables).
Can't get in? Don't leave just yet. A seat on the pier nearby offers the same incredible views of the sunset and cheaper drinks.
5.
Enjoy the Jimbaran's local seafood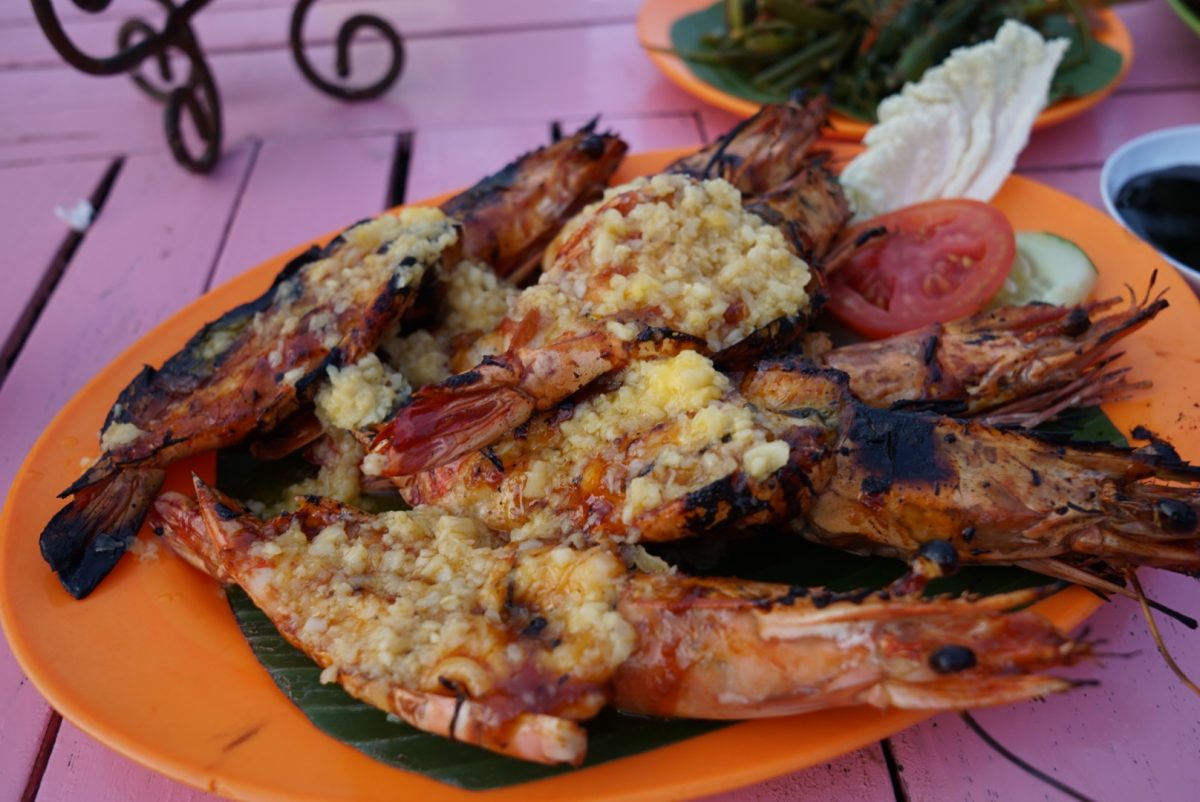 Just as Ubud cafe culture is an attraction in its own right, so too are Jimbaran's seafood restaurants and bars. With so many restaurants to choose from, you need a good game plan. Locals and frequent visitors will tell you that you have three options: the North, South, and Middle restaurants.
At the North end of the beach, you'll find high-end, expensive seafood restaurants. However, on the Southside of the beach, you'll find more casual restaurants with tables fixed securely in the sand. These restaurants offer a good mix of wallet-friendly options with plenty of options. We recommend Made Bagus, particularly for its fresh and wide seafood choices.
If you visit the North or South end restaurants, book ahead if you have your eye on a particular restaurant, particularly during the high season and especially if you want a table on the beach. Remember, these are beach barbeques. Wear clothes that you can wash because you'll walk away smelling like a seafood grill.
With all the things you can do in Jimbaran, temple hopping is certainly placed high up on your travel list. As another iconic temple in Jimbaran, Pura Ulun Siwi is a gateway to the mystical mountainous landscape. Located across from the Jimbaran market with the majestic mountain backdrop, not only Ulun Siwi is easily accessible, but also a great place to escape the typical Bali heat for a cooler climate.
Although sunrise here is fantastic, Pura Ulun Siwi is best in the morning along with a visit to the Jimbaran traditional market. Balinese markets are at their peak in the morning, mainly before tourists arrive. Unlike other temples, it faces the east (rather than the south), so it isn't ideally situated for a sunset. As with Bali's other temples, be wary of the resident monkeys and dress appropriately for visiting a Hindu temple.
7.
Visit Balinese Markets in Jimbaran
Although Jimbaran isn't the perfect shopping destination like Kuta or even Ubud, it boasts two worthwhile markets for locals to visit. First up, the Jimbaran traditional market is a small market with local vendors with a street cart selling an assortment of crafts, street-food and fresh produce for the local to stock up their daily supplies.
While the Jimbaran seafood is some of the best in the country, and you can see it arrive at the Jimbaran Seafood Market. If your intention is to witness the vibrant market action scenes, visit here early in the morning as the fishermen returned and unload fishes for sale. The best part, this market isn't just for locals. Tourists can also enjoy the authentic market scene and enjoy Balinese breakfast and lunch here.
8.
Ride the Waves on Padang Padang Beach (Labuan Sait Beach)
Padang Padang Beach is not technically in Jimbaran, but it's located not too far drive away from Jimbaran. As a hotspot for adventure seekers and surfers, in particular, you'll tourists flocking here with a scooter with a massive surfing board. Come here if you're ready to move on from the peaceful breaks at Jimbaran and to be away from the crowded Kuta beach. Apart from the waves, Padang Padang beach is also a paddleboarding mecca.
Though Padang Padang isn't a place to go to read a book on the beach or for those who aren't particularly strong swimmers. Unlike other Bali beaches, no resorts are lining the shore. Relatively, there's a lack of dining and vendor options around the area. We recommend 'Buddha Soul' if you want to eat nearby, and prices will be comparable to Jimbaran (i.e., North American prices).
The monkeys here also pose a cheeky challenge. You first encounter them on the trip down the stairs, and you shouldn't leave any unattended bags while on the beach itself.
9.
Sunset and Fire show at Pura Uluwatu Temple
Though Uluwatu Temple is stunning to visit by the day itself, as the sun dips down the horizon, that's where the place illuminated by the stunning Kecak dance. Visitors are welcome between 8 AM and 6 PM. While Pura Uluwatu also hosts a fire dance (Kecak dance) between 6 PM and 7 PM. However, the best time to visit is around 4 PM.
Why? Arriving in the late afternoon means you'll skip the hottest part of the day and have a chance to watch the sun sink into the ocean. Thanks to its indigenous architecture, visitors get to admire the unobstructed sunset on a cliff that perches precariously above the sea.
The temple is incredibly easy to reach via tourist buses or taxis. Its accessibility becomes immediately apparent when you arrive thanks to both the traffic near to the temple and the tourists flooding the area. If you prepare yourself from the onslaught, then you'll be less shocked upon arrival. A bus tour or private driver are both suitable ways to get here. Keep in mind that the drive is 1.5 hours from Ubud.
10.
Take a Day (or Overnight) Trip to Ubud
Bali's cultural capital is just under two hours away by taxi, depending on traffic, which makes it perfect for a day trip from the beaches of Jimbaran.
While you're here, visit Pura Gunung Kawai Temple, the Puri Lukisan Museum, and the Monkey Forest. Don't forget to shop Ubud's famous Balinese market in the morning for incredible locally-made crafts and souvenirs.
Dining options in Jimbaran are somewhat limited, even if they are delicious, particularly at the North end of the beach. Ubud, on the other hand, is foodie-heaven. If you have the budget, make Ubud your splurge meal and visit one of these restaurants:
Aperitif
Mozaic Restaurant Gastronomique
Kubu
Locavore (and the associated cocktail bar The Night Rooster)
Hujan Locale
CasCades
The Chedi Club Tana Gajah
Room4 Dessert
By the end of the day, you'll be exhausted, and since it's a fair trek back to Jimbaran, Ubud is the perfect place to spend an evening. Not only does it boast some of the best restaurants on the island, but the villas in the area beat anything you'll find on the beach – even in Jimbaran.
If you spend the evening, book a driver for a half-day in Jimbaran, and then ask your accommodation to book you a car and driver (or find one on the street) to take you back to the beach again. Don't try to ride scooters in Ubud unless you're an experienced driver. The mountain roads and tourist traffic make the experience a little too thrilling for new riders.
Are you planning a trip to Jimbaran? Our guide is here to help you figure out all the possible things you can do in Jimbaran. If you've been here, let us know your experience. We are happy to hear from you!