Top 10 Best Beaches in Bali, Indonesia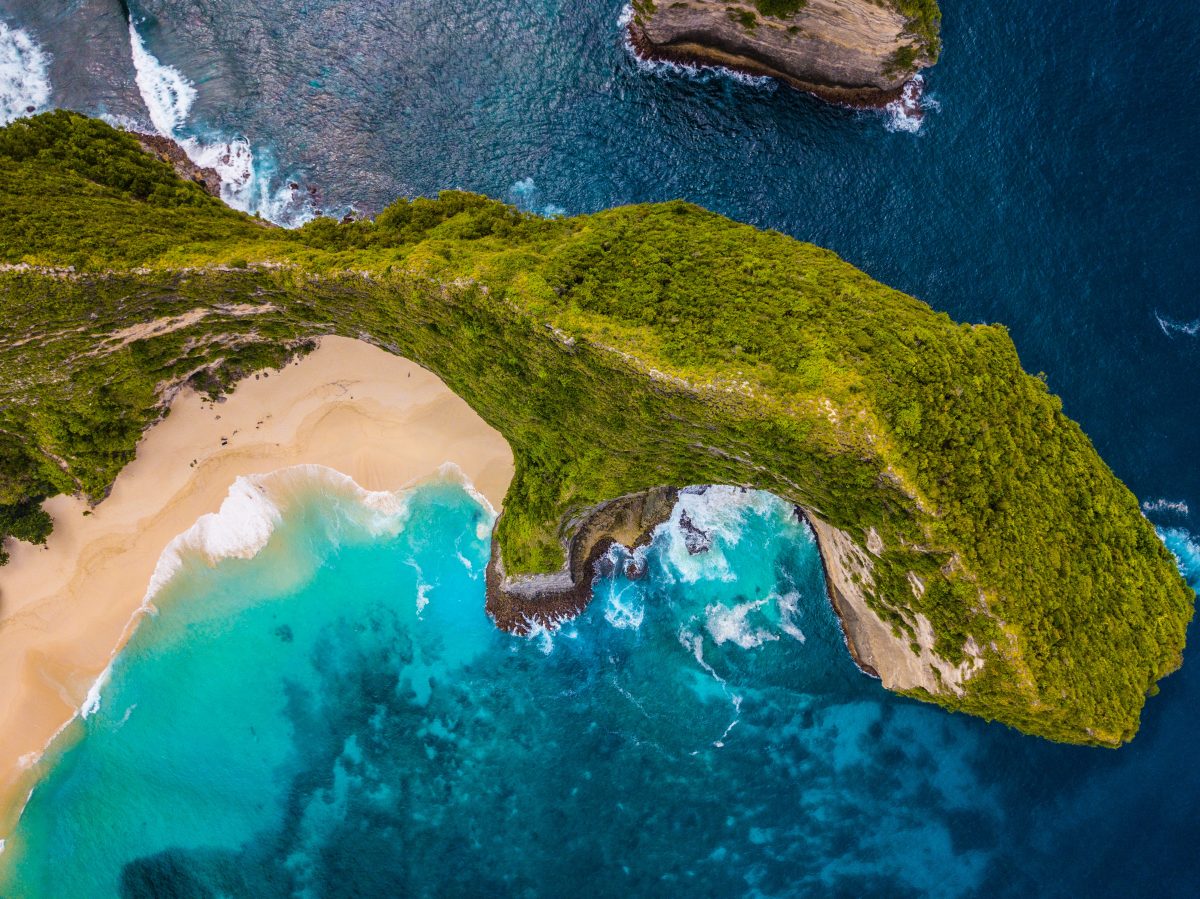 Bali is one of the most popular tourist destinations in the world. With the sheer amount of culture, beautiful landscapes and delicious food, there's something for everyone. It's known for its stunning vistas, specifically the beaches. But there's more to beaches than simply the view. It's important to know the area, entertainment, food and beverage options and best photography spots.
Most people imagine beautiful beaches of Bali to be a secluded oasis; however, depending on the time of year, some beaches barely have room to walk. This article will be your guide for the best time of year to visit and which of the best beaches in Bali to make time for.
When To Visit Bali?
Determining the best time of year for your trip to Bali is somewhat dependent upon what your plans are. The warmest months are arguably the busiest. That means while (July – August) are some of the warmest times (with an average high of 30 degrees Celsius), you'll also be surrounded by the most people. If you don't mind the crowds, July and August are definitely good options for you. The same can be said for Easter/Spring Break holidays and Christmas/New Year holidays. It's pleasant weather but still busy.
If you prefer a little more seclusion, (April – May) and the first part of June are the best times to go. These are the months where Bali beaches are a little less crowded but still have pleasant weather with an average high of about 33 degrees Celsius. In addition to great weather for swimming and slightly less humidity, prices are lower because it isn't peak season. While (September – November) are the rainiest months, so if you have the luxury of choosing a specific time for vacation, Spring is ideal. It should be noted that the following list of beaches in Bal takes the crowds and weather into account.
If you're able to go when it's least busy, the bigger beaches are a good option; however, with the large attendance and long wait times for water activities, the smaller beaches tend to be more relaxing and enjoyable. Though the most popular beach in Seminyak, don't expect a relaxing atmosphere nor a pristine beach. For that reason, we curated a series of best beaches you need to visit whenever you're in Bali.
1.
Nusa Dua Beach – Best for the Modern Tourist
Nusa Dua Beach is known for its seemingly infinite lengths of white sand beaches. The sand is soft and provides a stunning contrast to the rich azures of the ocean. If you've ever seen pictures of the beaches in Bali, whether it's on commercials or pamphlets, it's likely taken at Nusa Dua. Nusa Dua boasts not only pristine beaches but thrives for a luxury getaway. White sand, palms trees and crystal-clear water are some of the best features.
However, if spending all day at the beach doesn't sound like your personal cup of tea, roam around with scooter for the scenic vibes. The best part, restaurants, bars, shopping and water sports are all within walking distance of Nusa Dua beach. These activities make it easier to stay cool, especially if you're planning your vacation during the hottest months. Above all, Nusa Dua beach is also famous for a romantic getaway or honeymoon for couples.
2.
Seminyak – Best nightlife
Seminyak has some of the best restaurants, cafes, shops, and attractions outside of normal beach activities. While it does have scuba diving, surfing, and room for swimming, Seminyak thrives particularly for its exclusive clubs and bars. Kuta is one of the most well-known beaches in Bali and is exotic nightlife. However, Seminyak is a much better alternative.
Though it provides all of the modern luxuries and amenities, if you ever wanted to try yoga on the beach or sit at a bar at the edge of the sand, Seminyak is ideal. It does have nightclubs and pool bars, but they accentuate the proximity to the beach. One of the most popular activities is horseback riding on the beach. As unconventional as it is, these exotic actives add a touch of grandeur to the atmosphere. And that what makes Seminyak it is today.
Aside from clubs and outdoor activities, it also provides huge shopping areas. Whether you're looking for a spare pair of sandals or want to browse the latest tropical fashions, Seminyak is the best beaches in Bali to be.
3.
Blue Lagoon – Best Undersea Adventures
Blue Lagoon is less of a traditional lounging beach and provides a focus on sea life. Gorgeous coral reefs and soft white sand, basking into the warm sun has never been better. In addition, tropical wildlife is certainly a reward for the difficulty of getting the beach. In order to get there, you'll likely have to take a boat to Padang Bai Harbour from Nusa Lembongan or Lombak. Once you do, you won't regret it.
The Blue Lagoon offers seclusion and striking views that start at the seemingly invisible line between the sky and the ocean, to the rich greens of the native palm trees, to the white crest of the waves as they gently descend to the shore. If you find the strength to pull yourself away from the vistas, the snorkelling and scuba diving offers some of the best sites Bali has to offer. It's a great place to unplug and connect with nature.
4.
Jimbaran – Best Local Experience
Jimbaran is uniquely ordinary. It does provide lovely views, fun watersports, and relaxing spas, but this is also one of the best beaches that will allow you to experience life as a local. There are supermarkets that sell everything you need and luxury resorts for you to splurge. Apart from the spotless beach, having a seafood feast is the highlight here. Before the sunsets, lines of tables and grills were set sturdily at the shore. If you fancy an authentic Balinese grill, come here, you're going to love it.
While there are some mundane parts of Jimbaran, there's nothing mundane about the city itself. Jimbaran beaches in Bali are those that start as soft sandy shores and stretches miles away from one end to another. Unlike any beaches in Bali, Jimbaran isn't the type of place that you go on an excursion but rather a long period of time to fully absorb everything Jimbaran has to offer.
5.
Nusa Penida (Kelingking Beach) – Most Dangerous per Kilometer
Though Nusa Penida is a relatively a small island compared to many islands across Bali, this island makes a name for itself through the astonishing landscapes. It features stunning cliffs that are seemingly covered in moss (it's not really but it certainly looks like it from far away!). There are very few amenities on this island, in fact, it's believed to be where all of the bad spirits were sent by priests.
Now that it's a popular tourist destination, that belief has faded but there are still many locals who will gladly tell you the old stories if you ask. If you want a precarious hike lined with railings made of tree branches and foot-beaten steps, then Kelingking Beach on Nusa Penida is for you. Be warned that the trail can be quite challenging and dangerous at some point, but once you made it, you will be rewarded with picturesque seclusion for those perfect Instagram pictures. If you don't believe this is one of the best beaches in Bali, see it for yourself and let us know what you think.
6.
Sanur Beach – Most Charming Beach
Sanur Beach is unlike Seminyak in that it provides local culture and a more relaxed place. If you're looking for a nice place to unwind, Sanur has what it takes to be claimed paradise. Here, you'll likely take walks that begin and end with stunning sights, contrasting by modern luxuries. One of the highlights is, of course, the wide and expansive boardwalks.
Come here early for the breathtaking sunrises over the horizon or enjoy an evening jog while the sea-breeze slowly brush through your face. If you prefer a livelier night, the 'Pasar Sindhu Night Market' is an excellent place to try the traditional Balinese cuisines or to grab home some souvenirs. Although it's not the busiest, most picturesque or exciting but it is a great place to relax. Sanur Beach is especially great for a family trip and resorts here are mostly children-friendly.
7.
Canggu – Best Surfing Town
Beaches in Bali is typically calm and blue. While Canggu, on the other hand, is known for its world class surfing and bohemian vibes. It is situated north of Seminyak but isn't terribly close to any of the larger cities. Hence, Canggu is famous for many backpackers who wish to spend a long time in town to get their work done. Many beaches in Canggu features black sands and shallow waters that often allow the high parts of the island to appear as if they're floating. Recently listed to be the best surfing beach in the world, Canggu is a perfect spot for travellers rides the waves in Bali.
Despite its fame, Canggu is still considered to be a little off the beaten path. In addition to the beach, many travellers came here for the unique vegan cafes and workspace. If you're looking for a more specific part of Canggu for the very best surfing, Echo Beach is where you need to go.
Echo beach isn't for newer surfers or swimmers. It has incredible surf for water-sports but doesn't provide lifeguards. For this reason, it's often secluded and doesn't have a lot of tourists. There are modern amenities including a fine dining restaurant, but the culture of this area is focused on one thing above all else: surfing. If not, Berawa beach is a great option for tamer waves.
8.
Karma Beach – Spa Getaway
Karma Beach provides a luxurious experience that comes at a price. Unlike many public beaches in Bali, Karma beach is one of the true gems in Bali. Lies under the shadow of Karma Kandara Resort, this exclusive white sand beach is a gateway to paradise.
It boasts expensive cocktails, yoga on the beach, snorkelling, cabanas and everything the young and rich could want. Get a day pass from Karma Kandara that will take you down to the beach through a cable car ride. Relax on the cabana or go stand up paddling on the azure waters. If budget is not a constraint, enjoy a beachfront spa massage. We promise you it's going to worth every penny. However, if you want a more traditional and authentic Bali experience, there are plenty of other stunning beaches in Bali.
9.
Thomas Beach – Most Secluded
Thomas Beach is gaining popularity, and rightly so. Located in Uluwatu, it provides stretches of white sand and green boulders in the ocean, but only if you're willing to take a long walk. Although the walk forces you to go through a natural path and old stairs, the view and isolation are worth every sweat and tears. Expect a laid-back vibes with few local warungs surrounding the beach. Depending on the tides, the sandbanks can get a little narrower, but excellent for swimming. Avoid going into the water while it's low tide, the rocky sand-beds is not desirable. If you want to take a romantic picnic at the beach or simply spend some alone time with a journal, Thomas Beach is like none any other beaches in Bali.
Located at the eastern part of Bali, Bias Tugel Beach is a stunning diving spot. Tucked away from the Harbour's western cliff, this beach is less crowded and relatively more relaxed. Expect to go through a labyrinth lush road over the rocky pathways. If you can't locate, try 'Hidden Beach' on Google Maps, it'll lead your right to your destination. Bias Tugel Beach is great for swimming as the waves are calmer and most importantly away from the crowd even during the peak season in Bali.
Overview
Whichever beach or beaches you decide to visit in Bali, you're sure to have a great time. Stay away from the overpriced typical tourist traps and you'll be rewarded with more postcard-worthy pictures you know what to do with and a lifetime of stories. Don't be afraid to stray off the beaten path and explore what the real Bali has to offer.