Top 11 Things To Do In Ubud, Bali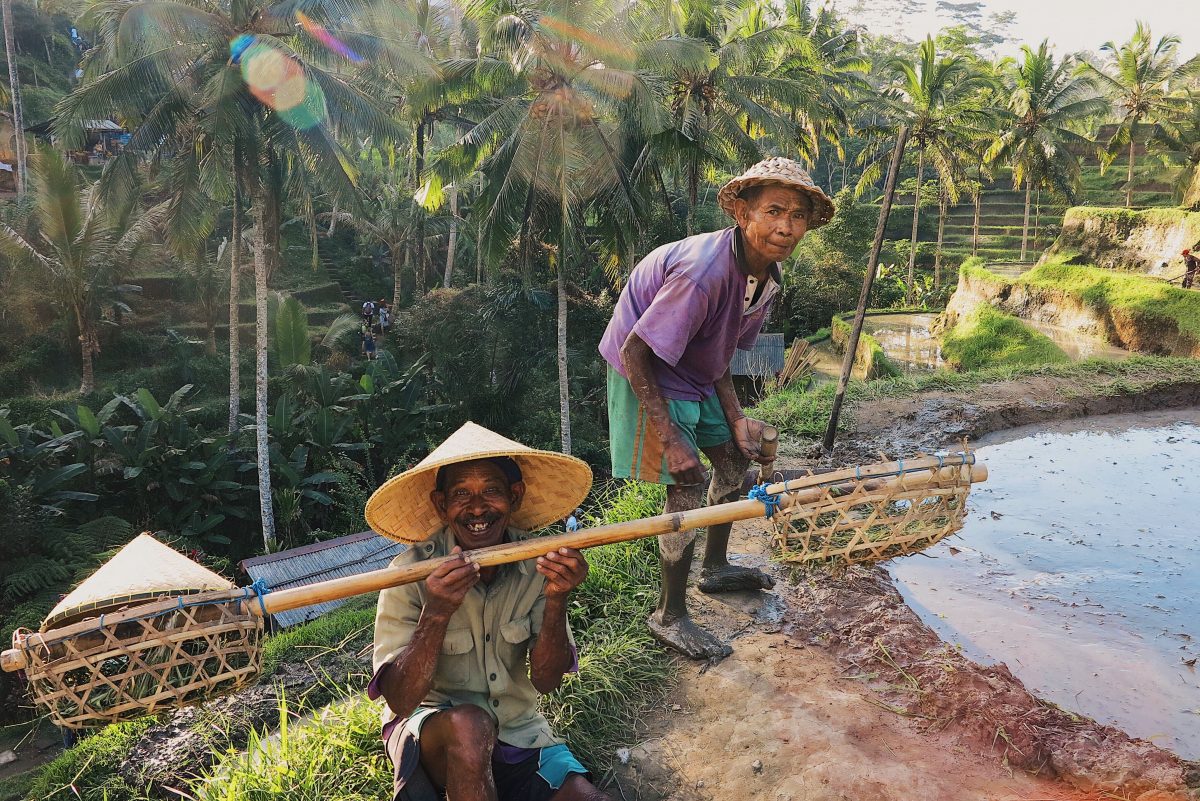 Obviously, if you're here, you're probably wondering what to do in Ubud. However, as author and frequent visitor Lionel Shriver aptly notes, "The soul of Bali is unhurried." While Ubud may be the creative and cultural hub of the island, but it certainly embraces the sentiment of slowness. One of the island's central cities and a must-visit for first-time visitors and those who make their annual pilgrimage to the island.
Sitting high in the mountains, Ubud isn't a beach destination, but there are plenty of non-ocean related things to do in Ubud that give you a break from the sun and the surf. Whether you love wildlife, crafts, or learning about local culture, you'll find it all (plus an amazing cafe culture) on our list of things to do of Ubud. Regardless if you travel up for a day or rent one of the areas luxurious villas, make sure you add these adventures to your Bali itinerary.
1.
Hike the Campuhan Ridge Walk
Campuhan Ridge is a beginner-level hike that's incredibly popular among visitors to Ubud because it's easily accessible, completely free, and entirely stunning. In addition to the naturally beautiful vistas in the valley, you also encounter sites like the Pura Gunung Lebah temple complex. If you continue north along the path, you run into Bangkian Sidem, a small village among the rice paddies that also boasts a little cafe serving refreshments and epic views.
The path is 9-kilometers long, but you can go further past Bangkian Sidem and down towards Kedewatan. Trekking farther requires a few climbs and descents. If you're looking for a walk instead of an intense hike, stop at Bangkian Sidem and turn around. While the best time to hike the path is early in the morning or late afternoon to avoid the mid-day heat. Hit the trail even earlier (before 6 AM) to beat other intrepid tourists. Don't forget to bring plenty of water and skin protection even in the hours with low light.
Ask your hotel for directions to the start of the trail, which is around IBAH Luxury Villas & Spa. Once you arrive, Look for signs that say "Going to The Hill" and follow the arrows towards the Campuhan Valley. There's no fee to access the path, but follow Leave No Trace principles and be sure to leave nothing but footprints and take nothing but pictures. Plus, if you were to take the iconic shot at the Bali Swing, it's just 12 kilometers away from Campuhan Ridge Walk.
2.
Enjoy Bali Cafe Culture at Seniman Coffee Studio
One of the things that consistently tops the list of things to do in Ubud is going for a coffee. Besides the overrated Luwak Coffee in Bali, there are plenty of other coffee shops serve amazing yet unconventional coffees. Among all, Seniman Coffee Studio is the best!
Seniman Coffee Studio reflects everything that the repeat visitors love about Ubud. Each aspect of the beverages, design, and service boasts attention to detail virtually unknown in any other coffee shop.
Owners Rodney Glick and David Suliman serve up brews from their roasting arm across the street – Tetap Happy Coffee Roasters. Here, you'll meet tourists (domestic and global), creatives, coffee professionals, and expats relaxing in the rocker chairs and enjoying a communal coffee experience. The warm lighting, upcycled service ware, and communal tables turn a visit to Seniman Coffee an experience not to be missed.
Looking for other fantastic coffee shops in Ubud? After your visit to Seniman, try out:
Monkey Cave Espresso
Watercress
Milk & Madu
Juria House
Revive
3.
Wander Puri Saren Agung (Ubud Palace)
Ubud's Puri Saren Palace is the city's royal palace and one of the best things to do in Ubud. Located in the center of the town at an intersection of the Jalan Raya Ubud road, it is a hub of culture thanks to the patronage of Ubud's royals in local music, dance, and art.
The palace is the product of the late lord Ida Tjokorda Putu Kandel, who was lord of Ubud between 1800-1823. His heirs managed the upkeep to preserve 19th-century Balinese culture. While Puri Saren Palace is perfect for an afternoon outing or a day trip from another city, it shines brightest when the sun goes down. Each night the palace hosts public dance performances that reflect the family's patronage of the local arts. Tickets for each night's performance go on sale in the afternoon.
Visitors are welcomed to the palace with free entry between 9 AM and 6 PM. Because it is not a temple, you don't need to cover up to visit, and you'll see plenty of visitors in shorts and sandals.
4.
Visit the Pura Taman Saraswati (Ubud Water Temple)
Bali boasts the nickname "The Island of a Thousand Puras" thanks to the innumerable temples scattered across the island. Pura Taman Saraswati is one of its best-known temples, and it is worth dropping in on whether you stay in Ubud or only intend to visit on a day trip.
Designed by Gusti Nyoman Lempad (a Balinese modernist painter, sculptor, and architect) in 1951, Pura Taman Saraswati is also the Ubud Water Temple, and it's a central feature of the town. The temple is named for Saraswati, the Hindu goddess of knowledge and arts; you'll spot her in the sandstone reliefs found around the temple. While the temple presents classic temple architecture, including ponds filled with incredible blooming lotuses.
Find the temple off of the Jalan Raya road; it is accessible from the Jalan Kajeng side street. Like other temples in Bali, entrance is free. However, because it is a temple, you must wear a sash and a sarong. Though there are no official opening hours, you can try your luck see if it's open on the odd hours. Apart from the stunning architecture, this temple is also an epic place to watch the sunrise or the sunset.
5.
Learn the Story of the Goa Gajah (Elephant Cave)
Drive around six kilometers outside of Ubud's thriving city center, and you'll find yourself in an incredible 11-century archaeological site and meditation space known as Goa Gajah (or Elephant Cave).
Despite the translation, you won't find any elephants here. Some believe that the name comes from the stone figure located inside the cave. The figure of Ganesh, who has an elephant's head. However, there are also inscriptions that refer to elephants – Antakunjarapada or "elephant's border."
Even without any pachyderms hiding in the cave, the entrance to the Goa Gajah is impressive. You'll enter through the mouth of a giant, angry face that also happened to inspire the Saraswati temple in Ubud city. Because it is a temple, you need to wear clothing and don a sash, which you can rent at the entrance.
The temple is open from 8 AM to 4 or 5 PM and the entry costs IDR15,000 ($1.20 USD)for adults. If you get a guided tour of any temple, make it this one. The symbolism is worth learning, and the significance of the site is lost on anyone who wanders around on their own.
6.
Eat at the Ubud Gianyar Night Market
There are a million things to do in Ubud, but exploring a night market is a must. Every night, streets in Ubud, Bali transform from ordinary streets into bustling night markets. Balinese night markets are a must-visit for travelers because they are a spot to check out traditional Balinese cuisine. The Gianyar Night Market pops up on Ngurah Rai, the main street of Gianyar.
Why Gianyar? It's one of the largest night markets and caters well to international travelers. It is not yet fully taken over by tourists and retains a local feel. The best time to visit is early (around 5:30 or 6 PM) to avoid the crowds. However, if you love night-life of the sober persuasion, come later and enjoy the hustle and bustle and the fluorescent lights.
Be prepared to haggle for food (if you want). Vendors will ask you for four-to-five times more for food items than their minimum.
Try out food like:
Babi Guling
Bakso Ayam
Gado Gado
Ayam Betutu
Corn on the cob smothered in chili
Satay
Don't forget to stop by the dessert stalls. Klepon, a combination of glutinous rice, coconut, and palm sugar, is an unmissable treat. You can get here in around 20 minutes from Ubud. If you take a taxi, ask your driver to wait for you at the market to get a lift back to your hotel.
7.
Take in a Legong Dance Performance
Traditional Balinese dance is a sight to behold, and you have ample opportunities to take in performances throughout your stay in Ubud. You can find dances at each of the Ubud temples and the palace. There are usually several dances on each night, and most begin after sunset, around 7:30 PM as it's best to admire when the sky is dark.
If you see one dance, make it the Legong dance. It is a classical Balinese dance formerly saved only for the confines of the royal court and its inhabitants. Today, you can see it both at the Puri Saren Royal Palace and throughout Bali.
Being that you're in Ubud, squeeze in a performance of the Kecak dance. It was originally a trance ritual developed in the 1930s and is best known as the Ramayana Monkey Chant. Over 100 men sit in a circle and chant "cak" in a depiction of a battle when the Vanara aided Prince Rama in the fight against Ravana, an evil king.
8.
Visit the Puri Lukisan Museum
For centuries, Balinese art reflected religious and royal themes almost exclusively. But starting in the mid-19th century, artists began to acknowledge the beauty of everyday life. The Puri Lukisan Museum presents Bali's modern masters to the world across four buildings. Both the garden and the four wings are worth visiting. The museum also makes it easy to learn about the history of art by providing English labels and descriptions.
Open from 9 AM to 5 PM; the price is R85,000 for adults and children over 11 years old. Your ticket also includes a drink in the museum's charming cafe located in the gardens.
Ubud's night market is the place to go for quintessential Balinese street food. But the shopping leaves something to be desired unless you like trinkets and second-hand DVDs.
If you want to shop for souvenirs, do it at the day market, known as the Ubud Art Market or Pasar Seni Ubud. Here, you'll find bags, baskets, hats, shirts, statues, and any other artisan product your heart desires.
Even if you don't like the commotion of Indonesian markets, it is worth a stop. Unlike other markets, the goods here are primarily made locally, often in Payangan, Tegallalang, and Pengosekan. This also happens to be the market where Julia Roberts shops in the film Eat Pray Love.
The location couldn't be more accessible. It's located directly across from the Ubud royal palace in the center of town. However, easy access all means the place is jammed with people. Go early if you want the market experience without the pushing and shoving. The prices are also best in the morning; you'll get the "Harga pagi" (the morning price) before the crowds descend. When you finish your shopping, drop into the Ubud Art Cafe as a reward for working your negotiating skills.
10.
Play at the Ubud Monkey Forest (Sacred Monkey Forest Sanctuary)
The Ubud Monkey Forest – in Padangtegal – is the heart of the local village and one of Bali's most popular attractions with 10,000 visitors a month. The park is home to around 700 monkeys who trapeze across 12.5 hectares of Balinese forest.
Bali's monkeys are infamous for being cheeky, so to fully enjoy the experience leave as much as you can in your hotel. If you need to bring a bag, carry a secure backpack and leave all your food behind. There were previously opportunities to buy bananas to feed the monkeys. However, the staff may have temporarily or permanently put a stop to the practice. If you see vendors, only purchase and bring in fruit if you are very comfortable with animals. Even after you give away your last banana, the monkeys will still smell them and harass you. Skip bringing any bananas or fruit if you visit with small children.
Additionally, be sure to listen to any safety instructions from staff. Don't touch the monkeys – even the babies. Don't look them in the eye either because they confuse eye contact for a challenge. Visit the forest between 8:30 AM and 6 PM. Last admission is at 5:30 PM. A ticket is IDR 80,000 ($5.60 USD) for adults and IRD 60,000 ($4.20 USD) for children.
Are you basing yourself in Ubud? You can take a short taxi or even walk to the monkey forest. Alternatively or if you're staying outside the town, visit on a day tour that includes several other stops. You can also rent a driver and make a day of it using your own custom itinerary.
11.
Tegalalang Rice Terraces
Bali's iconic rice fields are among its most breathtaking features. The best rice terraces for visitors are the Tegalalang Rice Terraces, which happen to be close to Ubud. Tip: this is always where the Instagram-worthy "Love Bali" sign is, so it might be worth a trek for the photo, even if you aren't interested in the rice paddies themselves.
Unlike other parts of Asia where the rice grows in flat paddies, the Balinese use a unique form of irrigation called a 'subak', which features human-made terraces carved into valleys.
To get to Tegalalang, you'll need to take a taxi or a scooter 20-minutes north of Ubud. You can also walk, but remember that you'll also need to walk back and one of those journeys will be in the intense Bali heat.
Tegalalang is free, but the locals ask for donations from the tourists. Although the contributions aren't mandatory, they are minimal, and you will be in their place of work, so paying them is fair. Bring small notes to give to the workers; you'll be stopped at various points on your way through. You can walk as long as you want – or as long as you're willing to pay. Keep in mind that the photos you see on blogs and social media are taken very early in the morning. Tegalalang is one of the most popular things to do in Ubud, so don't expect much in the way of solitude.
If staying in Ubud, come early in the morning and bring plenty of the water. Once mid-morning hits, the buses full of tourists from elsewhere on the island begin arriving.