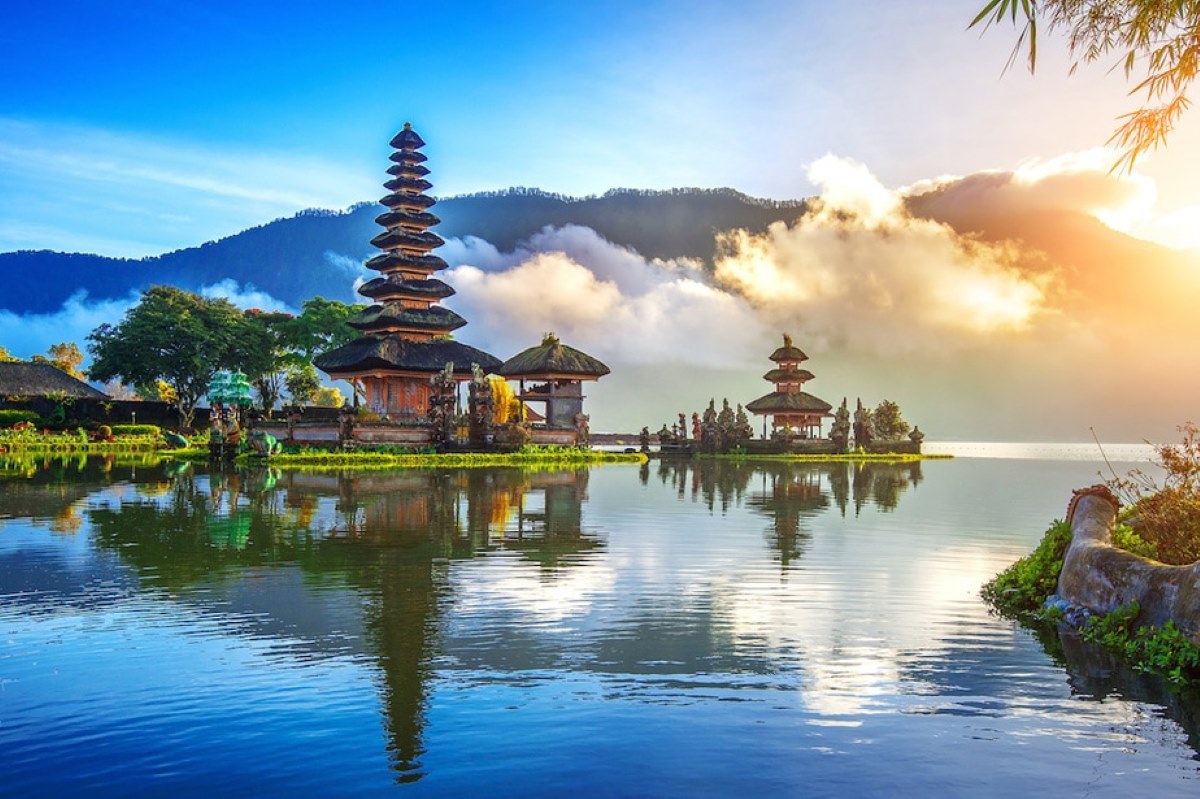 Introduction
Welcome to the tropical paradise of Bali! With its stunning beaches, lush landscapes, vibrant culture, and warm hospitality, Bali has become one of the most popular destinations for travelers around the world. Whether you're a beach lover, an adventure enthusiast, a culture seeker, or a foodie, Bali has something to offer for everyone.
Bali is an Indonesian island known for its picturesque beauty, encompassing breathtaking beaches, terraced rice fields, and lush rainforests. It also boasts a rich cultural heritage with its Hindu temples, traditional arts, and vibrant festivals. The island offers a diverse range of experiences, from relaxing on pristine beaches to exploring ancient temples, from indulging in traditional spa treatments to embarking on thrilling outdoor adventures.
One of the best things about Bali is its warm and welcoming people. Balinese hospitality is legendary, and you'll find locals always eager to share their culture and make you feel at home. From the moment you arrive on this magical island, you'll be greeted with smiles and open arms.
Whether you're planning a romantic honeymoon, a family vacation, or a solo adventure, Bali has a wide array of attractions and activities to cater to all travel preferences. And to make the most of your trip, it's essential to plan ahead and have a good understanding of the essentials and accessories you'll need to make your journey comfortable and convenient.
In this comprehensive guide, we'll explore everything you need to know about traveling to Bali, including the best time to visit, visa requirements, booking flights, getting around the island, accommodation options, must-visit places, local cuisine, outdoor activities, shopping, and safety tips. So, let's get ready to embark on an unforgettable journey to the stunning island of Bali!
Best Time to Visit Bali
Bali enjoys a tropical climate with warm temperatures year-round, making it a popular destination for travelers seeking sun, sand, and sea. However, the best time to visit Bali depends on your preferences and what activities you have in mind.
The dry season, which runs from April to September, is generally considered the best time to visit Bali. During this period, you can expect plenty of sunshine, minimal rainfall, and lower humidity levels. The weather is ideal for exploring the island's stunning beaches, diving in crystal-clear waters, and engaging in outdoor activities like trekking and surfing. It's important to note that the dry season also coincides with Bali's peak tourist season, so expect larger crowds and higher prices.
The wet season in Bali extends from October to March, marked by occasional downpours and more humid conditions. However, this can still be an appealing time to visit, especially for budget-conscious travelers. The island is quieter, hotel rates tend to be lower, and you can experience a more serene and authentic side of Bali. While outdoor activities may be limited during heavy rainfall, you can still enjoy cultural activities, explore indoor attractions, and witness unique religious ceremonies.
It's worth noting that Bali's climate can vary within different regions of the island. The coastal areas tend to be more humid, while the highland regions experience cooler temperatures. If you're planning to explore Bali's interior, such as Ubud or the central mountains, it's advisable to pack a light jacket for the cooler evenings and early mornings.
Ultimately, the best time to visit Bali depends on your personal preferences and the activities you want to experience. Whether you choose the dry season for its sunny skies and water sports, or the wet season for its more tranquil vibe and affordability, Bali offers something for every type of traveler throughout the year.
Visa Requirements
Before traveling to Bali, it's important to familiarize yourself with the visa requirements to ensure a smooth entry into the country. The specific visa regulations vary depending on your nationality and the duration of your stay.
For many countries, Bali offers a visa-free entry or visa-on-arrival option. The visa-free entry allows you to stay in Bali for up to 30 days. This applies to visitors from countries such as the United States, Canada, the United Kingdom, Australia, and most European Union member states. Upon arrival at the airport, you'll need to present a passport with at least six months of validity and a return or onward ticket.
If you're planning to stay in Bali for more than 30 days, you have a few options. One option is to apply for a tourist visa before arriving in Bali. The Indonesian Embassy or Consulate in your home country can provide you with detailed information on the application process and requirements. The tourist visa allows for a stay of up to 60 days and can be extended for an additional 30 days while in Bali.
Another option is to arrive in Bali with a visa-on-arrival (VOA). The VOA can be obtained at the airport upon your arrival and allows for a 30-day stay, which can be extended once for an additional 30 days. The VOA requires a fee that is payable in cash using Indonesian Rupiah currency.
If you're planning to work, study, or stay in Bali for an extended period, you'll need to apply for a different type of visa, such as a social-cultural visa or a business visa. These visas have specific requirements and limitations, and it's advisable to consult with the Indonesian Embassy or Consulate in your home country for detailed information.
It's important to note that visa regulations may change, so it's always a good idea to check the latest visa requirements before your trip. The local immigration office in Bali can provide any updated information or guidance if needed.
Remember to always have a valid passport with sufficient validity, a return or onward ticket, and any necessary visas before traveling to Bali. By taking care of the visa requirements in advance, you can ensure a hassle-free entry and make the most of your time in this beautiful Indonesian island.
Booking Flights to Bali
When planning your trip to Bali, booking your flights is a crucial step in ensuring a smooth and enjoyable journey. Here are some tips to help you navigate the process of booking flights to Bali:
Start Early: It's advisable to start searching for flights well in advance to secure the best deals. Airlines often release their seats around 10-12 months before departure, so the earlier you book, the more options you'll have at competitive prices.
Be Flexible with Dates and Airports: Being flexible with your travel dates can significantly impact the cost of your flight. Consider flying during weekdays or shoulder seasons when prices tend to be lower. Additionally, be open to flying into alternative airports near Bali, such as Jakarta or Surabaya, and then taking a domestic flight or ferry to Bali.
Compare Prices: Utilize various flight search engines and comparison websites to compare prices and find the best deals. Some popular platforms include Skyscanner, Kayak, and Google Flights. Don't forget to check directly with airlines, as they sometimes offer exclusive deals or promotions.
Consider Layovers: Direct flights to Bali may be more expensive than flights with layovers. If you don't mind a longer journey, consider flights with layovers, which can offer significant savings. Just be sure to check the layover duration and factor in enough time for transit.
Join Loyalty Programs: If you frequently travel or plan to visit Bali regularly, consider joining the loyalty programs of airlines or travel agencies. Accumulating points can lead to discounted flights or additional perks in the future.
Stay Updated on Sales and Promotions: Airlines often offer sales and promotions throughout the year. Sign up for newsletters or follow airlines' social media accounts to stay informed about these deals. Keep an eye out for flash sales or special holiday promotions that can provide substantial savings.
Consider Package Deals: Some travel agencies or websites offer package deals that include flights, accommodation, and additional perks. These packages can sometimes offer great value for money, so it's worth checking them out if you prefer a hassle-free booking experience.
Check Visa Requirements: Before booking your flight, ensure that you have the necessary visa requirements in place, as discussed in the previous section. Having a visa or visa-free entry approved before purchasing your flight tickets will help avoid any complications.
Remember to read the terms and conditions of your flight booking, including baggage allowances and cancellation policies. It's also a good idea to purchase travel insurance to protect yourself against any unforeseen circumstances.
By following these tips, you can find the best flights to Bali that suit your budget and travel preferences. Booking early, being flexible, and staying informed will help you secure a smooth and enjoyable journey to this tropical paradise.
Getting Around Bali
Once you've arrived in Bali, you'll need to consider transportation options to explore the island's various attractions. Here are some popular methods of getting around Bali:
Private Drivers and Taxis: Hiring a private driver or taking a taxi is a convenient way to explore Bali, especially if you want a more personalized and comfortable experience. Private drivers can be hired for half-day or full-day trips, and they will take you to your desired destinations at your own pace. Taxis are also readily available, particularly in tourist areas, and can be hailed from the street or through ride-hailing apps like Grab.
Motorbikes and Scooters: Renting a motorbike or scooter is a popular and affordable option for getting around Bali. Many visitors enjoy the freedom and flexibility of navigating the island on two wheels. However, it's important to note that driving in Bali can be chaotic, and traffic rules may not always be strictly followed. Ensure that you have a valid driver's license, wear a helmet at all times, and exercise caution while on the road.
Public Buses and Bemos: Bali has a network of public buses and bemos (small minivans) that serve popular routes across the island. While these options are inexpensive, they can be crowded and may not always follow a strict schedule. It's best to check with locals or at bus terminals for the most up-to-date information on routes and timings.
Ride-Hailing Apps: The popular ride-hailing apps Grab and Gojek are available in Bali, offering a convenient and reliable way to get around. These apps allow you to book cars, motorbikes, or even food deliveries, providing a hassle-free transportation experience.
Car Rental: If you prefer to have your own vehicle, car rental services are available in Bali. Renting a car offers flexibility and the opportunity to explore the island at your own pace. However, keep in mind that driving in Bali can be challenging due to heavy traffic and unfamiliar roads, so it's essential to have good navigation tools and drive defensively.
Bicycles: Bali's smaller towns and rural areas are great for exploring by bicycle. Many hotels and guesthouses offer bicycle rentals, allowing you to pedal through scenic rice fields, visit local villages, and discover hidden gems off the beaten path.
It's important to consider your own comfort level and preferences when choosing a mode of transportation in Bali. If you're not accustomed to driving in busy traffic or navigating unfamiliar roads, it may be best to opt for a private driver or use ride-hailing apps. Always negotiate prices, agree on fares in advance, and ensure that you've discussed the desired itinerary and any stops along the way.
Remember to stay hydrated, especially when traveling during the hot and humid months. Carry a map or use navigation apps to help you find your way, and be open to embracing the unique experiences that Bali has to offer as you explore the island on your chosen mode of transportation.
Accommodation Options in Bali
Bali offers a wide range of accommodation options to suit every budget and preference, ranging from luxurious resorts to budget-friendly guesthouses. Here are some popular choices to consider when selecting your accommodation in Bali:
Beachfront Resorts: Bali is known for its stunning beaches, and staying at a beachfront resort allows you to wake up to the sound of waves and enjoy direct access to the beach. These resorts offer luxurious amenities, including pools, spa facilities, and beachside dining. They are perfect for those seeking a relaxing and indulgent getaway.
Boutique Hotels and Villas: Bali is home to numerous boutique hotels and private villas, offering personalized service and a unique charm. These accommodations often feature stylish designs, lush gardens, and private pools. They provide a more intimate and secluded experience, ideal for couples or travelers seeking privacy and tranquility.
Budget Guesthouses and Homestays: For budget-conscious travelers, Bali offers a variety of guesthouses and homestays that provide comfortable and affordable accommodation. These options typically offer clean rooms, basic amenities, and a chance to connect with local hosts. It's an excellent way to experience Balinese hospitality and immerse yourself in the local culture.
Hostels and Shared Accommodation: Bali is a popular destination for backpackers and solo travelers, and there are many hostels and shared accommodation options available. These budget-friendly accommodations often offer dormitory-style rooms and communal areas where you can meet fellow travelers. They provide a social and lively atmosphere, perfect for those seeking to make new friends and share travel experiences.
Eco-Resorts and Retreats: Bali's natural beauty and spiritual atmosphere make it a popular destination for eco-resorts and retreats. These accommodations focus on sustainability, wellness, and connecting with nature. They offer activities such as yoga, meditation, and spa treatments, allowing guests to unwind and rejuvenate in a serene and eco-friendly environment.
Regardless of the type of accommodation you choose, it's important to research and read reviews to ensure that it meets your expectations and preferences. Consider factors such as location, proximity to attractions, nearby amenities, and available facilities. It's also a good idea to book in advance, especially during peak seasons, to secure the best rates and availability.
Many popular areas in Bali offer a range of accommodation options, including Kuta, Seminyak, Ubud, and Canggu. Each area has its own unique atmosphere and attractions, so choose a location that aligns with your interests and the activities you plan to pursue during your stay.
Whichever accommodation option you choose, Bali's warm hospitality and beautiful surroundings will make your stay memorable. Whether you're looking for a luxury escape, a budget-friendly stay, or a unique cultural experience, Bali has something to offer for every type of traveler.
Must-Visit Places in Bali
Bali is a treasure trove of stunning landscapes, cultural attractions, and hidden gems. Here are some of the must-visit places in Bali that you shouldn't miss:
Ubud: Known as the cultural heart of Bali, Ubud offers a serene retreat surrounded by lush rice fields, traditional art galleries, and ancient temples. Explore the sacred Monkey Forest Sanctuary, visit the majestic Tegalalang Rice Terraces, and immerse yourself in local arts and crafts.
Tanah Lot Temple: Perched on a rocky outcrop against the crashing waves of the Indian Ocean, Tanah Lot Temple is one of Bali's most iconic landmarks. It's a stunning sight, especially during sunset when the temple is silhouetted against the vibrant hues of the sky.
Uluwatu: Located on the southern tip of Bali, Uluwatu is renowned for its dramatic cliffs, picturesque beaches, and its famous sea temple, Uluwatu Temple. Catch a traditional Kecak dance performance at the temple, take in panoramic views of the ocean, or hit the waves for world-class surfing.
Mount Batur: If you love adventure and breathtaking vistas, a trek to the summit of Mount Batur is a must-do. Witness a mesmerizing sunrise over the volcanic caldera, and soak in the stunning panoramic views of Lake Batur and the surrounding landscapes.
Seminyak: Known for its vibrant nightlife, trendy beach clubs, and upscale boutiques, Seminyak offers a blend of luxurious relaxation and lively entertainment. Spend the day lounging on the beaches, indulge in spa treatments, and experience the vibrant dining and nightlife scene.
Tegallalang Rice Terraces: Located just north of Ubud, the Tegallalang Rice Terraces offer a picturesque landscape of layered rice fields carved into the hillsides. Explore the terraces on foot, learn about traditional irrigation systems, and capture stunning photos amidst the greenery.
Nusa Penida: A short boat ride from Bali's mainland, Nusa Penida is a paradise for nature lovers. Explore stunning beaches like Kelingking Beach and Crystal Bay, swim with manta rays, and discover hidden natural wonders like Angel's Billabong and Broken Beach.
Water Temples: Bali is home to several beautiful water temples, collectively known as the 'Pura Tirta Empul.' These temples, including Tirta Empul Temple and Ulun Danu Bratan Temple, are believed to possess sacred springs and offer a spiritual experience amidst stunning surroundings.
Jimbaran Bay: Indulge in fresh seafood and breathtaking sunsets at Jimbaran Bay. This picturesque beach is known for its seafood restaurants lining the shore and offers a romantic and scenic setting for a memorable dining experience.
Nusa Dua: Nusa Dua is a luxurious enclave known for its pristine beaches, world-class resorts, and golf courses. Relax on the golden sands, enjoy water sports like snorkeling and diving, or pamper yourself at one of the lavish spa resorts.
These are just a few highlights of the many incredible places to explore in Bali. Each location offers its own unique charm, whether it's natural beauty, cultural significance, or exhilarating activities. Make sure to plan your itinerary and allocate enough time to fully experience the magic of these must-visit places in Bali.
Exploring Balinese Cuisine
Exploring Balinese cuisine is an essential part of immersing yourself in the vibrant culture of the island. Balinese food is a delightful blend of flavors, influenced by Indonesian, Indian, Chinese, and even European culinary traditions. Here's a glimpse into the rich and diverse world of Balinese cuisine:
1. Nasi Goreng: One of the most popular dishes in Bali is nasi goreng, Indonesian fried rice. It is typically stir-fried with a combination of rice, vegetables, meat, shrimp, and a flavorful blend of spices. Nasi goreng is often served with a fried egg on top and accompanied by prawn crackers.
2. Sate: Sate, or satay, is a beloved street food in Bali. It consists of skewered and grilled meat, usually chicken, beef, or pork, served with a peanut sauce on the side. The succulent and marinated meat is cooked over an open flame, giving it a smoky and aromatic flavor.
3. Babi Guling: Babi guling is a traditional Balinese dish that showcases the island's love for roast pork. The whole pig is stuffed and infused with a blend of spices, including turmeric, coriander, lemongrass, and ginger, before being slow-roasted on a spit. The result is a succulent and flavorful meat dish often served with rice, vegetables, and spicy sambal sauce.
4. Lawar: Lawar is a unique Balinese salad made from minced meat, usually pork or chicken, mixed with grated coconut, vegetables, and a variety of aromatic herbs and spices. It's often served with steamed rice and is a staple dish during religious ceremonies and festivals.
5. Babi Guling: Sate Lilit is a Balinese specialty where minced meat, usually pork or fish, is mixed with grated coconut, spices, and aromatic herbs. The mixture is then wrapped around a lemongrass or bamboo stick and grilled to perfection. Sate lilit is known for its distinctive flavor and is often served with steamed rice and spicy sambal sauce.
6. Balinese Sambal: Sambal is a fiery chili sauce that is an essential accompaniment to almost every Balinese meal. It adds a spicy kick and enhances the flavors of the dishes. Balinese sambal is often made with a blend of chilies, shallots, garlic, shrimp paste, and lime juice, resulting in a tangy and piquant condiment.
7. Pisang Goreng: For a sweet treat, indulge in pisang goreng, or fried bananas. Ripe bananas are dipped in a batter made of flour, sugar, and spices, then deep-fried until crispy and golden. These delicious fritters are commonly enjoyed as a snack or a dessert.
Balinese cuisine is not only about the flavors but also about the overall dining experience. Traditional Balinese restaurants called "warungs" offer an authentic ambiance where you can savor local dishes. Balinese people take pride in their culinary traditions, and their warm hospitality will make your dining experience even more memorable.
Don't miss the opportunity to try the diverse array of flavors and dishes that Balinese cuisine has to offer. Whether you're enjoying a fiery sambal with your nasi goreng or indulging in a succulent babi guling, exploring Balinese cuisine will undoubtedly be a highlight of your trip to Bali.
Outdoor Activities in Bali
Bali is a paradise for outdoor enthusiasts, offering a wide range of activities to satisfy adventure seekers and nature lovers alike. From exploring beautiful landscapes to engaging in thrilling water sports, here are some popular outdoor activities to experience in Bali:
Surfing: Bali is renowned for its world-class surfing spots, attracting surfers from around the globe. Head to popular beaches like Kuta, Uluwatu, and Canggu to catch some waves or enroll in surf schools for beginners looking to learn this exhilarating sport.
White-Water Rafting: Embark on an adrenaline-pumping adventure by going white-water rafting on Bali's rivers. Navigate through the rapids surrounded by incredible scenery, explore the lush rainforests, and experience the thrill of conquering the mighty currents.
Trekking and Hiking: Bali's diverse landscapes offer numerous opportunities for trekking and hiking adventures. Explore picturesque rice terraces in Ubud, hike to the summit of Mount Batur for a stunning sunrise, or embark on the challenging trek to the hidden Sekumpul Waterfalls.
Cycling Tours: Discover Bali's natural beauty and rural villages on a cycling tour. Ride through lush rice paddies, visit traditional Balinese homes, and interact with friendly locals while exploring the island at a leisurely pace.
Snorkeling and Diving: Bali's turquoise waters are home to an underwater world of vibrant marine life. Snorkel or dive in popular spots like Amed, Menjangan Island, or Nusa Penida to explore coral reefs, encounter colorful tropical fish, and possibly catch a glimpse of graceful manta rays and turtles.
Paragliding: Soar through the skies and take in breathtaking aerial views of Bali by going paragliding. Strap into a harness, launch from a scenic spot, and glide above stunning landscapes, beaches, and cliffs, guided by experienced pilots.
Horseback Riding: Explore Bali's scenic beauty on horseback. Take a leisurely ride along the beaches of Canggu, through rice fields in Ubud, or venture into the countryside, experiencing the tranquility of nature from a different perspective.
Eco-Tours: Join an eco-tour to experience Bali's natural wonders while supporting sustainable tourism. Visit conservation projects, explore protected forests, and learn about the island's unique flora and fauna from knowledgeable guides.
These are just a few examples of the outdoor activities that await you in Bali. Whether you're seeking adrenaline-pumping adventures or peaceful encounters with nature, Bali offers a plethora of options to suit every interest and fitness level. Remember to always respect the environment, follow safety guidelines, and choose reputable operators for a responsible and unforgettable outdoor experience.
Shopping in Bali
Bali is a haven for shoppers, offering a vibrant and diverse shopping scene that caters to all tastes and budgets. From traditional crafts and unique artworks to stylish boutiques and bustling markets, here are some of the top shopping experiences to indulge in while in Bali:
Art and Handicrafts: Bali is renowned for its exquisite artistry and craftsmanship. Explore the art markets and galleries in Ubud to discover stunning traditional paintings, intricately carved wooden sculptures, handmade jewelry, and traditional batik textiles. Don't miss a visit to the Sukawati Art Market, known for its wide range of arts and crafts.
Boutiques and Designer Stores: Bali's trendy neighborhoods, such as Seminyak and Canggu, boast an array of boutiques and designer stores offering fashion-forward clothing, accessories, and homeware. Browse through stylish local brands, international labels, and one-of-a-kind designs for a unique shopping experience.
Beach and Surf Shops: Bali's beautiful beaches make it an ideal destination for beach and surf enthusiasts. Head to Kuta, Legian, or Seminyak to find a variety of beach and surf shops offering swimwear, surfboards, beachwear, and other beach essentials.
Traditional Markets: Bali's traditional markets are a treasure trove of local products, fresh produce, and authentic Balinese experiences. Explore markets such as Pasar Badung in Denpasar or Pasar Sindhu in Sanur to immerse yourself in the bustling atmosphere and browse through textiles, spices, handicrafts, and local snacks.
Spa and Wellness Products: Bali is renowned for its spa and wellness culture, and you'll find a wide range of spa products and natural skincare items available for purchase. Look for shops and boutiques that specialize in locally made beauty products, essential oils, herbal remedies, and traditional spa equipment.
Antiques and Souvenirs: Bali is a paradise for antique lovers and collectors. Treasure hunters can explore antique shops and galleries to discover unique items like intricately carved masks, vintage ornaments, traditional textiles, and antique furniture. As for souvenirs, be sure to pick up Balinese souvenirs like traditional sarongs, handcrafted wooden souvenirs, or colorful batik items to bring home as reminders of your time in Bali.
Jewelry: Bali is known for its stunning jewelry creations. From delicate silver designs to statement pieces incorporating gemstones and traditional motifs, you'll find a wide selection of jewelry in Bali. Visit workshops or jewelry stores in Celuk Village or at the Ubud Art Market for traditional Balinese silver jewelry.
Remember to practice your bargaining skills when shopping in local markets to secure the best prices. Keep in mind that some items may require negotiation, while others have fixed prices in the boutiques. It's also a good idea to check customs regulations and restrictions for any unique or valuable items you may wish to bring back home.
Shopping in Bali is not just about purchasing items; it's an opportunity to connect with the island's vibrant culture, support local artisans, and bring back beautiful memories of your time in Bali.
Safety Tips for Traveling to Bali
Bali is generally a safe destination for travelers, but it's always important to prioritize your safety and well-being. Here are some essential safety tips to keep in mind while traveling in Bali:
Stay Hydrated: Bali has a hot and humid climate, so it's crucial to drink plenty of water to stay hydrated, especially when engaging in outdoor activities or spending time in the sun.
Protect Yourself from the Sun: Apply sunscreen with a high SPF, wear a hat, and use protective clothing to avoid sunburn and minimize the risk of heatstroke.
Be Cautious of Traffic: Traffic in Bali can be busy and chaotic, particularly in popular tourist areas. Practice caution when crossing the road, be aware of your surroundings, and consider using marked pedestrian crossings.
Secure Your Belongings: Keep a close eye on your personal belongings, especially in crowded areas such as markets or tourist attractions. Use lockable bags or lockers to store valuables, and be mindful of your surroundings to avoid any potential theft or pickpocketing.
Stay in Accommodations with Good Security: Choose accommodations that have reliable security measures, such as guards, CCTV cameras, and secure locks on doors and windows.
Follow Water Safety Guidelines: Bali has beautiful beaches, but it's important to be cautious when swimming or participating in water activities. Pay attention to warning flags or signs on the beach, and only swim in designated areas with lifeguards present. Be aware of strong currents and always adhere to safety instructions.
Respect Local Customs and Etiquette: Bali is deeply rooted in its customs and traditions. Respect the local culture by dressing modestly when visiting temples, covering your shoulders and knees, and behaving respectfully during religious ceremonies.
Take Precautions to Avoid Bali Belly: To prevent stomach issues while traveling, stick to bottled water, avoid consuming tap water, and be cautious when eating street food. Wash your hands regularly or use hand sanitizer before eating.
Stay Informed about Current Events: Stay updated on any local news, weather warnings, or relevant information that may affect your travel plans. Follow local authorities' advice and guidelines to ensure your safety.
Observe Basic Health Precautions: In addition to staying hydrated, take basic health precautions such as washing your hands frequently, using insect repellent to protect against mosquito bites, and seeking medical attention if you feel unwell or display any concerning symptoms.
It's always advisable to have travel insurance that covers medical emergencies, trip cancellations, and lost or stolen belongings. Familiarize yourself with the terms of your insurance policy before your trip and carry a copy of your policy information with you.
By following these safety tips, you can ensure a safe and enjoyable trip to Bali. Remember to use common sense, be aware of your surroundings, and take necessary precautions to make the most of your time on this beautiful island.
Conclusion
Bali is a captivating destination that offers a blend of natural beauty, rich culture, and warm hospitality. From stunning beaches and vibrant markets to traditional temples and mouthwatering cuisine, Bali has something to offer every traveler. By following this comprehensive guide, you'll be well-equipped to make the most of your trip to this tropical paradise.
Take advantage of the best time to visit Bali, whether you prefer the sunny and dry season or the quieter and more affordable wet season. Familiarize yourself with the visa requirements and plan accordingly to ensure a smooth entry into the country. When booking flights, start early and compare prices to secure the best deals.
Once in Bali, explore the island's diverse attractions and activities. Whether it's lounging on pristine beaches, diving into crystal-clear waters, venturing on exciting outdoor adventures, or immersing yourself in the local culture, Bali has it all.
Indulge in the flavors of Balinese cuisine, from savory nasi goreng and succulent babi guling to fiery sambal and sweet pisang goreng. Immerse yourself in the vibrant shopping scene, where you can find traditional crafts, stylish boutiques, and unique souvenirs to bring back home.
While enjoying all that Bali has to offer, prioritize your safety by following the provided tips. Stay hydrated, protect yourself from the sun, secure your belongings, and be cautious of traffic and water safety. Respect the local customs and etiquette, and stay informed about current events. Taking these precautions will ensure a safe and worry-free journey.
In conclusion, Bali is a destination that will captivate your senses and leave you with incredible memories. Whether you're seeking relaxation, adventure, cultural immersion, or all of the above, Bali truly has it all. So embark on your journey, embrace the beauty and charm of this tropical island, and create unforgettable experiences that will last a lifetime.