Do You Need a Passport to Go to Puerto Rico? (And Other Travel Requirements)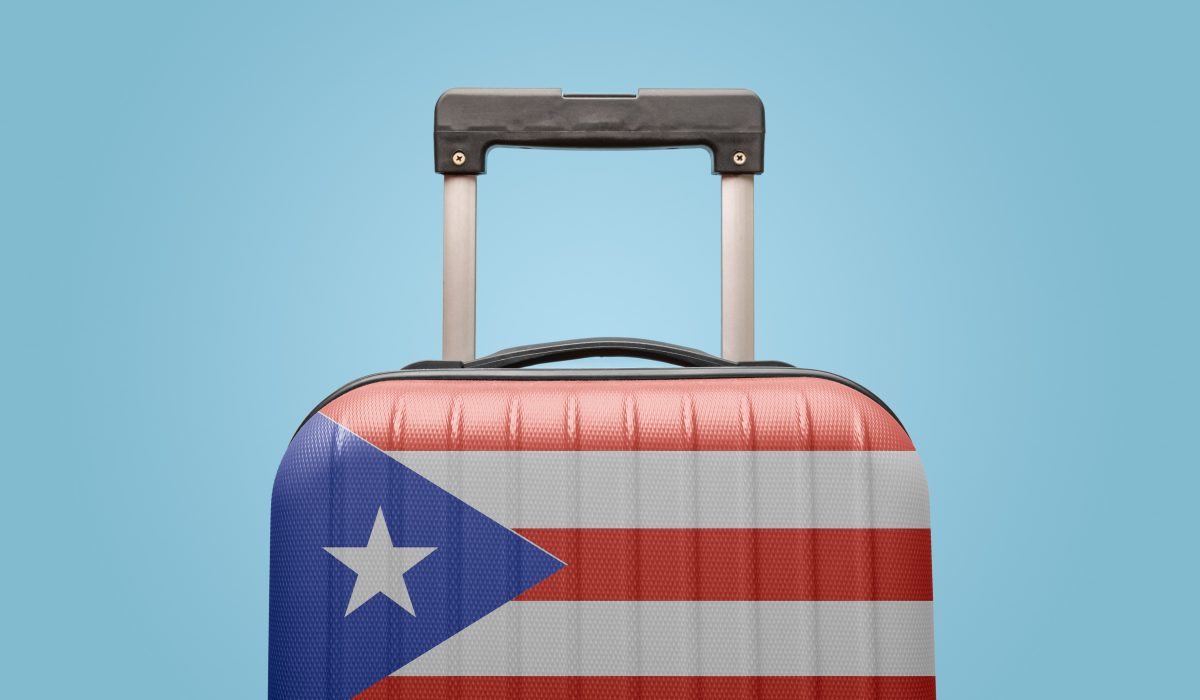 The Caribbean island is a favorite travel destination thanks to its tropical climate, diverse landscapes, and exquisite cuisine. If it's your first time to travel to the West Indies, the first question on your mind is most likely, "do you need a passport to go to Puerto Rico?" Find out everything you need to know before you start booking flights for your next vacation.
Do You Need a Passport to Go to Puerto Rico From the US?
Do I need a passport to go to Puerto Rico? A common question asked when traveling to the Caribbean island is whether it requires a passport to enter. The answer all boils down to your citizenship. United States citizens don't need a passport to enter or exit Puerto Rico. After all, the island has been a U.S. territory since 1917. This means that if you're a US citizen and want to travel to Puerto Rico from the US mainland, you can do so without a passport. Before you start writing up your list of things to do in Puerto Rico, though, you still need to gather other documents that prove your citizenship such as a government-issued photo ID like your driver's license.
Can you go to Puerto Rico without a passport if you're a Lawful Permanent Resident (LPR)? If you're a non-citizen who is lawfully living in America permanently, you can travel to the island without a passport. That said, you might need to bring with you proof of U.S. citizenship, such as a Permanent Resident card or a Green Card.
Scenarios When U.S. Citizens May Need Passports in Puerto Rico
U.S. citizens and LRPs don't need passports to enter Puerto Rico via domestic flights. However, they will need a passport when coming from an international flight. Since you're technically coming from outside U.S. soil, that would require a passport once you're landing in Puerto Rico.
There are two instances this could happen. First, you will need to present your passport if you're coming from outside a US territory, such as the Dominican Republic or some other countries in Asia or Europe. Another rare instance is when you've booked a domestic flight with an international layover.
Do You Need a Passport to Go to Puerto Rico From Other Countries?
Want to enjoy the best beaches in Puerto Rico while sipping on piña coladas, but not a US citizen? Then, you will need a passport to travel to the island. Travelers from foreign countries require the same entry documents needed to enter the mainland. This includes a valid passport.
Passport Requirements for Non-U.S. Residents Traveling to Puerto Rico
Aside from bringing your passport, you should also make sure that it's valid for at least six months beyond your intended stay in the country. Although, there are a few exempted countries where the US government has, aside from waiving the rule, granted an additional six-month passport validity.
Other Puerto Rico Travel Requirements
Do You Need a Visa to Enter Puerto Rico?
There are no Puerto Rico visa requirements for US residents. Though you may need one if you are visiting from outside America. Now, not all territories require a visa to enter the country. Thanks to the Visa Waiver Program (VWP), citizens from certain countries can travel to the US without obtaining a visa. Residents from Canada, the United Kingdom, and most of Europe can stay 90 days or less, whether for tourism or business purposes.
If you are coming from the countries that are part of the VWP, you still need to obtain an Electronic System for Travel Authorization (ESTA). The ESTA is a web-based system operated by the Department of Homeland Security and the United States Customs and Border Protection. After filling up the ESTA form, submitting all the necessary documents, and paying the application fee, you should be able to get a response within 72 hours. Note that the ESTA is only for travelers heading to the US for business or pleasure. After securing your ESTA, you can now start daydreaming about mouthwatering Puerto Rican food, fun activities, and breathtaking sights that the island has to offer.
CDC Travel Entry Requirements
Is it safe to travel to Puerto Rico? Similar to other destinations, traveling to Puerto Rico comes with new risks due to the pandemic. As a bid against COVID-19, , there are now a number of Puerto Rico travel restrictions that visitors need to abide by for a safe travel.
For Vaccinated Travelers:
Before entering the island, all travelers must complete and submit a Puerto Rico travel declaration form, which you can find on the government's website. For fully vaccinated US citizens traveling via domestic flights, you will need to upload a copy of your CDC vaccination card.
For Unvaccinated Visitors:
If you are not fully vaccinated, you will need to submit a negative PCR or an antigen test within 72 hours prior to entering the island. Foreign travelers entering via an international flight, also need to submit a negative COVID test result, regardless of vaccination status.
If you arrive without a test result, you will be issued a $300 fine. This can be dismissed, however, if you get tested on the island. Although, you will need to pay the cost out-of-pocket. You also need to go into self-quarantine while waiting for your results, which you will have to upload to the government's online portal within 48 hours after arrival. Visitors who test positive will be subject to a quarantine period until the Health Department allows their release.
Do U.S. Citizens Go Through Customs in Puerto Rico?
If you're coming from a domestic flight, you don't need to go through Customs and Border Patrol (CBP). Simply claim your baggage and take the domestic flight exit.
For travelers arriving via international flights, you must first clear CBP Primary Inspection. After claiming your belongings, proceed to the U.S. Customs and Agriculture for inspection of your baggage and travel documents.
Things You Need to Know When Traveling to Puerto Rico
It's easy to discover Puerto Rico and all its wonders. The island is a dream destination for many, especially since it offers convenient and cheap weekend getaways within America. But, aside from asking "do you need a passport for Puerto Rico," there are a few things you need to know when traveling to the island.
What Cell Phone Service Works in Puerto Rico?
American phone carriers work exactly the same on the Caribbean island. U.S. cell providers will charge you the same standard domestic rates for text and call services.
For international travelers, you will need to get a sim card or phone plan that works in the U.S. AT&T, T-Mobile, Claro, and Sprint are among the top mobile service providers in the area.
What Language Is Spoken in Puerto Rico?
Puerto Rico's official languages are Spanish and English. While both languages are used on the island, the more dominant Puerto Rico language is Spanish. If you're visiting popular tourist spots such as San Juan, El Yunque, or Rincon, you will most likely find locals that can communicate in English. While learning a few Spanish words and phrases can be helpful when you're going through your list of things to do in San Juan, it isn't necessarily required.
What Currency Does Puerto Rico Use?
The official currency in Puerto Rico is the US dollar. American tourists won't need to worry about any form of currency exchange when visiting. There wouldn't be any problems using American credit or debit cards, as well. Although, when visiting rural areas or small towns, it's best to have cash in your pockets or money belts in case cards aren't accepted.
On the other hand, if you have currency other than US dollars, you will need to exchange some for Puerto Rico currency. Banks around town offer currency exchange for a small fee. You can also exchange foreign currency at an airport kiosk, but these are often more expensive.
For foreign travelers who plan to use their credit cards on the island, Visa and MasterCard are the two most accepted services. Some credit card companies require you to inform the bank when you're traveling outside your country and how much you plan to spend. Credit card companies tend to block or freeze accounts with suspicious activities especially when a transaction is from another country, which is a usual case of theft or fraud.
Everything You Need to Know Before Traveling to Puerto Rico
Do you need a passport to go to Puerto Rico? Thanks to its status as an unincorporated territory of the United States, U.S. citizens don't need a passport to travel in and out of the island. As such, it's one of the top passport-free destinations for those looking for cheap vacation ideas within the country. Aside from being a convenient travel destination, the island offers a wide range of activities for you to enjoy. From its burgeoning arts scene and mouthwatering local cuisine to its beautiful beaches and surreal landscapes, Puerto Rico is certainly the perfect island paradise. Just make sure to have all the necessary requirements to enter and check the latest Puerto Rico travel advisory before planning your trip!