When planning to camp out with your friends or family, a pop-up tent is a must in your backpack. Camps always remind us of bonfires and adventures under the open sky. To make this experience safe and more fun, you should opt for camping tents. Besides, they have lots of other benefits, they are more comfortable and less expensive than the standard camping tents.
Many of you are finding ways to disconnect from your laptops and smartphones to enjoy some time in the lap of nature. So without much thinking, take a break and go out for a camping trip with your loved ones. There is nothing better than an overnight stay in a pop-up tent under a sky full of stars.
If you are travelling solo or with a group, you'll need to look for certain things before buying a camping tent. No worries, we are here to help you.
What are pop up tents?
Pop up tents are super lightweight and need no degree of engineering to set up. Some are so innovative that you just have to toss it and it opens by itself. Also, it is very portable, therefore, you can carry them wherever you go.
Why most campers love pop up tents?
Just because it makes camping a lot more easier!
They are gentle to carry and set up even without any instructions. Above all, cheaper when compared to the exorbitant room rents.
Besides, if you are out there camping in the woods or mountains, there are very few chances of staying at a hotel. Therefore, if your backpack has a pop-up tent, then you can set up your room wherever you wish.
Why you must choose the best pop up tents?
Choosing the best pop up tents for camping is of utmost importance. They are more colourful and makes camping comfortable and lively. Pop up tents are more spacious and often less costly than standard camping tents. If you want to take a break and go out for a camping trip with your loved ones, there is nothing better than an overnight stay inside a camping tent.
If you are a solo traveller, then a small pop up tent is good, but if you are camping with family, then you need to look for certain things before buying a camping tent. You must be very cautious about your family's safety and convenience. Here, we'll help you choose the best family camping pop up tents.
Some pros and cons of pop up camping tents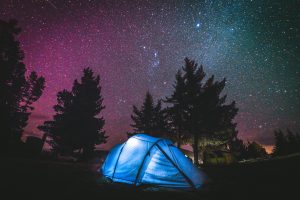 To begin with the pros of pop up tents, most pop up tents are lightweight. They don't consume much space and easily fit inside most backpacks. The best part is, they are super easy to set up! One has to simply toss it and it opens by itself. You also find pop up family tents that are waterproof, extra spacious and much more.
Moreover, they come in various sizes. Families going out for camping can opt for a variety of pop up tents available in different sizes and colours. The capacity of the tents varies from 2 to 10 people. Apart from these enclosed pop-up family tents, one can also opt for pop up canopy tents. These canopy tents will give you more options with size, starting from 5' X 5' up to 13' X 13'. So, make sure you get the right one because a wrong sized tent may mess up with your holiday expectations and you wouldn't want that to happen.
On the flip side, being lightweight can also be a disadvantage, particularly in heavy weather conditions. This is because it becomes hard for these tents to stay grounded during heavy winds and conditions. Besides, they are made of light materials, and cannot be fixed easily. Also, if you are too tall, you may not fit inside a pop-up tent.
Top five pop-up tents that you can buy online
What are you looking for in a pop-up tent when you plan a camping trip? We are pretty sure, you would be contemplating on the size, quality, ease of use, weight, etc. However, the weather of the camping site is another thing to check out. Secondly, the tent must be waterproof and airflow is a must. Besides, there are numerous online e-commerce websites, which provide great options for pop up tents. From one person to ten or more, you have many options to choose from. Check out the best five here.
Coleman Fastpitch Pop Up Galiano Tent
If you are out for a camp with two to four people, then the Coleman Fastpitch Pop Up Galiano Camping tent is the best choice. Up to four people can easily stay inside this.
Waterproof bottom of the tent keeps you dry even in soggy weather. This tent for camping comes in two sizes (for two and four people). It also has an adjustable rainfly. To all the tall campers out there, this tent might be a tight fit for you.
It costs around $62 for four persons.
Weanas Professional Backpacking Tent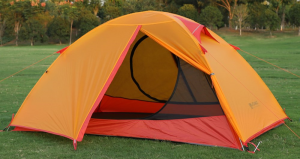 If you have the Weanas Professional Backpacking pop up camping tent, you don't have to worry about the weather. It is the perfect camping tent for any kind of weather. You can even use this tent during a snowfall.
The tent comes with proper amenities such as winter sleeping bags, portable heaters, etc.
All the tall campers out there, this is the perfect choice for you because it is spacious enough.
It is easily available at prices ranging in between $96 to $178.
Hewolf pop-up Camping Tent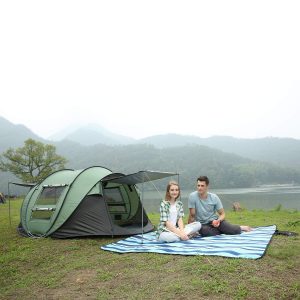 Best for family and it is super fast to set up! If you are planning for a camp with family, then you must go with Hewolf tent for camping. This is quite comfortable for two or more adults.
The camping tent is 100% waterproof as it has the PU2000 waterproof rating. The tent exterior is designed with 190T polyester material, which also protects from harmful UV damages. It is in a hexagon shape and has 6 feet 6 inches height at the centre.
This pop-up tent is available in numerous e-commerce sites with price ranging from USD 114 to 572.
Quechua XL Air III Waterproof Pop Up Camping Tent
Quechua XL Air III Waterproof Pop Up Camping Tent is built to face any kind of storm. This is because of the fly sheets heavily covering the windows. Even during heavy rainfalls, you can keep the windows open and water wouldn't sweep inside. The entire rear fly sheet can be opened from inside to bring good air ventilation inside the tent.
Up to 3 people can sleep inside this tent. The door of the tent is big enough that it easily lets people get in and go out without troubling others.
The price of this pop-up tent ranges from $ 43 to 143.
Coleman Instant Pop Up Canopy Tent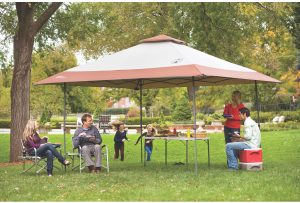 Coleman Instant Popup Canopy Tent is not for sleeping, but an amazing tent for car camping trips and one of the best pop up tents for families. Unlike other tents, canopy tent is an open-air tent which allows you to enjoy natural air.
It takes almost 3 minutes to set up this camping pop up tent. It provides 13' X 13' space to the camper to enjoy cooking, campfires, games and so on.
The price starts at $243.