When Is The Best And Cheapest Time To Visit Thailand?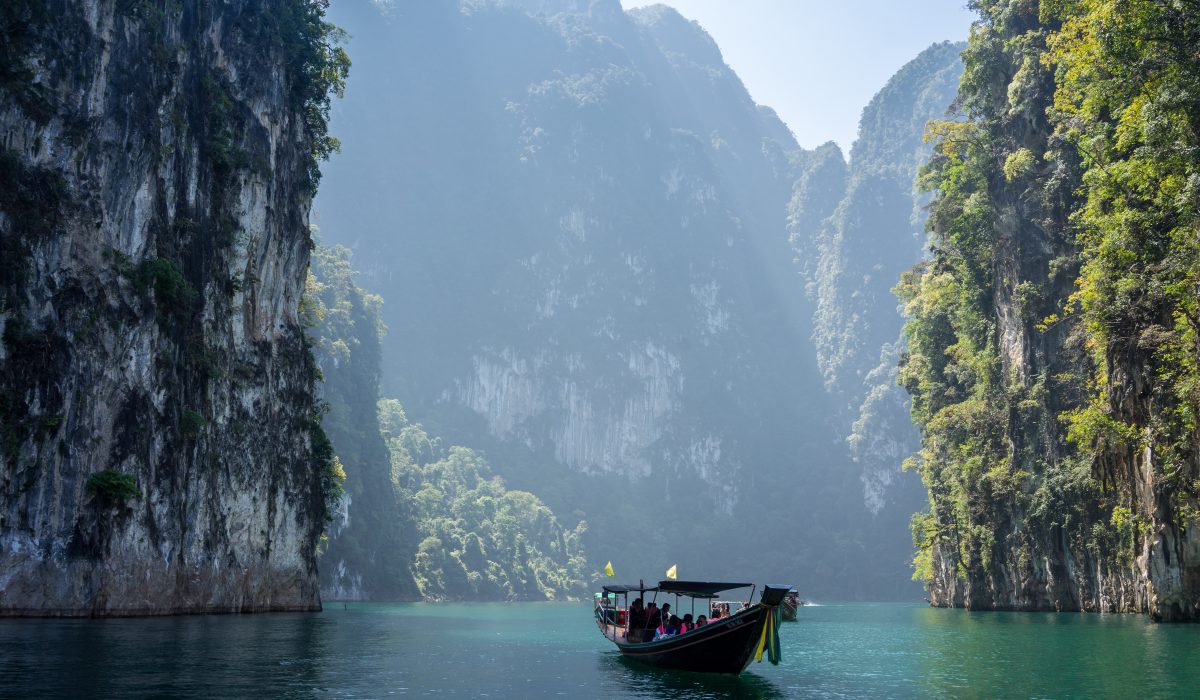 Are you drooling for some authentic sweet and tangy Pad Thai? Perhaps itching to shop until you drop at Chatuchak Market? There are many reasons why travelers are drawn to different cities in Thailand. From the beaches, mouth-watering dishes, ancient temples, to nightlife and great shopping, the Land of Smiles have a lot to offer. With the plan to visit Thailand, we can't help but ask when it's the best and cheapest time to visit this country. To help you make the most of your trip to Thailand, here's how you save some bucks from overspending on expensive flight tickets, hotels, and more.
What To Expect From The Weather In Thailand?
What most tourists love about Thailand is the tropical climate that gives this Southeast Asian destination the ultimate beach vibe. The country has three distinct seasons: hot, rainy, and dry. Thailand is busiest during the dry season when temperatures are more favorable. This is from November and early April. Meanwhile, tourists flock the beaches during the hot season, with April and May being the hottest. If you prefer the monsoon season, hit Thailand from July to October, which you'll most likely to expect rains or even floods.
Although there are three seasons, expect an average temperature of 30 degrees Celsius during the day. If you're planning to escape the winter chills, Thailand's tropical climate lets you enjoy sunshine throughout the year.
Best Time To Visit Thailand According To Budget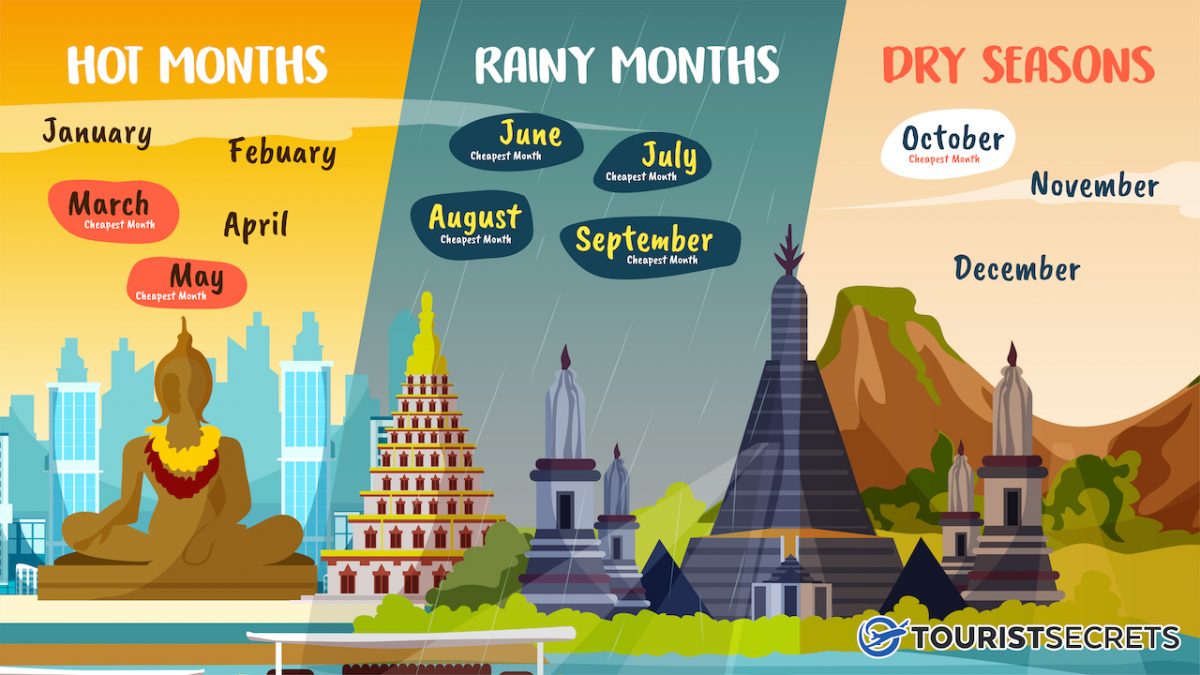 The best time to travel not only means your preferred weather but also the season that won't blow up your budget. Now, you might be wondering, what is the cheapest month to go to Thailand? Although the country is relatively a budget destination year-round, visiting during the low season can give you more savings. This means low rates on flights and lodging. Picking the off-peak season will allow you to spend on other interesting things, such as shopping and eating.
The cheapest month to visit the country is March, but the rates are also low from May to October. During these months, you can expect heavy rains that can lead to flooding. Given that most tourists prefer to soak up the sun in Thailand, these months are considered low season. Book at least 3 weeks prior to your preferred departure to snag the lowest rates.
Take note, though, that different areas in the country experience different low seasons. This means you can plan a budget Thailand trip by picking the right destination for your preferred time. For example, Ko Samui Island experiences its lowest and cheapest season in October, November, and December. This is different from the Phuket island, where the cheapest season runs during the late summer months.
Best Time To Visit Thailand According to Months Per Season
Thailand is home to many adventures that await every type of traveler. You can indulge in its delicious cuisine or explore ancient temples and amazing cities. You can also hit the beautiful beaches, and even go diving or snorkeling. For the shopaholics, Thailand is a paradise for your retail therapy needs. Popular shopping centers include Siam Discovery, MBK Center, and Century Mall.
To make the most out of your vacation, find out the best time to visit Thailand depending on the months per season.
Hot Months
January: January is the peak month in Thailand. This month offers hot sunny days in the southern beaches, making it an ideal time for beach lovers. Meanwhile, the central and northern areas enjoy cooler temperatures during this month. Lodgings can be expensive when you head to Thailand this month.

February: Weather is still good during this month in most areas in Thailand. However, it's also a crowded time because of the Chinese New Year. Aside from that, the Buddhist celebration and Thai national holiday of Makha Bucha often fall in February.

March: Temperatures start to rise in March. It's a great time for some diving and swimming. Some of the country's festivals also happen during this time. These country-wide festivals include the three-day Pattaya International Music Festival, which is completely free and open to the public.

April: April is when you want to wear light clothes as it's one of the hottest months in Thailand. When traveling during this time, bring a water bottle with you and don't forget your sunscreen. It's also worth paying for air-conditioned rooms for your stay, as fan rooms won't work in the April heat. This hot month, however, features one of Thailand's popular festivals — the Songkran.

May: May is also one of the hottest months in Thailand. This should be a joy for those who come from very cold countries. This month also sees The World Durian Fruit Festival where you can enjoy games, parades, and sales fairs.
Rainy Months
June: This month marks the start of the rainy season in Thailand. You should bring a handy umbrella and a light raincoat with you, so the rain won't spoil your travels. If you're visiting the north, the Phi Ta Khon Festival in Dan Sai district happens in June.

July: July is a wet month everywhere in Thailand. While it's not a good time to enjoy the beach, you can explore the jungles and national parks during this time.

August: You may want to plan indoor activities if you're visiting Thailand in August as it's the wettest month in the country. Be prepared by bringing slip-proof shoes, travel raincoats, umbrellas, and waterproof bags. Foodies would be happy to know that this month features the Hua Hin Food Festival.

September: Rains start to ease as September ushers in. This is the month to witness longboat races and enjoy Thailand's street food.
Dry Seasons
October: Temperatures start to fall in October, making Central, Northern, and Northeastern Thailand mostly dry. With better weather, it's a great time to visit many places in the country. October also features the Naga Fireballs of Nong Khai in the North, a colorful phenomenon that takes place on the Mekong River.

November: The dry season is more evident during November in most parts of Thailand. This means moderate temperatures and plenty of sunshine. If you're planning to hit the beach during this time, head to the Andaman coast and Koh Chang and other islands in the eastern Gulf. Take note that the western Thai Gulf is still rainy at this time. November also sees one of the most celebrated festivals in Thailand — the Loy Krathong.

December: December is the peak month in Thailand, not only for its great weather but also for its many holidays. This is an excellent time to hit the beach and go around cities. While Christmas isn't big in the country, you can visit Sakhon Nakhon province, which is home to the biggest Christian population in Thailand. Here, you can see Christmas parades and witness a lot of holiday festivities.
Best Time To Visit Thailand According To Location
Bangkok
Many travelers will agree in a heartbeat that Bangkok is a shopping and food paradise. To fully enjoy this city, avoid September and October unless you're fine with heavy rains and floods. Plan for a Bangkok getaway from November to February when rains have receded, leaving you with cool weather. This is a great time to go around the city, visit the temples, dine, and shop. Meanwhile, April to June are the hottest months, so plan accordingly. For the best shopping deals, mid-June to mid-August hosts the annual "Amazing Grand Sale" in Bangkok.
Phuket
Phuket, the third-largest island in Thailand, is one of the most famous beach destinations in the country. The calm blue waters, sandy beaches, and exciting nightlife are all part of the island's appeal. Before you unroll that beach towel, take note that the best time to visit Phuket is from November to April. These months offer nice cool weather, perfect for the beach and some water activities. Meanwhile, May through October is the monsoon season. While hotels have excellent rates during this time, it can be risky to be out on the beach when the weather is stormy. If you want to visit during the off-peak season, a book from May through October. Humidity gets high during these months, causing room rates to drop.
Krabi
Home to outstanding and mostly untouched natural beauty, it's no wonder why Krabi is Thailand's hidden gem. To fully enjoy Krabi's beaches, islands, and national parks, the best time to visit is from November to March. These months offer favorable temperatures, as during this time the monsoon season over the area just ended and summer yet to begin. It's an ideal time for water sports such as wake-boarding, kite surfing, and snorkeling. Meanwhile, you may want to avoid this area in September and October, since these months bring the highest rainfalls.
Chiang Mai
The famous Lantern Festival every November is among the many things to experience in Chiang Mai. With that, the peak months in this city are from December to January. If you want to dodge the crowd and high rates, visit in the months before and after the peak season. There are three seasons in Chiang Mai: summer (March to May), monsoon (June to October), and winter (November to February). Temperatures can rise up to 40°C in the summer, while monsoon season can have short bursts of heavy rains. Some festivals to catch in Chang Mai include Loi Krathong (usually in November), Songkran (mid-April), and the Flower Festival (first weekend of February).
When Not To Visit Thailand?
By now, you already know the best time to visit Thailand according to your budget or your preferred season. But what month should you avoid when going to Thailand? The south is not ideal to visit in October and November, and the Similan Islands are even closed between November and March. Meanwhile, don't travel to Koh Chang and the Andaman coast in June and July. These destinations during these months experience heavy rains that can lead to flooding.
Central Thailand, on the other hand, experiences brutal hot weather. Chiang Mai has a so-called burning season that occurs between February and April.
Basically, you should avoid visiting Thailand during the wettest and hottest months of the country. Otherwise, some sunshine and rainfall shouldn't stop you from having fun in Thailand.
Enjoy The Best Of Thailand!
While anytime during the year is generally okay to visit, the best time to visit Thailand is from December to March. These months offer moderate temperatures, perfect for many outdoor activities. Budget-wise, March will give you the lowest rates in accommodation and airfares. May to October is also a good time to enjoy low rates. Whether you want to enjoy the best season or cheapest stay in Thailand, either is possible with careful planning and research.