Things To Do In Chiang Mai, Thailand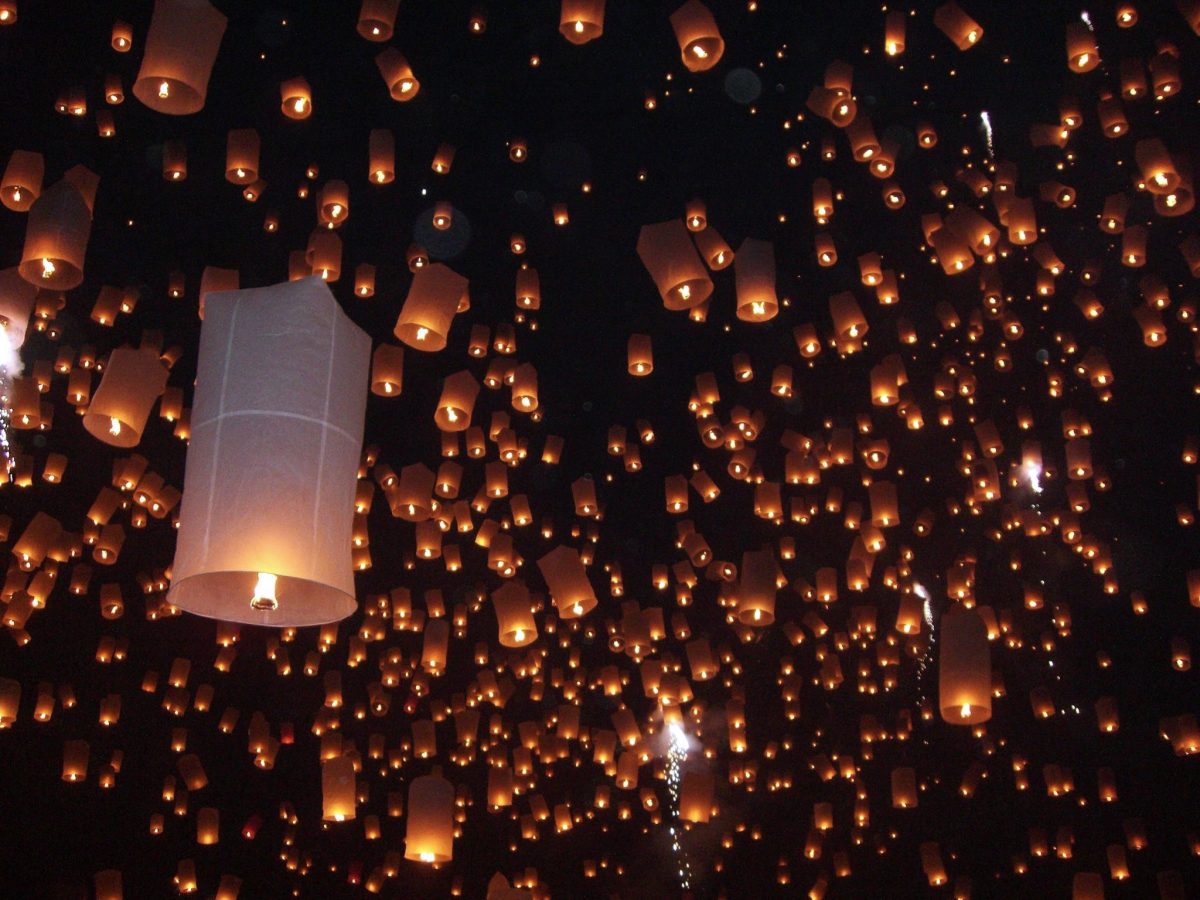 Located in the Northern part of Thailand, Chiang Mai is one of the most visited cities in Thailand after its capital city. Known for its stunning primaeval temples and breathtaking lush landscape, this city is also a paradise for both food lovers and adventure seekers. Despite its size, Chiang Mai is as good compared to many famous cities in Thailand.
On the trip to Chiang Mai, avid travellers can go beyond the monotonous travel itinerary for a series of adrenaline rush activities. Others can indulge in a therapeutic Thai massage or be lost in the labyrinth alleyways of the shopping district. As the cultural capital of Thailand, the bygone hasn't been forgotten. In fact, the rich history is well mirrored throughout the city especially when the modern buildings meet the ancient temples, revealing the true beauty of Chiang Mai. Trust us, Chiang Mai is a perfect base of Thailand exploration. The exotic nightlife and delicious authentic Thai food alone suffice to make justice for your visit. To give you an overall idea of Chiang Mai, here are the things you can do in Chiang Mai, Thailand.
How To Get There
There are a few ways to get to Chiang Mai and the most common way is by taking a short flight from Thailand's neighbouring cities. The flight should take about an hour from Bangkok and it can cost as low as $30 USD for a round ticket. However, for adventurers who are keen to explore the Thai nature, we recommend taking the day train from Bangkok to enjoy the sweet countryside of Thailand.
1.
Marvel the stunning Chiang Mai Temples
Believe it or not, Chiang Mai has more temples than anything else within the city. With over 300 'Wat' a.k.a. temples scattered around Chiang Mai, this country is no shortage with any of these stunning architectures. Dating back to its roots of the Lanna Kingdom, its classic Lanna architecture is greatly reflected on most of the temples. Characterised by its distinctive steeply pitched roof and meticulous craftsmanship, temples hopping in Chiang Mai has never been better.
Among all, there are a few obvious choices of the temple you can't ignore while temple hunting in Chiang Mai. These include the iconic Wat Phra That Doi Suthep that gracefully sits on the lush mountain overlooking the city of Chiang Mai. Others like Wat Chedi Luang, Wat Phra Singh, Wat Suan Dok and Wat Phra That Doi Kham should be missed out from your travel list too. As the early 20th-century of modern Thailand begun, Lanna culture has gradually dwindled. While the Thai government is struggling to preserve its culture, Chiang Mai is the best place you can be to experience the true Lanna culture.
Pro Tips: This temple is one of the most visited landmarks in Chiang Mai. So, do expect packs of visitors every day and try to come as early as possible to beat the crowd. There is a small charge of the entrance fee that cost less than a 1USD (฿30 Thai Baht).
2.
Wander around Nimmanhaemin Road
Nimmanhaemin Road, in short, Nimman Road is possibly the trendiest and liveliest part of Chiang Mai. On contrary to the classic temples vibes, Nimman Road is an enthralling place that offers both authentic yet vibrant characteristics to the surrounding. Circling by many hipster cafés, bars to boutique hotels, Nimmanhaemin Road is certainly the place you'll go where laughter always comes along to brighten up the atmosphere.
Known for its east-meet-west modern dining experience, you'll find many unique eateries and cafés here. Out of so many, here are some of our favourites— Rustic & Blue, Ristr8to and Tong Tem Toh. Otherwise, come here during the night when streets are illuminated and the air is filled with endless beats of music. If you are craving for a sweet night out in Chiang Mai, you got to visit this street. Don't forget to dress up a little as it's mostly high-end rooftop bars and lounges surrounding the area. We recommend Rise Rooftop Bar at Akyra Manor Hotel Chiang Mai.
Pro Tips: Unlike the old city of Chiang Mai, Nimman Road offers a more upscale vibe. So, don't expect to pay a few cents for a drink. Come here during the night for the actions.
3.
Pay a visit to the elephant nature park
If it's not for the cultural experience, travellers flew all across the world for the elephants in Chiang Mai. In Northern Thailand, elephants are as good as gold. In the past, elephants were trained and worked in the lumber industry. Now, Chiang Mai houses the most elephant sanctuary anywhere else in the world.
While it's undeniable that some of these elephant nature parks can be abusive towards their animals just for the sake of money. There is still some ethical elephant sanctuary that is worth your visit to Chiang Mai. These include—Happy Elephant Home, Maeklang Elephant conservation and into the wild elephant camp.
Beyond any elephant ridings, there are actually so much you can do at an ethical elephant sanctuary. Activities like trekking the river valley with elephants, joining them for a swim or even medicine making for elephants for sure sounds fun too isn't it? Don't wait and start becoming ethical visitors.
Pro Tips: Avoid signing up Chiang Mai elephant sanctuary tour from the sketchy tour agencies. Instead, book your tour through their website and do a background check.
4.
Eat your way through Warorot Market
Believe us, food in Chiang Mai is so different from your ordinary Thai food. As part of the Northern Thai, the food here features unique and somewhat exotic ingredients that you rarely found in a dish. Merging the Thai and Laos culture seamlessly dish after dishes, Warorot Market is the perfect place to sample them all. Located in the heart of Chiang Mai, 

Located in the heart of Chiang Mai, the first thing you'll notice is the colourful tends that sprawl along the street. As you move deeper into the market, the food paradise reveals itself under a shaded building. Here you'll find many artisans preserved types of meat, snacks and fresh local produces. During the afternoon, this market is overloaded with white-collars and locals.
At times, you'll see tourist wandering around, figuring out what Warorot Market has to offer. In case you're wondering what's best to eat here, just line up anywhere when you see a queue. You know it's good even if the locals love it. We recommend trying the Northern Thai sausage (San Ua). For all the adventurers, you should try the Snail curry (Kaeng Khao Hoi).
Pro Tips: Most of the food stalls are for takeaways. Bring your own container or eat out of the plastic bag in case you want to sample them there.
5.
Explore Chiang Mai Old City
In contrast to the glittering skyscrapers in Bangkok, Thailand, the historical Chiang Mai old city is here for you to perceive the real taste of Thai culture. Glistering with a remnant from the Lanna Kingdom accompanied by the majestic backdrop, Chiang Mai old city is often known to be a tranquil escape from the bustling life in Bangkok.
Chiang Mai old city is a complete package for those who prefer to explore around the city without travelling too far off. Here, you'll find the street sprawling with historical monuments. One of them is the 'Three Kings Monument' standing in front of the Chiang Mai City Art and Cultural centre. Take your time to marvel the sculpture, otherwise dig deeper into Chiang Mai history and the Lanna Kingdom at the cultural centre.
Don't miss the temple tour around Chiang Mai's old city for the chance to have a Monk chat. Immerse yourself and learn about Thai culture through the cultural conversation. If you're here on a Sunday, be sure to check out the Sunday Walking street market. Located just a short walking distance from the Three Kings Monument. End your trip here in Chiang Mai old city by enjoying a spa or a traditional Thai massage. Trust us, you'll never regret but screaming for more.
Pro Tips: The entrance fee for the Chiang Mai City Art and Cultural Center cost 2.90 USD (฿90 Thai Baht) per person. If you love arts and museum, we recommend visitors to purchase a combination ticket for 5.80 USD (฿180 Thai Baht) to access three different museums within the city. It's a quarter cheaper than purchasing a single ticket.
6.
Visit during the Songkran Festival
Songkran Festival is Thailand's most famous festival particular to mark the beginning of the Traditional Thai New Year. Each year, the Songkran festival persist in as a symbol of clean, purity, and to celebrate the fresh start of the year. While travellers flew to Bangkok just to get a taste of this festival, but, Songkran in Chiang Mai is the home to Thailand's biggest Songkran celebrations accompanied by a wide array of the eye-catching procession around the city.
Despite the customary water splashing, Songkran Festivals wouldn't be complete without the traditional Thai performances, cultural celebration and the plethora of street lining up to feed the hungry festive-goers. So, mark your calendar as this festival takes place every April between the 13th to 15th.
Pro Tips: Don't expect small water splashes on your shirt, in fact, you'll be soaked. Water-proof every possession of yours. There's no mercy during the Songkran Festival. Wear a thick shoe to avoid stepping onto the broken glass on the street. We do not recommend driving a motorbike during Songkran, grab a car taxi instead. Safety should always be your priority.
7.
Embrace the culture of Karen Long Neck Tribe
The Karen are a tribal group that is best recognised for their elongated necks. Traditionally living at the hilly side of Myanmar close to the Thai border, many fleeces to Chiang Mai due to the political issues. While more Karen men work in the fields, the families live a humble lifestyle and make a living out of crafting and weaving.
A visit to the Karen Long Neck Tribe isn't without alarming the ethical questions, but is it truly unethical? While many travellers tend to leave after taking a few photos and purchase some souvenirs as a token, there is so much more about this tribe. Spark a conversation with the local by just asking 'What is that?'. Believe it or not, the Karen are happy to keep on with the conversation and nothing's better than human interaction. Don't rush, take your time to understand them, a good memory is worth keeping it forever.
Pro Tips: In order to get there, you need to trek over the hilly path. So, wear a good trekking shoe. Don't turn down the chance of going to the field just because you might have muddy feet afterwards.
8.
Join a cooking class in Chiang Mai
Northern Thai food is a complex fusion of ingredients and culture that tells a history of northern Thailand. While most travellers bring home souvenirs, why not pick up some cooking skills to share it with your friends and family? Besides, we are pretty sure the one thing you'll miss the most in Chiang Mai is the food.
Start your cooking class by stepping into the daily fresh markets in Chiang Mai. The first things you'll notice is the strong Thai herbs aroma brushing your nose. Wander around the market and explore the local fruits and vegetables that seem so foreign to you. During this process, tries to wrap your head around on what ingredients go into the dish. After that, rolls up to your sleeves and get dirty for your masterpiece. For about 38USD (฿1,200) Thai Baht, you'll get to go on a market tour, cooking lessons and enjoying a 3-course meal. The best part, you'll bring home a memory of Northern Thai cuisines. Now, you can show off your cooking skill to your friends and families.
9.
Go on a Chiang Mai Night Safari Tour
Chiang Mai night safari is dominating due to its massive size and exotic animal species. With over 1,400 wildlife and various performances including the musical fountain, you sure don't want to miss the night safari here in Chiang Mai.
Opened since 2006 and was revamped after the opening of Singapore Night Safari, the new Chiang Mai night safari features a set of thrilling experience mimicking the wilderness night. Apart from touring the three animal zones— Savanna Safari, Predator Prowl, Jaguar Trail, there are tonnes of other activities to do too. Also, don't forget about for the enthralling laser light show and stand a chance to pet the exotic tiger cub.
Pro Tips: The Chiang Mai Night Safari opens from 11 a.m. to 11 p.m. However, the night tour starts from 6.30 p.m. to 10.00 p.m and it cost 25 USD (฿800 Thai baht) per person.
10.
Enjoy a cruise on Mae Ping River
Take a leisure trip to cruise along the Mae Ping River. Starting your cruise from the central Chiang Mai, under the various bridges passing multiple riverside cafes into the northern suburbs. Overlooking the lush countryside, you'll see blooming flowers, trees hanging off the river's ridges.

However, If you fancy a quiet peaceful cruise, try hiring a dinner cruise. Alternatively, board on a traditional Thai scorpion-tailed boat cruising downriver from Thanon Charoenrat pier. Learn about the historical places beside the river along the way and don't be shy to ask whenever your curiosity strikes.
Pro Tips: The return trip of cruise ride cost about 18USD (฿550) per person. The boat schedule might fluctuate depending on the demand. Come early to book a seat.
Tourist Secrets
Chiang Mai enjoys a tropical climate and the best weather is found during October- February. Particularly for the cooler weather and blooming flowers.
Mark your calendar right, Chiang Mai's largest Lantern Festival happens every November of the year.
The air is so much fresher in Chiang Mai as almost 70% of Chiang Mai is surrounded by mountains and vegetation.
With over 300 temples engulfing Chiang Mai, you'll certainly see the spiritual side of Thailand. Not to mention, the Lanna Kingdom heritage that deeply embedded throughout the city in shaping the unique culture in Chiang Mai.