10 Amazing Cities In Thailand Must Be On Your Bucket List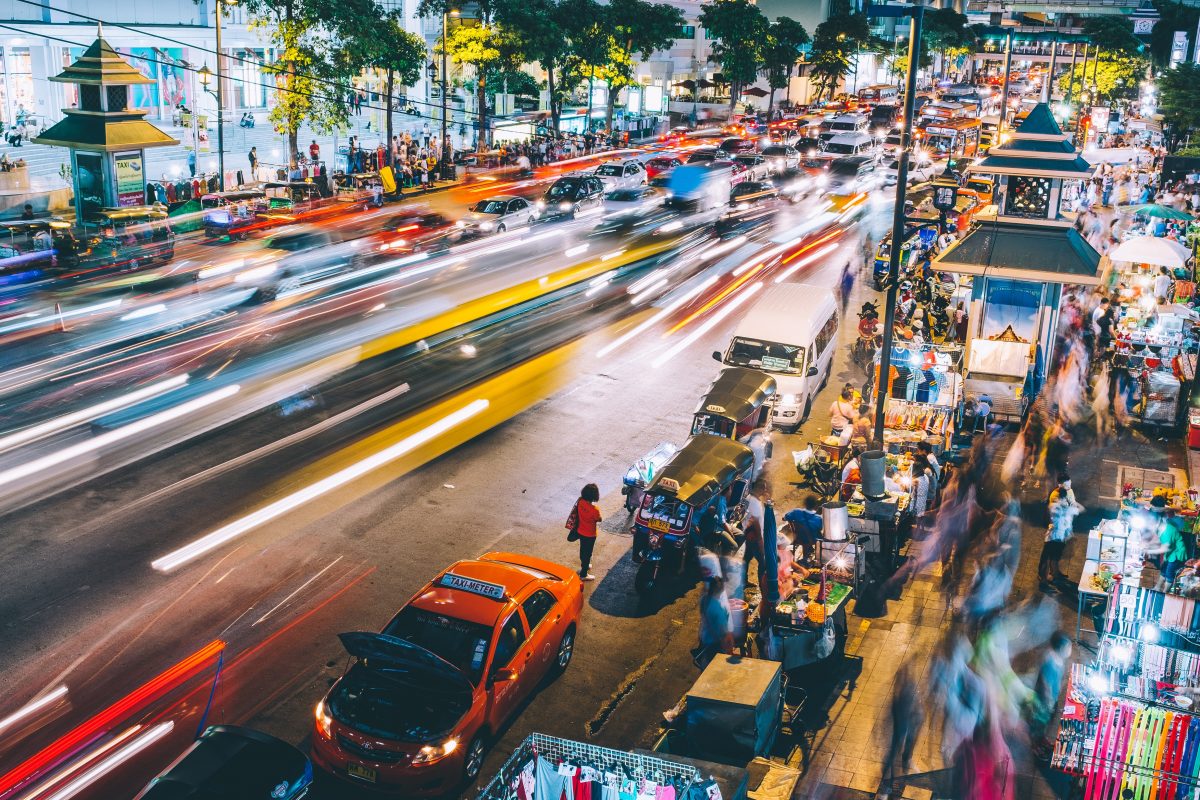 Millions of tourists flock to explore the different cities in Thailand every year. With great food, marvelous sights to behold, and the rich history behind the country, any traveler would be lucky to check this Southeast Asian country off their list.
While not as large as other territories in Asia, Thailand is still filled with amazing destinations. From the bustling streets of Bangkok to the peaceful island life in Phuket, you won't run out of places to see. If you ever find yourself on this side of the world, here are 10 must-visit cities in Thailand.
1.
Explore the Ancient Capital & Moden City of – Ayutthaya
Founded in 1350, the city of Ayutthaya once stood as the trade and political capital of the country. Now, tourists visit this Thai city in droves to catch a glimpse of the ancient ruins overflowing with stories of the past.
Ayutthaya Historical Park
Located at the center of this city, the Ayutthaya Historical Park draws in most of the crowd. Declared a UNESCO World Heritage Site, the park features majestic temples dating back to the early Ayutthaya period (1350 -1529). You can also learn more about Ayutthaya's heritage by visiting the Chao Sam Phraya National Museum. There, you'll find many historical artifacts displayed. Admission is 150 baht for foreigners, which is roughly $5.
Shopping In Ayutthaya
Just north of the Ayutthaya Historical Park lies the Khlong Sra Bua Floating Market & Water Theatre. Experience ancient village life in this replica of the old Khlong Sra Bua community. On top of that, you can watch performances of traditional Thai folk tales and feast on a buffet lunch.
When the sun goes down, head to Wang Chan Kasem Night Market where you can dine on a cheap meal while enjoying a riverside view. The night market also boasts stalls selling clothes and accessories. If you're on the hunt for a souvenir that won't break the bank, this is the perfect place to look.
2.
Make The Most Out Of The City of Angels – Bangkok
It doesn't come as a surprise that Thailand's capital city is on this list. Bangkok comes with so many diverse offerings, it can be hard to fit them all on your itinerary.
The Grand Palace
No trip to one of the most popular cities in Thailand would be complete without a visit to The Grand Palace. Constructed in 1782, this palatial site was once served as the home of the Thai King. Marvel at this architectural feat, full of intricate details that serve as a testament to Thai craftsmanship. History buffs will find it hard to leave this place — its walls practically bursting with tales of old. Tickets cost 500 baht (about $16) per person, but it's definitely worth the money.
The Temples Of Bangkok
The city of Bangkok features a sundry of temples, each boasting architectural magnificence. On the west side of the Chao Phraya River sits Wat Arun, a temple with a design unlike any other. Head to Maharat Road to visit Wat Pho, which houses the famous giant reclining Buddha.
Since these temples are places of worship, make sure to dress appropriately. Sleeves are a must, and the legs must be fully covered. If you find yourself wearing shorts, you can rent cover-ups near the entrance. Both temples require you to pay an entrance fee of 100 baht (about $3).
Shopping In Bangkok
Bangkok is one of the best cities in Thailand to go shopping. The floating markets here are some of the world's best. Boats filled with fresh produce and ready-to-eat meals litter the waterways. While there are many floating markets to choose from, Damnoen Saduak is the most popular.
In Bangkok on a weekend? Don't forget to stop by the Chatuchak Weekend Market. This 35-acre space is sprawling with over 8,000 stalls. With that much ground to cover, you'd better warm up your legs first!
Bangkok Population
As one of the largest cities in Thailand, Bangkok has a population in the millions. As of 2019, it's estimated that over 9 million people live here.
3.
Feel The 'Zen' In Chiang Mai
About 700 km north of Bangkok lies Chiang Mai, a city founded in 1296. Once the capital of the ancient Lanna Kingdom, this small Thai city has something for every type of traveler.
Doi Suthep-Pui National Park
Nestled within a lush mountain, Doi Suthep-Pui isn't your average park. This oft-frequented attraction is home to stunning waterfalls, a variety of wildlife, and a plethora of shops and restaurants. The park also houses Wat Phra That Doi Suthep, revered as one of the holiest Buddhist sites in the country. With so much to do and see here, cramming everything into one day nearly seems impossible.
The park charges an entrance fee of 50 baht (about $2) per person, which includes a two-way tram ride. If you'd to skip the tram and take the stairs, the fee reduces to 30 baht (about $1). Admission to the Monthathan waterfall is 300 baht (about $10), though other parts of the park are free.
Animal Interactions In Chiang Mai
Chiang Mai is one of the best cities in Thailand for animal lovers. Tourists can head to the Elephant Jungle Sanctuary, where the welfare of the gentle giants is prioritized. Unlike other elephant attractions, the elephants here don't perform tricks and aren't for riding. If you want a cruelty-free elephant experience, the 1,700 baht (around $55) fee is worth it.
The Chiang Mai Night Safari allows visitors to tour the place on foot or an open-sided tram. Here, you'll find an assorted mix of wild animals — from predator to prey. The tours have both Thai and English versions. Tickets cost 800 baht (about $26) per person.
Chiang Mai Population
While the city of Chiang Mai doesn't have nearly as much people as Bangkok, many citizens still call it home. As of 2019, the estimated population of Chiang Mai is between 140,000 to 160,000.
4.
Enjoy A Tropical Getaway To Hua Hin
Known as one of the best places to live in Thailand, Hua Hin lies just outside of Bangkok. The district is a beach resort town that functions as a quick tropical getaway for those looking to escape the city life.
Beaches In The Hua Hin Area
The beaches in the Hua Hin district are some of the most peaceful and beautiful in all of Thailand. Enjoy a relaxing afternoon at Hua Hin Beach, a once-sleepy village that has evolved to be a perfect combination of urban living and island life. At night, an active bar scene and bouncing nightlife take over this heaven on Earth.
If you're looking for something less crowded, then head over to Cha-Am Beach, just 20 minutes away from Hua Hin. A smattering of hotels and resorts dot the coastline where you'll sometimes see tourists on pony rides. If "private paradise" is more your aesthetic, then Pranburi Beach is the place for you. Characterized by pristine sand and clear azure water, this beach just 30 km away from Hua Hin is every traveler's dream.
Shopping In Hua Hin
When in Hua Hin, one can never fight the urge to shop. The Hua Hin Night Market provides tourists with more than enough options in terms of merchandise. It also doesn't hurt that the street is lined with a medley of restaurants looking to serve hungry travelers. On the prowl for something unique? Try Plearn Wan on Phetkasem Road. This themed shopping complex offers everything from shops and guestrooms to open-air movies and lives music. With its 1960s Thai design, this wooden building is certainly hard to miss.
5.
Discover The Historic Remnants In Kanchanaburi
Situated in west Thailand, Kanchanaburi attracts tourists from around the globe. Those who are particularly interested in World War II are drawn to this destination, known for its iconic sites and memorials.
Remnants Of War
History savants are sure to appreciate this Thai city. It's home to the Bridge over the River Kwai (Kwae) and the Death Railway, both constructed by Allied POWs under the Japanese army. The real Bridge over the River Kwai was bombed in 1945, though a reconstructed one stands in its place today.
The JEATH War Museum nearby provides visitors with some insight on the construction of the Death Railway — a truly dark chapter in Thailand's history. If you'd like to pay your respects to the fallen laborers of the Death Railway, make your way toward the Allied War Cemetery.
Erawan Waterfall
Dubbed as one of the most beautiful waterfalls in Thailand, Erawan Waterfall lives up to the hype. Flowing within Erawan National Park, this impressive waterfall boasts seven separate tiers and crystal turquoise water. However, given its popularity, expect to see a lot of tourists in the area. Entrance to the park costs 400 baht (about $13) per person.
6.
Go Where The Beach Vacay's Calling To Koh Samui
In the Gulf of Thailand, you'll find Koh Samui, an island paradise that caters to all kinds of travelers. The beaches here are so gorgeous, it's as if they came straight out of a postcard.
Beaches In Koh Samui
If the lazy beach life is your thing, then don't miss out on Koh Samui. The Ang Thong National Marine Park near the Koh Samui boasts 42 islands that feature white-sand beaches, lush vegetations, and dramatic limestone formations. Koh Tao Island (Turtle Island), about 55 km north of Koh Samui, also offers an experience like no other. With unspoiled sand and clear turquoise water, it's the ultimate destination for scuba divers.
7.
Admire The Nature & Azure Waters In Krabi
Krabi is one of the most popular cities in Thailand for beach lovers. Located in the southern part of the country, this Thai city offers a more relaxing getaway than Koh Samui.
Beaches In Krabi
When in Krabi, the Phi Phi Islands and Railay Beach are a must-visit. Both destinations are only accessible by boat and boast white-sand beaches and glistening blue waters. Other equally breathtaking islands include Koh Poda and Koh Hong. With so many beaches in Krabi, it's hard to pick a favorite.
Krabi Emerald Pool
Inside Thung Teao Forest National Park awaits a gleaming pond known as the Krabi Emerald Pool. The water here is clear and warm, enticing even the most hesitant of swimmers to take a dive. Make sure to bring money with you, though, as there's an entrance fee of 200 baht (about $7) per person.
8.
Soak Up The Actions, Beaches & Amazing Culture In Pattaya
It's hard to talk about the best cities in Thailand without mentioning Pattaya. A coastal resort city just 147 km from Bangkok, Pattaya provides a flawless mingling of entertainment, beach life, and culture.
Pattaya Beach
Stretching 4 km and forming a crescent shape, the coastline of Pattaya Beach is unparalleled. Take part in a bevy of water activities before coming ashore to Pattaya Beach Road. Here, you'll find various restaurants, shops, and bars to enjoy. Choose from a selection of hotels and resorts to stay in, ranging from modest to luxurious.
Nightfall is when the party begins. At the end of Pattaya Beach Road is Walking Street, a vibrant sight of neon lights, vendors, and restaurants. The street is also brimming with bars and clubs just waiting for all sorts of visitors.
Sanctuary Of Truth
Easily one of the most recognizable buildings in Pattaya, the Sanctuary of Truth stands at a towering 105 meters. While many people confuse it as a temple or palace, it's actually neither. In fact, this ornately carved teak structure was envisioned by the Thai businessman that commissioned it to be free of any single religion. Instead, it serves as a venue to appreciate culture, art, philosophy, and faith. The Sanctuary of Truth charges an entrance fee of 500 baht (about $16) per person.
9.
Welcome The Beach Paradise in Phuket
As one of the Thailand cities known for its extraordinary beaches, Phuket won't let you down. Situated near Krabi, this mountainous island holds a myriad of attractions.
Beaches In Phuket
Over 30 beaches call Phuket home — and each one has something to offer. Kata Beach boasts soft sand and a relaxed atmosphere, while Paradise Beach features tall palm trees and calm waters. The golden sand in Karon Beach is particularly special, making a squeaking noise as you walk on it.
Freedom Beach is known to have powdery white sand and is more secluded. Bangtao Beach, spanning 6 km in length, is one of Phuket's longest beaches. Ya Nui Beach, on the other hand, is small yet often crowded.
Old Phuket Town
While Phuket is famous for its beaches, its provincial capital has enough character to beguile just about anyone. The streets are lined with charming cafés, shops, and colorful buildings. There are temples and shrines in the area, as well as public museums that immortalize the passage of time. There's also a Walking Street with vendors and lights galore.
10.
Be Amazed By The Arts & Unique Culture in Sukhothai
Out of all the cities in Thailand, Sukhothai is unique. This Thai city, about 427 km north of Bangkok, contains countless temple ruins and historically significant sites. While the nightlife in Sukhothai is understandably scarce, you'll surely relish in the lessons you'll learn here.
Sukhothai Historical Park
Declared a UNESCO World Heritage Site, Sukhothai Historical Park houses over 190 ancient ruins. Perched at the very core is Wat Mahathat, which is the spiritual center of the kingdom. Other highlights include Wat Phra Pai Luang, Wat Sri Sawai, Wat Chetupon, Wat Saphan Hin, and Wat Sri Chum. There are five zones within the park, each one with a separate admission fee of 100 baht (about $3). However, if you'd like to visit all zones, a pass is available for 350 baht (about $11).
These Thailand Cities Are Waiting…
There are a number of reasons why you must travel to Thailand. However, these 10 cities are chief among them. Each one offers a different kind of experience, with plenty of opportunities for learning and culture appreciation. Don't miss out on this chance. In fact, start planning your trip to the best cities in Thailand today!