Top 10 Things To Do In Phuket, Thailand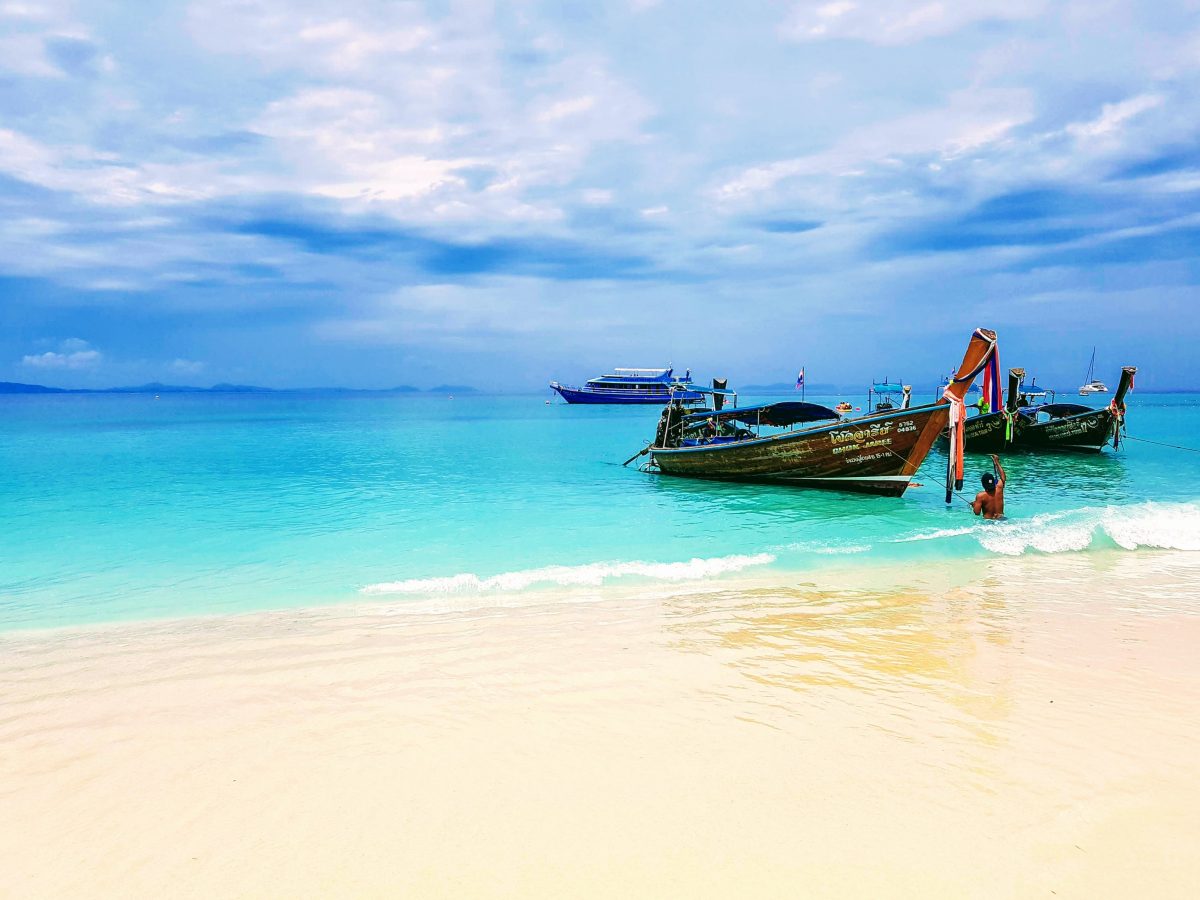 Thailand is a charming country, ornate with culture, royalty, delicious Thai food and warm people. A reflection of the best of Thailand can be experienced in Thailand's southern island. Of the many things to do in Thailand, our favourite is spending time in Phuket.
Phuket Island Thailand
Relaxation, beauty and sandy feet are possible in beautiful Phuket. Thailand is gifted with over 1400 islands, and Phuket is the largest island in Thailand. As a result, there are tons of fun things to do in Phuket, no matter how old you are! Stretching to 540 kilometres, Phuket is a beach getaway that's both famous and classy! And, Phuket beaches are to die for!
35K Travelers Each Day
Over a whopping 35,000 travellers visit Phuket each day! Well, that information was inspiration enough to write a Phuket travel guide. Aside from the best beaches in Phuket, we also uncover the best Phuket attractions to see. We're here to put together everything in our might to make your Phuket travel the best ever!
So, coming right up are the top things to do in Phuket, Thailand:
1.
Explore James Bond Island like 007
The Thai islands near Phuket are scenic with turquoise waters and warm sand. Take a day trip from Phuket to Phang Nga Bay, aka James Bond Island. You may have heard of the popular Phi Phi Island tours from Phuket, but Phang Nga Bay tours in Phuket are equally popular with visitors. Phang Nga Bay is at the north of Phuket and is accessible via Phuket speedboats or egret boats. Almost nobody misses the James Bond Island Tours from Phuket.
Thailand's James Bond Island
Phang Nga National Park with its two islands Koh Tapu and Koh Phanak is surrounded by limestone cliffs, and rock formations, in addition to mangrove forests and small islands. It's no wonder that this location was perfect to film a Bond movie. Owing to its picturesque setting, in 1974 James Bond came to Phuket. Phang Nga Bay's second island, Koh Phanak is known for its caves and lagoons.
Pose like Bond
The popular Bond movie 'The Man with the Golden Gun' rechristened Phang Nga Bay into James Bond Island. Scenes of Koh Tapu island were beautifully depicted in the movie. As a result, hordes of visitors flock to pose like Agent 007. You must too. Take a day tour from Phuket to James Bond Island and say, "The names Bond, James Bond" before one of the most iconic scenic spots in the world.
2.
Admire Big Buddha in Phuket

The Big Buddha in Phuket is one of the most famous landmarks in Phuket. Although Phuket is home to several Buddha temples, the best one sits atop a hill. Perched atop the Nakkerd Hills and standing tall at 45 meters, The Big Buddha in Phuket is an icon of the island. It is made from white Burmese marble, as a result, Phuket Big Buddha glistens when sunlight touches its surface.
Take the Big Buddha Phuket Tour
Every traveller follows its direction and sets out to admire the marvel. Get to the top of the 150-foot-tall Big Buddha in Phuket, and a panoramic view will soothe your eyes from dawn to sunset. Don't miss out on the Big Buddha Phuket tour when on Phuket island. Spending time to admire the sunset at the Big Buddha temple is surely worthwhile.
3.
Take a Zip Line Tour in Phuket
When in Phuket Island, you'll never be too far from the beautiful Phuket beaches. Having said that, there is too much adrenaline pumping activity to keep adventure junkies interested here.
Now, imagine you swaying via a roller coaster zip-line, over a jungle. Phuket zip line tours are especially famous with nature lovers. Take the Flying Hanuman zip line tour in Phuket, and you'll never regret the excitement of flying over the green interiors of Phuket.
4.
Explore Karon View Point & Phuket Beaches
If perfect could be described in a visual, then a snapshot of the beaches in Phuket would be enough. There are so many beautiful beaches in Phuket that you can easily spend most of your trip only sunbathing. The best time to visit Phuket's beaches is from November to April. Uniting most of Phuket's beaches is the gorgeous panorama sighted at Karon View Point.
Karon View Point in Phuket
Nestled near the Kata Noi Beach, Karon View Point is the most popular viewpoint in Phuket. From Karon View Point, your eyes will span over the Andaman Sea, laced with white sandy beaches. It's no wonder that Karon View Point is always crowded.
Kata Noi Beach in Phuket
A small bay near Kata Beach, the scenic beauty of Kata Noi Beach in Phuket is outstanding. Spend your time in Phuket walking on the shores of Kata Noi Beach, or maybe, go for a swim in the Andaman sea. However, you can even climb up-to Kata viewpoint to immerse your eyes in Phuket's beach wonders. Do note swimming at Kata Noi Beach is dangerous in the monsoon season.
Patong Beach in Phuket
In addition to being the most famous beach in Phuket, Patong Beach is also a vibrant mirror to Phuket's nightlife. Ranking high on the list of fun things to do in Phuket at night, Patong Beach is also admired by visitors at day for its 'easy to swim' disposition.
Nai Harn Beach in Phuket
Closer to the south of Phuket, the Nai Harn Beach is also a popular beach in Phuket, visited by hundreds of travellers. Having said that, Nai Harn Beach is relatively untouched and unmodernized. What you will love most about Nai Harn Beach are the soft sand quality and the crystal clear water.
As a result, it's easy to understand why Nai Harn Beach is so popular. If you get hungry from all the beach exploration, settle under the shade of a tree. Fall asleep listening to the lullaby of the waves or sample exquisite Thai food at the nearby restaurants on Phuket beach.
5.
Visit Wat Chalong Temple in Phuket

As the most important temple in Phuket, Wat Chalong has been open to visitors for over a century. The Thai locals believe that if a visitor has not stepped into Wat Chalong, you have not really arrived onto Phuket Island.
Ancient Wat Chaitararam
Wat Chalong Temple or Chalong Temple in Phuket is also known by the name Wat Chaitararam Temple. This historic monument has played a vital role in Phuket's history. Known to have been built in the 1800s during the reign of King Rama II, Wat Chalong was relocated and since, has been restored many times.
There is a lot to see within the temple complex of Wat Chalong. You can start by exploring the two statues within Poh Jao Wat. Chalong means 'festival' in Thai.
Lord Buddha in Grand Pagoda
The highlight of your visit to Wat Chalong will be the sight of the Grand Pagoda. It is believed that the Grand Pagoda in Phuket preserves a small splinter from the bone of Lord Buddha. The Grand Pagoda is ornately decorated and depicts the life of Lord Buddha through visuals. This fragment of Lord Buddha, known as the Phra Borom Sareerikatat was obtained from Sri Lanka in 1999. It was installed in the Chedi of the Temple in September 2002.
Getting to Wat Chalong
Located just 8 km south of Phuket city, Wat Chalong is easy to get to from the Central Festival Mall in Phuket. The Wat Chalong Temple is easy to locate on your Phuket Map. If you can't find help online, simply ask the locals and you should be fine.
6.
Partake in a Thai Cooking Class
There's nothing that tops learning to cook authentic Thai delicacies from Thai locals! Even more so, when taking up a Thai Cooking Class in Phuket is just as exciting as eating Thai food in Phuket! Thai food is subtle and sublime.
The herb infuses, the mild coconut flavors, wholesome salads, and unique desserts make every Thai meal experience unforgettable. There could be hardly anyone who doesn't enjoy the taste of Thai food. There's something so comforting about a simple Thai meal, it almost feels home-like.
Learn from Locals
Phuket city is packed with enthusiastic local Thai chefs offering to teach. We assure it will be worth your time to take up a Thai cooking class. As part of the cooking class in Phuket, you will notice that the ingredients used in the local food in Thailand, is very different from the Thai that you have taste in your home country.
Take Home Thai Tips
A Thai cooking class helps you in not just understanding Thai ingredients but also aids you with handy tips to use when cooking at home away from Thailand. And, whoever said you can eat the best Thai food only in Thailand?! After your Thai cooking class, you'll be able to recreate that authentic Thai dish anywhere!
7.
Party at Bangla Road in Phuket


When the sun goes down, Bangla Street nightlife Phuket comes to life. The area of Patong in Phuket bustles with the party. Bangla Road near Patong is the place to be if you want to explore the fun things to do in Phuket at night. Just get into a Tuk-Tuk in Phuket and let the fun begin.
Bar Hop and Repeat
After sunset, you'll be amazed to see how Bangla Road makes way for the party scene. Bar hopping is not just a trend but a necessity here, as there are so many cool bars in Phuket. In addition to several bars, thumping music, and all the lights, street entertainers add more to the whole buzz!
Be careful of the touts persuading you to one of their ping pong shows or tailor shops. You will also be able to see Russian pole dancers at some night clubs in Phuket. Drink at the go-go bars in Phuket, sight Phuket Ladyboys, view the bar girls on bar stands outside every bar, dance to the beats, groove to the music and have a good night! After all, the fun never ends in Phuket Thailand.
8.
Make Bonds at Phuket Elephant Sanctuary

Are you planning to ride an Elephant when in Phuket? Stop right there and head to Phuket Elephant Sanctuary. At Phuket Elephant Sanctuary you'll know why you must never ride an Elephant or encourage forced taming of these precious animals.
Support Ethical Tourism
Be a supporter of ethical Elephant tourism. See the Elephants live in their natural habitat, in protected environments. Phuket Elephant Safari, unlike the Tiger Kingdom in Phuket, is still controversy-free and encourages uncommercial interaction with Elephants.
9.
Shop at Phuket Weekend Night Market
If you want to take home something from Phuket, go shopping at Phuket Weekend Night Market. Also known by the name of Naka Market by Phuket locals, you can find fruits, curios, and Thai handicrafts, in addition to Thai garments here.
If you get hungry after all the shopping, don't forget to try the famous golden buttered corn on the cob. What's more, there are loads of Thai seafood delicacies to savor at the Weekend Night Market.
The best time to visit the Weekend Night Market in Phuket is in the afternoon, to beat the crowd and shop at ease.
10.
See Thai Culture at Phuket FantaSea Show
To witness Thai hospitality and entrainment in all its glory, you must book your seats for the Phuket FantaSea Show. Unfolding gracefully over 140 acres, the FantaSea Show complex offers an array of entertainment, food, and activities.
Grand Culture, Grand Theatre
The gigantic theatre artistically depicts the best of Thailand's culture and folklore legends. There is a carnival village in the FantaSea Show complex, in addition to shopping complexes and handicraft stores. Amidst all this, you get more at the 4000 seat restaurant serving Thai and international feasts to the Phuket FantaSea Show guests. Phuket FantaSea Show ticket price amounts to 3000 Baht for Gold seats and Dinner with Seafood, for one adult.
Simon Cabaret Show in Phuket
Another highlight and one of the fun things to do in Phuket at night is seeing the Simon Cabaret Show in Phuket. Tourists in Phuket also flock to see Ladyboys perform at the Simon Cabaret Show. However, you must note that unlike the Phuket FantaSea Show, Simon Cabaret Show is not family-friendly, hence, it may not be advisable for children to watch.
That sums our top 10 things to do in Phuket list. But hey, we have more Phuket information to share. So, hang in there and read on! We have some great travel tips coming up.
Where is Phuket?
Phuket is an island in South Thailand, it is laced by the Andaman Sea. Phuket Island is largely mountainous with two mountain ranges that start at the west of the island and extend to the North and South.
When to Go to Phuket Thailand?
If you're wondering about the best time to go to Phuket, then winter months between November to February will be cool and dry. As Phuket Town is in the tropics, Phuket weather shifts between hot days, wet-rainy days and some cool days. As a result, March to May is peak summer time in Phuket and is very hot.
How to Get to Phuket?
If you're in Bangkok and are wondering how to get to Phuket from Bangkok, just take a short flight! Now, if you're wondering how far is Bangkok from Phuket, it's over 419 miles! Flights from Bangkok to Phuket take only 1.30 minutes to bring you to Phuket Island in Thailand. Phuket airport accommodates several flights in a day to manage the large income of tourists.
Where to Stay in Phuket?
There's no need to worry where to stay in Phuket because Phuket hotels will spoil you silly. Name it, and Phuket's got it. Pamper yourself in the plush Phuket resorts with private pool, like the Santhiya Koh Yao Yai Resort and Spa. In addition to Phuket Golf Resorts like the Banyan Tree Resort Phuket for Golf lovers.
Honeymoon in Phuket
Most couples choose to honeymoon in Phuket Thailand. And, Phuket honeymoon hotels make your special vacation extraordinary.
Resorts in Phuket for Honeymoon
Try luxury at the Renaissance Phuket, to get away from the crowds. Similarly, Amari Phuket is a wonderful beachfront resort in Phuket. There are also many 5 Star Resorts Phuket Thailand is famous for. A Phuket honeymoon never disappoints!
Don't Miss Phuket Resorts Packages
You don't always need to splurge on your stay in Phuket. There are many budget hotels in Phuket to choose from too. Be on a lookout for Phuket resorts deals and Phuket resorts packages, you may gain a great discount and actually stay in a luxurious Phuket resorts hotel!
Get Going Already
You're all set to get packing! Have a wonderful beach trip at Phuket.
Don't forget to learn a few courtesy Thai words and say "kha pun khap" meaning, "Nice to meet you" more often on your trip! Share your best Phuket pictures with us, we'd love to feature them in our feed!