Moalboal, Cebu: Your Complete Travel Itinerary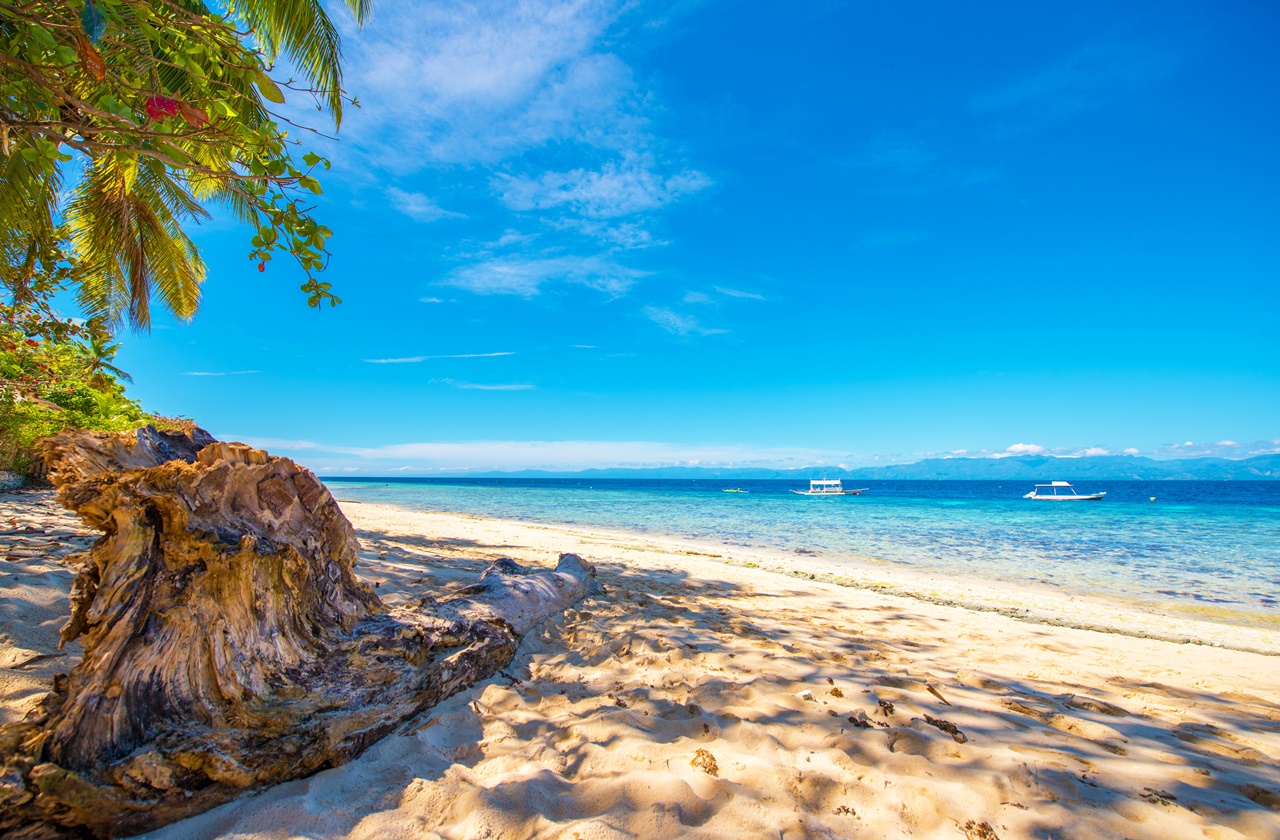 It's no secret that Cebu is a must-visit destination in the Philippines. Along with Siargao, Bohol, and Boracay, Cebu attracts millions of tourists wanting to experience the island life. And with miles and miles of pristine beaches, friendly locals, and warm weather, who wouldn't want to head to this paradise? Whether you're a beach bum looking for a relaxing island or an adrenaline junkie on the hunt for the next adventure, you can find these in Moalboal Cebu. A municipality south of Cebu, Moalboal is your gateway to some of the best spots on the island.
Moalboal Cebu, although small, offers plenty of things to do. It is also within a close distance to some of Cebu's must-visit spots. Looking for the best activities to add to your Cebu itinerary? Continue reading and find out Moalboal's hidden charms!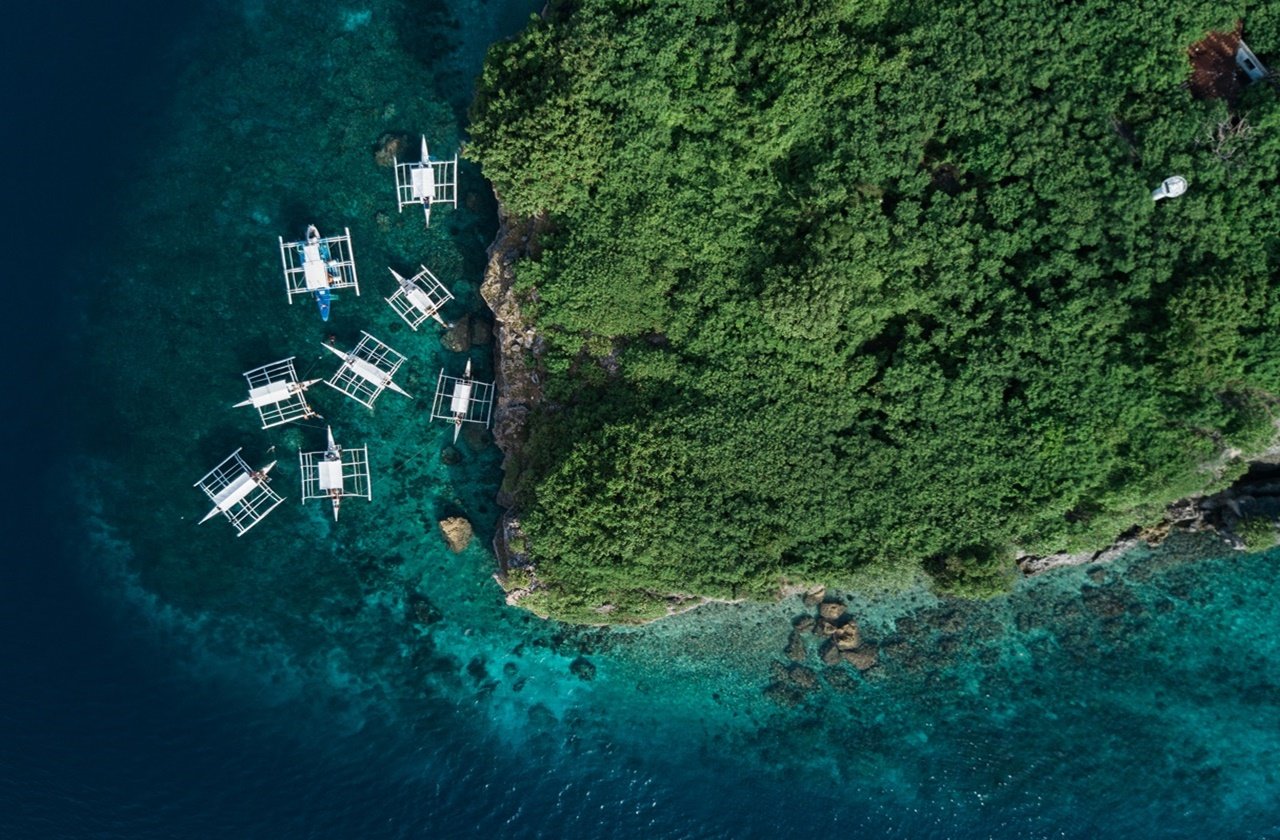 Photo by Ken Suarez on Unsplash
Moalboal is a small municipality in the southwestern area of Cebu. It is bordered to the north by Alcantara, Argao on its east, the Tañon Strait on its west, and Baian on its south. From the shoreline, one can see the neighboring Negros island.
There is no airport in Moalboal and those visiting the town will have to fly to Cebu's Mactan Airport. The airport has several daily flights from international destinations, so getting here shouldn't be a problem. Otherwise, you can fly from Manila to Cebu before going to Moalboal.
How to Get to Moalboal
From Cebu City: The most common way to get to Moalboal is by taking a bus. From South Terminal Bus, there are plenty of bus trips heading south to Moalboal. Take note that not all buses have air conditioning, so make sure to prepare for hot weather. Travel time from Cebu City to Moalboal takes four hours or more, depending on the traffic situation. Since the bus makes frequent stops along the way, the travel time may take longer before you get to Moalboal. Another option is by taking a van or taxi. Although the fare is more expensive, you can save more time and enjoy the small privileges of air conditioning and comfortable seats.
From your drop-off point, usually at the bus stop or near Moalboal City Hall, there are several tricycles or motorcycles that can take you to your hotel or directly to the beach.
From Dumaguete: You can also get to Moalboal Cebu from Dumaguete within three hours or more. Take a minibus or taxi from anywhere in downtown Dumaguete to Sibulan Port. Then, take a ferry or pump boat to Bato in Santander, Cebu. Upon arriving at the Port of Bato, take a bus going to Cebu City and alight at Moalboal.
Best Time to Visit Moalboal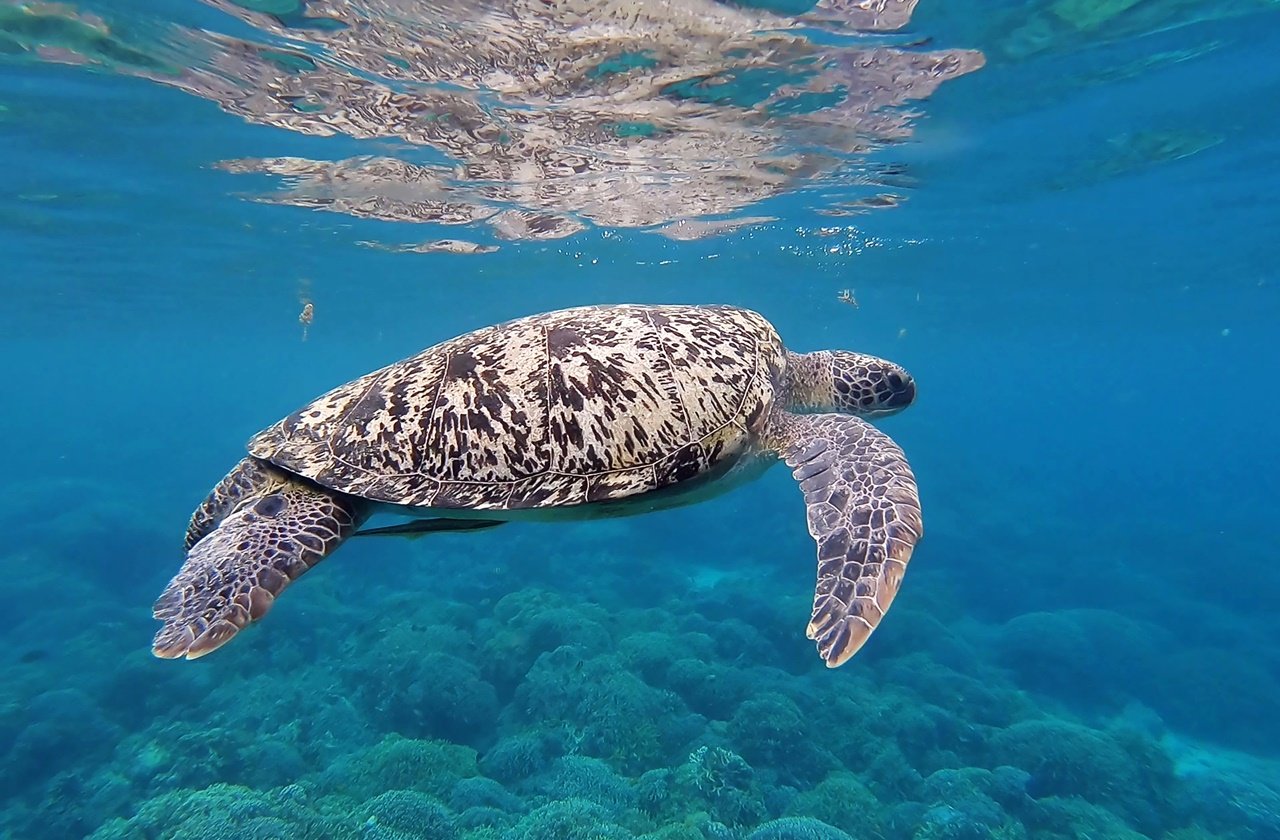 Photo by Olga Tsai on Unsplash
Since Moalboal Cebu is a beach destination, you'd want to visit during sunny days and when water conditions are perfect. That being said, the best time to visit Moalboal is during the dry season from October to June. From October to February, you can experience sunny days with chances of rainfall and typhoons, especially before the end of the year. From the start of March until the end of May, the weather is generally good and water conditions are perfect for snorkeling, diving, and swimming.
However, March to May also coincides with its peak tourist season, so expect more crowds. Prices for hostels and some activities are also more expensive during this season. If you plan on visiting during the peak tourist season, make sure to book your accommodation and tours beforehand. Always remember that t's better to take the morning trip so you can have more time for activities.
Where to Stay in Moalboal
MoHo – Moalboal Hostel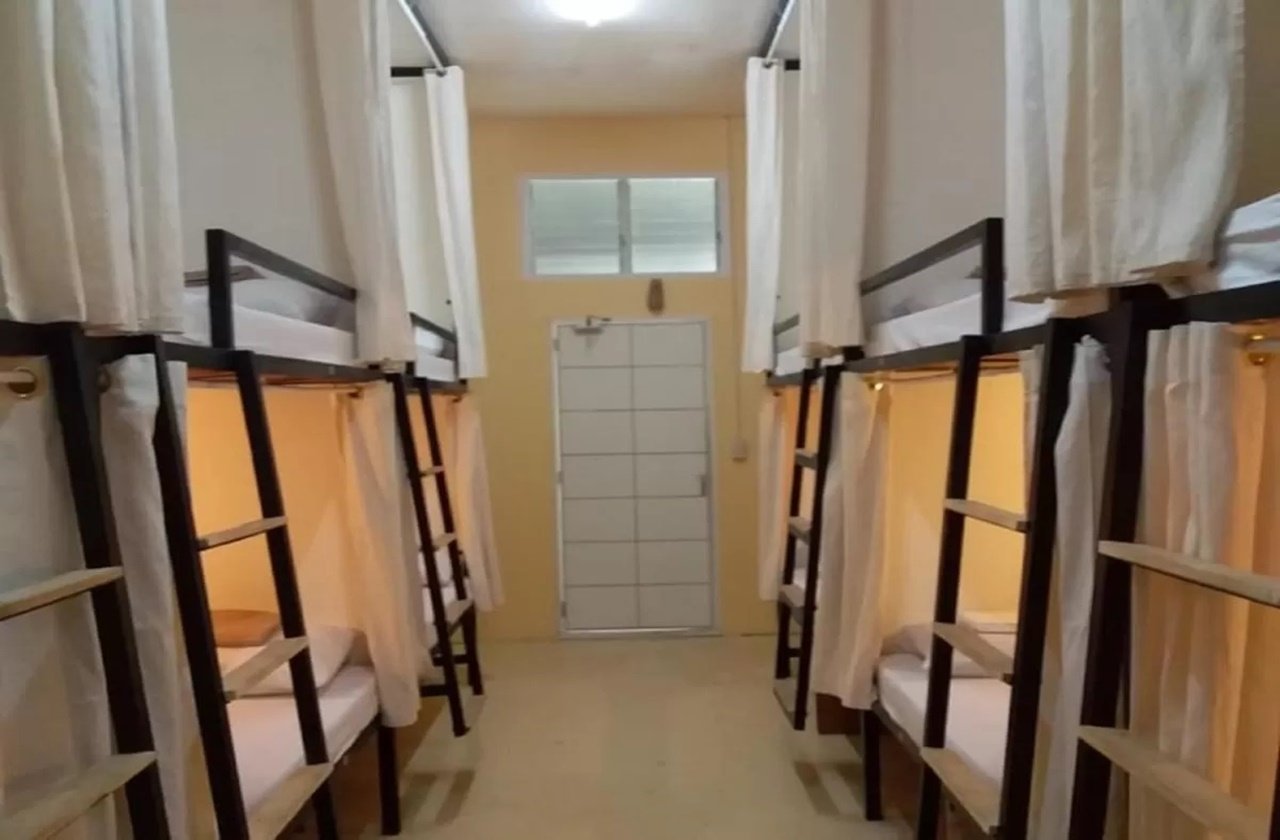 Photo from MoHo – Moalboal Hostel Booking.com Page
Address: Panagsama Road, 6032 Moalboal, Philippines
Price: Starts at 21 USD per night
For travelers who want affordable accommodation near the beach, MoHo – Moalboal Hostel is the best option. The relatively new hostel offers air-conditioned rooms with deluxe queen rooms for those who want more privacy. Additionally, Panagsama Beach and most restaurants and establishments are within a walking distance from the hostel. The hostel also organizes archery, snorkeling, and diving activities at an additional charge. Happy hour is also available on select days to provide socialization opportunities for its guests.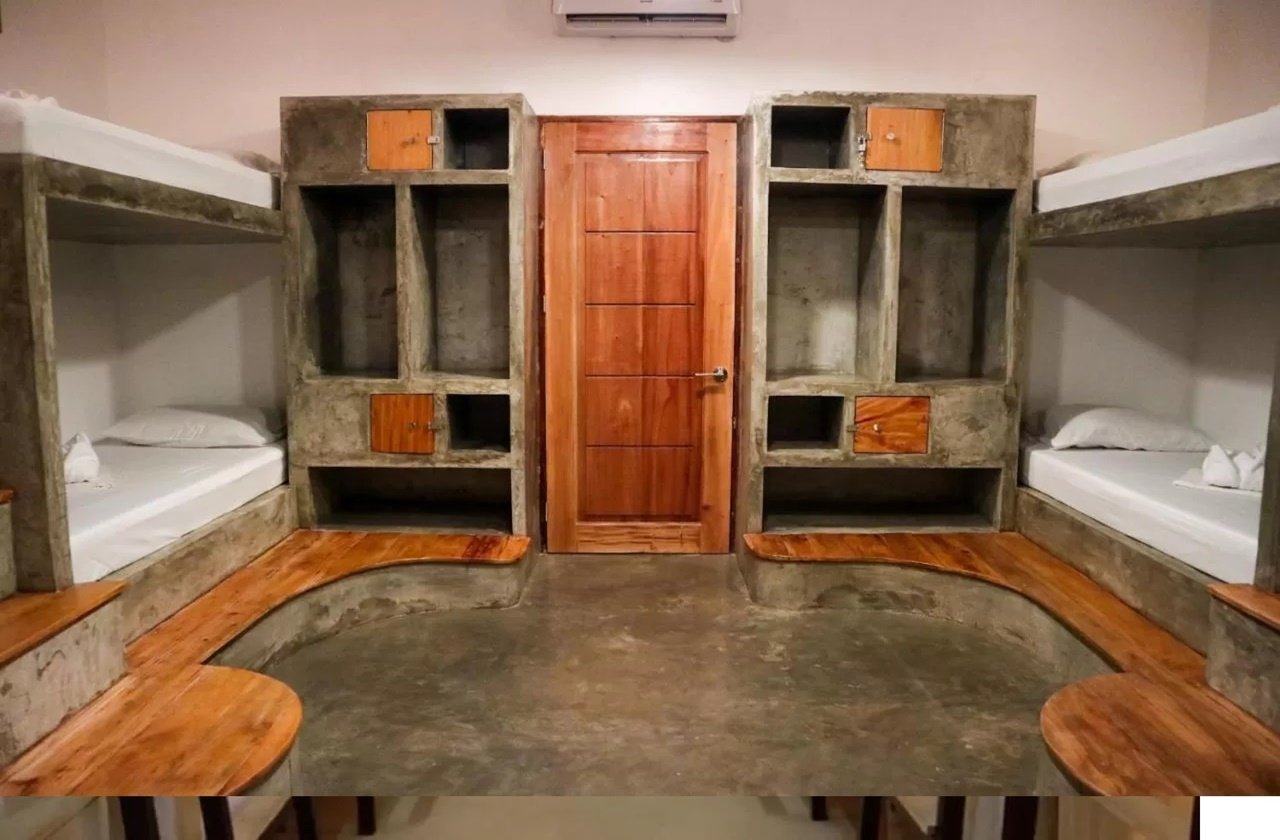 Photo from Chief Mau Moalboal Cebu Booking.com Page
Address: Panagsama Beach, Brgy. Basdiot, Moalboal, Cebu, 6032 Moalboal, Philippines
Price: Starts at 52 USD per night
Like MoHo, Chief Mau Moalboal Cebu is a new and modern hostel in town. It is fairly close to the beach so you can head to the beach any time that is convenient for you. Room-wise, the hostel offers both dorm rooms and deluxe rooms complete with air conditioning and private bathrooms. At night, guests can head to the common area for a game of billiards or to watch a movie. If you need to withdraw cash at the last minute, Chief Mau Moalboal Cebu has an on-site ATM. Free WiFI is also available in common areas.
Pescadores Seaview Suites Resort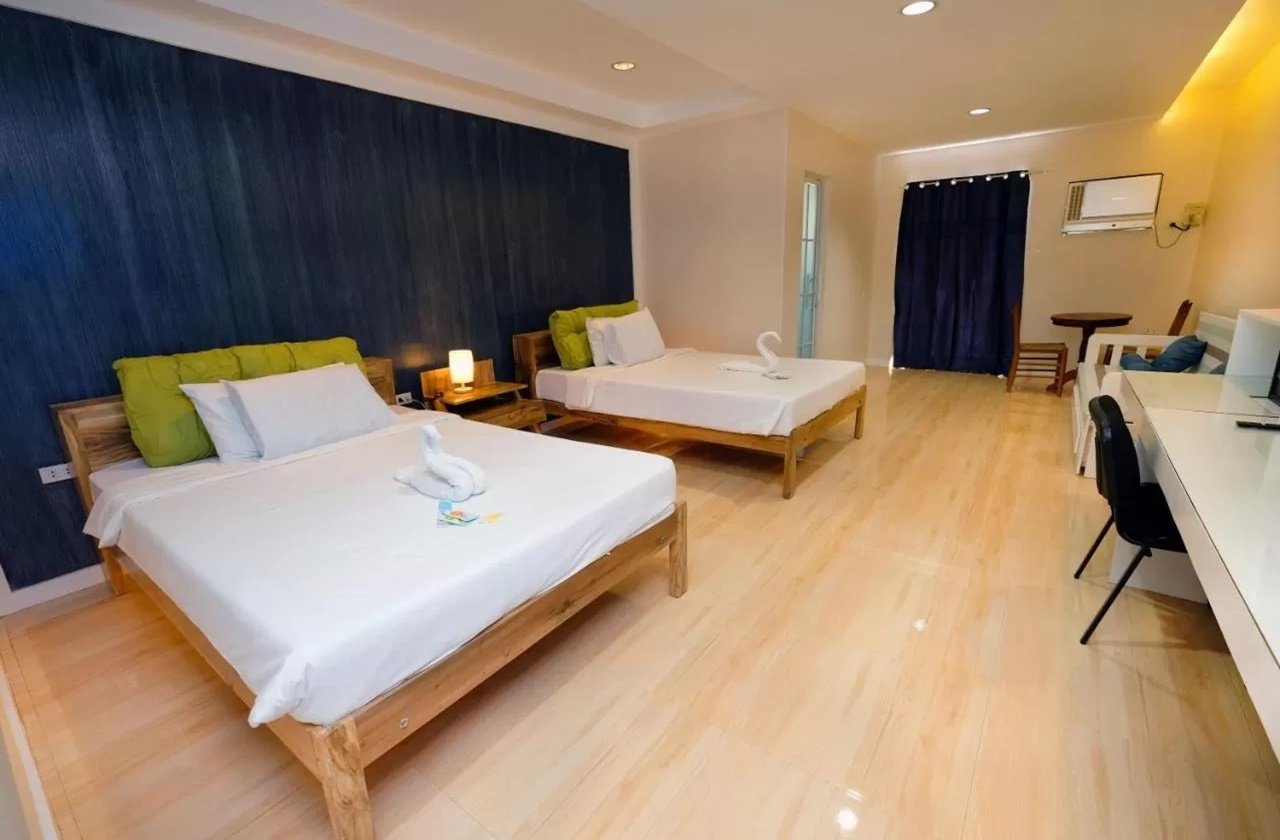 Photo from Pescadores Seaview Suites Resort Booking.com Page
Address: Basdiot, Cebu, 6032 Moalboal, Philippines
Price: Starts at 77 USD per night
If you want accommodation with access to a beach and pool, Pescadores Seaview Suites Resort is a great option. The resort offers plenty of room choices: from standard twin rooms to one-bedroom villas. All rooms have air-conditioning with dry racks and views of the garden, beach, or pool depending on the location. Other facilities include a game room, massage services, and diving gear free of charge. In terms of location, the resort is only a short walk from Panagsama Beach and several restaurants and establishments. Pescadores Seaview Suites Resort also offers airport shuttle services at an additional charge.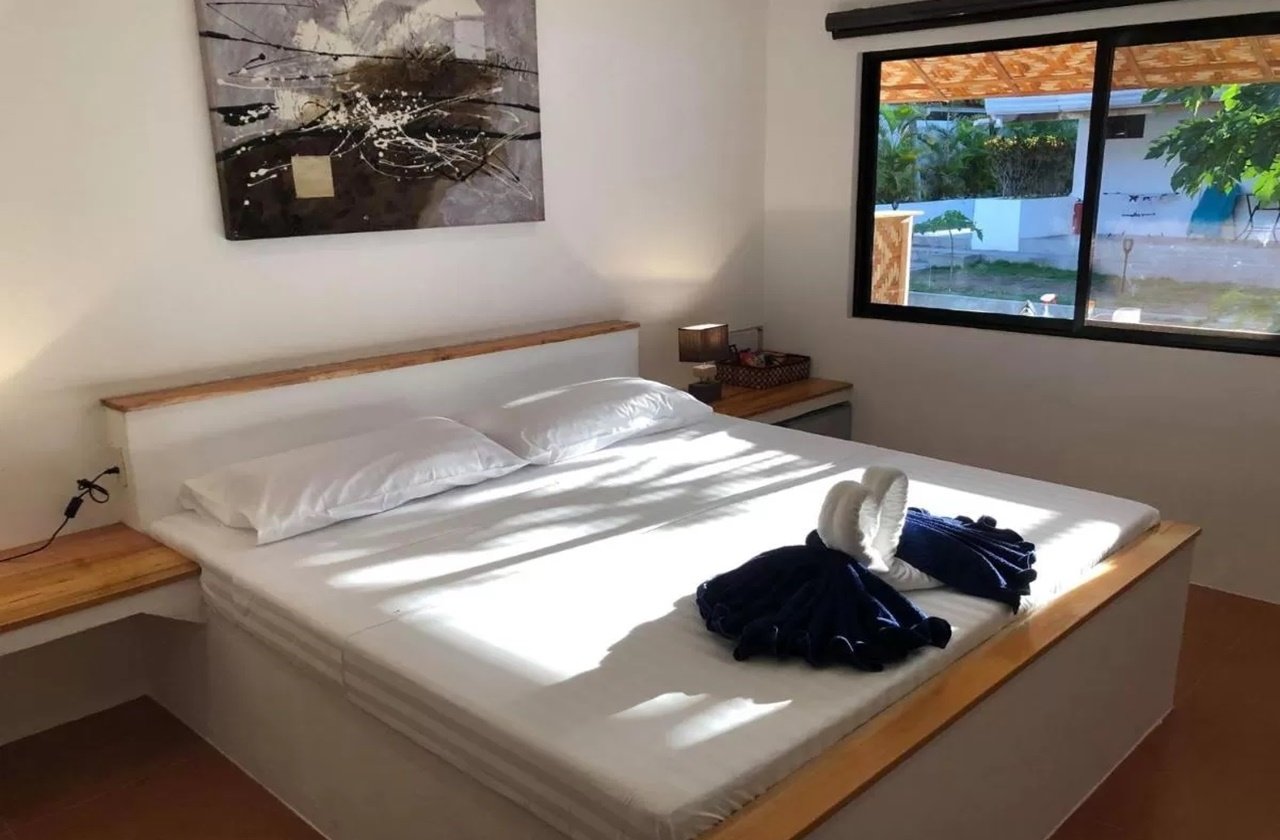 Photo from Parrot Resort Moalboal Booking.com Page
Address: Basdiot, 6032 Moalboal, Philippines
Price: Starts at 189 USD per night
Parrot Resort Moalboal offers cozy rooms with pool or garden views. Guests can choose between a double room, twin room, family room, and a loft for bigger groups. All rooms come with an en-suite bathroom, patio, sun terrace, minibar, and free WiFi access. True to its name, you can even find several parrots that will be glad to keep you company. Additionally, Parrot Resort Moalboal offers daily housekeeping and laundry services, and guests can book whale shark watching, river rafting, and canyoneering tours at the resort.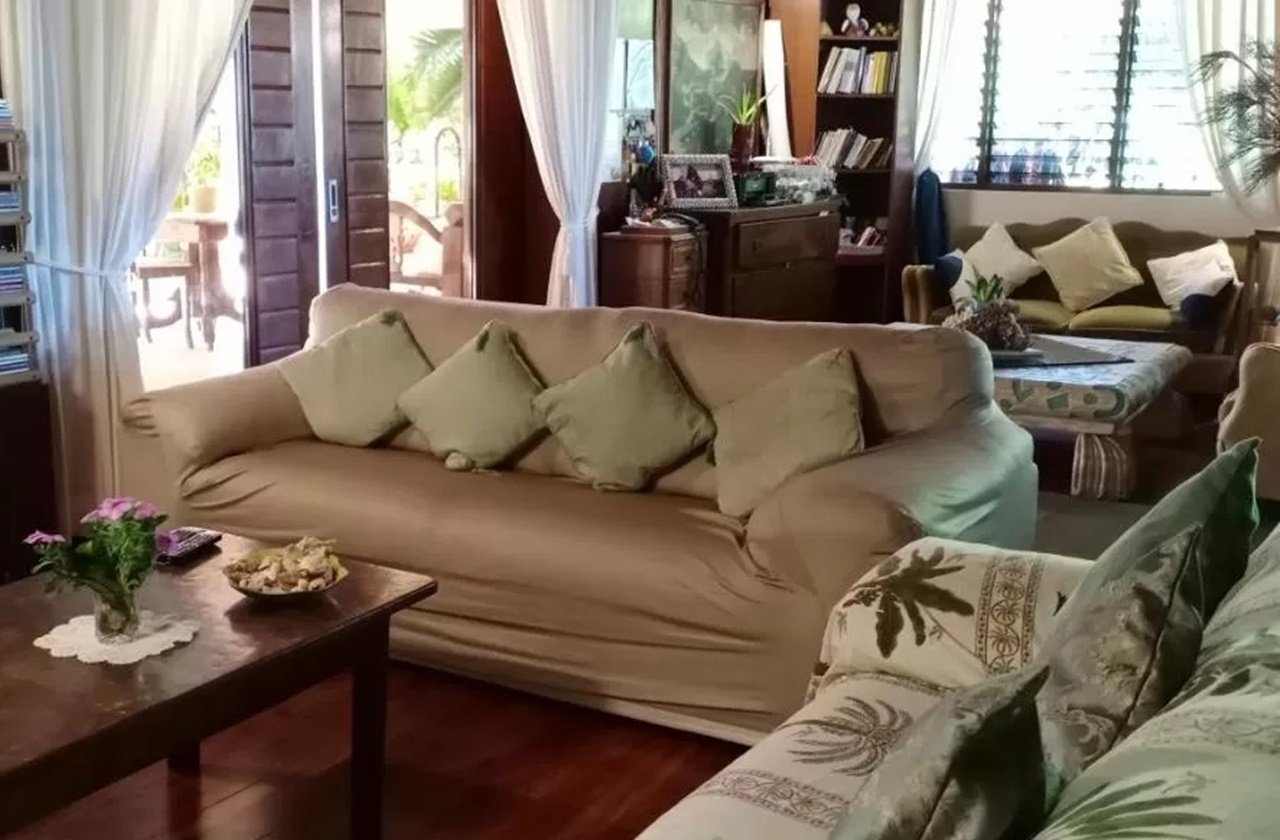 Photo from Ancelle Cristo Re Booking.com Page
Address: Tubli Road, Brgy. Basdiot, 6000 Moalboal, Philippines
Price: Starts at 206 USD per night
Ancelle Cristo Re boasts a private beach and spacious villas for a more intimate stay at Moalboal Cebu. Enjoy the tranquility of having your own space complete with gorgeous views of the beach and the well-kept gardens from your room. All villas and houses are complete with private bathrooms, bidets, free toiletries, and tumble dryers. Continental and buffet breakfast options are available every day and the resort offers a special menu for children. For travelers with limited mobility, Ancelle Cristo Re is a perfect choice since all rooms and facilities are wheelchair-friendly. Car rental and airport shuttle services are also available at the resort.
Things to Do in Moalboal, Cebu
1. Swim With the Sardines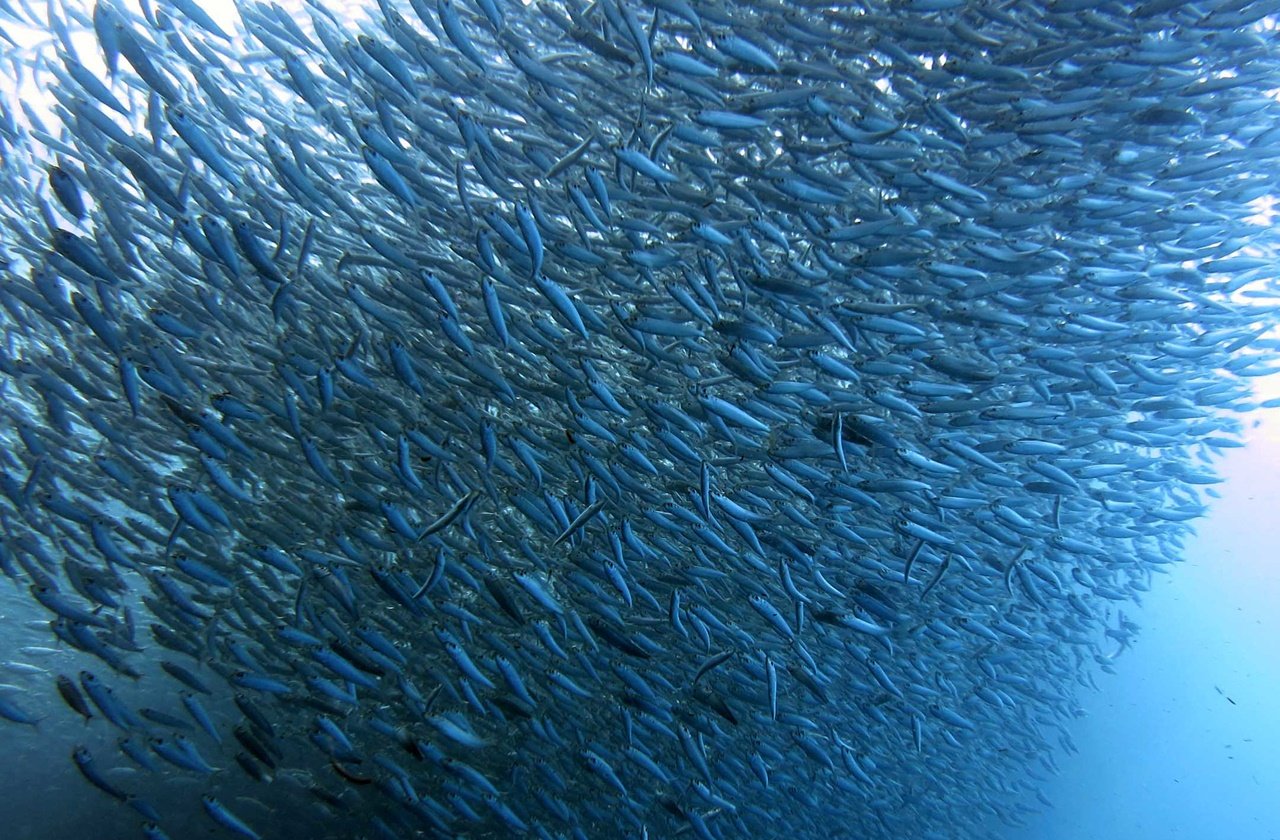 Photo by Lakshmi Sawitri on Flickr
The Sardine Run is without a doubt one of the best things to do in Moalboal Cebu. There's something about swimming with a million sardines in Cebu's clear waters that is so exciting. What's even better is that you can experience this at Panagsama Beach! There are plenty of diving shops near the shore that offer snorkeling gear rental at an affordable price. Once you're near the shore, get your underwater cameras ready and prepare for a surreal swim with the sardines. Non-divers can also experience this as they don't have to swim deep in order to see the sardines.
Moalboal's Sardine Run is also a safe activity for both humans and the sardines themselves. Net fishing is prohibited and the sardines are protected in the area. Local tour operators also follow a standard procedure to guarantee the safety of the sardines. Given their efforts, it's no wonder why you can find these sardines in Moalboal all year round.
2. See the Beauty of Pescador Island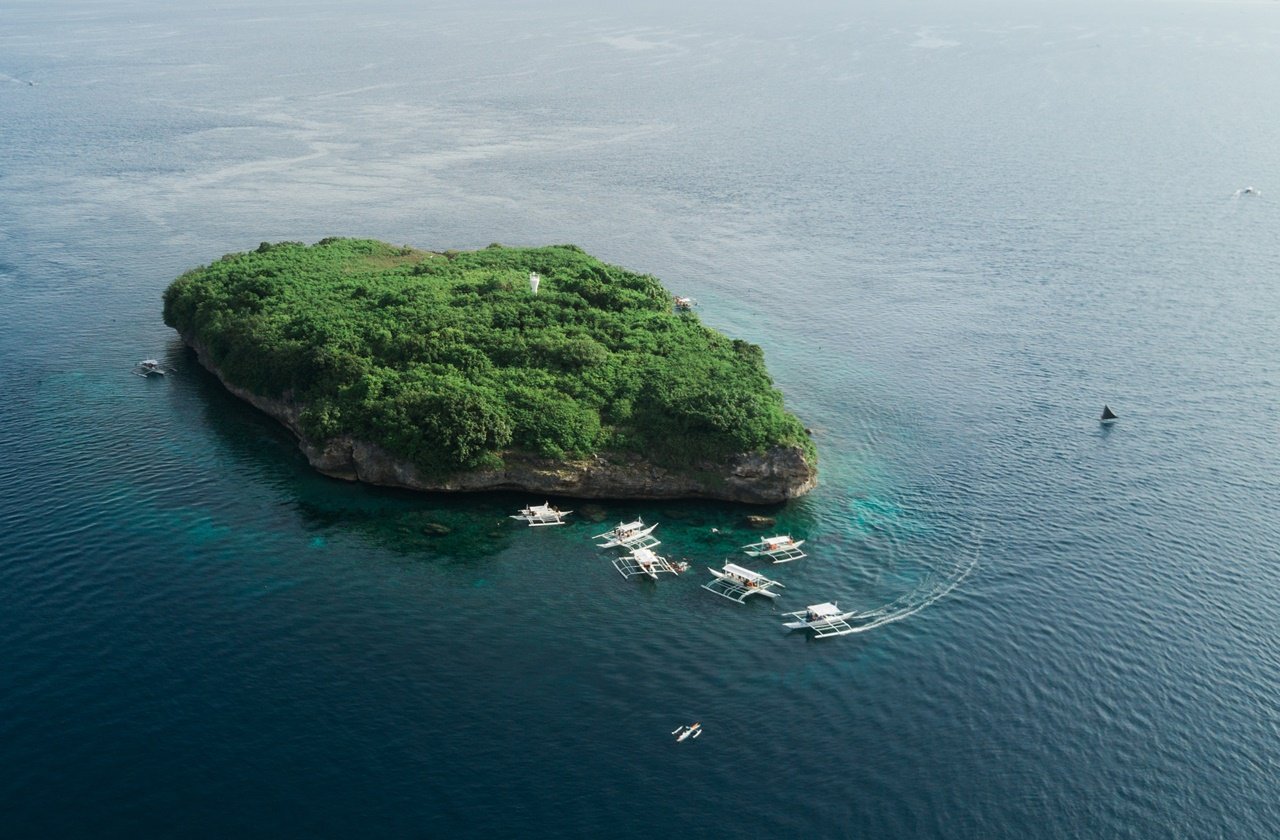 Photo by Ken Suarez on Unsplash
Located in the Tañon Strait, Pescador Island is a beautiful rocky island with thriving marine life. The abundance of fishes on the island attracted plenty of fishermen, hence its name, which is the Spanish word for fishermen. It is also one of the top diving sites in Moalboal Cebu, featuring diverse fish species and gorgeous coral reefs. For avid divers and snorkelers, a trip to Pescador is a must when visiting Moalboal. You can easily book group or private excursions to Pescador Island in most commercial establishments and even in your hostel.
Join an island hopping tour and discover the beauty of Pescador Island. Island hopping tours also allow you to see other hidden gems and other reefs that aren't accessible to most. Find different fish species like barracuda, clownfish, parrotfish, and even the famous whale shark. If you're lucky, you may even get a chance to see playful dolphins on your way to Pescador Island!
3. Canyoneering at Kawasan Falls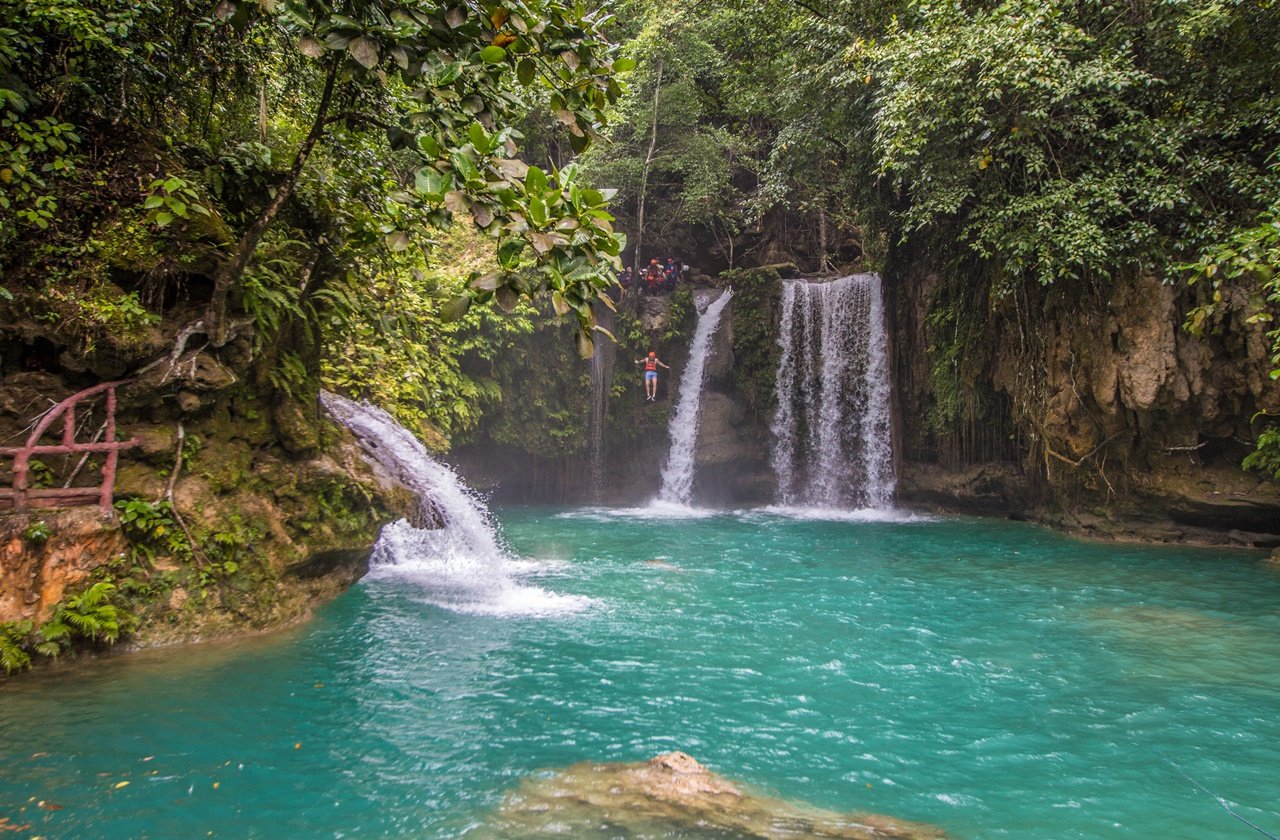 Photo by pcalapre on Adobe Stock
Cebu isn't only famous for its world-class beaches, but also for its waterfalls. Hidden within its thick forests are waterfalls with turquoise waters, which locals refer to as Gatorade blue waters. Kawasan Falls is arguably the most beautiful waterfalls in all of Cebu, and the best way to appreciate it is by canyoneering. It is also one of the best places for canyoning, with jumps and views that rival those in other countries. If you're looking for that adrenaline rush, visit Kawasan Falls and go canyoneering.
From Moalboal, Kawasan Falls is 40 minutes away and travelers can take a bus or motorcycle. Take a motorcycle to the top of a mountain and go on a short hike to the jump-off point. Jump and swim your way through Kawasan Falls and cap off your adventure by jumping 50 feet down into its Gatorade blue waters. Don't forget to bring a GoPro to capture your most epic jumps! Those who want to skip canyoneering can still enjoy the falls and instead go for a swim.
4. Discover Moalboal's Underwater World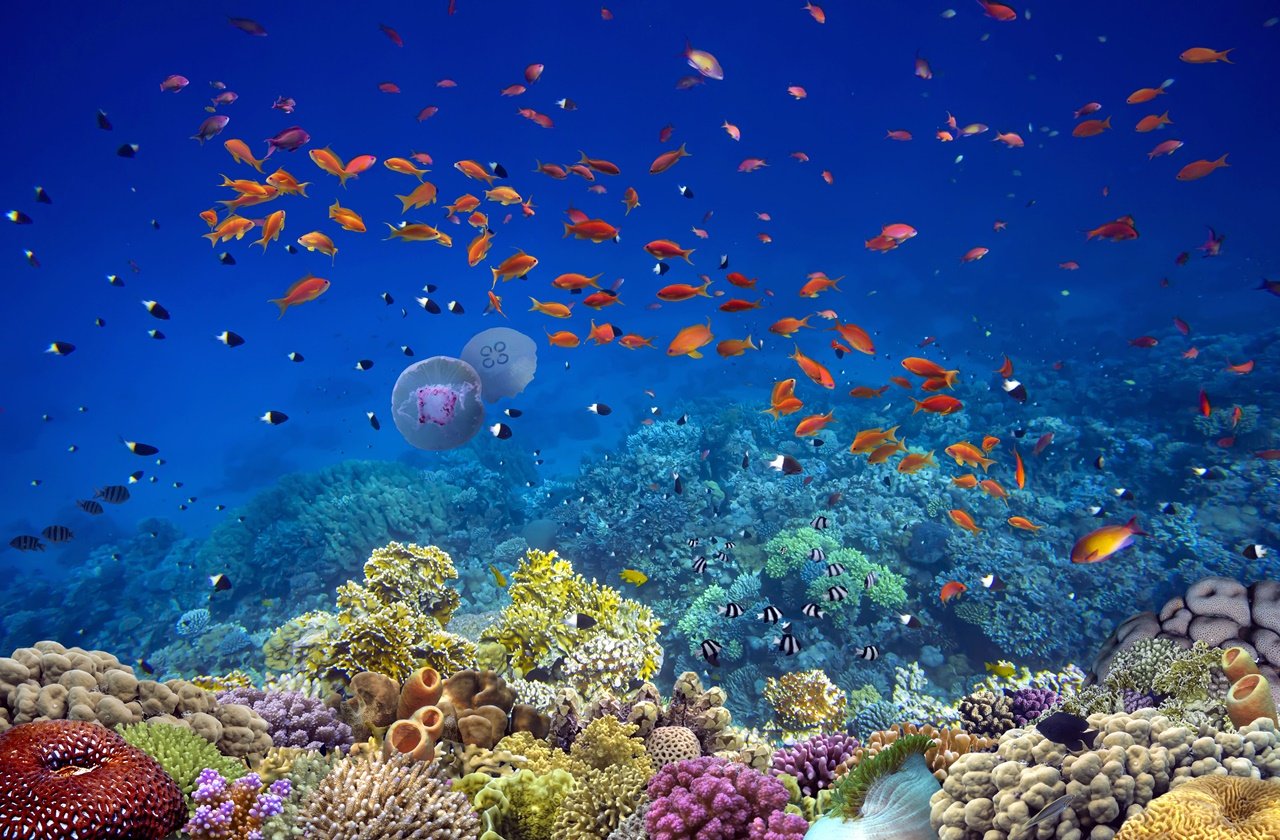 Photo by vlad61_61 on Adobe Stock
When visiting any beach destination, the best way to spend time is to go diving or snorkeling. In Moalboal Cebu, there are plenty of diving spots where you can see and marvel at its underwater kingdom. Additionally, Moalboal also has some of Cebu's best marine sanctuaries where you can learn more about life underwater. Go on a diving excursion and see hundreds of colorful fishes in their natural habitat. At the Tuble Marine Sanctuary, you may find a number of sea turtles underwater. While Coron has the best wreck dives in the country, you can also see the ruins of an aircraft at a site near White Beach.
Around town, you can find plenty of dive shops where you can rent snorkels and other diving gear at an affordable price. Your accommodation may also offer diving trips and have free gear rental. Moalboal is also a great place for beginner divers since there are several diving schools around town. Diving courses also vary in length and you can choose if you want a short course or a multi-day course.
5. Relax at the Beaches of Moalboal
Photo by Inah Soniega on Unsplash
Of course, not all beach trips have to be about diving or even surfing and other extreme water activities. Sometimes, relaxing under the warm sun is enough. Just lay your beach mat, bring a couple of drinks and snacks, and enjoy the view of the sea. You can also catch gorgeous views of the sunset as you sip on an ice-cold drink. Luckily in Moalboal Cebu, there's no shortage of lovely beaches you can find to spend the afternoon!
Panagsama Beach is the closest one, located within a short walking distance from most hostels and resorts. This is also a jump-off point for those who want to go on a sardine run. Not far from Panagsama Beach is White Beach, which has a longer shore and more relaxed ambiance as compared to the former. Another must-visit beach is Lambug Beach where you can get a chance to see starfishes of varying sizes.
6. Hike to the Top of Osmeña Peak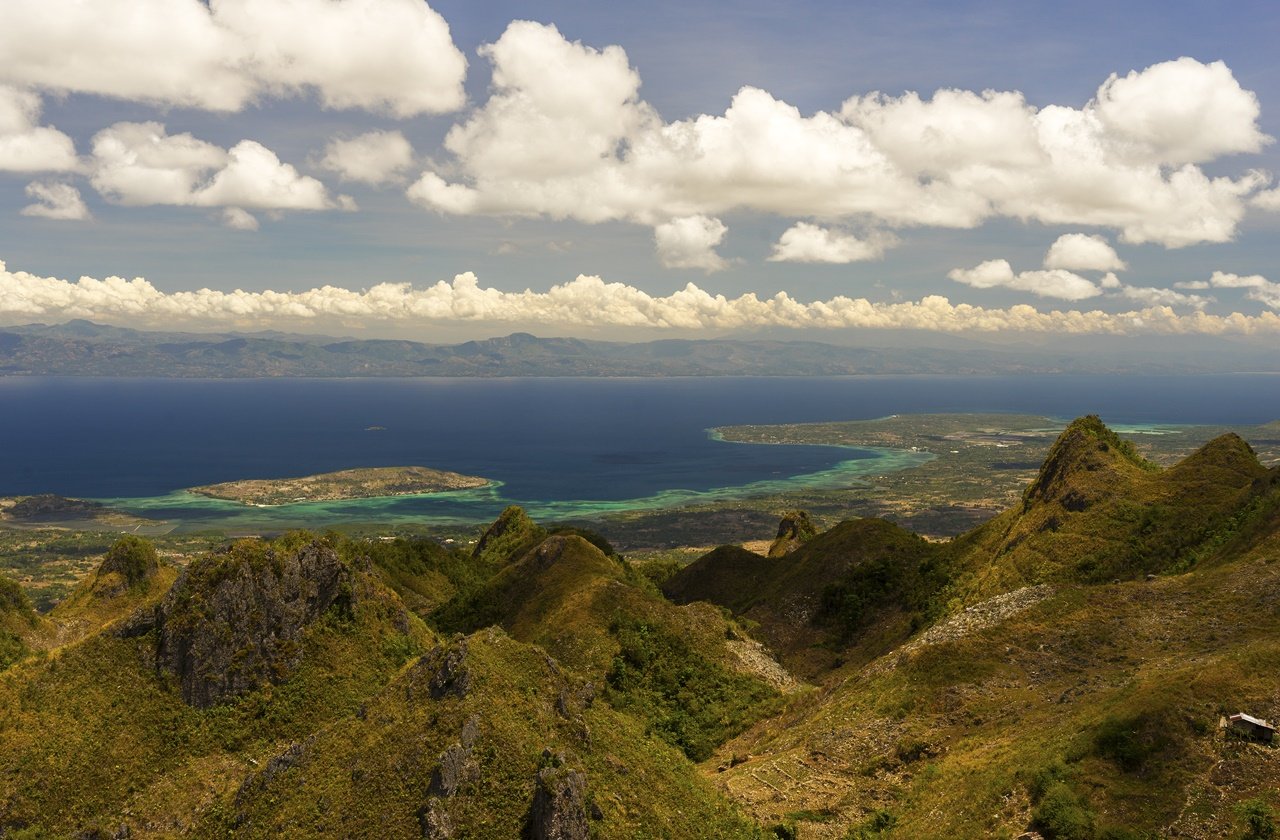 Photo by Aidman on Adobe Stock
From the sea, climb up thousands of meters up and catch panoramic views of Moalboal from Osmeña Peak. At 1,013 meters above sea level, it is the highest mountain in Cebu. And unlike Bohol's smooth-surfaced Chocolate Hills, jagged peaks are the main points of interest in Osmeña Peak. From Moalboal, the peak is a one-hour drive away, and excursions heading up are available for most tour operators.
Go on an hour-long drive to the jump-off point where you'll trek 20 to 25 minutes to get to the top. Upon arriving, be in awe of the sweeping view of the island. Bring out your cameras and strike a pose with the rocky peaks as your background. You can visit Osmeña Peak in the morning to watch the sunrise, although the morning fog can hinder your view. Otherwise, you can hike in the afternoon and watch the sunset here.
7. Catch the Sunset From Panagsama Beach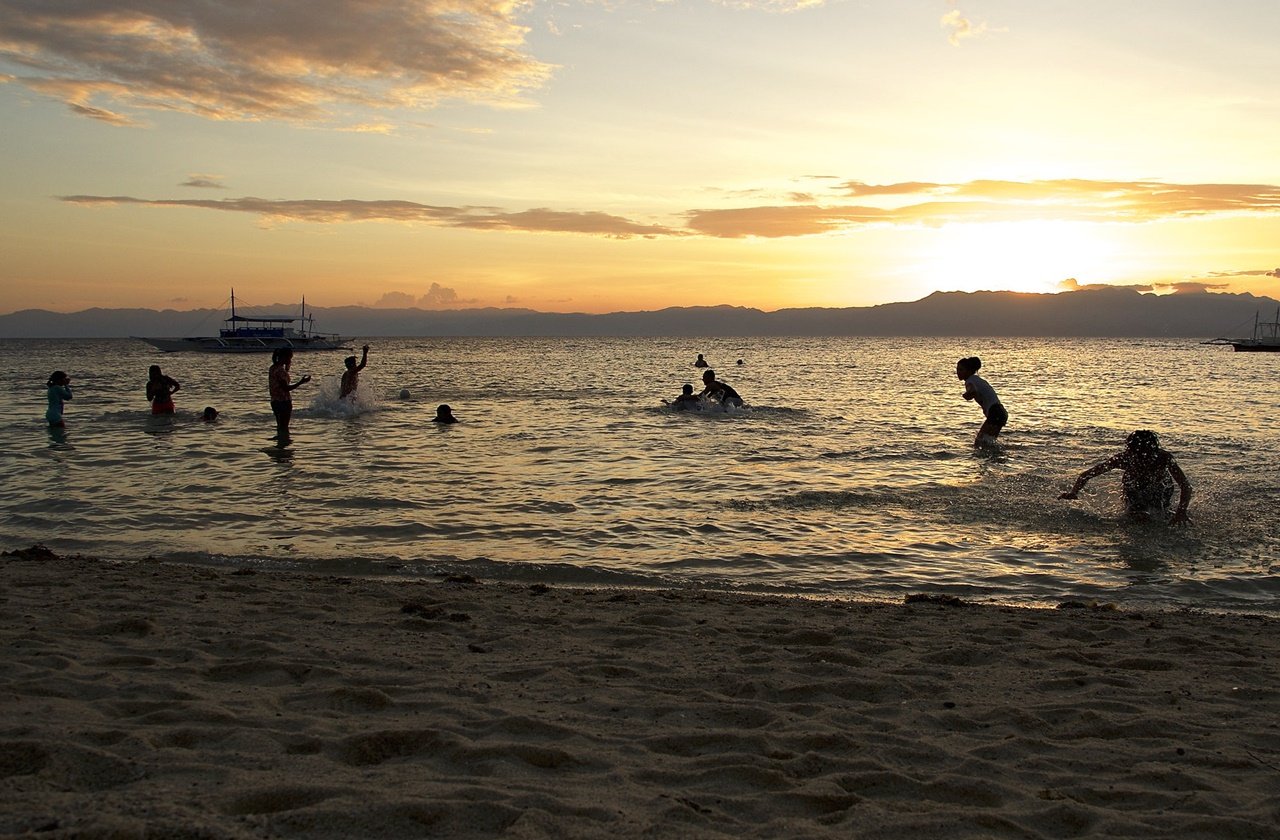 Photo by Paul Grach on Flickr
Cap off the day and watch the sunset from Panagsama Beach! It may be smaller and rockier than most beaches in Moalboal, but this is undeniably the best place to catch the sunset. The short coastline is often filled with divers and snorkelers, but the seaside establishments offer great views of the sea. Restaurants, bars, and cafes line up the shore and you can enjoy open-air dining as you watch the sunset.
After watching the sunset, have dinner and enjoy the nightlife in Moalboal Cebu. Most of the restaurants and bars are within a short distance from Panagsama Beach, so it's easy to move from one place to another. Along the street, you can also find stalls selling keychains, fridge magnets, and plenty of other souvenirs to bring home.
What You Need to Know When Visiting Moalboal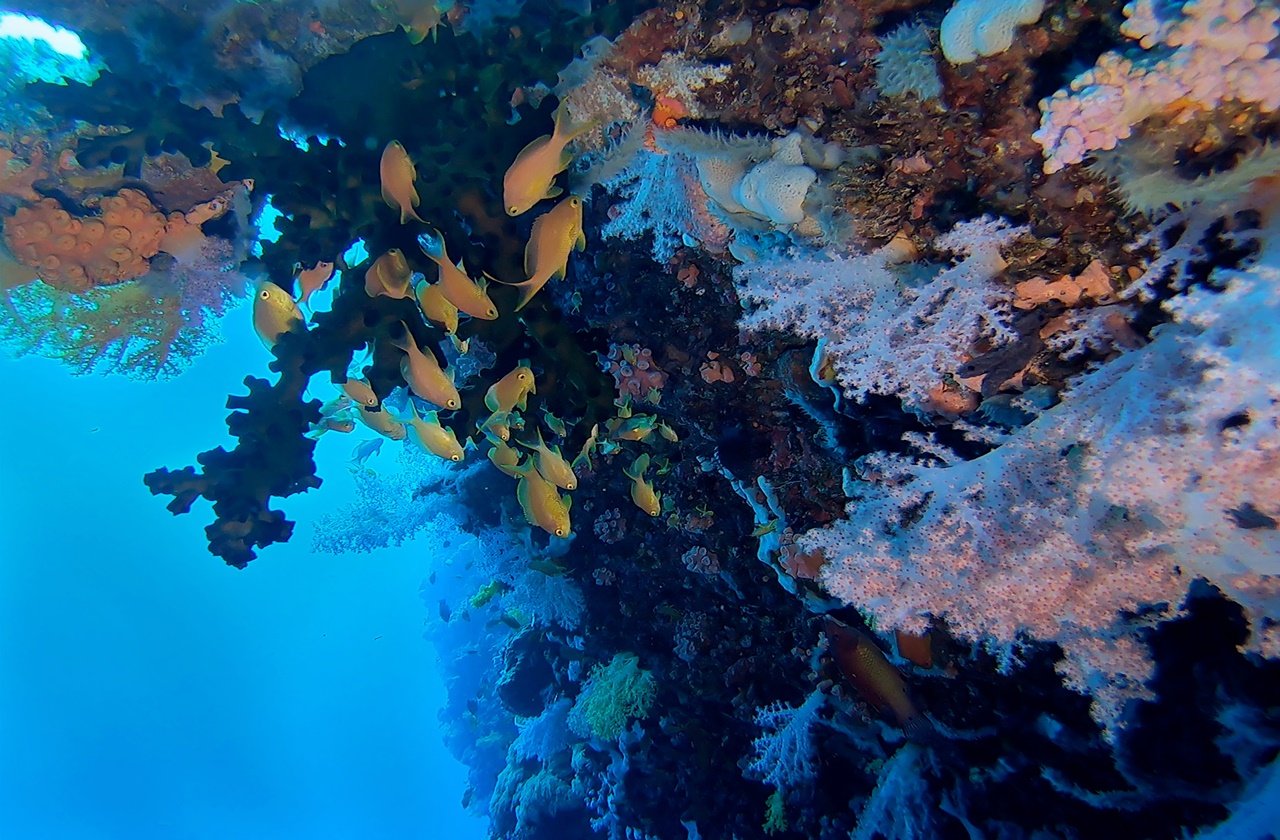 Photo by Olga Tsai on Unsplash
Moalboal is a relatively small municipality in Cebu, so there are few malls and commercial establishments.
Phone and data signals in Moalboal are stable, but like El Nido and other destinations, it's not as fast as one would expect. Although most hotels and hotels offer free WiFi, this isn't reliable most of the time.
Prices for meals in most restaurants can be expensive and travelers may shell out 150 PHP (or 3 USD) per meal.
There are few ATMs near Panagsama Beach, but make sure to bring enough cash since there's no guarantee that the ATMs are online. An ATM is also available at the nearby Gaisano Mall, but transportation to and from the mall can be expensive.
You can get around Moalboal Cebu by taking a tricycle or motorcycle, locally known as habal-habal. If you plan on visiting different places in a day, you can choose to rent a motorcycle for a daily fee of 10 USD. Take note that when renting a motorcycle, you need to return it with a full tank.
It's always best to book months ahead of your trip, especially if you'll visit during peak season. There are relatively few resorts, hostels, and homestays in town and you might not be able to find one if you look for lodging on the spot.
Enjoy a Laid-Back Beach Getaway in Moalboal!
With its easily accessible beaches and nearby attractions, Moalboal is your best gateway for the best activities in Cebu! It offers affordable lodging with options for budget travelers, couples, families, and groups of friends. This is also the best place to stay if you want to enjoy different activities in South Cebu. Moalboal provides plenty of opportunities for diving, snorkeling, and other activities like hiking or canyoneering.
If you're looking for a trip to the beach without the huge crowds of Boracay, Moalboal Cebu is the best choice.