A Comprehensive Guide to Coron, Palawan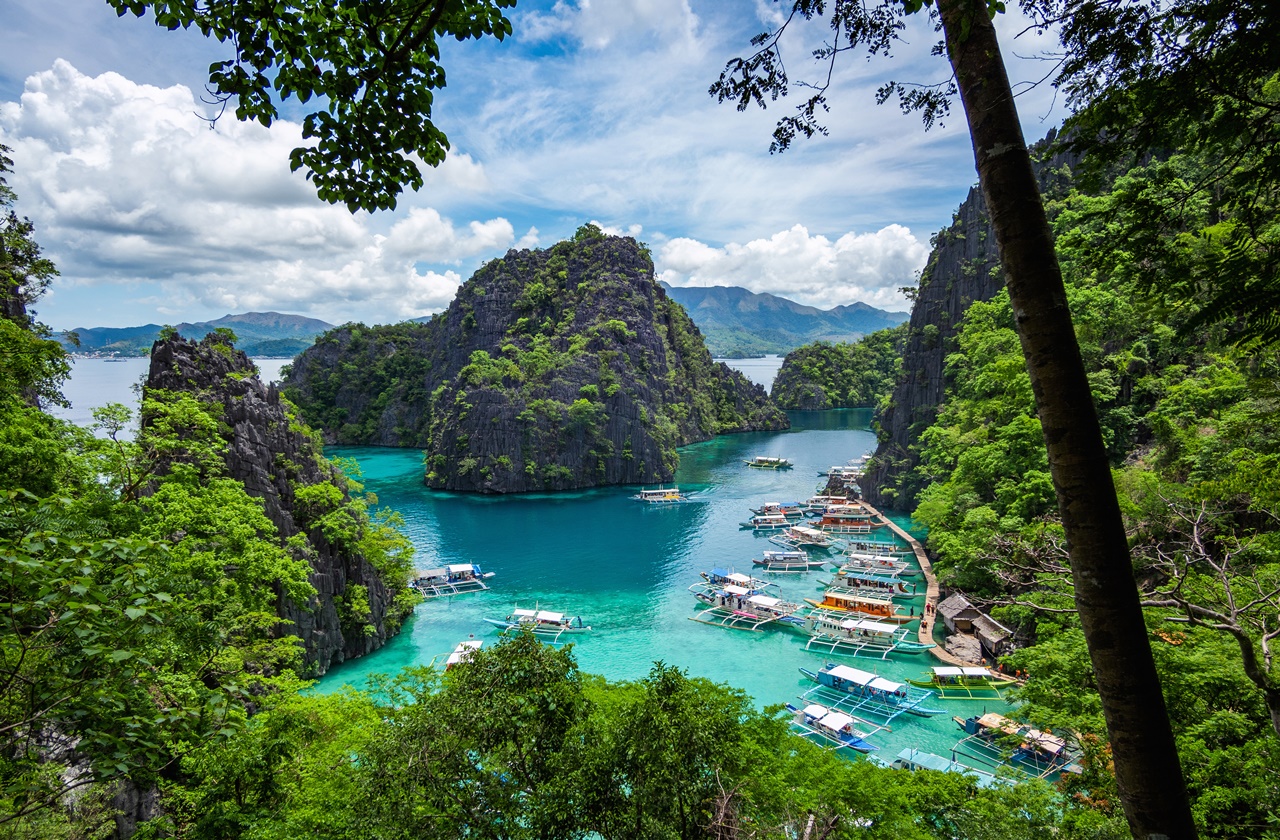 Home to more than 7,000 islands, miles and miles of picturesque coastline, and warm, tropical weather, the Philippines is a must-visit summer getaway. Additionally, its exciting Philippine festivals attract millions of tourists from around the world, wanting to experience summer at the Pearl of the Orient's best destinations. Among the famous destinations in the country is the beautiful Coron, Palawan.
Coron, El Nido, and Puerto Princesa make up the popular destinations in Palawan, also known as the Philippines' best island. But what makes Coron different from the two, or even from other Philippine islands like Siargao and Batanes? If you're curious about it, read on to find out. We have compiled a comprehensive guide to Coron, Palawan!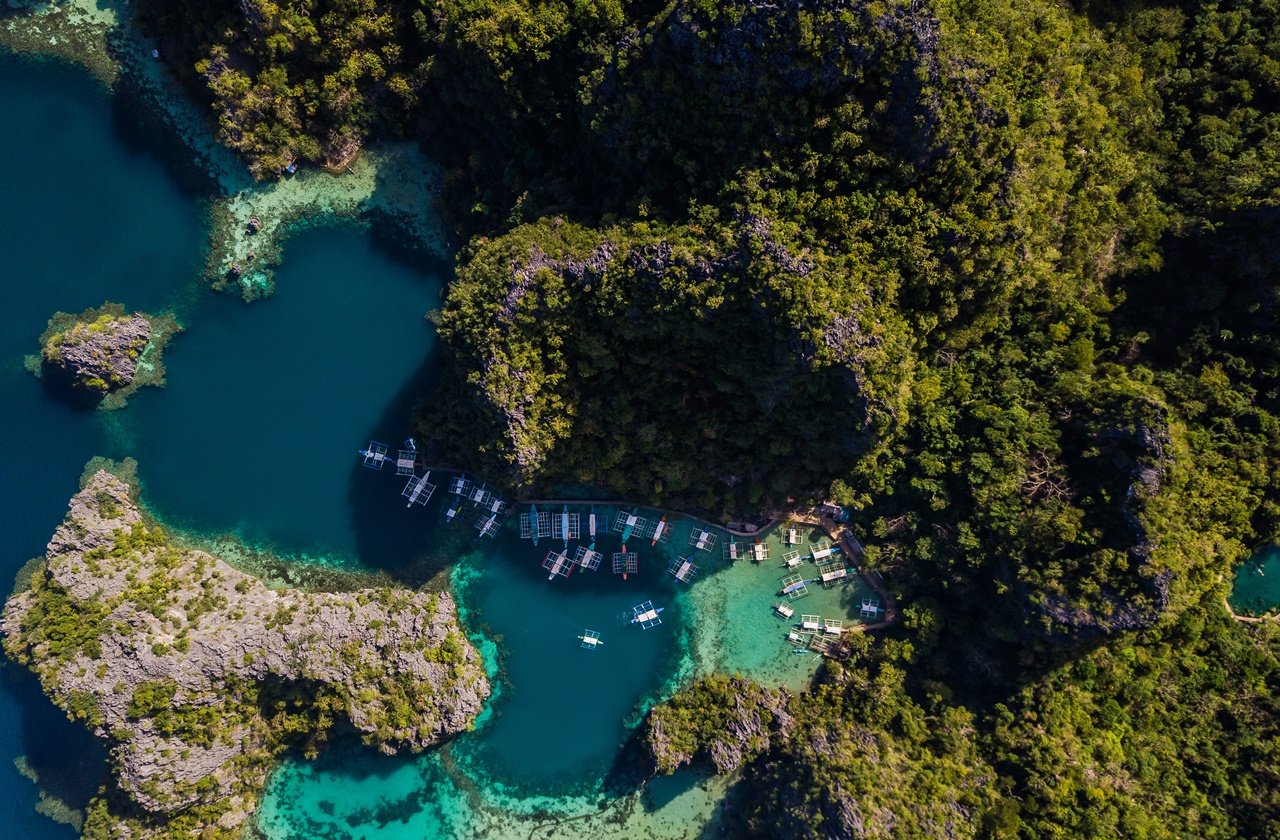 Photo by Black Mamba on Adobe Stock
Located in the country's MIMAROPA (Mindoro, Marinduque, Romblon, and Palawan) region, the Municipality of Coron is in the far western area of the Philippines. The municipality also occupies the other half of Busuanga Island.
Travelers shouldn't confuse Coron itself with Coron Island, as the island is part of the municipality itself. Coron Island also contains popular sights like Kayangan Lake and Barracuda Lake. From the main island in Busuanga, you can take a 30-minute boat ride to get to Coron Island. Most day trips and island hopping tours from Coron Town also visit the island.
How to Get to Coron
From Manila
The easiest way to get to Coron is to take a Cebu Pacific or Philippine Airlines flight from Manila to Busuanga Airport (USU). Although several flights are available every day, it's best not to take later flights to avoid the risk of canceled or delayed flights. Fares from Manila to Coron via plane start at 70 USD. After landing, you can find several taxis that will take you to Coron Town.
Additionally, you can also take a ferry from Manila to Coron, Palawan. The ferry trip takes about 15 hours and runs twice a week. Ferry rates may cost you 44 USD and up.
From El Nido
If you're coming from El Nido, you can take a ferry or plane to Coron. Air Swift is the only operator offering flights from El Nido's Lio Airport (ENI) to Busuanga Airport. Travel time by plane takes less than an hour, but it's a little expensive at 49 USD.
On the other hand, the ferry takes only four hours and is a quick yet affordable way to Coron. Tickets can start from 35 USD and up, although you should book tickets days in advance as it sells out pretty fast.
Best Time to Visit Coron, Palawan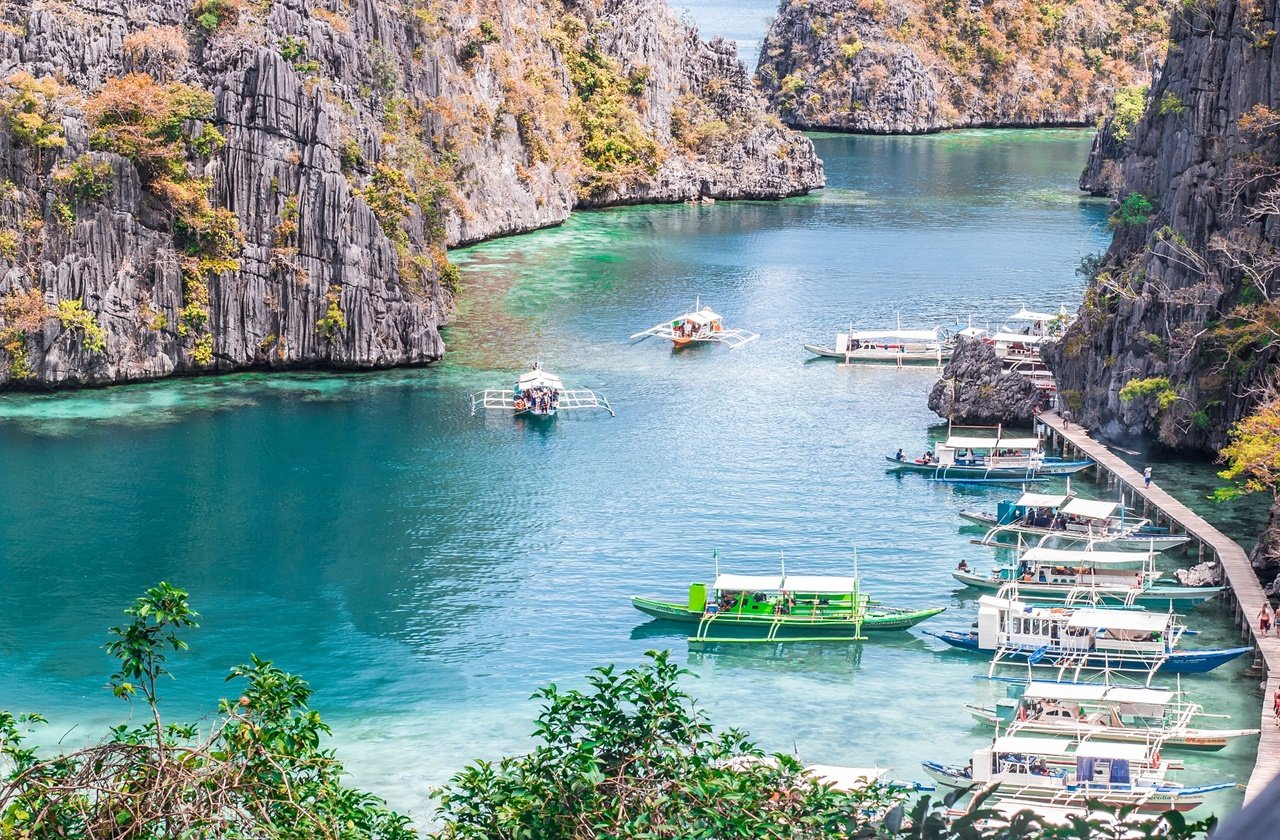 Photo by jahcordova on Pixabay
Coron has two distinct seasons: dry and wet. The dry season runs from October to June and the place experiences dry and hot weather. On the other hand, the wet season starts from July to September, marked with daily rain showers which are short yet heavy. Typhoons can occur during the latter half of the year, but they don't usually hit Coron.
Generally speaking, the best time to visit Coron Palawan is during the dry season where you can enjoy most water activities like island hopping, snorkeling, and diving. Most tourist destinations are also open to the public.
Take note that in March, May, and mid-June, Coron may get crowded as other tourists will want to take advantage of the good weather. If you plan on visiting during these months, make sure to book your flights, accommodation, and tours in advance. Meanwhile, if you want fewer crowds but good weather, visit in February or April instead.
Where to Stay in Coron
Two Seasons Coron Bayside Hotel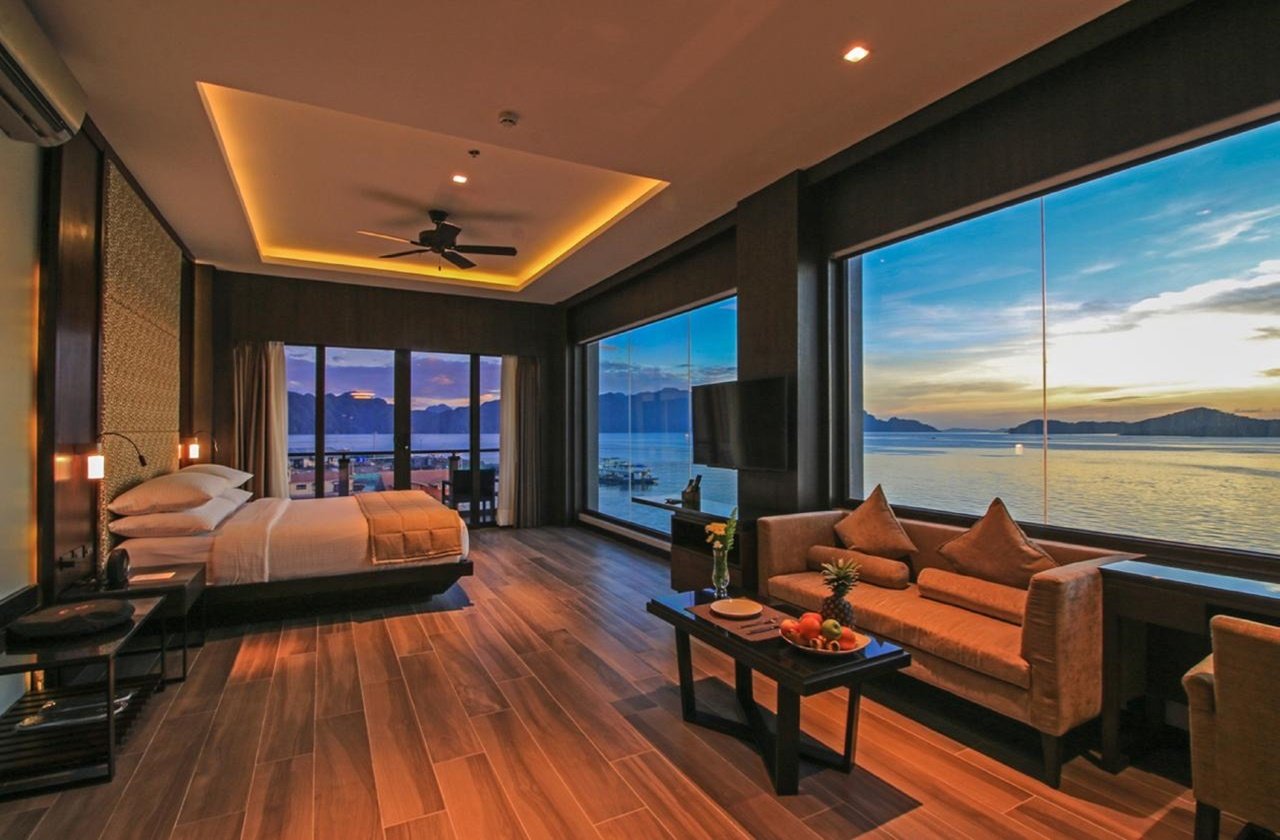 Photo from Two Seasons Coron Bayside Hotel Booking.com page
Address: National Road, Barangay Tagumpay, Palawan, Coron Town Proper, 5316 Coron, Philippines
Price: starts at 400 USD
Two Seasons Coron Bayside Hotel is the best upscale accommodation in Coron, Palawan. The resort boasts an infinity pool and a private dock so you can conveniently go on island hopping tours. Their hotel rooms are spacious and comfortable, perfect for relaxing after a busy day out exploring the islands. But perhaps the best selling point of the hotel is its panoramic views of the sea, with most rooms having a balcony or bay view windows. Catch the stunning Coron sunset while enjoying a few drinks from your hotel room.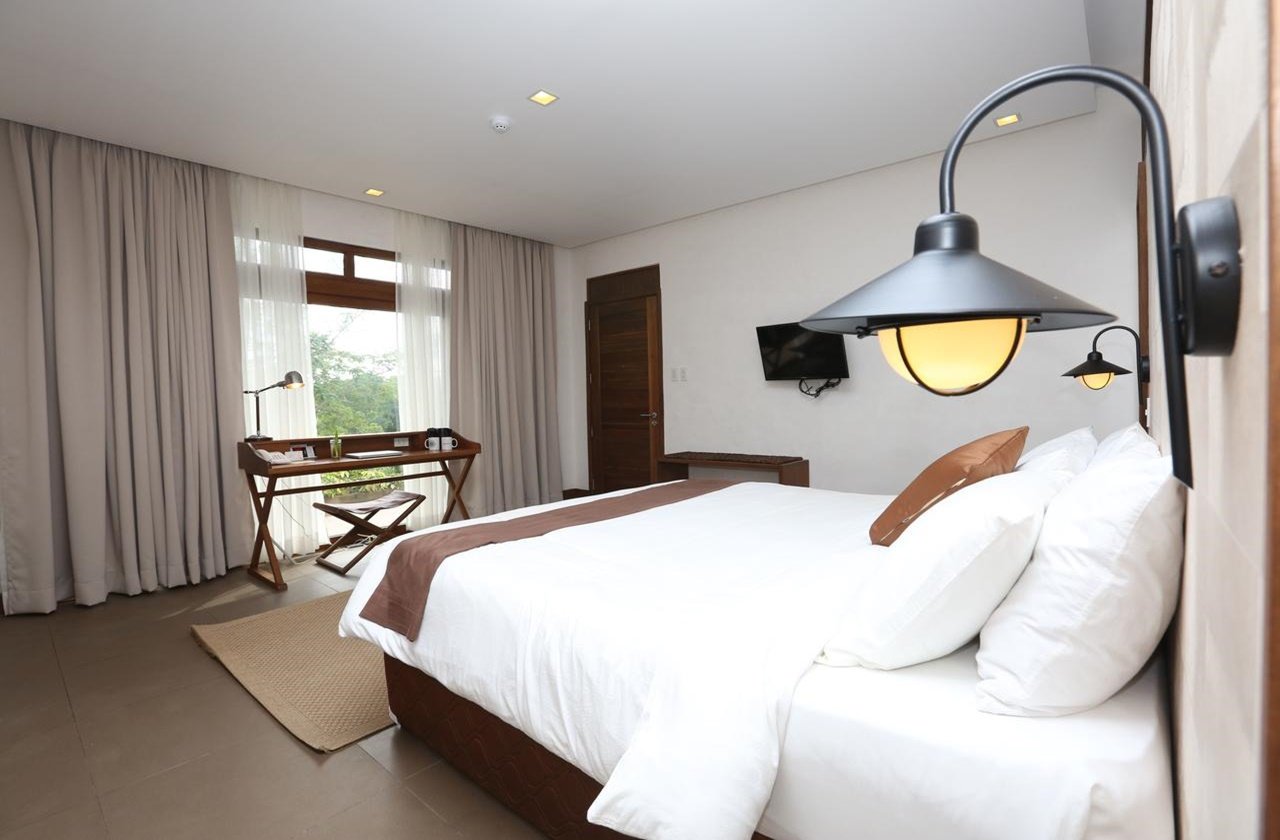 Photo from The Funny Lion Booking.com page
Address: Sitio Jolo, Poblacion 5, Coron, Palawan
Price: starts at 176 USD
The Funny Lion is a modern safari-themed hotel that features eco-chic interiors, peaceful rooms, and a beautiful sunset view. The boutique hotel only has 32 rooms, making it less crowded and your overall stay more intimate and personalized. The Pride Rock Deck rooftop bar is the best place to watch the sunset along the limestone cliffs. Although Coron is famous for its clear waters, The Funny Lion's infinity pool is also worth checking out.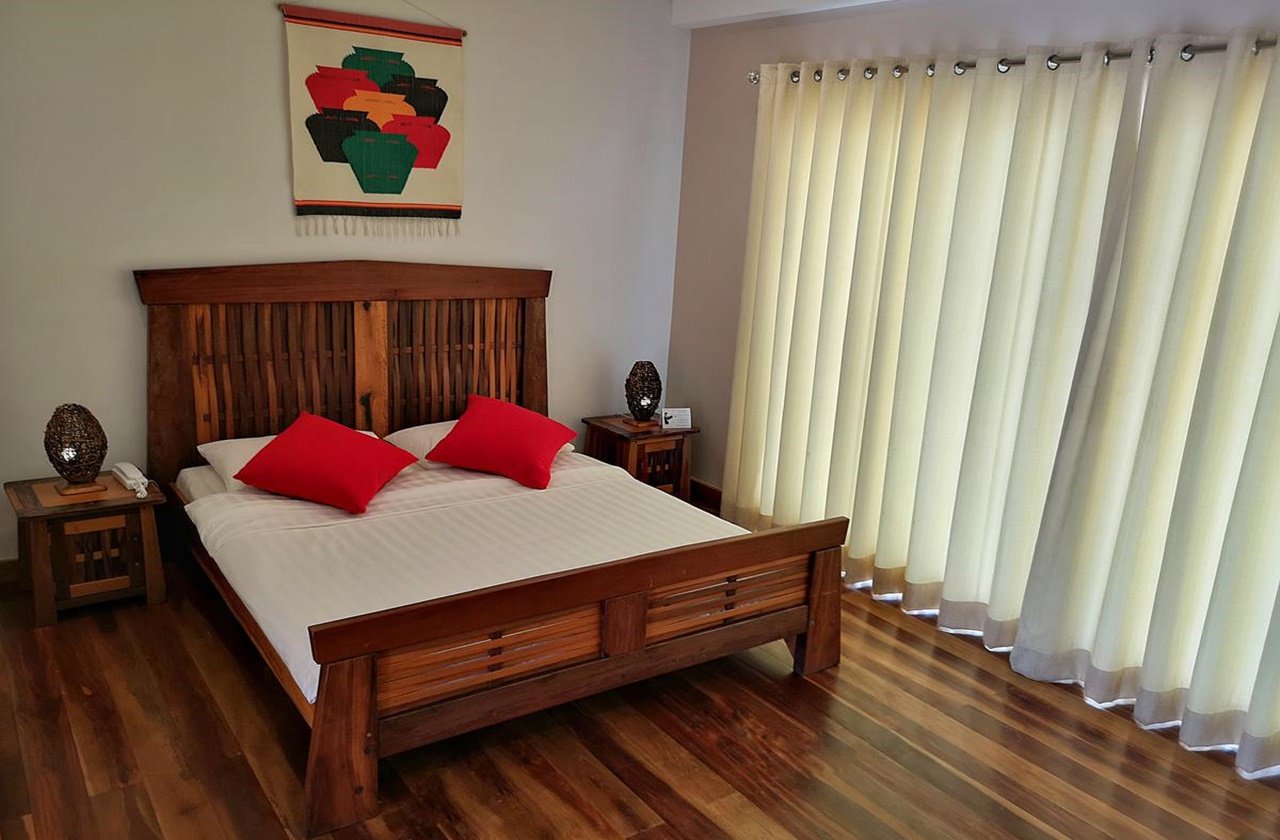 Photo from Corto del Mar Hotel Booking.com page
Address: Comiseria Street Barangay 1, Coron Town Proper, Palawan
Price: starts at 80 USD
Located in the heart of Coron Town, Corto del Mar Hotel is the best choice if you want good quality accommodation that's near some of the city's attractions. You can easily hike up Mt. Tapyas after a short drive or go on a quick grocery run at the Coron Public Market. In terms of amenities, Corto del Mar has a saltwater swimming pool that waves through the hotel's courtyard. Its harmony of Mediterranean, Colonial, and Filipino design feels homey and welcoming. Another selling point to the hotel is its vegetarian menu, not often found at most hotels and restaurants in the country.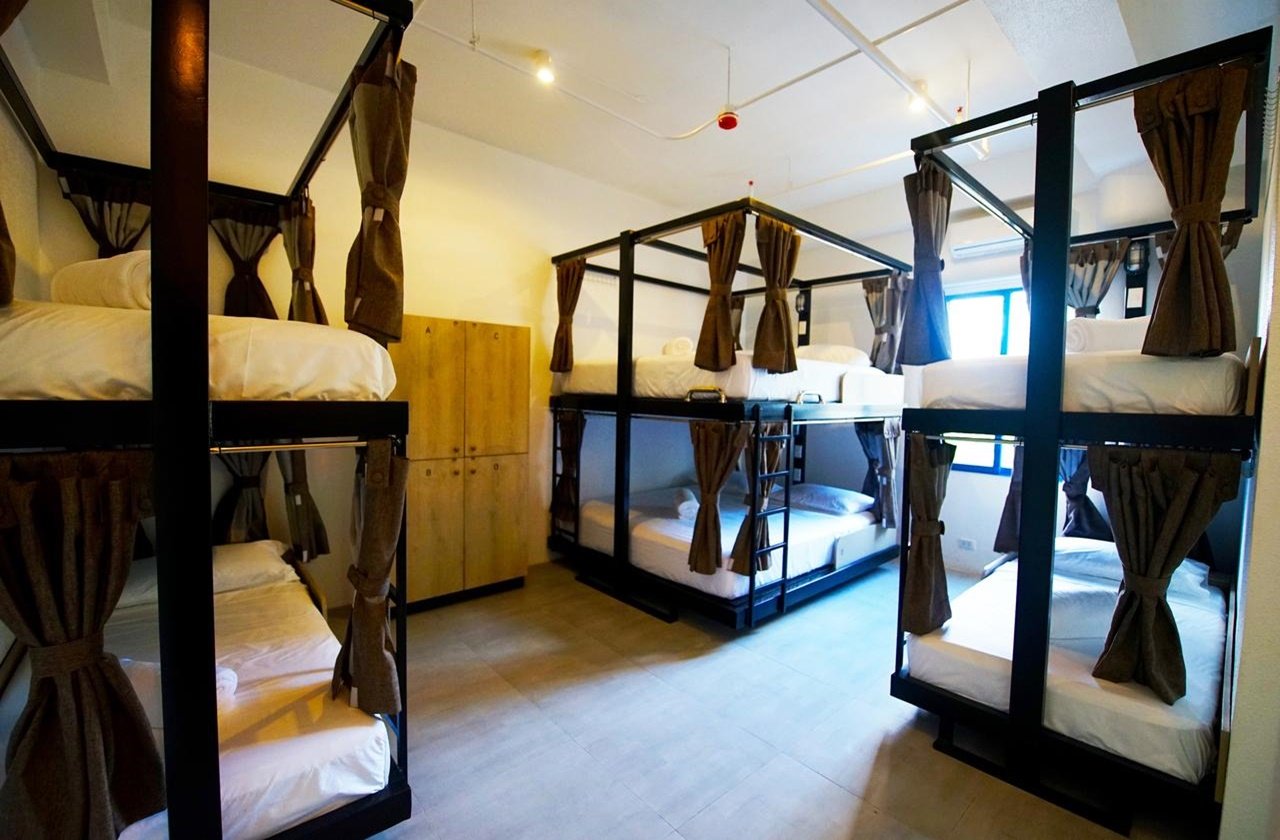 Photo from Hop Hostel Booking.com page
Address: Calle Nueva, Coron Town Proper, Coron, Palawan
Price: 15 USD
If you want to socialize and meet new friends on your trip to Coron, Palawan, stay at Hop Hostel! The hostel is located within the heart of Coron Town Proper and is the perfect jump-off point for diving and island hopping. You can choose between an all-girls or mixed type room, all equipped with air conditioning and comfortable beds. Their restaurant and bar, named Catch and Release, respectively, are the best places to have a chat with fellow travelers. Hop Hostel also hosts weekly tours as well as game and movie nights for its clients.
10 Best Things to Do in Coron, Palawan
1. Hike Mt. Tapyas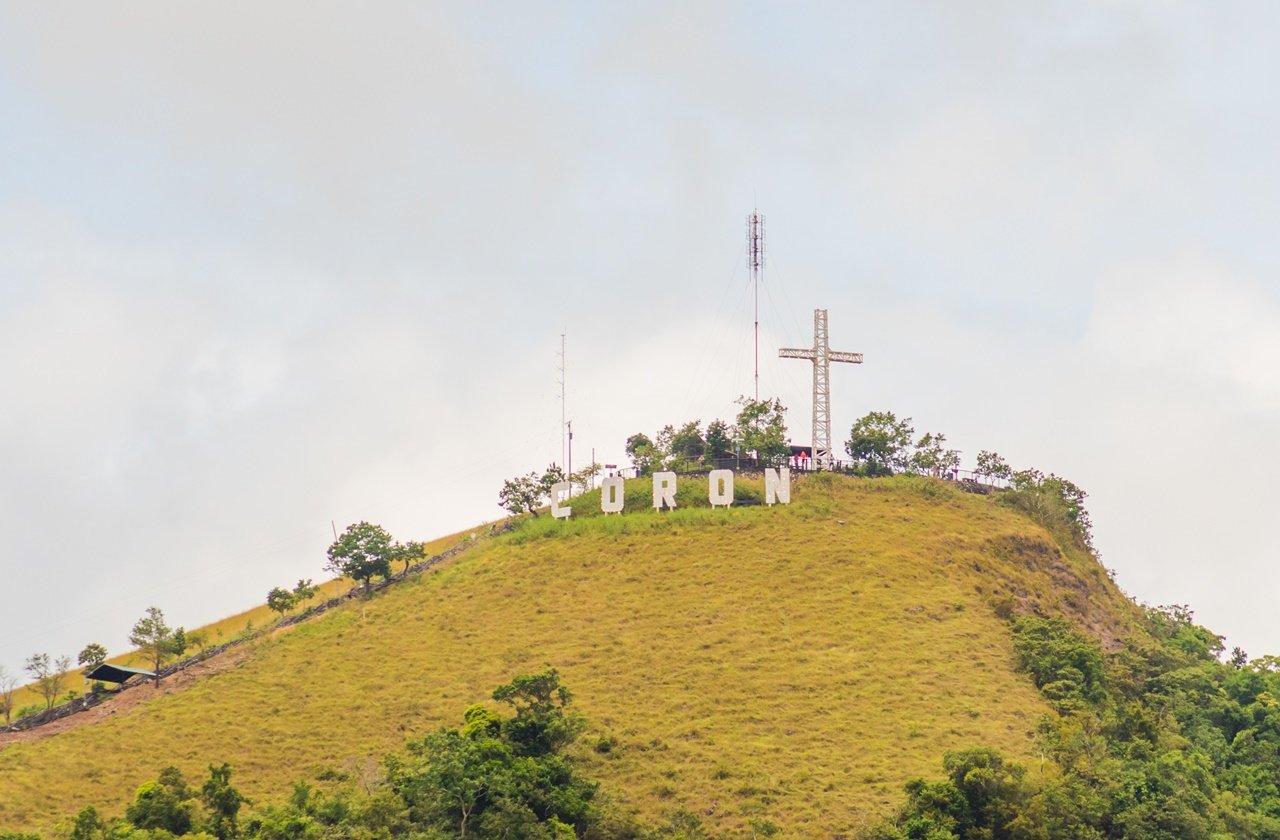 Photo by Довидович Михаил on Adobe Stock
Test your endurance and climb more than 700 steps up Mt. Tapyas. This is usually the first landmark visitors go to, especially during sunrise or sunset. The steps are well-paved and anyone with a good level of fitness can easily climb up. Hiking Mt. Tapyas is accessible as you can climb up, join a guided tour, or hire a tricycle going up. You can also rest at the many benches you'll find along the way to catch your breath. As you arrive at the summit, don't forget to take photos with the imposing crucifix and the "CORON" signage. While the Philippine heat may be unbearable for some, catching the magnificent view of Coron at the summit is definitely priceless.
2. Lounge by the Shores of Malcapuya Beach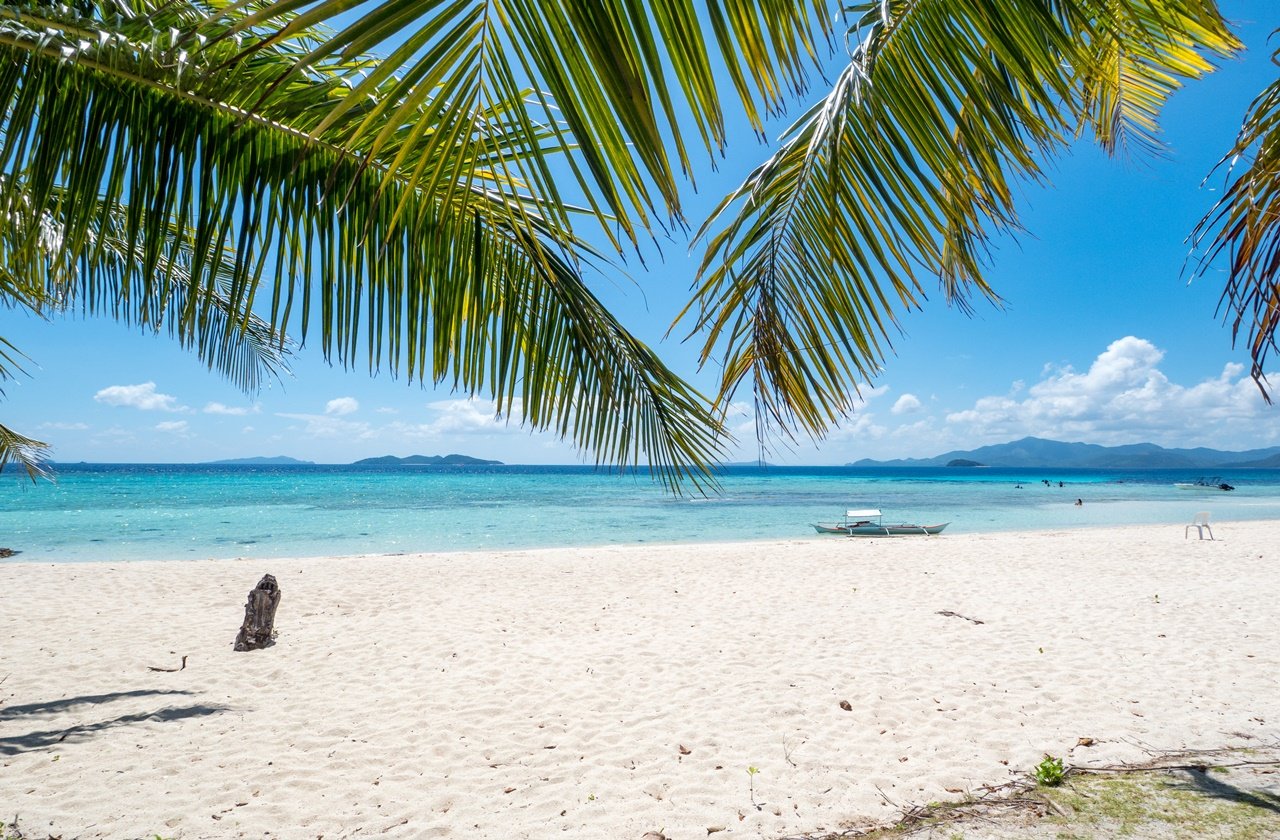 Photo by ikmerc on Adobe Stock
From Coron Town, hop on a boat or join an island hopping tour and visit Malcapuya Beach. Take a dip in its crystal clear waters, or get your snorkeling gear and get a chance to swim with the marine life. However, the best thing to do here is to relax by the shore and bask under the sun. There aren't that many establishments and restaurants on the island, and there may be instances where you'll have the beach to yourself. Island hopping tour packages include a visit to Malcapuya Beach along with stops at Bulog Dos and Banana Island. Otherwise, you can just hire a private boat and explore the island at your own pace.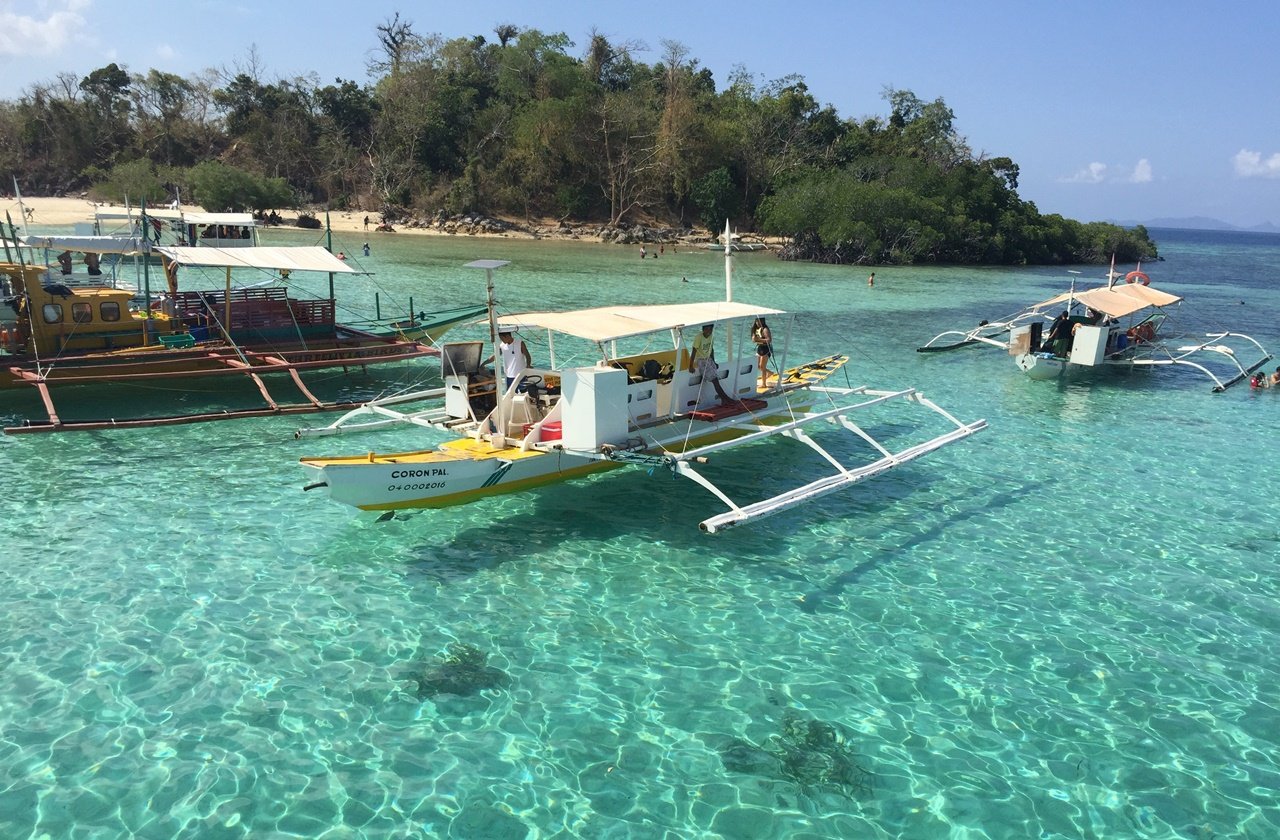 Photo by Guillermo Bresciano on Unsplash
When visiting Philippine destinations like Cebu, Bohol, and even Coron, one shouldn't miss the chance to go island hopping. Island hopping tours are sold in packages that normally include the necessary fees, use of snorkeling gear, and lunch. Lunch at island hopping tours includes fresh fish, vegetables, and tropical fruits such as mangoes and watermelons. Private island hopping tours are also available, although joining group tours also allows you to interact with fellow travelers.
Grab the opportunity to discover the many unspoiled and untouched islands and learn more about the country's underwater world. Depending on the package you'll choose, you'll be able to visit Barracuda Lake, Twin Lagoon, Kayangan Lake, and more.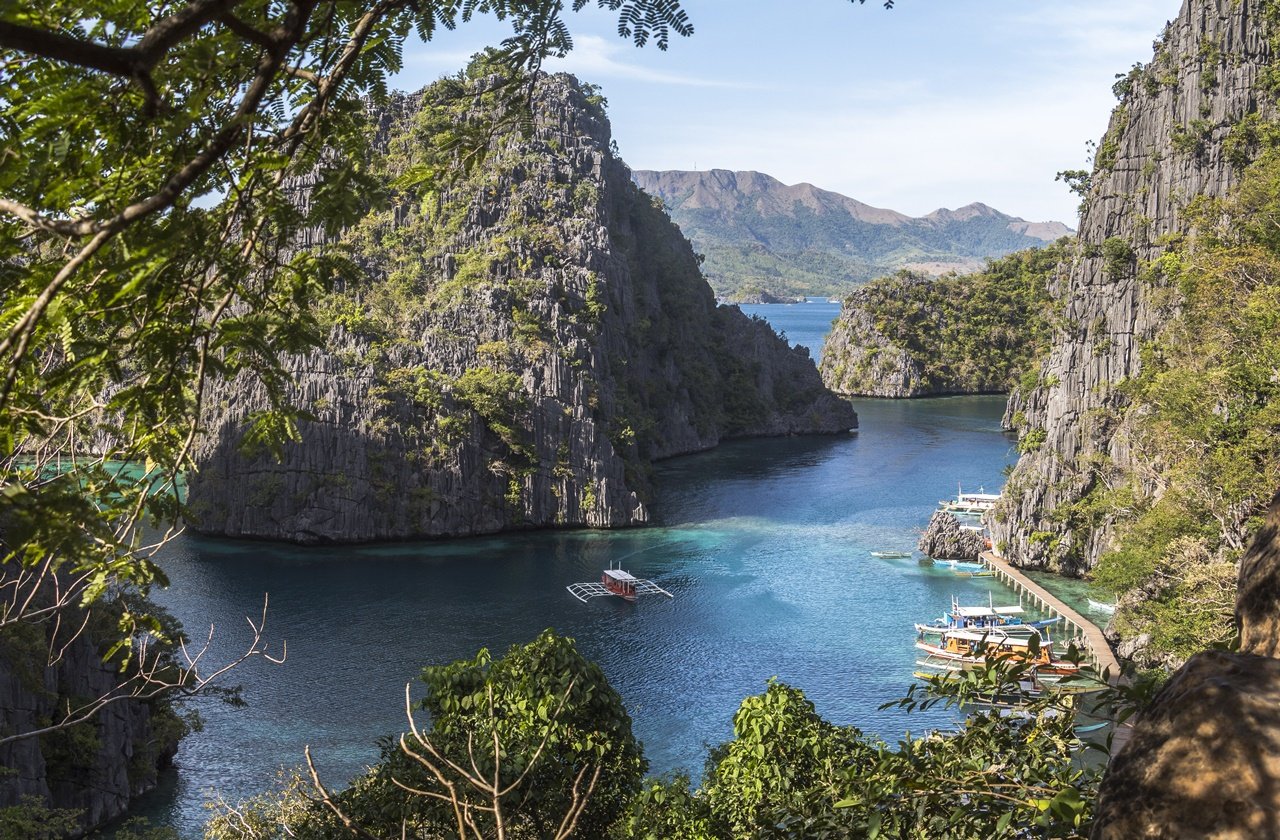 Photo by picturist on Adobe Stock
Visit Coron's most photographed spot, Kayangan Lake. Made up of 70% freshwater and 30% salt water, the lake also prides itself on being the cleanest lake in Asia. Before arriving at Kayangan Lake, a 15-minute hike takes you through 300 steps. However, once you see the iconic photo spot, perhaps the most recognizable scenery of Coron, Palawan, that's when you know you're near the lake. Don't forget to line up for photos at the viewpoint before resuming your trek. At the lake, hop on a kayak and explore its surrounding limestone formations. You'll also get a clear view underwater, thanks to its turquoise waters.
5. Relax at Maquinit Hot Springs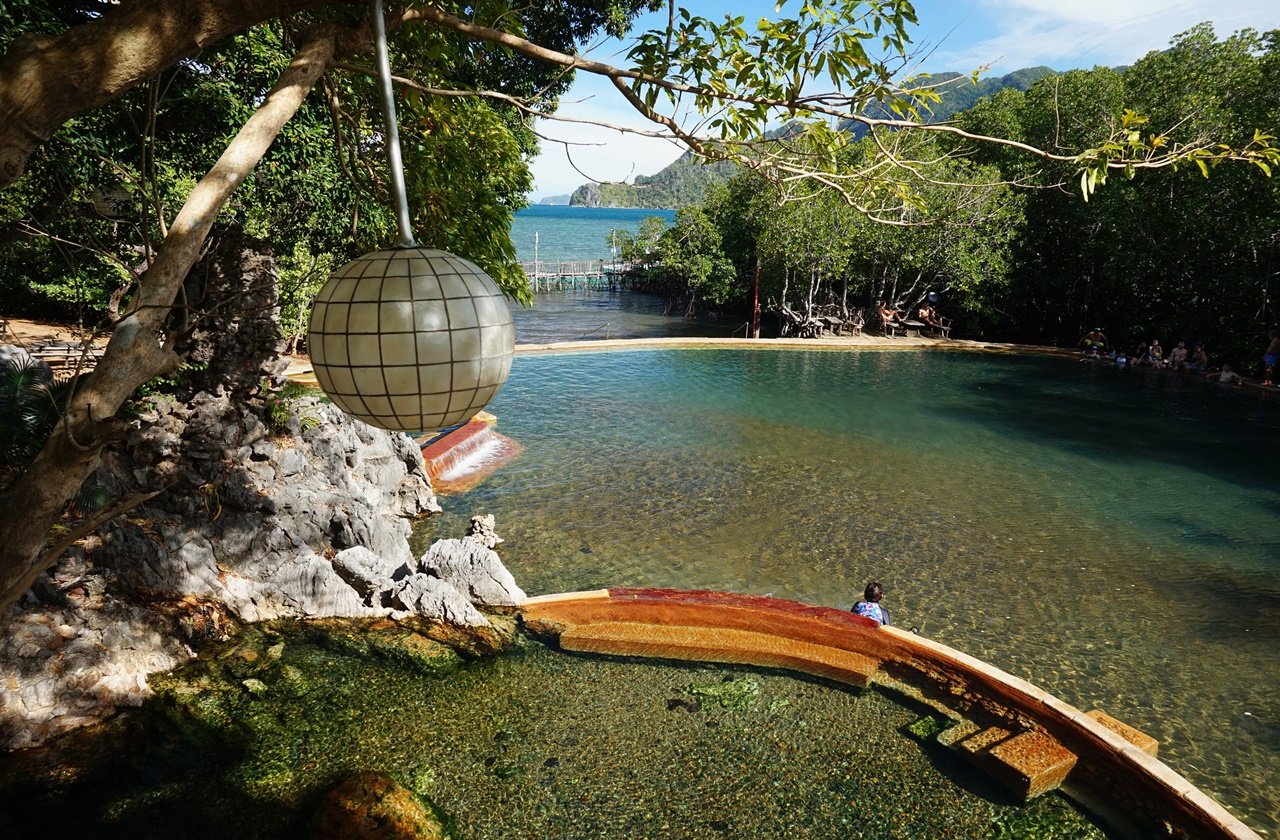 Photo by Matt Kieffer on Flickr
After a strenuous climb up Mt. Tapyas, visit the Maquinit Hot Springs to relax your muscles. Locals say that the hot spring is the only saltwater hot spring in the country, with its water heated by a nearby volcano. Taking a dip at a hot spring can also help improve blood circulation, alleviate skin problems, and give you a more peaceful sleep. It's best to visit the hot springs during the evening when the stars twinkle against the dark sky and when the air temperature drops. That being said, make sure to bring your swim clothes and head to the hot springs after climbing Mt. Tapyas.
6. Catch the Sunset at Pass Island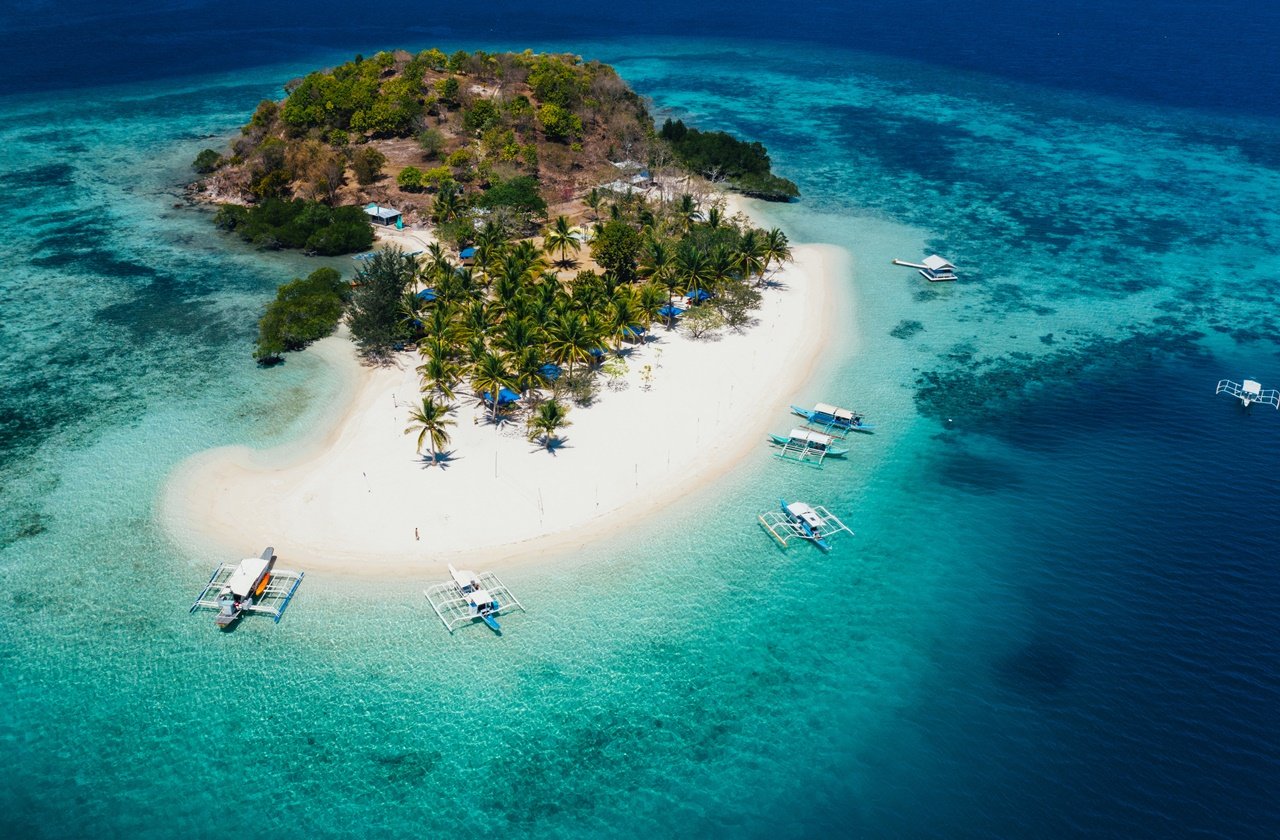 Photo by oneinchpunch on Adobe Stock
Take a two-hour boat trip to Coron's white sand paradise, Pass Island. The dreamy island is also a must-visit for snorkeling and wreck diving. While on the island, bond with the locals over a friendly basketball or volleyball game. You can also lounge at the shore and enjoy the tranquility of the island, away from the bustling crowds and noisy city life. If you have a drone camera, take panoramic snapshots and get a unique perspective of the island. But the best thing to do at Pass Island is to watch the breathtaking sunset from the lookout at a hill at the back of the island. Bring out your cameras and smartphones and immortalize this moment!
7. See WWII Ships on a Wreck Dive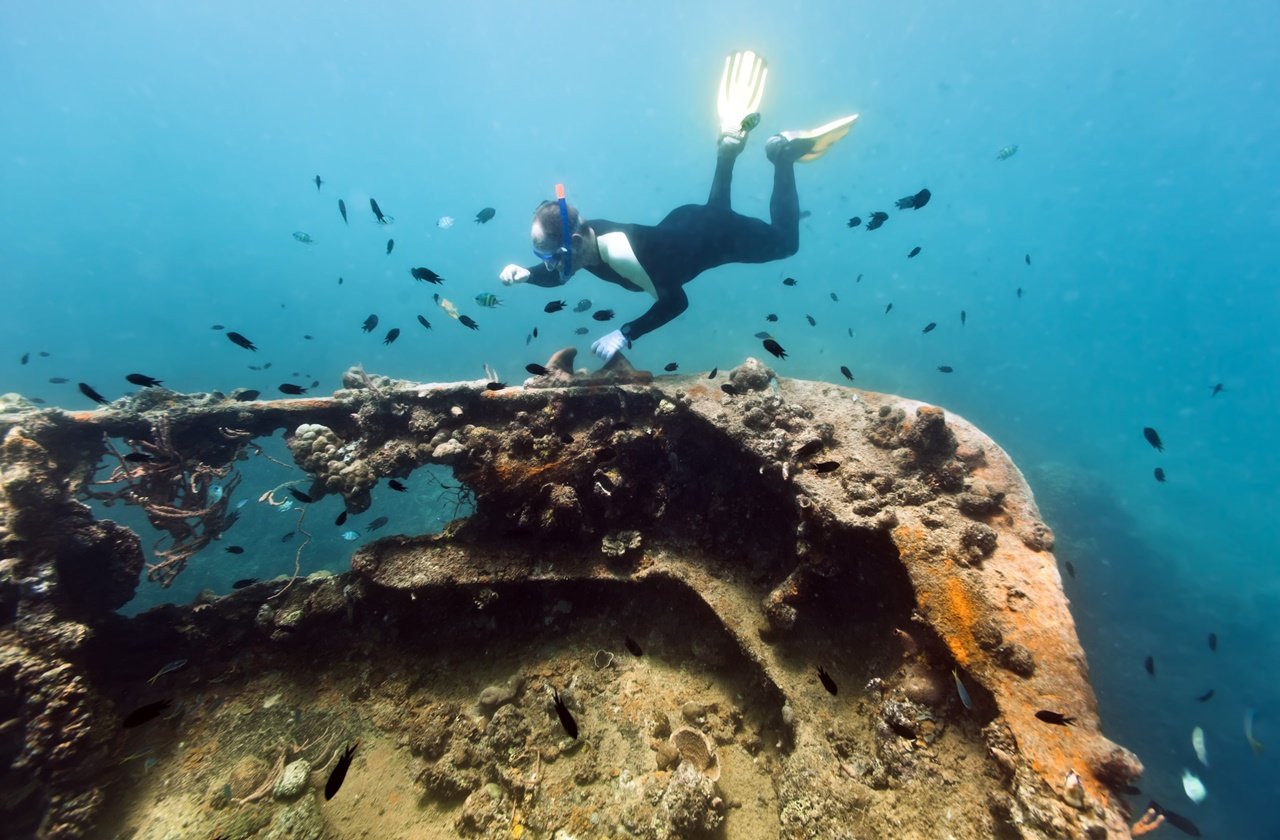 Photo by Olga Khoroshunova on Adobe Stock
Towards the end of World War II, the US Navy attacked and bombed Japanese ships and vessels around Coron Bay and Busuanga Island. The attacks left a number of sinking ships, which are now the famous shipwrecks of Coron, Palawan. Today, these wrecks are teeming with marine life and attract divers visiting the island. Find more than 10 well-preserved wrecks with depths as shallow as 3 meters and as deep as 42 meters, perfect for snorkelers and expert divers. Some of the famous wrecks include the Lusong Gunboat Shipwreck, Skeleton Wreck, and more.
8. Discover an Underwater World at Barracuda Lake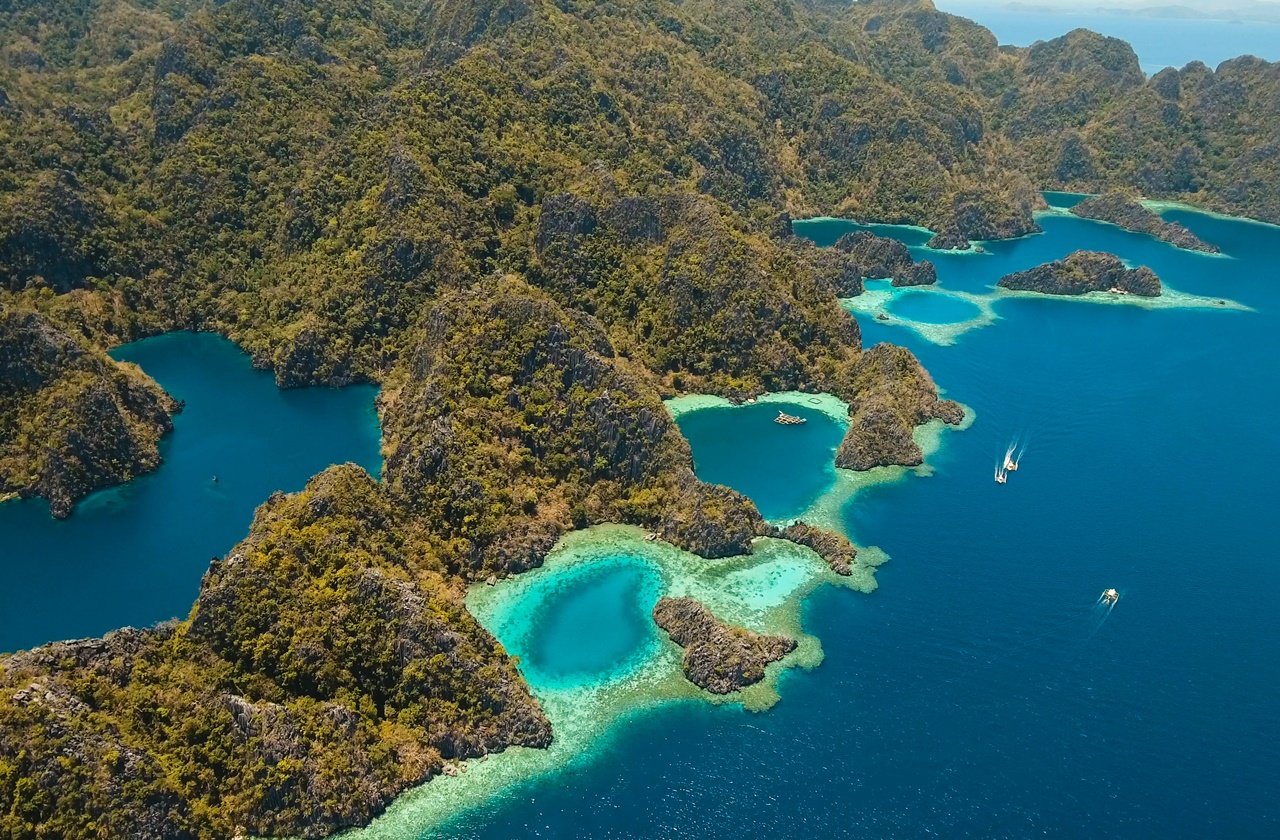 Photo by Alexpunker on Adobe Stock
If you want a less crowded version of the popular Kayangan Lake, visit Barracuda Lake instead. Get your diving fins and snorkels ready and marvel at the stunning underwater world, filled with unique underwater peaks and formations. Barracuda Lake is also a famous thermocline, meaning that the water temperature changes as you go deeper. The lake is often included in most island hopping packages, so make sure to look for a package that includes this amazing attraction.
9. Try the Pizza at Trattoria Altrove Coron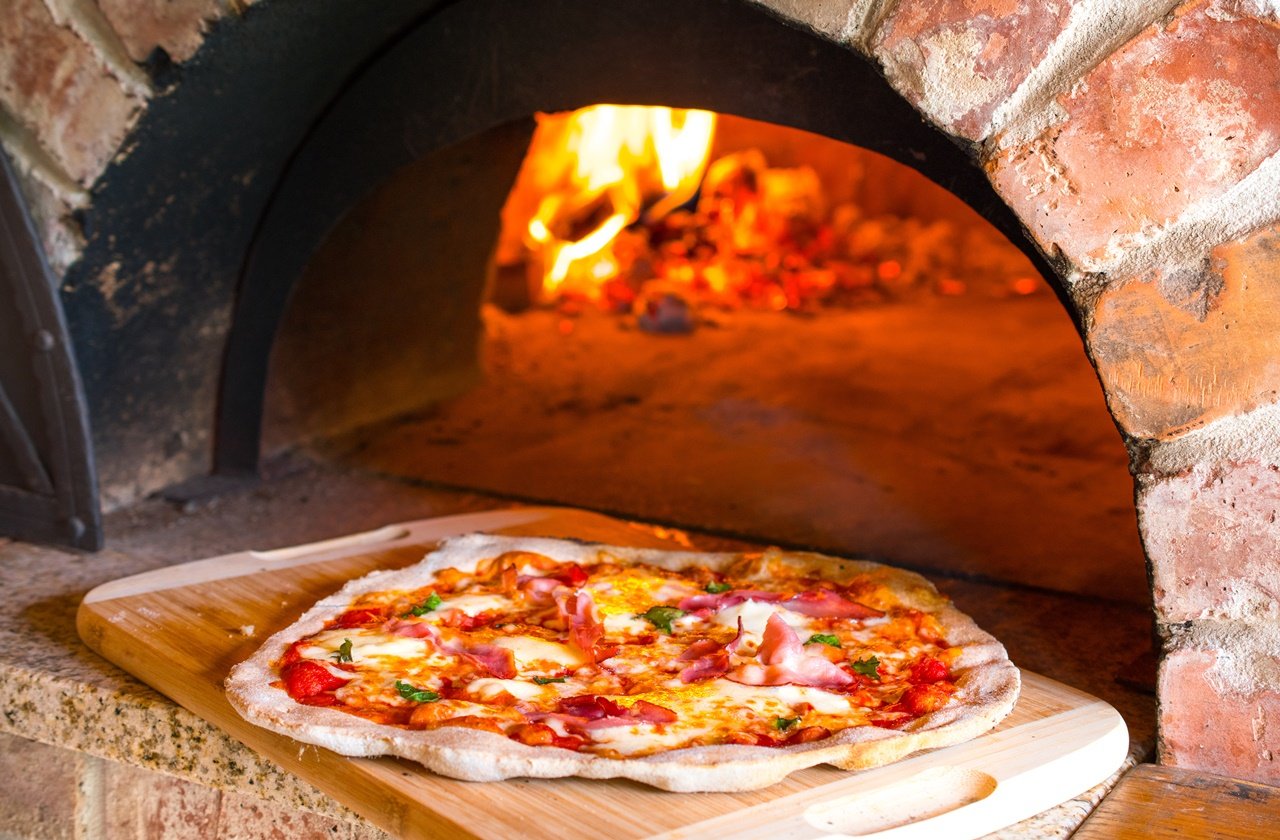 Photo by Bence on Adobe Stock
Although one shouldn't miss the fresh and home-cooked Filipino dishes, it's also worth trying the brick-oven pizza at Trattoria Altrove. Sink your teeth into delicious Italian staples like pasta, risotto, and other dishes. While dinner at Trattoria Altrove may cost you more as compared to dinner at a local restaurant, you're guaranteed that the food is authentic and delicious. Since this is one of the most popular restaurants in town, expect a long queue. But trust us: it is worth the wait! The restaurant is also available in other locations, such as Moalbal in Cebu and in the neighboring islands of El Nido.
10. Take a Dip at the Twin Lagoon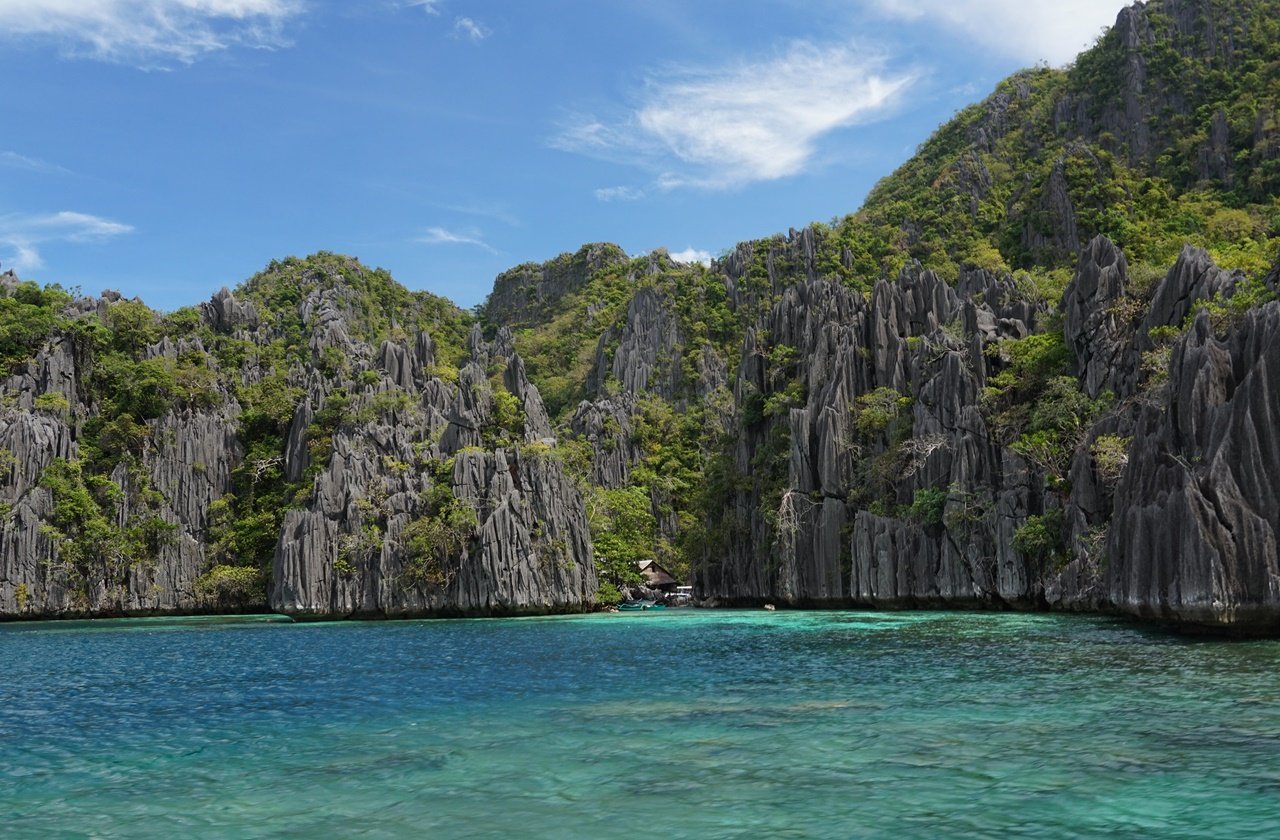 Photo by Matt Kieffer on Flickr
While in Coron, Palawan, don't miss the Twin Lagoon, two small lakes created inside limestone cliffs. During the low tide, the water level reveals a stunning limestone archway where you can swim through to get to the other lagoon. The unique combination of freshwater and saltwater creates a perfect temperature to swim, kayak, or dive in. However, the water levels in the Twin Lagoon can get very deep, so it's advised to always wear life jackets when heading to the water to prevent accidents.
FAQs About Coron, Palawan
How Many Days Do You Need to Spend in Coron?
You need at least three to five days to get the best out of Coron. This gives you enough time to visit the islands, lounge by the beaches, and explore the town. If you're coming from El Nido and you're planning a side trip to Coron, do consider the travel time and allot at least an extra day so your itinerary isn't rushed.
Are There ATM Machines in Coron?
Yes, there are ATM Machines around the city. Take note that additional charges may apply if you plan on withdrawing money. To avoid foreign transaction fees, make sure to change your money to Philippine Peso at the airport since not all areas may have decent money changers.
How Do You Get Around Coron?
As Coron Palawan is a small town, you can get around by walking or taking a tricycle. You can also easily find a tricycle in nearby tourist attractions. If you're going to spend a day exploring different locations, you can charter a tricycle and pay a fixed amount especially if you're visiting far locations.
Additionally, you can also rent a scooter to get around on your own. Most accommodations offer scooter or motorbike rentals paid by the hour or by the day. Along the main road, there are various rentals available as well. Motorbike or scooter rentals start at around 10 USD or more, depending on how long you'll use them.
Is Coron Better Than El Nido?
Coron and El Nido are two beautiful destinations fit for any summer getaway. Although both locations offer picture-perfect beaches and tranquil towns, it's not easy to say that one place is better than the other. El Nido has accessible beaches within a few steps from the town proper while in Coron, you'll have to hop on a boat to get to most of its beaches. If you're a diving enthusiast, Coron is easily the best destination for you. On the other hand, if you're the type that is content with just relaxing by the seashore, then El Nido should be your priority out of the two.
A Must-Visit Summer Destination
With its turquoise waters and rich marine life, a trip to Coron should be on every traveler's list. You'll find picturesque shores with powder-white sand and crystal clear waters and lagoons. Coron, Palawan is also a paradise for divers, thanks to its shipwreck diving sites as well as its thriving coral gardens. If you want to go somewhere with breathtaking beaches minus the lively crowds like those in Boracay, Coron is the place for you.
And with the Filipinos' trademark hospitality and friendliness, you won't feel that you're in foreign territory. If you want to make the most out of your trip to this island paradise, set aside at least three to five days. You can even hop on a ferry and take a trip to El Nido or Puerto Princesa to see what other treasures Palawan has in store for you!