25 Best Shark Diving Destinations in the World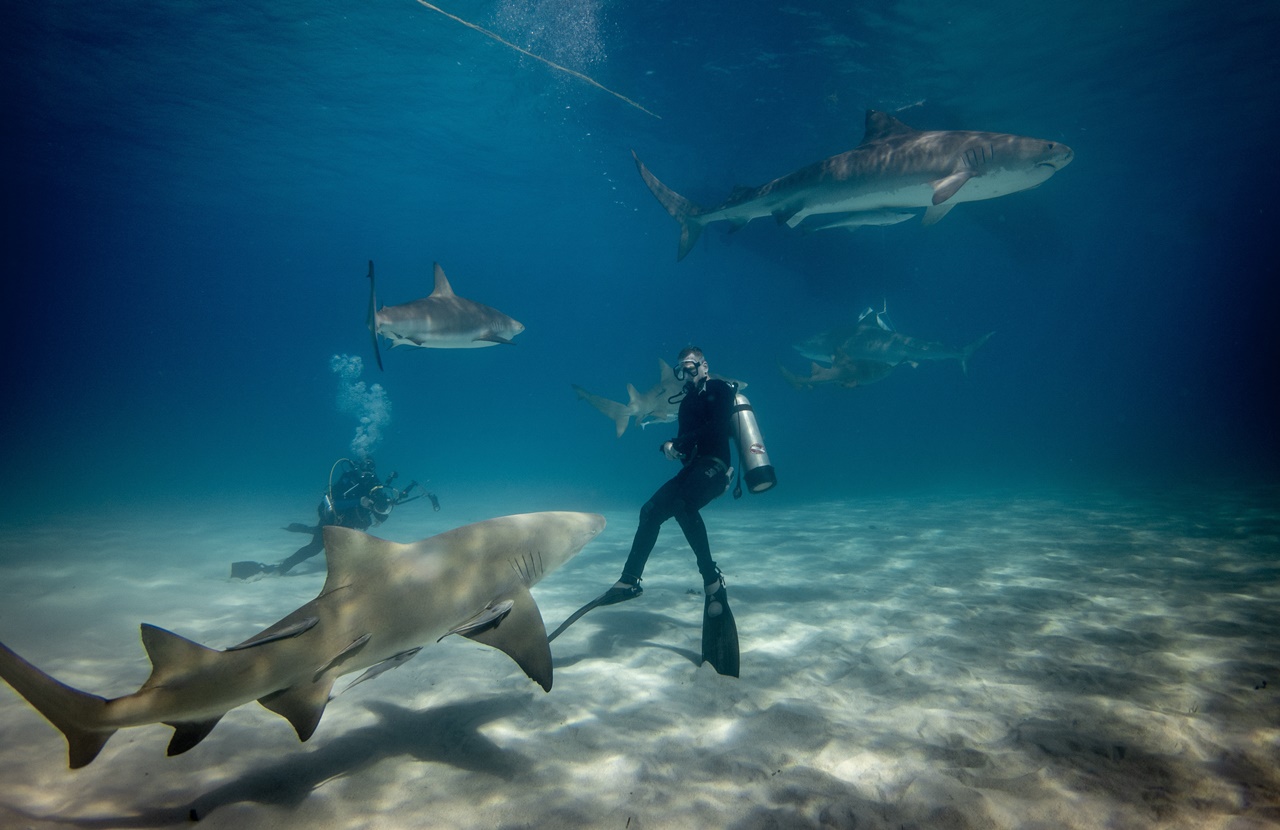 Shark diving is definitely on every diver's bucket list. To be up close with the giants of the underwater world is simply a thrilling experience. With over 400 species of sharks in varying shapes and sizes, who wouldn't want to get a chance to see them for yourself? Despite the controversies surrounding it, diving with the sharks actually contributes to the conservation of these giants. In fact, some of the best dive sites are within marine reserves that help protect these sites. It also brings in opportunities for employment, such as dive guides and tour operators, helping local communities.
So if you've already ticked manta ray diving off your list and you want to try getting close with the sharks, here's a guide on the best hotspots for shark diving in the world!
Misconceptions About Shark Diving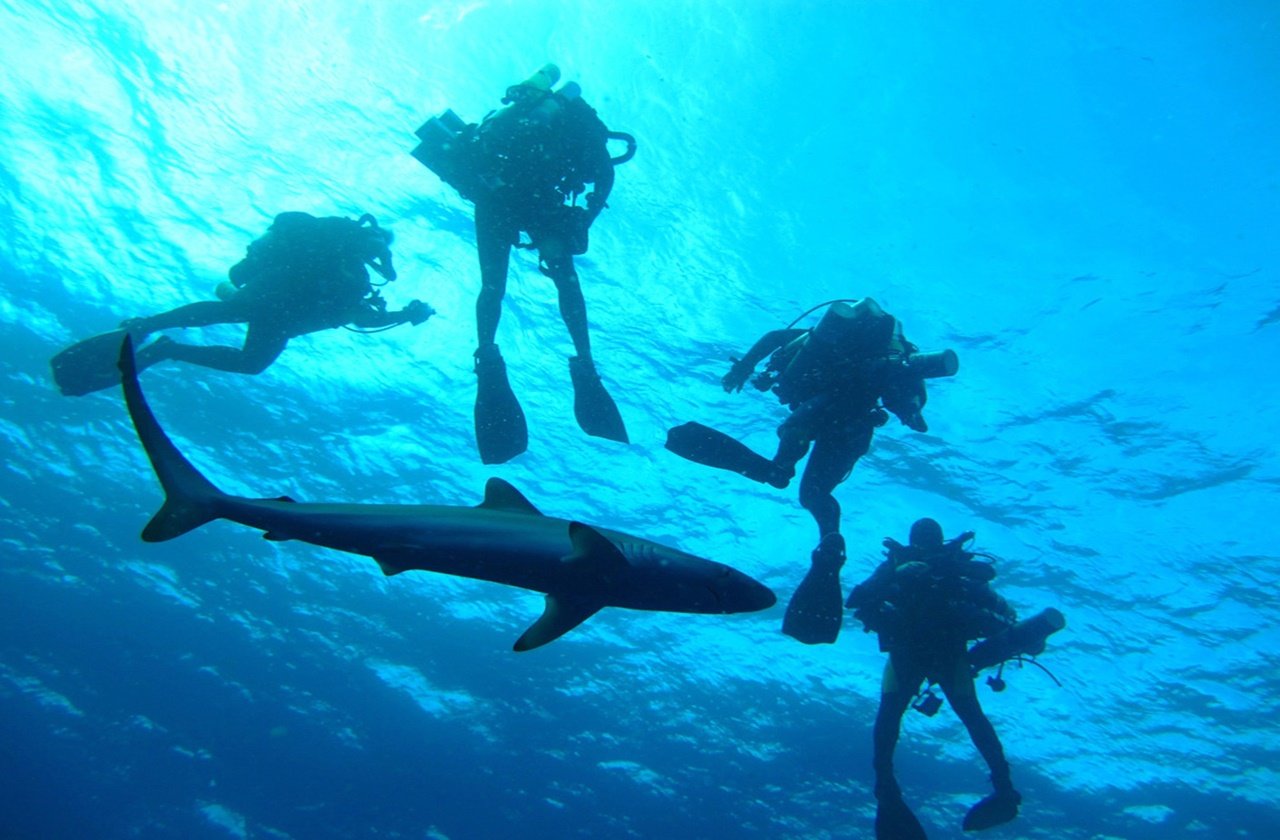 Photo by NOAA Ocean Exploration & Research on Flickr
The activity is dangerous
Although sharks are intimidating, shark diving is not dangerous at all. Sharks do attack humans, but these are rare instances. Additionally, humans are unpalatable to sharks. When you dive with the sharks, your guide and tour operator follow strict protocols to ensure the safety of both yourself and the sharks. When done properly, it is a safe and exciting activity.
Sharks attack people
One is more likely to be struck by lightning than to be killed by a shark. Every year, sharks kill around 80 to 100 people, with some of these being unprovoked attacks. However, this is a small number as compared to the 100 million sharks killed by humans. This only proves that humans are more of a threat to sharks than sharks are to humans.
Shark cage diving is harmful to the sharks
Every human and animal interaction is bound to leave an impact on the animal. However, with shark diving or shark cage diving, the impact is minimal. All tour operators follow a code of conduct and the conditions as indicated in their permit. In shark cage diving, there is little to no impact on the sharks apart from getting the chance to see a human in a cage.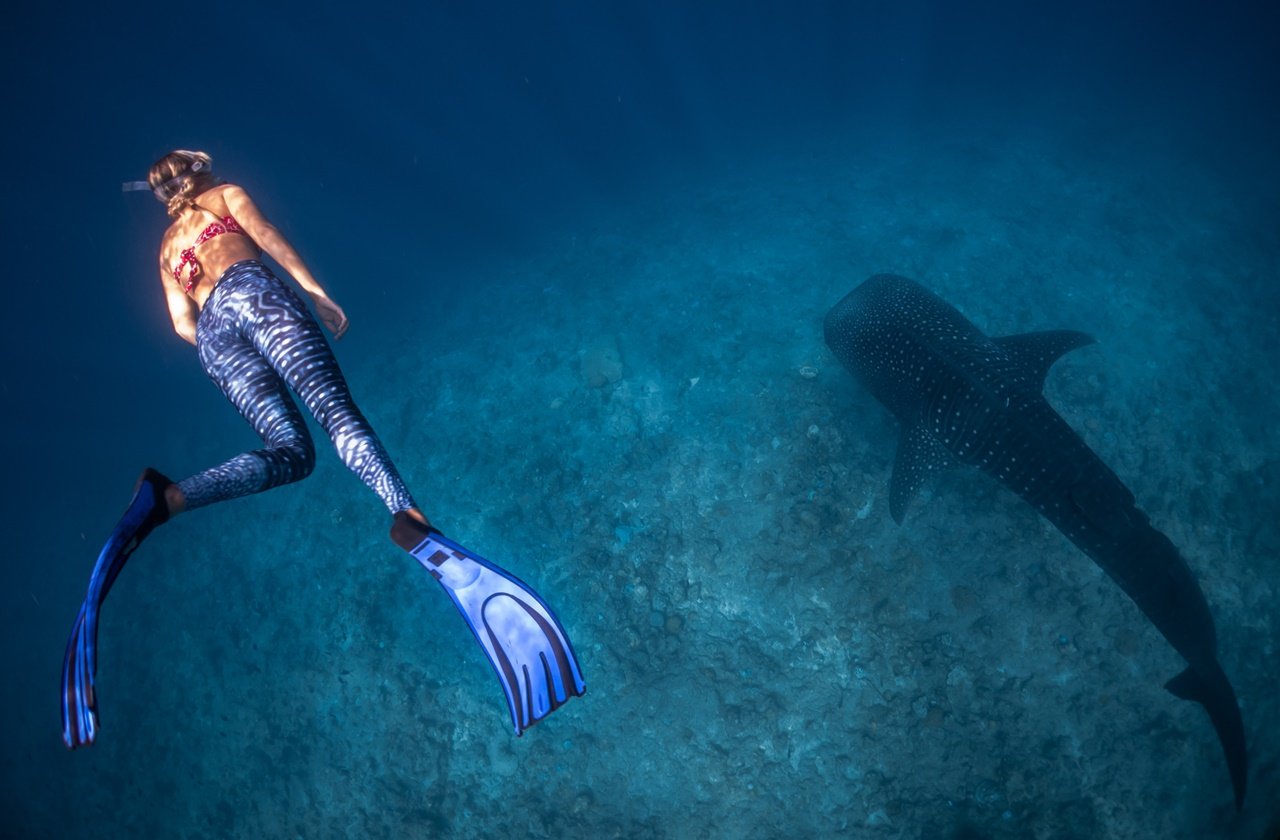 Photo by Sebastian Pena Lambarri on Unsplash
Depending on your location, the activity may cost you 200 USD or more. In Cape Town, diving with sharks costs about 220 USD per day and 1,000 USD and up for five days. On the other hand, in California, it costs 300 USD and up. Take note that the price is only for one day per person and doesn't include other fees like accommodation and transportation.
25 Best Places for Shark Diving in the World
1. Guadalupe Island, Mexico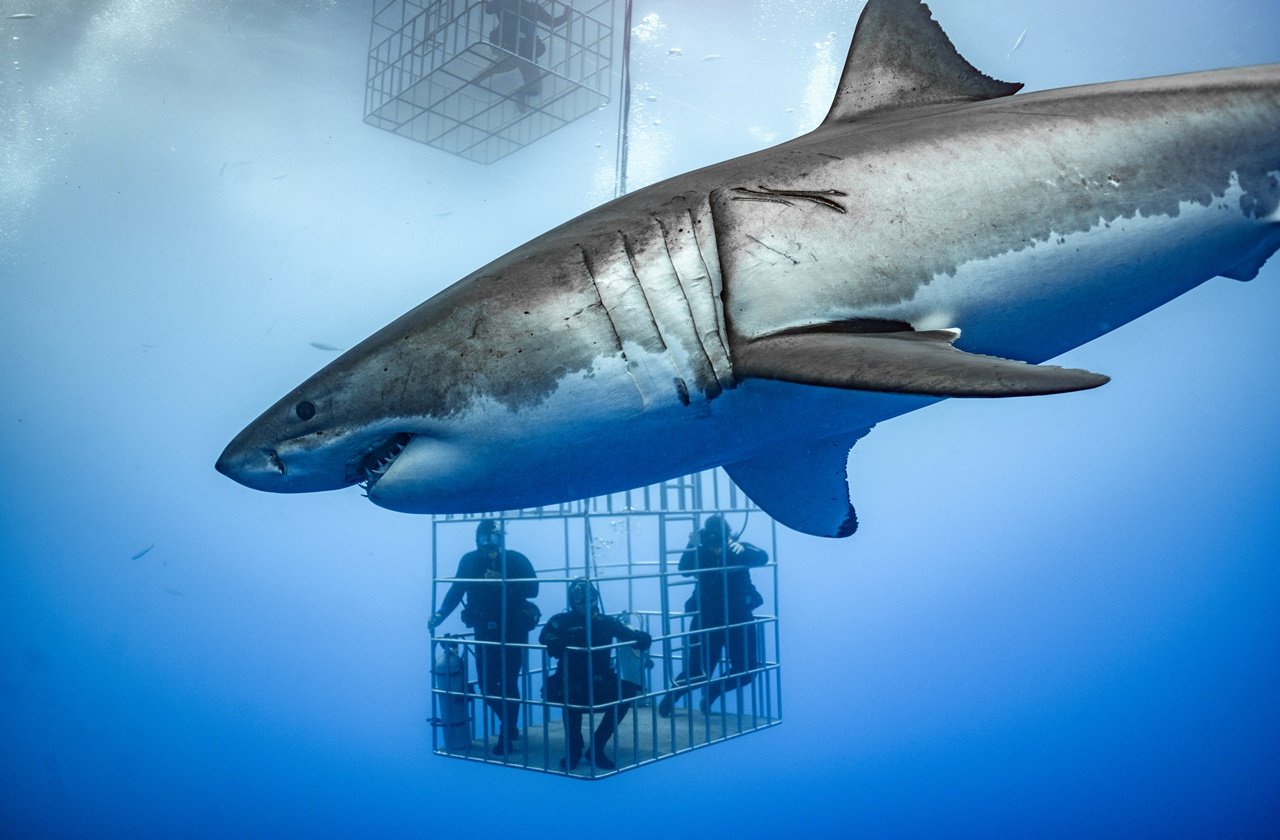 Photo by Sasha on Adobe Stock
Best time to go: July to August, October to November
Guadalupe Island, also known as Isla Guadalupe, is one of the premier shark diving destinations. Accessible only by a liveaboard, expect great visibility that even those onboard can still see these sharks. Get a chance to see several great white sharks at every dive, some of which are the largest ones in the world. Viewing season can start as early as July when the male sharks start to appear. However, you'll find the larger female sharks during the last weeks of October or November.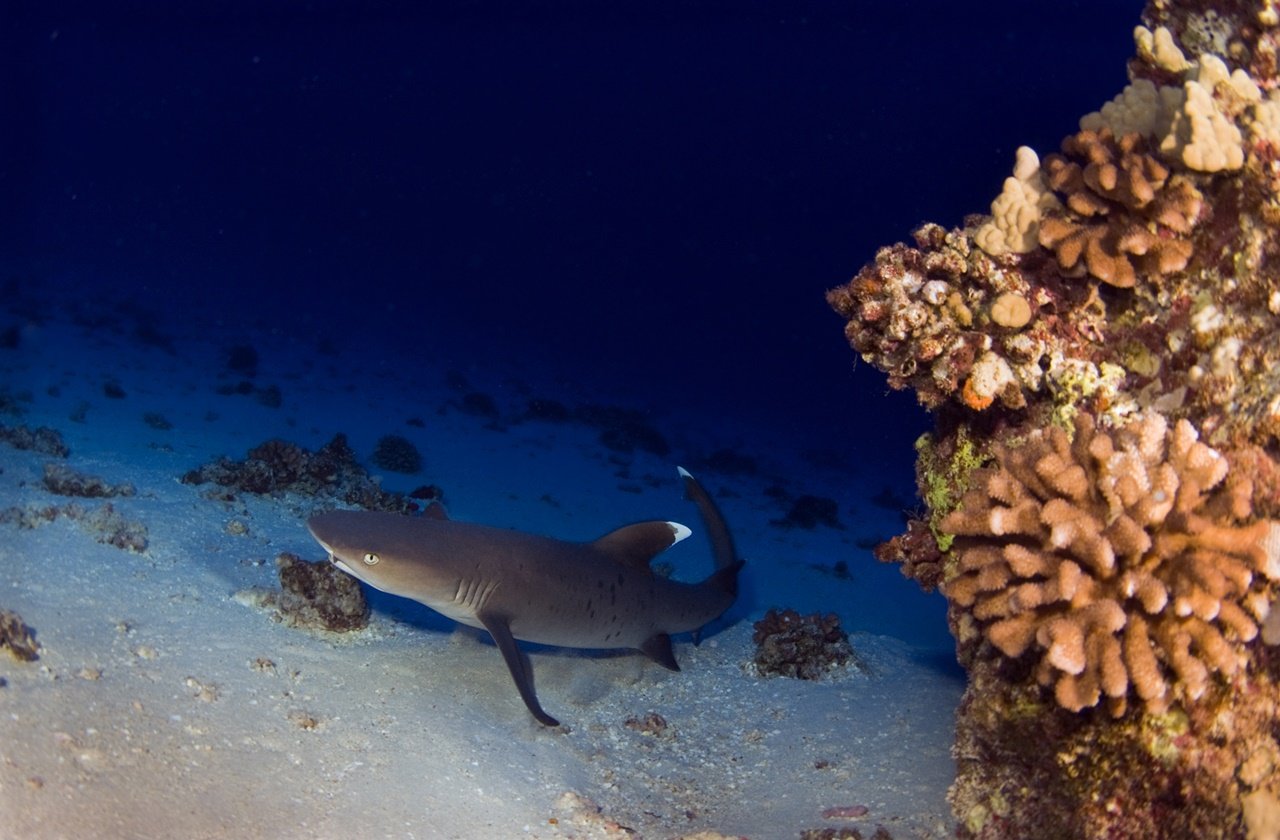 Photo by scubagreg123 on Adobe Stock
Best time to go: April to November
The island of Maui boasts several diving locations and some of the world's best locations to see the sharks. On the island, you'll be able to see different species of sharks including gray reef sharks, sandbar sharks, and the tiger shark. Local activity operators can also give you an insider tip on remote diving sites where you can see scalloped hammerhead sharks. Shark diving rates in Maui start at 199 USD inclusive of weights and air tanks.
3. Grand Bahama Island, Bahamas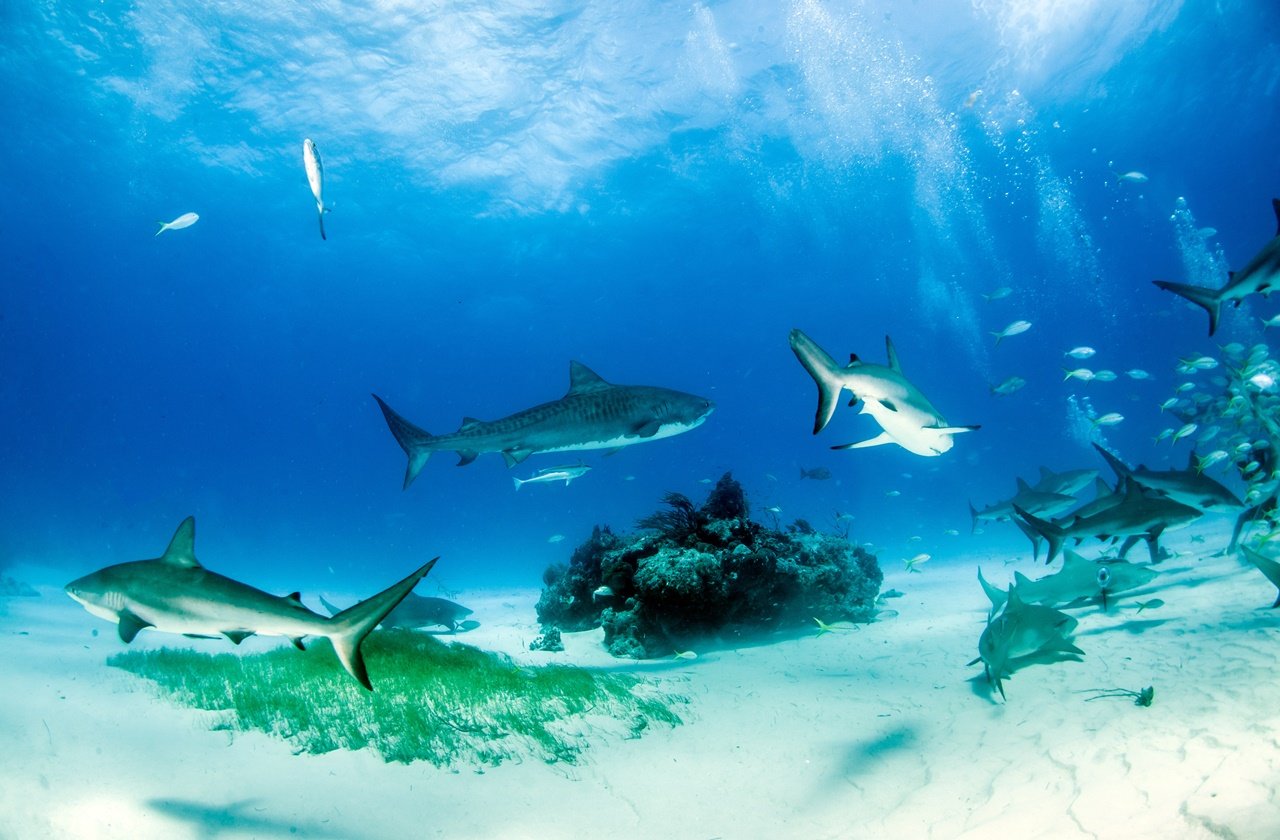 Photo by Michael Bogner on Adobe Stock
Best time to go: October to January
See the famous tiger sharks at Grand Bahama Island. The island is famous for its shallow and sandy diving sites, making it easy for one to see the sharks. Aside from tiger sharks, you'll be able to find other species like lemon sharks, nurse sharks, and even Caribbean reef sharks. While you can see the tiger sharks all year-round, it's best to seize this opportunity and go from October to January when there are many sharks. Don't forget your cameras to immortalize this once-in-a-lifetime experience!
4. Cape Town, South Africa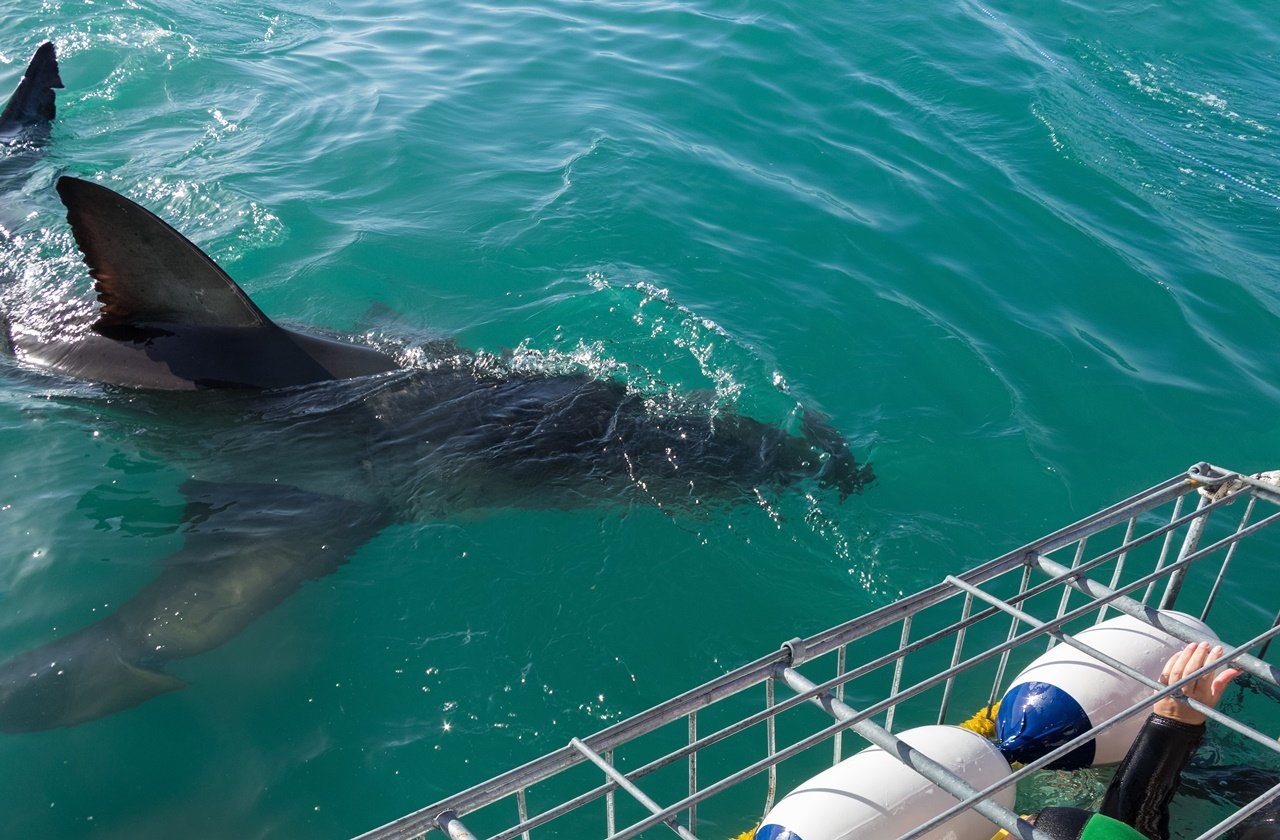 Photo by steheap on Adobe Stock
Best time to go: June to September
Apart from Mexico's Guadalupe Island, Cape Town is another great place to see the great white sharks. Go shark cage diving and learn more about the fascinating shark species from expert on-board marine biologists. For those who are not ready to get an up-close encounter with the sharks, you may view them from the comforts of your boat.
5. Malapascua, Philippines
Photo by bearacreative on Adobe Stock
Best time to go: All-year-round
If you want to see the elusive thresher sharks, head to Malapascua Island located on the northern end of Cebu Island. Monad Shoal is famous for being the only location where you are guaranteed to see the thresher sharks on a daily basis. Meanwhile, in Kimud shoal you'll find hammerhead sharks, with peak viewing season from March to April. Aside from thresher sharks, you can also spot manta and mobula rays as well as other fish species.
6. Great Barrier Reef, Australia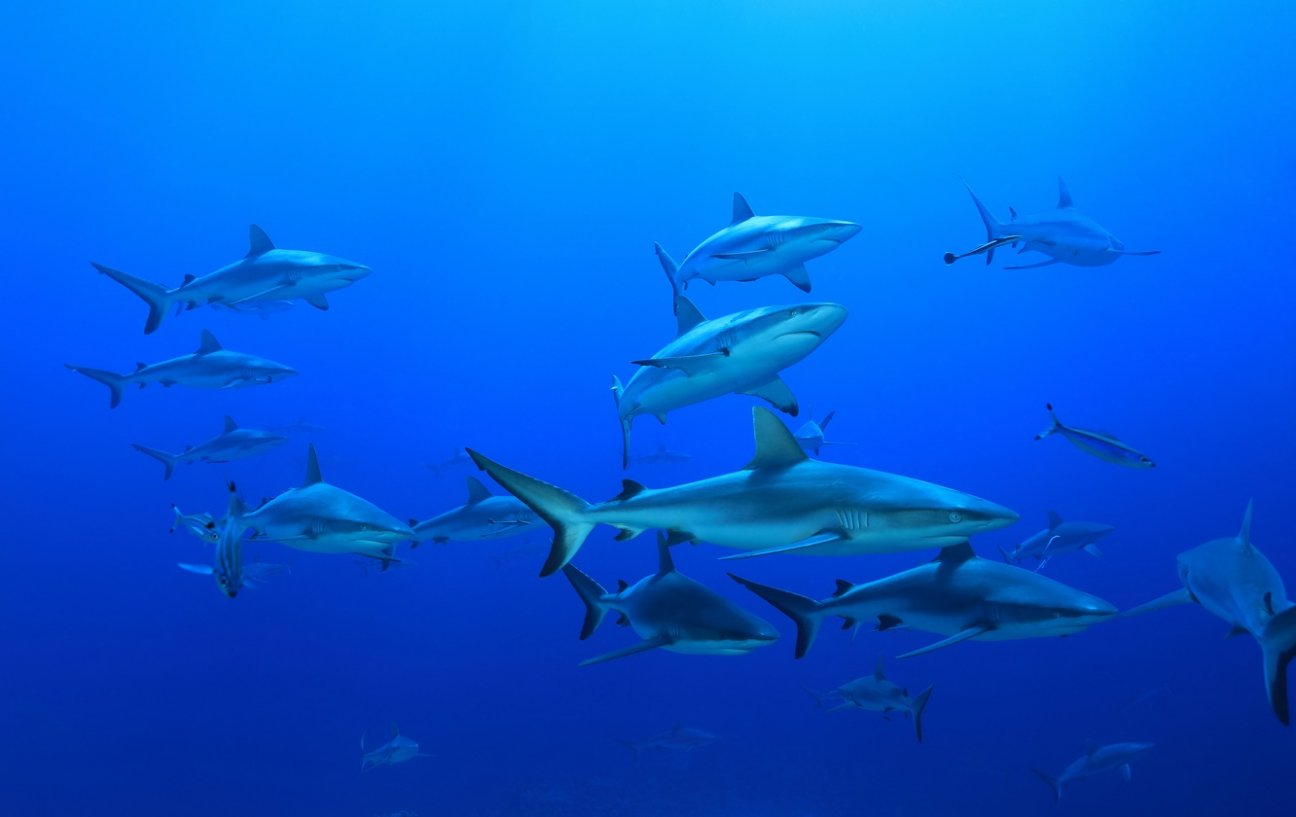 Photo by aquapix on Adobe Stock
Best time to go: August to December
Teeming with colorful corals and thousands of fish species and hundreds of shark species, diving in the Great Barrier Reef is a breathtaking experience. This UNESCO-protected site features some of the world's most stunning coral reefs in addition to several shark species. Some of the sharks you'll encounter here include leopard, whitetip reef, and blacktip reef sharks. These sharks are also harmless, so you're guaranteed a safe and memorable shark diving experience.
7. Galapagos Islands, Ecuador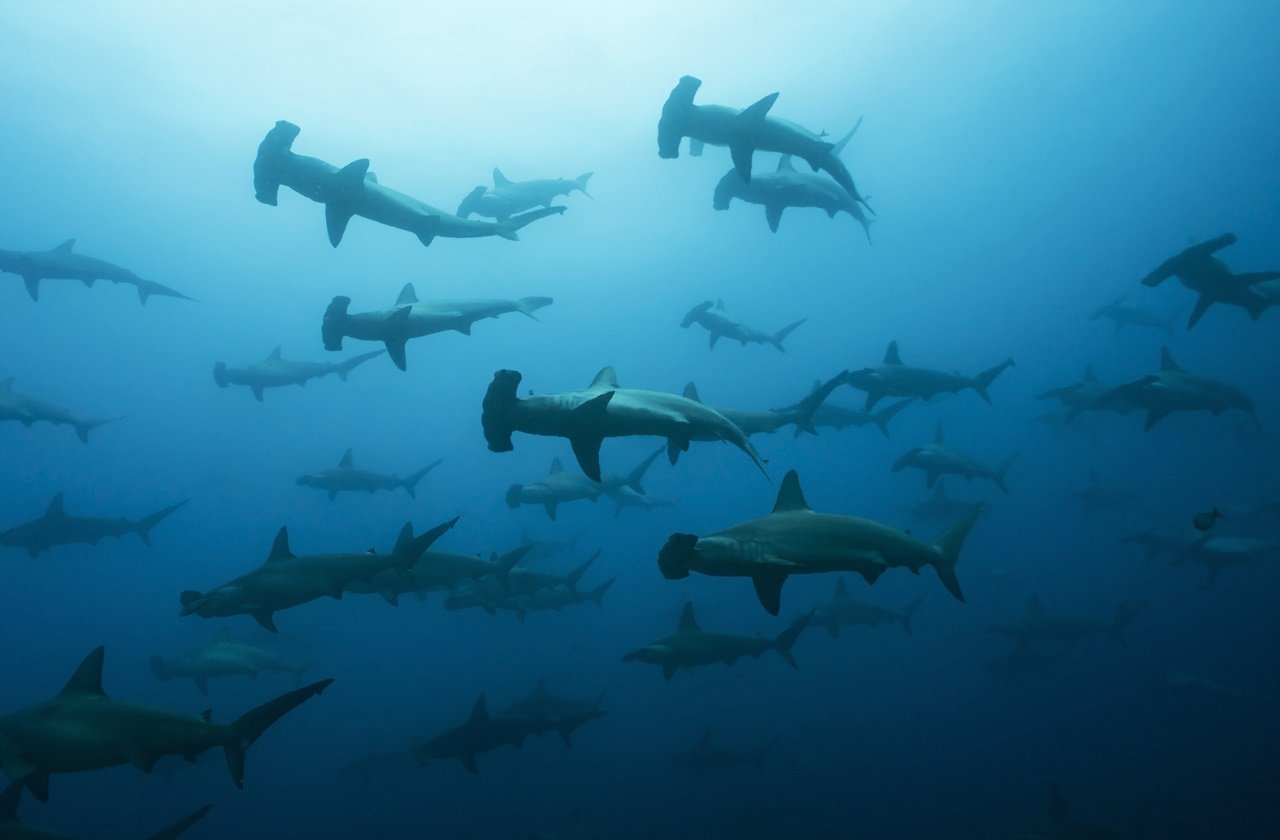 Photo by Janos on Adobe Stock
Best time to go: All-year-round
Get a chance to go up close with the sharks at the historic Galapagos Islands, a mecca for shark diving. Hop on a liveaboard and head to Darwin and Wolf Islands to dive with hundreds of hammerhead and Galapagos sharks. Enjoy the warm water and the abundance of hammerhead sharks and manta rays from January to June. From July onwards, get a chance to see whale sharks in the islands. On your trip to the Galapagos Islands, don't miss the penguins, tortoises, and other endemic iguanas.
8. Gansbaai, South Africa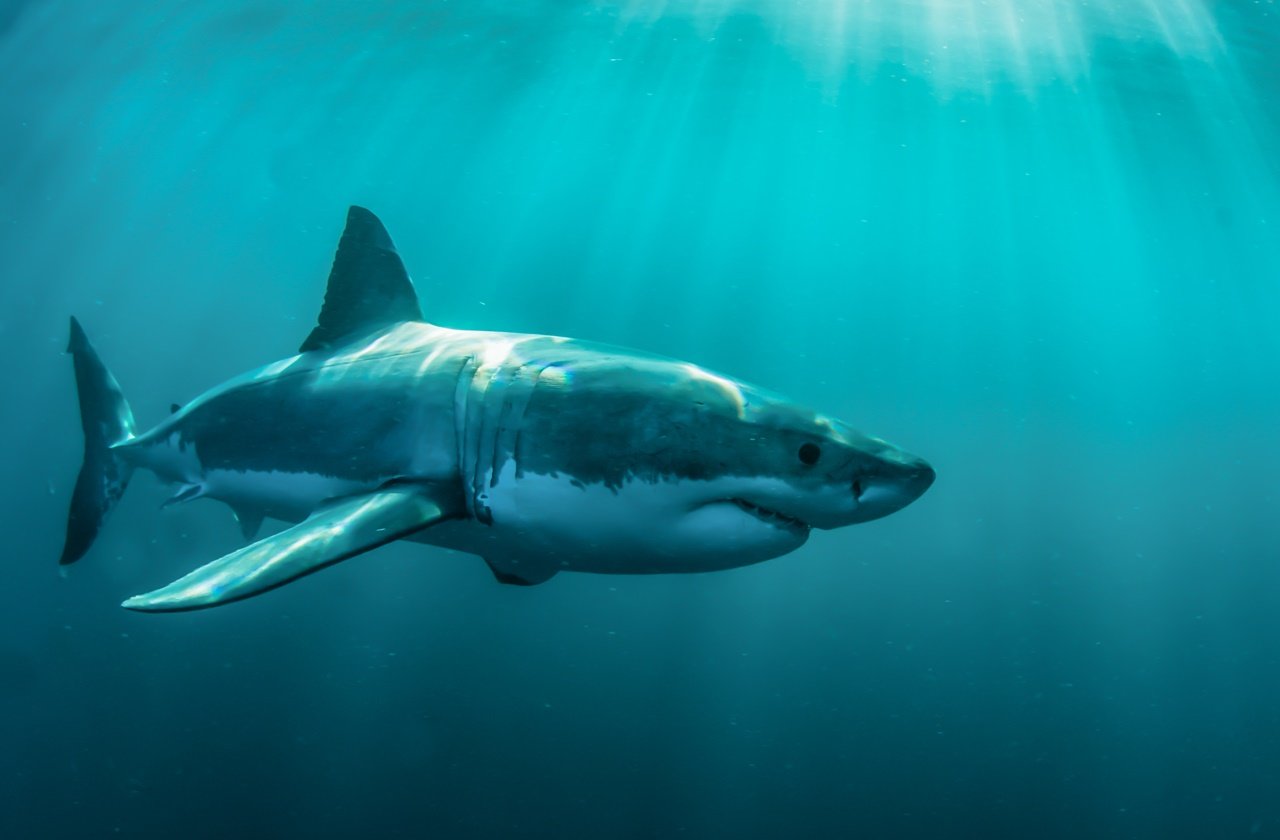 Photo by Fiona on Adobe Stock
Best time to go: June and September
Also known as the Great White Shark Capital of the World, Gansbaai is one of the best places for shark cage diving. Its two islands, Dyer Island and Geyser Island, are home to seals and penguins that attract the great white sharks. At Gansbaai, one shouldn't feel guilty for diving since local communities are involved in marine research and conservation projects that protect the sharks. If you're looking for close encounters with great white sharks, Gaansbai is the place to go.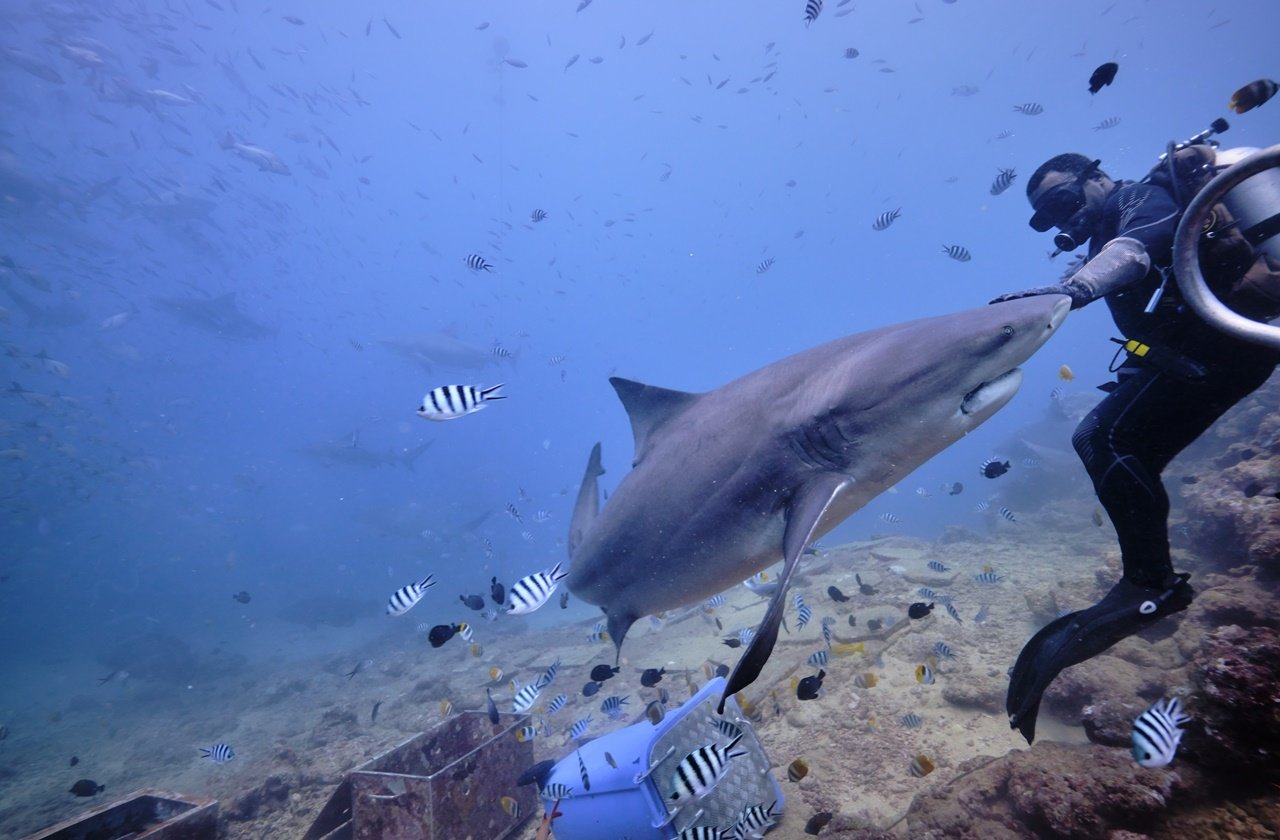 Photo by RyanFowlerPhotograph on Adobe Stock
Best time to go: July to September
Boasting 20 dive sites, Beqa Lagoon promises an epic shark diving experience. The lagoon is also famous for having the Shark Reef Marine Reserve, a marine park dedicated to the research and protection of sharks. Don't miss the chance to dive from July to September, with these months having the best diving conditions, visibility, and water temperature. Additionally, every dive done in the Shark Reef Marine Reserve helps shark research and finances local fishermen. Given these factors, the area is, indeed, one of the best destinations for diving with the sharks.
10. San Diego, California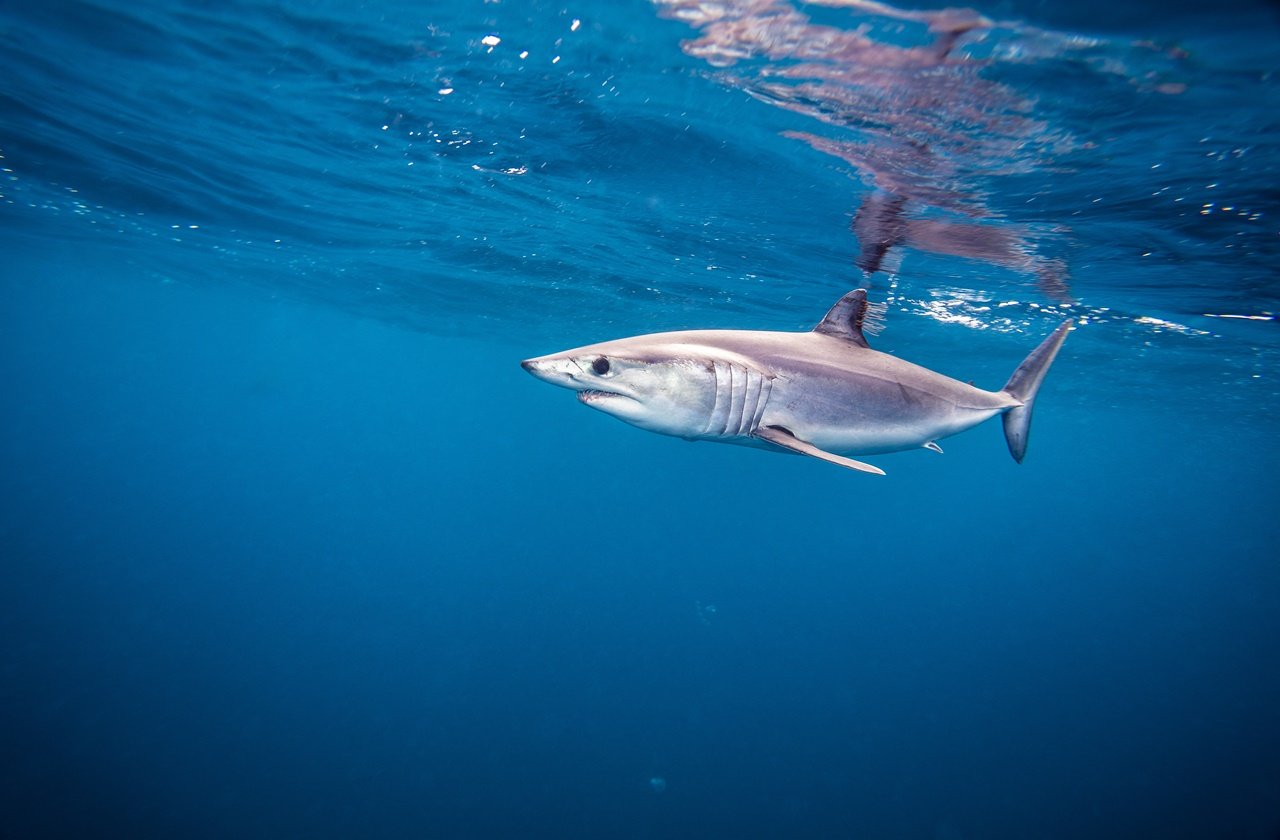 Photo by Bryan on Adobe Stock
Best time to go: June to November
With picturesque coastlines and over 70 miles of pristine beaches, San Diego is one of the best places for shark diving. From June to November, grab the chance to go shark cage diving and see giant blue sharks up close. San Diego is also famous for its shortfin mako sharks, classified as endangered by the International Union for Conservation of Nature (IUCN).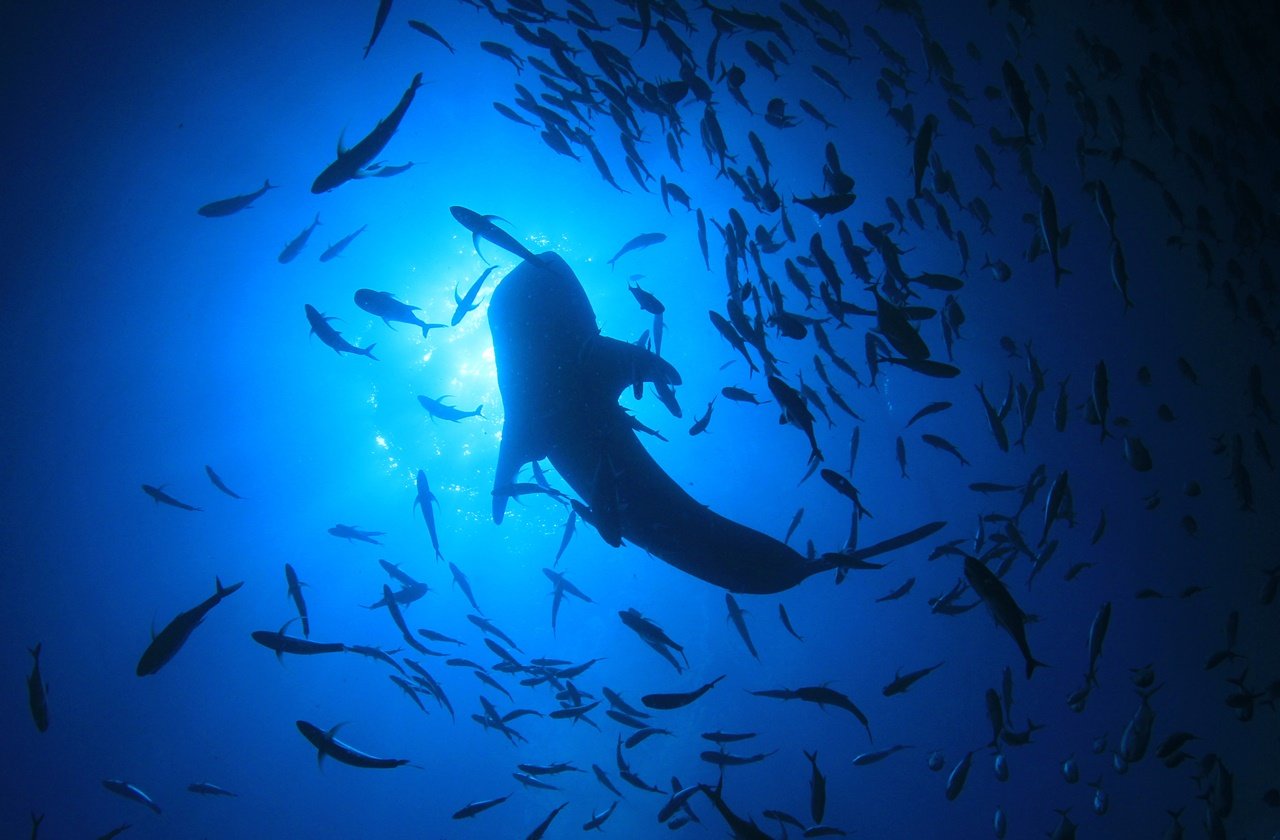 Photo by Richard Carey on Adobe Stock
Best time to go: May and August
While Guadalupe is the Mexican diving destination for great white sharks, Isla Mujeres, on the other hand, is famous for its whale sharks. Between June and September, find hundreds of whale sharks flocking to the island mainly because of the planktons. After your exciting shark dive, head to Playa Norte and relax or take a dip in its pristine waters. If you want to see more of the whale sharks, you can also go to Oslob in Cebu during summer.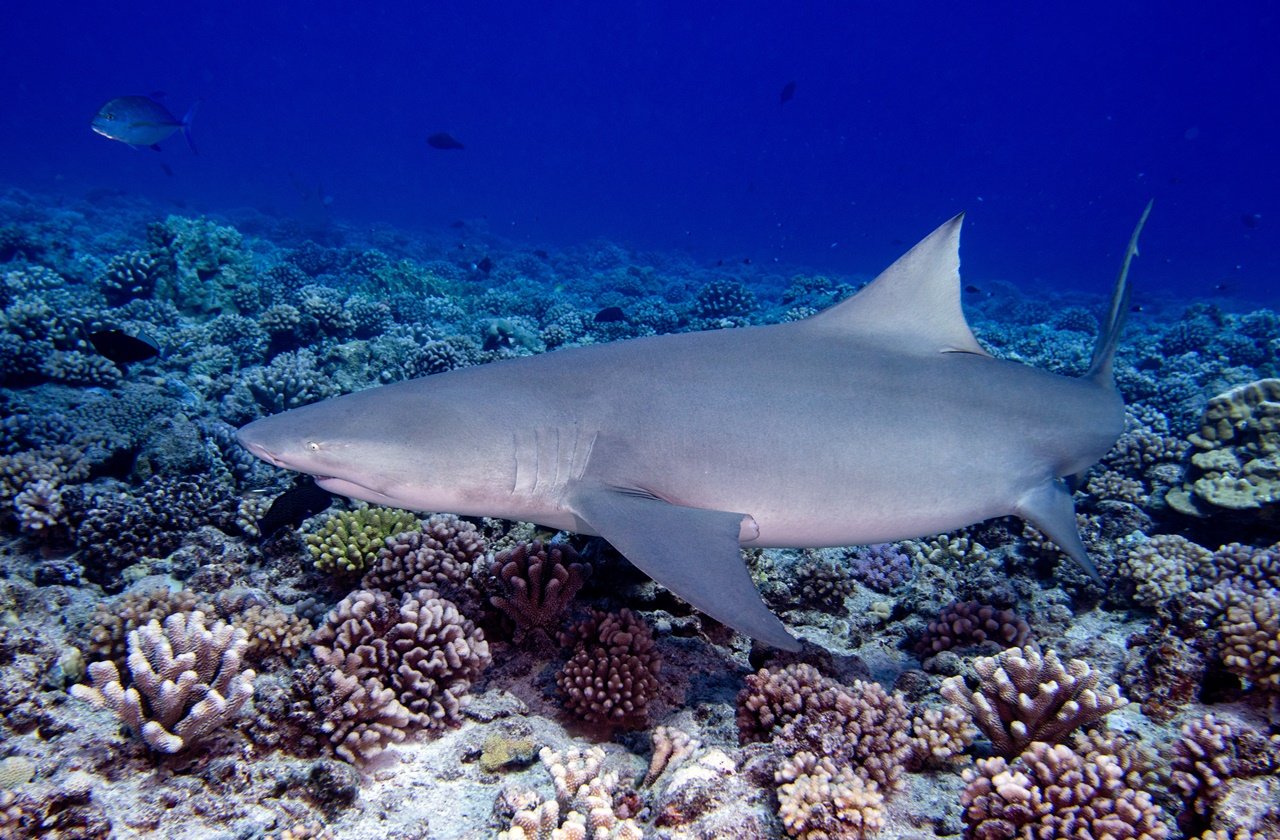 Photo by Andrea Izzotti on Adobe Stock
Best time to go: January to June
Rocas Atoll is a UNESCO-listed site that is also home to a considerable population of lemon sharks. It is also known for its diverse marine life, boasting several species of tropical fish and coral reefs. Aside from the gentle lemon sharks, you'll also find reef sharks and nurse sharks hiding in the corals. Diving in Rocas Atoll is a relatively safe experience so you won't be needing a cage to go underwater.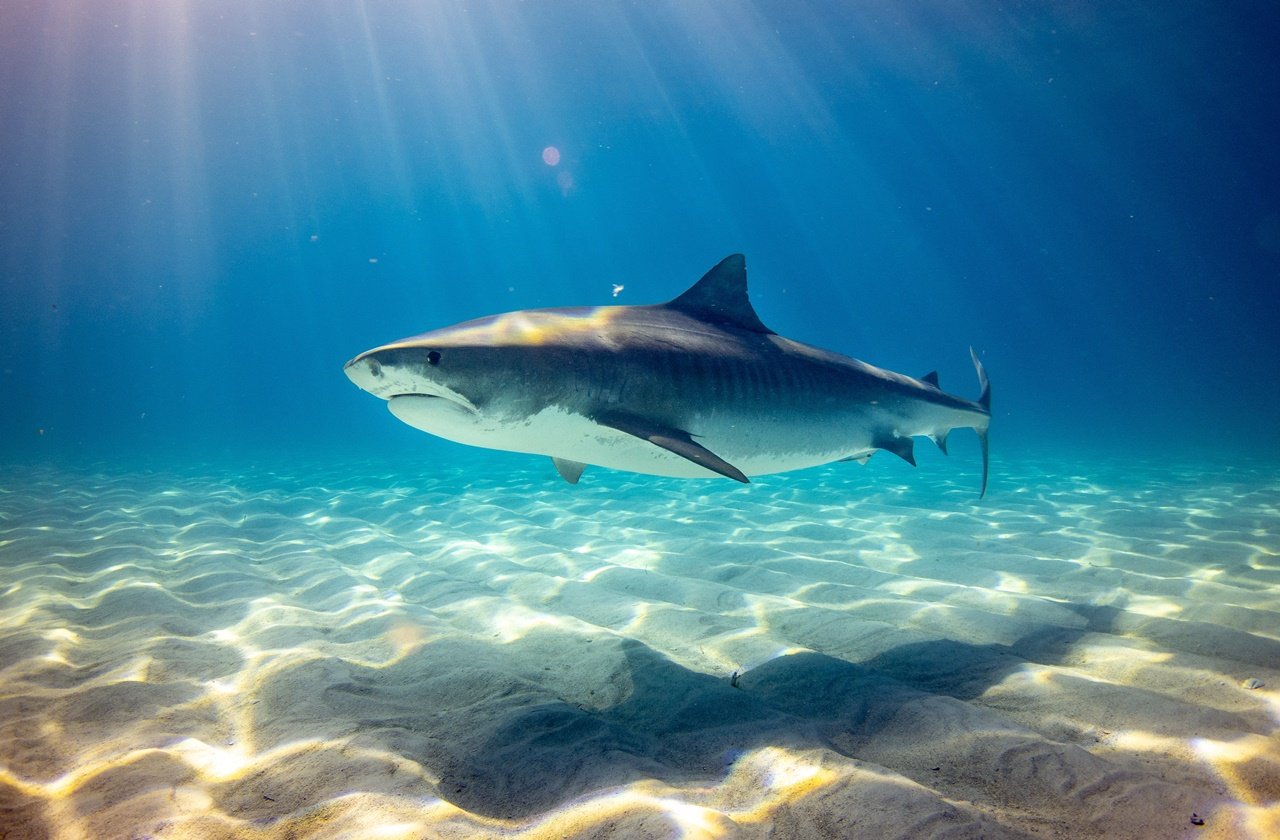 Photo by Gerald Schömbs on Unsplash
Best time to go: October to June
Bahamas' capital city isn't just famous for its lively culture and casinos, but it's also well-known for its dive sites. If you want to come face-to-face with a reef shark, Nassau is your best choice. The capital draws in plenty of divers to witness shark feeding, wherein divemasters clad in chainmail go underwater carrying chum buckets to attract sharks. Other species you may encounter include tiger sharks, nurse sharks, whitetip, and blacktip reef sharks.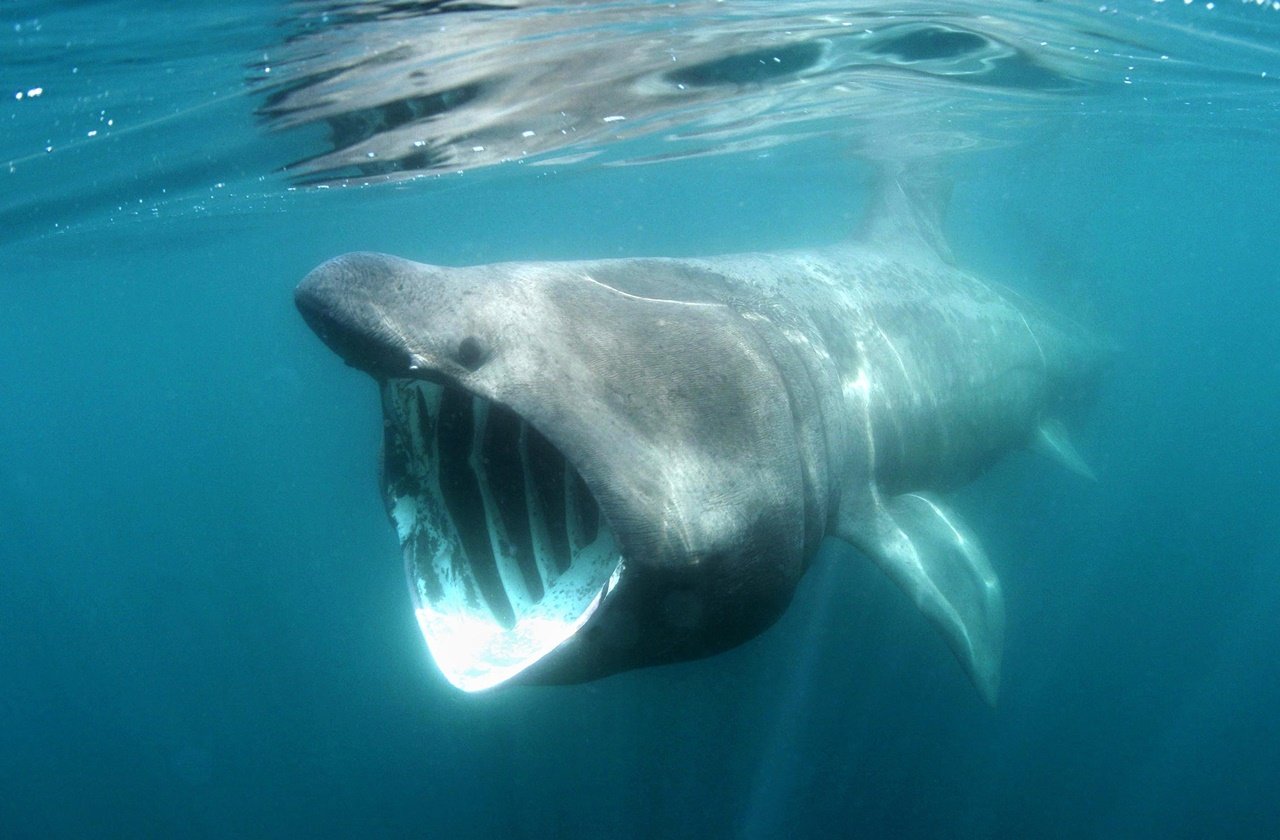 Photo by Simon on Adobe Stock
Best time to go: May to September
Get a chance to see the second biggest shark species in Oban, Scotland! Basking sharks are one of the few plankton-eating shark species and can grow up to 12 meters. Join a guided expedition to Oban and take the opportunity to see these gentle giants pass you by. During the high season, hundreds of basking sharks head to Oban and Hebrides. If you can handle the cold waters of the Scottish Coast, this is an experience you shouldn't miss!
15. Cocos Island, Costa Rica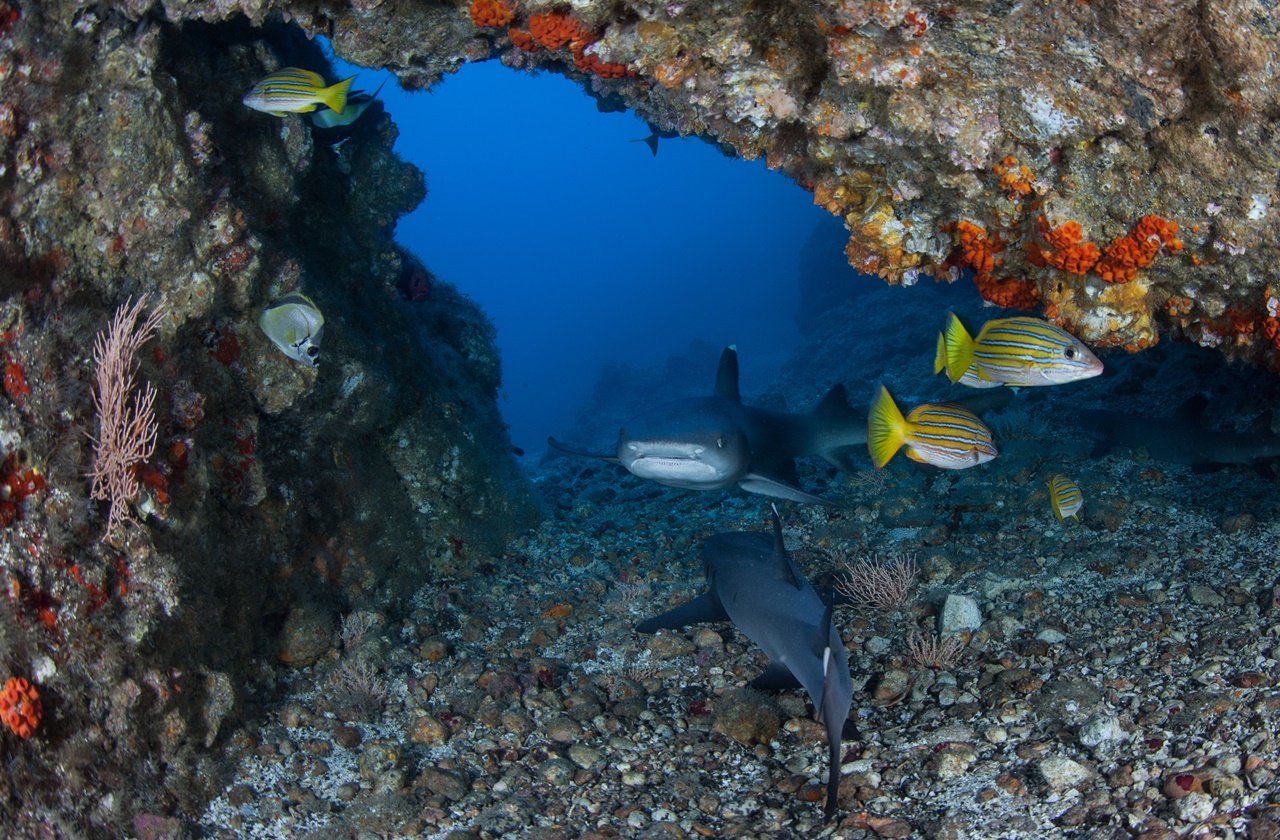 Photo by ead72 on Adobe Stock
Best time to go: All-year-round
Find hundreds of Caribbean reef and hammerhead sharks at Cocos Island in Costa Rica. Experience cage-free diving in one of the world's largest uninhabited islands, only accessible by a liveaboard. You can dive at Cocos Island all-year-round, but if you want the best marine life, go from June to November. On the other hand, if you want the best and safest water conditions, plan your trip from December to May.
16. Rangiroa, French Polynesia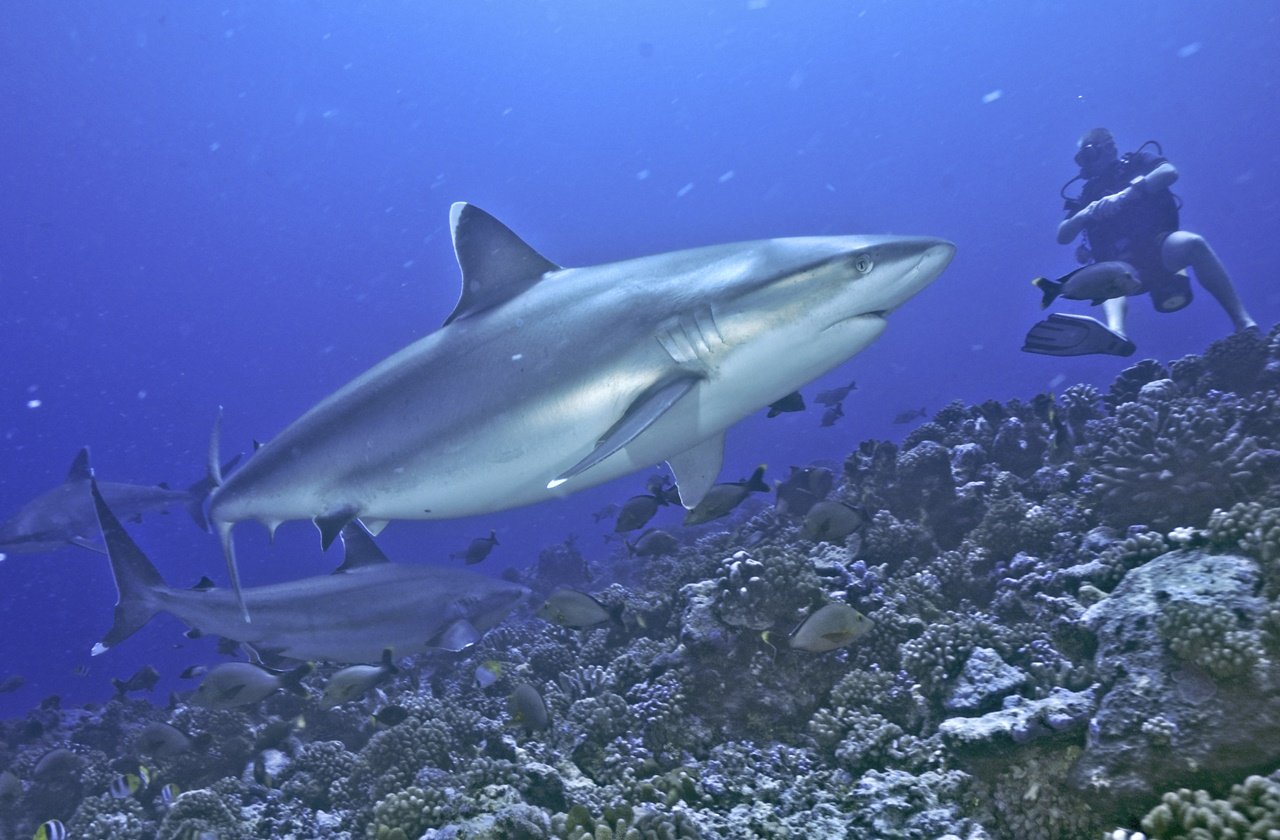 Photo by rangiroa on Adobe Stock
Best time to go: January to March, June to July
Shark diving at Rangiroa is nothing short of amazing. In Tiputa Pass, you may even find yourself surrounded by hundreds of sharks in a single dive. The water's visibility also makes it perfect for underwater photography. Find great hammerheads and gray reef sharks as well as silvertip reef sharks all-year-round. Other highlights in Rangiroa include wrecks from World War II, an inter-island ferry, and a seaplane experience.
17. Seal Island, South Africa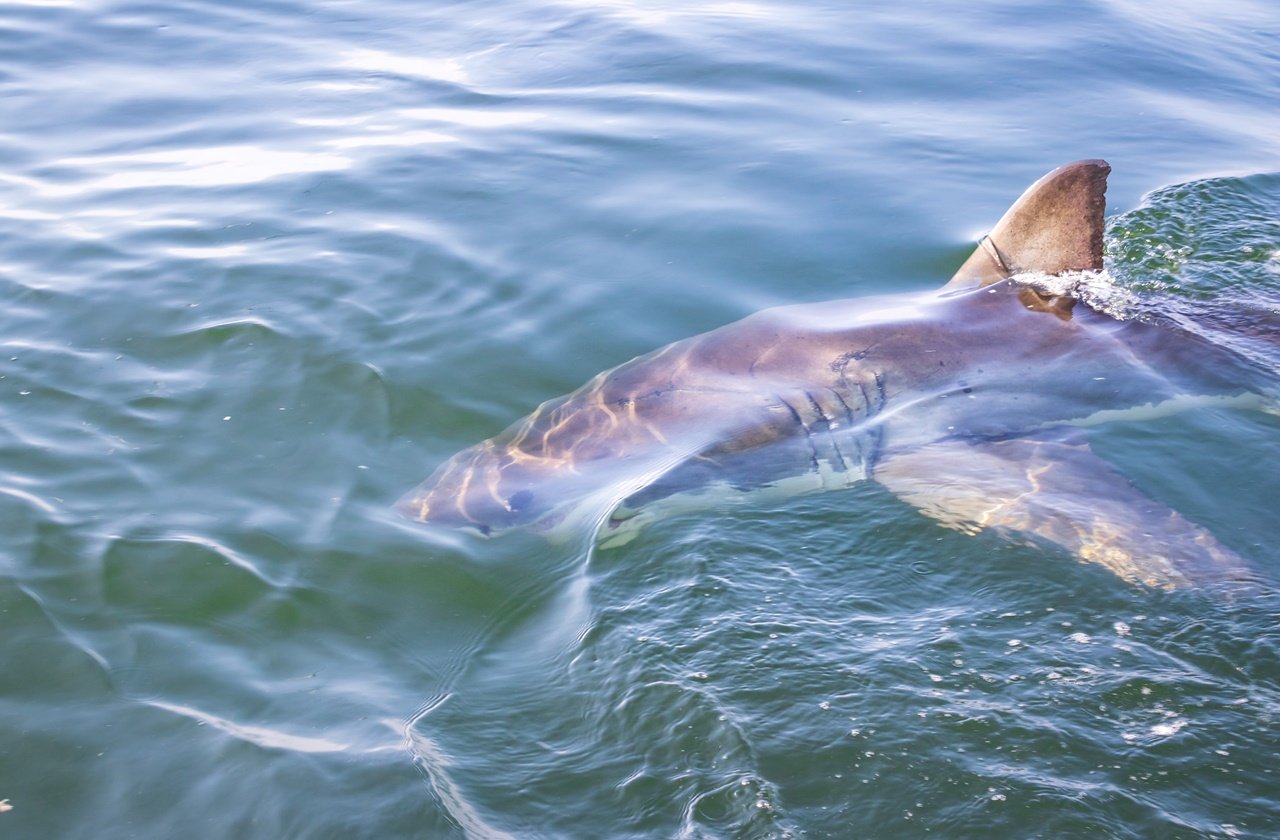 Photo by Ava Peattie on Adobe Stock
Best time to go: April to September
Named after its huge population of seals, Seal Island in South Africa is another great destination for cage diving with the sharks. Thanks to its population of seals, the island attract plenty of sharks. If you're observing from the boat, you may even get a chance to see a shark lunging out of the water as it catches its prey. Although the water visibility isn't the greatest, coming face to face with a great white shark makes up for it.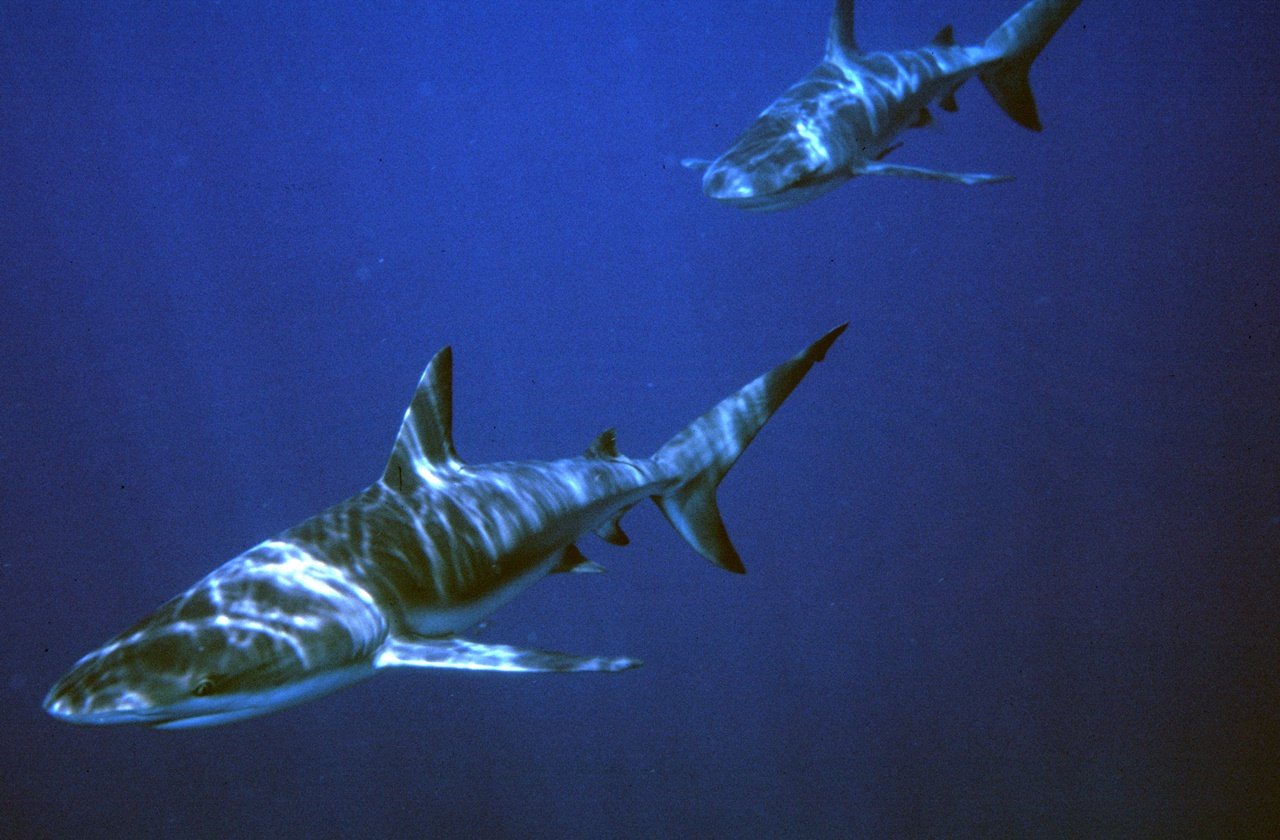 Photo by kim osborn on Adobe Stock
Best time to go: All-year-round
Fish Rock is one of the most famous diving sites for sharks in Australia. This small outcrop in the New South Wales coast is bursting with marine life, perfect for divers and even marine photographers. See several sand tiger sharks and gray nurse sharks, a shark species close to extinction in the country. They might look dangerous because of their teeth, but they're meant to grip fish and not harm humans. The best part is, you can enjoy diving in Fish Rock all-year-round!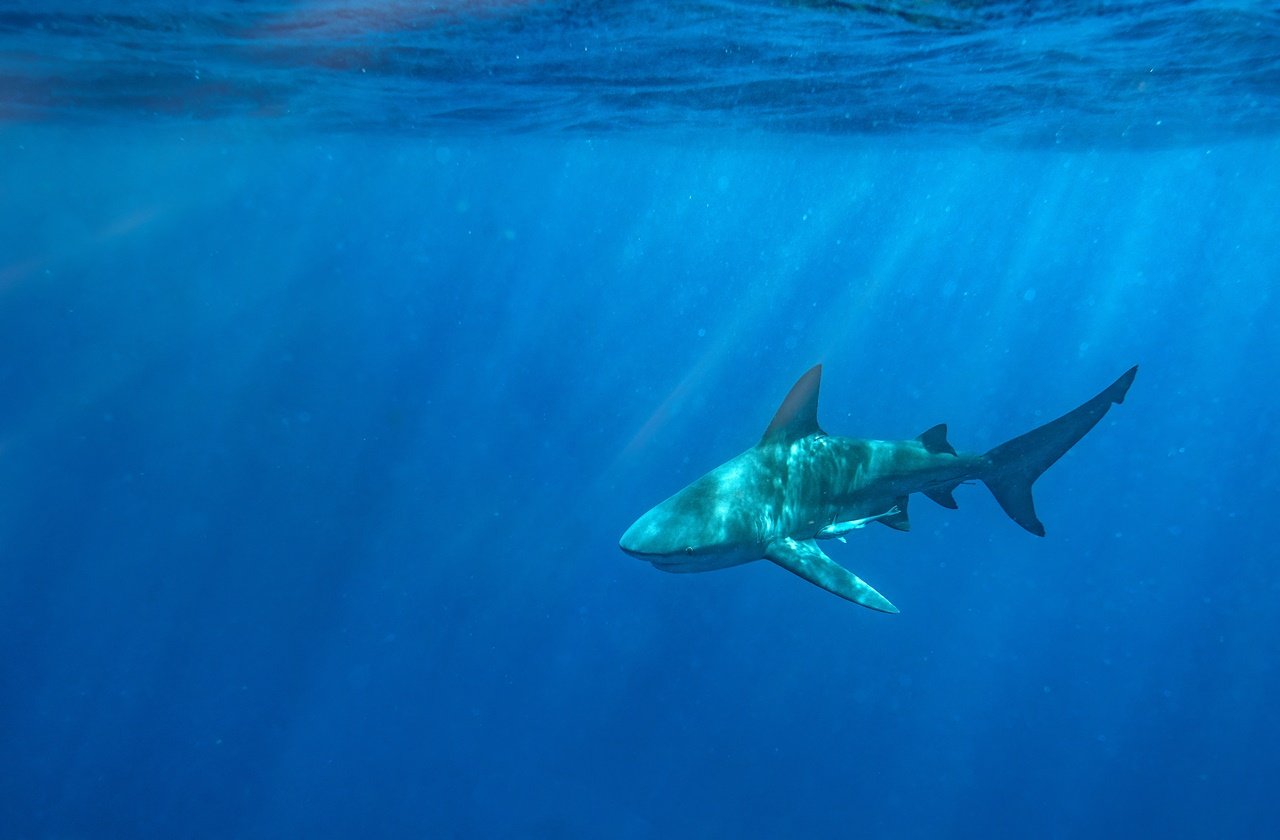 Photo by Harry Collins on Adobe Stock
Best time to go: December to March
If you want to see lemon sharks in the US, head to Jupiter, located on the southeastern coast of Florida. The city became famous in the shark diving scene because lemon sharks migrate along its shores in winter. While you can find these shark species in the Atlantic and Pacific waters, Jupiter brings you the best opportunities to see them in groups. Dive within the winter months and you might be able to see more than 50 of these sharks in one dive.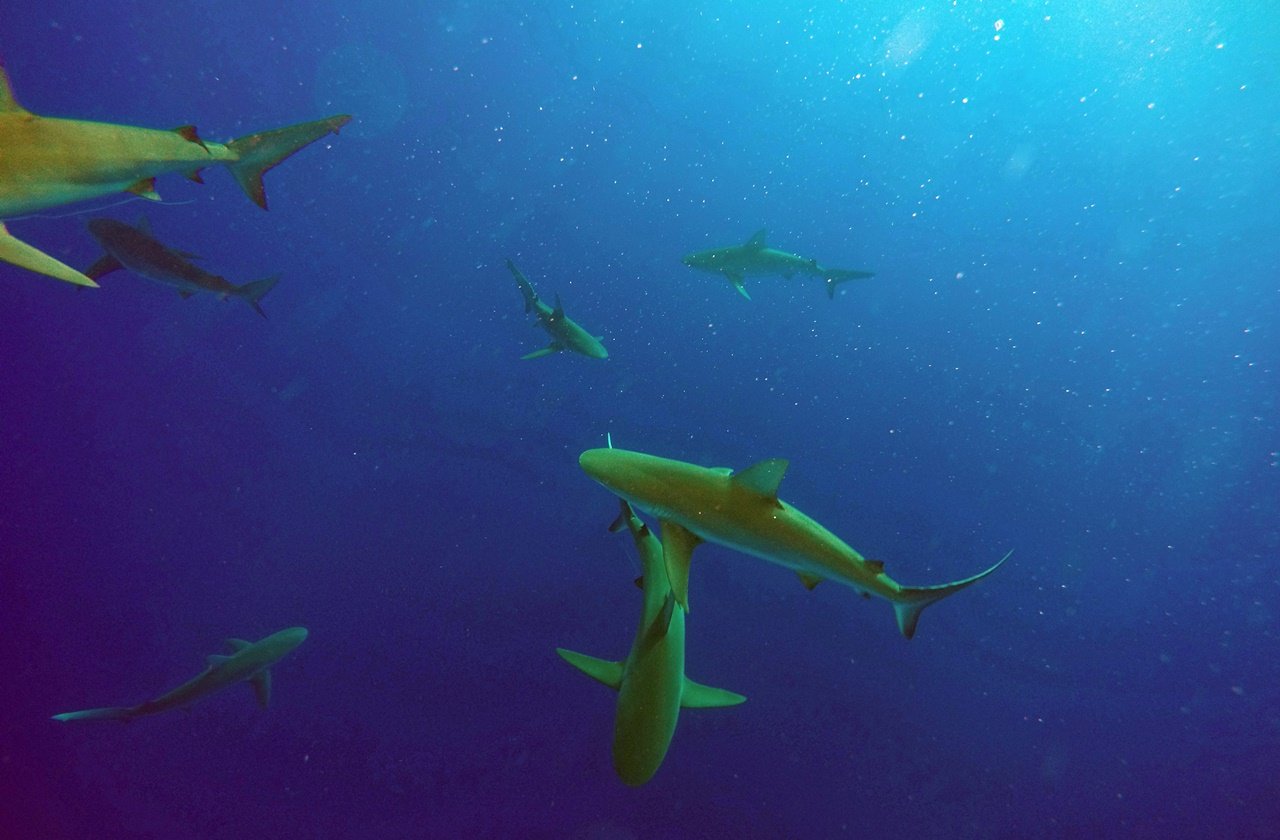 Photo by Ken on Adobe Stock
Best time to go: April to November
Go shark diving in Oahu if you want to get a chance to swim with the tiger sharks. While the island is famous for scuba diving, there are also plenty of shark cage diving sites. Spot sharks as small as five feet and as long as fifteen feet from your cage. For the brave ones, skip the cage and go free diving with these majestic creatures!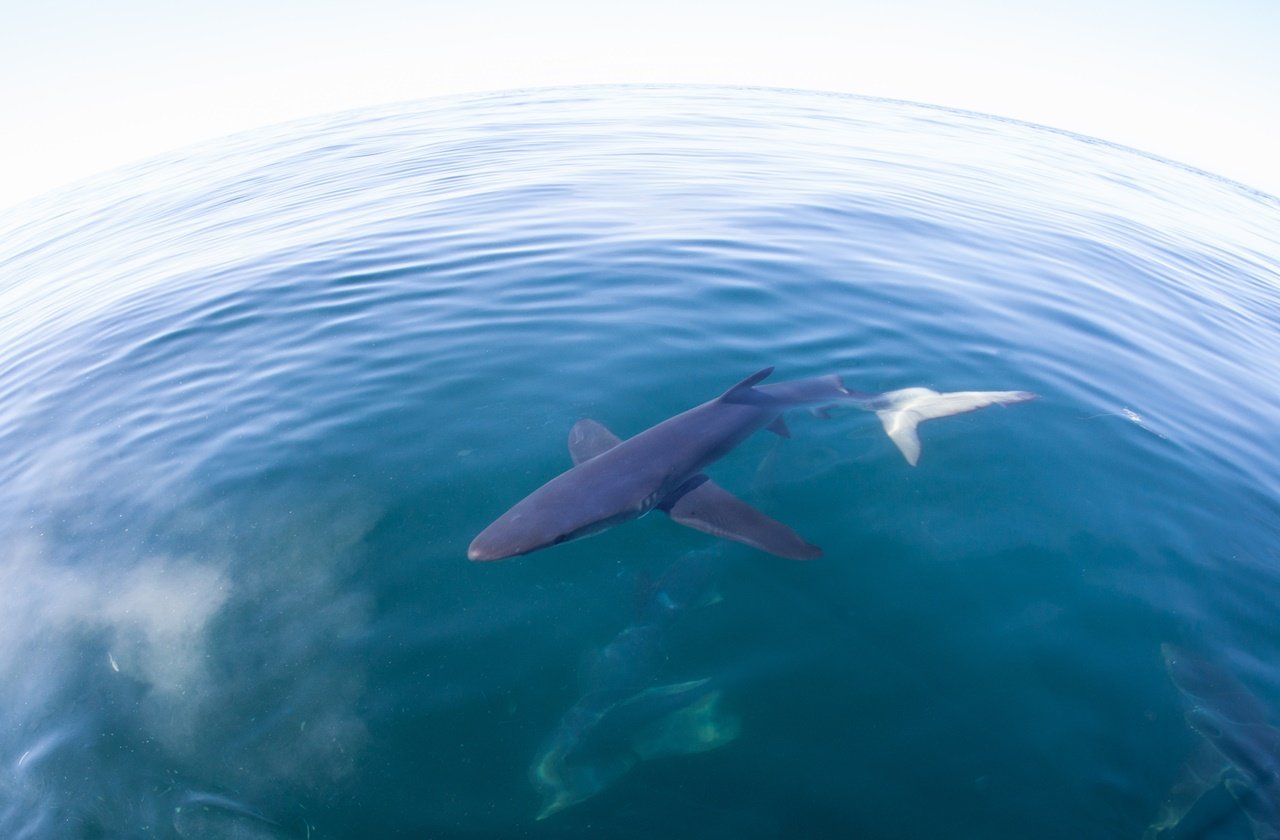 Photo by ead72 on Adobe Stock
Best time to go: June to September
If you're in the US, visit Rhode Island to catch sharks mid-migration. From June to September, find migratory sharks making a pit stop before going to the South American coast. Between July and October, get a chance to see blue sharks, while basking sharks are common in June. However, mako sharks are more common in the area. You can either go cage diving, freediving, or snorkeling to see the mako and blue sharks. After an adrenaline-pumping dive with the sharks, head to some of the best beaches in Rhode Island to relax!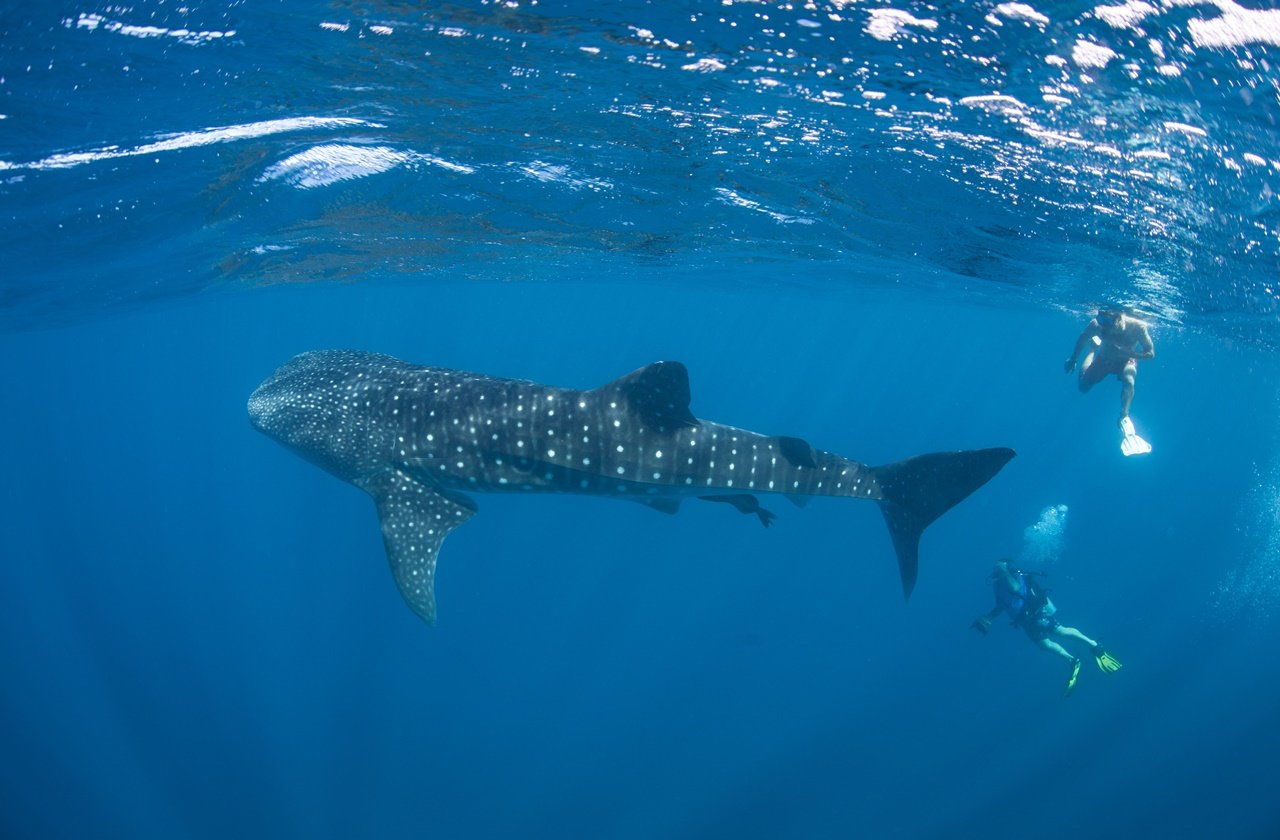 Photo by ead72 on Adobe Stock
Best time to go: March to June
Open to divers and snorkelers, Placencia in Belize promises unforgettable whale shark encounters. The area is famous because of the fish eggs from snappers, attracting the gentle shark species. Although March to June is the peak season for shark diving, the best times to encounter whale sharks are during the full moon of each month. Make the most out of your trip to Placencia and go spelunking to explore ancient artifacts after going underwater!
23. Aliwal Shoal, South Africa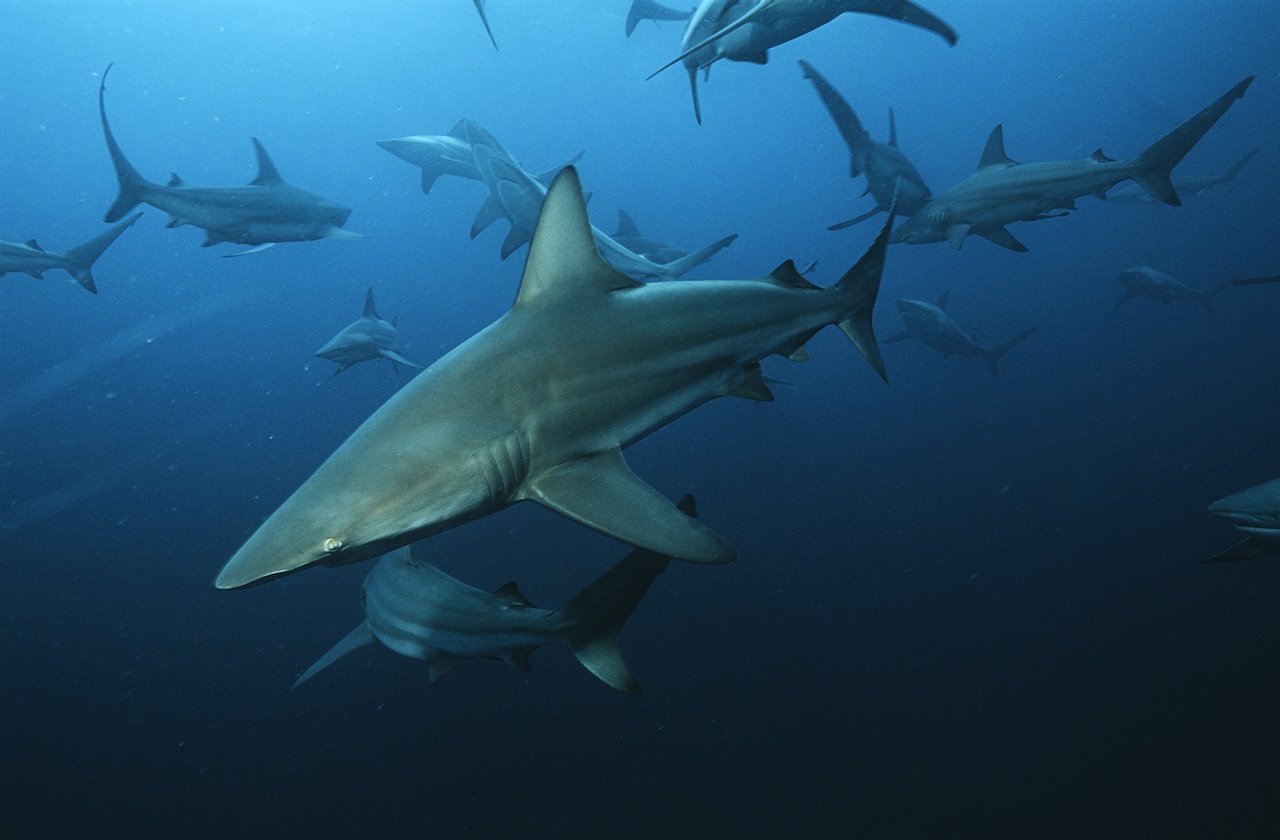 Photo by moodboard on Adobe Stock
Best time to go: March to July
Aliwal Shoal is perhaps the best destination for baited dives, where sharks are attracted by pieces of fish. The shoal is also home to over a thousand species of fish, stunning corals, and even turtles and manta rays. As for sharks, find sand tiger sharks, bull sharks, and hammerhead sharks in rare instances. Shark diving in Aliwal Shoal is possible throughout the year. But for the best water and marine conditions, go from March to July.
24. Jardines de la Reina, Cuba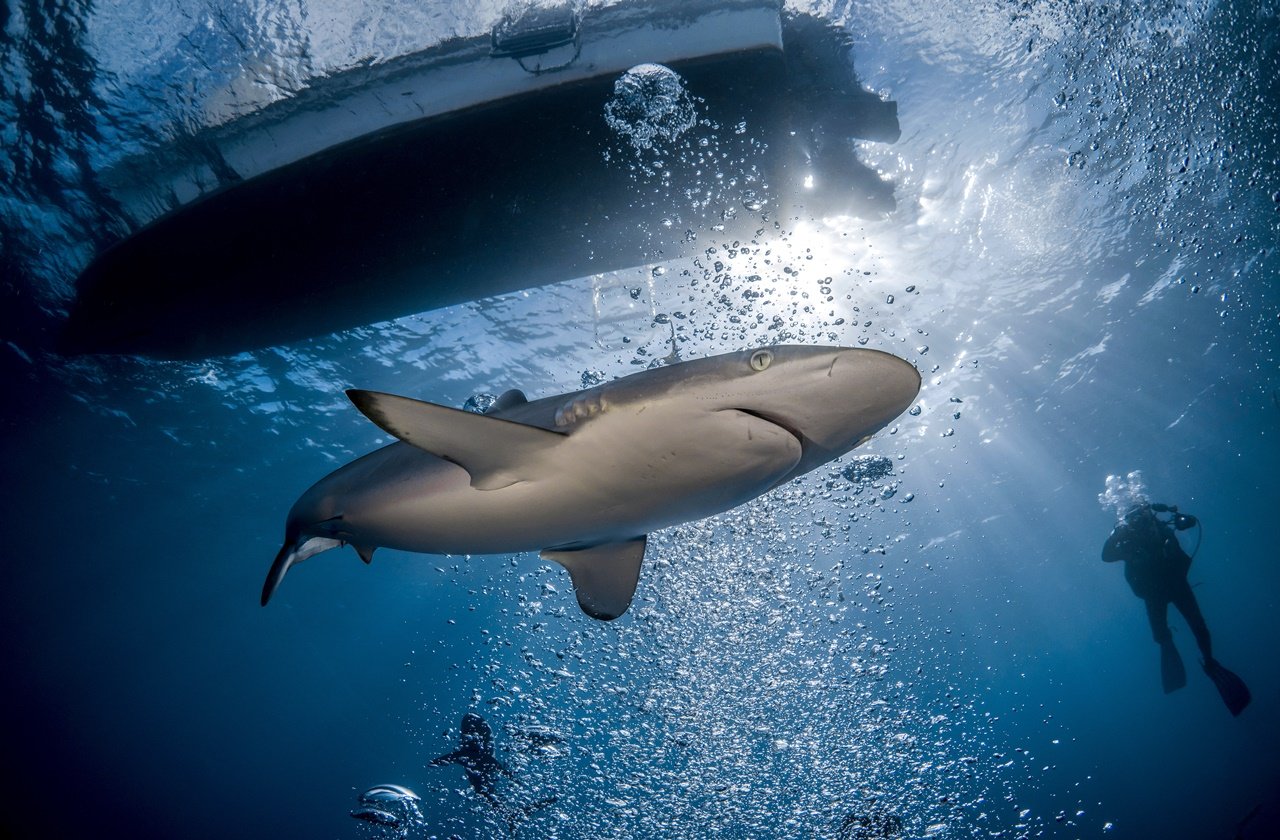 Photo by Dmitry Kokh on Adobe Stock
Best time to go: December to April
Jardines de la Reina in Cuba is slightly new to the shark diving scene, but it offers plenty of diving sites. The area also hosts various shark species, including bull sharks, lemon sharks, Caribbean reef sharks, and even the gentle whale sharks. Thanks to local conservation efforts, the reefs remain in excellent condition, thus making it a great environment for sharks.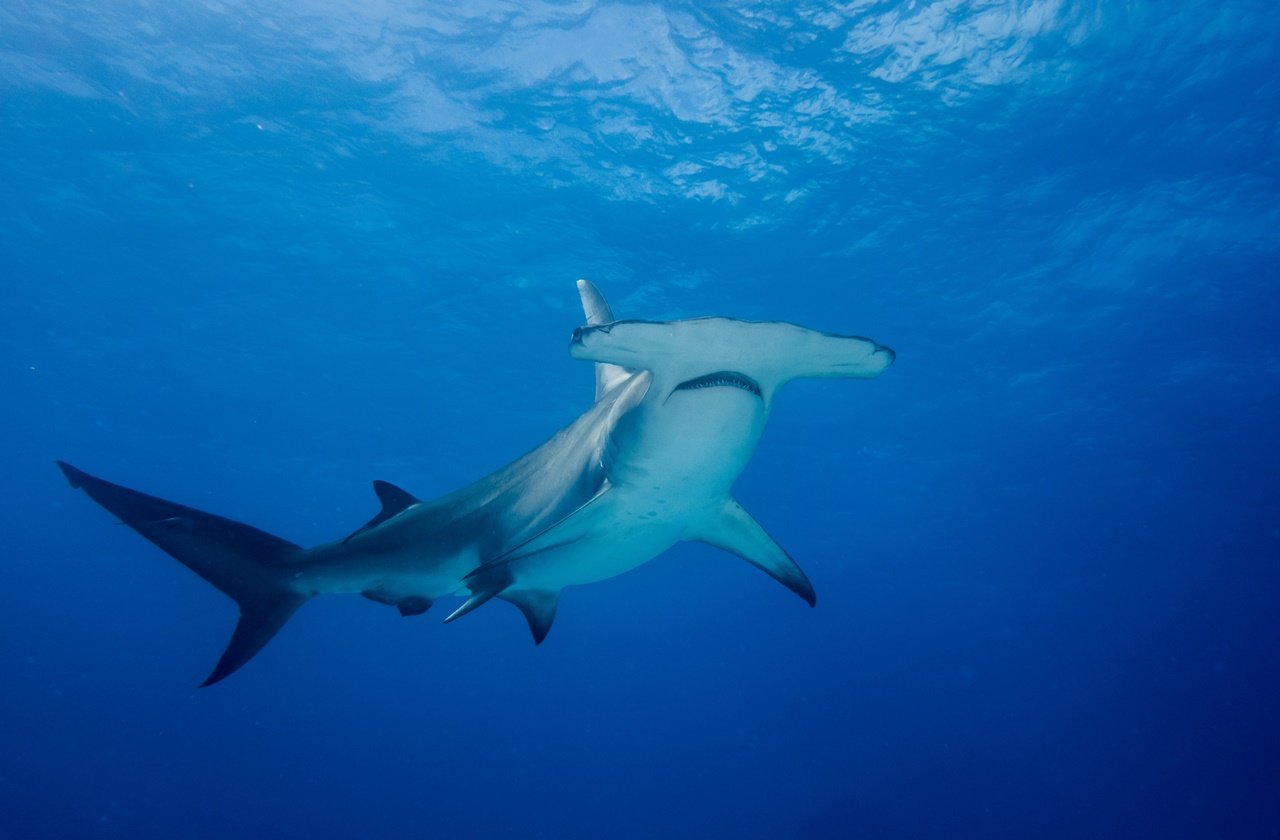 Photo by hakbak on Adobe Stock
Best time to go: December to March
During the winter months in the Bahamas, visit the island of Bimini to see the hammerhead sharks. With white sands, clear waters, and perfect visibility, this is one of the best places to see and take photos of the hammerheads. Bimini also boasts a near-perfect encounter success rate from February to April, although weather conditions may not be the best and scheduled days could be postponed because of this.
Shark Diving Safety Tips for Beginners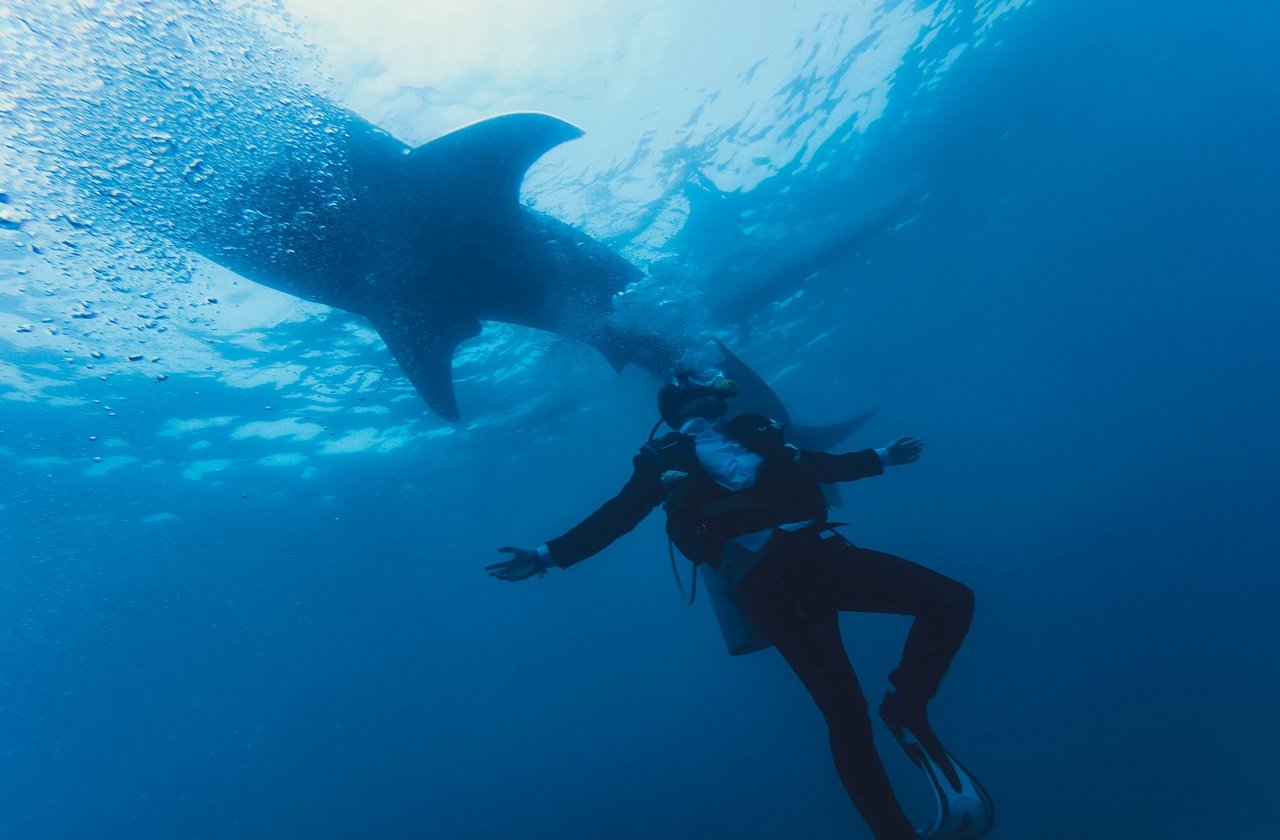 Photo by Roman Odintsov on Pexels
When diving, avoid marine mammal colonies. When sharks are hunting, they might mistake you for a seal or see you as competition for food. As a general rule, it's best to avoid any wild animals when they are feeding or hunting.

If you're looking for an activity operator, go with environmentally-focused ones. These operators adhere to best practices that ensure the safety of both you and the sharks.

Before going on a shark dive, it's important to learn and understand sharks' behavior. These small signs are a cue to stay away from the shark in situations where they feel threatened.

Always pay attention and follow safety protocols as instructed by your guide. Most dives include a safety briefing at the start so it's important to take note and listen carefully for a safe shark diving experience.

Wear proper attire. As much as possible, choose dark and neutral colors for your wetsuit. Additionally, avoid wearing anything shiny as it mimics the movement of fish underwater, therefore attracting attention from sharks.

If you have cameras, avoid using strobes and equipment with a lot of noise. The light and noise can also attract attention and in some instances, sharks may bite on them.

Stay calm and pay attention to your breathing. Take note that sharks are aware of chemical imbalances and sound. When you panic or get too excited, this may trigger a response from sharks and further provoke them.

Don't make continuous eye contact with sharks as they may see this as a challenge. On the other hand, sharks are also very stealthy and if you lose sight of it, it may show up close by all of a sudden.
To Wrap Things Up
Contrary to popular belief, shark diving is a safe activity, causing minimal impact on sharks if done according to guidelines and protocols. It also helps the local industry, as shark tourism opens employment opportunities which are important especially in remote communities. Around the world, there are plenty of great destinations for shark diving. The perfect shark dive site entirely depends on what you want to see and when you plan on visiting.
However, we have to remember that we are heading to their territory, so it's important to respect their boundaries and avoid taunting them. Observing from a safe distance is always the way to go. When done properly and safely, your encounter with the sharks will definitely be a memorable and safe one.