Best Time to Go to Cancun: A Comprehensive Guide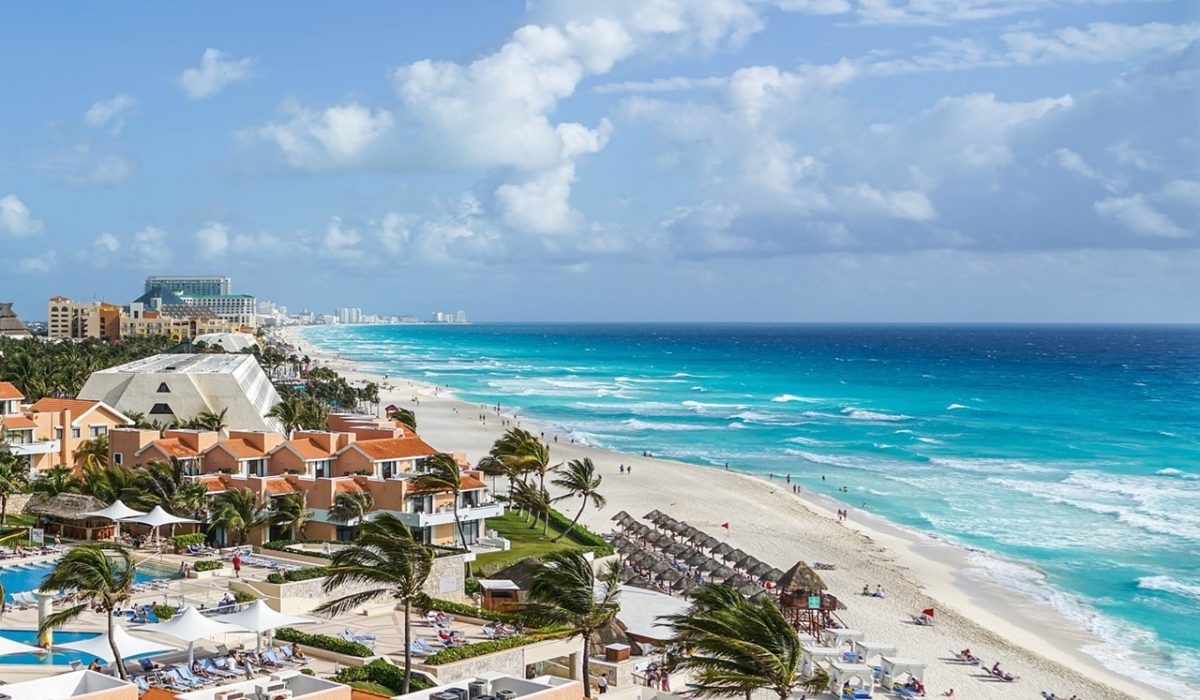 With its ancient ruins, irresistible clear waters, and fascinating cenotes, Cancun is a must-visit city in the Yucatán Peninsula. It is surrounded by miles of gorgeous shores and dotted with hip and trendy hotels and bars. On top of the many things to do in Cancun, the city also serves as a gateway to the historic Mayan ruins at Playa del Carmen. Given all that, the next question on every curious traveler's mind is: when is the best time to go to Cancun? The last thing you would want is to visit Cancun, only for it to rain since it's the hurricane season. Or worse, being unable to enjoy your stay since there are twice as many people on the beach.
So to get a better understanding here's an in-depth guide on the best time to visit Cancun! We've also included detailed information on the weather in Cancun and tourist seasons which can help you plan your vacation.
Best Time to Go to Cancun
Firstly, depending on your purpose of travel, you will find that the best time to visit Cancun will be different. For instance, if you want to swim with whale sharks and see baby sea turtles making their way to the sea, July and August are the best months. Meanwhile, sightseeing trips are best done in April or December. Read on to find out when is the best time to go to Cancun for you.
For Great Weather
For great weather, plan your Cancun travel from December to April. The dry season overall offers balmy temperatures and clear skies. Beach conditions are perfect almost every day and you can also explore the jungles and ruins. It can get a bit cool at night, especially from January to February, so it's best to pack a light jacket or a sweater. Best of all, there are no hurricanes that can ruin what should be a stress-free beach trip!
But for overall good weather, January to March offers the lowest humidity levels and rainfall. These months enjoy sunny days, refreshingly cool water for swimming, and little to no rain showers. Do note that these months fall under Cancun's high season so expect crowds wanting to enjoy the weather. If you don't mind crowded beaches and waiting for queues at other tourist attractions, these are the best times to visit.
For Fewer Crowds
Having to deal with huge crowds is a deal-breaker for some travelers. After all, you're going on a vacation to relax and unwind. If you want to go on a Cancun vacation without the rowdy spring breakers, the best time to go to Cancun is from the summer months of June to October. Most tourists have gone by then due to the incoming hurricane season, although actual hurricanes are very rare. Expect few to almost no tourists at beaches, ruins, and other archeological sites. Moreover, you can swim in the cenotes and visit different points of interest without having to queue for a long time.
But before planning your crowd-less trip to Cancun, make sure that the places you plan on visiting are open or have limited operational hours. Although you can likely find a hotel on the spot, most accommodations also close for the season. So it's always better to book or inquire in advance to ensure your stay. This also applies to tour operators since these months see the lowest number of tourists. Lastly, make sure that you're updated with the latest weather advisories and bring weather-appropriate attire with you.
For Sightseeing
Aside from its stunning beaches like Playa Delfines and the nearby beaches of Tulum, Cancun is popular for its sights. From downtown Cancun to the lush jungles and Mayan ruins, there's plenty of places for sightseeing. If this makes up most of your itinerary, December offers the best conditions for exploring. There are plenty of sunny days, low humidity, and little rain, so nothing can get in the way of your sightseeing adventure. However, crowds tend to thicken around mid-December so make sure to plan wisely.
But if you want to avoid the onslaught of crowds in December, April is the best time to travel to Cancun. The month also falls under Cancun's shoulder season, perfect if you want to avoid plenty of tourists. That way, there are fewer tourists and less time for queueing in most attractions. April is also one of the driest months so you can still enjoy Cancun's balmy weather and minimal rain.
For Water Activities
Without a doubt, Cancun has some of the best beaches in the world, with swimming conditions perfect almost all year round. For those who prefer swimming in relatively cooler temperatures, the best time to go to Cancun is February and March. Meanwhile, the water is warmest from July to October, although September and October have their fair share of rainy days. Therefore, July and August are your safest choices for warm waters.
However, if snorkeling and diving make up most of your itinerary, Cancun may not be the best destination for it. The visibility isn't the best and the water is choppy and rough. In addition, most of the coral reefs in the Hotel Zone are dead because of the pollution. If you still plan on snorkeling and diving, Punta Nizuc, Isla Mujeres, and the Museum of Underwater Art are better options. The water is calmer and clearer so you can view its rich underwater world. November to May offer the best visibility especially from January through March.
For Whale Shark and Sea Turtle Spotting
Cancun is one of the best places for spotting both whale sharks and sea turtles. Tourists wanting to go whale shark diving or swimming with these gentle giants should plan their excursions from June to August. Although whale sharks start arriving in May, these months boast a near 100% chance of spotting whale sharks! They start to leave Cancun by September towards the end of the month.
On the other hand, sea turtles start nesting along the shore in May through October. Then as early as July, eggs will start to hatch until the end of December. If you want to get a deeper appreciation for these marine creatures, watch out for volunteer programs. You can help relocate eggs to a safer place and release baby sea turtles to the water once they've hatched. For those who want to see whale sharks, nesting turtles, and baby sea turtles, July and August are the best months to visit Cancun.
For Cheap Deals
Who says you need to break the bank to enjoy a memorable vacation in Cancun? For penny-pinching travelers, the best time to travel to Cancun is between July to October, with more discounted prices coming out from September. From hotel room upgrades, discounted stays at luxury hotels, airfare, and tours, everything is marked down. As compared to traveling during the high season, tourists can save up to hundreds of dollars by availing of these bargain deals. What's more, there are fewer tourists since these months fall under Cancun's low tourist season.
But with all these amazing deals, do remember that this also coincides with the rainy season. Days are hot and very humid, and there are high chances of short yet intense tropical storms. That said, hurricanes are rare, so you don't have to worry about it hitting the city on your visit. If you don't mind these sudden rain showers, this is the best time to go to Cancun. Besides, you can also get travel insurance if you're particularly iffy about traveling during the hurricane season.
For Nightlife
It's no secret that Cancun has a lively nightlife! With parties continuing from dusk to dawn, this is the best destination for those who want to party all night after a day at the beach. From the hip bars of the Punta Cancun area to Downtown Cancun, you're guaranteed a fun night filled with dancing and booze. If you're past the legal drinking age in Mexico and you want to experience Cancun's nightlife, it's important to know about the different party crowds and when you're likely to encounter them.
From March to April, the infamous Spring Break crowds head to the bars and pubs. Wild parties, DJ nights, and bikini contests are common events throughout the weeks. By June and mid-July, high school students celebrate graduation and let loose before starting college. If a more mature crowd is what you're looking for, visit from December to February.
Tourist Seasons in Cancun
Aside from your purpose of travel, identifying different tourist seasons is a great way to find out when is the best time to go to Cancun. This is especially helpful for travelers who want to avoid crowded places and pay for overpriced hotel rooms and airfare. Like most destinations, Cancun has its high, low, and shoulder seasons, each with its pros and cons.
High Season
The high tourist season in Cancun is from mid-December through March during the dry season. In December, the holiday crowds escape the harsh winter days in exchange for some sun. The busy season then extends to the new year and February. By March, spring break party-goers flock to the hotels and resorts in Cancun to enjoy the city's nightlife along the touristy Zona Hotelera. For travelers planning to brave the high season crowds, Riviera Cancun, Isla Mujeres, and Playa Mujeres are great alternatives to the busy Hotel Zone.
As a beach lover's paradise, it is natural that Cancun's high tourist season is when the city enjoys its best weather conditions. You can fully enjoy Cancun's award-winning beaches along the Riviera Maya and its cenotes due to good water conditions. Moreover, the weather is perfect for outdoor adventures and exploring the jungles, Mayan ruins, and other destinations.
On the flip side, this is also the busy season, bringing in plenty of crowds wanting to take advantage of the weather. Furthermore, prices for hotels, airfares, and tours are more expensive. If you plan on visiting during the high season, make sure to book everything in advance. That way, you won't have to overpay at hotels or cram for accommodation accepting last-minute reservations.
Shoulder Season
April, May, November, and the first weeks of December mark Cancun's shoulder season. The initial influx of spring break tourists would have calmed by the first weeks of April. November is also the transition month from the wet season to the dry season and there is a gradual improvement in the weather. Take note however that there may still be thick crowds during the Holy Week in April and Thanksgiving in November.
The shoulder season is the best time to go to Cancun if you want to enjoy a few crowds and good weather. It also falls in the transition period from wet to dry season and vice versa. In Cancun, although the weather isn't as perfect as in the high season, you can enjoy lower prices and fewer crowds. Who wouldn't want that for their Cancun getaway?
However, take note that not all tourism opportunities are available during the shoulder season. Some tours may not operate or are prone to rescheduling and cancellation. Moreover, you may not be able to score a great deal as prices for hotels aren't as good of a bargain as in the low season. Nonetheless, booking in advance or for more than five days can help you get a great deal.
Low Season
In Cancun, the low tourist season is from June to October, which is more than half of the city's wet season. During your visit, it's very likely that you'll encounter intense rain, although these last for an hour or two at most. If you plan on traveling to Cancun during the low season, make sure to pack an umbrella and a raincoat.
Tourists tend to avoid Cancun during the hurricane season particularly since it's seen as a beach paradise. And few would love to hit a rainy beach. There's also a high possibility that most tours will be rescheduled or canceled due to inclement weather. Additionally, some hotels, restaurants in Cancun, and other establishments also close during the low season. That being said, prices for hotels, airfare, and tours are affordable given the low number of tourists. Hence for budget travelers, this season is the best time to visit Cancun.
Although you won't get to go sunbathing or enjoy the tropical Cancun weather, who knows what other hidden gems you'll discover? You can visit museums, explore underground caves and rivers, or indulge in a relaxing spa treatment. Since there aren't that many tourists, you can visit these places without having to queue for hours. Best of all, you can score great deals like room upgrades, discounted rates, and other perks!
Cancun Seasons at a Glance
Dry Season
The dry season in Cancun runs from November to April, marked by pleasant temperatures and overall good water conditions. Humidity levels can rise during this season, but it shouldn't hinder your beach getaway or your sightseeing tour.
Without a doubt, this is the best time to go to Cancun in terms of the weather. You can go hiking, explore the Mayan ruins, or take a dip on the beach. Furthermore, the dry season also coincides with the city's high and shoulder tourist seasons. So whether you want to make the most out of Cancun's tropical weather or grab cheap deals, plan your visit within these months.
Dry Season Highlights
Aside from its weather, the dry season also offers events and highlights that can make your vacation extra memorable.
The Día de los Muertos (Day of the Dead) festivities are a great way to immerse yourself in Mexican culture. At the festival, locals honor their deceased relatives with ofrenda (altar) offerings and vigils. Head to the bustling Hotel Zone for parties or downtown Cancun if you want a more traditional experience.

Welcome the new year with exciting parties and New Year's Eve countdown celebrations! Join parties or sit back and view the colorful fireworks from the comforts of your beachfront hotel.

In January, Cancun celebrates El Día de Los Reyes (Three Kings' Day). There are lively processions and you can sample a slice of Rosca de Reyes, a sweet, wreath-shaped bread topped with candied fruits.

Similar to one of the festivals in Spain, Carnaval boasts jovial street dance and parades, intricately designed masks, and plenty of booze. The celebration is held before the start of Ash Wednesday which proceeds the more solemn Holy Week celebrations.
Dry Season Weather
| Month | November | December | January | February | March | April |
| --- | --- | --- | --- | --- | --- | --- |
| Average Temperature | 20 to 28°C (68 to 82°F) | 20 to 27°C (68 to 81°F) | 20 to 27°C (68 to 81°F) | 20 to 28°C (68 to 82°F) | 22 to 28°C (72 to 82°F) | 23 to 29°C (73 to 84°F) |
| Average Precipitation | 85mm (3.3in) | 80mm (3.1in) | 65mm (2.6in) | 55mm (2.2in) | 35mm (1.4in) | 40mm (1.6in) |
Wet Season
May to October is Cancun's wet season, with higher humidity levels, hotter temperatures, and more chances of rainfall. However, the chances of storms are at their highest from August to October. But if you're worried about a hurricane hitting during your visit, worry not! Hurricanes are rare, so you can still enjoy your Cancun getaway.
Overall, the wet season in Cancun brings frequent rainfall and a few brief tropical storms, but nothing too intense that will ruin your holiday.
Wet Season Highlights
The wet season may not be the best time to visit Cancun and its beaches, but there are other things worth seeing and discovering.
The Caribbean Culture Festival highlights the best of Mayan, Mexican, and Caribbean food, music, literature, and more. There are various events around downtown Cancun during the eight-day festival.

For wildlife enthusiasts, the wet season is the perfect time to go on a wildlife seeing trip. Get a chance to spot dozens of whale sharks on the beach and catch sea turtles nesting on the shore.

Celebrate one of the city's biggest and most exciting parties during Mexican Independence Day. Head to the City Hall and witness the El Grito (The Call). Then, a spectacular fireworks celebration follows, accompanied by lively mariachi music, folk dancing, and partying. You can also watch the El Grito from your hotel and join parties along the hip streets of the Hotel Zone.

Held in September, the Autumn Equinox is a fascinating event where you can witness ancient Mayan rituals at different ruins. For the ultimate Autumn Equinox experience, take a day trip to Chichén Itzá for this event.
Wet Season Weather
| Month | May | June | July | August | September | October |
| --- | --- | --- | --- | --- | --- | --- |
| Average Temperature | 24 to 30°C (75 to 86°F) | 25 to 30°C (77 to 86°F) | 25 to 31°C (77 to 88°F) | 25 to 32°C (77 to 90°F) | 24 to 31°C (75 to 88°F) | 23 to 30°C (73 to 86°F) |
| Average Precipitation | 110mm (4.3in) | 185mm (7.3in) | 130mm (5.1in) | 150mm (5.9in) | 225mm (8.9in) | 185mm (7.3in) |
Cancun Weather by Month
Cancun Weather in January
Cancun welcomes the new year with balmy weather and light rainfall in January, the least humid month of the year. The weather makes it great for exploring the ruins and downtown Cancun. The month is also perfect for those who want to take a dip in cooler waters since the ocean temperature is lower. You will still need to bring an umbrella as occasional rain showers occur during the day. However, this clears up within an hour or two.
Cancun Weather in February
The pleasant weather from January extends to February, with warmer temperatures and less rainfall. Humidity levels increase very slightly, but it still is comfortable enough for sightseeing and hiking. There is good visibility for snorkeling and warm ocean waters for swimming and other water activities.
Cancun Weather in March
March is Cancun's second-driest month, so this is the best time to go to Cancun for good weather. The average rainfall is at its lowest, although you may experience quick rain showers once a week. Ocean temperatures rise so this is also a great month for swimming, snorkeling, and diving. Since the weather isn't too hot or dry, you can go on an adventure in the jungles and ruins or lounge under the warm sun at the beach.
Cancun Weather in April
April is the driest month of the year and is the best time to visit Cancun if you want to avoid rainy days. The days enjoy warm and sunny skies with mild humidity so you can still go on excursions. Beach lovers will love this month since the warm days are complemented by the cool ocean breeze. Towards the end of the month, the days get hotter and ocean temperatures rise.
Cancun Weather in May
From the sunny days of April, expect more humid days in May and higher chances of storms towards the end of the month. The month brings heavy clouds and high humidity levels, yet mornings and evenings remain warm. If you plan on visiting the Mayan ruins in Cancun, do so in the morning since it tends to get very hot in the afternoon. Expect the occasional rain shower which can be heavy, but these don't last for more than an hour.
Cancun Weather in June
June marks the start of the Cancun hurricane season, with a sudden spike of rainfall. Although infrequent, rain showers are extremely heavy so it's best to bring an umbrella whenever you go out. In addition, hurricanes are rare in Cancun, so there's no need to worry about catching one if you visit in June. During the month, beaches and cenotes are the best places to visit to escape the high humidity levels.
Cancun Weather in July
In July, it's best to escape the hot and stuffy days by cooling off at a beach or a cenote. Compared to June, there are fewer rainy days, but sporadic rain and humid days can affect your trip. If you plan on visiting the ruins or jungles, make sure to bring plenty of water as muggy temperatures can be uncomfortable. Despite the weather, this is the best time to go to Cancun to see the sea turtles and whale sharks.
Cancun Weather in August
By August, rainy days increase but humidity levels can rise to a staggering 80%, and you can expect a couple of hours of rain now and then. This is also the hottest month of the year, marked by both days of sunshine and cloudy skies. The first couple of weeks are humid but they eventually cool down as September approaches. Similar to July, beaches and cenotes are the best places to spend the day at.
Cancun Weather in September
September is the rainiest month of the year with plenty of intense and frequent rainfall and overall muggy weather. Rain showers last for about two or three hours. As for the humidity, it is relatively lower than in August and you can still hit the beach and enjoy the warm water temperature.
Cancun Weather in October
By October, the weather gradually improves, with balmy temperatures and clear skies towards the end of the month. Although the average rainfall starts to decrease, you can still expect more rainy days. There are no drastic changes in humidity levels between September and October, although mornings are the most humid.
Cancun Weather in November
November signals the end of Cancun's hurricane season although there may be few instances of rainfall. Days are still humid but as the month progresses, it becomes more ideal to head back to the ruins and jungles. The ocean temperature remains the same as in the previous month, so you can still enjoy the calm waters of Cancun's beaches.
Cancun Weather in December
By December, the weather is perfect for swimming and exploring the thick jungles and breathtaking ruins. The last month of the year boasts amazing weather from morning to evening with even less rainfall. Moreover, the weather in Cancun in December makes it perfect to go swimming and snorkeling at one of the nearby islands.
Visit Cancun Now!
Overall, the best time to visit Cancun depends on your reason for travel. Do you want to visit the Mayan ruins or take a day trip to see Chichén Itzá or Las Coloradas? Are you okay with traveling during the rainy season? Or are you particular with traveling with crowds? Before booking that plane ticket, it's important to ask yourself these questions.
Now that you've gained enough knowledge on Cancun's weather and travel seasons, planning your dream getaway is now easier. So, what are you waiting for? Pack your swimwear and sunscreen and get ready for a vacation to remember in Cancun!