Top Things To Do In Cancun, Mexico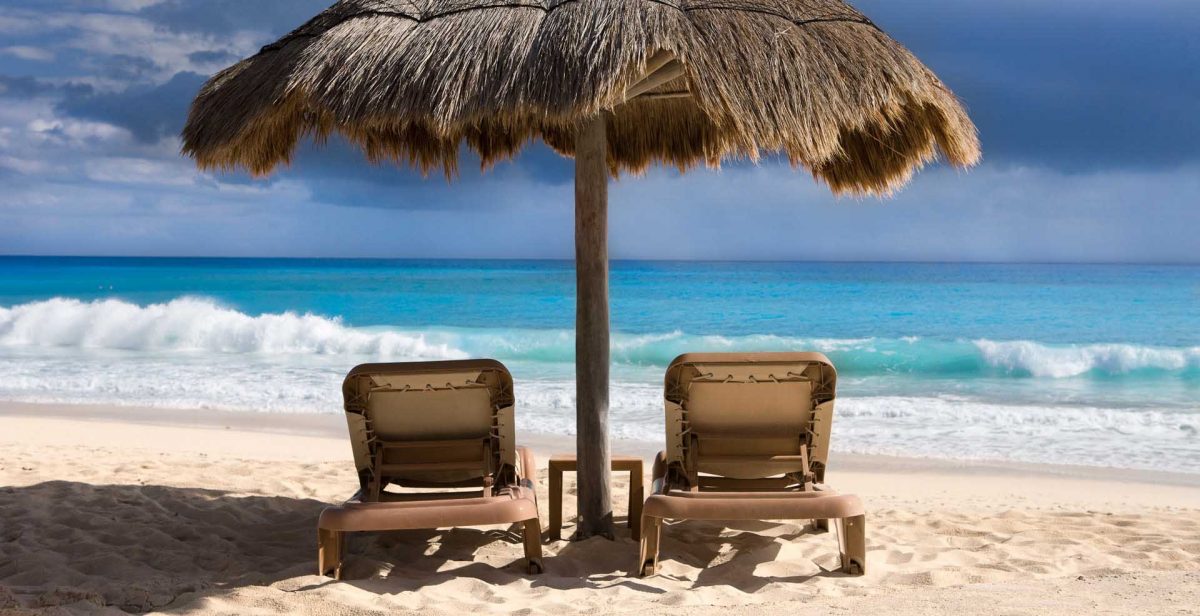 Love exotic beach holidays? So do we! And when it's Mexico's Cancun we're talking about, we can see you packing already!
Mexico's Gateway to the Yucatan Peninsula
Cancun was once a sacred Mayan city, and for the last 15 years, Cancun city in Mexico's Quintana Roo State has been a hit with tourists. That's no surprise as Cancun is famed for some of the best white sand beaches in Mexico, in addition to being well-known as Mexico's party capital. Cancun city is also one of the best places to visit in Mexico. But, people mostly flock to Cancun beaches in Yucatan because it is the best Caribbean getaway near America.
See More than Cancun Beaches
All said and done, Cancun city does have amazing nightlife and breathtaking beaches. But, we confess hand on our heart that there are more fun things to do in Cancun Mexico, besides just the usual trips to the best beaches of Cancun, or Cancun all-inclusive resorts and the hugely popular Cancun spring break parties.
Cancun's natural beauty has remained unaffected, despite the travel crowds. The clear crystal clear water offers travellers some of the best snorkelling experiences in the world, and the Mayan ruins scattered around Quintana Roo state offer an element of culture and context to this Mexican gem.
You may have already dreamt of taking a trip of Cancun. If you haven't, sit back!
To make your time in Cancun worthwhile, we're going to give you some variety on what to do in Cancun.
Wondering What to Do in Cancun?
There's so much to fit into a trip to Cancun. Like, deciding on where to stay in Cancun, getting tickets to the Cancun Jazz Festival, in addition to hunting for the best things to do in Cancun on a budget.
While also, ensuring to bag great deals on the best Cancun resorts, just in case you give in to the impulse of upgrading your budget travel in Cancun.
So, before you begin to wonder what to pack for Cancun, so you can look cool while sipping your drink at Hard Rock Cancun. Or even, if you're planning to go all healthy at Cancun Juice. We've got you sorted the best Cancun travel experiences.
From the sunny Cancun weather to the best time to go to Cancun. Our labour of love offers the best ways to spend time in Cancun. Don't forget to scroll to the end of our article to know the best options on flights to Cancun and also, where to stay in Cancun based on popular choice.
So here goes, one list of fun things to do in Cancun Mexico coming right up:
1.
Travel through Cancun's Hotel Zone
The Hotel Zone in Cancun is a 15-mile strip of sand, that appears like the number seven. Flocked with all-inclusive resorts and catamarans, Cancun Hotel Zone is also the primary tourist area where Cancun's nightlife and wild beaches come alive.
Cancun's Areas of Fun
Mexico's Cancun city is divided into two major areas. The first is Cancun Downtown, which is also locally famous as Ciudad Cancun. The second area is Cancun Island, popularly known as The Hotel Zone in Cancun, or as the locals in Mexico say, Zona Hotelera.
Getting to the Hotel Zone in Cancun
The fare from the international airport in Cancun to Hotel Zone transportation could be anywhere around $50-60 USD. If you're traveling within the downtown area of Cancun city, you'll most likely pay $1.31 USD. And a taxi ride from Cancun Downtown to The Hotel Zone will be metered within $10 USD.
While most people accept USD in Cancun, ensure to also have some Mexican peso handy.
Explore Cancun's Hotel Zone
Everyone that has access to a Cancun Hotel Zone map knows this is the place to be if you don't want to miss the cool things to do in Cancun at night. Like most travelers, you may also choose to stay close to all the action, at the plush Cancun Hotel Zone all-inclusive resorts.
There are so many great all-inclusive resorts in Cancun, it will be hard to choose. They're all equally wonderful, so you can rest your worries, and enjoy your Cancun holiday. Some Cancun resorts and Hotel Zone hotels also cater to holidaying preferences by age. You can request for a Cancun Hotel Zone all-inclusive adults only package or explore from a host of Cancun Hotel Zone deals, that suit your liking.
Eat and Be Merry
There's plenty to eat and drink in the many Cancun Hotel Zone restaurants that lace Kulkukan Boulevard. Cancun's Kulkukan Boulevard is one single road that runs from one side of The Hotel Zone to another.
We must share with you that the Hotel Zone in Cancun is very famous for shopping. Well, to be honest, shopping in Cancun Hotel Zone is a trend in itself! Don't forget to be on the lookout for some cool stuff when you set out to shop in Cancun.
Later, dig your tired feet into a pillow of soft sand at the Cancun hotel zone beach.
2.
Explore Downtown Cancun
If you've explored all of Zona Hotelera or the Hotel Zone in Cancun, there are more fun things to do in Downtown Cancun Mexico aka Ciudad Cancun.
The Real Cancun
Thoughts of what to do in downtown Cancun, will not cloud your mind when you know that Cancun's Downtown area is famous for its local culture. It is here that you will find delicious street food, green parks, and souvenir shops. Also, if you're up for some real-life action, Cancun's Downtown is also the place to be to watch live Mexican Wrestling!
Explore Avenida Tulum to see a side of Cancun, that's real and simple. Gorge on Mexican Tacos sold by street-side vendors. Also, wanter through Parque Las Palapas park for some peace and quiet. Not to mention some downtown Cancun shopping's worth the time too. Downtown Cancun's nightlife will keep your spirits high for a long time.
Home to Cancun's Locals
Downtown Cancun is also where Mexican locals reside. Most of these locals work in Mexico's Yucatan Peninsula tourist industry. So, at Downtown Cancun, you'll be able to interact with the locals and learn more about their culture and lifestyle. Because Downtown Cancun to Hotel Zone is just a 20-minute car ride away, you can travel to-and-fro with ease, if you're staying at one of Cancun's Hotel Zone resorts.
Staying at Downtown Cancun
Downtown Cancun restaurants are always thronged with travelers seeking to experience the most of Cancun city in just a trip. If Ciudad Cancun charms you enough to rest for the night, you can choose to stay in one of the hotels of Downtown Cancun. Like the Hotel Zone, Downtown Cancun hotels also promises absolute pampering and offer great hospitality to their guests.
3.
Dive into MUSA, Cancun's Underwater Museum
At Cancun City, there's a lot to do even underwater. While you dive into the Cancun's beaches, you may also see masterpieces underwater at MUSA, Underwater Museum of Art, Cancun!
Cancun's Art in the Sea
The Underwater Museum Cancun or MUSA is a unique underwater attraction in Cancun that helps the evolution of coral reefs. Over 500 sculptures made from materials that encourage coral reef development can be viewed at Cancun MUSA.
The artworks are contributions by Mexican and international artists. Cancun's undersea art displays a pair of giant hand sculptures, statues of locals, vintage VW Beetles and many more creative expressions. The ocean life that surrounds the exhibits offer a unique and enriching experience.

The Three Galleries
Three underwater galleries make up the MUSA Underwater Museum of art Cancun, Mexico. You can go snorkeling in the underwater museum to explore all three galleries. In fact, there are several Cancun snorkeling tours to choose from, if you're pressed for time. Similarly, there are underwater museum Cancun diving tours too.
The three galleries at MUSA in Cancun are Punta Sam, Punta Nizuc and Salon Manchones. At Punta Sam, you can see Cancun's Sea Turtles feed on seagrass. Punta Nizuc exhibits are part of the Cancun snorkeling tours. But, the third gallery; Salon Manchones is located deeper and is accessible only via the scuba diving tours in Cancun.
4.
Drive to Chichen Itza Maya Ruins
Mexico's Quintana Roo State was home to the ancient Mayan Civilisation. Chichen Itza is one of the most visited archaeological sites in Mexico, here's where you can revisit the Mayan Era.
Chichen Itza – A UNESCO Site
Not far from Cancun City, is a Mayan UNESCO World Heritage Site. The Mayan city of Chichen Itza dates back to the 5th Century BCA and is famous for the ancient Mayan Pyramids. The most stunning structure of this Mayan attraction is the 98-foot tall Pyramid Temple Of Kukulkan in Mexico. The pyramid temple is also known as El Castillo and represents the nine levels of heaven.
Mayan Day Tour from Cancun City
There are a host of interesting Chichen Itza Mayan ruins tours planned for your exploring pleasure. At Downtown Cancun, you can find most of the Chichen Itza Mayan ruins tours. Almost most travelers take the day tour to explore the Mayan ruins from Cancun. You can reach Cancun to Chichen Itza ruins in just 2.5 hours by car. A bus ride to Chichen Itza from Cancun will take almost 3 hours.
If you're onboard the Royal Caribbean cruise, do ask the concierge for an itinerary of the Chichen Itza Mayan ruins Royal Caribbean Tour. Enjoy your Chichen Itza tours and don't forget to capture an insta-worthy pose. Chichen Itza Mexico is a must-see attraction near Cancun city.
5.
Soak into Cancun's Cenotes
A Cenote is a natural well, made of limestone. When the roof of an underground cavern collapses, a natural pool is formed through rain and water from underground rivers. When in Cancun Mexico, you must take a Cenote Tour from Cancun City.
Ancient Mayan Wells
The word Cenote comes from the Mayan team dzonot, meaning a 'well'. Mexico's Yucatan Peninsula is flocked with several amazing Cenotes. In fact, the Riviera Maya offers wonderful Cenotes that you can swim in!

Cancun's Natural Pools
In addition to Cancun's beaches, nightlife and the resorts in Cancun, you can also experience a swim in a natural Cenote as part of your trip to Cancun. Most people visit Cancun's Cenotes to go swimming, scuba diving or snorkeling. Undoubtedly, Cenotes are a highlight to any Cancun vacation.

The best Cenotes near Cancun are along the Cenote Route. Located at about a 30-minute drive away, from Cancun to Puerto Morelo city. There are several Cenotes in Puerto Morelo, like Cenote La Noria, Cenote Mojarras, and Cenote Selvatica to name a few. Cenote Verde Lucero is so big, that it has its own zip line!
6.
Get Up to Cancun Scenic Tower
Get up to the top of Cancun Scenic Tower, if you want to sight the best views of the Caribbean coast and Cancun city!

Experience a Bird's-Eye View
Understand the history of Cancun, as you take a twirl with the tower. Cancun's Scenic Tower slowly spins into a 360° motion to help you see a panoramic view of Cancun beaches, almost all of Cancun's Hotel Zone and also, the beautiful Riviera Maya and Yucatan coastline.
Cancun's Torre Escenica
The Scenic Tower in Cancun is also known as Torre Escenica by Cancun locals. The height of Cancun's Scenic Tower is 100 meters (300 ft), so a ride to the top takes just 5 minutes. Tickets to the observation deck are priced at $15.00 USD for an adult.
Don't forget to capture aerial photos of Cancun City. You can choose to visit in the day and night, Cancun tower is open every day from 9 a.m. – 9 p.m. for your viewing pleasure. But, the Cancun tower view is a must-do when in Cancun.
7.
Watch a Lucha Libre Show in Cancun
Gear up for some Mexican Wrestling, because Cancun's Lucha Libre Shows are the most unique Mexican experiences in Cancun!
A Mexican Tradition
The popular Lucha Libre, meaning 'Free Fight' in Mexican, is a professional wrestling tradition of Mexico. Originated in Mexico in the early 20th Century, Lucha Libre is unlike any sport.
This crazy Mexican wrestling is full of colorful masks, acrobatics, in addition to highly dramatic maneuvers. Some of it would seem straight out of a Mayan theatre act. And, that's why you shouldn't miss it! Mexico's Lucha Libre stars are celebrated across the country, and Cancun is not far behind!
Mucha Lucha in Cancun
You can catch the live Lucha Libre events at Downtown Cancun. In Cancun's Downtown region, Lucha Libre at Area Cancun runs every Tuesday, Friday and Sunday night. To get up-close to all the action, you can pay $12 USD and get a complimentary beer!
A front row seat costs about with beer and snacks available for sale. It's quite a show! We can vouch that Cancun Lucha Libre Show costs are totally worth the experience! If you like Lucha Libre AAA wrestling, take home a Mexico Wrestling Souvenir Toy.
When in Cancun Mexico, adding Mucha Lucha to your Cancun to-do list, is the way to go! Because it's silly to miss the action of Lucha Libre in Cancun!
8.
Party Hop through Cancun's Nightlife
It's impossible to feature the top things to do in Cancun, and not mention the amazing nightlife in Cancun! Laced all along Cancun beach, and also around The Hotel Zone, you will find several Cancun clubs popular for their parties.
Mexico's Fun Capital
The nightlife in Cancun owes its madness to spring breaks. It is here, on the best beaches of Cancun that all hell breaks loose. Drink, dance, lights and laughter, there's never a dull moment in the Cancun nightlife area.
What's more, the no cover nightclubs in Cancun, take the fun to a whole new level. Party lovers travel all the way from Tulum to Cancun to experience Cancun city's vibrant clubs. Also, the weekends urge crowds to travel from Playa del Carmen to Cancun to party the weekly boredom away.
Best Nightclubs in Cancun
It's no surprise that the best nightclubs in Cancun, mostly have long queues. But, it's also true Cancun's Mexico clubs are worth the wait. Chilling at Cancun's clubs after a day of sunbathing at Cancun beach is the perfect way to end the day.
On the list of Cancun's top nightclubs, Coco Bongo surely ranks as the first. Other popular nightclubs in Cancun are The City Nightclub, Mandala Beach Club and Dady O.
9.
Drive From Cancun to Las Coloradas
Soak your eyes at a pink paradise. Las Coloradas in Mexico, are pink pools in the small fishing village of Las Coloradas.
Pretty Pink Lagoons
A trip to Las Colorados from Cancun is highly recommended, if pink is your favorite color, and even otherwise. The village name means 'blush red' in Spanish. The Las Coloradas pink lakes near Cancun are home to diverse species of wildlife. Part of a Natural Reserve, the sanctuary spans over 150,000 acres!
Coloring Pink Flamingoes
The water at Las Coloradas Yucatan gets its pink from the red plankton and shrimp that survive here. What's more, you can spot Pink Flamingoes at these pink lakes. When Pink Flamingoes migrate to this region in Mexico, they feed on the shrimp, and that's how they evolve into looking pink! So when you plan a Pink Lake Tour from Cancun, be on the lookout for some Pink Flamingoes!
Cancun to Las Coloradas
It is true that a trip to Las Coloradas from Cancun steals an entire day from your short trip to Cancun. But, the pink lakes are too pretty to miss. If you have more than 4 days in Cancun, try to manage the three-hour drive from Cancun.
If you want to park for the night, you can stay at the nearby Hotel Rio Lagartos.

Flamingo tours in Las Coloradas can be booked from Rio Lagartos too. Also, when on a day tour of the pink lagoon of Las Coloradas, don't forget to sight the Ek Balam ruins.
10.
Swim with Turtles in Cancun
Cancun's beaches give you not only calm and sun, but you can also spot Sea Turtles at Cancun Beach!
Cancun Turtle Beach
Alongside the locals of Cancun, the beaches of Cancun city are also home to Sea Turtles. Tortugranja is the best place to sight Sea Turtles in Cancun. Tortugranja is a Turtle Farm and Conservation Center on Isla Mujeres.
During May to October is when Sea Turtles lay their eggs on Cancun Beaches. And, between July to December, the eggs hatch and baby Turtles walk to the sea. At Tortugranja, you can see turtles throughout the year, for a fee of $3 USD. At the Turtle Farm, you can feed and interact with Sea Turtles. Turtle Island tours from Cancun are quite popular with visitors.
White Sands of Cancun Beach
Taking a break from sightseeing in Cancun, to just unwind on the white sands of Cancun's beaches is heavenly!
In Cancun, doing nothing can also be a fun experience. Cancun's coastline runs 13 miles, which means you get to enjoy more white sand, blue waters, and happy windswept hair. The best beaches in Cancun's Hotel Zone are Playa Delfines, Playa Tortugas, Chac Mool Beach, and Playa Forum.
And that pretty much sums up our list on the top things to do in Cancun, Mexico.
Oh wait, we have some more Cancun travel information to share.
More On Cancun
Cancun – America's #1 Foreign Vacation Destination
Close to 40% of American travellers pick Mexico for a foreign vacation. And,
Cancun city is usually the first travel choice of Americans traveling to Mexico. It's safe to say Cancun is an introduction to Mexico for most American travellers.
A whopping 4 million Americans and more land at the Cancun International Airport each year determined to make the most of its easy access to the Caribbean Sea. So it goes without saying that when there's a travel poll for a beach trip to Cancun Mexico, almost all Americans will say "aye"!
With all this accumulated information, it's a well-understood fact that Cancun is indeed, America's #1 Foreign Vacation Destination!
Cancun – The Spring Break Capital
Cancun's beaches are equally important to American students at spring break. Why do you ask? Because Cancun is the only popular spring break destination near America! And, American spring-breakers always know where the party is at a Cancun beach!
Through the stats, it seems like no American spring break is ever complete without a trip to Cancún Mexico. Cancun city is so popular with young beach lovers, that we may as well agree to call it Cancun spring break instead.
A Yucatan Trip for All
Cancun is a Mexican paradise, that is made for all! No, It's not just about sun tans, beach parties, Cancun hotel zone and the fun things to do in Cancun at night. There are loads to do if you're on a trip to Cancun with kids or as a couple. Similarly, even so, if you're a solo traveler in Cancun!


There're a lot of lesser-known marvels in Cancun, you simply can't afford to give them a miss. And that's why, we shared secrets on the best things to do in Cancun, in addition to highlighting the things to do in Cancun with kids, and the best of Cancun for couples. Of course, there are romantic things to do in Cancun, did you expect none?!
How to Get to Cancun, Mexico
Travelling to Cancun is really convenient, especially if you travel to Cancun from the USA. There are loads of flights to Cancun from New York, Dallas, Los Angeles, and San Francisco. In fact, flights to Cancun from Houston are just as popular, as the flights to Cancun from Toronto.
Cancun city is easy to get to from popular Mexican cities, that lies on the Yucatán Peninsula's Riviera Maya strip on the Caribbean shoreline. Cancun to Playa del Carmen is just a 60-minute drive and Cancun to Tulum city takes about 2 hours by road.
Where to stay in Cancun
Cancun is a vivid resort city of Cancún has tons of beach hotels to spoil you silly. You can choose from the best all-inclusive resorts in Cancun or choose to holiday peacefully far away from all the crowds, in a secluded Cancun hotel.
Our top picks for plush beach resorts are Iberostar Cancun, Paradisus Cancun, Hyatt Ziva Cancun and the beautifully Mexican; Villa del Palmar Cancun. You can choose to stay at these popular gems or identify your preference amongst the plethora of Cancun hotels.