Cancun Hotel Zone: Everything You Need to Know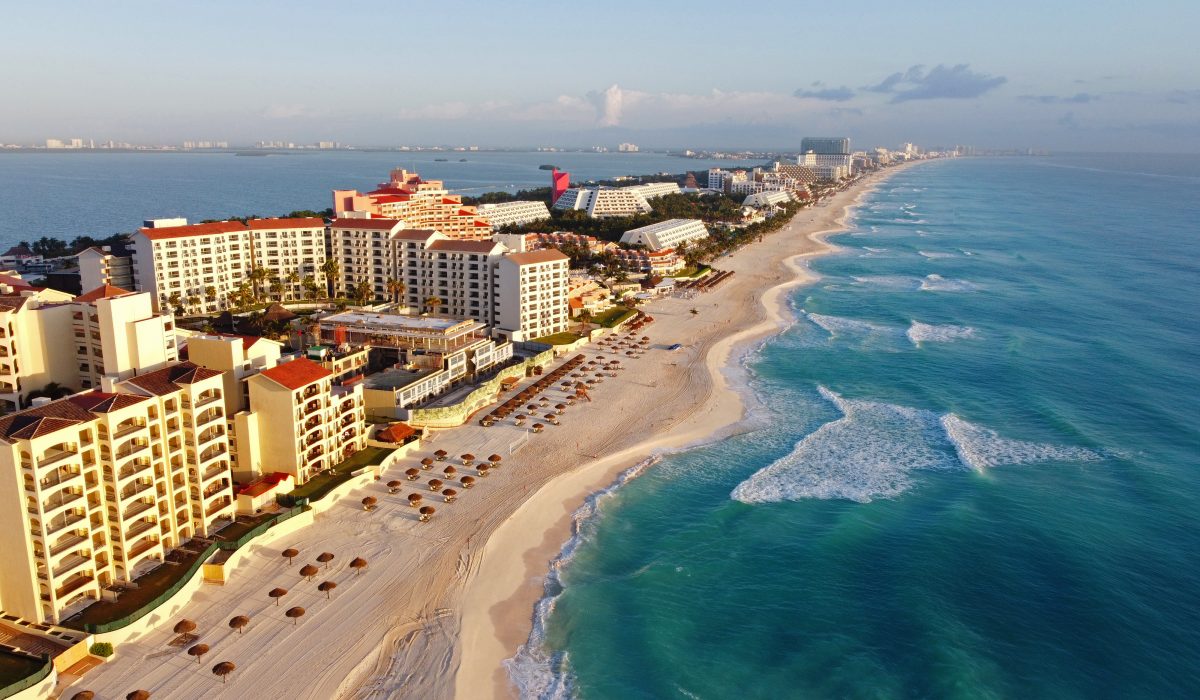 Cancun is without a doubt one of Mexico's treasures. Aptly named as the Gateway to the Yucatan Peninsula, Cancun offers miles of sandy shores, a thriving underwater life, and fascinating ruins and cenotes. After enjoying different things to do in Cancun, the best way to end the night is by relaxing and getting a good night's sleep at your hotel. Just a few minutes from the city center, Cancun Hotel Zone is the perfect spot to rest and retire for the night. It offers miles of beachside hotels and resorts as well as a number of points of interest.
If you want to learn more about the Hotel Zone in Cancun, Quintana Roo, here's a helpful guide on what to do and what are the best hotels in the area.
What Is the Cancun Hotel Zone?
Also known as Zona Hotelera, Cancun's Hotel Zone is a long narrow island stretching up to 23 kilometers (14 miles) across Cancun's scenic shores. Home to several resorts, restaurants, and beaches, it faces the Caribbean Sea and is backed by the Nichupté Lagoon.
There are numerous all-inclusive resorts, adults-only getaways, and cute boutique hotels in the vicinity. These vacation rentals also have a wide price range so tourists won't have to worry about spending too much of breaking the bank just to enjoy Cancun. Moreover, the area is also near popular tourist sites, making it easy for planning day trips and itineraries.
How to Get To Cancun's Zona Hotelera
From Cancun International Airport, the Hotel Zone is only more or less 30 minutes away. There are Route 1 and Route 2 buses that travel from the airport to Cancun Hotel Zone and downtown Cancun. Meanwhile, you can simply follow the signs along the highway if you have a rental car with you. Furthermore, downtown Cancun is not far from Zona Hotelera and you can easily get there in less than 30 minutes.
However, take note that the travel times listed are mere estimates and it varies depending on the season. If you're traveling during the high tourist season, traffic can get pretty heaving getting to that stretch. So make sure to allot extra minutes for travel time if you're traveling during the peak season.
Hotel Zone in Cancun vs Downtown Cancun
Aside from the Cancun Hotel Zone, downtown Cancun, or "El Centro", is another popular place to stay at. But between the two, what are their similarities and differences? For one, the Hotel Zone and downtown Cancun are safe and easily accessible and you can hail a taxi, take the bus, or drive to both areas. Hotels, pubs, bars, other tourist destinations, and some of the best restaurants in Cancun are also nearby.
Perhaps one of the differences between the two is their price point. You can find budget hotels, hostels, and guesthouses that can accommodate even a backpacker's budget. Furthermore, downtown Cancun has a more authentic feel to it, home to residential neighborhoods, local eateries, cafes, and pubs. If you're looking for a place where you can immerse into Mexico's local life and culture, downtown Cancun is your best choice.
Meanwhile, the Zona Hotelera is more fast-paced and is better suited for those who want to see the touristy side of Cancun. Since it is within walking distance to the beach, staying at Cancun Hotel Zone is also better if your main purpose of travel is to enjoy Cancun's beaches and indulge in fun water activities.
Where to Stay in Cancun Hotel Zone
There are almost 100 accommodations in the Hotel Zone. From all-inclusive resorts with private beach access to chic boutique hotels, there is one for every individual preference. We have lined up some of the very best for you.
(Take note that prices per night depend on the season and are subject to change without prior notice.)
Hyatt Zilara Cancun
Address: Blvd Kukulkan Km. 11.5 Zona Hotelera, 77500 Cancún, Mexico
Price: Starts at 412 USD per night
Hyatt Zilara Cancun offers 310 well-appointed suites with breathtaking views of the sea. The adults-only resort has anything and everything you need for your vacation. Its all-inclusive package includes unlimited dining and drinking, live entertainment, aqua gym classes, and even a beach butler. The contemporary-style rooms are all equipped with LED flat-screen TV and a double jetted tub. Additionally, some rooms have added luxuries like a semi-private pool, access to the gourmet restaurant, and a reserved beach cabana.
Casa Tortugas Boutique Hotel
Address: Zona Hotelera, Cenzontle #4 Edificio Naranja, 77500 Cancún, Mexico
Price: Starts at 131 USD per night
Casa Tortugas is a charming seafront hotel located far from the bustle of the big luxury hotels in the Cancun Hotel Zone. The boutique hotel in Cancun Mexico has suites, apartments, and villas that can accommodate up to eight people. Find picture-perfect murals, paintings, sculptures, and accent walls around the hotel premises giving it an artistic charm. In addition, its infinity pool gives you an unobstructed view of the Nichupté Lagoon where you can watch the sunrise or sunset. From Casa Tortugas, guests can take a dip in the clear waters of Playa Tortugas, take a ferry to Isla Mujeres, and enjoy the shopping and nightlife in Puerto Cancun.
Grand Oasis Cancún
Address: Boulevard Kukulcan Km 16.5 Lote 45 46 y 47 Zona Hotelera, 77500 Cancún, Mexico
Price: Starts at 237 USD per night
Grand Oasis Cancún is an all-inclusive resort along the powdery white shores of the Cancun Hotel Zone. Rates cover meals from breakfast to dinner, unlimited beverages, daily entertainment, evening shows, and more. It has four buildings in its massive complex boasting more than a thousand rooms. All rooms have air-conditioning, a minibar, flat-screen TV, and views of the garden or the sea. Its amenities include an outdoor freeform swimming pool, tennis courts, and a spa. It is also one of the few hotels in the hotel district that has a casino where you can test your luck!
JW Marriott Cancun Resort & Spa
Address: Boulevard Kukulkan KM 14.5 Lote 40-A Hotel Zone, 77500 Cancún, Mexico
Price: Starts at 229 USD per night
Treat yourself to a luxurious getaway at JW Marriott Cancun Resort & Spa. The five-star hotel is located on a long strip of private beach with plenty of sunbeds and cabanas. Its bright and spacious contemporary rooms are decorated with subtle nautical accents. It also features five different pools, including an outdoor dive pool with an artificial reef. The hotel takes pride in its award-winning Mayan-inspired spa where you can pamper yourself with relaxing body treatments and massages. By using your Mariott Bonvoy points, earn special perks like mobile check-in, room upgrades, and more.
Renaissance Cancun Resort & Marina
Address: Boulevard Kukulcan Km 1.5, Zona Hotelera, Cancun 77500 Mexico, 77500 Cancún, Mexico
Price: Starts at 112 USD per night
Renaissance Cancun Resort & Marina may not be located on the beachfront, but it still has gorgeous views of the water. Located near downtown Cancun, the hotel is the best choice for anyone who wants to enjoy the best of both areas. It is near the city's shopping centers, restaurants, pubs, and entertainment centers. Offering both sea and lake views, the rooms at Renaissance Cancun are sleek and modern. Enjoy its on-site facilities such as an outdoor infinity pool, hot tub, sauna, and fitness center.
Things to Do in Cancun Hotel Zone
Swim at the Beaches
Along its 14 miles of white sand shores, Cancun's Hotel Zone offers swoon-worthy beaches for every traveler. Some are private beaches that are part of a resort or hotel while you can also find public access to other beaches. Moreover, other public beaches have sunbeds, changing rooms, and cabanas available so you can freshen up and resume your sightseeing adventure after taking a dip. But no matter which beach you choose, you'll get to enjoy Cancun's clear blue waters and soft white sands. For that quintessential tourist photo, stop by Playa Delfines and take a photo with the bright and colorful signage that spells "Cancun"!
Enjoy Fun Water Sports
Swimming and sunbathing are not the only things you can do on this long island stretch. Indulge in thrilling water sports at the beaches in Cancun. July and August is the best time to go to Cancun for surfing. Select hotels, resorts, and beaches offer beginner and refresher courses for those who'd like to brush up on their surfing skills. Other water activities you can try at Cancun Hotel Zone include parasailing, stand-up paddleboarding, jet skiing, and more.
Explore Cancun's Underwater World
Discover the beauty of Cancun underwater and go on a snorkeling or diving adventure. See the breathtaking coral reefs and if you're lucky, you may get to swim with the turtles and fishes. In addition, the Hotel Zone is also perfect for wreck diving and you can find shipwrecks that date back to the Second World War. If you're staying at an all-inclusive resort, snorkeling and diving trips are typically included in their rates. For a unique experience, head to Punta Nizuc and be in awe of the massive sculptures and statues at the Underwater Museum.
Visit Ruins and Archaeological Sites
You can find some of the best and most intriguing Mayan ruins and archaeological sites within and near the Cancun Hotel Zone. If you're looking for a change of scenery or if you'd want to learn more about Mexico's history, this is one of the best things to do. Visit the El Rey Archaeological Zone, the main hub of the Mayan civilization that dates back to several thousands of years ago. At the San Miguelito Ruins, the museum houses an archive of Mayan artifacts that give you a deeper insight into their culture and history. If you have more time, embark on a day trip to Chichen Itza, one of the most famous Mayan ruins in the world.
Hop on a Cruise
Take your Cancun adventure to the seas and join fun cruises on the Caribbean Sea. These cruises allow you to see and appreciate the Cancun Hotel Zone from a different perspective. You can book simple sightseeing cruises with optional extras like drinks and snacks. Romantic cruises are also available for you to enjoy the gorgeous sunset with a loved one, complete with a meal and wine. For partygoers, don't miss the party boat that comes with free booze, music, cool slides, sun loungers, and diving boards!
Discover Riviera Maya
If you're staying at the Hotel Zone in Cancun for a longer time, visit the Riviera Maya district. The coastal area offers miles of luxurious resorts and vacation rentals, coral reefs, cenotes, and historic ruins. From Playa del Carmen to Tulum, you'll never run out of things to do and attractions to see in the Riviera Maya. Several tour operators offer both one-day and multi-day packages that include transportation fee, meals, entrance fees, and equipment rental. For longer stays, hotels are also included. On the other hand, if you want the freedom of creating your itinerary, rent a car and embark on a fun adventure from Cancun.
Shop Til' You Drop at the Malls
Take a break from the beaches in Cancun and explore the many shopping malls within the Cancun Hotel Zone. Aside from its beaches and luxury hotels, it also has several commercial centers where you can unwind after a busy day out. Near downtown Cancun, the Marina Town Center in Puerto Cancun is a newer and more upscale shopping complex with a cinema. Meanwhile, La Isla Shopping Village is an open-air mall with plenty of shopping, dining, and entertainment options. Other shopping centers in the vicinity include Kukulcan Plaza, Luxury Avenue Cancún, and Fashion Harbour.
Take a Day Trip to Isla Mujeres
From the Cancun Hotel Zone, board a ferry and visit Isla Mujeres. The island is famous for its beaches, beachfront hotels, diving sites, and coral reefs. You can also find the ruins of a Mayan temple, a sea turtle farm, and colorful murals on your trip. Start your day trip to Isla Mujeres and take a dip at Playa Norte, one of the most beautiful beaches in the country. Then, go on a snorkeling or scuba diving adventure and see its rich marine life. Back on land, find the sea wall murals, explore the Mayan ruins, and meet the turtles at La Tortuga Granja.
Is Cancun Hotel Zone Safe?
If you're a first-time visitor, you'll be glad to know that Zona Hotelera in Cancun Mexico is a safe place to stay at. Since it is developed for tourists, there are few or no residential areas in the Hotel Zone. In addition, violent crimes are few although street crimes like pickpocketing, petty theft, and tourist scams can be common. Take note that since there are quite a number of bars and pubs there, alcohol-related crimes can be prevalent, especially during spring break.
That said, it's important to exercise safety precautions when visiting the Cancun Hotel Zone. Always be aware of your surroundings and never leave your things unattended, even at your hotel. Avoid walking home alone at night or make sure to go out in groups and stay away from dimly lit places if the situation can't be helped. If you're traveling with family, make sure to do research on family-friendly areas and hotels.
Discover Everything the Cancun Hotel Zone Has to Offer
The Hotel Zone is the perfect spot to stay if you're visiting Cancun for the first time. It is relatively near the airport and downtown Cancun so you won't have to worry about getting to and from the island. Furthermore, it is also one of the safest locations in the Mexican city as it is built specifically for tourism. You can find all kinds of lodging options whether you want to stay at a luxury resort, family-friendly hotel, or a more intimate boutique hotel. Cancun Hotel Zone is also the best place to stay in Cancun because beaches, shopping malls, ruins, and other points of interest are nearby.
If you're planning on a Cancun vacation, look no further and stay at the Zona Hotelera!