Top 10 Must-visit Towns and Cities In Mexico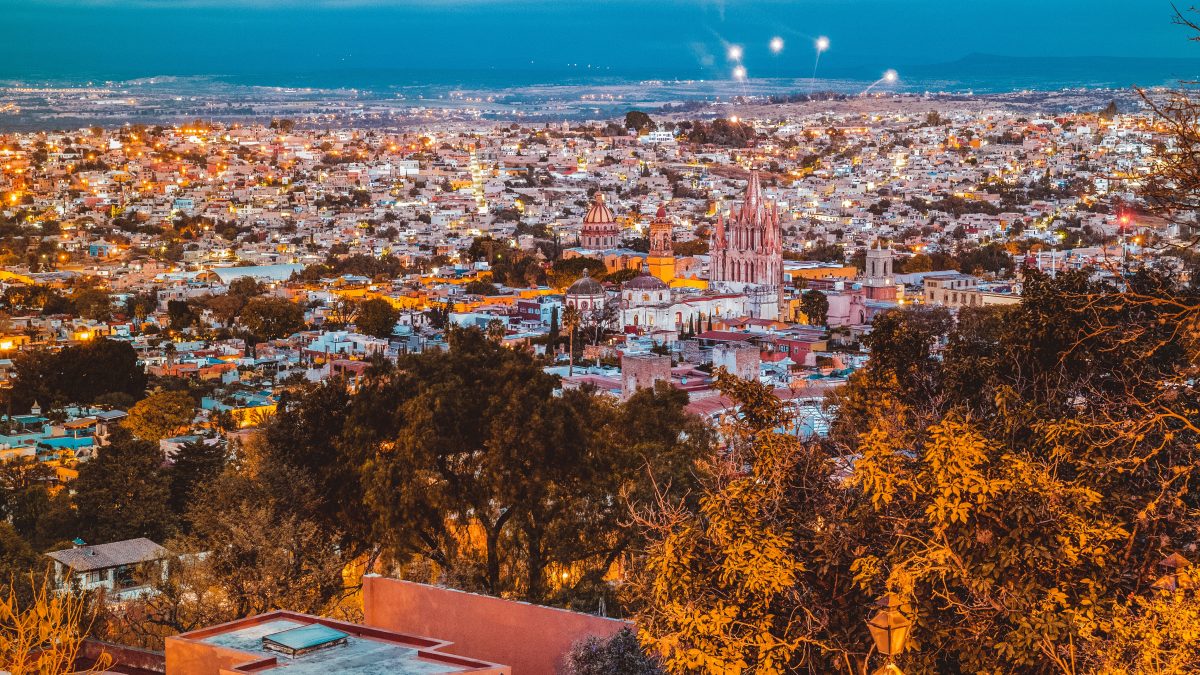 Oh, Mexico – you're a beauty. Packing in smoking volcanos, white-sand Carib beaches, roaring surf, and dusty canyons, there's hardly a surprise it's a chart-topper. Yep, visitors come to taste tacos and tequila in a whole host of towns and cities in Mexico. From the wave-bashed bay resorts of Puerto Vallarta to the glinting strips of Cancun, there's just so much to choose from.
That's where this guide comes in. It hops from coast to coast in search of 10 of the most awesome and unforgettable towns and cities in Mexico that you simply must have on the itinerary. Along the way, it delves into the gritty districts of the capital, it samples cheese-topped Oaxacan quesadillas, and even gets sprayed by breaching whales in the Pacific…
There are loads of reasons why San Miguel de Allende is one of the most-visited and most-photographed towns in Mexico. Expats and holidaymakers, hippies and explorers have been coming here from the US for decades. They were originally drawn by the abundance of Baroque and adobe architecture, which inspired artists and poets and more.
These days, the city remains a hive of tourist activity. Its buildings are now painted in pastel hues of orange and daffodil yellow. Mariachi bands serenade the central plaza and its green citrus groves. There are ice-cream sellers haggling on the street corners, and little taquerias hidden down the cobbled lanes.
UNESCO decided to recognize the rich heritage of the town back in 2008. They cited its varied layers of architectural influence, running from the Spanish colonial era to modern Art Deco. Worth particular mention on that front is the Neo-Gothic spire of the Parroquia de San Miguel Arcangel – not to be missed – and the Centro Cultural, a onetime convent turned arts and crafts institute.
The great city by the sea, Puerto Vallarta (or PV as it's known for short) spreads out along the coastline of the Mexican Pacific. It's the gateway to the famous Bahía de Banderas, which has whale watching, surf, and oodles of shimmering sands. In the center of town, there's an old-age Romantic Zone with cobbled lanes and Latin cantinas. That spills onto a bumping promenade filled with fish restaurants and bars.
Of all the cities in Mexico, it's Puerto Vallarta that probably draws in the most regular crowds on the western coast. Some will come to laze on the sparkling beaches that string along Banderas Bay to the south – Playa Las Animas and Yelapa are stars. Others come to dance the night away during Spring Break parties.
For something a little more relaxing, you could always venture north out of PV. That's where the so-called Riviera Nayarit begins. It's in a different state but is easy to reach by car, taxi, or bus. The salt-washed town of Sayulita starts things off, with its golden beaches and rugged cliffs. Then comes cool little San Pancho, a surf mecca with Cerveza shops by the waves.
The largest of all the cities in Mexico and the gateway to the country for many a traveler, Mexico City is a buzzing, fizzing hub of culture and politics. Ever since the age of the ancient Mesoamerican civilizations, it's been an important continental crossroads. You only need to look to the carved Templo Mayor in the heart of the metropolis to see that. That marks the center of what was once the capital of the Mexica peoples, some 800 years ago.
Back in modern times and CDMX (as the capital is now branded) has expanded and expanded. It spreads across a vast plateau between some of the country's most monstrous volcanic peaks. Within are districts that you can help but fall in love with. Take charming Roma with its nostalgia rows of Art Deco villas and street-corner coffeeshops. Or, head for La Condesa; a patchwork of grand casitas and palm-spotted parkland.
For food, CDMX is surely one of the best cities in Mexico. There's a little of everything on offer. Sinaloan seafood? You bet. That famous Oaxacan cheese? You got it. Rustic Michoacan spareribs and stews? It's sure to be on a menu somewhere.
Off-the-beaten-track Morelia is one of those cities in Mexico that seems to fly under the radar. The reason isn't clear but you're bound to be asking yourself why as you emerge onto its grand plaza, wander beneath the stone-carved Spanish arcades, gaze up at the UNESCO-attested belfries of its grand Baroque cathedral, and get lost in the fountain-babbling neighborhoods of Wild West-style cottages. There's simply no denying it's gorgeous!
Yep, there's something truly atmospheric about Morelia in the evening. That's when the plaintive cries of mariachi singers echo through the colonnades. It's when the scent of sizzling taco fillings twists and turns around the chapels. It is the time for markets spilling with enchiladas and sopa bean pastes. It's a good idea to find a quiet corner of the main square to people watch and sip a cold Cerveza as the sun gets low.
Another great thing about Morelia is that it's a fine gateway to the world-famous Mariposa Monarch Butterfly Biosphere Reserve. A few hours' drives through the wild hills and pine woods of Michoacan can take you there. During the main season, you can head in to watch millions (literally, millions) of monarch butterflies meeting in the trees.
Merida is the cultural jewel of the Yucatan. With elegant Spanish churches and jacaranda-dotted plazas, it manages something much more refined than the other out-and-out beach resorts of the state. Here, you're more likely to find yourself strolling traditional Mexican craft markets than soaking up rays on the beach. You're more likely to be awe-struck by ancient museum artifacts than inebriated by poolside cocktails.
Talking of museums, Merida is the home of the acclaimed Mayan World Museum. Don't miss it. Inside, the exhibits sprawl across four permanent galleries and contain some priceless relics of the Mayan world. There are replicas of the great complexes like the one found at nearby Chichen Itza. And you can learn all about the growing cultural influence of the Maya people in modern-day Mexico.
Break out the bikini and get ready to engage party mode – Cancun awaits. This is a bumping, sleepless mecca for sun lovers and hedonists. It's one of the most popular cities in Mexico for American visitors especially. They flock down in their droves during Spring Break in February, March, and April. That sends the clubs and pubs into overdrive, and there are more late-night DJ parties and poolside shindigs that you can poke a taco at.
Most of the action is centered on the so-called Hotel Zone. Strung along a spit of land on the edge of the Caribbean Sea, it's peppered with big-name resorts. They all face lengths of sugar-soft white sand and turquoise sea.
However, Cancun isn't only about late nights and intoxication. This town is also a fine gateway to the other wonders of the Yucatan and Quintana Roo. Take the temple-topped cliffs of Tulum (more on that later) which await to the south. There's the isle of Cozumel, a diving and beach-lazing haven. And day trips to the haunting Maya shrines of Chichen Itza should be easy to organize.
More than anything, Tulum is famed for the stunning temples that crown its grass-green cliffs above the Caribbean Sea. The shape of those half-crumbled Mayan ruins perched on high by cotton-tinted sand is one to take the breath away. They were once a prosperous port city, but now frame arguably the best beaches in all of Mexico.
There are oodles of places to choose from along the coast. Hotels near Playa Pescadores promise sightings of the aged Maya structures. Others wait in nearby Las Palmas, where rocks give way to impossibly turquoise lagoons. Then comes family-friendly Akumal Beach. It's a short drive from the center but complete with palm-topped bars and coconut shacks.
Tulum's location makes it a great base for exploring the whole of the Yucatan Peninsula and Quintana Roo. Those are regions that include wild cenotes for swimming in. They've got great dive sites. And they host the timeless remains of Chichen Itza – one of Mexico's must-see historic locations.
A whole city wedged into a canyon, Guanajuato spills down the steep slopes of the Cuenca de la Esperanza like something you couldn't imagine. It's a town built on gold. When the Spanish arrived in the 16th century, deposits were found in the surrounding ridges and the rest is history.
As the seams gave mineral wealth, churches, chapels, shrines, great palaces, and market guilds sprung up. Today, the result is a metropolis of layers. There are the dried-up riverbeds at ground level, many now converted to bustling traffic arteries. Atop those come the cobbled alleys and steep sidewalks. And topping the lot are high-perched barrios with tin-roofed casitas and miradors aplenty.
Many will say that Guanajuato is the single most remarkable of all cities in Mexico. Its otherworldly urban planning sees to that. But there are also soaring table mountains to hike on the horizon. You can delve into old gold mine shafts for a fix of history. And there's the annual Festival Cervantino – a major event that sees dance performances, live poetry readings, and opera descend on the town.
Proudly different and independent, the city of Oaxaca sits in the midst of the state of the same name. It's sprawled over the low reaches of the Sierra Madre, at a cool and collected altitude of 1,500 meters. That brings a refreshingly mild climate to bear on the cobbled lanes, the leafy squares, and the al fresco taquerias.
A UNESCO World Heritage Site designation covers Oaxaca. It's just a hint as to why it's among the most popular cities in Mexico for visitors. Old-looking cathedrals and charming colonial-era arcades set the ball rolling on the wide Zocalo plaza. From there, you can delve into a grid of alleys and lanes that spreads out on all sides. One moment you could alight under the handsome Cathedral of Our Lady of the Assumption. The next you might find the bustling Alameda de Leon square.
There are pre-Colombian relics of Aztec kings littering the surrounding valley too. But before you start planning trips to them, be sure to set aside time to enjoy Oaxacan cuisine. It's one of the most famous in the country. With tasty Chileajo moles and spicy beef enchiladas aplenty, it's a kitchen that comes complete with mezcal for washing the lot down.
Full of charm and panache, Queretaro is a relatively new arrival on the tourism scene. It's nowhere near as popular as the other cities in Mexico on this list. However, travelers still flock here to navigate a gorgeous colonial center and feel the vibes of a historic yet lived-in town.
The Plaza de Armas is where it all begins. Guitar-twanging mariachis wander between the taquerias there. You can see trimmed hedges running underneath gorgeous Spanish mansions from centuries gone by. And there are beautiful fountains babbling and gurgling under filigreed statue work.
On the western side of the town is the quieter half of the colonial city. It's a place where boutique hotels and small Cerveza shops spill onto the sidewalks. But you can also get in touch with the bohemian side of Queretaro in those parts. That comes courtesy of roastery cafes and Asian-fusion eateries, Japanese ramen bars and slick fashion boutiques.
Final Thoughts
So you're planning a trip to Mexico but don't know which cities to visit? We curated a series of stunning cities in Mexico for you just to make sure you find your ideal travel destination in this country. From the stunning Mexican beaches to historical ruins, we promise you'll find your ideal location that fits right into your itinerary and budget too. If you want to know more about Mexico and its landmarks, click here to find out more…

IF you ever been to all these cities, share with us your thoughts. We love to hear from you!