15 Fun Things to Do in the Fall (With Family and Friends!)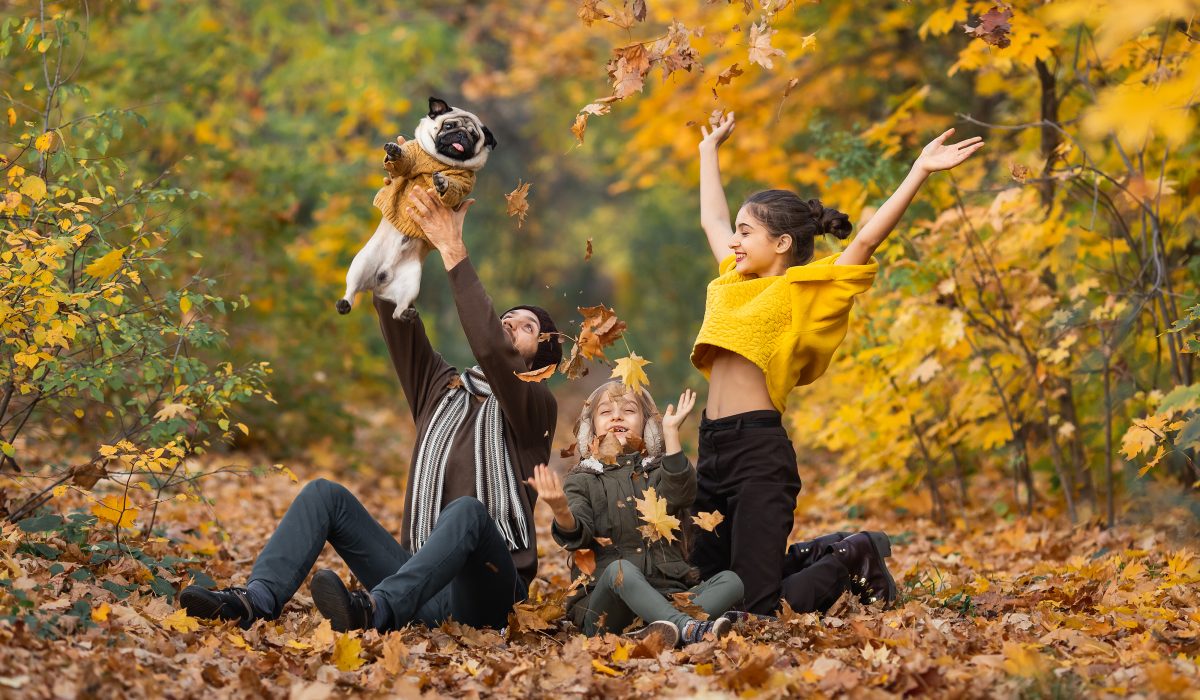 Want to add some fun to your fall activities? Or looking to add to your fall bucket list? Well, we've got you covered in this list of 15 fun things to do in the fall. From indoor fall activities for the entire family to outdoor activities to do with friends, figuring out what to do in the fall is a breeze! And with the crisp air and cooler temperatures, it is the perfect time to visit all the best fall vacations in the US!
1. Celebrate Halloween in San Diego
Though celebrating Halloween is common, this one in San Diego is anything but ordinary. You and your children will surely enjoy celebrating Halloween at America's Finest City. Many top San Diego attractions organize various family-friendly spooktacular events that will make this fall memorable!

One of the best zoos in the world, the San Diego Zoo, hosts a plethora of Halloween festivities. Expect interactive games, musical performances, and close interactions with wildlife to keep your little ones entertained. SeaWorld San Diego also has their Spooktacular event which welcomes little ones with bags of sweets, dance parties, and pumpkin scavenger hunts during the daytime. And at sundown, guests can come face to face with horrifying ghouls inside haunted houses and scare zones scattered across the perimeters.
2. Check Out Your Local Farmer's Market
If you are looking for some "best fall activities near me", you have to check out your local farmer's market. For many places across the country, the fall season also means harvest season. What better way to start off the fall than with a trip to your local farmers market where you can enjoy fresh pickings of fruits and vegetables?
Moreover, you'll also find plenty of other seasonal delights, like warm apple cider, apple cider donuts, pumpkin spice sweets, and fall-flavored cookies here! And if you are looking for unique artisanal fall décor or centerpieces for Thanksgiving, your farmers market is the place to be.
3. Go on a Nature Hike at the Grand Canyon
A trip to one of the must-visit national parks in Arizona is among the fun things to do with your friends and family during the fall. With the summer crowds leaving and the temperatures dropping, the season is a great time to go on nature hikes in the Grand Canyon. Marvel at the fall colors contrasting against the hues of the canyon while following hiking trails that lead you up to spectacular waterfalls and scenic overlooks. October is your last chance to go on mule rides along the North Rim and the park's river rafting activities before the season's closure for the winter months.
4. Take a Day Trip to Lake Tahoe
Welcome the first day of fall by taking a day trip to Lake Tahoe! Hit up the beach in early September to try water sports and tons of things to do in Lake Tahoe during the fall. The whole of October is also a great time for hiking, mountain biking, horseback riding, and boating.
Visiting in November also means you can get a head start on the lake's skiing season. And while there's no denying that immersing yourselves in the great outdoors is among the top fun fall activities to do, there are also a few indoor fall ideas you shouldn't miss out on. We recommend visiting the Lake Tahoe Beer Trail on the south side of the lake. Unwind after a long day of fun and adventure with a cool pint of beer or two from the breweries in the area.
5. Go Ice Skating
You may think that the fall months seem a bit early for ice skating. However, you can find a number of rinks opening their doors as early as September. Here's a list of ice skating rinks to go to this fall:
6. Take a Road Trip Across North Carolina
One of the best fall activities for adults has got to be road tripping through North Carolina. North Carolina boasts vibrant cities and stunning coastlines that are only made more picture-perfect during the fall season. Take a road trip across the Tar Heel State and visit all the top attractions. You can start from the majestic Appalachian Mountains in the west, before heading to the pristine beaches in the east where the waters remain balmy. Witness the state's vibrant fall colors when you visit the Great Smoky Mountains National Park or Blue Ridge Parkway.
Meanwhile, couples on the hunt for romantic autumn activities can't go wrong by taking a sunset cruise in the surrounding waters. Be sure to keep an eye out for bottlenose dolphins!
7. Hit the State Fairs with Your Pals
Hitting the state fairs is another one of the 15 fun things to do this fall. You can never go wrong with State Fairs. The invigorating energy at these massive fairs is enough to put you and your friends in a good mood instantly. So, welcome this fall season with some fun, laughter, and joy. Get lost in the carnival rides and games, and have your fill of corn dogs, tacos, and other fall-inspired foods. Most Southern states host their state fairs from the months of September to October, so keep an eye out for any one of these fall fairs near you!
8. Go Apple Picking
Looking for autumn activities for kids? Head over to apple orchards for some apple picking fun! Not only is this autumn activity a great way to get some fresh air and exercise, but it also offers plenty of family fun! Fall signals the apple season, so fill your baskets with some of the freshest apples that you can use to make culinary fall delights like apple pies, applesauce, and apple cider.
9. Get Lost in the Corn Maze on Sauvie Island
Among the 15 fun things to do in the fall, getting lost in a corn maze is certainly one of the most unique. After all, who gets deliberately lost somewhere? But navigating through corn mazes is a great way to put those problem-solving skills to use! If you're looking for the best corn mazes in the Pacific Northwest, head over to Portland, Oregon's Sauvie Island. Spanning eight acres, this corn maze features exciting twists and turns that change every year. Within the maze, you'll also find two observation bridges with panoramic views to help you find your way out.
10. Explore Marble Falls, TX
Wondering what you can do with your friends in the fall? Come explore Marble Falls in the rolling hills of Texas Hill Country. Marble Falls is a quaint lake town that serves as an idyllic getaway during the fall. Come autumn, crisp air, cool temperatures, fall foliage, and warm drinks welcome visitors who want to enjoy their fall vacation here.
Families can stop by the Sweet Berry Farm and explore 60 acres' worth of pumpkin patches, corn mazes, and wildflower fields. You can even stuff your own scarecrow! Meanwhile, couples can enjoy the sunset while going on wine tasting tours at one of the local wineries. You can even take a trip to the Inks Lake State Park with your friends and dive into the lake's sparkling waters. If not, a nature walk at the Balcones Canyonlands National Wildlife Refuge and hollow hiking trails will also guarantee sweeping views of the fall colors in Texas Hill Country.
11. Go Pumpkin Picking
Fall is not complete without adding pumpkin picking to your list of outdoor activities to do in the fall. Pumpkin picking is a tradition that never gets old because of its festive association. So take a trip to your local pumpkin patch and pick out the best pumpkin to carve out your own Halloween jack-o-lantern. You can make pumpkin pies and other pumpkin-inspired recipes with pumpkin meat, too. Some farms even host harvest festivals and offer hayrides to complete the fall experience.
Looking for fall festivals in New Jersey? Add a trip to the Great Pumpkin Festival (mid-September to early November) at Heaven Hill Farm to your list of things to do in the fall. Some of the fun fall activities to do with friends here include fall-themed games, amusement rides, and animal shows.
12. Attend a Fall Festival
Attending fall festivals should be on anyone's fall activity checklist. Different cities across the country have their own unique way of celebrating the season. In San Francisco, for instance, the Autumn Moon Festival is a colorful event set in the streets of Chinatown featuring grand parades, lion dances, and plenty of activities for the whole family to enjoy.
Meanwhile, in St. Louis, Missouri, GroveFest headlines the city's jam-packed fall calendar. It is one of the activities to do in October if you're looking for live performances, games, and a wide variety of food and drinks from local businesses. And we can't talk about fall festivities without mentioning Oktoberfest. Sip craft beer, eat sausages, and listen to live music while donning a pair of lederhosen at this annual event!
13. Spend a Day at Arbor Day Farm
Spending a day at the Arbor Day Farm during its Harvest Celebration is one of the 15 fun things to do in the fall with your friends and family. Connect with nature at this 260-acre farm in Nebraska through autumn things and activities like apple and pumpkin picking or hard apple cider and wine tasting. You can also learn all about the history of Arbor Day! After a day of fun and adventure, hit up the Apple House Market within the premises and treat yourself to fresh apple cider donuts and hot apple cider.
14. Go Leaf Peeping at Big Bear Lake
What is the most popular fall activity? It's not surprising that most Americans choose leaf peeping as the answer. One of the best leaf-peeping destinations is Southern California's Big Bear Lake. Starting mid-October, you can witness the transition of leaves from lush summer greens to fall hues of reds, oranges, and golden yellows. Take a leisurely day hike along the prime leaf-peeping areas, such as Town Trail, Castle Rock Trail, and Pineknot Trail for panoramic views of the city and county bathed in fall colors.
Alternatively, you can paddle your way through town and on the alpine trails on a bike to admire the fall foliage up close. But to truly experience the stunning fall foliage in its entirety, hop on a helicopter for an unforgettable bird's-eye-view of the Big Bear Valley. Undoubtedly, leaf peeping at Big Bear Lake is among the best things to do in Southern California!
15. Camp at Atwood Lake Park
The last on this list of 15 fun things to do in the fall is to camp at Atwood Lake Park. Camping is truly versatile– be it with your family, friends, or a partner, this activity allows you to bond while spending fall nights under the stars. At Atwood Lake Park, you can pitch a tent at one of the 500 campsites and set up your base in front of the lake or deep within the woods. The park also offers RV campsites with a 30-amp service for connecting your vehicle. Not the biggest fan of sleeping in the woods? Don't fret, the park has cabins for rent available, all of which boast modern amenities that make roughing it a little less rough.
15 Fun Things to Do in the Fall for Everyone
What activities can you do in the fall? From simple yet cozy things to do in autumn (like sipping a warm glass of apple cider) to more adventurous autumn activities, the season provides people with a plethora of activities to add to their fall bucket list. Be it activities to do alone, with your friends, or with family, we hope with this list of 15 fun things to do in the fall, you don't have to wonder about what activities you can do this season.