Big Sur Glamping: What to Expect?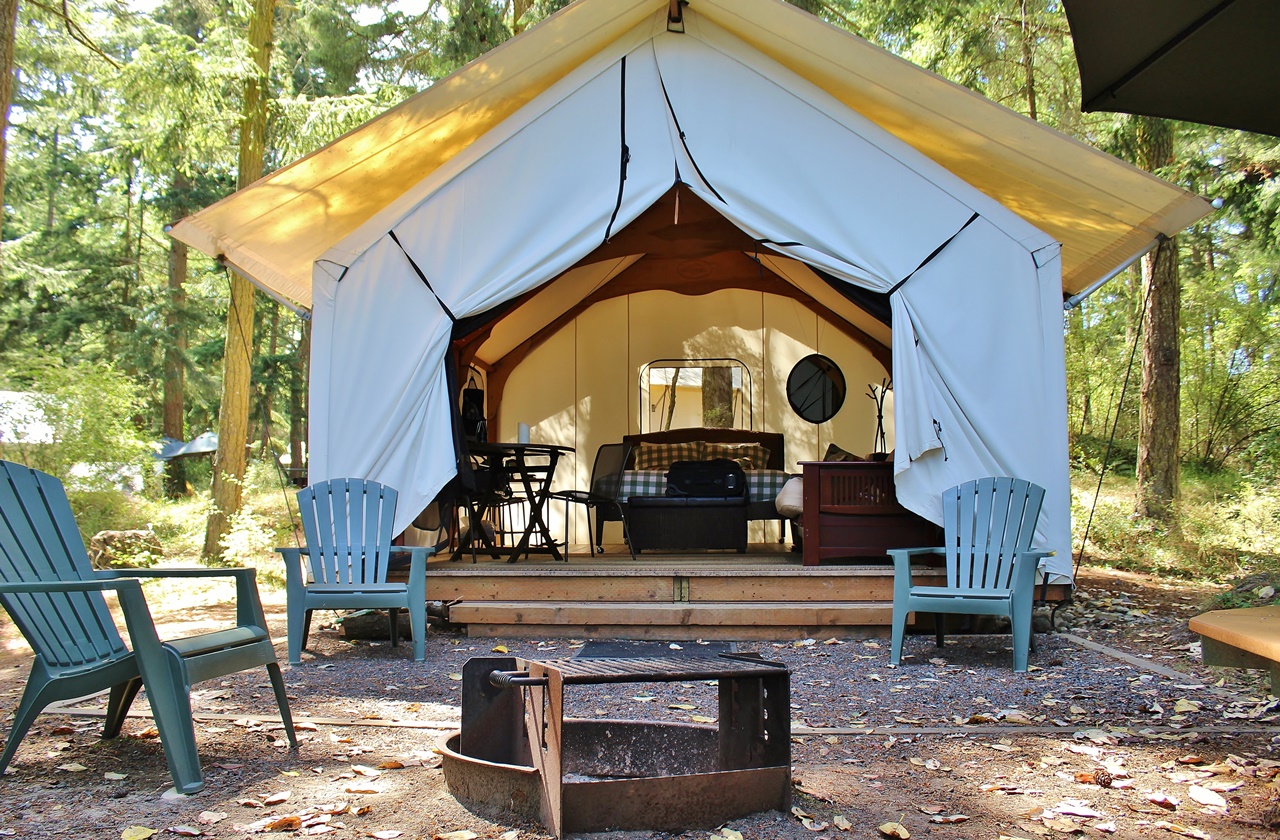 Since its inception in the early 2000s, glamping easily became one of the most sought-after and popular forms of accommodation. Everyone can now experience camping without missing out on luxuries like electricity, comfy beds, and even WiFi. Around the United States, there are plenty of camping grounds and dispersed camping areas where you can just pitch your tents. You can also find the best campsites in California, in the desert lands of Utah, and in the lush forests of the Great Smoky Mountains. However, if you're in The Golden State, try Big Sur glamping!
Surrounded by rugged landscapes near the coastline, Big Sur gives you the best views of the Pacific Ocean. Big Sur is also a driving distance away from some of California's best state parks and nature trails. So if you're looking for a quick weekend getaway, pack your bags, get ready for a quiet retreat, and enjoy glamping in Big Sur!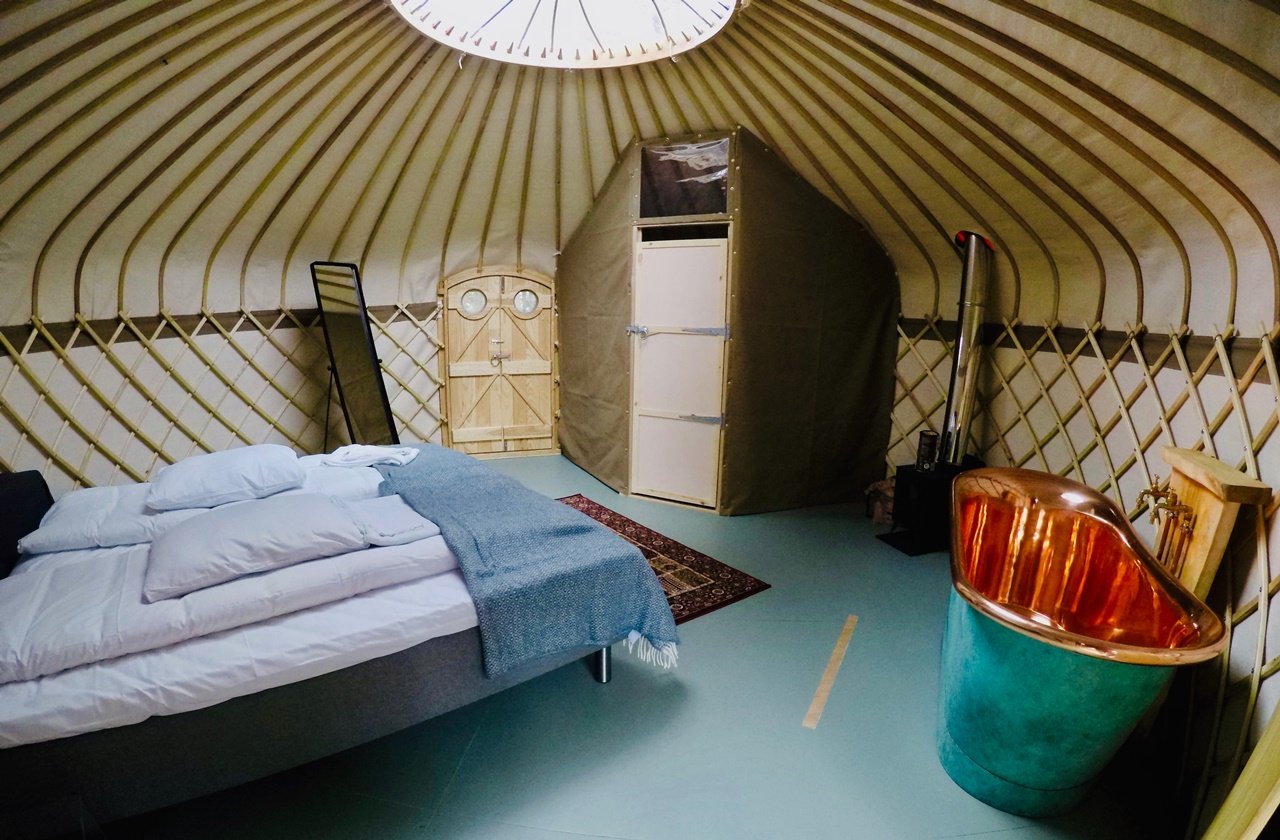 Photo by Espen Bierud on Unsplash
Coined as a portmanteau of 'glamorous' and 'camping', glamping is a type of camping with resort-like facilities and amenities not usually seen in traditional camping. These include, but are not limited to, thick mattresses, air conditioning, toilets, refrigerators, and desks. Some sites, like Big Sur glamping sites, also include free WiFi, balcony views, and kitchen facilities. When you go glamping, you'll find structures like large tents, treehouses, yurts, tipis, domes, and more.
Although the term glamping first appeared in 2005, the concept of "luxurious camping" was already in use centuries before. During the 16th century, the Earl of Atholl prepared opulent tents for the visiting party of King James V and included facilities similar to his palace. The Ottomans also had their own version of glamping, which they brought on their military missions. That being said, the concept of glamping has been around ever since until it was given an official name in the 21st century.
Although glamping is the commonly used term, others may refer to it as luxury camping, posh camping, or boutique camping, a homage to the boutique hotel concept.
What Makes Big Sur Special?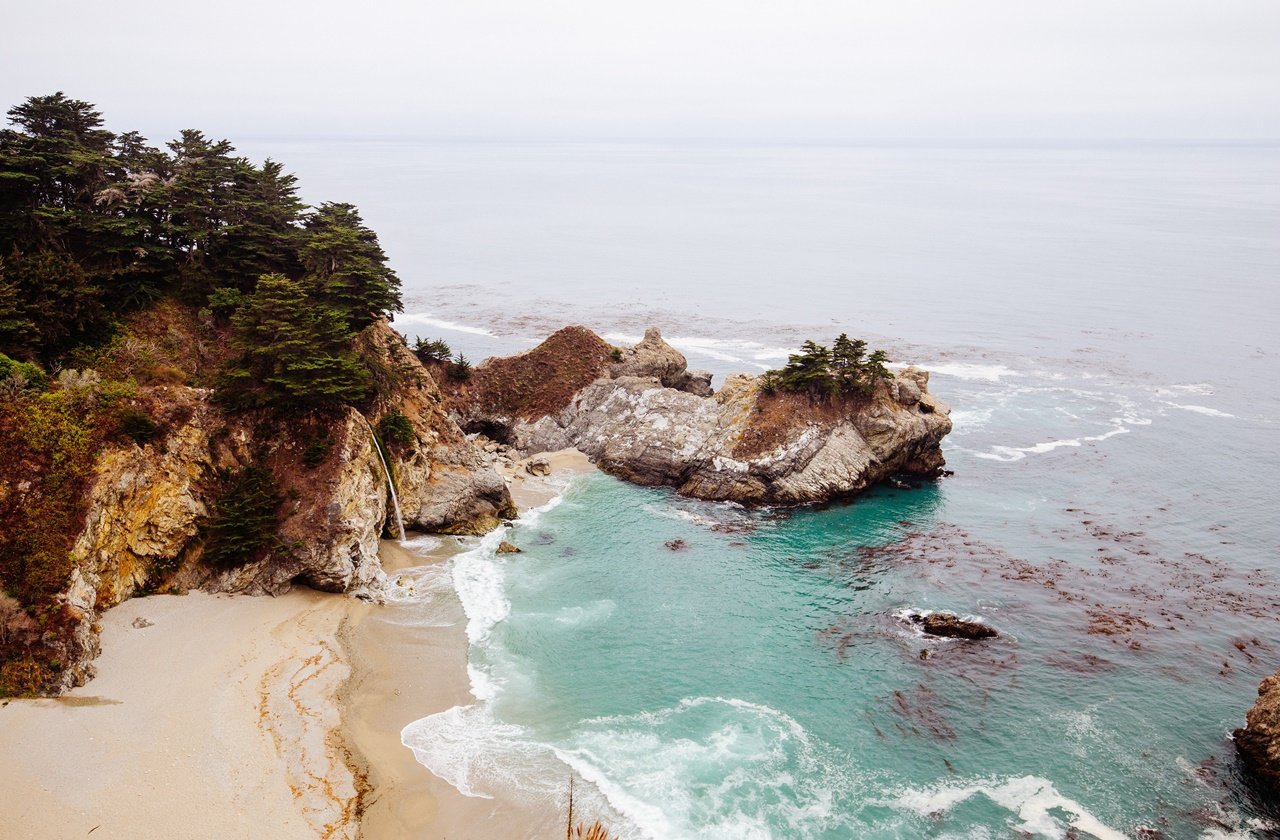 Photo by Denys Nevozhai on Unsplash
Although California in general is a beautiful state known for its tropical beaches and glamorous cities, the state also has the best natural sites, such as Big Sur. Every year, millions of tourists, hikers, photographers, and more flock to this part of California to witness several of Mother Nature's best works. Big Sur Coast Highway, one of the area's major roads, is also one of the best driving routes in the country, and perhaps in the world as well.
Find remote beaches, stunning hiking trails, and valleys teeming with wildflowers in Big Sur. It is also popular for being one of the best places to see the redwood trees, a known American icon. While this part of the Central Coast isn't that populated, its state parks, hot springs, and nature sanctuaries make up for it. Lovers of all things nature can also enjoy a variety of activities here like, hiking, biking, and trekking. Of course, who would forget Big Sur glamping and camping? Whether you prefer a classic camping getaway or a fuss-free glamping experience, this is the place to be at.
Big Sur is only three hours away from San Francisco and about five hours from Los Angeles, perfect for a short weekend getaway.
Things to Do in Big Sur
1. Visit Julia Pfeiffer Burns State Park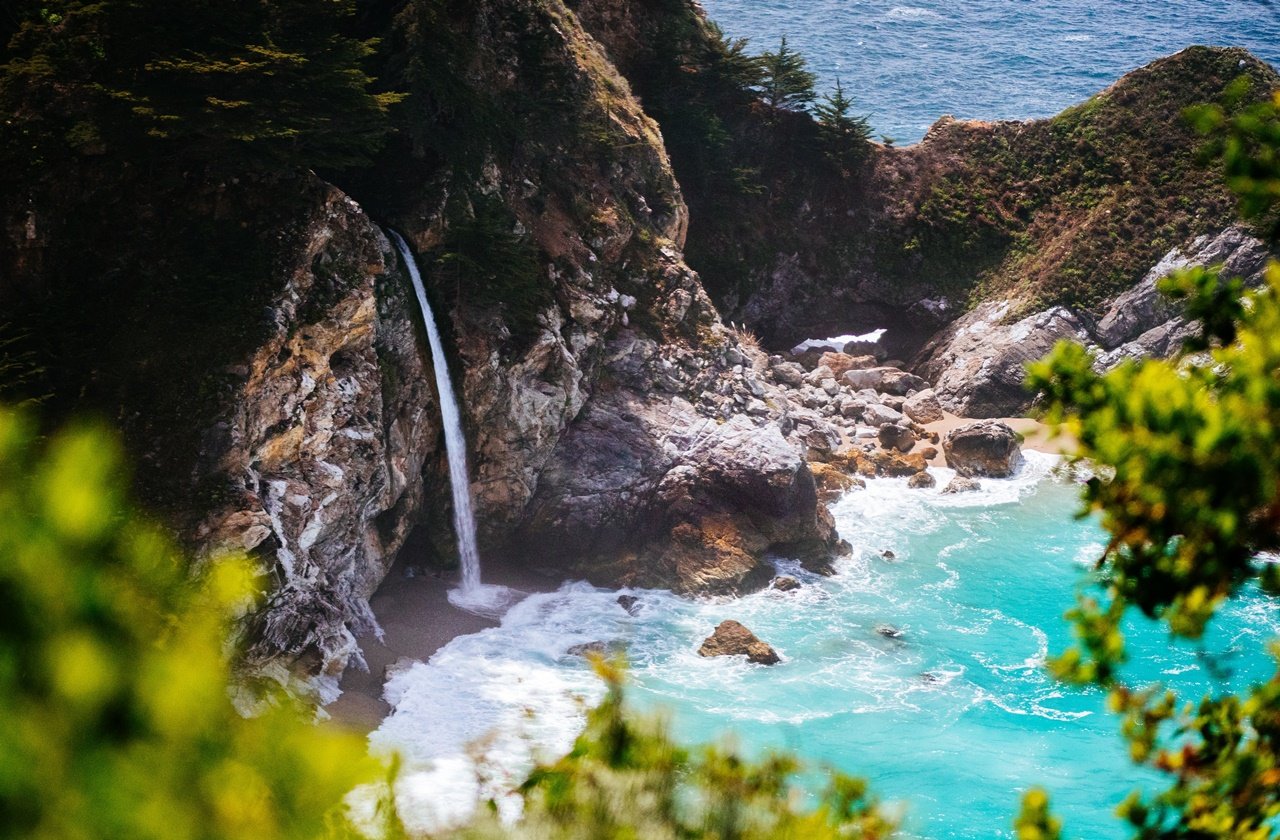 Photo by Cosmin Serban on Unsplash
Julia Pfeiffer Burns State Park is a favorite among tourists and locals because of its different trails as well as its beauty. There are seven well-marked trails that go through hidden caves, creeks, and towering redwood forests. The McWay Falls is perhaps the most famous site in the state park, an 80-foot waterfall that spills and flows into the Pacific Ocean. Follow the Falls Trail that takes you to this gorgeous natural wonder. The best thing is that the hike is easy and short, making it convenient for children and elderly tourists. It is also within a short distance away from some Big Sur glamping sites.
2. Relax at Sand Dollar Beach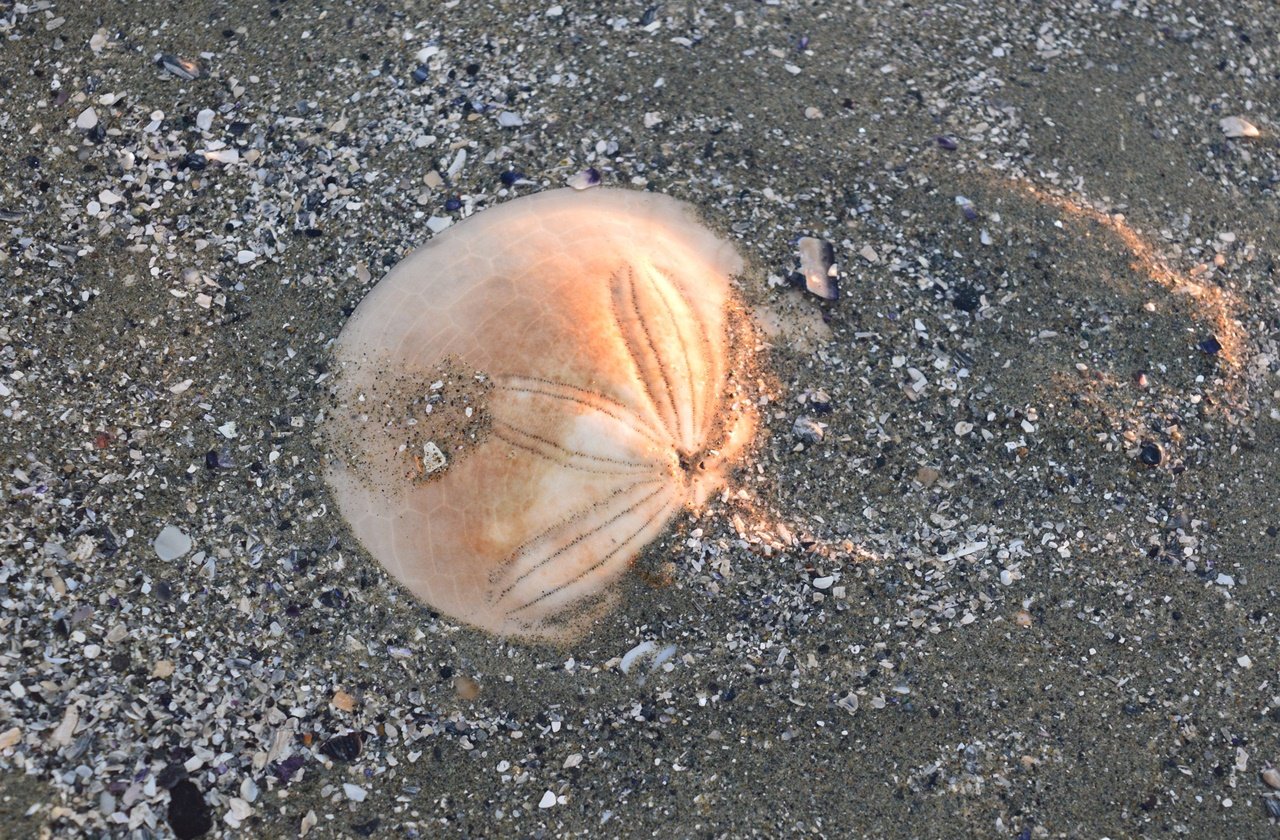 Photo by EriWo on Pixabay
For surfing enthusiasts or beach bums, visit Sand Dollar Beach. This laid-back beach has the longest coastline in the region and is also a famous spot for fishing. Aside from surfing, you can also go tidepooling, a unique activity that lets you explore small tide pools around the beach. Sand Dollar Beach also has plenty of parking spaces available and there are restroom facilities. Bring a picnic mat and leftovers from lunch, and enjoy a relaxing picnic on the beach. Despite being a popular destination in Big Sur, you wouldn't even notice it as the shoreline stretches far. Although you can't find that many sand dollars, you can spot small serpentine and jade rocks in the surrounding cliffs.
3. Take Pictures of the Bixby Canyon Bridge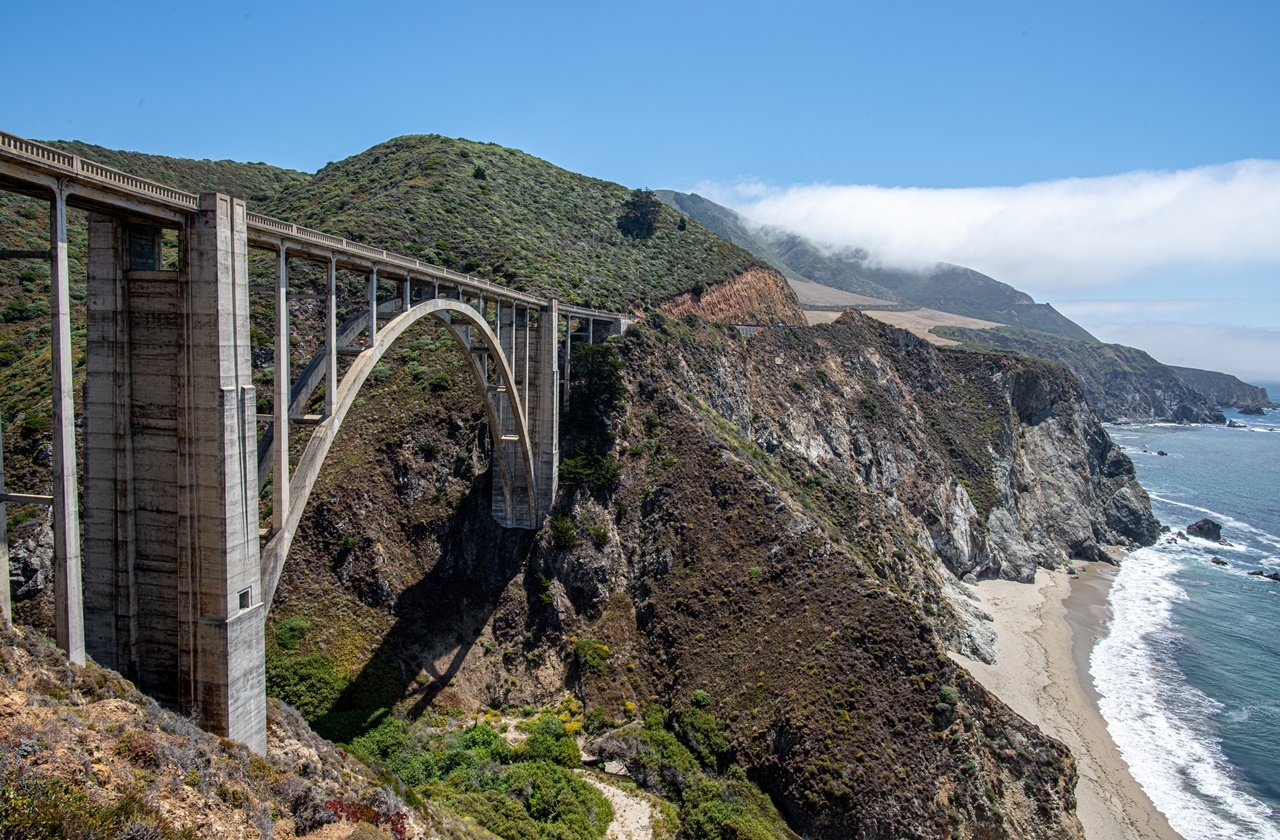 Photo by mana5280 on Unsplash
Standing 260 feet above a steep canyon, Bixby Bridge, or Bixby Canyon Bridge, is one of the state's best feats of engineering. As one of the most photographed bridges in the country, the bridge also gives you panoramic views of Big Sur's awe-inspiring coastline. On one side of the bridge, find cliffside and ocean views, while the other side boasts more of the bridge's architecture. There are different pull-offs and parking areas where you can stop and take pictures. Across Bixby Canyon Bridge, go to the viewpoints and provide plenty of photo spots and angles for that Instagram-worthy picture. Plan your visit during the early morning and capture the breathtaking sunrise over the bridge, plus, there are fewer crowds!
4. Explore Limekiln State Park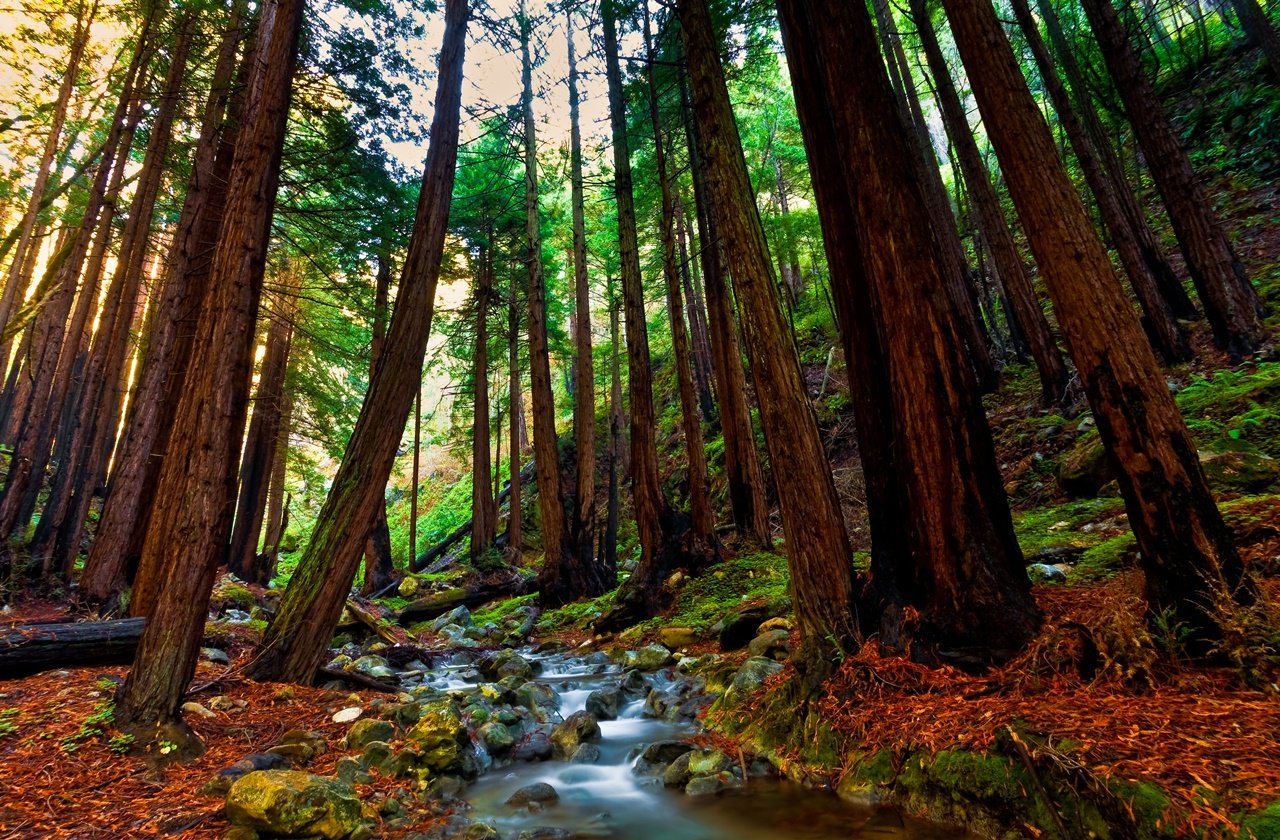 Photo by Billy McDonald on Adobe Stock
Limekiln State Park is one of the state parks near Big Sur glamping locations, making it one of the best places to visit in the region. The 711-acre park may be smaller as compared to other state and national parks in California, but it packs a lot of history. Find picnic areas, hiking trails, campsites surrounded by thick redwood forests. Along the Limekiln Trail, find four of the old limekilns or a 100-foot tall waterfall. Additionally, Limekiln State Park is one of the Big Sur parks that have direct beach access so you can go swimming and find marine life. Families with children can also go on a nature walk since the trails are easy. However, the elderly and travelers with limited mobility may have difficulty walking around the pathways.
5. Enjoy a Meal at Nepenthe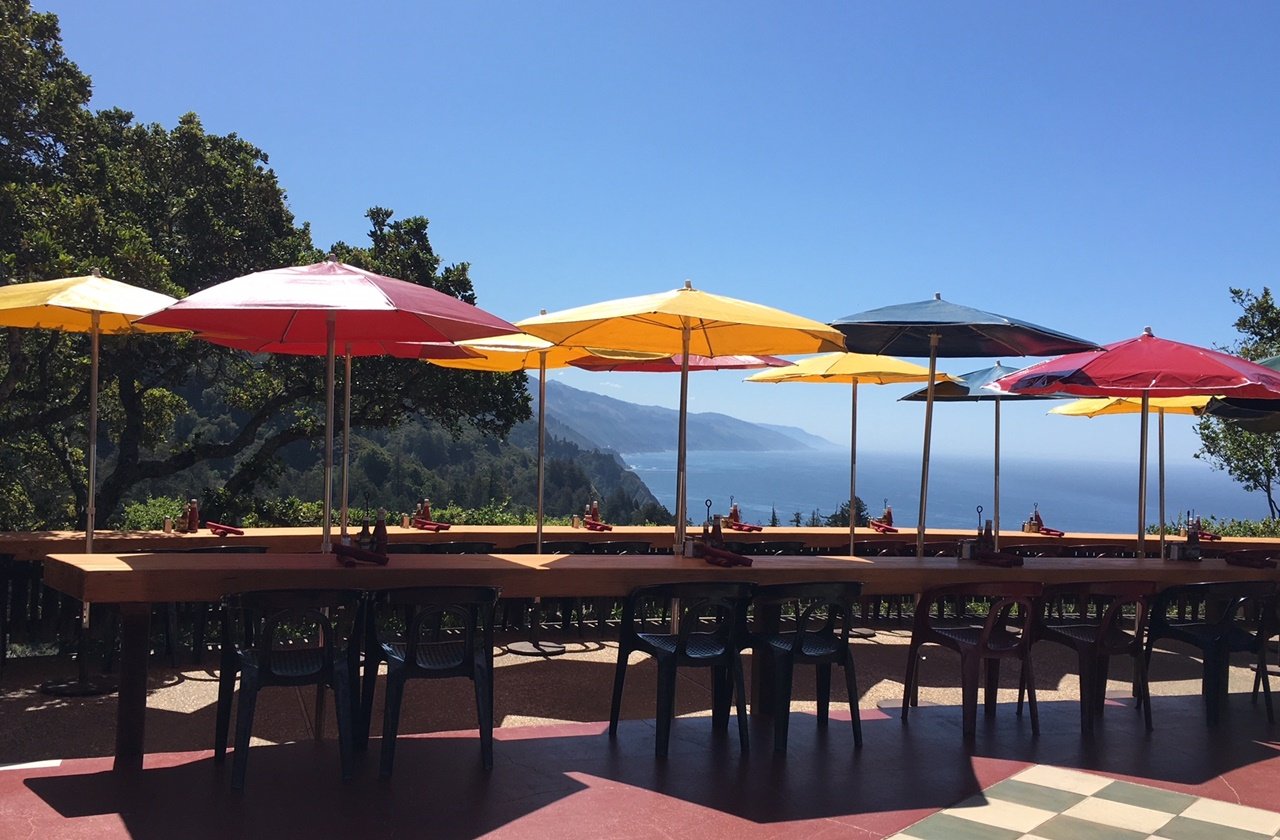 Photo from Nepenthe Website
When you mention Big Sur restaurants, Nepenthe is the place to visit. As a staple over the past 70 years, the restaurant is a famous hangout for Hollywood celebrities like Elizabeth Taylor and Orson Welles. Other than that, the restaurant boasts a beautiful view of the ocean and cliffs while serving the best regional food. The restaurant is also surrounded by lush redwood and oak trees. Take a bite of their famous Ambrosia Burger paired with an ice-cold glass of beer. Since Nepenthe is a sought-after restaurant in Big Sur, plan your visit in advance and make reservations to avoid waiting in line.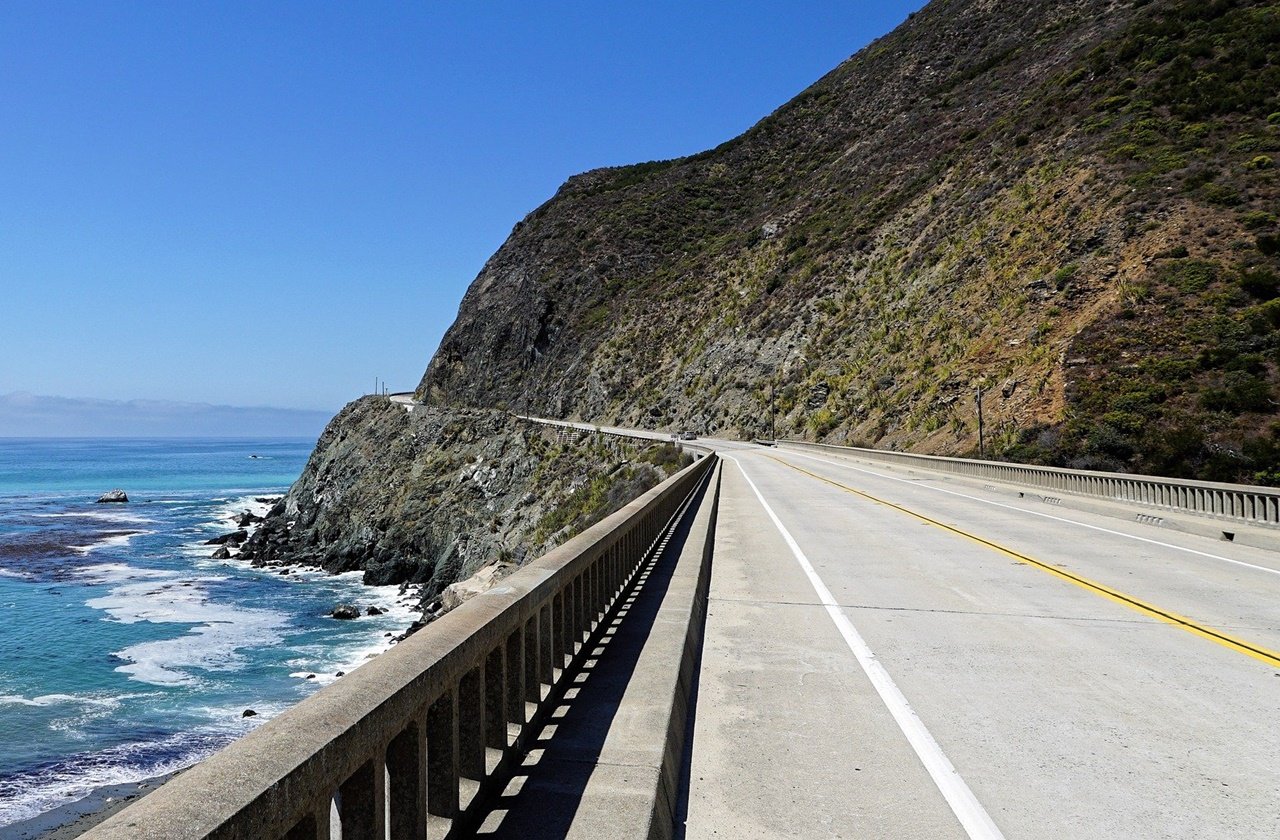 Photo by harleyufo on Pixabay
Going on a road trip along the Big Sur Coast Highway is a vacation in itself. In fact, its beauty and significance is compared to other world-famous streets like the Champs-Élysées in Paris and Broadway in New York. This famous driving route attracts millions of visitors every year wanting to see the stunning coastline. Spanning across 72 miles of picturesque ocean views and redwood forests, going on a drive along the Big Sur Coast Highway is one of the must-do activities here. You can even stop by and take photos of the dramatic scenery before you. Take note that some portions of the road may be closed due to wildfires or mudslides. Before or after your Big Sur glamping experience, why not take a trip down one of America's most beautiful roads?
Big Sur Glamping Accommodations
Ventana Big Sur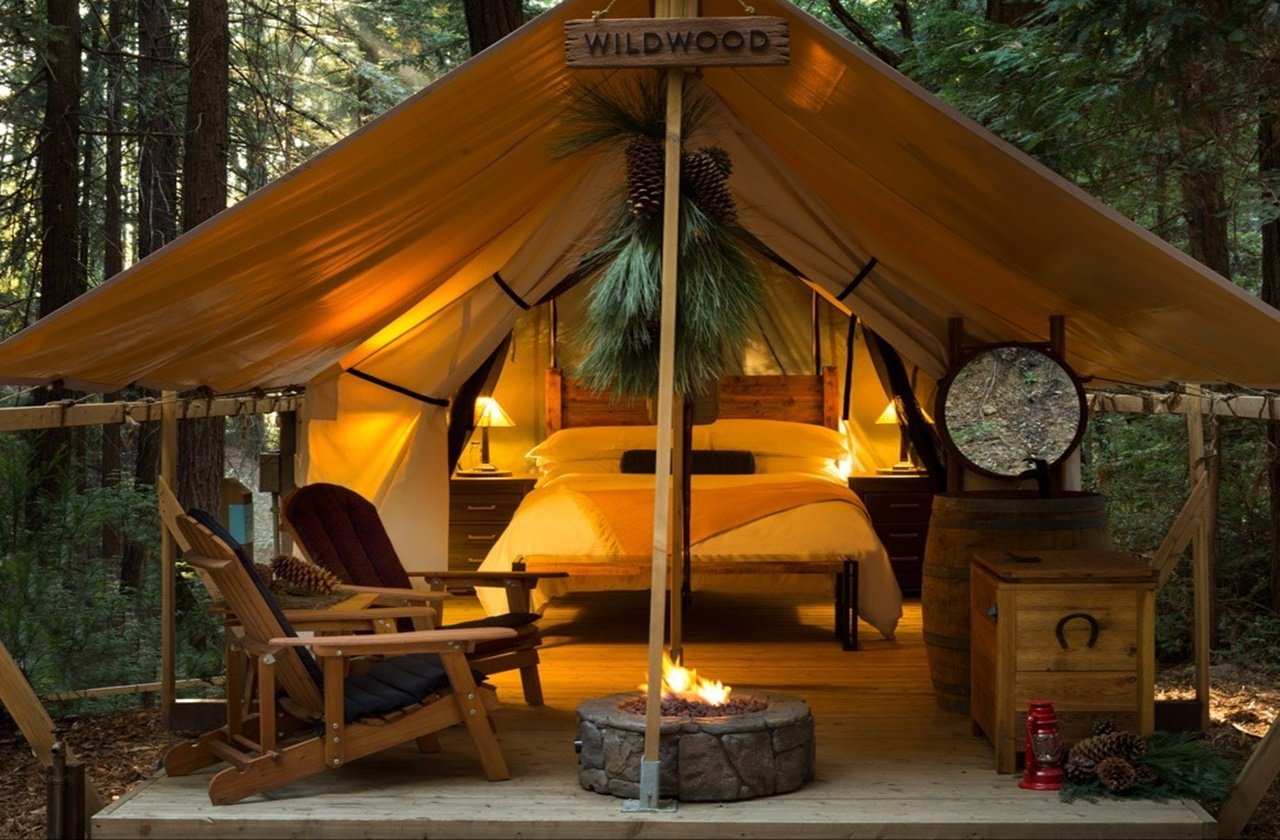 Photo from Ventana Big Sur Glamping.com Page
Address: 48123 CA-1, Big Sur, CA 93920, United States
Price: Starts at 300 USD per night
Ventana Big Sur is arguably the best Big Sur glamping site. The five-star resort is already famous for its world-class amenities, and its glamping sites aren't an exception. The tents are all cozy with resort-style beddings and comfortable towels. In addition, the tents are complete with drawers, lamps, and electrical outlets for your gadgets. Other amenities include a fire pit, fire ring, lounge chairs, picnic tables, and potable water. Unlike other glamping and camping sites, the sites here are more remote, granting you privacy and a sense of intimacy. Location-wise, Ventana Big Sur is near the main highway, making it easier to go to the nearby restaurants, gas stations, and tourist attractions.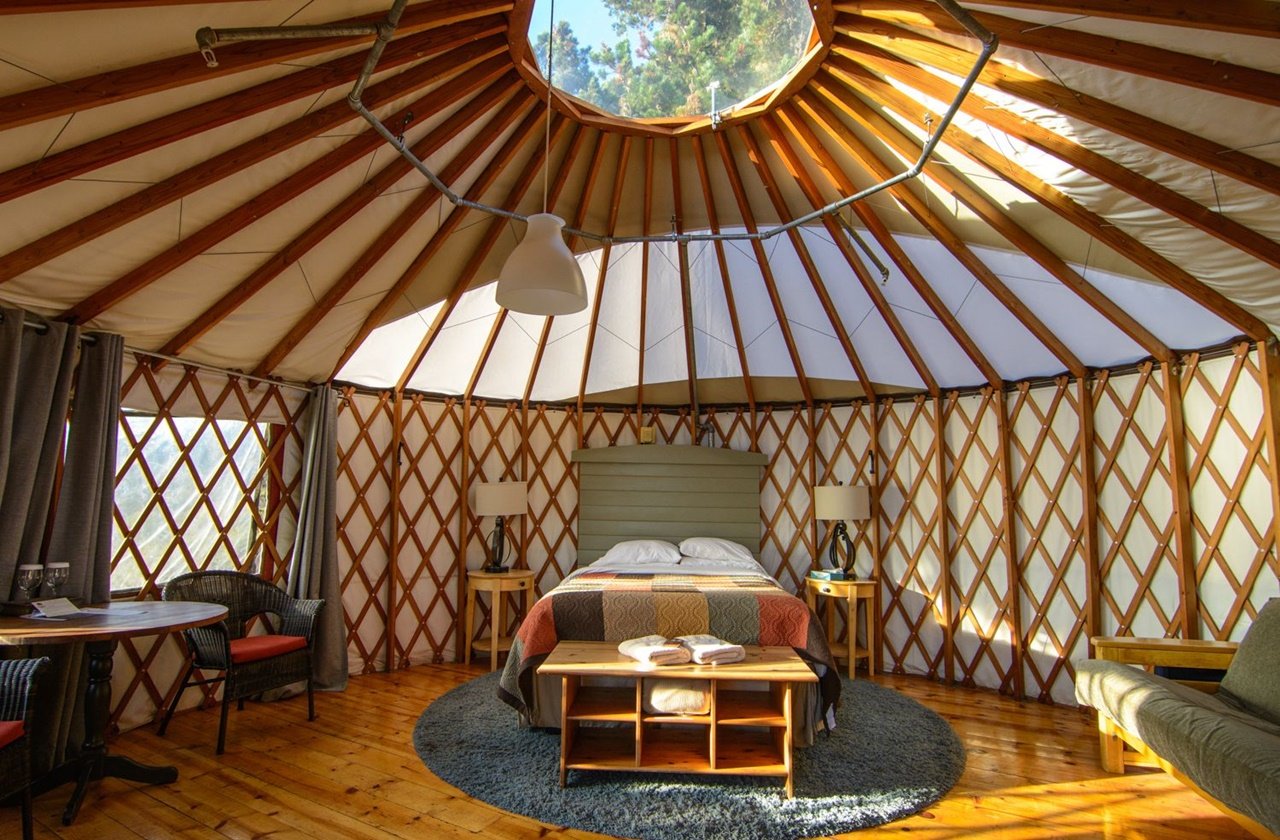 Photo from Treebones Resort Website
Address: 71895 CA-1, Big Sur, CA 93920, United States
Price: Starts at 300 USD per night
If you're looking for a luxurious glamping tent, head to Treebones Resort. Its yurts feature queen-sized or king-sized beds with warm comforters as well as hooks to hang your gear. Some of the private and more luxurious tents have a private fire pit and deck. Best of all, you can choose between a full or partial view of the Pacific Ocean. In the morning, start your day by joining a relaxing yoga class then have breakfast. As for activities offered, guests can go on a guided hike, kayaking trip, and even gardening workshops. Other lodging options in Treebones Resort include standalone tents, yurts, and campsites with a twig hut.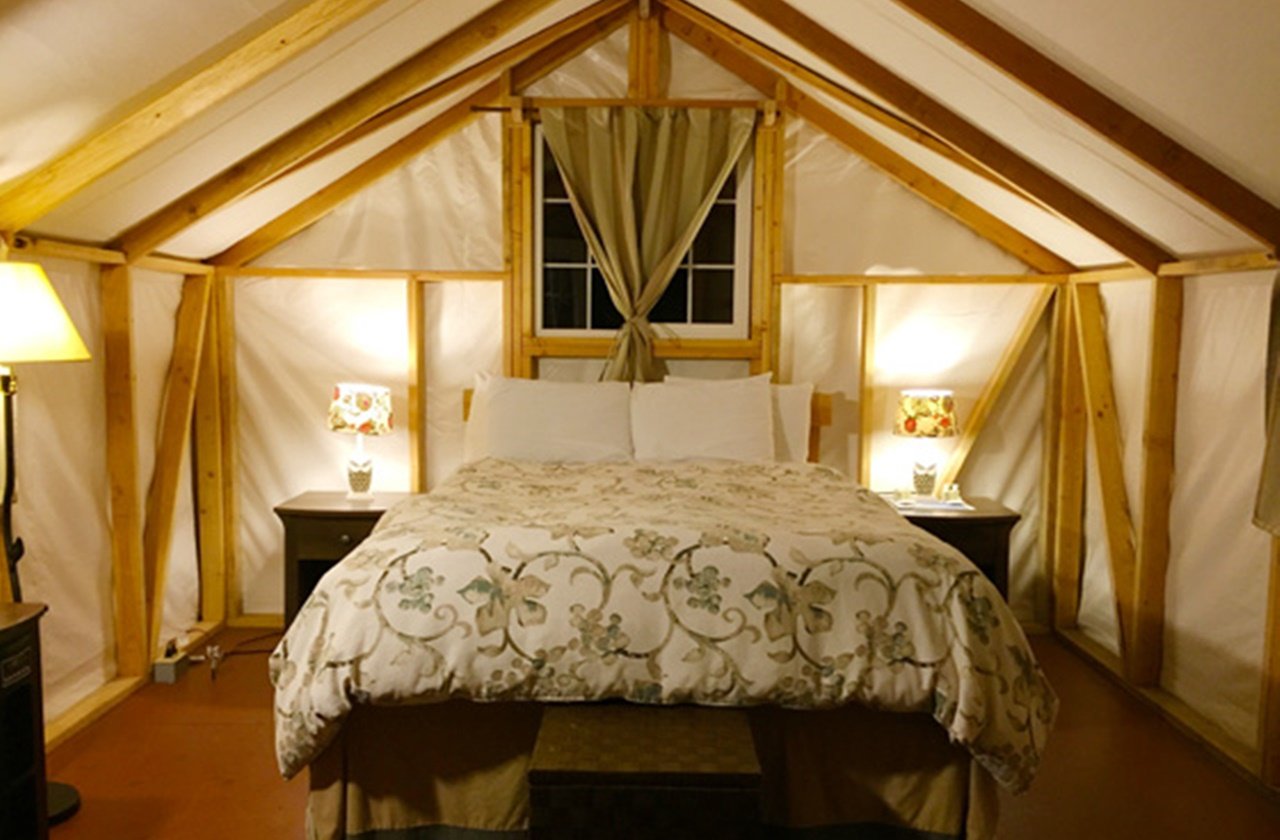 Photo from Fernwood Resort Website
Address: 47200 CA-1, Big Sur, CA 93920, United States
Price: Starts at 175 USD per night
Fernwood Resort's adventure tents are perfect for a luxurious yet affordable Big Sur glamping experience. It is also perfect for travelers who don't want to go somewhere too far off but still grants privacy and exclusivity. The tents feature fresh bed linens, towels, an electric tent heater, and more. Outside of your tent, find a private picnic table and a fire pit where you can get cozy at night or roast some marshmallows. There are also bathhouses with two showers nearby for easy access. Located off the main highway, Fernwood Resort is your best jump-off location to some of the area's best hiking trails, beaches, and parks.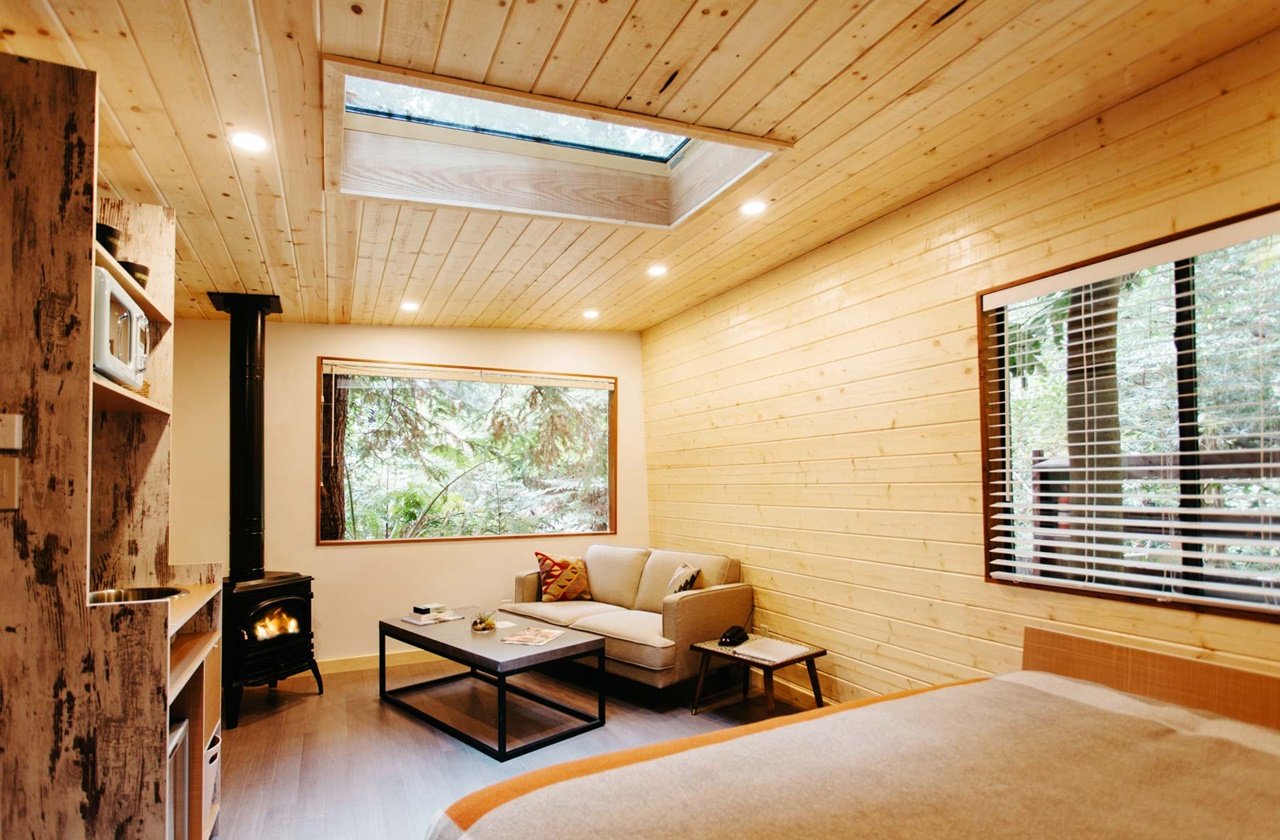 Photo from Glen Oaks Big Sur Glamping.com Page
Address: 47080 CA-1, Big Sur, CA 93920, United States
Price: Starts at 365 USD per night
Glen Oaks Big Sur offers modern and rustic accommodation in the heart of the forest. Most furnishings are eco-friendly, with wool carpets and renewable stone walls to help keep the heat of the sun from penetrating inside the cabin. The organic cotton bed linen also guarantees a comfortable and stress-free sleep. For conscious travelers, each cabin at Glen Oaks is designed to minimize its environmental impact. Those who dislike taking baths on a chilly morning can enjoy its heated bathroom floors complete with modern and stylish fixtures. Outdoor activities you can enjoy include swimming, hiking, and wildlife observing.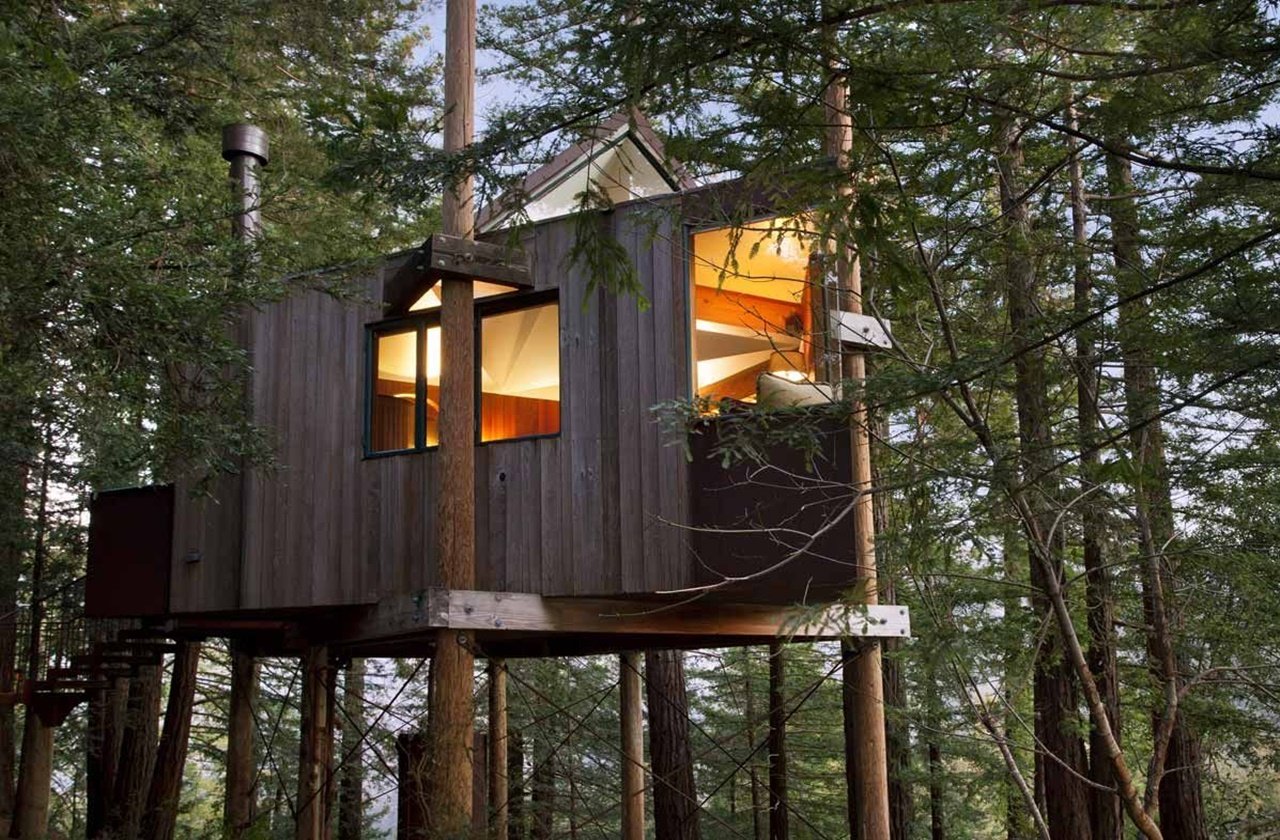 Photo from Post Ranch Inn Website
Address: 47900 CA-1, Big Sur, CA 93920, United States
Price: Starts at 900 USD per night
Enjoy up to 100 acres of private land and opulent accommodation at Post Ranch Inn. The place sits on a cliff giving you the best views of the Pacific Ocean and the tranquility of staying on private land. Relive your childhood dreams of staying in a treehouse, but make it more glamorous and fancy! The treehouses include a bed, skylight, fireplace, and a cozy sitting area. You can also access its pools, have a daily gourmet breakfast, and join daily yoga sessions. While its price isn't the most affordable, you're sure to have a wonderful and memorable Big Sur glamping here.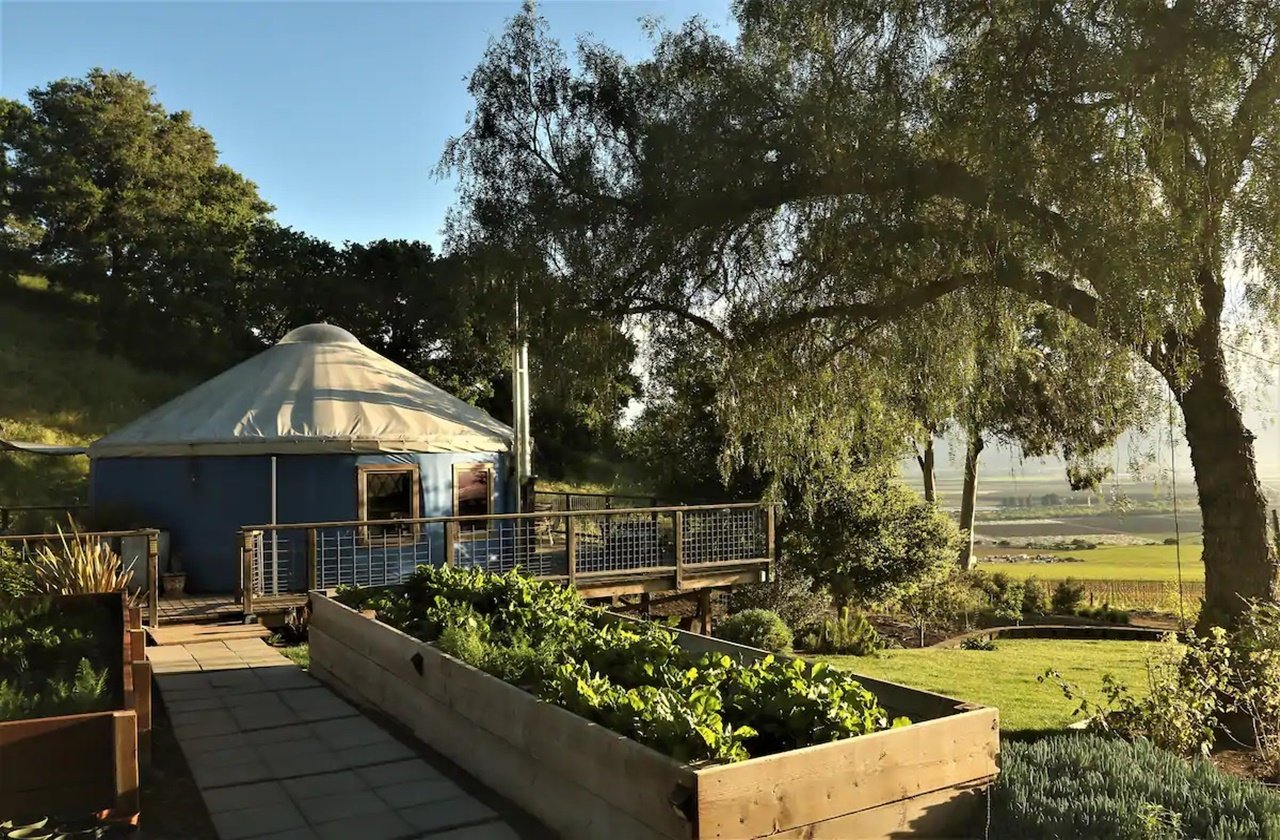 Photo from Airbnb Page
Address: (Exact address provided after booking)
Price: Starts at 250 USD per night
If you want to go glamping somewhere off the grid, this charming yurt in Salinas is the perfect choice of site. The yurt at a Salinas farm features a Tempur-Pedic bed, a full kitchen, and an outdoor fire pit. Nearby activities include hiking and walking trails, a croquet course, and wine tasting at the vineyards. Enjoy the charming countryside views of Salinas and the Santa Lucia Highlands vineyards at the expansive deck outside. If you need to go on a last-minute grocery run, the towns of Monterey and Carmel are only 40 minutes away. Take note that since the yurt is located on a farm, there may be farming activities during your stay.
Things to Know When Glamping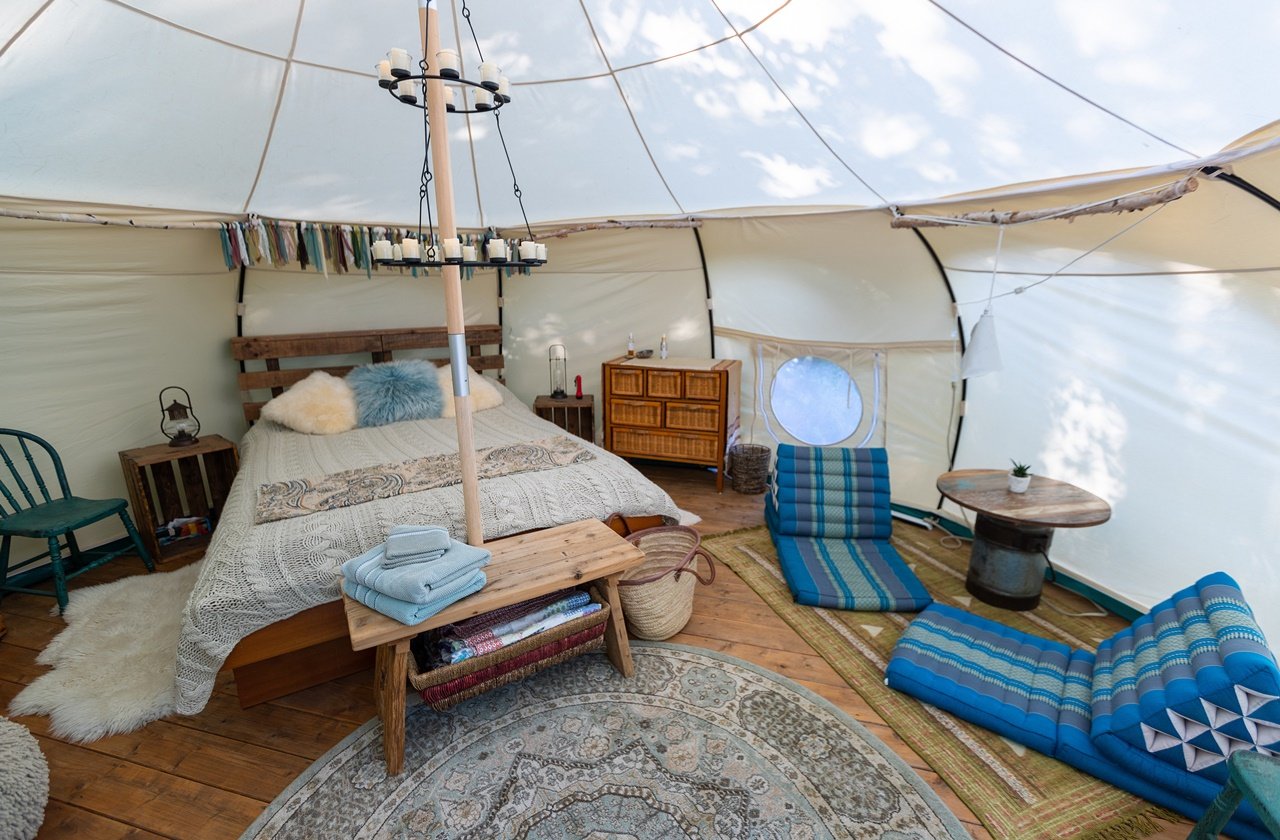 Photo by Colin on Adobe Stock
Before booking, do additional research on the nearby sites and attractions. If you want to visit a certain place or hike at a specific trail, look for a Big Sur glamping site that's nearest to it. Additionally, you can ask your host about guided tours or excursions.
Make sure to have a checklist and bring all the essentials. Know which appliances and amenities are included before booking. Then, bring the items that you need that are not in the site's inclusions.
When packing your things, you can use packing cubes for clean clothes then store them in plastic bags or separate storage for dirty clothes.
Avoid overpacking! Since you're going on a glamping adventure, you may want to skip bringing extra sleeping bags or camp chairs.
Aside from toiletries, don't forget to pack wet tissues, hand sanitizers, and toilet paper.
If you are taking medicines, make sure to bring the amount you need for your stay.
Always have a first-aid kit with you. All glamping sites should have one, but it's better to have your own first aid kit in case of accidents or injuries.
Most glamping sites include daily meals. If a site doesn't offer meals, plan ahead and create a daily meal plan so you know which items you need to bring or buy along the way.
Don't forget to clean as you go since some campsites don't allow guests to leave their trash behind. You can bring containers for leftover food or locate the nearest garbage dump outside the campsite.
Enjoy the tranquility that comes with the environment. Just because the glamping site offers complimentary WiFi doesn't mean that you're going to stick to your phone!
Embark on a Memorable Big Sur Glamping Experience!
Surrounded by tall redwood and oak trees and miles of gorgeous coastline, glamping at Big Sur is a must! There's no need to worry about sleeping on thin bedrolls in hot tents since you get to stay in a very comfortable yurt, tent, or even a treehouse. All you need is your bag of necessities and that's it! Have fun exploring Big Sur's natural wonders and enjoy a very rewarding sleep at your Big Sur glamping accommodation.