Mountain Creek Waterpark: The Ultimate Guide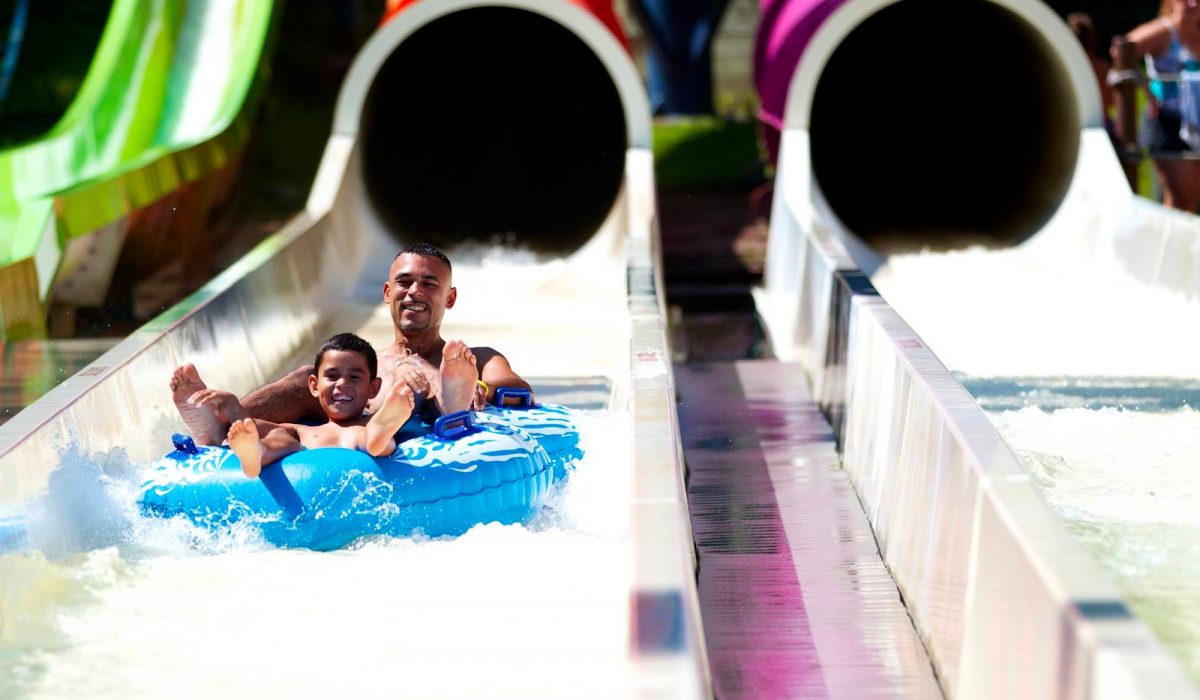 Home to thrilling water slides and rides, Mountain Creek Waterpark promises summer fun and adventure for the entire family. Tucked between the mountains of Vernon, New Jersey, the water park is immensely popular among locals and tourists from nearby cities and states. In fact, with it being less than two hours away from New York City, it's a favorite destination for New Yorkers looking for cheap weekend getaways. And it's easy to see why. From heart-pumping slides and cliffs to water fountains and a lazy river, Mountain Creek Waterpark has something in store for all ages!
In this guide, we'll walk you through what to expect from this water park in New Jersey. We also listed down essential information you need to know, such as ticket prices, items to bring, and more!
Mountain Creek Waterpark Rides
All the water rides and slides are categorized based on their thrill level — easy, moderate, high, and extreme — making them enjoyable for all ages.
Easy Mountain Creek Waterpark Rides
The Lost Island River
For little ones who want to simply wade in the water, the Lost River is surely a great spot. With gentle currents flowing through the ride, children four feet and below can freely float around the lazy river all day. It's an easy ride to start with before they move on to the park's more thrilling rides.
The Hook
If your kids do decide they want to make a splash, the Hook is a water slide conveniently located below the Lost River. This two-person tube slide is an easy-going ride that shoots guests right into the lazy river.
Fishing Village
The Fishing Village is an interactive water-play fort modeled after a sea shack. It features slides, waterfalls, and water cannons and jets, all of which will certainly guarantee kids a good time. This multi-level water playground is also a brilliant spot for pictures, so don't forget to bring your best waterproof or underwater camera with you!
Sprayground
Similar to the Fishing Village, the Sprayground is another fun and interactive water playground for kids. It has multiple water features, including fountains. What's more, it's a great spot to cool off and escape the heat without getting into one of the pools. And since it's situated near the park's string of cabanas, you won't have trouble keeping an eye on your children.
Moderate Mountain Creek Waterpark Rides
Colorado River
Bigger kids out there will surely love the thrill of the Colorado River. Spanning 1,600 feet, Mountain Creek Waterpark's very own version of the Wild West will have you and your friends flying down the mountain and passing through cascading waterfalls, wild rapids, and enclosed tunnels. And since it is one of the more extreme group attractions of the park, it requires visitors to wear helmets for a safe ride. Furthermore, kids below four feet who wish to go down the adrenaline-inducing white water raft ride will need an accompanying adult with them and life jackets to do so.
High Tide Wave Pool
Missing the ocean waves of the best tropical beaches in the world? Then you'll surely enjoy the four-foot ocean-like waves of the High Tide Wave Pool. Instead of salty seawater, enjoy swimming and body surfing in over 450,000 gallons of pristine mountain water. There's even a sun deck to lounge around in as you soak up some sun rays. Indeed, the whole family will certainly have a blast splashing and playing here. Hungry visitors will also be glad to know that the wave pool is conveniently near one of the adventure park's many food stalls.
Bombs Away
Looking for some more of that adrenaline? How does free-falling from 18-feet above sound? The Bombs Away water slide will have you careening down a steep descent that ends in an 18-feet freefall. A 16-foot-deep pool awaits you below after your magnificent drop. Bombs Away is a terrific alternative to the Canyon Cliff Jump, another one of the water park's more intense rides. Take note that due to Bombs Away's nature, visitors must be at least 4'5" tall to ride it.
Thunder Run
Share the thrill with a friend or family member as you both conquer the wild twists, turns, and surprise drops of the Thunder Run. This tandem ride promises and certainly delivers maximum thrill. The water park requires guests to wear helmets when going down the ride.
H2-Oh-No!
The H2-Oh-No is among the immensely popular water slides in the park. Situated 99-feet above on top of the mountain, it guarantees a riveting experience. This near-vertical body water slide will have you screaming as you plummet at maximum speed until you reach the end's shallow water area. Before the drop, though, you get a brief respite as you marvel at the spectacular views of the surrounding mountain area.
Vertigo
Passengers on this fully enclosed water slide will be engulfed in darkness as they speed down through back-to-back turns and steep drops. A tandem tube ride, you and your friend will surely be whooping with thrill and excitement. Little ones between 3′5" and four feet in height are welcome to go down the slide, just as long as an adult accompanies them. Wearing a life jacket is also a requirement for small children.
Surf Hill
Feel the rush of victory as you splash to the finish line of Surf Hill! Challenge up to seven of your friends and race down this eight-lane racing slide. Utilizing the natural topography of the mountain, descending down feels close to zero gravity with a few surprise drops for added momentum. You will surely be screaming with excitement as you go up against your friends and family.
High Mountain Creek Waterpark Rides
Vortex
The Vortex is a classic ride that will have you sliding down in pitch-black darkness. The momentary vision loss only builds excitement, as you'll never know the twists, turns, and drops coming your way. Cruise down on this tandem slide ride with a friend before making a splash right into the lagoon below.
Alpine Rush
Experience a one-of-a-kind rush with the Alpine Rush! This thrilling ride takes passengers through enclosed tunnels that loop around 180° and 360° curves. The sheer heart-stopping experience makes it a favorite among the park's repeat visitors.
Extreme Mountain Creek Waterpark Rides
Zero-G
Since its opening, the Zero-G has been a favorite for many thrill-seekers. It's a full-throttle ride that will have you hurtling down from 100 feet above. Step inside the capsule and take a moment to gaze at the stunning sight of New York. When the trapdoor opens beneath your feet, you'll be sent into a wild, scream-inducing, zero-gravity-like experience. The ride features two inclined loops and since it can be a slightly disorientating feel, the ride certainly isn't for the faint of heart.
Canyon Cliff Jump
Jumping off a cliff is definitely not for the faint of heart. At the Canyon Cliff Jump, guests can jump off a platform at either 18 or 23 feet. It's one of the park's most popular attractions, with plenty of visitors braving the leap. Waiting below them is a 16-foot-deep pool that will surely cool you off during a hot summer day. Not up for the challenge? That's okay, join dozens of spectators and watch others take the plunge.
Best Time to Visit Mountain Creek Waterpark
Generally, Mountain Creek Waterpark opens its doors to guests between the months of June and September. Many consider the start of the season to be the best time of the year to visit because the temperatures are still pleasantly warm and the crowds are few. However, the park's actual opening days and schedule varies each season and depends on the current weather conditions. As such, make sure to browse Mountain Creek Waterpark's official website before you visit. That said, you want to avoid visiting on weekend holidays such as the Fourth of July, Father's Day, and Labor Day if you don't want to encounter long lines and sizable crowds.
Mountain Creek Waterpark Tickets and Admissions
Season passes at the Mountain Creek Waterpark cost USD 69.99 and give guests access to the park all throughout the summer months. Each season pass entitles you to a 15% discount on food and beverage as well as free parking. Meanwhile, admissions for daily tickets are limited and will set you back USD 39.99 each. Children two years of age and under are free. Cabana and locker rentals are excluded from these fees.
Want to explore Mountain Creek's other summer attractions? Activities such as the alpine slide coaster, zip lines, golf course, and rope courses all cost a separate admission fee and ticket.
Mountain Creek Waterpark doesn't offer on-site ticketing services. All ticket purchases must be made in advance through the website. Meanwhile, parking costs $10 which you can only pay on-site through credit cards only.
Mountain Creek Waterpark Directions
Mountain Creek Waterpark is part of the Mountain Creek Resort. It is located in the township of Vernon in Sussex County, New Jersey. The nearest major city is New York, less than 50 miles away. It's easily accessible if you're coming from anywhere in the tri-state area.
From Central New Jersey:

Take the Garden State Parkway and exit the 153 to Route 3 West. From here, continue west on Route 46 to Route 23 until you reach Route 515. Take the exit on the right and continue south on Route 94 until you reach

Mountain Creek Resort

.

From New York City:

For New Yorkers headed up to the

ski resort

, you have two options. You can either take the George Washington Bridge onto Route 80 West and merge onto Route 23. From there, take Route 515 North until you reach Route 94 South. Alternatively, you can take the Lincoln Tunnel to Route 3. Once there, just follow the

directions mentioned above

.

From Philadelphia:

Take the New Jersey Turnpike to Exit 10 and onto Route 287. Continue onto north of Route 23 until you reach Route 515. From there, take a right onto Route 94 South. The

Mountain Creek Resort

should be on your left.
You'll find parking spaces across the street from the resort. Parking tickets start at USD 10 up to USD 20, depending on where you park. Although, season pass holders won't have to worry about paying for parking.
Must-Haves When Visiting Mountain Creek Waterpark
Mountain Creek Waterpark visitors must adhere to the park's dress code. Overly revealing swimsuits, such as transparent bathing suits, thongs, and other similar pieces are not allowed within the premises. After all, the park is one of the family-friendly water parks in New Jersey.
Besides the appropriate swimwear, make sure you are packed with appropriate summer essentials including the following
Cover-ups

like kimonos and sundress for women, and beach shorts and button down for the gents.

Comfortable footwear

to avoid slips and accidents. Many of the rides are uphill and you'll be walking around a lot. The park's walkways get hot, especially during warmer days. As such, bring flip-flops or

water shoes

to protect your feet from burning, as well as from slipping on wet pavement.

Sun protection

such as a pair of

polarized sunglasses

and sunblock to protect you from UV rays.

Floaties and life jackets

for little ones. The park provides life jackets for some rides but brings some for your kids just to be safe.

Waterproof bag

to store wet clothes or valuables, such as your phone, wallet, and keys.
Frequently Asked Questions About Mountain Creek Waterpark
Is Mountain Creek Waterpark Still Open?
Absolutely! Mountain Creek Waterpark is a seasonal water park, so it does close its doors around fall, winter, and spring months. During these months, though, Mountain Creek offers other activities and attractions to locals and tourists. Particularly, in winter, the park transforms into a winter wonderland, with people hitting the mountain slopes on skis, snowboards, and snow tubes.
How Is Mountain Creek Different From Action Park?
Originally established in the late 1970s as Action Park, the amusement park became infamous for its ride mishaps that led to several deaths. After several lawsuits linked to injuries, fatalities, and safety issues, founder Gene Mulvihill ceased the park's operations in 1996.
The park reopened in 1998 after the property was acquired by the Mountain Creek ski resort. Under new ownership, the park operates with new safety standards, prioritizing guests' protection. Not only are the park employees cardiopulmonary resuscitation (CPR) certified, but there are also on-site Emergency Medical Technicians (EMTs) ready to serve in case of emergencies at the park's first-aid station. Furthermore, in 2018, other technological advancements, such as online ticket purchasing protocol, have been incorporated in Mountain Creek Waterpark to better facilitate crowd entry and control.
Are There Any Hotels Near Mountain Creek?
The resort offers two accommodation options: The Appalachian and the Black Creek Sanctuary. Offering slope-slide accommodations, the Appalachian hotel is great for those looking to stay a night or two. It has spacious studios with either one or two bedrooms. All units come with a fully functioning kitchen, fireplaces, and spectacular views of the mountainside. Meanwhile, the Black Creek Sanctuary is a gated community that offers fully furnished townhome rentals, ideal for longer stays.
Where To Eat Near Mountain Creek Waterpark?
Feeling hungry after all that activity? The park doesn't allow any outside food or beverage within its premises. But there are two food stalls on-site that offer a wide selection of food and snacks. Besides these, there are also two hotel dining options nearby.
Red Tail Lodge houses three restaurants: The Market, Schuss, and the Biergarten. The Market offers a wide selection of salads, panini, and artisanal sandwiches. It's a great place for people with dietary restrictions too thanks to its offerings of gluten and lactose free meals. Meanwhile, the Schuss is a hotspot for many visitors with its wood-fired dishes, flatbreads, and wide selection of cocktails and craft beers. Up for some more drinks? Head up to the outdoor patio of the lodge and indulge in some flame-grilled burger and craft beer at the Biergarten.
The South Lodge Dining, on the other hand, offers a more casual vibe. On the first floor, you'll find the South Square restaurant, while on the second floor is a bar that has a vast selection of craft beers you can pair with American-Style BBQ.
Visit Mountain Creek Waterpark, NJ Today!
With a wide range of water slides, rides, water playgrounds, and a wave pool to choose from, Mountain Creek Waterpark is perfect for just about anyone. For people looking for some thrill and adventure or simply just want to beat the heat, add visiting Mountain Creek Waterpark on your list of things to do this summer!