The Best of Ulsan Korea: A Traveler's Guide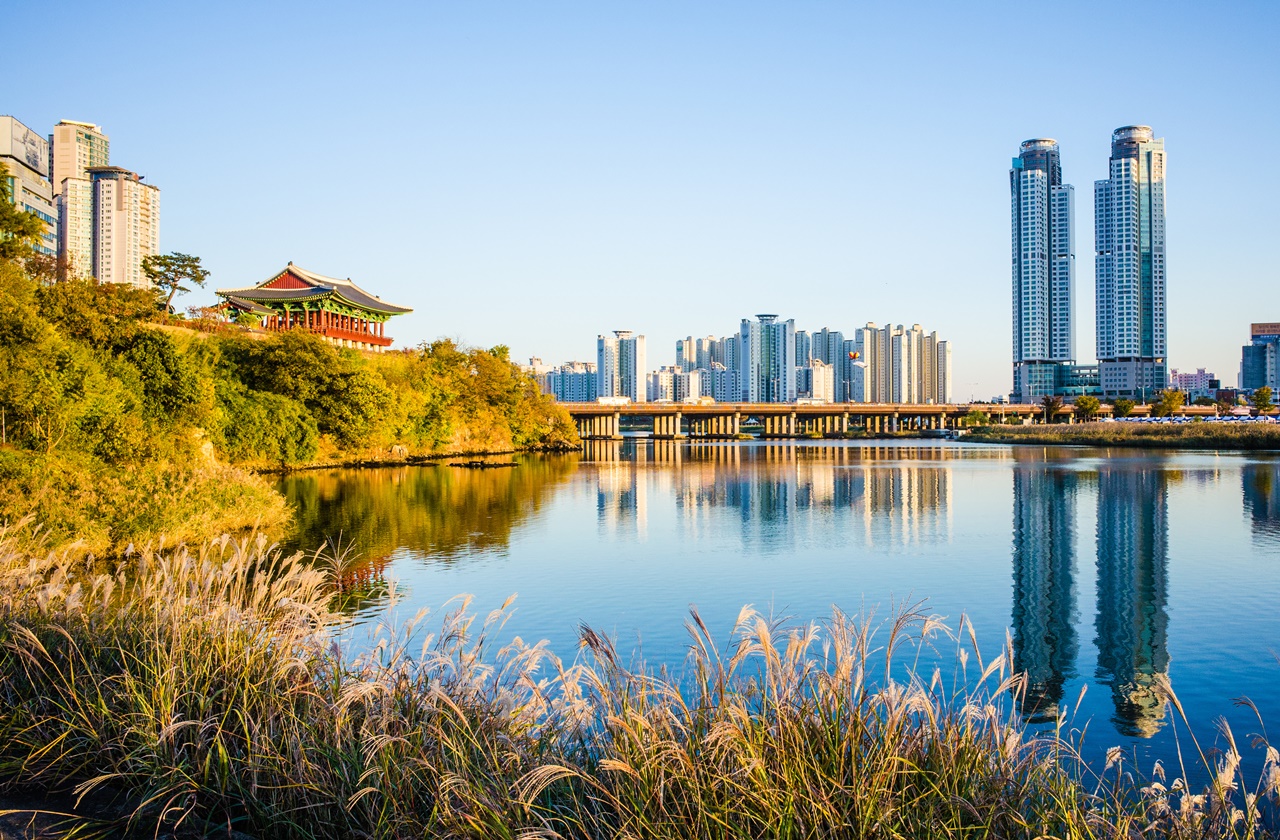 When people think of tourist destinations and cities to visit in Korea, Jeju, Busan, Daegu are always on top of the list. These cities offer jaw-dropping landscapes, a rich culture, and delicious food. However, there are other cities worth a day trip or more, especially if you want to see a different side of the country. Enter Ulsan Korea, also known as the country's industrial giant, home to the world's largest shipyard and automobile assembly plant and the third-largest oil refinery. The city also has the nickname "Hyundai City" as it is the base of the famous conglomerate.
But despite its history as a predominantly industrial city, Ulsan also offers plenty of tourism opportunities. From sandy beaches and sprawling parks to traditional folk villages and whale museums, Ulsan has plenty of sights to see and places to visit.
Photo by daniel kim/EyeEm on Adobe Stock
Ulsan is a seaside city located on the southeastern end of Korea. It is home to more than 1.1 million inhabitants, making it the country's eighth-largest city overall. Additionally, Ulsan is only 70 kilometers away from Busan, one of the major tourist destinations in the country. Gyeongju, Pohang, and Daegu are their close neighbors.
The city of Ulsan is bordered by Gyeongju on the north, the East Sea on the east, Miryang on the west, and Yangsan on the south.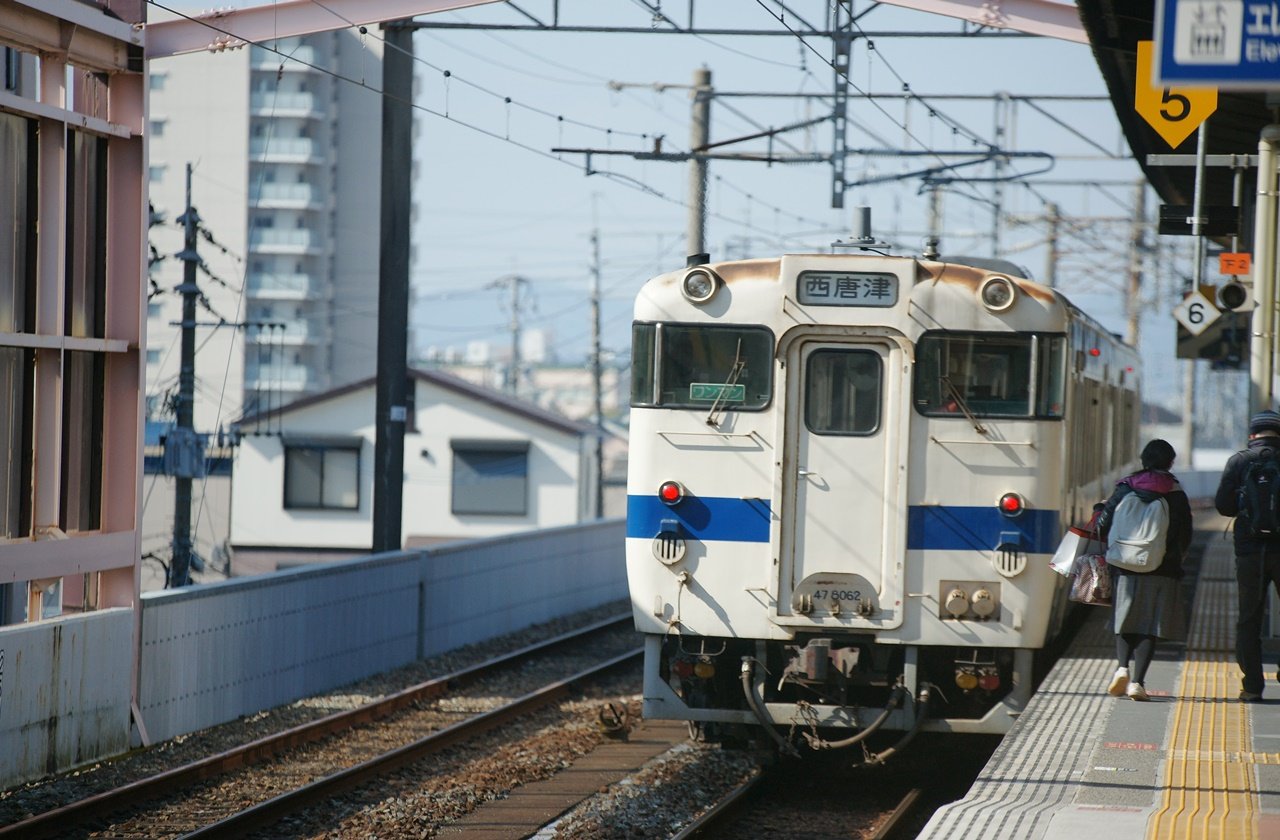 Photo by kyungkwon park on Unsplash
By Plane
Ulsan has an airport, Ulsan Airport, but it only services domestic flights. That being said, you can get to Ulsan Korea by plane from Gimpo Airport in Seoul and Jeju Airport in Jeju Island.
If you're coming from Incheon Airport, you'll have to transfer to Gimpo Airport via the bus service in Incheon. Travel time from Incheon Airport to Gimpo Airport takes about 35 minutes. From Gimpo Airport, it will only take about an hour to get to Ulsan Airport. For now, only Air Busan, Hi Air, Jin Air, and Korean Air have flights from Gimpo to Ulsan.
At the airport, you can head to the tourist information booth on the ground floor to get a map of the city as well as leaflets and tourist booklets.
By Train
The KTX Ulsan Train Station is the city's main train station, although it is located far from the city centre. From the KTX Ulsan station, some buses and taxis can take you to the city centre or your hotel. Regular city buses have cheaper rates, but seats aren't that comfortable and they take a long time since the bus makes several stops before getting to the city centre.
On the other hand, Chwaseok (seated) and express bus lines are also available. However, they are more expensive. These buses also use the expressway to the city so it's quicker and seats are more comfortable as compared to regular city buses.
By Bus
Buses are another convenient mode of transportation getting to and from Ulsan since there are plenty of intercity buses that take you from one city to another. Bus stops and terminals are also easily found within the city.
From Seoul, it takes about 4 to 5 hours to get to Ulsan depending on traffic conditions. There are express bus lines from Seocho in Seoul to Ulsan that depart every 30 minutes. An intercity bus also travels from Seoul to Samsan-dong in Ulsan every 30 to 40 minutes.
Meanwhile, there are more options from Busan to Ulsan by bus. Take the Chwaseok city buses and intercity buses from Nopodong in Busan to Samsan-dong in Ulsan. The difference between the two buses is that there are more stops on the Chwaseok bus than those of the intercity buses so the latter has fewer stops, making the trip faster. Intercity buses also have more comfortable seats, with only 3 people in a row. Buses from Busan to Ulsan Korea are also more frequent and run every 15 minutes
You can also catch an intercity bus from Haeundae in Busan, with trips every 30 minutes to Samsan-dong Terminal in Ulsan. Travel time takes about 1 hour and 30 minutes.
By Car
Getting to Ulsan by car is easy and simple thanks to its efficient national expressway system. From cities like Seoul, Daegu, Daejeon, take the Gyeongbu Expressway towards Busan and exit at the Eonyang Junction. Travel time takes about 4 hours from Seoul, 1 hour and 40 minutes from Daegu, and 3 hours from Daejeon. On the other hand, Gwangju to Ulsan takes about 3 hours via the Namhae Expressway.
Do take note that the travel time is highly dependent on the current weather and traffic conditions. Public holidays may also affect travel time. To avoid getting caught in traffic, plan your trip to Ulsan during the weekday and take note of public holidays.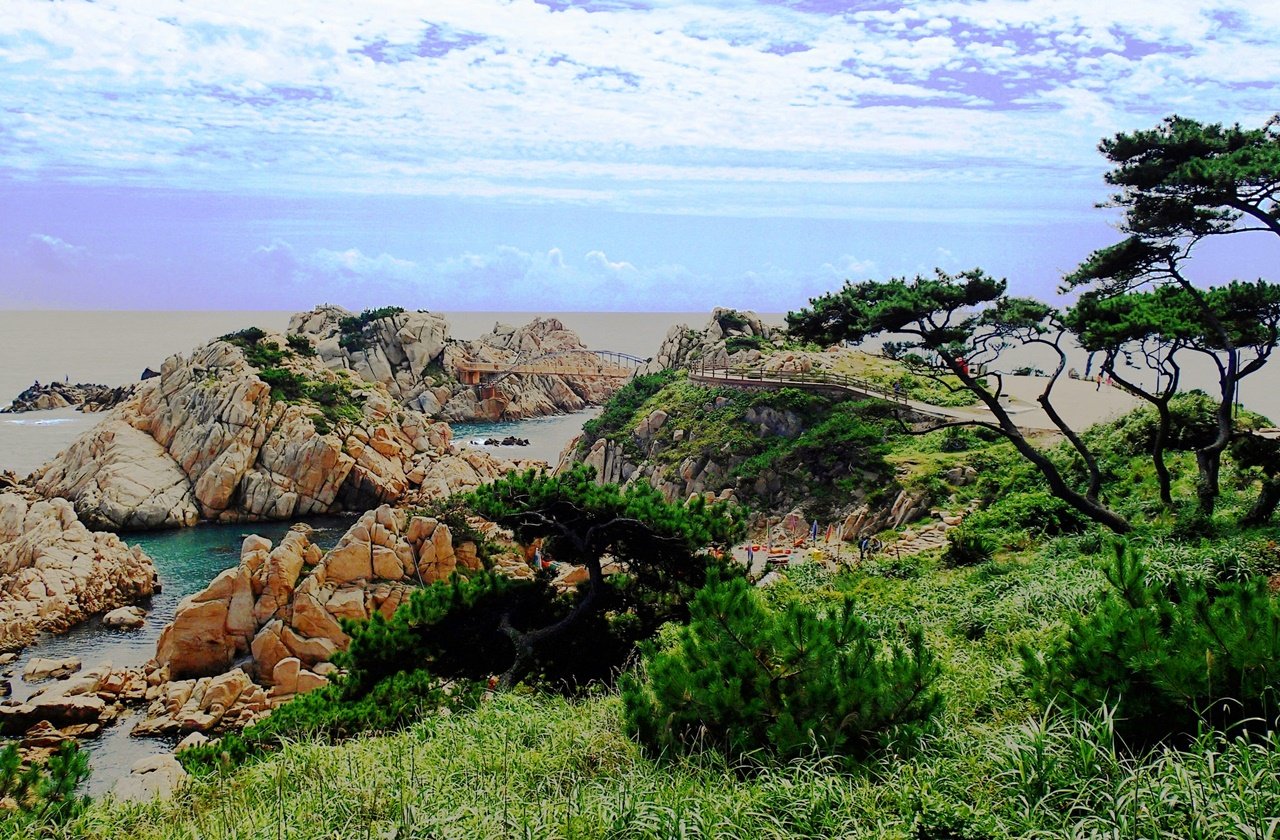 Photo by Jasmine Halki on Flickr
1. Go for a Nature Walk at Daewangam Park
Daewangam Park is perhaps the most popular tourist destination in Ulsan Korea. It overlooks the East Sea and is notable for its unique dragon-like shaped rock. According to legend, the queen of the Shilla dynasty, wife of King Munmu, passed away after her husband's death and was lost at sea. Eventually, she became a dragon to protect the East Sea. This seaside park welcomes you with a walking trail lined with magnolias, camellias, and cherry trees before getting to the famous Daewangam Rock. Cross the metal bridge and find the observation platform where you can catch panoramic views of Ulsan and the sea.
2. Enjoy the Woodlands of Taehwagang Grand Park
While its bamboo forest isn't as big as the one in Kyoto, Japan, Taehwagang Grand Park deserves a spot in your Ulsan itinerary. The park near the Taehwa River is the perfect escape from the huge machines and shipyards of Hyundai City. Its surrounding gardens are most beautiful to look at in spring when they are in bloom or during autumn due to the bright fall foliage. Facilities like cafes, snack bars, and exercise areas are also available and locals enjoying a picnic or biking around are a common sight. After exploring the garden, visit the Taehwaru Pavilion, a beautiful pavilion that became the inspiration of many poets and scholars during the Goryeo Period.
3. Join a Whale-Watching Cruise
If you're visiting Ulsan Korea between April and October, don't miss the chance to see the whales in their natural habitat. Book a whale-watching cruise at Jangsaengpo Whale Culture Village and set sail to the East Sea. There are daily trips except on Mondays and cruises normally take around three hours or one hour and 30 minutes depending on your choice of the cruise. Aside from minke or gray whales, you may also get a chance to spot dolphins along the East Sea. When joining a whale-watching cruise, don't forget to bring your cameras and have them ready to snap photos of these gentle giants.
4. Catch Panoramic Views at Ulsan Bridge Observatory
Towering 63 meters above the city is the Ulsan Bridge Observatory. The observation deck allows you to get a 360-degree view of the city and the Ulsan Bridge, one of the longest short-span suspension bridges in Asia. You can also see Ulsan's three main industrial complexes: the automotive, petrochemical, and shipbuilding complexes. Before climbing to the top of the observatory, learn about the history of Ulsan Bridge and see a miniature version of the city at the Promotion Center on the ground floor. The observatory is especially popular among tourists during the sunset and evening when the city is lit up by sparkling lights.
5. Hike at Sinbulsan
SInbulsan is one of Korea's mountains that is part of the Yeongnam Alps. For hikers and nature lovers, hiking at Sinbulsan is one of the best ways to spend time in Ulsan Korea. It may not be as high as mountains like Seoraksan in Gangwon or Hallasan in Jeju Island, but its flame grass fields are a must-see. To protect these fields, pathways are raised on wooden boardwalks and stairs, making it easier to hike through Sinbulsan as well. Along the trail, you can find giant boulders, picturesque waterfalls, vast fields, and a gorgeous view of the Yeongnam Alps.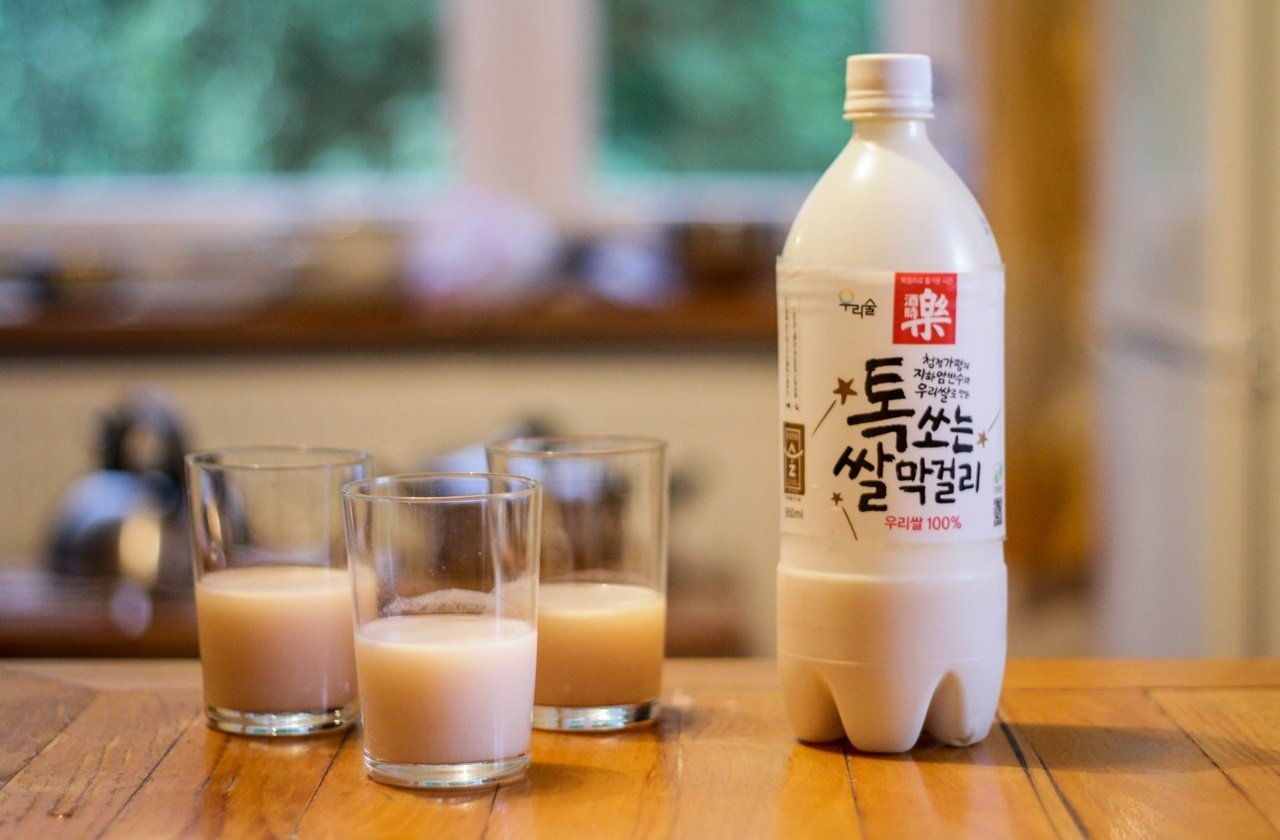 Photo by ~Cytryna~ on Flickr
6. Visit the Boksoondoga Rice Winery
Like soju, makgeolli (sparkling rice wine) is one of Korea's signature alcoholic beverages. This drink is made with water, rice, and a fermentation starter, and is sweeter and thicker as compared to soju. For foodies or those curious about how makgeolli is made, Boksoondoga Rice Winery provides an opportunity for its visitors to get behind the scenes of its production. At the showroom, learn how it is made and visit the fermentation chamber to see the rice paddies. Before leaving Boksoondoga Rice Winery, purchase a bottle or two of makgeolli and enjoy this milky yet fizzy drink.
7. Discover the Twelve Scenic Areas of Ulsan
For first-time visitors, the Twelve Scenic Areas of Ulsan Korea are the best way to discover both its man-made and natural wonders. These areas range from waterfalls and mountains to modern sports complexes and night views. Aside from Daewangam Park and Sinbulsan, there are other sites you need to visit to see the beauty of Ulsan. Start your day by watching the sunrise at Ganjeolgot and explore the bamboo forests at Taehwa River. Visit the beach at Gangdong or learn why Koreans love football at Ulsan Sports Complex. Then, cap off the night at Mount Muryong where you'll see the breathtaking views of the Ulsan Industrial Complex.
8. Stroll along the Shores of Ilsan Beach
In summer, head to the shores of Ilsan Beach. The kid-friendly beach boasts 600 meters of soft, powdery sand and blue waters. You can take a swim, pitch a beach umbrella and go sunbathing, or enjoy a game of volleyball with the locals. Ilsan Beach is also a favorite among families with children because it's barely 2 meters deep. In July, the beach hosts its annual Ilsan Beach Summer Festival with volleyball tournaments, fireworks displays, and live music. Do take note that since Ilsan Beach is a popular site, it gets crowded during the day.
9. Learn About Whales at Jangsaengpo Whale Culture Village
During the 1980s, Jangsaengpo was the country's top whaling port until commercial whaling was banned in 1986. Years later, Ulsan Korea opened the Jangsaengpo Whale Culture Village where visitors can go back in time and see what a whaling village looks like. Explore Jangsaengpo Whale Museum, the first and only whale museum in the country, and learn about Korea's whaling culture. You can also find artifacts from the whaling industry like harpoons, whale products, and skeletons. The Whale Sculpture Park, Whale Story Trail, and Prehistoric Whale Experience Garden are some of the whale-related attractions you can visit in the village.
10. Watch the Sunrise from Ganjeolgot
Ganjeolgot is one of the Twelve Scenic Areas of Ulsan, a cape famous for being the first place in Northeast Asia where the sun rises. Marked by a white lighthouse, Ganjeolgot is also where locals would head to watch the first sunrise of the year on New Year's Day. But if you can't visit Ulsan Korea in the New Year, you can start your day at Ganjeolgot to witness the sunrise. Visitors also write their wishes on a postcard and put them in the second-largest post box in the world. There's also a boardwalk where you can see different sculptures and statues near the foot of the lighthouse.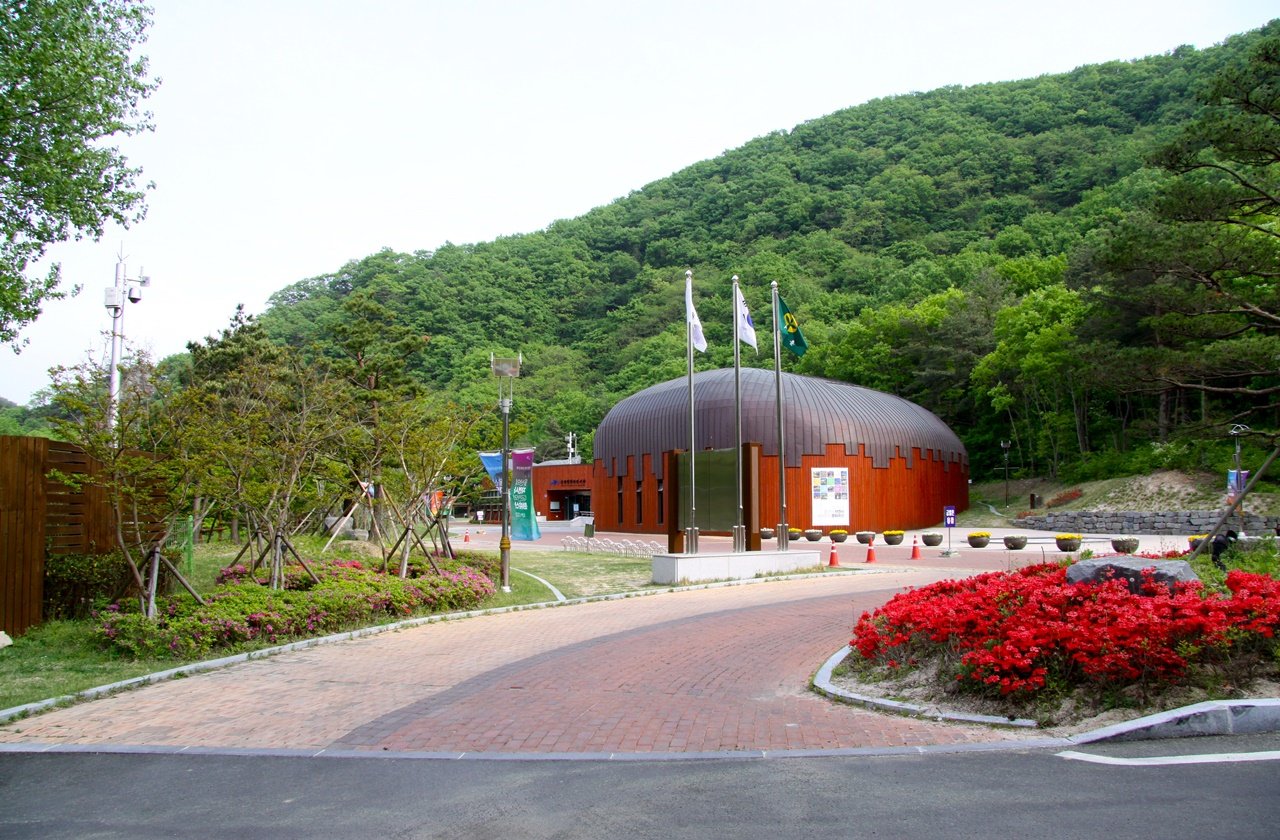 Photo by Ulsan Petroglyph Museum on Wikimedia Commons
11. Find Ancient Petroglyphs at Ulsan Petroglyph Museum
Visit the only petroglyph museum in Ulsan Korea. It displays more than 311 materials and has a research lab, audiovisual room, and exhibition hall. One of the main sights at the museum is the Buangudae petroglyphs. It contains over 200 etchings of deers, tigers, wild boars, hunting scenes, and fishermen. Visitors can also get a glimpse into what life was like in ancient Korea through the Bangudae petroglyphs. The Petroglyphs of Cheonjeon-ri are also a highlight at the museum, containing hundreds of carvings of deers, horses, dragons, and other figures.
12. Savor a Delicious Bulgogi
Food is definitely one of the best ways to get to know a destination. And although bulgogi is a must-try dish almost everywhere in Korea, Ulsan has its own twist to the well-loved Korean dish. This style of bulgogi originated in Eonyang, a small neighborhood in Ulsan, and is considered a more premium and high-end version of the dish. Unlike traditional bulgogi which is sliced and stir-fried, Eonyang-style bulgogi resembles that of burger patties which are pounded and pressed into small lumps. This kind of bulgogi is served in most restaurants and can also be called, bassak bulgogi, meaning crisp-grilled bulgogi.
13. Relax at Ulsan Grand Park
At 3.69 square kilometers, Ulsan Grand Park is the country's largest urban park. It boasts several walking trails, a botanical garden, butterfly zoo, petting zoo, nature learning center, and different playgrounds! The park was the brainchild of Chey Tae-won, a former chairman of SK Group, the third-largest conglomerate of Korea. He wanted to build a park in the city as a way of giving back to Ulsan. Construction began in 1995 and ended in 2006. Due to the vastness of the park, visitors can rent a bike from the entrances around the park. The rental fee is free for the first hour.
14. Explore Seoknamsa Temple
Perched on the southern end of Gajisan is Seoknamsa Temple, one of the four major temples of Gajisan Provincial Park. Built in 824AD, the temple suffered major damages during the Japanese occupation, although it was rebuilt eventually. Today, the temple houses 30 different buildings. See the Three Story Pagoda, one of the highlights of the temple complex. It was built to serve as a protection from foreign invaders, but was destroyed and has since been restored in 1973 and now welcomes thousands of visitors. The Great Hero Hall is also one of the must-visit sites in Seoknamsa Temple, a massive hall with paintings about the Eight Scenes of the Historical Buddha's Life.
15. See Different Works of Art at Ulsan Museum
In contrast to the traditional or industrial buildings and structures, Ulsan Museum stands out with its modern and unconventional buildings. Inside, get a deeper insight into the history and heritage of Ulsan Korea through its permanent and special exhibitions. These exhibits are arranged chronologically from the prehistoric era to the Japanese occupation until the industrial age. The museum uses different artifacts including temple bells, hand axes, maps, ceramics, weapons, and other items to display the city's history. Temporary exhibitions include inventions from Thomas Edison and artifacts from Ancient Egypt. There are also interactive exhibitions and displays for families with children.
Where to Stay
Toyoko Inn Ulsan Samsan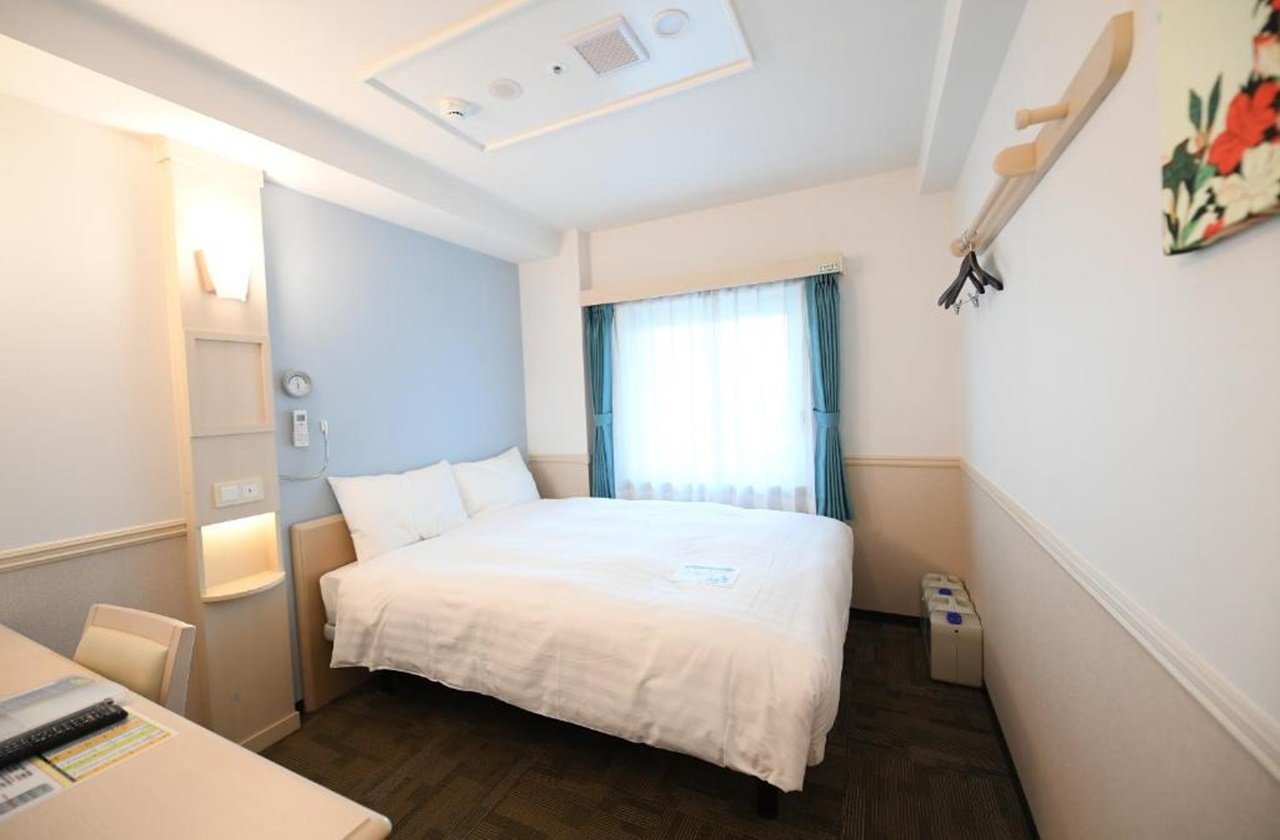 Photo from Toyoko Inn Ulsan Samsan Booking.com Page
Address: 308, Samsan-ro, Nam-gu, 44715 Ulsan, South Korea
Price: Starts at 40 USD
Because of its strategic location and affordable price, Toyoko Inn Ulsan Samsan is a great choice of budget accommodation in Ulsan. All rooms overlook Ulsan, giving you unparalleled city views. Its rooms are equipped with a safety deposit box, clothes rack, refrigerator, air conditioning, and free WiFi. What makes the hotel a favorite among tourists is that the front desk staff can speak Korean, Japanese, and English so you won't have to worry about the language barrier. If you're visiting Ulsan on a short 2-day trip from Busan, Toyoko Inn Ulsan Samsan is a perfect choice.
Brown Dot Hotel Ulsan Jangsaengpo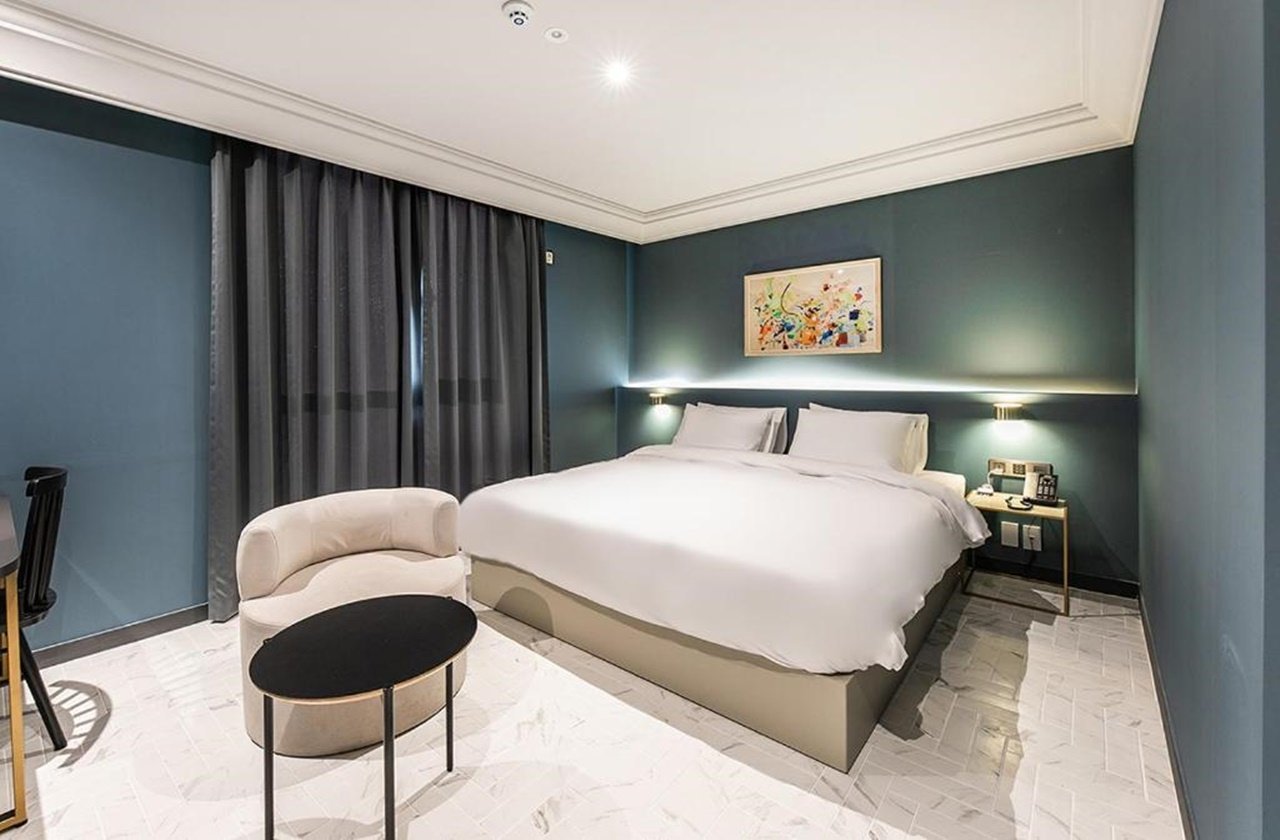 Photo from Brown Dot Hotel Ulsan Jangsaengpo Booking.com Page
Address: 211, Jangsaengpogorae-ro, Nam-gu, 44780 Ulsan, South Korea
Price: Starts at 68 USD per night
Brown Dot Hotel Ulsan Jangsaengpo is one of the most affordable hotels and accommodations in Ulsan Korea. Its rooms are pristine with air conditioning, flat-screen TVs, and soundproof walls. The en-suite bathroom features marble floors, a hot tub, and a bidet. Additionally, you can get views of Ulsan or the sea depending on your chosen room. For travelers with private cars, the hotel has free parking available without reservation. In terms of its location, Brown Dot Hotel is fairly close to Jangsaengpo Whale Museum, Wolbongsa Temple, and the Gaeunpo Fortress Remains.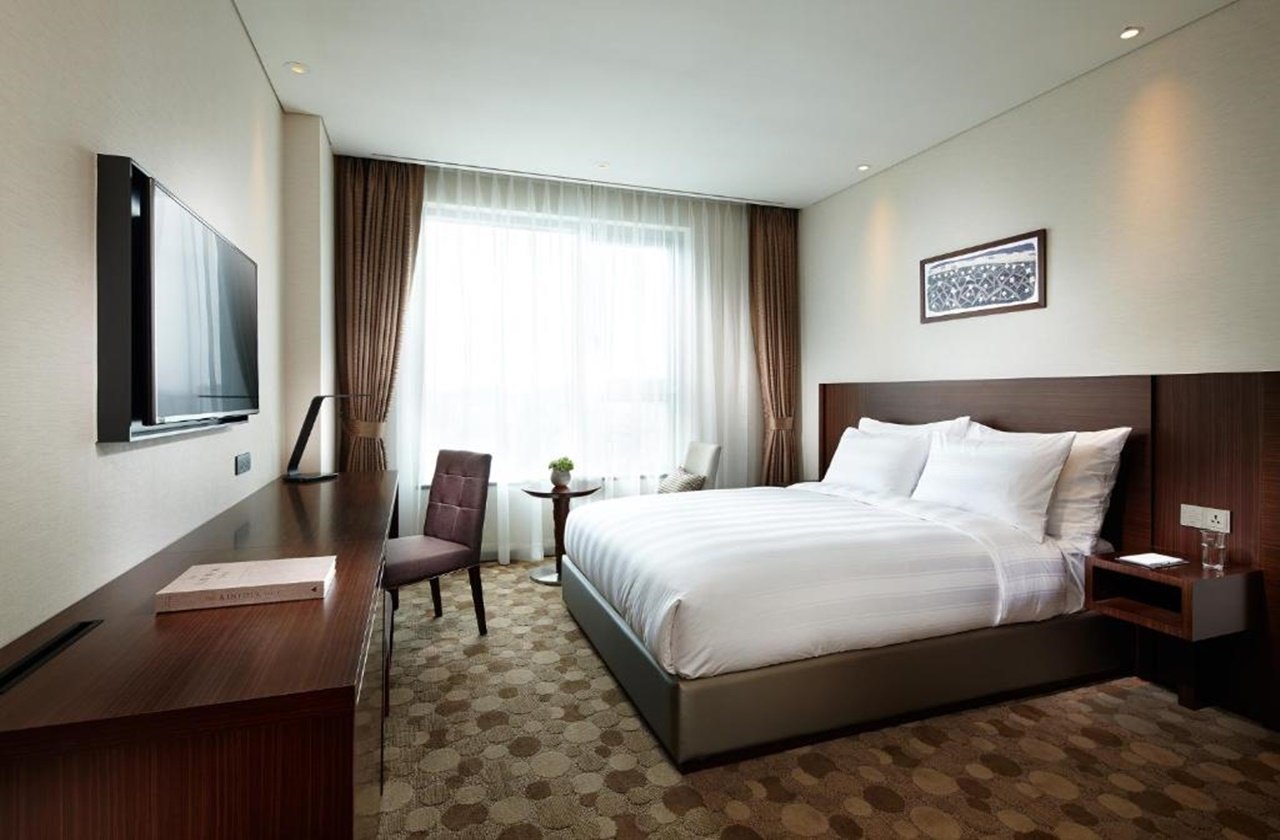 Photo from Lotte City Hotel Ulsan Booking.com Page
Address: 204, Samsan-ro, Nam-gu, 44718 Ulsan, South Korea
Price: Starts at 78 USD per night
Located within the heart of the city, Lotte City Hotel Ulsan is another great hotel choice. The hotel offers stylish and modern rooms with large and comfortable beds. All guests can also enjoy the use of the fitness centre and luggage storage for free. Guests who need to work or those who need to stay connected need not worry as Lotte City Hotel in Ulsan Korea offers free WiFi throughout the property. For convenience, a coin-operated laundromat is available for use. Sites near the hotel include Ulsan Culture & Arts Center, Ulsan City Hall Hatbit Square, and Ulsan Museum.
Hotel Hyundai by Lahan Ulsan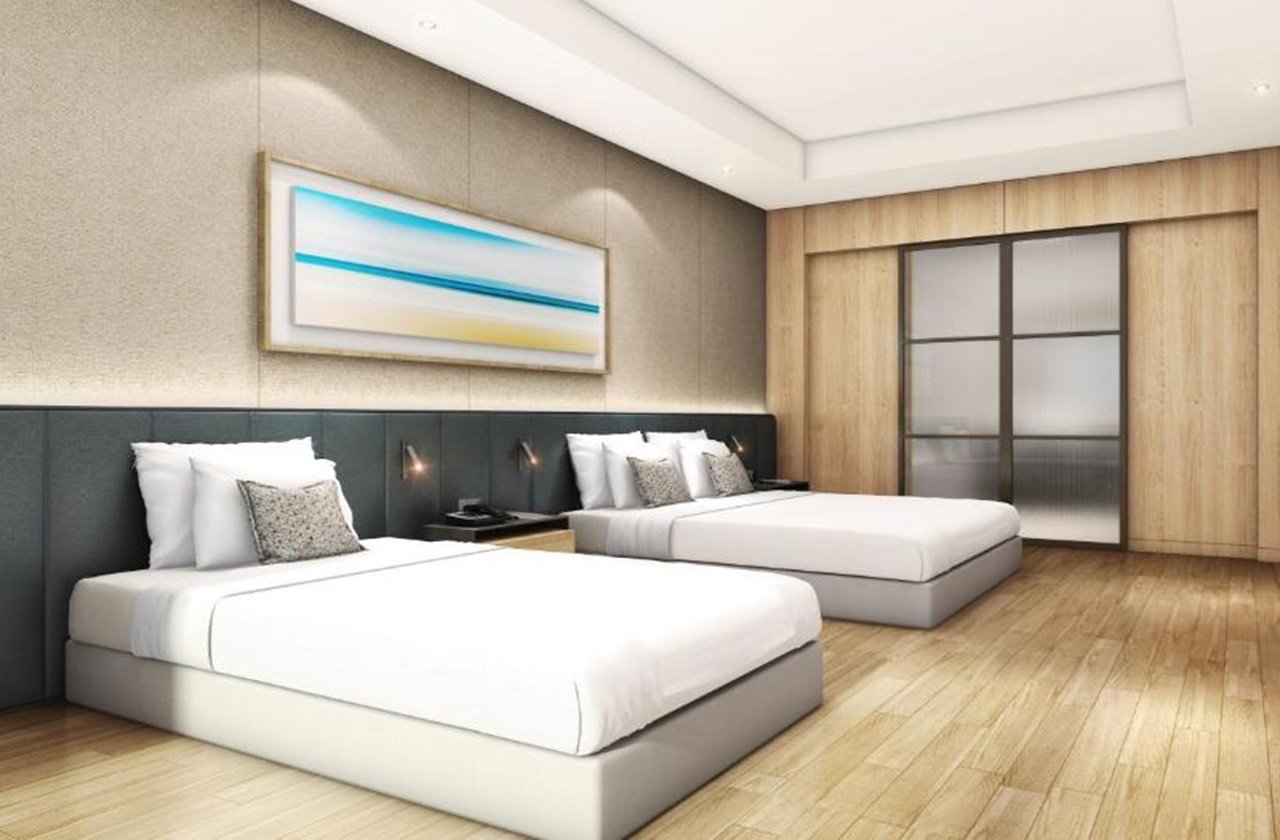 Photo from Hotel Hyundai by Lahan Ulsan Booking.com Page
Address: 875, Bangeojinsunhwando-ro, Dong-gu, 44033 Ulsan, South Korea
Price: Starts at 132 USD per night
Located near the Hyundai Heavy Industries Complex, Hotel Hyundai by Lahan Ulsan is one of the best 5-star hotels in the city. Expect elegantly designed and modern rooms, complete with a sofa, flat-screen satellite TV, and sockets conveniently located near the bed. High-speed WiFi is available in all areas of the hotel and all guests can use the indoor pool free of charge. From Hotel Hyundai Ulsan, Ilsan Beach, and Daewangam Park are only a short 10-minute drive away. Free parking is also available and guests don't have to reserve in advance to secure a slot.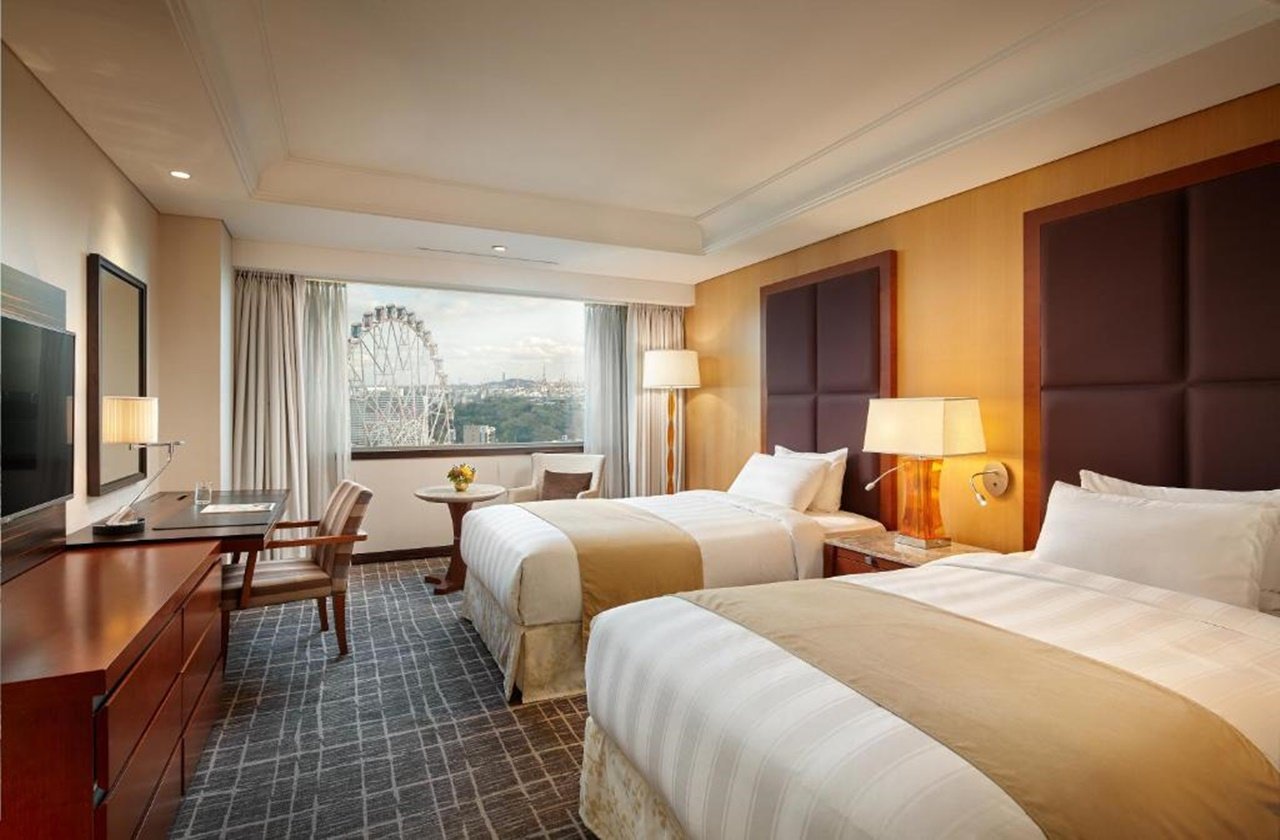 Photo from Lotte Hotel Ulsan Booking.com Page
Address: 282, Samsan-ro, Nam-gu, 44719 Ulsan, South Korea
Price: Starts at 151 USD per night
For the best views of Ulsan, stay at Lotte Hotel Ulsan, a 5-star hotel in the middle of the city. The hotel boasts spacious rooms with city views, work desks, soundproof walls, and air conditioning. Its three on-site restaurants offer International, Italian, and Chinese cuisine. Laundry, ironing, shoeshine, and dry cleaning services are available at an additional price. Guests can also go bowling or play a round of mini-golf at an additional price.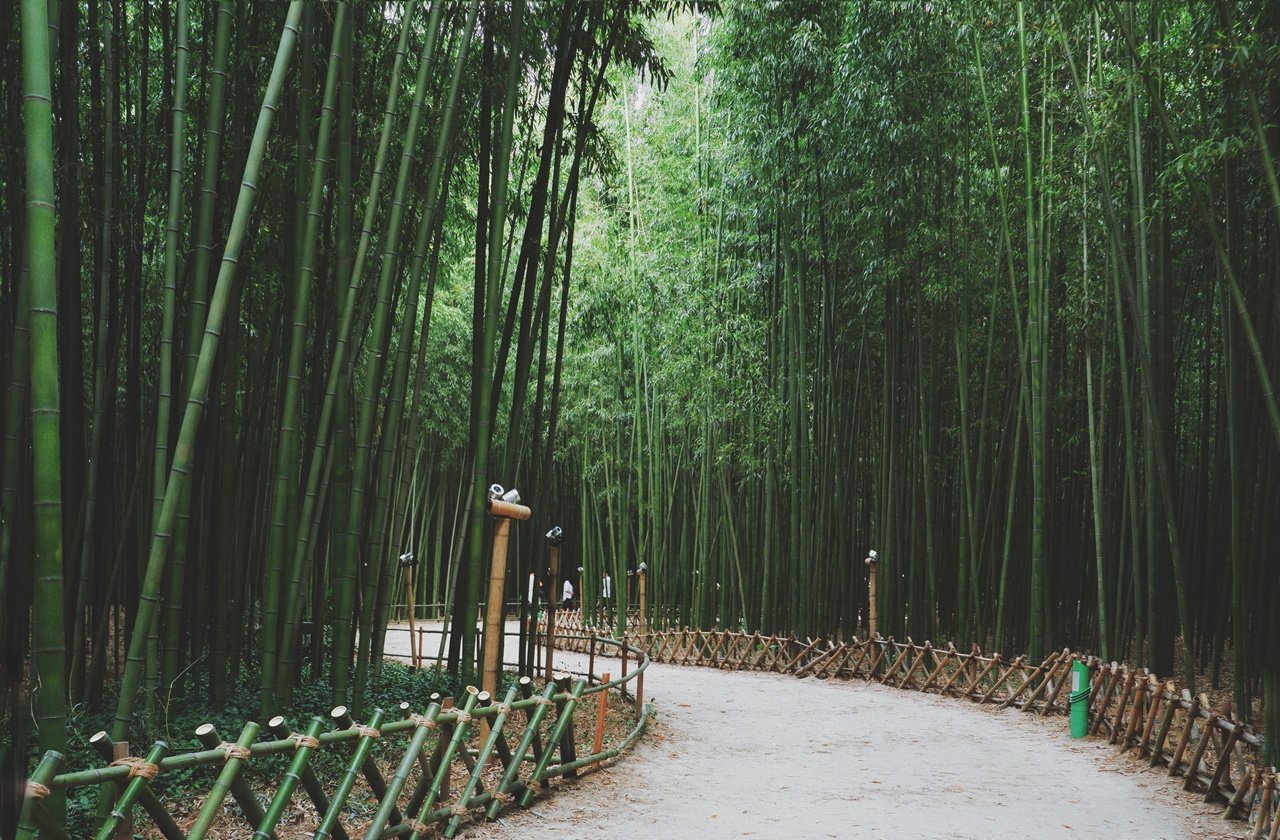 Photo by Manh Doi on Unsplash
Like most Korean cities, the best time to visit Ulsan Korea is from March to May. and October to November. The transition from spring to summer brings about pleasant weather perfect for sightseeing and outdoor activities. Spring is also the city's cherry blossom season and you can get to see the charming cherry trees blooming all over the city. Since the season is popular among tourists and locals, you may need to reserve your accommodation in advance.
The months of October and November are also the best months to visit as the summer crowds have already gone. Weather-wise, the temperature drops and the weather turns cold and rainfall is low, although still bearable for walking outdoors. Despite being an industrial city, Ulsan is also beautiful in autumn, with plenty of spots for watching the fall foliage.
Because of its weather and surge of crowds, summer isn't the best time to visit the city. The weather is very hot and humid, although most rainfall happens in July and August. Snow isn't common in Ulsan in winter but the temperatures drop down especially at night. However, it can be heavy when snow falls, making it difficult for sightseeing or heading outside.
Discover Ulsan's Understated Beauty
Despite its reputation as an industrial powerhouse, Ulsan Korea also has a different side to it that is usually overlooked by tourists. Thanks to the efficient highway system and intercity bus routes, it's easy to get to Ulsan from cities like Busan, Daegu, and even farther cities like Seoul. And while Ulsan is normally associated with large shipyards and oil refineries, there's more to Busan than just that. There are traditional whaling villages, powdery white beaches, and 12 modern and natural treasures. While tourists tend to overlook Ulsan for other cities like Seoul, Daegu, Gyeongju, those looking for a different side of Korea should definitely visit Ulsan!