10 Best Things to Do in Gyeongju, South Korea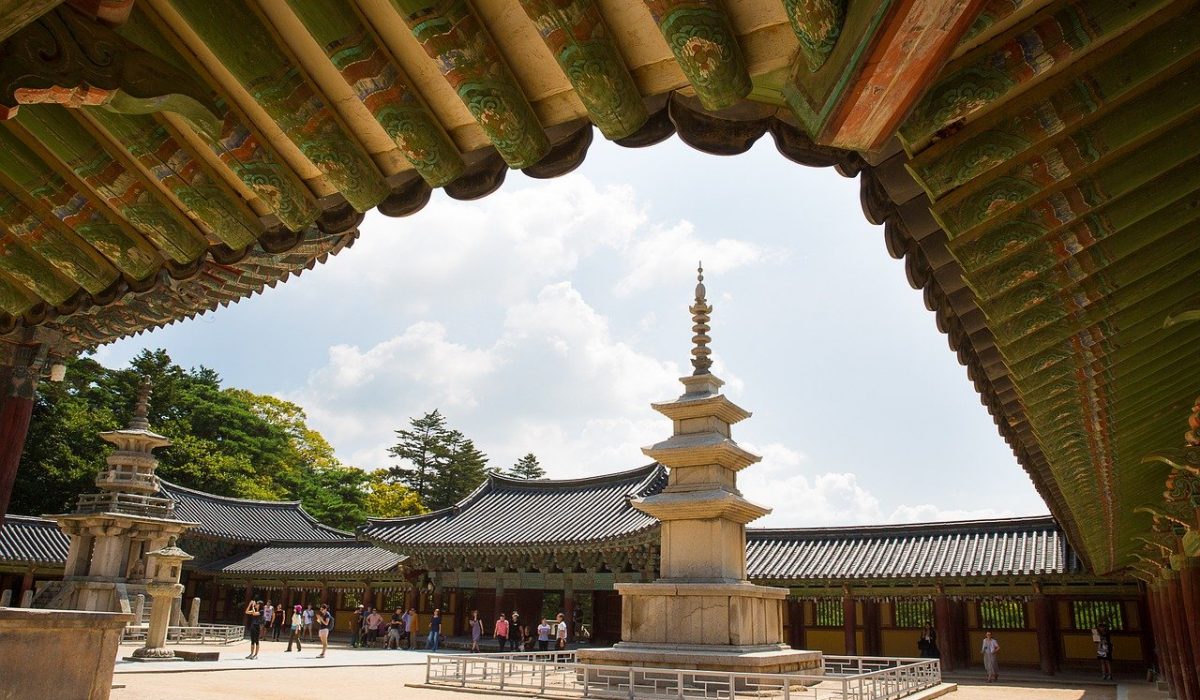 Often touted as the "museum without walls", Gyeongju is one of the amazing cities in South Korea. Back in the day, Gyeongju was the capital of the Silla Dynasty (57 BC to 935 AD), which is South Korea's longest dynasty. With its long reign, they were able to build a flourishing city adorned with lavish palaces, grand temples, and fascinating hanok houses (traditional Korean houses). Apart from these, they were also able to develop impressive cultural practices, such as their unique tombs with thousands of relics and an observatory that proved their scientific endeavors. With this, they have an array of UNESCO World Heritage Sites that will definitely entice you to see and experience Gyeongju, South Korea.
While the city attracts a lot of history buffs, its attractions are not entirely exclusive to them. Gyeongju also appeals to you as long as you are in for postcard-perfect sceneries and compelling tales. With its traditional villages studded with hanok houses, are you ready to take a flight to the past?
How to get to Gyeongju, South Korea
Gyeongju doesn't have a direct international airport. So from the U.S. you can book a flight to any of the two international airports near Gyeongju, South Korea. The Incheon International Airport (ICN) is near Seoul, while Gimhae International Airport (PUS) is in Busan. From there, you can either take a bus, train, or rent a car to get to Gyeongju.
By Bus
If you're coming from Busan, there are various options that you can take to get to Gyeongju. One is to take the Intercity Bus that costs ₩5,400 (around US$4.88). It will take you around 50 minutes from East Busan Bus Terminal to Gyeongju. The schedule varies, but the earliest schedule is at 6 AM while the last schedule is at 10:30 PM. The second is to take the Express Bus from Nopo Bus Station that costs from ₩5,000 (around US$4.52) and will take you around 45 minutes. Although the Intercity Buses are more expensive, they also take longer because they make stopovers in different cities.
Meanwhile, if you're coming from Seoul, there are also Intercity Buses and Express Bus that you can take. The Intercity Bus costs ₩30,000 (around US$27) and leaves from 8:40 AM to 7:00 PM. It will take you four hours from East Seoul Station to Gyeongju. On the other hand, the Express Bus ticket starts at ₩20,600 to ₩40,400 (around US$19 to US$37), depending on the operator, date, time, and seat class. The Express bus only leaves at Seoul Gyeongbu Bus terminal and the travel time is three hours and a half.
Whichever mode of transport you choose, we recommend that you book ahead. This way, you will be able to freely choose your seats and the schedule that you prefer. Since there is no much difference between the price and travel time, you can check out both to find what is the most convenient for you. But if you're looking for a faster option, we recommend taking the Express Bus. But if you want to see the different cities, too, we recommend taking the Intercity Bus.
By Train
Either you are coming from Busan or Seoul, you can take the Korea Train eXpress (KTX) or the regular trains to Gyeongju, South Korea. There is no KTX station in Gyeongju and the nearest station is the Singyeongju KTX Station, which is around 20 minutes away. The KTX from Busan Station costs ₩12,000 (around US$11) and it will only take you around 30 minutes to get to Singyeongju KTX Station. From Singyeongju Station, you can take a bus to reach Gyeongju. Meanwhile, the KTX ticket from Seoul costs between ₩50,000 and ₩60,000 (around US$45 to US$54) and it will take you around two hours. If you're planning to go from one city to another through the KTX, you can also purchase a Korean Rail Pass for two, three, four, or five days. This will allow you to take unlimited rides based on the days of your purchase.
Another train option is to take the regular trains. From Haeundae Station in Busan, it will take you around 90 minutes to Gyeongju Station. This costs ₩5,300 (from Monday to Thursday) and ₩5,600 (from Friday to Sunday). If you're coming from Seoul, you can take the SRT Trains from Suseo Station in Gangnam to Singyeongju Station. It only costs ₩20,000 (around US$18), but they only run twice a day and it will take you six hours. From Singyeongju Station, you can take a bus to reach Gyeongju.
By Car
If you have an international license, you can rent a car for easier mobility. The Kayak website offers a roster of car rental companies and cars that will suit your budget and comfort. From Seoul, it will take you around three and a half hours to travel 270 kilometers (around 168 miles). A car rental from Incheon International Airport (ICN) costs around US$95 per day for a five-seater Kia Forte. While from Busan, it will only take you around less than an hour to travel 80 kilometers (50 miles). A car rental from Gimhae International Airport (PUS) costs around US$84 per day for the same car. This is recommended if you're traveling in a group and you're planning to roam around Gyeongju or transfer to another city. This will be more cost-efficient and less hassle.
Where to stay in Gyeongju, South Korea
Budget: Hwangnam Hanok Stay
Nightly rate: US$47 per room for two adults
Completely immerse yourself in the traditional Korean culture by staying in a hanok. With the surroundings that completely seemed to be frozen in time, waking up in a hanok will just maximize your experience. In this 200-year-old Hwangnam Hanok Stay, you will be sleeping in a traditional wooden room with Futon mats and blankets. But don't worry, it's not too primitive. Their rooms are equipped with an air conditioning unit, television, and their bathrooms are modern. It also has amenities such as a shared kitchen, laundry machines, and an outdoor bench for your convenience. Most of all, it has an excellent location where most tourist spots are just 10 minutes away. This will definitely allow you to have a unique experience despite being on a budget.
Luxury: Hilton Gyeongju
Nightly rate: US$250 per room for two adults
One of the sought-after luxury hotels in Gyeongju, Hilton Gyeongju offers a luxurious stay in this ancient city. This five-star hotel has an overlooking scenic view of Bomun Lake. It also prides itself on its wide array of dining options as well as state-of-the-art facilities. During your stay, you can access its vast outdoor pool and enormous indoor pool. Or, if you're coming with children, they also have a playground for their entertainment. Also, Hilton Gyeongju has diversely-designed rooms. Aside from their elegant rooms, they also offer a traditional room with a private garden called Deluxe Ondol and monarchical-designed rooms which is the Royal Executive Suite.
Things to do in Gyeongju, South Korea
1. Get to know the City at Gyeongju National Museum
Opening hours: 10 AM to 6 PM (Weekdays), 10 AM to 7 PM (Sunday & Public Holiday), and 10 AM to 9 PM (Last Wednesday of every month and Saturdays of March to December)
Admission Fee: Free
A centerpiece in the UNESCO World Heritage Site in Gyeongju, Gyeongju National Museum is one of the most prestigious museums in South Korea. It houses an incredible collection from the Silla Dynasty. You will find three permanent exhibitions that display art pieces, artifacts, and pottery from Silla's glory days. They also have outdoor exhibitions such as the Divine Bell of Seongdeok and the three-story Stone Stupa from the Goseonsa Temple Site. In conceptualizing and renovating the museum, one of their priorities is to inculcate the cultural treasure of Silla for everyone. Apart from establishing a Children's Museum to allow the young ones to experience Korea's cultural heritage, they also regularly set up feature events. These events are often directed to feature a certain topic or highlight that caters to different people's interests.
To maximize your experience, you can join the English Museum tours during weekends. This is free but they are only conducted from 10 AM to 11:30 AM and 2 PM to 3:30 PM.
2. See the Cheomseongdae
Opening hours: 9 AM to 10 PM (summer) and 9 AM to 9 PM (winter)
Admission Fee: Free
Asia's oldest existing astronomical observatory, Cheomseongdae is a bottle-like shape granite tower. More than 360 stones make-up this 9 meters high edifice with a diameter of 36 centimeters. Back in the day, Cheomseongdae used to help forecast Gyoengju's weather through studying the stars. They also predicted the days of Vernal Equinox, Autumnal Equinox, Winter Solstice, Summer Solstice, and the 24 solar terms. It's incredible how they were able to unravel these scientific explorations despite a lack of resources. In fact, they only used a pavilion stone to tell the cardinal directions. With this, you can agree that Gyeongju was a progressive city that didn't only focus on the primary needs but they also gave attention to education and arts.
3. Watch the moon's reflection at Wolji Pond
Opening hours: 9 AM to 10 PM
Admission Fee:
₩3,000 or around US$3 (adults 19 and 64)
₩2,000 or around US$2 (teens 13-18)
₩1,000 or around US$1 (children 7 to 12)
Nestled in Donggung Palace, Wolji Pond is an artificial pond built in 674 AD. This oval-shaped pond spans 60 feet long and 600 feet wide and it has three islets. It also features three pavilions that display traditional Chinese-style slanting roofs bolstered by numerous columns. Back in the day, Donggung Palace was the secondary residence of the crowned prince. But after the demise of the dynasty, the palace was abandoned and became dilapidated. It was only in the 1970s to 1980s when it was excavated and rebuilt. From its original name, Anapji, it was renamed to Wolji — which means "water that reflects the moon."
4. Stay at Bulguksa Temple
Opening hours: 7:30 AM to 5:30 PM (February), 9 AM to 5 PM (March to September), 7 AM to 5:30 (October), and 7:30 to 5:00 (November to January).
Admission Fees:
₩6,000 or around US$5 (adults 19 and up)
₩4,000 or around US$4 (teens 13-18)
₩3,000 or around US$3 (children 7 to 12)
Free (children below 7)
Part of the UNESCO World Heritage List, Bulguksa Temple is a significant religious monument in Gyeongju. It was rebuilt in 751 and it embodies the dominance of Buddhism during the Silla dynasty. Over the years, it underwent various renovations to mimic its origins but with sturdier materials. Today, the temple is also home to seven national treasures and other salient pieces.
Aside from strolling around the area, you can also make your trip more memorable by staying at the temple. They offer various programs that will allow you to learn about Buddhism and Silla's culture. The One-day program starts at ₩20,000 or around US$18 and takes four hours. This includes a temple tour, tea with the monks, Lotus flower lantern-making, and prayer beads-making. But they also have an overnight program that starts at ₩80,000 or around US$72. This includes the same activities with the one-day program, but they added temple etiquette, meditation, listening to Dharma instruments, temple meals, and more.
5. Be mesmerized at the Daereungwon Tumuli Park
Opening hours: 9 AM to 10 PM
Admission Fee:
₩3,000 or around US$3 (adults 19 and 64)
₩2,000 or around US$2 (teens 13-18)
₩1,000 or around US$1 (children 7 to 12)
From afar, Daereungwon Tumuli Park looks just like a typical tourist spot. But it's more than just mounds. It is home to 23 large ancient tombs of kings and nobles during the Silla dynasty. The most famous are the Cheonmachong and Hwangnamdaechong tombs. Cheonmachong exhibits proof of the nobles' lifestyle during the Silla dynasty. It houses more than 11,000 remains and royal crowns, as well as the one and only painting found in the dynasty. While Hwangnamdaechong is the largest among the tombs. During the excavation, this is where they found the bodies of the king and queen as well as more than 30,000 relics and lavish accessories.
6. Buy souvenirs at Gyeongju Folk Craft Village
Opening hours: 9 AM to 5:30 PM (February and November), 9 AM to 6 PM (March to October), 9 AM to 6:30 PM (April to September), and 9 AM to 5 PM (December to January)
Admission Fees: Free
Gyeongju Folk Craft Village is a paradise for travelers. Apart from its ancient beauty, you can also find memorabilia that will remind you of Gyeongju at home. It has 40 thatched and stone-roofed Hanok houses that sell various traditional arts and crafts by local artisans. Some of the things you can buy are pottery, jewels, hanboks, and stone crafts. Aside from being handmade by locals, the products also seem to be cheaper than most stores. This makes it easier for you to buy souvenirs for your family and friends even if you're on a budget.
7. Travel back in time at Yangdong Village
Open Hours: 9 AM to 7 PM (April to October), 9 AM to 6 PM (November to March)
Admission Fees:
₩4,000 or around US$4 (adults 19 and 64)
₩2,000 or around US$2 (teens 13-18)
₩1,500 or around US$1.34 (children 7 to 12)
Free but must present an ID (Senior citizens 65 and older, and preschoolers below 6)
Another UNESCO World Heritage Site in Gyeongju, Yangdong Village is the largest traditional village in South Korea. Here, you will see centuries-old houses that were rebuilt and preserved as how they looked during the Joseon Dynasty. It also has an outline of the Seolchangsan Mountain, which will definitely take you away from the normal scenery of modern skyscrapers. Instead, you will be taken back and have an opportunity to get a glimpse of Gyeongju's golden days.
To maximize your visit, you can join various tour routes that range from 20 minutes to an hour hike. In these routes, you will visit various houses, pavilions, and village schools that will let you learn about Gyeongju's tales.
8. Get a panoramic view of Gyeongju at Gyeongju Tower
Opening hours: 10 AM to 11 PM (Park), 10 AM to 8 PM (Exhibition Hall)
Admission Fees:
₩8,000 or around US$7 (adults)
₩7,000 or around US$6 (adults)
Free but must present an ID (Senior citizens 65 and older, and infants below 2)
The Gyeongju World Culture Expo Park is where the international cultural fair was held. It displays various attractions such as a 3D Animation World, Silla Culture History Exhibition, World Fossil Museum and, of course, the Gyeongju Tower. A centerpiece in the park, Gyeongju Tower has a soaring height of 82 meters similar to a 30-story building. But what makes it more attractive is the way it mimics one of the treasures of the Silla dynasty, the nine-story Pagoda of Hwangnyongsa Temple.
9. Go on a Food Trip at Seongdong Market
Opening hours: 8 AM to 5 PM (Monday to Sunday)
A visit to Gyeongju will never be complete without a gastronomic tour. While you can dine in various restaurants, it's also important that you take a tour around the largest traditional market in Gyeongju, South Korea. The Seongdong Market is probably the first thing you will see when you arrive in Gyeongju by train since it's just located opposite Gyeongju station. It has over 300 stores and 30 vendors.
If you're planning to stay for more days in Gyeongju and you plan to live like a local, you can buy some local produce here. From vegetables, fruits, to seafood, you will find them all here. Meanwhile, if you're only here for a short time, you can just try their versions of Korean street food favorites, such as Kimbap, Sundae, and Ttokbokki. Alternatively, dine at the buffet-style banchan dining in any of the more than 10 restaurants in the market.
10. Dine at Surime
Another way to get a superb gastronomic experience is by visiting Surime. Surime is a food experience center run by the royal cuisine expert, Park Mi Suk. Park Mi Suk is one of the students of Hwang Hye Seong, who is a holder of the Intangible Cultural Property No. 38, Royal Cuisine of the Joseon Dynasty. Here, you will have the opportunity to join cooking programs that focus on the traditional and royal Joseon dishes. There are some creative meal classes and beginners or advanced cooking classes that you can join. But if you only want to try authentic dishes, there are various meal experience programs that fit you.
Let's go to Gyeongju, South Korea!
Gyeongju, South Korea, has its distinct charm that entices many tourists. You don't have to be a history buff to appreciate the ancient beauty of Gyeongju. However, before you visit, make sure to plan ahead because this city is one of the most popular destinations in South Korea.