Things To Do In Busan, South Korea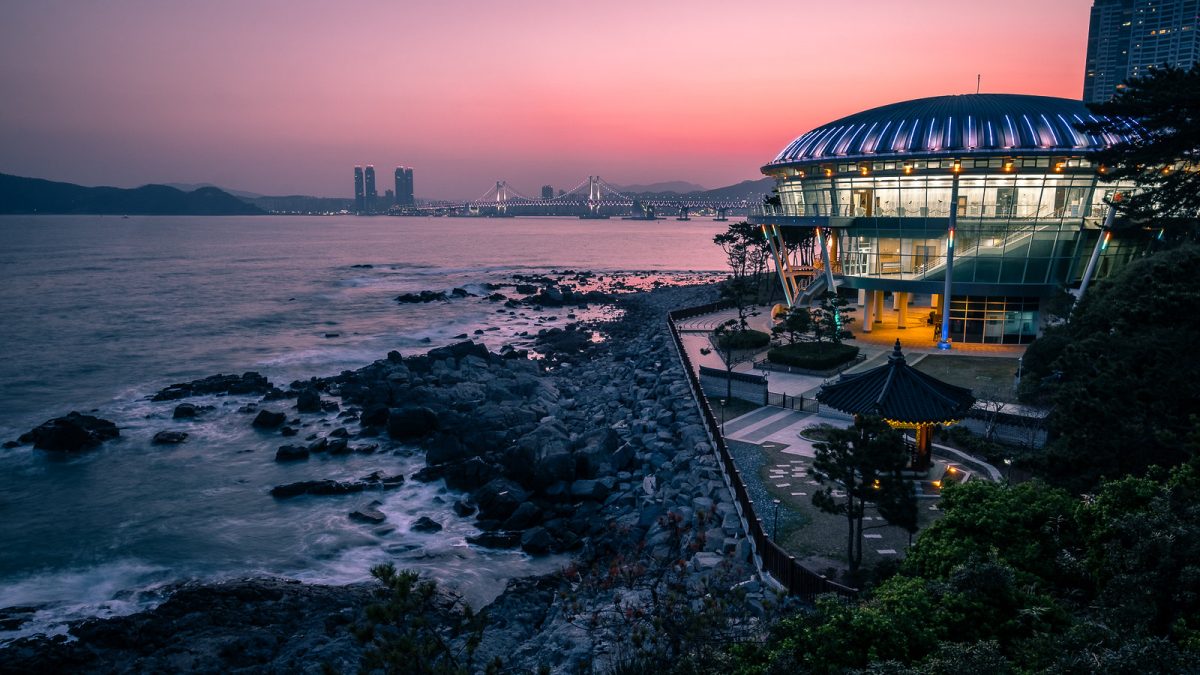 Busan is South Korea's second-largest city. Often overshadowed by its sister city, Seoul, Busan definitely offers a different appeal. With that in mind, this city deserves way more credit than it receives. Known as a coastal city, many people flock to Busan, South Korea for a peaceful getaway. You can indulge in the many seaside activities or go on a hike and be greeted by Busan's spectacular mountain scenery. Busan has plenty of things for you to do! In fact, if you're looking to switch things up, Busan also boasts an exciting nightlife for those who are looking to party with new friends.
Whether you're up for some beach activities or simply want to enjoy its tranquility, Busan is the place to be. Still thinking of things to do in Busan? We've got you covered! Here are some things to do in Busan, South Korea.
1.
Visit the vibrant Gamcheon Culture Village
You can't visit Busan, South Korea without visiting its very own version of Santorini. The Gamcheon Culture Village is even being dubbed as the 'Machu Picchu of Busan'. It earned this claim to fame due to the houses that were built in this village. These houses form a staircase-like fashion with many narrow alleys. However, the real appeal of Busan's Gamcheon Culture Village lies in its splash of colors at every corner. It's adorned with murals and sculptures that were decorated by its residents, making it an Instagram-worthy destination!
Other than admiring Gamcheon Culture Village's beautiful murals, the village has restaurants if you'd like to stop by for a meal. There are also plenty of snack stalls lined throughout Gamcheon Culture Village so you can always grab a quick bite and enjoy some of Busan's famous snacks.
2.
Soak in the hustle and bustle of Busan's famous Jagalchi Fish Market
There are plenty of things to do in Busan and one of the must-do activities include visiting the iconic Jagalchi Fish Market. This Busan fish market is the largest seafood market in South Korea, boasting a wide array of live and dried seafood. For all the sashimi lovers out there, you can be sure you'll be getting the freshest fish at Busan's Jagalchi Fish Market.
You can also try other types of seafood such as eels and live octopuses. If you're feeling adventurous, you can even opt for local delicacies like sea urchin. Jagalchi Fish Market in Busan, South Korea has a multitude of seafood restaurants, bars, and street food stalls so take your pick!
3.
Admire the seaside views at Cheongsapo Daritdol Observatory
When you're done visiting the Jagalchi Fish Market, you can easily make your way to the Cheongsapo Daritdol Observatory because it's within walking distance from the fish market. The observatory was only opened in Busan, South Korea on August 2017.
With its crystal clear glass floor, this Busan observatory may not be a treat for those who have a fear of heights. However, if you're willing to overcome your fear, you'll be greeted by a stunning panoramic view of the Cheongsapo Village. There are also many seafood restaurants and cafes located along Cheongsapo Village. Entry to this observatory is also free so you won't burn a hole in your pocket.
4.
Soak in the chaos of Busan's iconic BIFF Square
BIFF Square in Busan, South Korea is a modern movie district that honors film veterans. It was first established during the first Busan International Film Festival in 1996. Although it was once the venue for the film festival, it is now a shopping area filled with movie theatres, brand name stores, restaurants, and street food carts. Many tourists visit BIFF Square to try Busan's specialty snack, ssiat hotteok, which is a sweet Korean pancake with seed stuffing.
There are also many alleyways at BIFF Square so if you have the time, you can explore every nook and cranny of the area! You should definitely add a visit to BIFF Square to your list of things to do in Busan, South Korea.
5.
Catch the sunrise at Haeundae Beach
Busan is known for its beaches and each of its six beaches has unique characteristics. Haeundae Beach is Busan's most famous beach that is located in the Eastern part of the city. Haeundae Beach's striking characteristic is its backdrop of high buildings that contrast against the ocean. It's a popular spot for tourists and locals alike which is a testament to its popularity. People flock to Busan for Haeundae Beach, particularly in the summer, to carry out their water activities.
With Haeundae Beach's growing popularity, many hotels and guesthouses located near the beach have sprouted up. If you're willing to wake up early to catch the sunrise at Haeundae Beach, you won't be disappointed. Witnessing the soft-hued tones of the skyline is the perfect way to start your day. There are also many restaurants and street food stalls located near Haeundae Beach. If you're looking for things to do in Busan, South Korea, head to Haeundae Beach!
6.
Go hiking at Hwangnyeongsan Mountain
With an altitude of 427 meters, locals and tourists have raved about the stunning night views of Busan that Hwangnyeongsan Mountain has to offer. This is the place to be if you'd like some quiet moments away from the crowd. Arriving just before sunset would be your best bet as you can enjoy both the sunset and night views of Busan, South Korea. It takes around two to three hours to hike up Hwangnyeongsan Mountain but if you're feeling lazy, you can simply opt for a taxi ride up. Don't miss out on this opportunity to catch the best views of Busan, South Korea!
7.
Check out Busan Tower at Yongdusan Park
Yongdusan Park is located near the shopping district of Nampo-dong so it's a great place to wind down after a long day of shopping. It sits on the famous Yongdu Mountain of Busan which can be directly translated to mean 'dragon's head mountain'. Yongdu Mountain earned its name through its reputation for having a mountain peak that looks like a dragon's head.
You can easily access this park by taking an escalator, which is located in Nampo-dong, up the peak of the mountain. There, you'll find the iconic Busan Tower which stands at 120 meters. Be blown away by the breathtaking views of the city of Busan! Some of the things you'll see at the top of the tower are the vast view of Busan's harbor, Jagalchi Fish Market and even the Gwangandaegyo Bridge! However, do take note that you will need to purchase tickets to enter the Busan Tower. The tower operates from 10 am to 11 pm but be sure to get your tickets by 10.30 pm.
8.
Enjoy the ocean air at Taejongdae Resort Park
Taejongdae is a resort park in Busan, South Korea that is situated about an hour away from Nampo-dong. The rocky cliffs coupled with the park's lush greenery makes for magnificent views. It's definitely one of Busan's must-visit attractions. The two main attractions at Busan's Taejongdae are the lighthouse and the rocky cliffs so be sure to snap pictures at these two spots.
If you're feeling hungry, you can grab something to eat opposite the entrance of Taejongdae as there is a food street located there. However, Taejongdae may not be the ideal attraction for the elderly or children as a steep climb is required to get to the cliffs. If you'd prefer not to hike, you can always purchase a ticket for 3000 ₩ and hop on the Danubi Train.
9.
Revel in the architecture of Haedong Yonggungsa Temple
Haedong Yonggungsa Temple is a Buddhist temple located in the north-eastern part of Busan, South Korea. This temple stands out from other temples as it is situated along a shoreline. Most temples are usually found in the mountains instead. You can find many statues and pagodas at the Haedong Yonggungsa Temple. Some of the more well-known statues at this temple are the 12 Zodiac Stone statues.
The best time to visit Haedong Yonggungsa Temple in Busan is during the morning or evening as it tends to get crowded in the afternoons. However, do take note that it is open only from 5 am to 7 pm. Visiting this temple is also a great way to enjoy Busan's attractions on a budget as the entrance to this temple is completely free!
10.
Visit Gwanggali Beach
Since Busan, South Korea is known for its beaches, it's no surprise that another one of its beaches makes it to our list. Gwanggali Beach in Busan is known for its fine, white sand and the Gwangandaegyo Bridge that lights up at night. The bridge is the longest bi-level bridge over the ocean in South Korea and its exhibition of lights changes every season. Gwanggali Beach offers amazing views of not only the Gwandaegyo Bridge but also nearby attractions like Oryukdo Island. Gwanggali Beach is the perfect place to wind down after a long day!
11.
Shop at Pusan National University Station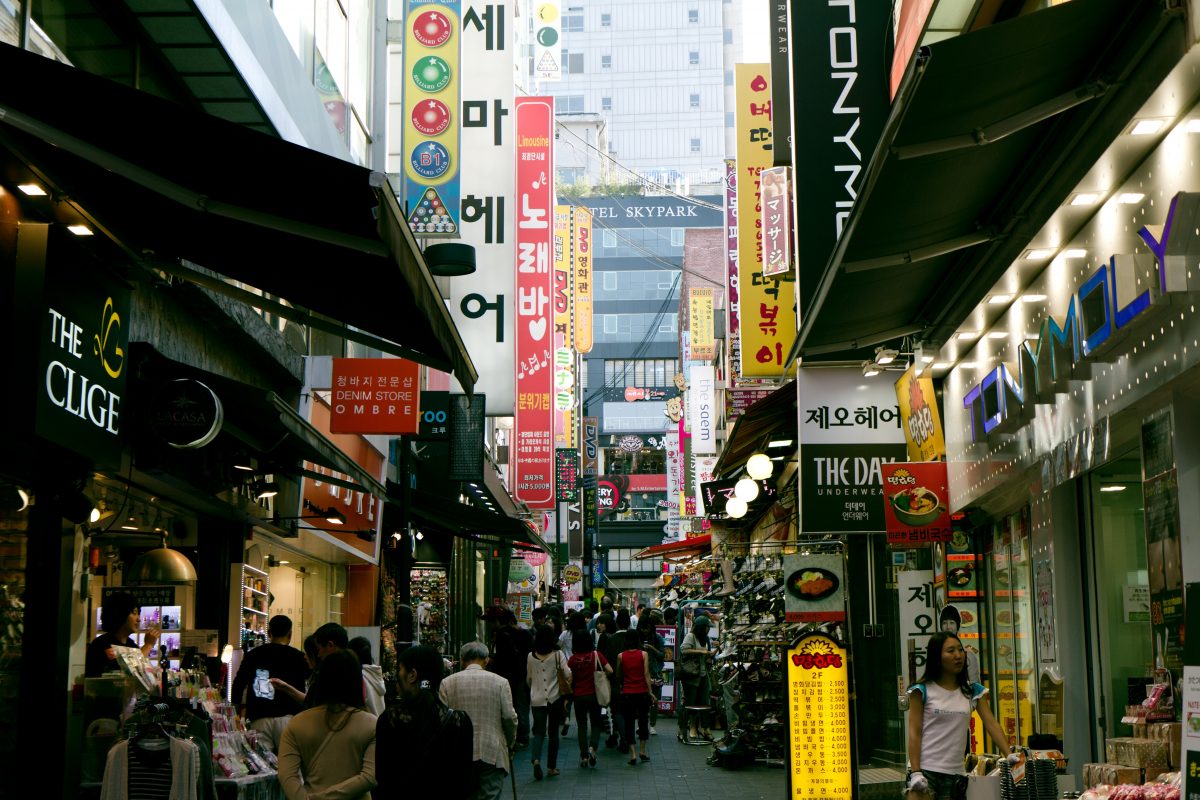 Pusan National University station is a shopper's paradise. Since it's located near the city's top university, the shops in the area sell affordably priced items ranging from clothes to backpacks and various types of shoes. The stores range from international brand name stores, such as ZARA, and local brand stores that sell unique trinkets and accessories. If you're dropping by this area, be sure to explore the narrow alleyways as they are filled with interesting stores and even street food stalls!
If you're also looking to stock up on skincare products, you're in luck! Popular cosmetic stores, like Olive Young, often have ongoing sales that you can take advantage of to score the best deals. Sometimes, the products sold in Busan may even be slightly cheaper than the ones sold in Seoul. You can even drop by Busan's top university, Pusan National University, and take a walk around the school if you have time to spare. Be sure to check out this shopping district in Busan, South Korea!
12.
'Walk in the sky' at Oryukdo Skywalk
Another must-visit attraction in Busan, Oryukdo Skywalk is especially popular among tourists and for good reason too. Oryukdo Skywalk's 15-meter long glass floor coupled with its theme of 'Walking in the Sky' is sure to leave you enthralled by the view of waves at your feet. Visitors are expected to wear cloth booties to protect the glass floor. If you visit on a clear, sunny day, you can even spot Daemado Island, otherwise known as Tsushima Island! This island is situated approximately halfway between the Korean Peninsula and the Japanese mainland.
Entry is free at the Oryukdo Skywalk. The amazing views that come with its free entry are just some of the reasons why you should visit this attraction in Busan, South Korea.
13.
Be mesmerised by the artworks at Busan Museum of Art
For all the culture buffs out there, the Busan Museum of Art is something to look forward to as it is one of Busan's top cultural attractions. It has 5 floors dedicated to showcasing various types of exhibitions ranging from intriguing sculptures to eye-opening video installations. While the museum displays artworks from Busan's leading artists, some of its exhibits also inculcate a cross-cultural element through exchanges with artists from around the world. You're guaranteed to go home learning a thing or two. The Busan Museum of Art also houses an outdoor sculpture garden that you can visit while you're there.
Although entry to the museum is free, you may need to pay a fee to view certain exhibits within the museum so be sure to have some cash on you just in case!
14.
Pamper yourself at Hur Shim Chung Spa
Busan is home to one of the largest spas in the world so it would be a shame to not stop by for a visit. Hur Shim Chung Spa is located in Dongnae in Busan, South Korea and is a hot spot for tourists. It was established in 1991 and to date, it can house 3000 people. One of the more popular options is the jjimjilbang, a traditional Korean sauna located on the first floor. However, there are many different types of baths and spas at Hur Shim Chung Spa. You can pick bathing courses according to various factors like age and personal preferences.
Give yourself a treat and visit the Hur Shim Chung Spa in Busan! Besides, a trip to South Korea wouldn't be complete without a visit to one of its spas or bathhouses.
15.
Visit the traditional Gukje Market
Gukje Market is the largest traditional market in Busan, South Korea. This market offers a different appeal than other shopping areas and markets. Anyone who steps into Gukje Market can sense that it is much more old-fashioned than other shopping districts.
This Busan market has its roots in the Korean War in 1950. Back then, war refugees would make a living through their sale of wares. To date, many of the vendors in Gukje Market still sell a wide variety of housewares that often make for great souvenirs or household items. Since they are sold wholesale, the prices of these housewares can be incredibly inexpensive. Other than housewares, you can also find clothing and food being sold at this market.
16.
Go shopping at the Shinsegae Centum City
Shinsegae Centum City is the world's largest shopping mall in the world. It has 10 floors and boasts a wide array of retail services for everyone ranging from ladies' wear to men's wear. Besides being a shopping complex, Shinsegae Centum City also offers leisure facilities like an ice skating rink. It even has a movie theatre you can head to if you need a break from all the shopping. There is also an outdoor theme park with dinosaurs for children.
Whatever you're looking for, Shinsegae Centum City should definitely be one of your stops while you're in Busan.
Busan is a city with unique charms that are sure to capture your heart. Whether you're looking to soak in the glamorous nightlife or enjoy a casual day by the sea, Busan's versatility makes it a great travel destination for everyone. What's more, the subway system in Busan is extremely convenient so you don't have to worry about getting lost during your travels.