27 Best Things To Do In Key Largo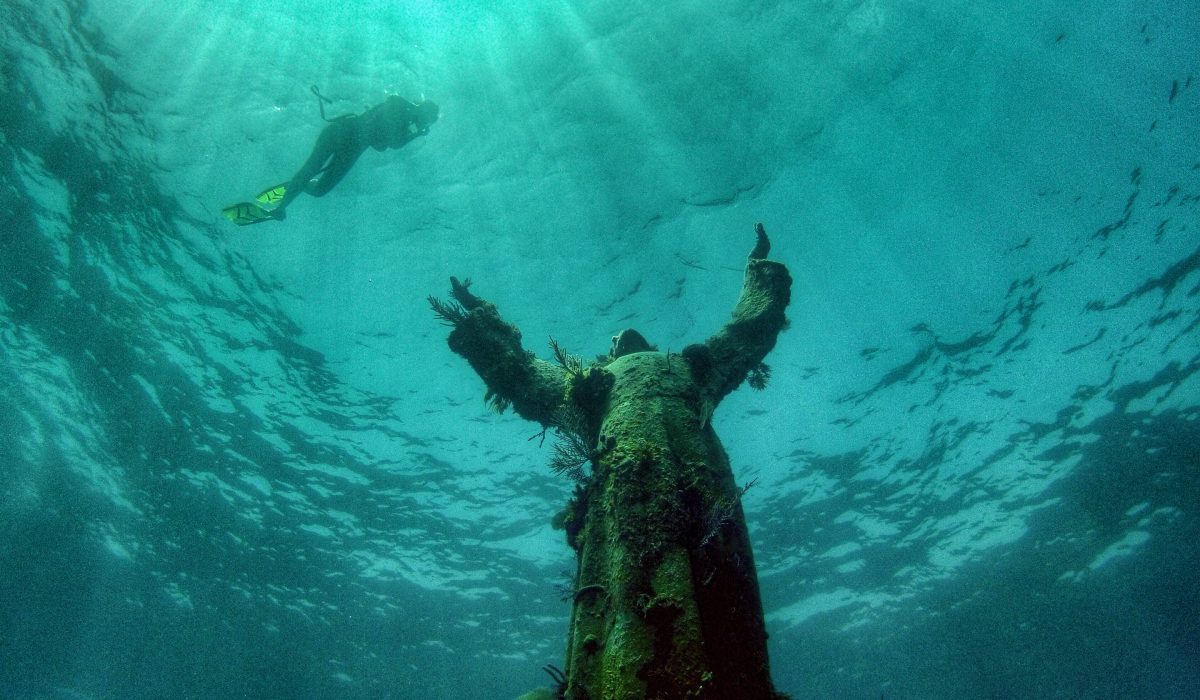 Wondering what to do in Key Largo? There's no shortage of things to do in Key Largo, Florida. When talking about the Florida Keys, it's typically the island of Key West that comes to most minds. However, the first and largest of the Keys offers an adventure of a lifetime, just as well. With sandy beaches, crystal clear waters, swaying palm trees, and living coral reefs teeming with tropical fish species, Key Largo is certainly an island paradise ideal for any getaway.
Not yet convinced? Read on to discover the very best Cayo Largo has to offer! From exhilarating outdoor activities to more laid-back endeavors, here's everything you need to know to plan your next Florida Keys vacation.
Unique Things to Do in Key Largo
1. Say a Prayer Underwater at Christ of the Abyss
Submerged approximately 25 feet underwater, the Christ of the Abyss is a must-visit for many scuba diving enthusiasts visiting Key Largo. This nine-foot-tall bronze statue of Christ is the third of its kind, molded after the original designed by Italian sculptor Guido Galletti. The statue sits on a concrete base and depicts Christ looking upward with his arms raised to the sky. It serves as a memorial to those whose lives were lost under the sea. The clear waters make it easy to spot when on a glass-bottom boat tour. However, for a truly surreal experience, many prefer to dive into the depths to see it up close. The surrounding corals and marine life that tread the water make for a stunning sight. As such, don't forget to bring your best underwater camera to capture unforgettable moments.
2. Dive to the USS Spiegel Grove Wreck
Another famous dive site that you can find within the waters of Key Largo is the shipwreck of the USS Spiegel Grove. This 510-foot vessel once sailed the Caribbean Sea, serving the US Navy until it was retired and sunk in 2002 to make an artificial reef. It is located six miles off the coastline and is approximately 80 feet underwater. Due to its size, you can easily spot it aboard a glass boat on a clear day. Similar to seeing the Christ of the Abyss, though, there's no better way to marvel at this fascinating shipwreck than by descending into the water. Just note that this is not a beginner-friendly diving spot due to its depth and the strong currents in the area. In fact, some diving gear rental shops require proof of certification and diving history from customers who want to visit the wreckage.
3. Cruise on the African Queen Steamboat
A boat ride doesn't sound like one of the unique things to do in Key Largo. However, doing so onboard the historic African Queen boat surely is! Built around the 1910s in England, this steamboat was used to transport cargo, missionaries, and hunters between Congo and Uganda. It gained notoriety in the 1950s after it was featured in a film starring Humphrey Bogart and Katharine Hepburn. Nowadays, it resides in the Marina del Mar marina in Key Largo. It still cruises down the island's waterways, taking guests from the canals of Port Largo to the Atlantic Ocean. You can even ask the Captain for a turn at the helm for a truly one-of-a-kind sightseeing cruise experience!
4. See Key Largo from Above by Parasailing
Looking for exhilarating things to do in Key Largo? Experience the thrill of a lifetime on a single or group parasail ride with the whole family. Witness the breathtaking beauty of the Key Largo's coastline from high up as you get whisked into the sky by a brightly colored parachute being pulled by a speeding motorboat. You'll get a spectacular bird's-eye view of the Upper Keys, the Atlantic Ocean, and John Pennekamp State Park!
5. Learn About the Endangered American Crocodiles at Crocodile Lake National Wildlife Refuge
Crocodile sightings are very common in Florida. However, if you want to learn more about these snapping reptiles, head to the Crocodile Lake National Wildlife Refuge in Key Largo. Established in 1980, this refuge aims to protect and preserve the habitat of the American Crocodile. You won't get an up-close encounter with these endangered species though, since the lands and waters are not open to the public.
However, you can learn all about them at the visitor's center through photographs, videos, and informational kiosks. You'll also get a glimpse at the efforts put into protecting these creatures and their home. On top of that, there's a native butterfly garden on the grounds that is home to over different species of butterflies and flora.
6. Adopt a Bird at Laura Quinn Wild Bird Sanctuary
Bird watching is a favorite outdoor recreational activity for many, and there's no shortage of bird watching opportunities in the Florida Keys. However, what happens when these majestic creatures sustain injuries? Fortunately, the Laura Quinn Wild Bird Sanctuary is there to rescue and rehabilitate them. Managed by the Florida Keys Wild Bird Rehabilitation Center, this facility houses 40 different species that cannot be released back into the wilderness. Every single bird rescued is given a chance to spend their remaining days in safe enclosures with stimulating activities and appropriate food.
Visit these rescued birds and see them in their enclosures while also learning about their well-being. You can even get a chance to feed resident pelicans! Want to make a difference in the lives of these creatures? Adopt one! While not in a literal sense, you will be helping in their rehabilitation and the sanctuary itself by sponsoring their care. All funds will go towards their food, care, and other needs.
7. Spend a Night at Jules Undersea Lodge
There's no shortage of places to stay in Key Largo that offers stunning views of the beach and the coastline. However, if you're looking for unique accommodation and experience, then book a night at the Jules Undersea Lodge. As the name suggests, it's an underwater hotel that requires you to wear a wetsuit since you will need to scuba dive towards your room. It's located in a mangrove lagoon and offers guests views of the lagoon's marine life through a 42-inch window. Waking up to the sight of tropical fishes peeking into your bedroom window will certainly be a moment you won't forget! Each room is equipped with an intercom so you can communicate with the staff in case you will need anything. You can even get pizza delivered to your underwater room!
8. Visit Dolphins at the Island Dolphin Care
Another one of the amazing things to do in Key Largo is visiting the Island Dolphin Care. This unique place on the island isn't a theme park where you can watch dolphins do tricks for entertainment. Instead, it provides animal-assisted therapy to kids with special needs and veterans suffering from post-traumatic stress disorder or PTSD. The facility offers a number of programs that help visitors to cope with mental and physical disabilities. All the while learning all about the well-being of these majestic sea creatures. You can even learn how to communicate with dolphins through hand signals!
9. Enjoy a Drink in a Floating Tiki Bar
Looking for more unique things to do in Key Largo? Take in the beauty of the glistening waters of the Florida Keys while you sip on tropical drinks aboard a tiki bar boat. Cruisin' Tiki's fleet of floating tiki bars is equipped with everything you need to have a good time. Each one comes with a built-in wet bar surrounded by stools and a Bluetooth sound system. Your captain will even entertain you with stories of the sea! Take your pick of three types of cruises: a day cruise with the whole family, a romantic sunset cruise for two, or a night cruise to party with friends. Just note that you will need to bring your own food and drinks.
Things to Do in Key Largo for Couples
10. Take a Glass Bottom Boat Tour at John Pennekamp State Park
There are a plethora of diving opportunities in Key Largo. However, did you know you can still get a glimpse into the enchanting undersea world without getting wet? Step aboard a glass-bottom boat with your partner and marvel at the spectacular coral reefs and colorful fish of Key Largo's waters. One of the best places to do so is at the John Pennekamp State Park. During the two-hour boat tour, you can easily acquaint yourselves with the creatures of the sea in style and comfort as you cruise down the waters on a 65-feet high-speed catamaran.
11. Sunbathe at Far Beach
Featuring soft, warm sand, towering palm trees, and calm waters, Far Beach is undoubtedly among the best places for many sunseekers. And if you're looking for romantic things to do in Key Largo, sunbathing on the sun-kissed shorelines should be on your list. This relatively small beach exudes a more intimate ambiance than other crowded Key Largo public beaches. Thus, allowing for a romantic experience while you and your significant other stroll along the shorelines or lounge under the palm trees. The lush greenery of the area makes for gorgeous backdrops for your couple's vacation photos, as well.
Of course, you can take a plunge into the beach's refreshing waters, too. The shallow waters are great for splashing and wading around in. Although, don't forget to wear your best pair of water shoes if you plan on venturing into the deeper parts, since it can be rather rocky. Furthermore, there's a small walking trail near the beach, where you can spot different species of wildlife that call the area home.
12. Cruise Down Florida Keys Overseas Heritage Trail
On the hunt for free things to do in Key Largo with your partner? Why not cruise down the 90-mile stretch of the Florida Keys Overseas Heritage Trail? Connecting Key Largo and Key West, the trail was originally meant to serve as an alternative route between the two Keys. However, it is now a popular place for locals looking for some recreational fun under the sun.
The wide-open space provides a scenic venue for cycling, skating, hiking, and sightseeing. Along the trail, you'll also find several roadside picnic areas, overlooks, and fishing piers. What's more, the trail likewise serves as an access point to other attractions in Key Largo. This includes the likes of Everglades National Park, Florida Keys National Marine Sanctuary, and the Crocodile Lake National Wildlife Refuge.
13. Go Kayaking at Garl's Coastal Kayaking Everglades
Kayaking in Key Largo's waterways is a popular activity for many and there are certainly plenty of paddling routes to choose from. If you have difficulty choosing, why not opt for a guided kayak tour at Garl's Coastal Kayaking Everglades? You can opt to paddle through the freshwater dwarf mangrove habitat or out on the emerald waters of Florida Bay. Either of these choices will give you unparalleled views of the otherwise inaccessible areas of the Everglades
To ensure you won't go hungry in the middle of the ride, Garl's Coastal Kayaking rents out coolers where you can store your food and drinks. As such, you can watch the sunset while enjoying a nice cool beer to cap off a fun-filled day of activities. Want to build your own adventure? No problem! Garl's Coastal Kayaking Everglades offers kayak rentals, as well as other kayaking and camping gears you might need.
14. Hike at Dagny Johnson State Park
Located half-mile north of Mile Marker 106, Dagny Johnson Key Largo Hammock Botanical State Park is a great place for couples to take a leisurely stroll in nature. Stretching over 2,000 acres, this state park is a tropical paradise, boasting the largest remaining contiguous hardwood hammock in the United States. These teeming evergreens provide an abundance of shade as couples enjoy a casual self-guided tour through the designated nature trails.
Additionally, there is a great deal of bird and butterfly watching opportunities in the park. Spotting warblers and other songbirds within the extensive tree canopies is a common occurrence. Meanwhile, the park's butterfly garden is home to a diverse number of species, including the giant swallowtail. Want to enjoy a romantic picnic surrounded by lush landscape? A short walk from the main entrance leads to a picnic pavilion with tables.
15. Have a Sunset Dinner at Sundowners
Since the 1980s, Sundowners have been a favorite among locals and tourists alike to satisfy their seafood cravings. A Florida Keys staple, this restaurant offers guests the freshest shrimp, lobster, and crabmeat, as well as a wide range of steak and sandwiches. There's an extensive drink menu featuring classic and specialty cocktails.
Visitors don't just return for the food, though. While it certainly is among the top reasons, plenty of loyal guests come back to the Sundowners for the stunning views that accompany each meal. True to its name, it's one of the top restaurants to catch the sunset over the waters of Florida Bay. You can do so from the glass-walled dining room or on the outdoor patio. Furthermore, the live music from the local bands creates a relaxing atmosphere, a perfect way to end a full day of adventure.
16. Sip a Cold One at Florida Keys Brewing Company
For many craft beer drinkers, a trip to the Upper Keys wouldn't be complete without visiting the archipelago's first microbrewery. Take a tour of the Florida Keys Brewing Company and learn about creating these delicious drinks. You can even sample some when you head over to its tasting room. Dubbed as the taproom, you and your significant other can satiate your taste buds with IPAs, seasonal, and barrel-aged beers.
Afterward, relax in the spacious beer garden where you can play games and enjoy live music! You can also check out artworks from local artists scattered along the premises. Moreover, not only can you take home cans and kegs of your preferred beer, but also beer and island-inspired merchandise!
17. Recharge at Playa Largo Resort
After a full day of adventure and thrill, there's no better way to recharge your body and mind than a spa trip. And undoubtedly, the best place to unwind is at the Ocean Spa of the Playa Largo Resort. This Key Largo spa offers several services that will rejuvenate your body, including a couple's massage treatment that will knead away stress. Afterwards, enjoy an invigorating full-body scrub that will buff your body smoothly, then followed by a skin revitalizing facial. What's more, you and your partner can share a glass of champagne while doing so.
18. Watch the Sunset Aboard a Cruise Ship
For more things to do in Key Largo for couples, book a private boat charter and take in the panoramic views of the sunset against the Florida Bay coastline. Sunset cruises in Key Largo are top-rated for people looking to wrap up their day in a romantic way. Depending on your choice of cruise, you can enjoy a magnificent meal with a tropical beverage while waiting for the sun to sink slowly into the horizon. Alternatively, combine your time with water activities, such as swimming or snorkeling in the Key Largo waters.
Things to Do in Key Largo With Kids
19. Go Snorkeling at Cannon Beach
Key Largo is among the best places for snorkeling in Florida. And if you're looking to go swimming and snorkeling with kids, Cannon Beach is certainly the place to do so. The beach is named after the 17th-century cannons lining the shoreline, which curious youngsters will surely find fascinating. It offers a safe swimming experience for children thanks to the gentle waters with little to no waves. The shallow waters are great for introducing them to snorkeling, too. Meanwhile, adults can marvel at the shipwreck of an old Spanish vessel 100 feet offshore.
20. Soak Up Some Sun at Harry Harris Park
Another one of the Key Largo beaches you should visit is the one at Harry Harris Park. This relatively small beach provides visitors with a more serene and peaceful ambiance, perfect for relaxing under the sun atop your favorite beach blanket. The park itself boasts several amenities, including a tidal pool that little ones can wade around in. There's a boat ramp for the anglers wanting to reel in their catch of the day.
Cook your prize catch on one of the barbeque grills scattered along the area and enjoy it with the whole family at one of the pavilions and picnic areas. Additionally, get the kids and teens moving at the basketball court, two baseball fields, and the playground within the premises. Harry Harris Park is open from sunrise to sunset. You can bring your furry companions along as it is one of the pet-friendly parks on the Upper Keys.
21. Paint With Dolphins at Dolphins Plus Bayside
At Dolphins Plus Bayside, the whole family can responsibly and safely swim with bottlenose dolphins without disturbing their natural habitat. This Key Largo attraction offers multiple programs that allow for up-close and intimate interactions with dolphins. However, a highlight you shouldn't miss while you're here is painting with these marine mammals. One of the more unique things to do with kids, young ones can collaborate with dolphins in creating a one-of-a-kind masterpiece. This interactive program starts with you picking a palette of colors and from here, marvel as a dolphin paints on a canvas while you hold it over the water.
Besides swimming along with dolphins, Dolphins Plus Bayside is home to an exhibit that offers close-up interactions with marine invertebrates. The species you'll see in the exhibit will vary, thus giving you a chance to learn and interact with different species each season.
22. Spend a Day at Everglades National Park
While you certainly won't run out of fun aquatic activities, you can likewise find plenty of things to do in Key Largo on land. One of them includes visiting the island's national and state parks. One destination you should definitely tour is the Everglades National Park. This World Heritage Site is one of the most ecologically diverse regions in the United States. It is home to vast grasslands, coastal wetlands, and mangrove swamps filled with several rare and endangered species including the elusive Florida panther. Spanning 2,400 square miles, this national park offers a plethora of fun things to do the whole family will surely enjoy.
Visitors can hike and bike along the numerous trails, while the waterways are great for kayaking and canoeing. The waters provide plenty of saltwater and freshwater fishing opportunities, too. So don't forget to bring your best fishing rods! Wildlife spotting is another popular pastime in the park, with over 300 birds, 50 reptiles, 40 mammals, and a wide variety of amphibious species inhabiting the Everglades. Want more educational outdoor adventure? Enjoy a treasure hunt while learning all about the environment by partaking in geocaching!
23. Try the Famous Key Lime Pie at Mrs. Mac's Kitchen
On the hunt for places to eat in Key Largo? Located along the Overseas Highway, Mrs. Mac's Kitchen has been a favorite among locals and tourists alike since the 1970s. This award-winning dining destination serves a wide variety of American and Caribbean-style cuisine, including hearty grits, chili, and chowder. However, the main highlight of the restaurant's menu is undoubtedly its famous key lime pie, which is creamy, tangy, and undeniably delicious.
All items on the menu are made fresh with the finest ingredients. The success of Mrs. Mac's Kitchen has spawned a second location, less than a mile north of the original. Regardless of which branch you drop by, though, you are guaranteed scrumptious meals, fantastic service, and a laid-back but welcoming atmosphere.
24. Discover All About Marine Life at Eco-Discovery Center
Planning to take a road trip through the rest of the Florida Keys while in Key Largo? If that's the case, don't forget to stop by the Eco-Discovery Center in Key West. Operated by the National Oceanic and Atmospheric Administration, this center aims to educate visitors about marine life residing in the Florida Keys National Marine Sanctuary.
It houses over 6,000 square feet worth of interactive exhibits of the surrounding waters of the Florida Keys. This includes those that are part of the two national parks and four national wildlife refuges within the Sunshine State. Some of the highlights of the center consist of the 2,500-gallon tank that is filled with living corals and tropical fish, and a 74-seat movie theater. Guests can also experience what it's like to live beneath the sea thanks to the replica of the Aquarius underwater laboratory.
25. Learn About Diving at the History of Diving Museum
The History of Diving Museum is actually located not in Key Largo, but on the nearby island of Islamorada. Due to its proximity, though, requiring only a short 20-min ride, it's still considered among the best places to visit while in Key Largo. Even if you are not a fan of deep-sea adventurers, you will surely be engrossed with the multiple exhibits that tell the history of underwater exploration spanning over 4,000 years. Enrich your knowledge about the evolution of diving and the ingenuity of divers through the museum's collection of diving equipment, including homemade helmets crafted from rather unorthodox materials.
Furthermore, the kids can get to enjoy being a part of Captain Nemo's crew fighting off giant squids in the Atlantic Ocean. Inspired by Jules Verne's Twenty Thousand Leagues Under the Seas, this specific interactive exhibit boasts a model of Captain Nemo's iconic submarine and a working replica of his helmet. You'll also get a short walkthrough of what inspired the author's classic novel and how it has impacted the world of marine science and technology. Indeed, visiting the History of Diving Museum is among the amazing things to do in Keys for young curious minds.
26. Be an Angler for a Day
Flanked by the Atlantic Ocean, Gulf of Mexico, and the Everglades, Key Largo is among the best places for anglers. Whether you prefer backcountry, offshore, or shallow flat fishing, you'll never run out of Key Largo fishing spots. You might even have a hard time deciding where to fish due to the sheer number of choices. Bonefish, permit, redfish, snook, and trout are just some of the fish species that swim within the waters of the island.
Some of the top inshore fishing spots include Everglades National Park and John Pennekamp State Park. Meanwhile, if you prefer deep sea and offshore fishing, hop aboard a fishing charter to take you out into Florida's open waters. With any luck, you'll be reeling in redfish, yellowtail snapper, trout, and other tropical fish species.
27. Pick Up Souvenirs at Shell World Florida Keys
A trip to the Florida Keys wouldn't be complete without souvenir shopping. While Key Largo isn't necessarily known as a shopping mecca, it still boasts several shops and boutiques that shouldn't be overlooked. Among them is Shell World. Situated along Overseas Highway, this shopping emporium is home to more than just your typical tourist trinkets. It offers everything from beachwear and accessories to home and kitchen decor. Moreover, they have a large offering of books and personal care products on sale. And of course, you guessed it, seashells! Thousands of them!
Discover Key Largo's Top Attractions Today
Key Largo is an ideal vacation spot for many. Regardless if you're looking to lay out on the beach all day or do some back-country exploring, Key Largo has something for everyone. As the largest of the Florida Keys, it's no surprise that the island is packed with big adventures and experiences. Pack your bags and discover all the top things to do in Key Largo today!