Top 8 Beer Gardens To Drink Your Thirst Away In The U.S.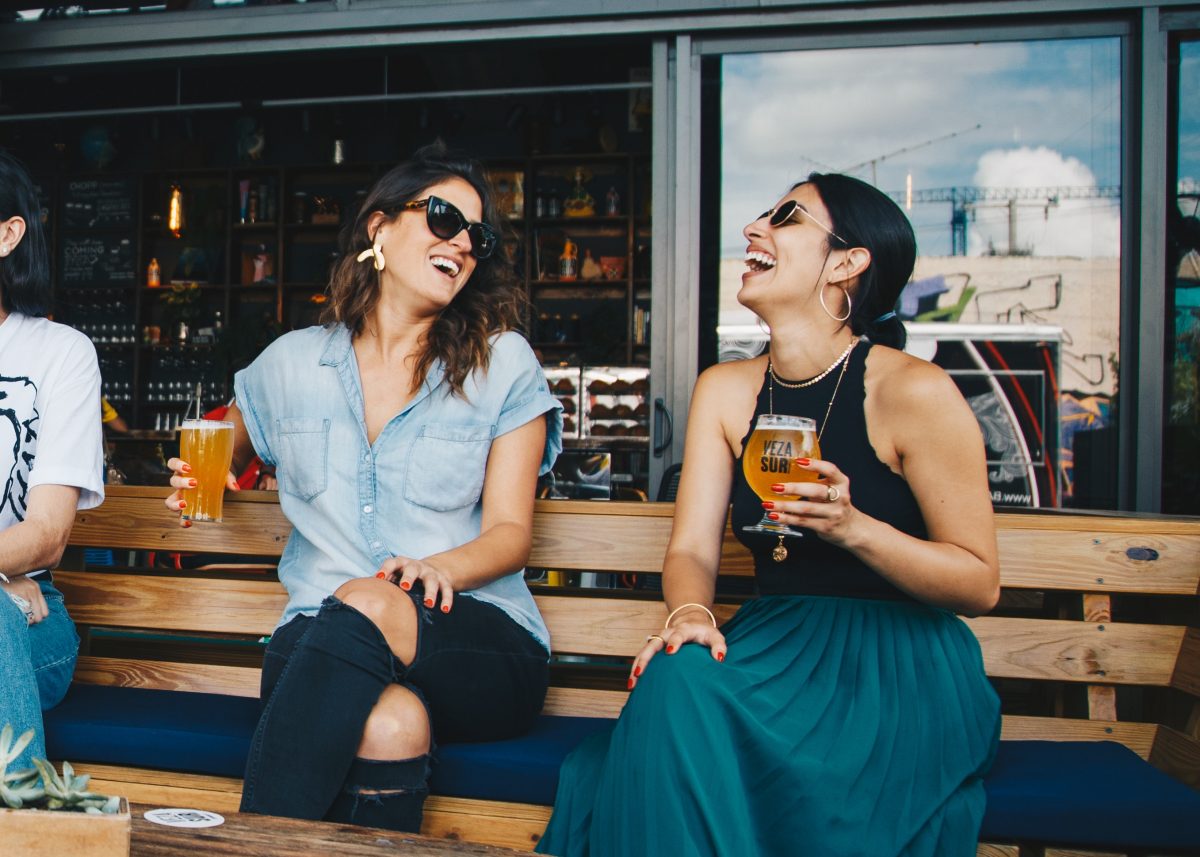 Craft brew has become a staple in American culture. With the demand growing continuously, relatively, breweries and beer gardens are much more accessible to fulfill the needs. Did you know, the U.S. has the most craft breweries anywhere else in the world? Dominating almost 70% of the industry, it's hard to not to find a beer garden in the states to chug them down properly.
Good news. The U.S. is home to a broad range of beer gardens, where you can tour a variety of beers, both regional and national. The best part, we've found some of the best places for you to do just that. Also, there's no flight ticket to Germany required.\
1.
The Raleigh Beer Garden, North Carolina
A perk of any beer garden is a wide selection available to cater to any taste. While you might be scratching your head finding a perfect spot to enjoy a pint of beer especially during the summer. The Raleigh Beer Garden in North Carolina has you covered. Not only it hosts the largest selection of draft beers under one roof or in the States, but possibly in the world. If you crave a variety of beers, you can't find a better than this beer garden.
The first floor is set aside for beers and ciders made in North Carolina, while the second floor is home to brews from far and wide. Though the North Carolina selection alone is extensive. However, if you're an IPA fan, you're in luck. A whopping 41 varieties of IPA awaits, and there's surely a suitable one to your taste buds.
Ditch the IPAs for a stout, you wouldn't believe there are at least 13 options for you to choose from. Believe it or not, the names alone will intrigue you into trying them. Skillet Donut and Sexual Chocolate, for example. Yes, please. The menu offers 5oz "flight" tastings, so try away.
Upstairs has, even more, waiting for you, with drinks from Bangalore to Stockholm. Ever want to try Hawaiian Lager? They have that too. The only downside to this place is the fact you'll need multiple visits to appreciate it all. With Raleigh Beer Garden's woodsy atmosphere, a long list of beers, and appetizing bar menu, that sounds more like an upside to us.
2.
Brew Garden, Strongsville, Ohio
A Midwestern alternative is Brew Garden of Strongsville, Ohio. Here, you can find at least 30 beers on tap, with plenty of regional favorites to select from. To spice things up a little, this beer garden offers a rotating beer of the month. Apart from the extensive selection, the monthly featuring beers actually gives you another reason to visit.
Though it's called a beer garden, this place isn't just for the beers. If you're in more of a cocktail kind of a mood, you can try out one of their specialty. Their Margarita Mule sounds like a drink mashup we'd love to try.
The worst part of having a beer is without any food to compliment it. Take a look at Brew Garden's food menu. Staples like flatbreads, glazed wings, and burgers are available in abundance. Those with more adventurous palates can order up a Gator Tail, or perhaps a Fire in the Hole burger – guaranteed to satisfy even the most relentless spicy cravings.
At Brew Garden, a fun night out isn't all about food and drinks. They host regular trivia nights and offer a discount and dancing for the ladies every Friday. Feel like sitting outside? You and your dog can enjoy an evening out on Brew Garden's patio.
3.
Steins Beer Garden, California
Is West Kölsch the best Kölsch? It's a tough contender when you're drinking it at Steins Beer Garden. Undoubtedly, this one is a must-see for anyone visiting Mountain View, CA. Remember we said you can save the flight tickets to Germany? On a trip to Europe, founder Ted Kim strives to bring home the culture back to the States and share with his fellow Bay Area natives. Established since 2013, this beer garden is an excellent rendition of the traditional German Biergarten – with a distinctly California vibe.
The 19 permanent on-tap drafts are a good start, especially if you have a thing for a fruity style beer. Framboise Rose Gose from Anderson Brewing is a necessity if you're a raspberry lover. Don't worry about getting bored for the same beers, there are around twelve rotating, seasonal taps to keep you excited. If you visit during one of the frequent events, you'll find even more breweries featured.
Brunch, lunch, and dinner menus certainly have something for everyone. If your visit is before 4 pm, you can select from Southern fares, like chicken and waffles. Or, go for something totally different, such as the Steins style eggs benedict. Just be sure to pair it with the charmingly named brunch cocktail, La Vie En Rose.
4.
The Bohemian Hall and Beer Garden
In Queens, New York, you will find the Beer Garden and Bohemian Hall. There's a reason why this oldest beer garden exists for decades in the state of New York. Survived the dark days of American history, now we can enjoy the full potential a century later.
An outdoor venue, this beer garden emphasizes heavily on Czech and Slovak style beer and food. You'll see things like Brouczech, Hofbrau, and Schofferhofer on the menu, as well as some familiar names like Blue Moon, and Stella Artois. Do note that your beer won't come to you in a pint glass. Instead, at Bohemian Hall, everything is served in an authentic Bohemian style.
For the non-beer drinker, the food on offer is in the same vein as the beer with plenty of chance to experience some culture. The pierogies are particularly inviting, as well as the pilsner goulash. After a mug of Praga and a plate of beer-cooked goulash, you can say you ate and drank the beer.
Most Saturdays feature live music outside, and The Beer Garden holds occasional "Quiet Clubbing" events. New York City noise ordinance usually means the party has to stop at 10 pm, but Quiet Clubbing found a way to keep the festivities going well into the night. Their solution? A headphone system for all guests. Brilliant, yet simple.
Music, history, culture, food, and some of the finest imported beer you can find – The Beer Garden at Bohemian Hall Czechs all the boxes (sorry, we had to).
5.
Dacha Beer Garden, Washington D.C.
Washington D.C. is home to Dacha Beer Garden, which is attached to a quaint cafe of the same name. Co-founders Dmitri Chekladin and Ilya Alter began their dream business with a POD container and a beer truck. They built from the ground up what is now a successful, popular highlight of the American capital.
On tap at the outdoor (covered) bar are 25 foreign and domestic brews. They carry several Weihenstephaner varieties, any one of which are worth a try. Weihenstephaner has claims to the title of the oldest brewery in the world. It's time to put those age-old brewer recipes to the taste test. For something a bit more quirky, our vote goes to Charm City Mead. Dacha's menu states it's "made by local wizards." Where else can you find wizard-made mead?
Dacha also provides small and large plates at brunch and dinner. Beer is integrated into several of their dishes, such as the stout beer cheese served with a monster-sized pretzel. If you're in for a treat, you can ask for the "Hangover Special". Just take care not to get started on a second hangover before you leave – it'll be an inner struggle of self-control with all those amazing beers on tap.
Did we mention your dog is invited to sit in the beer garden? We're sensing an animal-lover trend at beer gardens, and we like it.
6.
Lowry Beer Garden, Denver
Lowry Beer Garden in Denver, CO showcases some of the finest craft brewing America has to offer. Their draft list is exclusive to Colorado made beer, which has rapidly moved up the craft beer ranks in recent years. Lowry Beer Garden is a perfect place to dive into the best of the best when it comes to Rocky Mountain and Front Range brewing.
Start your journey with Left-Hand Brewing's Nitro Milk Stout – you won't regret it. You can enjoy the sinfully smooth stout in Lowry's park sized beer garden. There are 9,000 square feet of open-air seating under a canopy, so you can sit in the garden rain or shine…or snow, if you're brave. There's also indoor seating for when that Colorado weather isn't cooperating.
For a true Biergarten experience, we recommend a pint of Fiction Alternate Present – a German lager from Fiction Beer Company. If you're hungry, you can create your own burger in either German or Colorado form, or a hybrid of both. If you're ready to go full Colorado mode, make your burger a bison burger with roasted green chiles. And if you've ever wondered what an elk sausage tastes like, you're in luck, because they offer those too. Or, go with the classical beer brat. It's a win-win with Lowry Beer Garden's food.
For something on the lighter side, Pikes Peak Blue Mesa Tropical Blonde is a no-fail ale. If fruity suits you, Summit Lavender Blueberry Hard Cider provides a delightful twist to traditional ciders. If you need an excuse to return and continue working your way down Lowry's tap list, the beer garden hosts "Geeks Who Drink" trivia night every Tuesday. Or, swing by any Saturday in August to enjoy their Summer Concert Series.
For the pet parents out there – here's another one where your dog can accompany you in the outdoor seating area!
7.
Loreley Beer Garden, Manhattan
You may not expect a traditional beer garden to exist in the heart of Manhattan. Loreley Beer Garden provides a lovely contrast to the lavish surroundings. The area is known for its richness of culture, which is exactly what you'll find at Loreley.
Indoor and outdoor seating is offered, but due to the popularity, you'll probably find yourself in the larger outdoor area. Which great if you want to get the most out of your experience. You'll find yourself under a tent, sitting at long tables in true Oktoberfest style.
You can choose from their core draft selection, which includes German favorites such as Kranz, DAB, or Spaten. If you visit during their Spring Beer Festival, you'll have the opportunity to order seasonals like Schofferhofer Grapefruit. Of course, you might find yourself easily tempted by their creative cocktail menu. A Nitro Cold Brew Martini, perhaps?
For food, treat yourself to the aptly titled Sausage Party, your choice of five to seven sausages served with beer marinated sauerkraut. If you're trying to save room for beer, there are several salads and small bites available. Be sure to leave a little room for dessert too – Loreley's New York cheesecake is a must.
8.
Austin Beer Garden Brewing, Texas
Austin, TX houses The Austin Beer Garden Brewing Company or ABGB for short. Their in-house beer earned them The Great American Beer Festival Brewpub of the Year award in 2016, 2017, and 2018.
ABGB brews their beer on-site; you can actually see the beer vats from the tasting room. And we love the names. Big Mama Red and Hell Yes make us want to try them just based on the title alone. But it certainly wasn't just the title that won them their awards. Having the brewery and bar under one roof means you'll get a first-rate experience.
To give you something even more unique, ABGB brews a pilsner – Rocket 100 – based on a pre-prohibition recipe. Old school meets the modern era with this one. With six stellar beers on tap, you'll want to bring some home for later, or for that backyard party, you're planning. ABGB has your back, with entire kegs available for pickup.
The kitchen offers several culinary treats to pair with your beer. Browse the pizzas, which include vegetarian options, or go with brisket tacos for a Texas favorite. The food lines up with the quality beer at ABGB.
And yes, ABGB welcomes dogs on the patio. Nice to know a night out doesn't have to mean leaving your fur-baby behind.
Takeaway
Time to plan a road trip for the best America's Beer Gardens. From coast to coast, the United States has countless interpretations of the German Biergarten. Whether you are a native or a visitor, America has unique beer garden experiences for everyone. Just make sure to pack your designated driver!