Best Things to Do in Jakarta: A Complete Travel Guide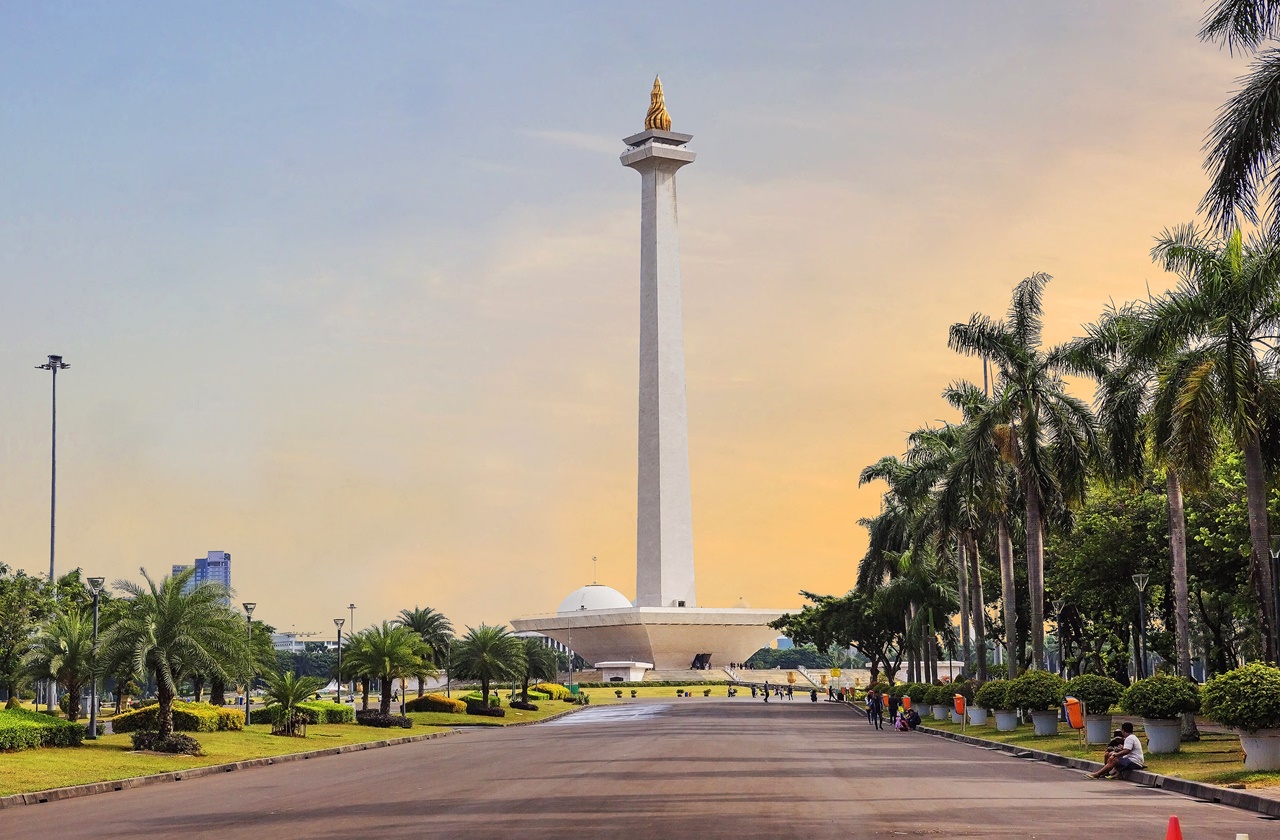 When someone mentions Indonesia, the first things that come to mind are usually the beaches in Bali. Its white sand, crystal clear waters, and tropical beach resorts are on most travelers' bucket lists. But what most people don't know is that there are also plenty of things to do in Jakarta, its capital city. Aside from being the economic and political center of the country, the city does a good job of maintaining its cultural heritage. That being said, Jakarta is one of the cities that has both modern and historical sites that you can enjoy.
As the country's melting pot of different cultures, a trip to Jakarta is a must when visiting Indonesia. Continue reading and find out what you shouldn't miss in "the Big Durian"!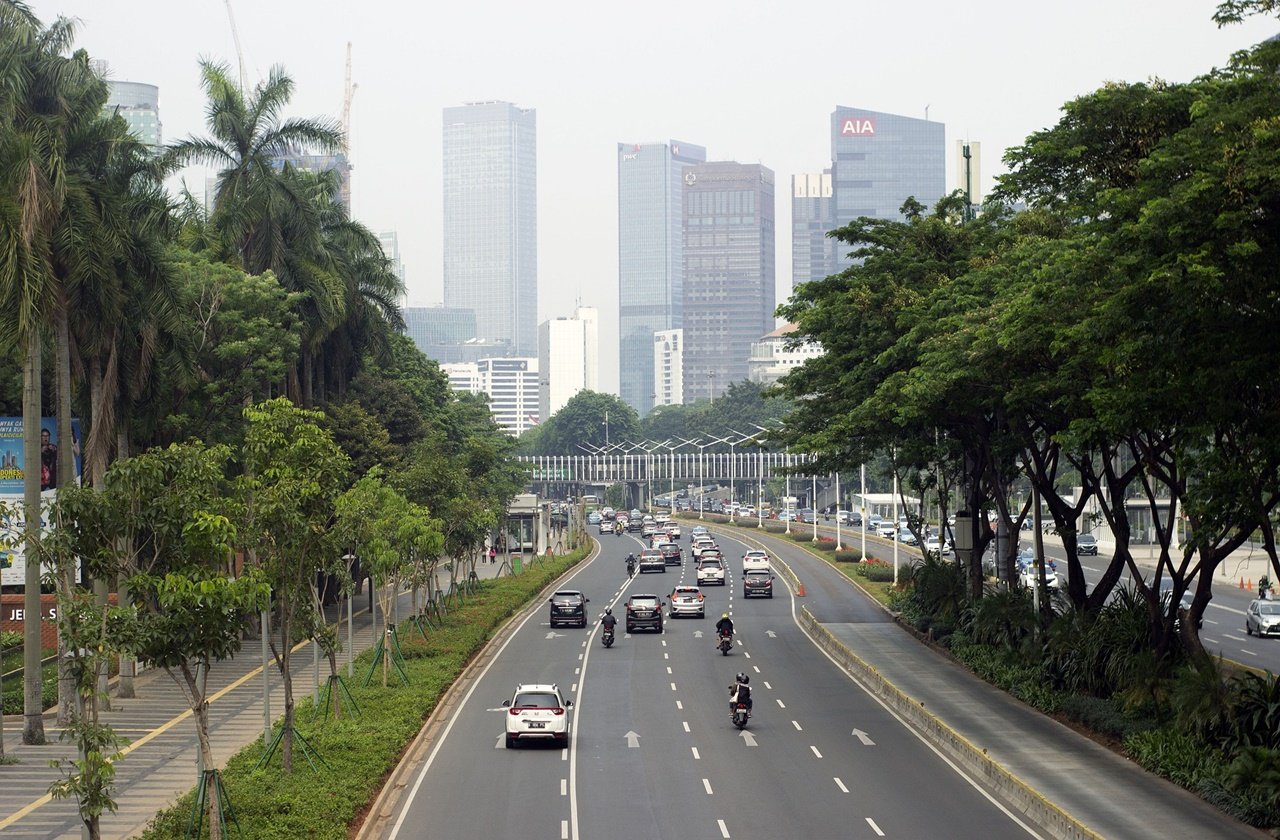 Photo by sopan-sopian on Pixabay
Located in Java, Jakarta is the largest city in Indonesia. Home to more than 10 million people, Jakarta is also one of the world's most populous cities. The city is on the northwestern coast of Java near the Ciliwung River on Jakarta Bay. Java, its island, located in between Sumatra and Bali, is the fifth-largest island in Indonesia.
How to Get to Jakarta
As Indonesia's capital, getting to the city and enjoying things to do in Jakarta is easy. Its airport, Jakarta's Soekarno Hatta International Airport (CGK), is one of the most connected airports in the world. Additionally, more than 40 international and local airline companies have daily flights going to Jakarta. The Halim Perdanakusuma International Airport (HLP) is another airport that caters mostly to domestic flights. In terms of distance, the Soekarno Hatta International Airport is around 33 kilometers away from the city center, while the Halim Perdanakusuma International Airport is closer at 10 kilometers. From there, you can take the train, bus, taxi, or rental car to Jakarta.
The Airport Rail Link is perhaps the most convenient way to get into the city. The train departs from Soekarno Hatta International Airport's Terminal 1, so you'll have to take the Skytrain to Terminal 1 if you'll be landing from other terminals. Take the Airport Rail Link to Sudirman Baru Station in the city center. You can buy tickets at the train station or purchase in advance online.
A cheaper alternative to taking the train is by going to Jakarta by bus, although travel time may take longer. For families or large groups, you can take private transfers to and from your hotel. Taxis are also another option of getting to Jakarta and are easily accessible from the airport.
Things to Do in Jakarta
Sightseeing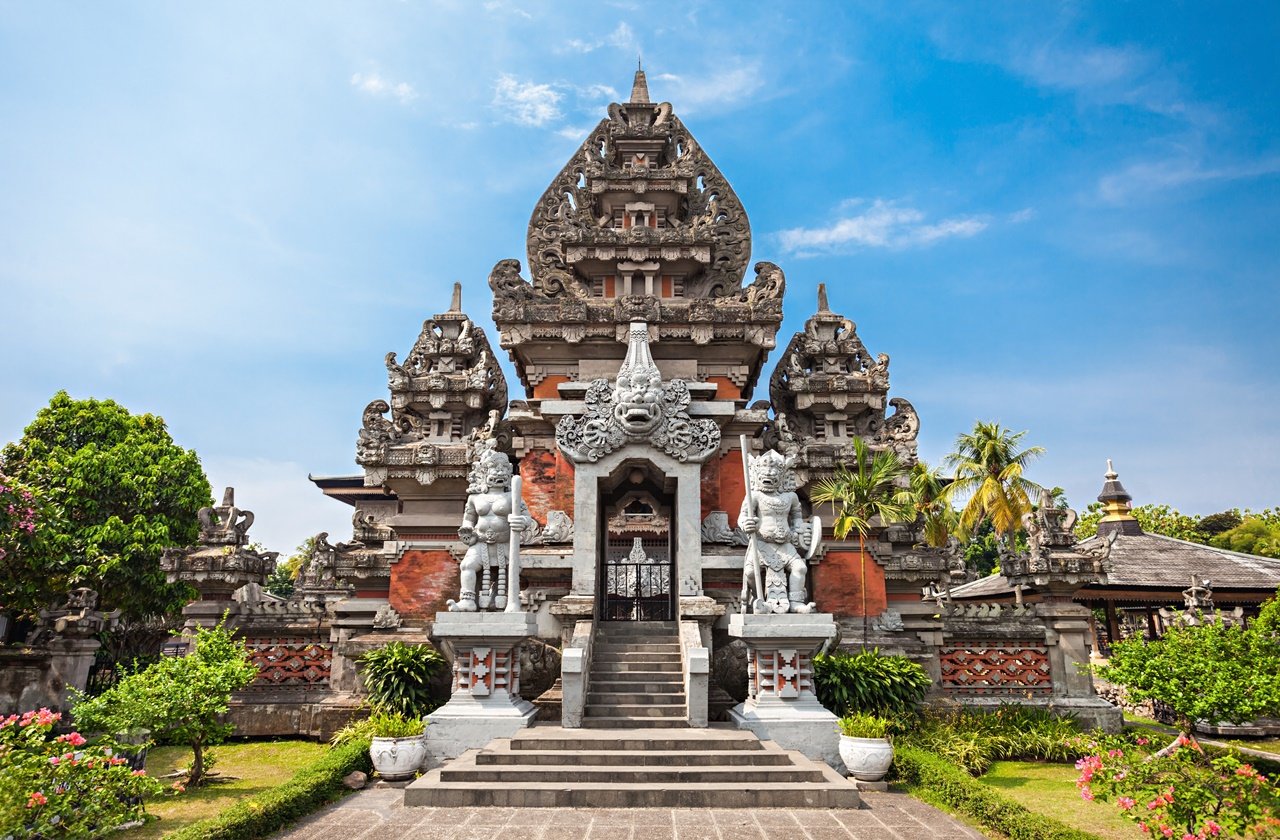 Photo by saiko3p on Adobe Stock
Sightseeing is one of the easiest and (often) free things to do in Jakarta. Given Jakarta's history, you can find both modern and cultural heritage sites within the city. For a better and more in-depth understanding of these sites, join a guided tour with an expert local guide. Aside from the convenience, your guide can tell you more about the history and significance of these places.
Marvel at the Monas Tower, the symbol of Indonesia's independence from the Dutch rule. Climb to the top of the tower and get a chance to see the city from a different perspective.
Relax and walk along the shores of Ancol Beach. Since this is a public beach, the place can be crowded, especially during summer.
Get a glimpse into Indonesia's history by visiting Jakarta's Old Town, also known as Kota Tua. Rent a bike and explore the area's historical buildings that date back to the Dutch colonial period.
Shop at the flea markets at Menteng! Stroll past vintage shops selling traditional wood carvings, textiles, and other antiques.
Visit the Vihara Dharma Bhakti, the oldest Chinese temple in Jakarta. See a collection of ancient calligraphy and ceremonial bells.
Walk around Glodok, Jakarta's Chinatown. Here you'll find a number of temples, markets, and small medicine shops.
Looking for antiques? Head to Surabaya Street, locally known as Jalan Surabaya. Aside from vintage shops, you can also find a number of small cafes along the streets.
Escape the bustle of the city and take a trip to the Thousand Islands, a set of tropical islands whose beaches rival that of Bali.
Take a break at Merdeka Square, one of the best free things to do in Jakarta. It is also near important landmarks, such as the National Library, the National Museum, and Jakarta City Hall.
Family-friendly Activities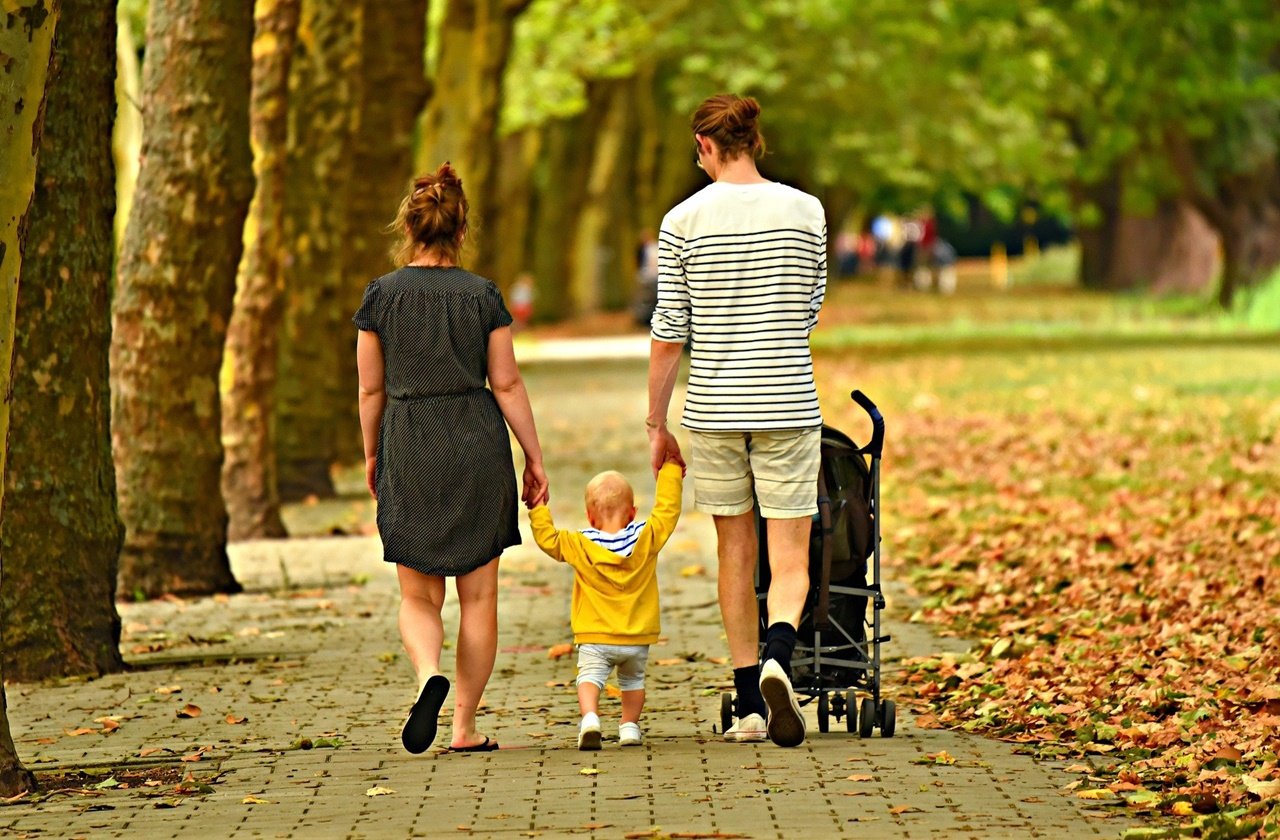 Photo by MabelAmber on Pixabay
Enjoy the many family-friendly things to do in Jakarta! The capital is also home to water parks, theme parks, and museums that are sure to entertain children and adults.
Beat the summer heat and spend the day at Waterbom Jakarta. The 3.8-hectare water park has a lot of exciting slides and swimming pools surrounded by tropical gardens and parks.
See dozens of elaborately-designed kites at Museum Layang-Layang, also known as the Kite Museum. You can join kite-making classes where you get to paint and decorate your own kite and fly them outside the museum!
Go on a cultural tour of Indonesia at the Taman Mini Indonesia Indah. Find pavilions and palaces, houses, and everything Indonesia has to offer at a smaller size.
Cycling around Taman Fatahillah is one of the best things to do in Jakarta for families. You can also bring snacks for an afternoon picnic and go people watching. Additionally, you go there for a break before visiting the nearby museums.
Bring your children to Kidzania Jakarta and let them become firefighters, veterinarians, and chefs for a day. The indoor edutainment center lets children become adults for a day and work on different tasks to earn money.
See different animals at Ragunan Zoo. Home to more than 3,000 species, the Indonesian wildlife allows you to get up close with Komodo Dragons, tigers, orangutans, and more. Apart from animals, you can also see different indigenous flowers and plants at the zoo.
For feline lovers, don't miss a chance to visit The Cat Cabin, a charming cat cafe in Jakarta. Order a cup of coffee, some snacks, and cuddle and play with the cats. As for its safety, all cats are vaccinated and bathed so you won't have to worry about catching allergies.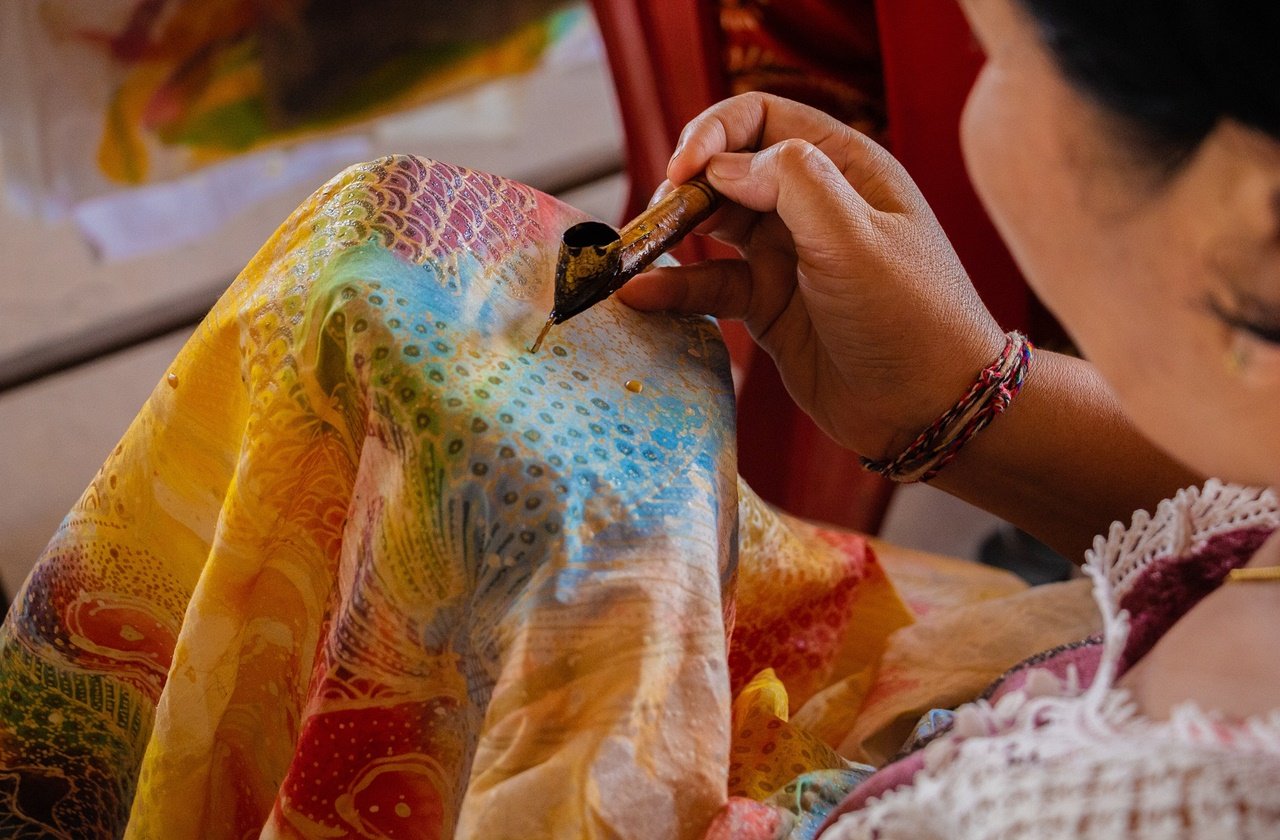 Photo by AnglesNViews on Pixabay
Get a chance to know more about Jakarta through its culture. Visiting museums and joining art workshops are just some of the things to do in Jakarta to get a better understanding of their culture.
Visit the National Museum of Indonesia to get a deeper insight into the country's history and culture. The museum features different exhibitions and artifacts that detail Indonesia's culture and heritage.
At the National Gallery of Indonesia, find over 2,000 pieces of ceramics, paintings, sculptures, and other artworks. Aside from local artists, the gallery also showcases works from foreign artists like Hans Hartung, Victor Vasarely, and more.
Board a canoe at Sunda Kelapa, Jakarta's old port. Hear stories about its long and colorful history from the Hindu-Buddhist Period to the Portuguese Era. Additionally, you can visit the old fish market from the port for free.
Visiting mosques and other houses of worship is one of the best things to do in Jakarta to learn more about its religion. Stop by the mosques, temples, churches, and other places of worship in the city. Take note that you'll have to dress appropriately since you are visiting religious places.
Marvel at the collection of textiles from different regions in the country at the Museum of Textile. Established in 1976, the museum exhibits different textiles as well as instruments and equipment needed for textile production.
Take a day trip to Setu Babakan Betawi Cultural Village and learn more about the Betawi culture. Watch traditional performances, sample their native delicacies, and interact with the locals themselves for an in-depth understanding of their heritage.
Learn how to make your own batik by joining a batik workshop. You can take fast, one-day classes, or multi-day advanced classes if you want to gain better skills at the art.
Sampling Indonesian Cuisine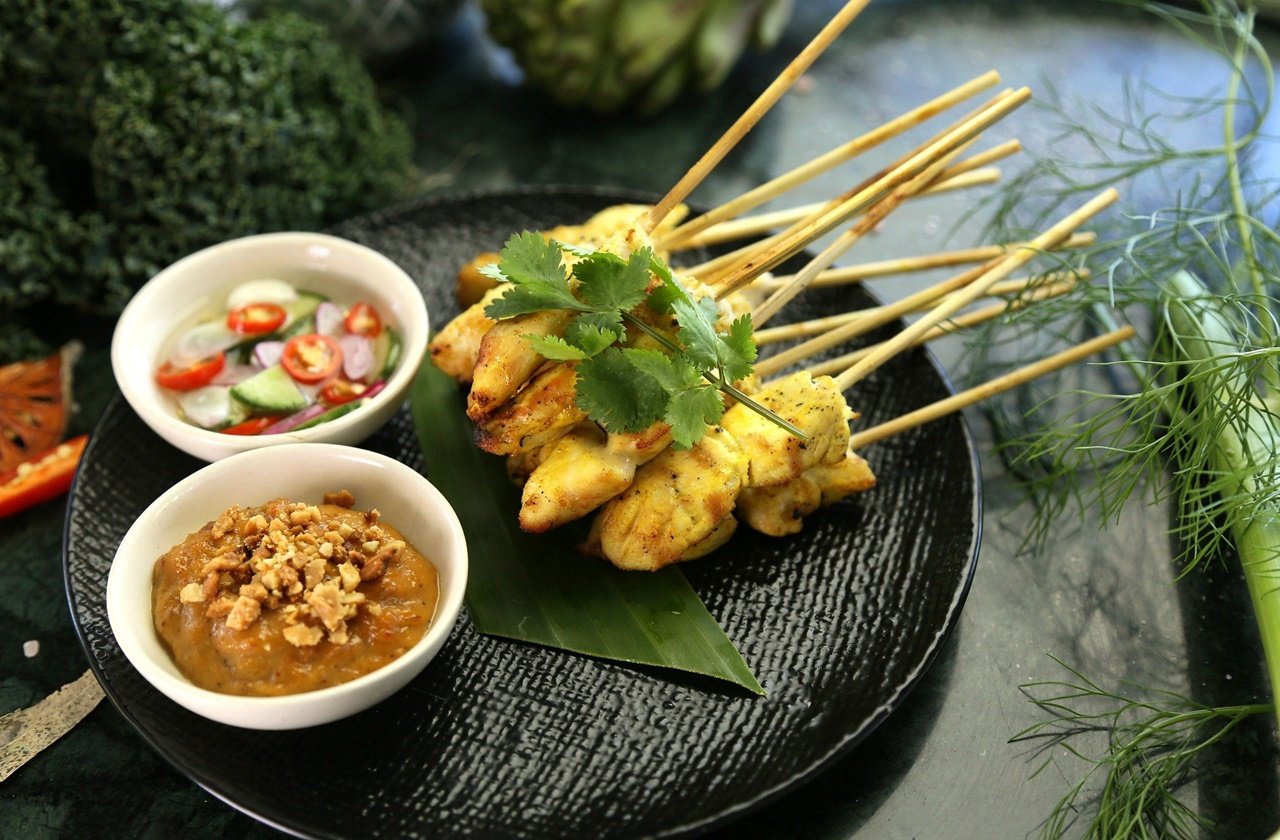 Photo by Huahom on Pixabay
Get to know Jakarta through its food! For foodies, sampling its cuisine is one of the best things to do in Jakarta. From street-side stalls to upscale restaurants, here are must-try dishes and other culinary-related activities.
Eat at a pedagang kaki lima, also known as local food carts found in most streets. You can find different food and snacks sold as well as mingle with the locals stopping by the carts to eat.
Savor a range of Indonesian food and classic dishes at Seribu Rasa Menteng. Set in a colonial-style mansion, try cuisines from different regions in Indonesia like spring rolls, fish soup, and more. The restaurant also has a curated list of draft beers that perfectly complement the food.
Satay is one of the must-try delicacies in the city. As a famous street food, these grilled meat served in skewers can be found in almost different stalls, up-scale restaurants, and traditional celebrations.
Having a meal at a warung (traditional food stall) is one of the best things to do in Jakarta. As compared to pedagang kaki lima, a warung has a more permanent place so you can go back regularly.
Taste an authentic nasi goreng, Indonesian fried rice mixed with meat and vegetables. Loaded with spices and butter, this dish is best enjoyed with fried egg and an ice-cold drink.
At stalls and food carts around the city, try their gorengan, also known as fried food. Deep-fried yam, tofu, and spring rolls are the commonly found fried snacks in these carts. Convenient and are ready on-the-go, these are perfect for tourists who need a short break.
Try all of the must-eat dishes in Jakarta by joining a food crawl! Led by a local guide, visit stalls and restaurants serving the best authentic snacks.
Where to Stay in Jakarta
JW Marriott Jakarta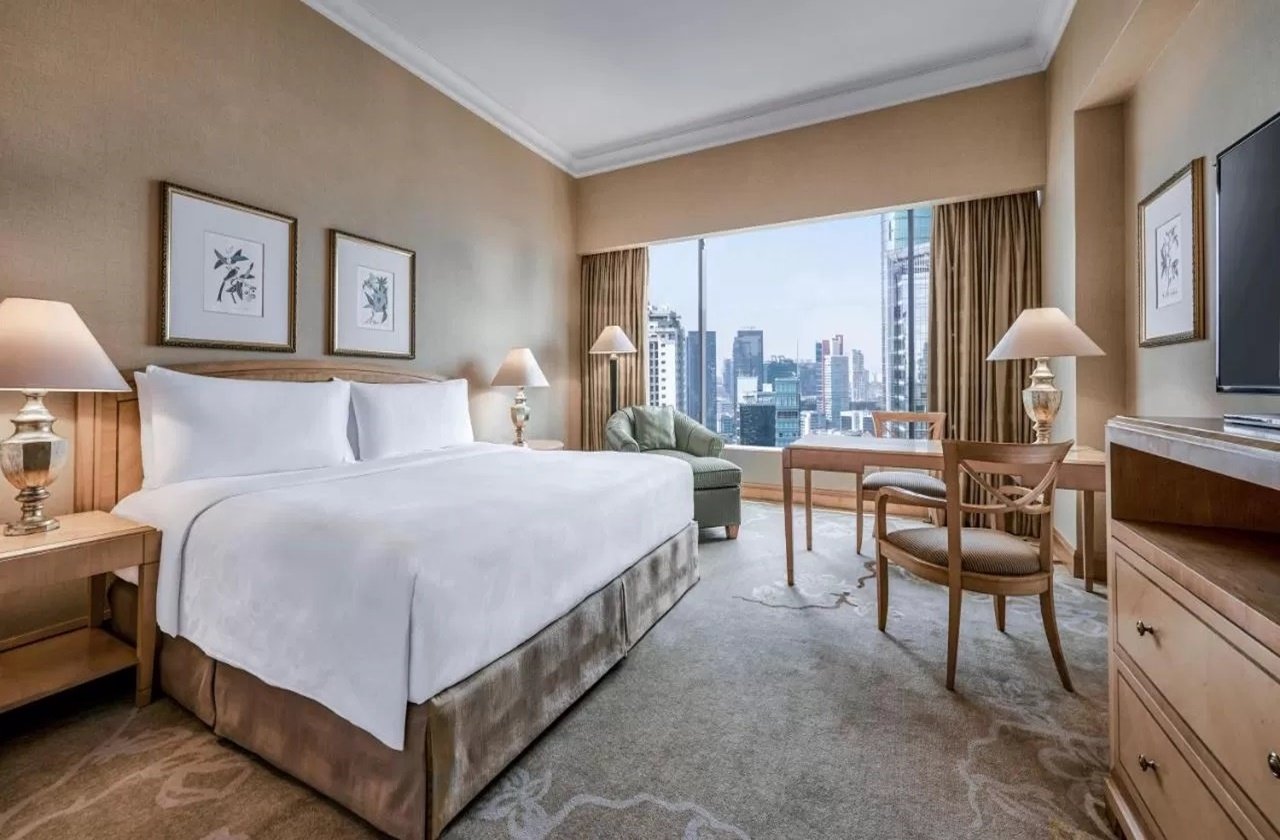 Photo from JW Marriott Jakarta Booking.com Page
Address: Kawasan Mega Kuningan, Jalan Dr Ide Anak Agung Gde Agung Kav E.1.2 No 1&2, Jakarta, 12950, Indonesia
Price: Starts at 104 USD
JW Marriott Hotel Jakarta is one of the affordable luxury hotels in Jakarta. The hotel boasts 333 rooms and suites with gorgeous views of Jakarta's cityscape. Located in the Mega Kuningan district, the hotel is only a short walking distance from different shopping centers. As for its rooms, enjoy plush beddings, floor-to-ceiling windows, and a flat-screen TV with cable channels. Enjoy five dining options, including the Sailendra Restaurant, Pearl Restaurant, Asuka Restaurant, and more. At night, delight in handcrafted drinks, cocktails, and live entertainment at the Blu Martini Bar.
The Hermitage, a Tribute Portfolio Hotel, Jakarta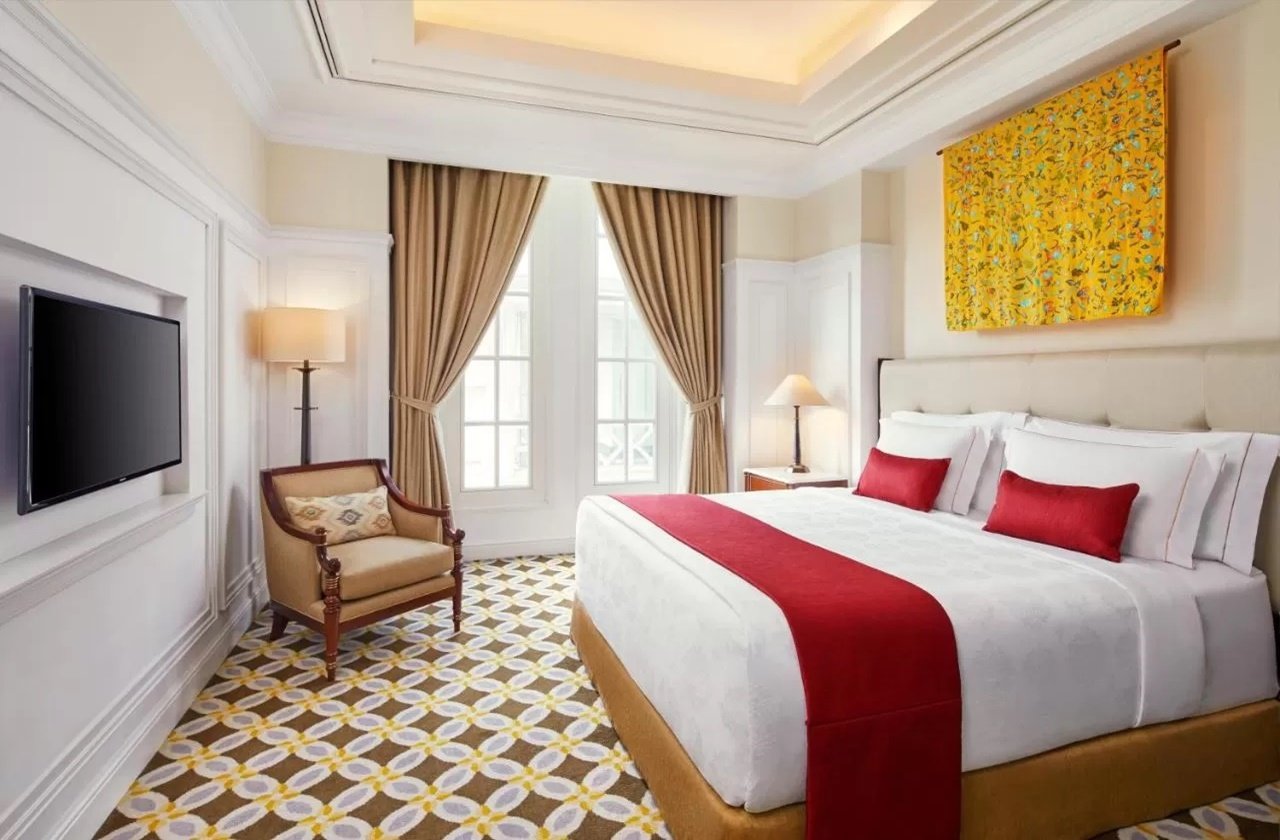 Photo from The Hermitage, a Tribute Portfolio Hotel Booking.com Page
Address: Jl. Cilacap No.1, Menteng, Jakarta, Kota Jakarta Pusat, Daerah Khusus Ibukota Jakarta 10310, Indonesia
Price: Starts at 91 USD
If you want to stay in Menteng for shopping and other fun things to do in Jakarta, The Hermitage is another affordable luxury hotel. The hotel, part of Marriott hotels' Tribute Portfolio chain, has state-of-the-art amenities with colonial-style interiors. Enjoy free WiFi access, beautiful city views, and delicious international cuisine from its on-site restaurant. The Hermitage Hotel is also a convenient five-minute drive from Jalan Surabaya and a 10-minute drive away from Grand Indonesia Shopping Town.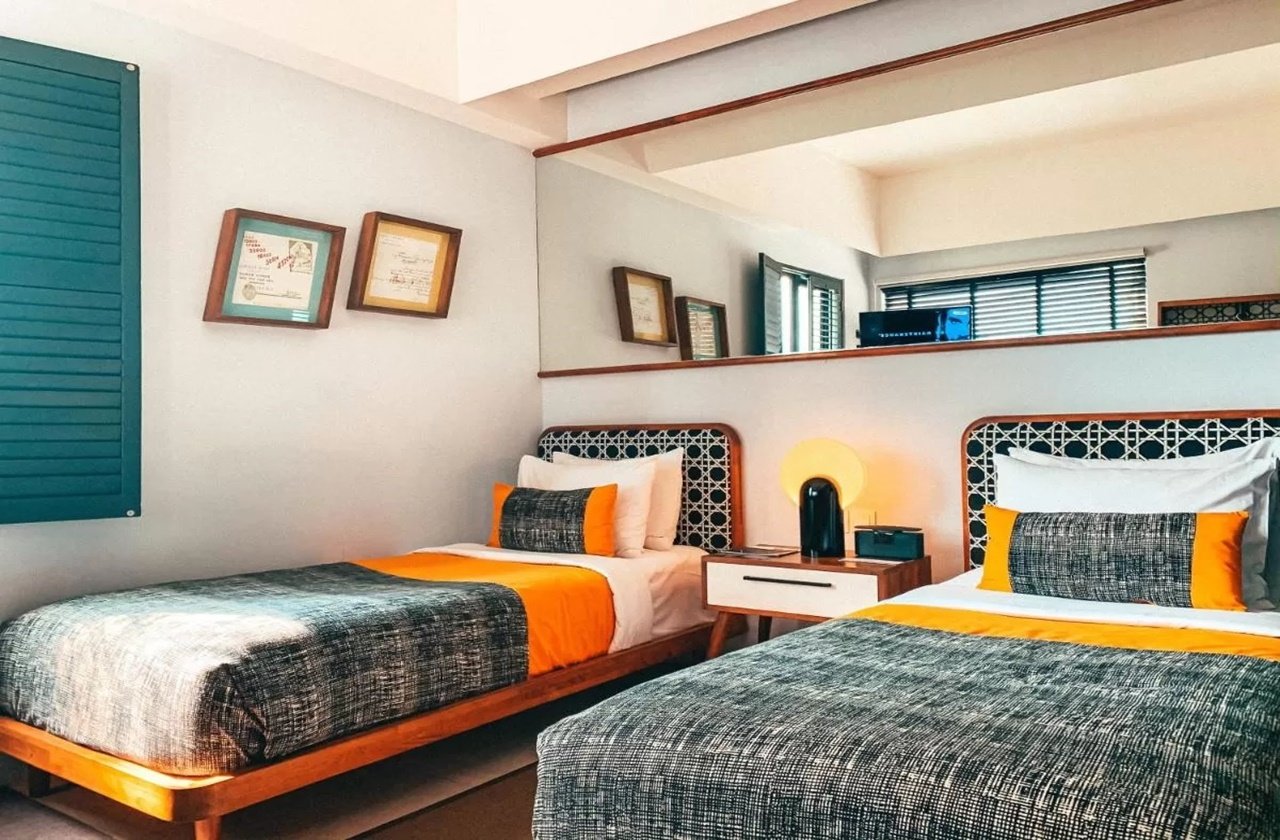 Photo from Kosenda Hotel Booking.com Page
Address: Wahid Hasyim St No.127, Kebon Kacang, Tanah Abang, Central Jakarta City, Jakarta 10240, Indonesia
Price: Starts at 39 USD
Kosenda Hotel is a trendy accommodation in the heart of Jakarta. Its decor is a blend of contemporary design with a touch of local elements. Enjoy thoughtfully-designed rooms with a flat-screen cable TV, safety deposit box, and minibar (select rooms). The on-site restaurant, Waha Kitchen, serves Indonesian-Peranakan cuisine, while the Awan Lounge specializes in Asian tapas and drinks. Additionally, the boutique hotel is only a few minutes away from Plaza Indonesia, Grand Indonesia, and the National Monument.
Grand Dafam Ancol Jakarta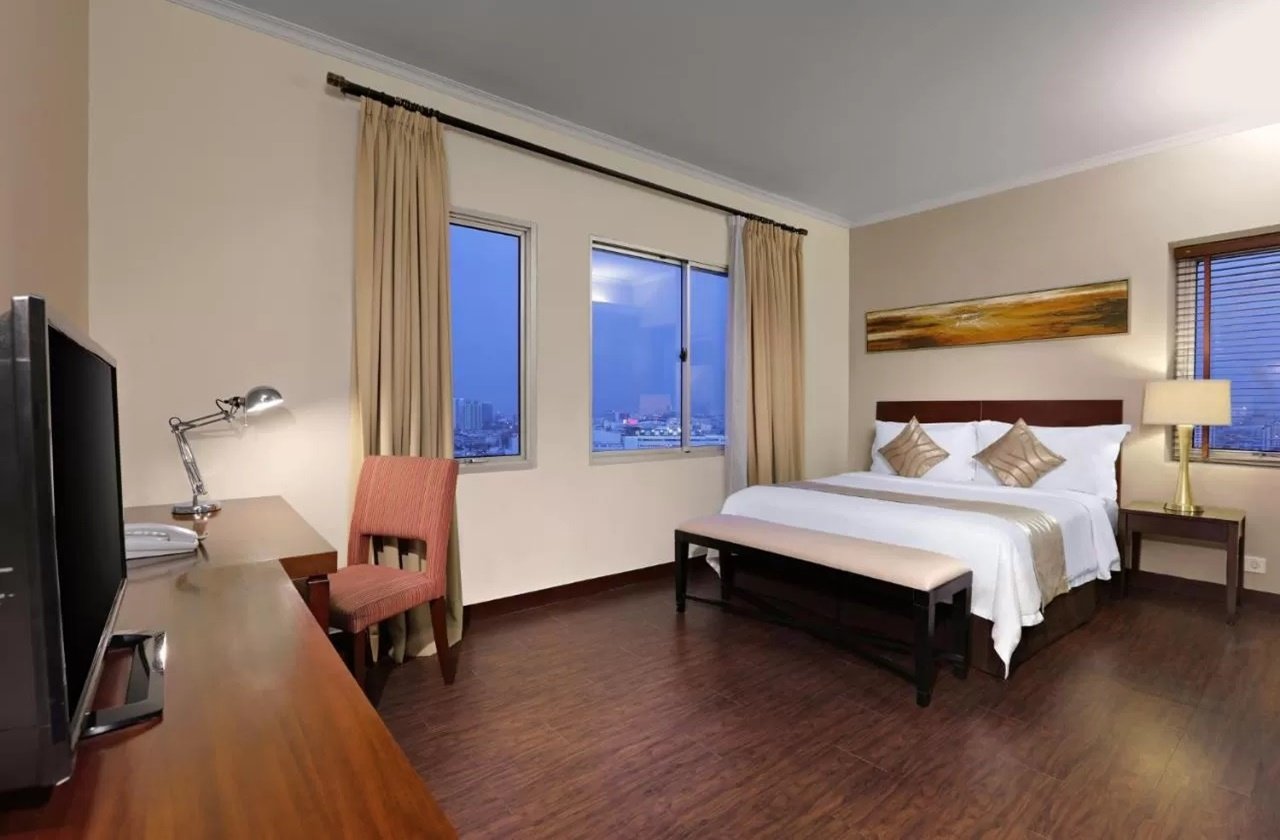 Photo from Grand Dafam Ancol Jakarta Booking.com Page
Address: Jl. Lodan Raya No.2A, Ancol, Kec. Pademangan, Kota Jkt Utara, Daerah Khusus Ibukota Jakarta 14430, Indonesia
Price: Starts at 36 USD per night
Grand Dafam Ancol Jakarta is a great hotel choice for families who want to stay in the Ancol area. Its 225 spacious rooms are decorated with classic furniture and its walls painted with calming shades. The rooms also include a flat-screen cable TV, WiFi access, coffee and tea making facilities, and more. Depending on your choice of room, you can either get gorgeous views of its gardens or pools. After a day out sightseeing, head to the spa for a relaxing massage.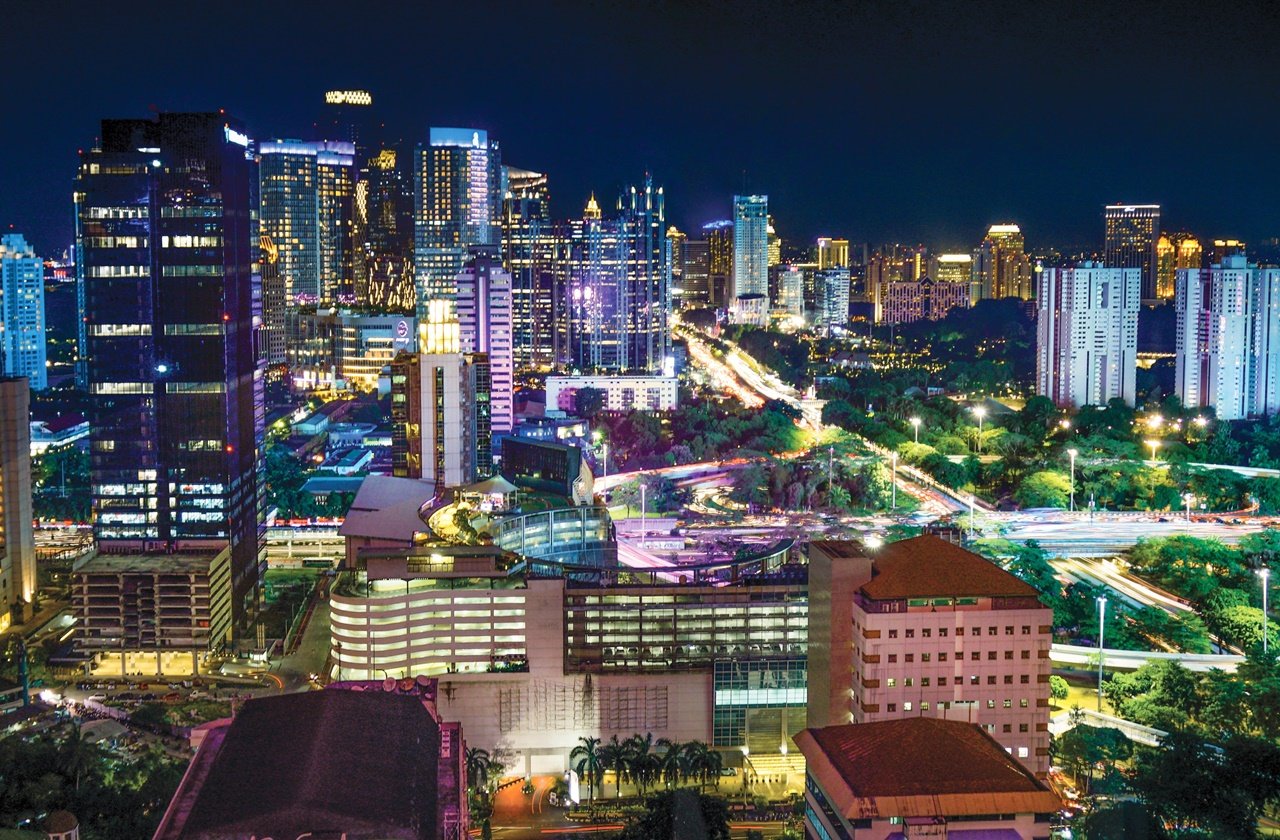 Photo by Bayu Syaits on Unsplash
Although Jakarta is a relatively safe city, pickpocketing and mugging are among the common crimes. Always keep an eye on your belongings and avoid bringing large sums of money when you're going out.
The best time to visit and enjoy things to do in Jakarta is during the dry season from June to September. October to May is the rainy season, with January and February being the wettest months.
When exchanging money, always do so at safe places like malls, banks, and at the airport. Additionally, you can withdraw local currency at an ATM as long as you inform your bank that you'll be using your card overseas.
Most restaurants and cafes are credit-card friendly, but there may be high foreign transaction fees. To be safe, use cash instead.
Bring the right travel adapter. In Jakarta, you'll find Type C and Type F electric sockets.
If you'll visit mosques and temples, wear clothing that covers your knees and shoulders. Avoid wearing short skirts and strapless tops.
Tap water in Jakarta isn't safe to drink. You can either buy bottled water at convenience stores and bring a refillable bottle or tumbler with a built-in water filter.
As one of the busiest cities in the country, Jakarta's traffic can be bad. When planning for things to do in Jakarta, make sure to allow extra time for travel and commute.
Although there are many travel options available, it's best to have your hotel arrange your transfer to and from the airport.
The weather in Jakarta can be hot and humid, so make sure to bring lightweight and breathable clothing. If you're visiting during the dry season, don't forget to wear sunscreen.
Giving tips and gratuities isn't common, but you can give a 10% tip if you receive good service.
Discover the Best Things to Do in Jakarta!
As its capital city, Jakarta is one of the best cities in Indonesia to visit. The city packs a lot of history, culture, and heritage. Despite the ongoing modernization of the city, most of the historical sites have been preserved, giving you the best of both worlds. Although you can visit upscale malls and monuments, there are also temples, shrines, and old mosques that give you a glimpse of the country back then.
There are plenty of things to do in Jakarta for every kind of traveler. For history buffs, a visit to the National Museum or a visit to the Old Town lets you in on the history of the country. Those who like shopping can enjoy visiting the malls in Grand Indonesia, Plaza Indonesia, and other shopping centers in Menteng. If you're traveling with kids, take them to Kidzania Jakarta or the nearby cat cafe.
Whether you're an avid foodie, a curious traveler, or a culture enthusiast, Jakarta has it for you!