Best Time To Visit Bali, Indonesia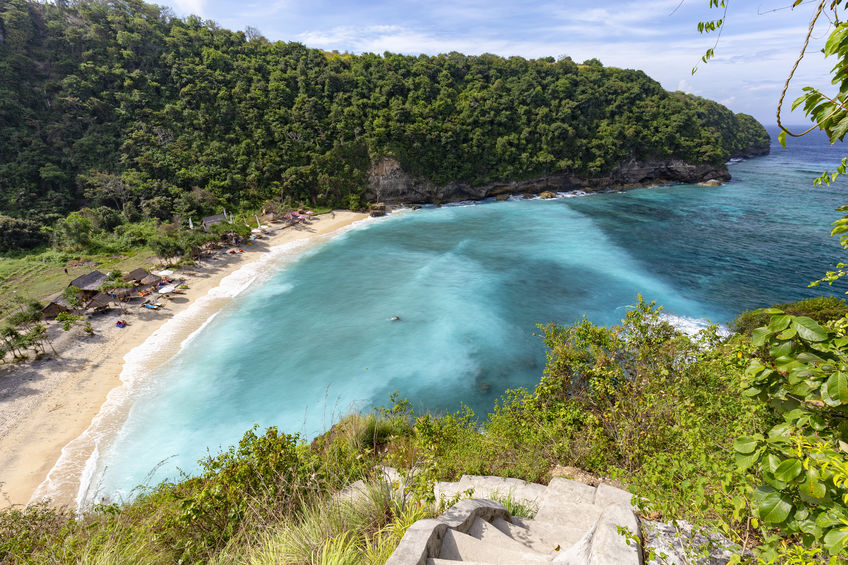 Known as Island Of The Gods, Bali is the most popular island of the 17,000 islands in the Indonesian Archipelago. It is home to around 4 million people in addition to the thousands of tourists who frequent this wonderful island all year round. Bali's beauty and fame are well-earned thanks to the varied landscape consisting of sandy beaches and rugged coastlines, historical attractions, as well as a unique culture with deep spirituality.
So, where is Bali?
Bali is located to the west of Lombok and east of Java, about 8 degrees to the south of Equator. The highest point of Bali is Mountain Agung which is 10,328 feet while the Bali Sea is its lowest point. If you are looking for a tourist destination where you will be able to enjoy different water sports, then Bali is what you need. Though Bali is a great time to visit all year round, there are a few seasons where you avoid. If you're still scratching your head thinking when to visit Bali, scroll further down where we reveal the best time for you to visit this mythical island.
Where To Visit In Bali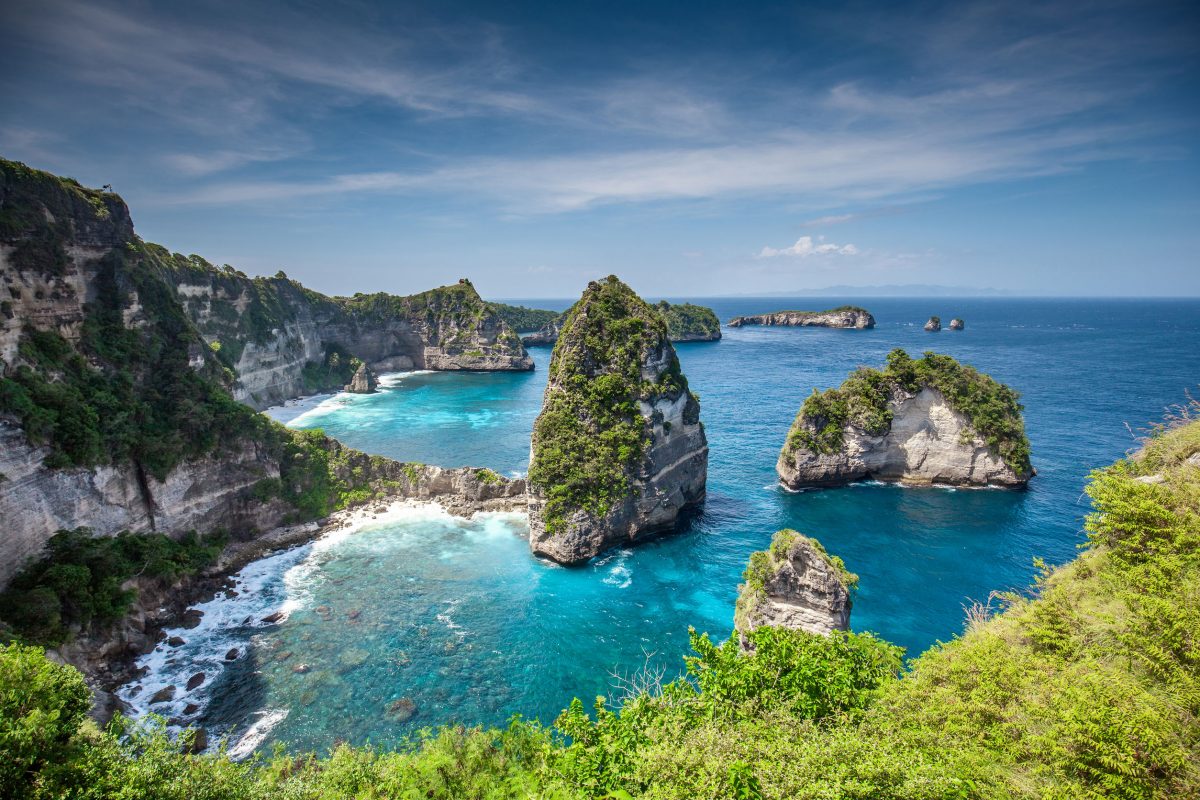 Bali has many tourist attractions. From the rich culture, archaeological and historical places, luxury resorts and beaches to the water sports, you will find that Bali deserves the moniker 'paradise'. Besides the popular beaches in Bali and scuba diving, there are lots of other interesting tourist attractions for you to sample.
For starters, you've probably have heard of the Kuta, Legian, and Ubud areas in Bali island. Beyond these tourist hotspots, Sanur and Nusa Dua are great for travelers to be pampered in a luxury resort. Other, head down to Jimbaran or Canggu to feast on the diverse food offerings. For all the globe trotters, Nusa Penida and Amed is a great option to stay away from the tourist radar; yet being rewarded with remarkable tropical landscape.
Head down to Denpasar and Ubud where gift shops were cluttered along the area. Just in case you need a memento or souvenir such as Tenun Bali which is an exquisitely handcrafted good, you'll know where to go. To make the best out of your trip, visit the souvenir market in Sukowati for souvenirs that somewhat peculiar and unique to bring home. Don't forget to catch a traditional fire show, you'll love it!
Kuta is amongst the most popular beaches in Bali as it is home to large boutique shops and an array of restaurants and cafes. Though this area is famous for its chaotic and happening scene, it's still worth a try; especially if you seek modern eateries, contemporary shopping, and vibrant nightlife. Here, you can hop on a jet ski or go parasailing, banana boats, or just sunbathing by the sea.
Top Tourist Attractions In Bali
This is Bali's most iconic temple, located about 2km to the northwest of Kuta. It stands on a rocky islet on a seaside and is surrounded by waves, making it a spectacular sight to behold. Although no foreigner is allowed into temples, you'll be allowed to walk around, enjoy the view, and take photos.
Ubud's sacred Monkey Forest Sanctuary is a 10-minute walk south of Ubud town. Apart from the long-haired grey macaques, you will love the jungle setting with paved pathways leading you through. There also is a 14th Century Pura Dalem Agung Padangtegal temple to give you a peek into ancient history.
Popularly known as the Elephant Cave, Goa Gajah is an archaeological site located about 6 kilometers outside Ubud, in Bedulu Village. It contains a meditational cave with bathing pools and fountains. The courtyard is relic-filled with rock-wall carvings. You will find souvenir shops outside the cave and in the courtyard, a pool excavated back in 1954.
4.
Tegalalang Rice Terrace
Hold your breath if you're a photographer. To the north of Ubud, a 30-minute drive leads you to Tegalalang Rice terraces which are not only iconic but also every photographer's dream background. There are also other spectacular rice terraces along the hillsides of Batukaru, as well as the 600-hectare Jatiluwih rice terraces that are a 90-minute drive from Ubud.
Those who visited Bali would suggest Tirta Empul. As a major temple built approximately 960 AD, this complex serves a legendary setting of a traditional tale of good casting away the evils. Accompanied by the holy mountain spring, Tirta Empul features various purification baths, pools and fish ponds. Though the tropical lush garden is hard to be omitted, devotees and travelers visited this place mainly for the purification purposes. As a holy site, visitors need to respect the traditional Balinese rules and regulations. One of it is to dress respectfully prior to any entry to the temple.
Bali is definitely no shortage of Hindu temples, however, Besakih Temple has to be on top of your travel list. Why? It owns a stunning view of the temple with a wide nature panoramic view that stretches across over the ocean. Though this temple is located slight outskirts of Bali, it's probably one of the places in Bali that frame the beauty of Mount Agung. Be mindful that there is always long line up at the iconic photogenic spot in this temple. So, come here if you want a perfect Instagram shot. Though, if you're lucky, you might catch the Balinese Odalan, where offerings and ornated decorations are filled everywhere in the temple.
You've never really been to Bali without paying a visit to Uluwatu temple. Famed for its unique architecture and impressive layout that perches on top of a steep cliff. To catch a good view of azure waters crashing the towering cliff, head down to both the vantage points from the north and south. Make your way to the courtyard of Pura Uluwatu for the rare piece of winged stone gate. Take your time to marvel the statues surrounding the temple and beware of the adorable looking monkeys. Don't be surprised if your peanuts, sunglasses or anything shiny is gone mysteriously. You'll know who's the culprit.
Best Time To Visit Bali
There is really no best or worst time to visit this tropical island. There is always something to see and do whether it's all rainy and gloomy or sunny and inviting. Depending on your preferences, you can choose the wet season which is usually between November and March. March weather is warmer as it paves way for the dry season which is between April and October.
Weather in Bali
Bali experiences an average temperature range of 24°C – 32 °C degree Celcius. The hot and humid climate can be attributed to its close proximity to the Equator. Rain or shine, be prepared for high temperatures and dress the part. Although Lombok and Bali have similar weather, do expect more rainfall in Bali. Do note that between October to March is the season where heavy rainfall spreads across the island.
While December and February are on the extreme side. During this time, there is the obscurity of visibility and low temperature. Visit Bali when the temperature drops slightly from June to August. It is cooling and definitely pleasant for outdoor exploration.
Bali During The Low Season
While there are many factors that affect the season and time for your visit to Bali. However, the low season is the best time to visit Bali. Why?
There are two low seasons: January to June and September to mid-December. Though there's a reason behind these low seasons, and one it is due to the rainfall. On the bright side, these drawbacks can be the best season to negotiate accommodation deals and packages. In addition, if you'd like a calmer experience, consider visiting Bali during this time. However, avoid visiting Bali in January, the rainfall can be quite unbearable and dangerous to travel. Enough said, here are something you can expect during the low season in Bali.
During the low season, there are not many tourists and as a result, the demand for most services and products is low. Low demand means better pricing and you are likely to get great discounts on both accommodation and souvenirs. Take this time to pamper yourself in a luxury resort, it can go as low as 50% off from the usual time.
With fewer people in Bali during the low season, you will experience every aspect fully without the distractions that come with huge crowds. There are no crowds jostling for the same facilities, giving you time to relax and even capture great shots without crowds in the background.
Bali During The Peak Season
Bali's dry season begins from April and lasts through October. Locals consider these to be the summer months, and they also signal the beginning of the peak season with lots of sun and a few days of rain here and there. You will also experience some short sudden thunderstorms, especially at noon in the months of December and January, which also see an influx of tourists. During this season, most villas and hotels charge higher than normal rates because of the tourist influx. It can sometimes flood for days, making the rivers and roads unpassable, but that shouldn't keep you from enjoying what the warm days have to offer.
The other high seasons are from July, the first half of September, the Chinese New Year and the Easter week. This is not a period to just pack and decide to go to Bali as it will be difficult to find accommodation. Remember, the peak season is the most expensive as Bali is abuzz with activities. Hotels are twice as expensive and the roads are congested. You will find it almost impossible to make a dinner reservation and shoppers will bargain like their life depends on it. If you book your accommodation early, you can still enjoy your vacation without denting your bank account.
On the bright side, visiting Bali during the peak season offers perks such as great weather. The weather is perfect for surfing, swimming, and spending time on the beach. However, if you don't mind the crowd and want the whole vacation experience, this would be the perfect time to visit Bali. Although you can scuba dive all year round, it is best when the waters are a little cooler, which is between May and October where they range from 18°C – 25°C degree Celcius.
Bottom Line
The secret to having a great time in Bali is timing. During the peak season, you will enjoy great weather and lots of fun activities in the sea. However, you should be prepared to dig deeper into your pocket to cater for your expenses. If you prefer visiting during the off-peak season, you will have to be prepared for all the rain. Temperatures are still high, so you can still visit most of the popular destinations or you can just enjoy the calm as you relax away from the huge summer crowds.