15 Awesome Things To Do In Amsterdam, Netherlands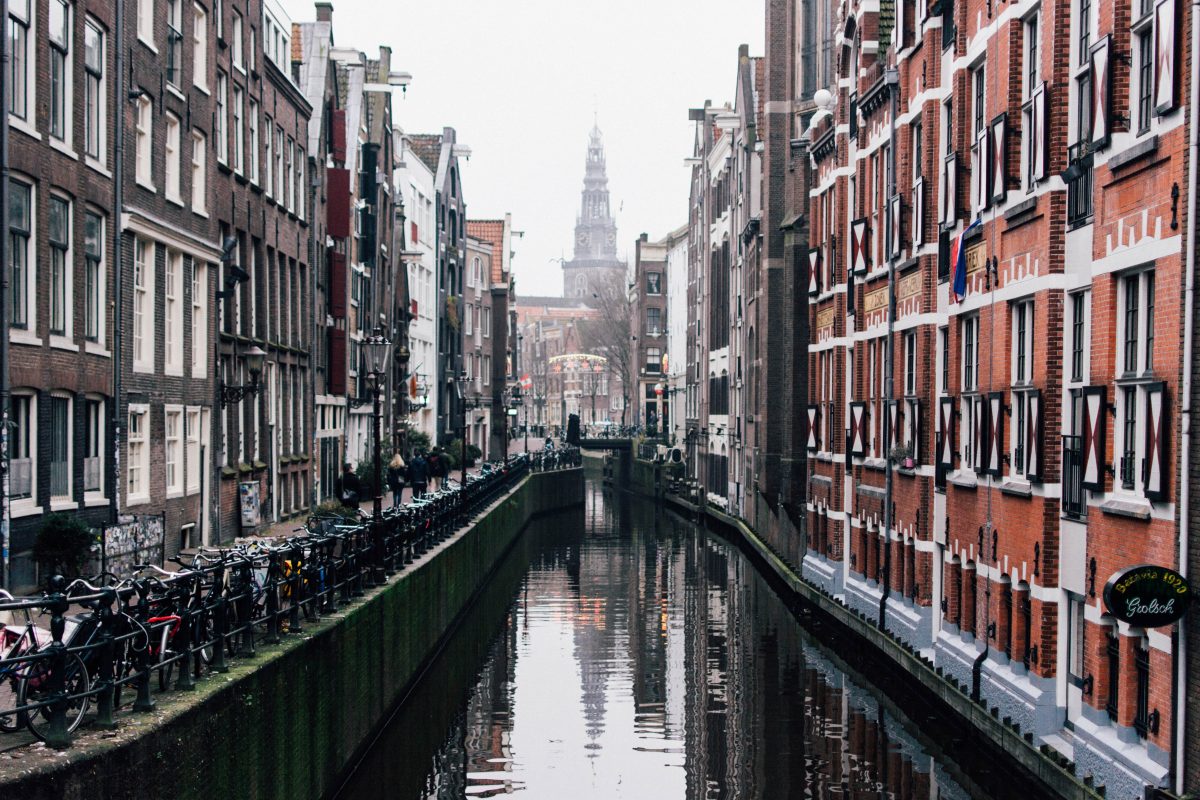 Amsterdam, the glorious capital of the Netherlands, is a bustling cosmopolitan city that has captured the hearts of many tourists and cultural enthusiasts alike. From its incredible museums rich with historical artifacts to its delectable foods, you will be hard-pressed to find a better holiday destination than this. Here is a list of things to do on your trip to Amsterdam.
1.
Stroll Along Amsterdam's Picturesque Canals
At the heart of Amsterdam, lies the Canal Ring. Tourists flock to this popular hotspot for amazing scenery, boat cruises, and an opportunity to experience Amsterdam's culture and exotic architecture up-close and personal.
Amsterdam's canals are best known for their canal cruises. There are practical ferrying services to get you from one place to another and specialty tours like guide and couple tours. As you cruise, you will get an eyeful of the most gorgeous 17th-century homes and quaint cafes that line the sides of the canal.
Amsterdam canal bridges and streets illuminate with lights in the evenings. The spectacle will be reflected beautifully in the waters below. Meanwhile, if you would like to spend the night, you will be glad to know that both luxury and budget hotels can be found in the area (some of which offer rooms with a gorgeous view of the canal).
2.
Explore The Delightful Streets Of Jordaan
Jordaan is the most famous neighborhood in Amsterdam, Netherlands. Its narrow streets, art galleries and lovely cafes all lend to its charm. In fact, Jordaan is also known as a food and drink district where every winding road is home to some sort of exotic cuisine.
Normally, I would recommend you ditch the map as every winding street presents new amazing experiences, enough for whole days of exploration. However, I must recommend that you locate and stop by Westerstraat, Jordaan's biggest street. It has a market that opens on Monday mornings every week, with about 200 stands selling a humongous variety of items. Finally, there is one more precious gem that you should definitely check out whilst in Jordaan. It is the world-renown Anne Frank House.
3.
Absolutely Don't Miss The Anne Frank House
The Anne Frank House is a biographical museum dedicated to Jewish wartime diarist Anne Frank. It is located at the Prinsengracht canal, directly east of Jordaan. Originally the home and hiding place of the Frank family during the Nazi regime, it is now one of Amsterdam's most famous buildings.
The Anne Frank House portrays Anne Frank's story through quotes, photos, videos, and original belongings. In addition, visitors can seek out past traces of those who hid there. One of my personal favorites is the wall height markings of Anne and her sibling over the span of two years.
Tickets are often "sold out" due to its staggering popularity. Furthermore, tickets can only be purchased online, so be sure to book at least two months in advance.
4.
Be Ready For The Heineken Experience
You read that right. This is your chance to experience one of the best of Amsterdam with one of the world's most prominent brands, Heineken. Here in Heineken's oldest brewery turned interactive museum, immerse yourself in all the Heineken-related activities, informative stations, and interactive games.
Lastly, what is a Heineken museum tour without a drink? Taste some free Heineken at the end of the tour and quench your thirst! Age restrictions apply of course.
5.
Admire The Age-Old Oude Kerk

The Oude Kerk (old church) is famously known as Amsterdam's oldest building. It can be found in De Wallen, Amsterdam's main red-light district. Originally, it was a Roman Catholic church that turned into a Calvinist church. Today, Oude Kerk is an art exhibit and a popular destination for culture-lovers. It has gorgeous tinted glass, a beautifully preserved organ and history and art exhibits.
Something extremely unique about the Oude Kerk is that the floor is made entirely out of gravestones. From afar, they look like normal black tiles. It's only upon closer inspection that you'll realize that you are looking at about 2500 gravestones and are standing above the buried bodies of about 10,000 deceased local citizens from the 1800s. It truly is an experience like no other, so if this interests you, definitely check it out.
6.
After Oude Kerk, Check Out Nieuwe Kerk!
The Nieuwe Kerk (New Church) was built to accommodate Oude Kerk's overcrowding issues. Although it no longer functions as a church, its still the designated venue for royal dutch weddings, organ recitals and high profile art exhibitions.
One of its best highlights is the magnificent view of the great organ and stained glass windows. In addition, much like the Oude Kerk, the Nieuwe Kerk also has hundreds of gravestones as flooring. Indeed, the Nieuwe Kerk will take your breath away in more ways than one.
7.
Marvel At The Beauty Of Hortus Botanicus
The Hortus Botanicus is a 400-year-old oasis in the middle of a bustling city. Founded in 1638, it boasts of being one of the oldest botanical gardens in the world.
Although it was originally a simple herb garden, it is now a paradise for nature-lovers with butterfly and plantation greenhouses and thousands of species of plants. Its peaceful atmosphere is brought about by beautiful trees and plant growth. This is reason enough for many tourists to visit.
8.
Visit The Impressive Muiderslot
Located in Muiden, Muiderslot is one of the better-known castles in Amsterdam due to its majestic scale and "defensive" castle structures. As it is part of the UNESCO-listed Defence Line of Amsterdam, it comes equipped with a drawbridge, towers, moat, and battlements. Carefully cleaned and preserved castle chambers are accessible for visitors to admire as well.
It sounds like a castle that could be seen in a medieval movie right? Well yes, the Muiderslot has been featured in many middle-ages films thanks to its brilliant architecture. It is also the site of choice for wedding shoots and more.
9.
Check The "Must-See" Moco Museum
The Modern Contemporary Museum, or more affectionately known as the Moco Museum, is a boutique museum with a wide range of modern and contemporary art. As the name suggests, the museum is home to modern art by famous artists such as Andy Warhol and Keith Haring, whose works inspire and tickle the funny bones of all who gaze upon it. Moco Museum is also home to temporary exhibits, which are dedicated to many artists and their interactive arts.
10.
Sample Delicacies At Foodhallen

Food-lovers and foodies will love Amsterdam's Foodhallen. What better way to experience Amsterdam's culture other than sampling the best local foods in a famous indoor food market? From simple tacos to high-class lobster with champagnes, there is something for everyone.
Foodhallen is also more than just its food. The aroma of local ingredients and the sight of hanging fairy lights from the ceiling will provide you with a truly wonderous experience like no other. In all, I strongly urge you to join the thousands at Foodhallen to sample beverages from bars, enjoy live music and more.
11.
Visit The Regal Amsterdam Royal Palace

At the Dam Square, stands the impressive, towering Royal Palace. Originally the city's town hall, it later renovated into this architectural masterpiece and became the royal palace for King Louis Napoleon.
Although it does not have lush gardens like other palaces, it more than makes up for it with its gorgeous marble interior. Audio guides are also provided for visitors upon admission. Make sure you check for opening days on the internet as the Royal Palace will close its doors during royal receptions and other important events.
12.
Explore Amsterdam's Beaches
If you would like the whole Dutch experience, you wouldn't want to pass on visiting at least one of Amsterdam's beaches. The best beach I can recommend is Zandvoort aan Zee. It one of Amsterdam's most popular beaches with thousands of visitors each day. It is a hot tourist spot for sunbathing, water sport activities, and much more. Nearby, you can find the cozy village, Zandvoort, and its race circuit, Circuit Park Zandvoort.
Following that is another outstanding Amsterdam beach called Bloemendaal aan Zee. Unlike Zandvoort aan Zee, this is the best place to hit the dance floor! Shocking, I know, but Bloemendaal aan Zee is where many visitors party with live bands and DJs, and partake in nightlife activities. For the more adventurous, there's an area for nude sunbathing further up the shore.
13.
Experience Amsterdam's Coffeeshops
Amsterdam is known for its "coffee." Tourists often go looking for such an establishment to start their day right. But I have a word of warning: be careful of which establishment you walk into. There is a huge difference between "Coffeeshop" and "Koffiehuis" and "Cafe". All three of them are interesting experiences you can totally get into, but it pays to learn about them beforehand.
A koffiehuis is where you should go to find your caffeine boost for the day. Walk through the doors and you should be able to smell the sweet-bitter aroma of locally brewed coffee.
A café does usually sell coffee as well. However, it leans towards selling food and drinks as a restaurant or bar would.
Lastly, a coffeeshop is a licensed seller of cannabis products. Keep an eye out for a white and green "coffeeshop" sticker outside, it indicates if the establishment sells cannabis or not (many menus call it "weed" and tourists might call it "marijuana"). When you are there, do not recklessly order in any quantity from the menu, I suggest that you ask the staff what they would recommend and what effect each item does. Remember to bring your ID, too.
14.
Tour Disturbing Museums – Museum Vrolik
In Amsterdam, there lies a handful of small yet incredibly interesting museums that you should go out of your way to find. There is the Torture Museum, Sexmuseum or Venustempel (Temple of Venus), and Museum Tot Zover (Funeral Museum). The most popular of these is Museum Vrolik.
Museum Vrolik features large collections of deformed human and animal anatomy. Eerily suspended in clear fluid or on shelves, and displayed for all to see. Truly, this is only something only the brave and curious can stomach.
One last place of interest I can recommend is the famous Amsterdam Dungeon. Here, live actors and props recreate Amsterdam's darkest historical moments.
15.
Stop By The Impressive Rijksmuseum
I have saved the best for last. Indeed, the Rijksmuseum is one of the most popular museums in Amsterdam with millions of visitors each year. Its name translates into "The State Museum", which suggests its overall importance.
Not only is the Rijksmuseum in possession of masterpiece paintings from people like Rembrandt and Vermeer, but it also has antiques, sculptures, and other impressive art.
Finally, the Rijksmuseum has a library. Not a library with fiction books, but a research library filled with catalogs of art auctions, art exhibitions, and more. Basically, it is one of the world's biggest art history library.
Final Thoughts
Amsterdam is a cultural and historical wonderland with something interesting to do for people from all walks of life. If you like history, grandiose architectural structures, and art, Amsterdam will keep you satiated. But while you're in the Netherlands, you may want to set aside time to visit the Beekse Bergen Zoo, Hoge Veluwe National Park, and Walibi Holland. If you want some beach fun, head on over to Aruba!
What do you like the most about Amsterdam? Let us know in the comments down below and subscribe for more TouristSecrets!