Top 10 Costa Rica Beaches To Visit For A Relaxing Vacation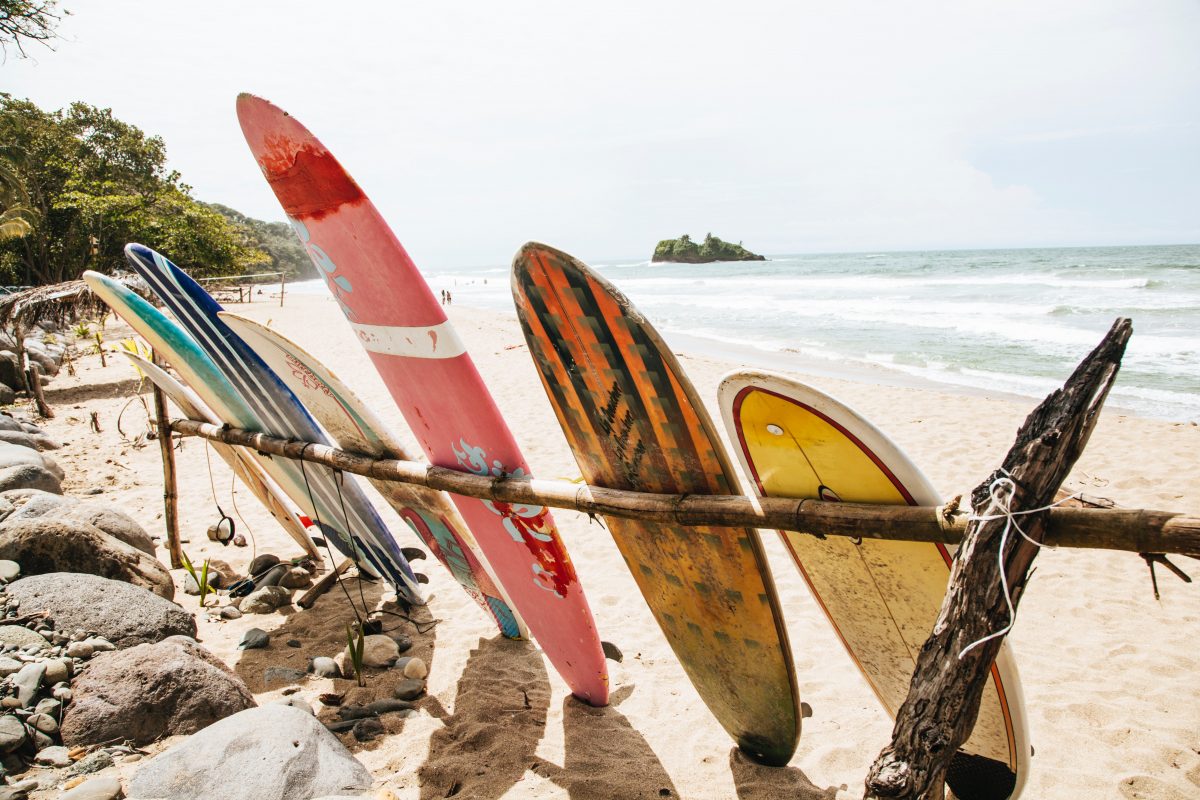 Blessed with beautiful rainforests and coastlines that can make your jaw drop in awe, you'd think Costa Rica beaches are paradise on Earth. Of course, you thought right! The country houses lush rainforests and gorgeous beaches, all of which are interesting and biodiverse.
Apart from wonderful nature, there's never a dull moment when you go to this country as you'll be able to find many activities you'll definitely enjoy.
Where Is Costa Rica Located?
Costa Rica is a country located in Central America. It's land-bordered by the country of Nicaragua to the north, Panama to the south-east and Ecuador to the south of the country's Cocos Island. It's also bordered by the Pacific Ocean to the south-west and the Caribbean Sea to the north-east.
The Best Time To Visit Costa Rica Beaches
Since its a country near the equator, Costa Rica experiences good weather for most of the year. However, many recommend visiting the Costa Rica beaches during the country's dry season; which happen typically from December – April. Do take note that this is also peak season for most beaches and surfing destinations within the country. So, make sure to make mark your calendar right and make reservations ahead.
Though you'll find many beaches to visit in Costa Rica, if you're planning a trip and don't know where to start; we are here to help. Here's a list of 10 of the best beaches in Costa Rica you should put on your itinerary.
1.
Try Surfing At Tamarindo
Found near the small but popular beach town of Tamarindo in Guanacaste, Playa Tamarindo is one of the many famous beaches in Costa Rica. So, don't be surprised to find many tourists flocking in during the dry season. Head down to the tan sand beach that stretches 3.5 kilometers. Warm sun, soft-sand, what else can anyone ask for?
If you want to explore Costa Rica's Guanacaste region, Tamarindo is a good starting point. It has a good reputation and is known by many for its surfing spot. The best part, it's excellent for beginner surfers too. So, make sure to check it out if you want to learn surfing. However, if you're one of the more experienced surfers, the nearby Playa Negra would be more up your alley.
Of course, surfing isn't the only thing you can do at Playa Tamarindo. Sailing, fishing, and sunset watching are just some of the many activities you can do here. Additionally, you can go to turtle nesting tours at Playa Grande, a beach near Playa Tamarindo.
2.
Admire Costa Rica's Most Unique Beach, Playa Concha
If you want to find a unique beach in the Guanacaste region, then you should visit Playa Concha. It's another one of the best tropical beaches in the world found in Costa Rica. The distinct characteristic is what makes this beach popular among the beach junkies.
Unlike any other beaches, the distinctive feature of Playa Concha is the sand. This beach doesn't have that run-of-the-mill stretch of fine white or tan sand. Instead, as its name suggests, Playa Concha's beach sand is made up of tiny, broken-down pieces of shells that have accumulated on the shore for many years. The shell deposits that make up the beach has its own charm and beauty that any tourist can appreciate.
Apart from admiring its unique feature, you can also find all sorts of activities you can do when visiting Playa Concha. Want to discover the beauty of Costa Rica's marine life? Try out snorkeling at the reef found near one end of the beach. You can also try out your hand at sportfishing and see if you can catch one of the many species of fish found in the area. If you're into water-based sports, there are always jet skis available for you.
3.
Enjoy Costa Rica's Best Nature Park At Playa Manuel Antonio
Located in Costa Rica's Central Pacific Region is the Manuel Antonio National Park. Despite being the country's smallest national park, Manuel Antonio is deemed as one of the most beautiful around the globe. In it, you'll find a number of popular and gorgeous beaches, including Playa Manuel Antonio.
If you think the best beach vacations you can experience are ones where you experience the beauty of nature, then Playa Manuel Antonio must be at the top of your bucket list. It serves as the national park's main beach, but that's not the only reason it's popular. This beach's beauty holds its own ground with fine white sand and pristine turquoise waters.
While at Playa Manuel Antonio, one activity you must do is snorkel or dive. Enjoy the beauty of the abundant marine life in the area that many fights to protect. You can also admire the wonders of nature found above water at Playa Manuel Antonio.
The place provides you with a good vantage point to stare in awe at the prettiest landmarks formed naturally. Not only that, but you also have a chance to interact with the animals that roam around the park, such as monkeys and raccoons.
If you're planning to visit Playa Manuel Antonio, do note that it's closed on Mondays. Moreover, since its a national park, you need to pay a fee to gain entry.
4.
Get The Best Of Both Worlds At Punta Uva
If you're running out of ideas on what to do in Costa Rica while on vacation, why don't you try to get some rest and relaxation at Punta Uva? You'll find that this Caribbean-side Costa Rica beach can prove to be a quiet and serene beach destination.
Found near the small town of Punta Uva is a beach which shares its name. Punta Uva beach boasts beautiful, fine tan sand and crystal clear waters that put it in every beach tourist guide's map. Additionally, it's the perfect getaway spot if you need some peace and quiet. After all, vacations are not only about partying!
However, a quiet ambiance doesn't mean there's nothing much to do in Punta Uva! Near the beach, you can find beautiful underwater structures and reefs, making snorkeling and scuba diving popular activities in this location. You can also go kayaking or stand-up paddleboarding at Punta Uva.
When you get sick of the water-based activities, you can also take part in many land-based activities in this location. When you're at Punta Uva, you'll be surrounded by beautiful nature, so why not try your hand at bird watching? You can also admire the diverse flora that decorates this area and visits a charming butterfly garden near the beach.
If you're looking for a place to stay, don't fret! There are several Costa Rica beach resorts in Punta Uva that will make your experience more worthwhile.
5.
Go On An Underwater Adventure In Montezuma Beach
Do you want to experience a bohemian vibe on your vacation? Are you up for an underwater adventure? If you said yes to one or both of these questions, then Montezuma Beach should be right up your alley.
Found in Costa Rica's the Nicoya Peninsula, many consider Playa Montezuma as one of the many Costa Rica beaches that offer a laid-back and serene experience. It's off the beaten path and it might be hard to get to, but don't let these stop you from enjoying its pristine waters, off-white fine sand and rocky beach.
At Playa Montezuma, snorkeling and scuba diving are popular activities. Apart from the gorgeous array of marine life, you can see underwater, you can also find interesting structures nearby. Included in those structures are the fascinating shipwrecks you can dive to while visiting.
6.
Have A Blast At Jaco Beach
While many relax during their vacation, socializing through parties during your holiday is also fun. If you want to experience nightlife right by an amazing beach, then Jaco beach at the Central Pacific Coast must be one of your go-to beaches in the country.
Jaco Beach is found in the province of Puntarenas. Apart from being just less than two hours away from the country's capital of San Jose, this area is famous for two things: surfing and parties.
Because of the impressive waves that crash on its shores, surfers took notice of Jaco Beach. Many surfers around the country would agree that Jaco is a good destination to go to if you want to enjoy time on your surfboard and practice.
The second thing which has made this one of the most well-known Costa Rica beaches around the globe is the parties. Despite being situated right in front of the coast, Jaco has many amenities you can use for a get-together. Consequently, you can also attend the numerous night parties hosted at establishments near Jaco Beach. You'll also find in this Costa Rica beach, all-inclusive hotels that have the atmosphere and all the equipment you'll need.
7.
Experience The Charm Of Costa Ballena
Another charming destination to visit in Costa Rica is Punta Uvita, which is found within the Marino Ballena National Park. There, you'll find what many dubs endearingly as the Costa Ballena.
Costa Ballena got its name and is popular because of two main things. First, Costa Ballena is a sandbar shaped like a whale's tail if viewed from above. Second, humpback whales tend to visit this sandbar at certain times of the year (August to October and December to April).
However, whales aren't the only visitors Costa Ballena hosts. From May to November, the sandbar welcomes a lot of sea turtles staying over to nest.
Because of the sandbar's many visitors, marine life- or nature-watching is a popular activity here. Apart from that, you may also go snorkeling, diving, kayaking, and even standup paddleboarding while visiting Costa Ballena.
8.
Ride The Waves At Nosara
Costa Rica doesn't come short when it comes to surfing venues. This makes the country a surfing paradise at the top of every surfer's bucket list. One such place is Nosara beach.
Nosara is a beach destination where you can ride many impressive waves you won't see in a lot of places. Despite lacking a lot of area development, this beach has gained popularity over the years, primarily due to its reputation as a great surfing location. Its white sand strip stretches for about 7 kilometers where you can show-off your surfing skills to everyone at the beach.
Of course, surfing isn't the only thing you can do here. Here, you'll be able to find a few tidepools, which makes snorkeling and diving worthwhile. Outside the water, you may also lay down on a towel on top of its fine white-sand beach to sunbathe.
9.
Experience The Caribbean's Best At Playa Blanca, Cahuita
One of the best Caribbean beaches found in Costa Rica is Playa Blanca. Found in Cahuita National Park, Playa Blanca lets you bask at the marvels the Caribbean has to offer.
Playa Blanca boasts a fine white sand beach located in front of a tropical forest. It's here where one of Costa Rica's coral reefs are found. So, scuba diving and snorkeling the two usual activities tourists and local visitors like to take part in here.
But since the area is close to the forest, you'll also be able to see the beauty of the forest — from wild animals such as monkeys to beautiful plants. If you're up for it, you can schedule a hiking tour, or you can just walk and follow the trail that runs parallel to the shoreline.
10.
Have Fun With The Family At Playa Flamingo
Where to stay in Costa Rica if you have the entire family with you? Everyone wants to experience luxury with their families during vacation, and the perfect venue for this is Playa Flamingo.
Playa Flamingo in the Guanacaste region, like many beautiful beaches in the world, shows off powdery, pinkish-white sand and striking blue waters. There are also many lagoons you can venture to. Additionally, it provides a great view of the sunset in the early evening.
However, the recent developments around Playa Flamingo have made this destination quite popular. It houses some of the best of Costa Rica beaches' hotels. Over the years, numerous high-end condos, villas, and accommodations have appeared in this place. Because the establishments at Playa Flamingo are made to be high-end, don't expect to pay a cheap price while staying in one of them.
But despite the price tag, staying in one of those accommodations can definitely help your trip remain fun and comfortable.
Takeaways
Because the country is gifted with amazing natural features, it might be hard to choose the first destination to visit among the best Caribbean beaches. However, all of the Costa Rica beaches featured in this article have their own distinct features and charm that appeals to you. But behind the gorgeous lush greenery and clean beaches the country has is the effort to preserve it. If you're planning a trip to Costa Rica, make sure to appreciate how wonderful nature is all while having fun.