Jordaan In Amsterdam – Everything You Need To Know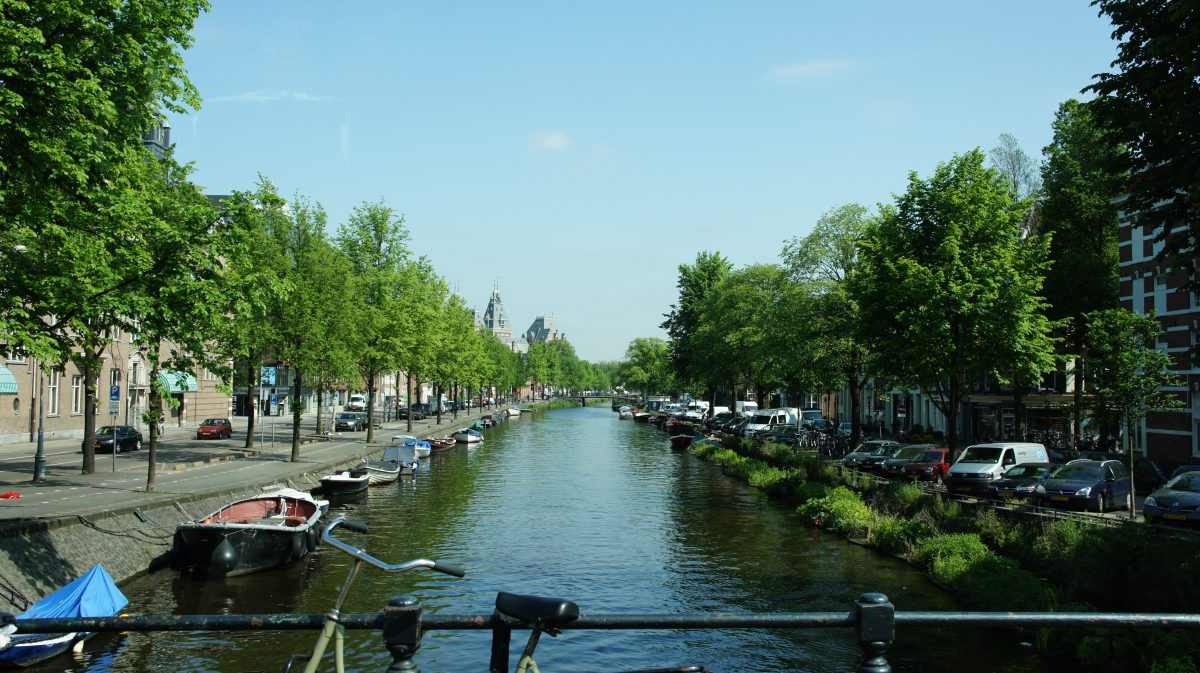 What comes to your mind when you picture Amsterdam? Is it the eye-catching lights of the Red-Light District? Maybe it's the numerous coffee shops selling marijuana every time? Or maybe it's the picturesque canals, large handlebar bicycles and tiny streets that you envisage.
If it's the latter you're after, you'll definitely want to pay the Jordaan neighbourhood a visit. Not far from the centre, the cultural area of Amsterdam is the most loved hangout in the entire city.
With charming tree-lined canals, flower-filled winding streets, local eateries and boutique shops, you'll feel like you've been dropped right into a postcard of Amsterdam.
Here's what not to miss when visiting the Jordaan.
Things To Do In The Jordaan
1.
Visit The Anne Frank House
One of the city's former residents, Anne Frank was a young girl who wrote her journal of daily life during the Second World War, while hiding in a secret Annexe in her home at Prinsegracht 263 with her family.
Her house, now turned museum, is a sobering reminder of the persecution of Jews during the war and holds an exhibition that takes you back in time.
2.
Buy Local Produce At Lindengracht Market
Every Saturday the otherwise seemingly ordinary block on Lindengracht turns into a thriving marketplace. With vendors selling a variety of cheeses, bread, books and flowers, you can plunge yourself into local life by wandering around the stalls.
Taste local delicacies or stop by one of the cosy cafés for lunch if you're feeling peckish.
3.
Stroll Along Lindenstraat
For some of the most lovely, picturesque houses in the Jordaan, a walk along Linderstraat is the perfect photo opportunity. With ivy-covered houses, classic Amsterdam-style architecture and a quiet atmosphere, this street is not known by many tourists.
4.
Browse The Farmer's Market At Noordermarkt
Along with Lindengracht Market, Noordermarkt is one of the best markets in Amsterdam. A traditional Farmers' Market, you will find stalls selling artisanal products, vintage clothing and organic fruit and vegetables.
Also, open on Saturdays, this is one of the most authentic markets in Amsterdam and is definitely worth a visit.
Wander the canals and streets of the Jordaan while tasting the local cuisine on a 4-hour tour of the neighbourhood('s best restaurants). While there are other tours that are shorter, we'd recommend the 4-hour Jordaan Canals and Food Tour by eatingeurope.com. During the tour, you'll also get to learn a bit about the city's history, visit hidden haunts and hear stories about the neighbourhood. This unique tour will give you an enhanced experience of Amsterdam and is a great way to see, learn and eat your way through the city.
Best Places To Eat In The Jordaan
Moeders, which translates to "mothers", is a traditional Dutch restaurant is famous for its homely atmosphere and comfort food dishes. The tasty delicacies include a variety of stews, meat and vegetables, including the much-loved favourite dish, stamppot. With vintage photographs lining the walls and family recipes being served up fresh from the kitchen, you'll quickly realise why so many locals and tourists flock to this gem of a restaurant.
This organic café serving healthy dishes made from seasonal produce is a favourite among tourists and locals alike. The wonderfully wholesome soups, salads and variety of other meals are all prepared with your health – and the good of the planet – in mind, working together with local vendors and using only seasonal, local ingredients.
Just like a picnic in the country, PIQNIQ offers a sizeable variety of smallish dishes to taste and snack on. Options include freshly prepared sandwiches, soups, salads and oven-baked treats, quiches and pies. If you're feeling super hungry, you can order a feast of high-quality food to share and enjoy. You can even get your lunch to take out in your own personal picnic basket to eat by the canal!
For authentic Dutch and world cuisine coupled with a buzzing local atmosphere, Café Sonneveld is the place to dine. With signature dishes including traditional Stamppot, to international favourites spare ribs, the menu offers extensive choices. The restaurant is also in one of the best locations, sitting right beside the canals of the Jordaan.
Tourists and locals love this café for its famous apple pie, the must-eat signature dish of the eatery. You can also order a variety of hearty European dishes and Dutch specialities, snacks and drinks. If you're a fan of apple pie, this café is not one to miss!
Jordaan Hotels
1.
The Canal House Jordaan
When it comes to romantic getaways and indulgent stays, The Canal House is a perfect choice. This stylish boutique hotel has a definite hint of more in the air. Rooms offer sweeping canal views, luxury king-size beds and exquisite furnishings with a modern flare. The hotel's private garden offers a beautiful space to relax and unwind after a long day of exploring the city.
This luxury 5-star hotel in the heart of the city welcomes you with its choice of elegantly decorated rooms and suites. Take some time out of your busy day to relax and pamper yourself at the hotel's luxury spa. Following this, head up to the rooftop lounge to take in the sweeping city views.
Located in the heart of Amsterdam, this charming boutique hotel is actually a selection of refurbished canal houses. Ambassade hotels offer a selection of 56 uniquely decorated rooms and suites with unparalleled canal views. There are also fine dining opportunities and an extensive collection of art.
If you're looking for a mix of traditional and modern with a sleek minimalist feel, Mr Jordaan has it all. This contemporary off-the-beaten-track hotel in the Jordaan is located along a quiet, beautiful canal. With an artsy feel and laid-back vibes, this unique hotel is perfect for guests looking for something a bit different.
Have you visited Amsterdam yet?
Have you been to the Jordaan neighbourhood of Amsterdam? Maybe you're thinking of visiting and are reading this article for some inspiration?
Either way, we'd love to hear from you! 

Do you have any experiences in Amsterdam worth mentioning or questions about the Jordaan?
If so, drop us a message in the comments below!