Asturias Spain: What To Expect & Best Things To Do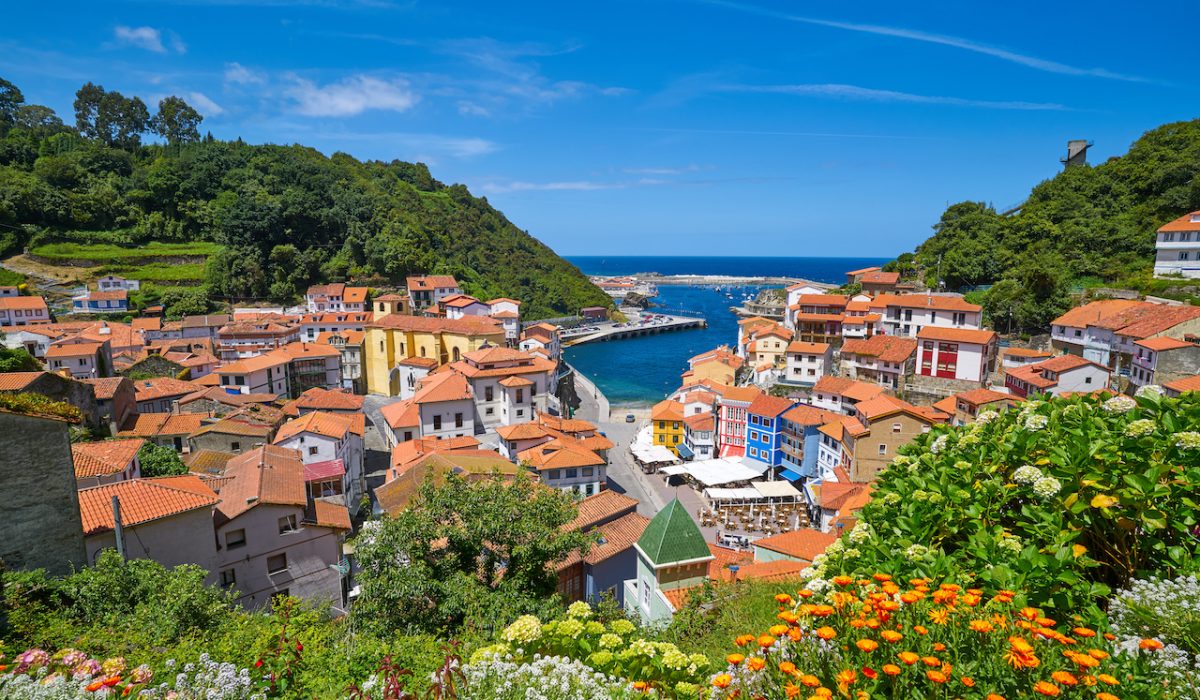 While many tourists immediately think of visiting major cities like Madrid or Barcelona during their trip to Spain, a lot of them miss out on discovering hidden gems. One such gem is Asturias, Spain, which many consider as the country's best-hidden secret. And they do so with good reason!
So, what makes this region special? Here's what you need to know about Asturias, Spain, and the amazing things you can do here for a memorable visit.
Where Is Asturias, Spain?
Formally known as the Principality of Asturias, this autonomous community is one of the many regions of Spain located in the north. This province of Spain is bordered by Galicia to the west, Leon to the South, and Cantabria to the east. To the north, its coastline is bordered by the Bay of Biscay, otherwise known as the Cantabrian Sea.
The entire region has an area of about 10,603 square kilometers, and it's home to about 1,085,000 people. Oviedo serves as Asturias' capital, while Gijon, located near the coastline, is the region's largest city.
Asturias, Spain is a picturesque tourist hotspot that leaves great impressions on anyone who comes to visit. It's home to many natural wonders tourists from around the world can visit. From quiet beaches on the coast to jagged rock formations in mountain ranges, to perfectly preserved biospheres, Asturias has it all.
The principality is also home to a lot of memorable towns and cities. All of which manage to show their unique identity and charm to any visitor who comes by. These towns and cities perfectly preserve the area's heritage, culture, and traditions. But they're also modern, and they do not slow down on keeping up with the times.
How To Go To Asturias, Spain
Tourists from around the world don't have to worry too much about coming to Asturias. The place is easily accessible, thanks to its international airport. It's also well-connected to other parts of Spain through the main road network.
By Air
If you're planning to enter the country and head directly to Asturias, we have good news for you! If you're wondering how many airports in Asturias, Spain you can find, know that there are two. The main airport is the Asturias Airport in Castrillon. Meanwhile, the La Morgal Airport in Oviedo caters mostly to private jets and chartered flights. Most tourists arrive in the region by plane through the Asturias Airport in Castrillon. It's located in the middle of the province, and it has road connections to all major cities and towns in the Region. Coming to this region via a plane isn't too much of a hassle.
There are many international flights you can book to the Asturias Airport from cities like Paris, London, and Lisbon. Of course, the airport also serves domestic flights from Madrid, Valencia, Barcelona, and The Canary Island. So, if you're not able to find a direct international flight to Asturias, you can enter the country from one of those places and book a connecting flight to Asturias.
By Land
If you want to come to Asturias by land, you have two main transportation options: going by bus and going by train. These two modes of transportation are perfect for people coming from other major Spanish cities or from major cities in nearby countries.
As mentioned before, Asturias, Spain is well connected via roads. So if you're anywhere in Spain, or even if you're in nearby countries, you can get to Asturias via bus. From Madrid, a bus ride to Oviedo or Gijon can cost you around €30 one way. If you're coming from Brussels or Paris, you can also take a bus directly to Oviedo. Buses leave daily, and tickets can be booked online.
If you're looking for a more scenic route by land, you can opt to go by train. However, ticket prices for train rides to the region are a bit more expensive than bus trips. It's normally €45, one way. However, you can book your train tickets at least 7 days in advance to avail of the discounted "Estrella" tariff. This discount brings ticket prices down to around €27.
What To Expect On Your Trip to Asturias, Spain?
Best Time To Visit Asturias, Spain
The climate in Asturias, as well in other parts of Northern Spain, is nothing too crazy compared to the other parts of the country. The region has what's described as a maritime climate, which is composed of warm summers and forgiving winters.
The best time to visit Asturias, Spain is during the summer months from June to August. During summer, temperatures are usually at the high 20s near the coast, making it a favored destination for many holiday-goers. However, when coming to Asturias, you need to be prepared for cold nights, rainy and windy days, and even hot temperatures. Do so, even if you're coming in summer, since Asturias, Spain weather can sometimes still be unpredictable.
How To Get Around Asturias, Spain
If you're going to explore the region for a few days, consider staying at a base city or town in Asturias. If you want easy access to establishments and stay in a major city, consider having Oviedo or Gijon as your base city. Otherwise, you can stay at local inns in smaller towns such as Cudillero.
Most cities and towns in Asturias are great to explore on foot. All of them are great places to take a stroll in from time to time. Walking through the streets and pathways is also a great way to take in the sights and sounds of these charming places.
If you want to get from one city to another, you don't need to be too worried about getting lost. The tourist hubs in Asturias mostly have access to the main road network. So going from one city or town to another is a breeze via car or taxi. However, they can be pricey. If renting a car for your trip or booking a taxi are not feasible options for you, the public transportation system is convenient enough for visitors, both new and returning.
Your first public transportation option here is going by bus. Local bus companies, such as ALSA, provide their service throughout the region. Many attractions in the area are accessible using this mode of transportation.
Alternatively, you can take train rides from one place to another in Asturias. Two railroad companies operate in the region. The first is RENFE, which is a part of the national railway system. The second one is FEVE, which operates smaller trains. Some parts of these two companies' train routes overlap, but most stations are located in different areas. So make sure to research about their routes first, if you want to take this scenic train route from one city to another.
Things To Do In Asturias, Spain
1.
Munch On Famous Local Cuisine
The region of Asturias, Spain has its own distinct culinary tradition. Since the area is located near the coast, fresh seafood has always been a part of their cuisine. However, they also don't skimp on providing you meat and carbohydrates. Asturian cuisine offers anyone who eats it bold and hearty flavors.
Some of the dishes you may want to try while you're in Asturias include bean stews locally called Fabada, the local cheese called Cabrales, and a hearty goat meat stew called Caldereta. Many restaurants all over the region offer traditional Asturias, Spain food. So you don't have to fret about looking for a place that would serve them while on your trip.
2.
Take A Proper Sip Of Cider At A Local Sidreria
Asturias, Spain doesn't only offer great food, it also has a local drink that's loved by many: cider. Now, the cider in this region of Spain is not like the usual cider you can find at your local grocery store. Asturian cider, or Sidra, tastes sour instead of sweet. It doesn't have gas right off of the bottle, and it usually has a 6% alcohol content.
Since the Sidra doesn't have gas incorporated in it when bottled, it's not quite pleasant to consume as-is. In Asturia, there's a proper way of serving Sidra, and that's by incorporating air into the beverage through a specific pouring technique. The people of Asturias pour cider from a significant height to incorporate gas to your drink before they serve it to you. This makes the Asturian cider more pleasant to drink and enjoy.
3.
Go On An Excursion At Picos De Europa
Are you a nature lover? Do you like taking hikes and walks surrounded by gorgeous vistas and natural formations? Then hiking at the world-famous Picos De Europa mountain range in Spain must be on your vacation to-do list. It has intimidating, jagged rock formations all over the area that look like they're piercing the heavens.
If you want to go hiking at Picos De Europa, there are many trails that you can follow. All of them will let you see every good part of this tourist destination. To get the best out of your time at Picos de Europa, however, we recommend getting a guided hike through one of its many trails.


4.
Enjoy What The Asturias Coast Has To Offer
Asturias, Spain is found at the coast, with the Bay of Biscay bordering it to the north. This makes the region a popular tourist destination for those who want to enjoy the beach. With more than 200 beaches lined across the coast in the north, you're bound to find one to your liking.
Most of these beaches are also near coastal cities and towns. Most of those towns are popular tourist destinations, not just for its proximity to the sea, but also for the cultural sights and interesting experiences they offer. Some of the most famous coastal settlements in Asturias include Gijon, Llanes, and Ribadesella.
5.
Get The Best Of Both Worlds At Gijon
Gijon takes the spot of the largest city in Asturias. A famous tourist city, you'll be able to find many things to do in Gijon. Expect the best of both worlds — the old and the new — when visiting this charming Asturian city.
Gijon became a famous tourist attraction because it is a coastal city. Its proximity to beautiful beaches made it a household name for people seeking a seaside holiday. Not only that, its area also provides many tourists with a picturesque view of the sea, highlighting the pristine waters of the Cantabrian Sea on the horizon.
Aside from its beaches, Gijon is also chock full of sights and activities for lovers of the arts, culture, and local tradition. It's lively and colorful plazas, fun bars, and charming cafes all make sure that you won't get bored while you're here. Beautiful architecture and sculptures fill the city, making every stroll along one of its streets all the more interesting.
6.
Don't Miss Out On Visiting Oviedo
Visiting Oviedo is a must-do whenever you're in Asturias, Spain. It's the regional capital, and it's filled with interesting artworks your eyes can enjoy. The stunning architecture of different buildings found inside the city is just a start. Oviedo is home to Monte Naranco, a UNESCO World Heritage Site where pre-romanesque art can be found. Taking in the sights of the city would be a treat for any history and art junkie who visits Oviedo.
But your activities in Oviedo doesn't stop at looking at architecture and visiting museums. The city's also a great tourist hub. You can shop at Oviedo's famous Mercado El Fontan, where you can buy anything from fresh produce to cured meats and dairy. Also, there are many restaurants and Sidreria in Oviedo where you can try out delicious Asturian dishes.
So, when you're in Asturias, Spain, make sure to stay in the capital for a day or two!
7.
Roam Around The Charming Town Of Ribadesella
Another famous Asturia, Spain place located near the coast is the quaint town of Ribadesella. In this town, you can enjoy the best things the ocean has to offer. If you want to go enjoy the water, sailing classes and tours are available for travelers. When in Ribadesella, you'll also find great access to delicious, fresh seafood that you need to try out.
Apart from proving to be a great example of a coastal village, an interesting destination in the area is the Cueva de Tito Bustillo. This site is lined with a lot of pre-historic drawings, making it a UNESCO World Heritage Site.
8.
Explore The Municipality Of Llanes
If you want to spend a vacation like the locals, Llanes should already be on your itinerary. It's a charming, medieval town right by the coast. This town seems to exist in harmony with water, as apart from having a bustling harbor, you'll also find various waterways within the city proper.
On a good sunny day, you can go for a swim or work on your tan at one of the popular beaches near Llanes, such as Playa de Sablon. Then, go for a stroll along Paseo de San Pedro. This passageway lets you have a leisurely stroll to bask in the beauty of the village and the coast.
For the best experience, you should start your stroll an hour before sunset. The end of the Paseo leads to an overlooking area with a breathtaking view of the coast and the sunset. The entire passageway can take only 30 minutes to walk, but it's better to have enough time to admire the sights along the way.
9.
Enjoy Nature And History At Covadonga
Covadonga is a place in Asturias with a rich historical background. King Pelayo, the founder of the Asturian empire, won the Battle of Covadonga in the early 8th century. This marked the beginning of the Reconquista, which went on for another 770 years.
When you visit Covadonga, the sanctuary there attracts many tourists' attention. It even has a fountain, which has become popular due to an urban legend. Legends say that if you're single and you take a sip of the water from that fountain, you'll be married in a year's time.
The allure of Covadonga doesn't stop at its historical importance, however. The place is also surrounded by beautiful natural wonders. Gorgeous vistas and two beautiful lakes — lakes Ercina and Enol — are just a short bus ride away from the town center. So don't just settle with staying within the town when picturesque views await you nearby.
10.
Try Staying At A Converted Indianos Mansion
After the discovery of the New World in the late 15th century, many locals from Spain decided to move there for greener pastures. Many of them took a chance to find a better life in the New World, and a lot of them did succeed.
The Indianos are those who went to the new world, pillaged a fortune, and decided to return to Spain later in their lives. Upon their return, most of them have built huge houses or mansions now known as Casas de Indianos or Casones de Indianos.
However, as time passed on, many of these mansions have been abandoned. Luckily, a good number of them have been converted to museums and hotels. Some of the more popular ones in Asturias, Spain include Casona de la Paca in Cudillero, Hotel Penalda in Covadonga, and La Casona De Amandi in Villaviciosa. So, if you're choosing where to stay in Asturias, Spain, consider booking a room at one of these Indianos mansions.
The Charm Of Northern Spain
Spain is a gorgeous country with breathtaking scenery and colorful history. If you're planning a Spanish holiday, why not try a change of pace? Travel to a place with great coastal beaches and cliffs, breathtaking mountain ranges, and charming historical towns and cities. Go up north and take the opportunity to discover and explore the country's hidden gems in Asturias, Spain.