15 Most Famous German Castles You Should Visit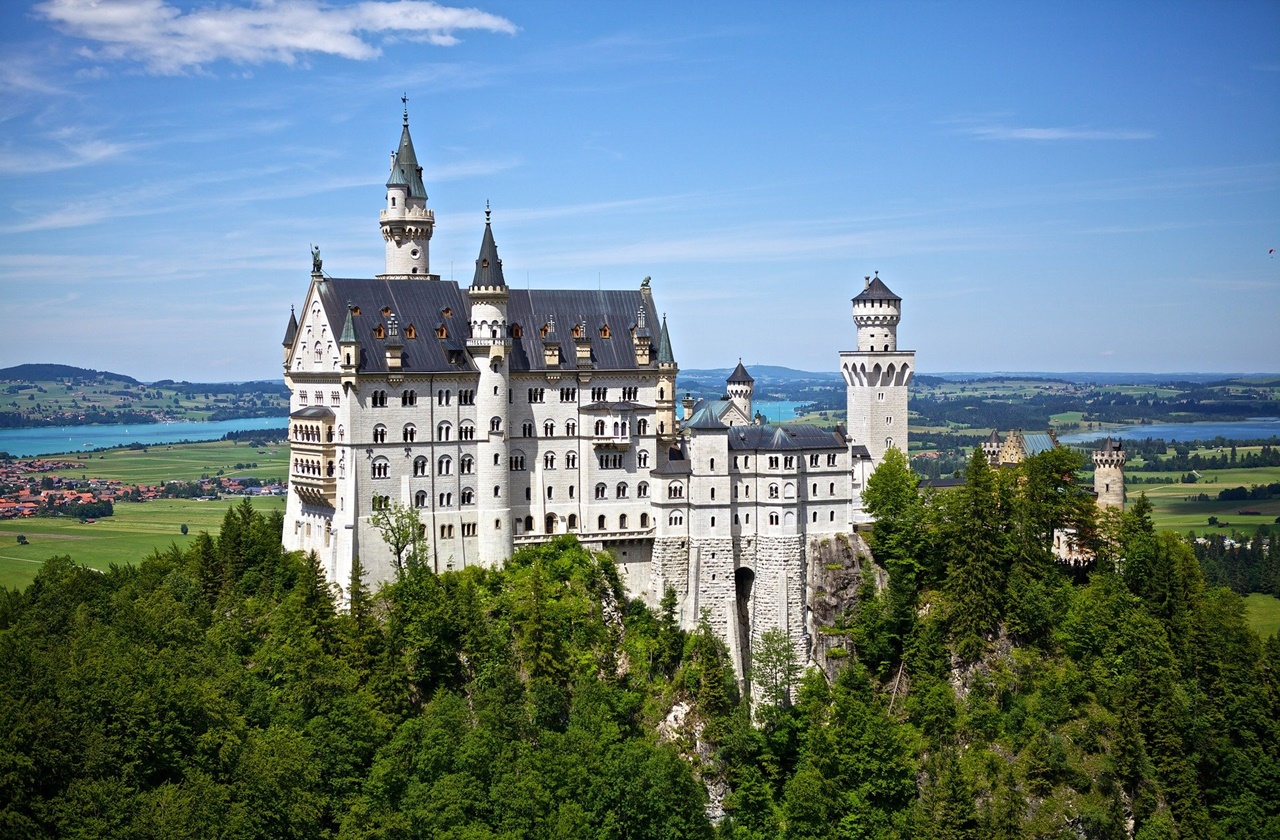 Castles are perhaps one of the most fascinating structures of all time. Featured in several historical, romcom, and even war films, these buildings pack a lot of history within their walls. In countries in Europe in particular, you can find hundreds of thousands of castles. From Spain's La Alhambra Palace, Versailles, and the historic castles in England, every single one of them has a story to tell. German castles are no exception, as the country has some of the best and most beautiful castles in Europe.
So if you find yourself in Germany for a vacation, pay a visit to some of these historic yet gorgeous castles!
How Many Castles Are There in Germany?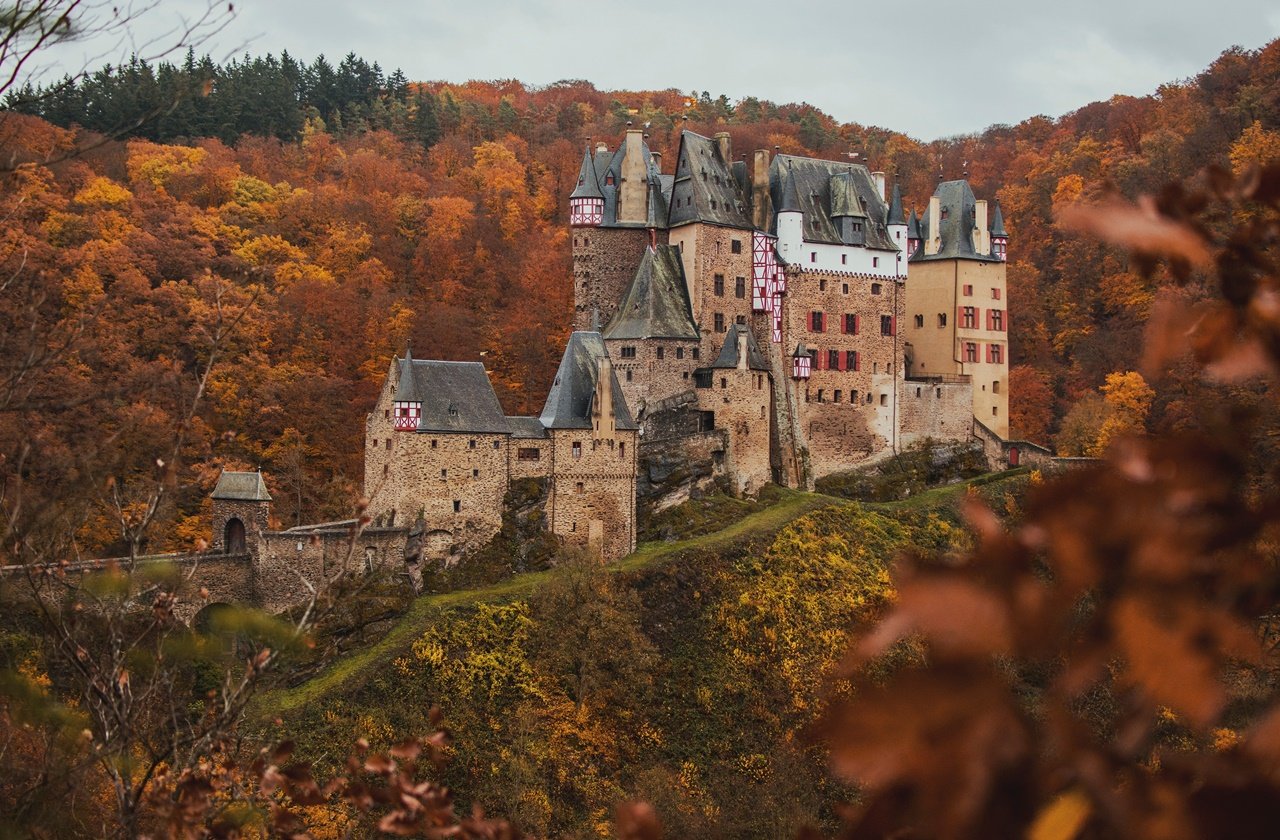 Photo by Julia Solonina on Unsplash
There are roughly 20,000 German castles to date, although the exact number is unknown. In the country, there are two main classifications of a castle depending on its purpose: Schlösser and Burg.
A Schlöss, or Schlösser, is a castle built as a manor, palace, or other residential purposes. Unlike other castles, they don't come with moats or intimidating walls, but instead with grand interiors and well-manicured gardens. You can compare these to the French château since both are considered homes for the nobility. Although, in France, not all châteaux are castles.
On the other hand, a Burg served as a military fortress with defensive structures. These types of German castles rose to prominence at the height of feudalism where most lords and noblemen built castles to assert their dominance over a territory. Not only were these a fortress, but they were also a representation of a person's power.
Best Castles in Germany
1. Neuschwanstein Castle (Schloss Neuschwanstein)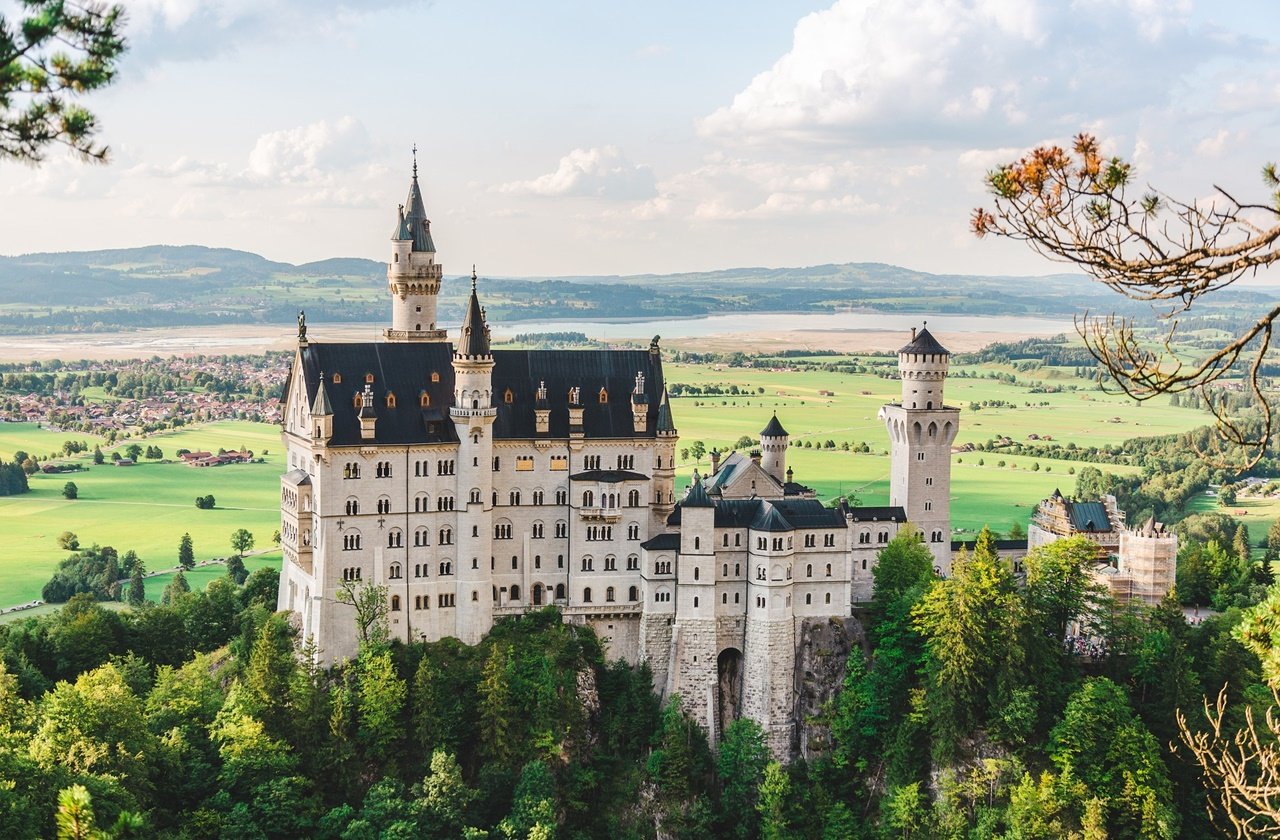 Photo by USA-Reiseblogger on Pixabay
Address: Neuschwansteinstraße 20, 87645 Schwangau, Germany
Entrance fee: 13 EUR (adults), 12 EUR (senior citizens, students, persons with disabilities), free for children under 18
Neuschwanstein Castle is one of the quintessential German castles. This fairytale-like castle sits on top of a hill with gorgeous views of the Alpine mountains, making it the perfect retreat for royalty. Built by King Ludwig II of Bavaria in honor of Richard Wagner, Neuschwanstein Castle is arguably the country's most popular castle, attracting thousands of visitors per day. Because of its magical appearance, it served as the inspiration for Walt Disney's iconic Sleeping Beauty Castle!
Join a guided tour of Neuschwanstein Castle and explore its opulent interiors. Marvel at the Throne Hall, Dining room, and more with its gilded ceilings, lush carpets, and ornate decorations. Outside, admire the view of the Bavarian Alps and the Alpsee and Schwansee. If you visit during autumn, the colorful fall foliage paints a breathtaking scenery.
2. Hohenschwangau Castle (Schloss Hohenschwangau)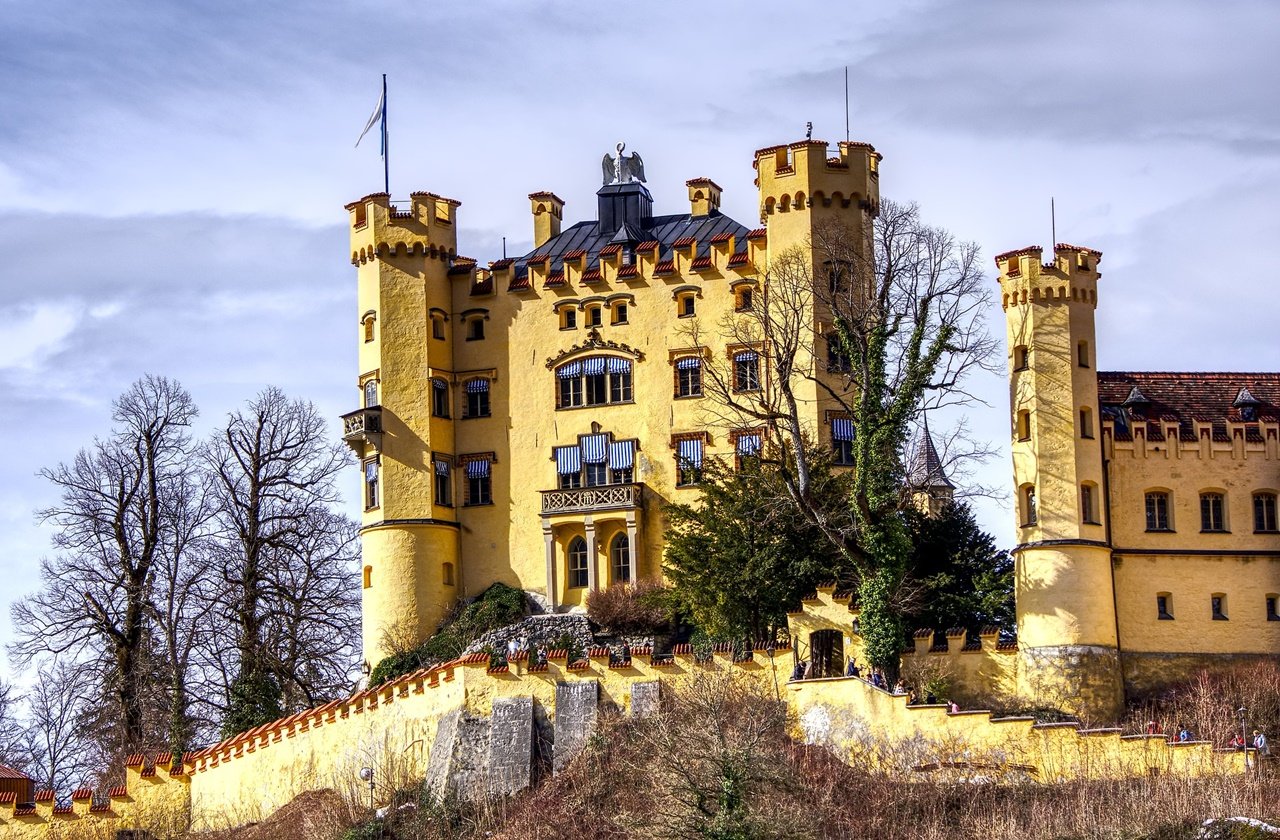 Photo by distelAPPArath on Pixabay
Address: Alpseestraße 30, 87645 Schwangau, Germany
Entrance fee: 13 EUR (adults), 12 EUR (senior citizens, students, persons with disabilities), free for children under 18
If you're visiting Neuschwanstein Castle, stop by Hohenschwangau Castle! While Neuschwanstein served as King Ludwig's private retreat, Hohenschwangau was his childhood home. The 19th-century castle initially was part of the fort owned by the Knights of Schwangau and then Crown Prince Maximilian discovered its ruins and ordered for its restoration. Since then, the castle became the summer residence and hunting grounds of Maximilian and his family.
Hohenschwangau Castle is one of the best German castles to visit to learn more about its history. Here, you'll learn more about the elusive King Ludwig, his childhood, and how his imagination led him to create several extravagant architectural projects. As you explore its halls, admire the paintings that tell you the history of Schwangau as well as other medieval German romances.
3. Heidelberg Castle (Heidelberger Schloss)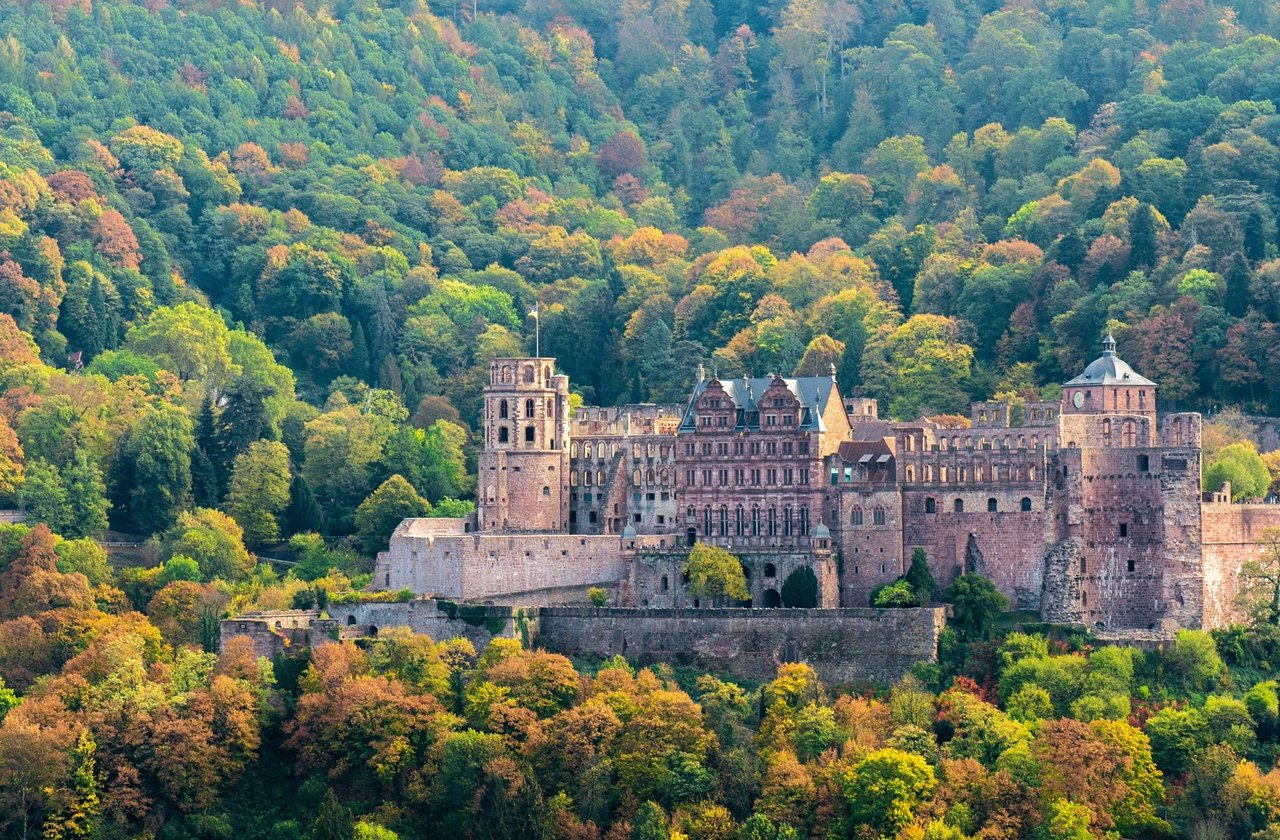 Photo by Heidelbergerin on Pixabay
Address: Schlosshof 1, 69117 Heidelberg, Germany
Entrance fee: 9 EUR (adults), 4.50 EUR (reduced rate)
Heidelberg Castle is one of the most important German castles, a perfect example of German Renaissance architecture. It was once home to the kings and nobility, but years of war and unfortunate cases of lightning strikes destroyed the castle. The castle was never restored to its full glory, but its ruins became a popular attraction. Authors like Mark Twain and Victor Hugo visited the ruins of the castle and wrote about them in letters and books. Years later, Heidelberg Castle attracts millions of visitors every year, exploring the ruins of the former Gothic-Renaissance structure.
Explore the interior of the castle and see the former courtyard, pharmacy, museum, and other buildings. At the wine cellar, see the Heidelberg Tun, said to be able to contain more than 220,000 liters of wine. Heidelberg Castle is also the setting for several concerts, festivals, and other local performances. If you're visiting in summer, don't miss a chance to witness the spectacular fireworks show!
4. Hohenzollern Castle (Burg Hohenzollern)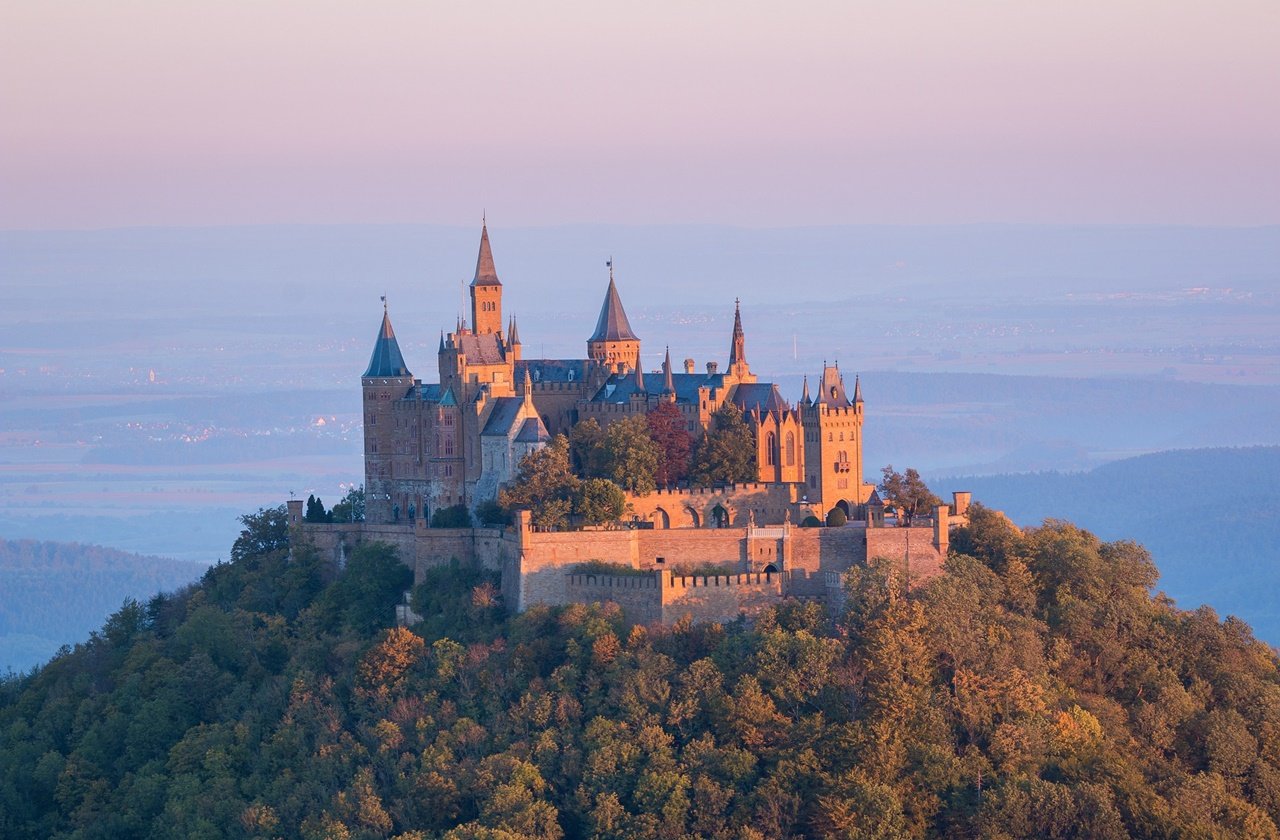 Photo by jonathansautter on Pixabay
Address: 72379 Burg Hohenzollern, Germany
Entrance fee: 19 EUR (adults), 10 EUR (students, persons with disabilities), 9.50 EUR (children 12 to 17 years old)
Nestled on top of a hill in the Baden-Württemberg countryside, Hohenzollern Castle offers gorgeous panoramic views of the forest. It is the ancestral seat and summer residence of the House of Hohenzollern. It used to be a single castle, but it was destroyed in 1423, and construction on a second castle began in 1454. However, subsequent wars damaged it. Frederick William IV of Prussia then built the current castle, taking design cues from the Loire Valley Châteaux and Bavaria's Neuschwanstein Castle.
Although Hohenzollern Castle is privately owned, the castle itself is open to the public, with plenty of guided tours available all-year-round. Find shining armors, weapons, and royal jewelry at the Treasure Chamber. For families with kids, have them dress up as a princess, knight, or prince to make the castle visit more fun. After a day of exploring, stop by the cafe for snacks and other regional specialties.
5. Dresden Castle (Dresdner Schloss)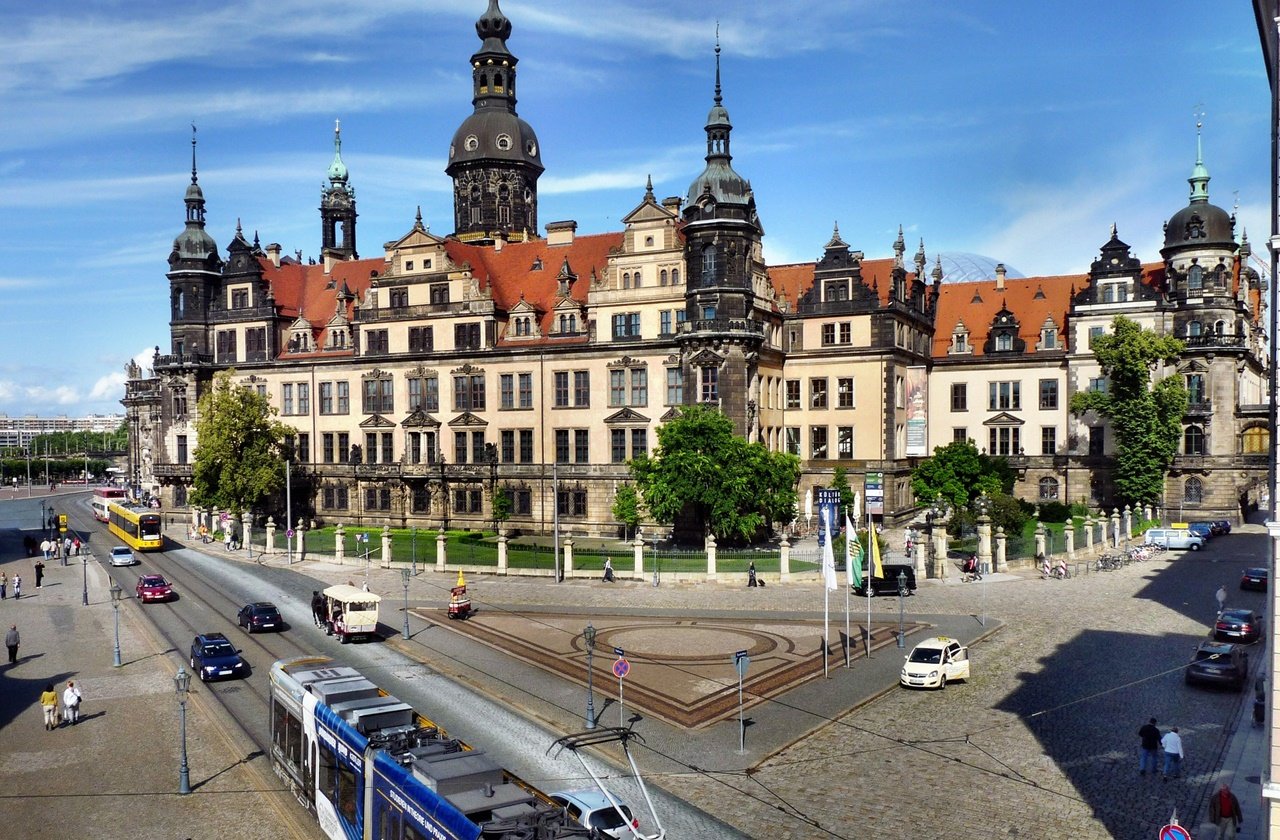 Photo by andreasmetallerreni on Pixabay
Address: Taschenberg 2, 01067 Dresden, Germany
Entrance fee: 14 EUR (adults), 10.50 EUR (students, persons with disabilities), free for children under 17
Dresden Castle is not only one of the oldest buildings in the city, but it is also one of the most beautiful German castles to date. It features timeless Baroque and Neo-renaissance architecture and became the residence of the Electors and Kings of Saxony. They lived in the castle for over 400 years. While the castle suffered from significant damages during the Second World War, constant restoration efforts eventually brought back the castle's grandeur.
Today, the Dresden Castle serves as a museum complex, perfect for tourists who want to go museum-hopping. Visit the Historic Green Vault, the Dresden Armory, the Collection of Prints, Drawings and Photograph, and more. Aside from the museums, the castle also has an art library containing over 260,000 volumes of books on art history.
6. Nuremberg Castle (Nürnberger Burg)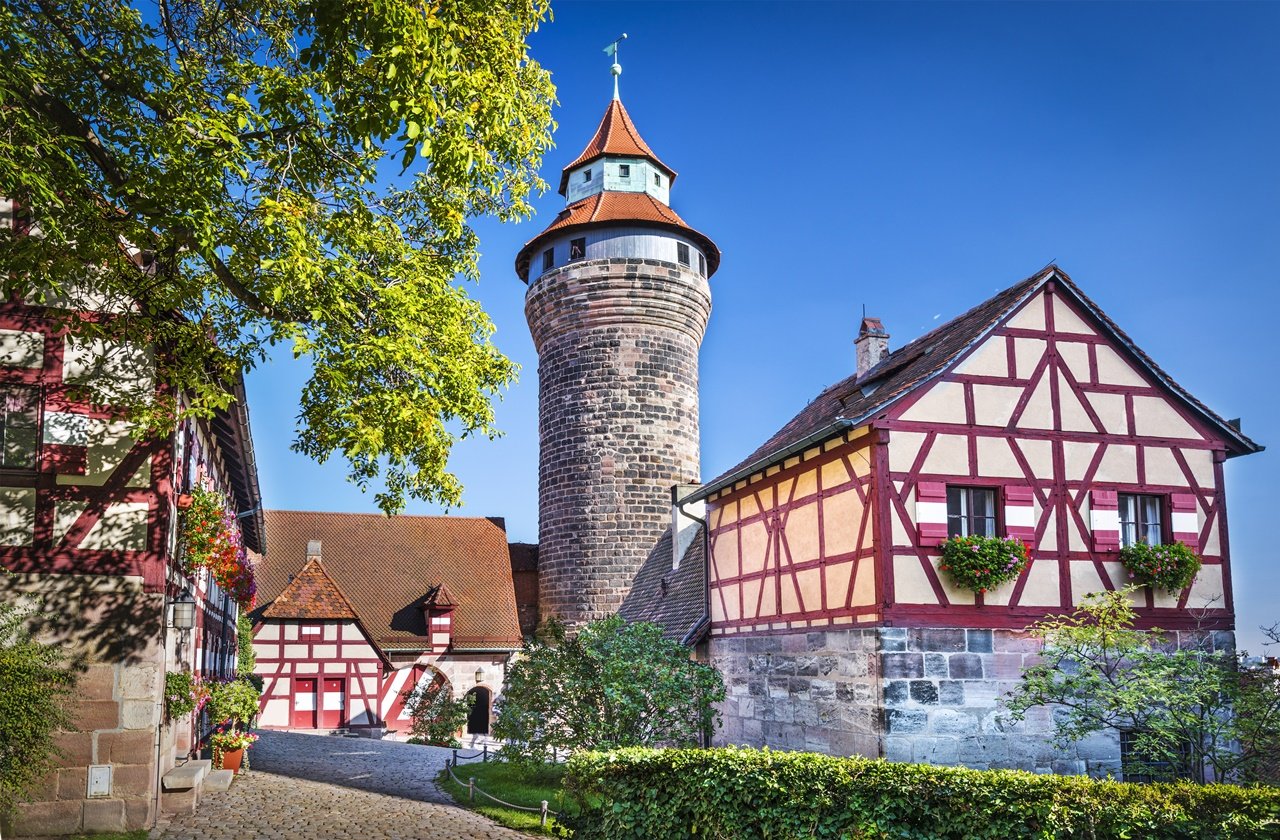 Photo by SeanPavonePhoto on Adobe Stock
Address: Burg 17, 90403 Nürnberg, Germany
Entrance fee: 5.50 EUR (adults), 4.50 EUR (reduced rate), free for children under 18
Nuremberg Castle is another must-visit castle in Germany. Located two hours away from Munich, the castle was home to German kings and emperors for over 500 years. Additionally, it is also one of the surviving medieval fortresses in Europe, dating back to the Middle Ages. The castle was a representation of the power of the Holy Roman Empire, built with sandstone and perched on a hilltop overlooking the town center. Like most German castles, World War II brought about several damages to it, and it took almost 30 years of restoration and rebuilding.
Explore the castle grounds and learn about its significance during the Middle Ages. Visit the Pentagonal Tower, one of the oldest parts of the castle dating back to the 11th century. The Deep Well, reaching more than 50 meters below, is also a highlight of every visit to Nuremberg Castle.
7. Schwerin Castle (Schweriner Schloss)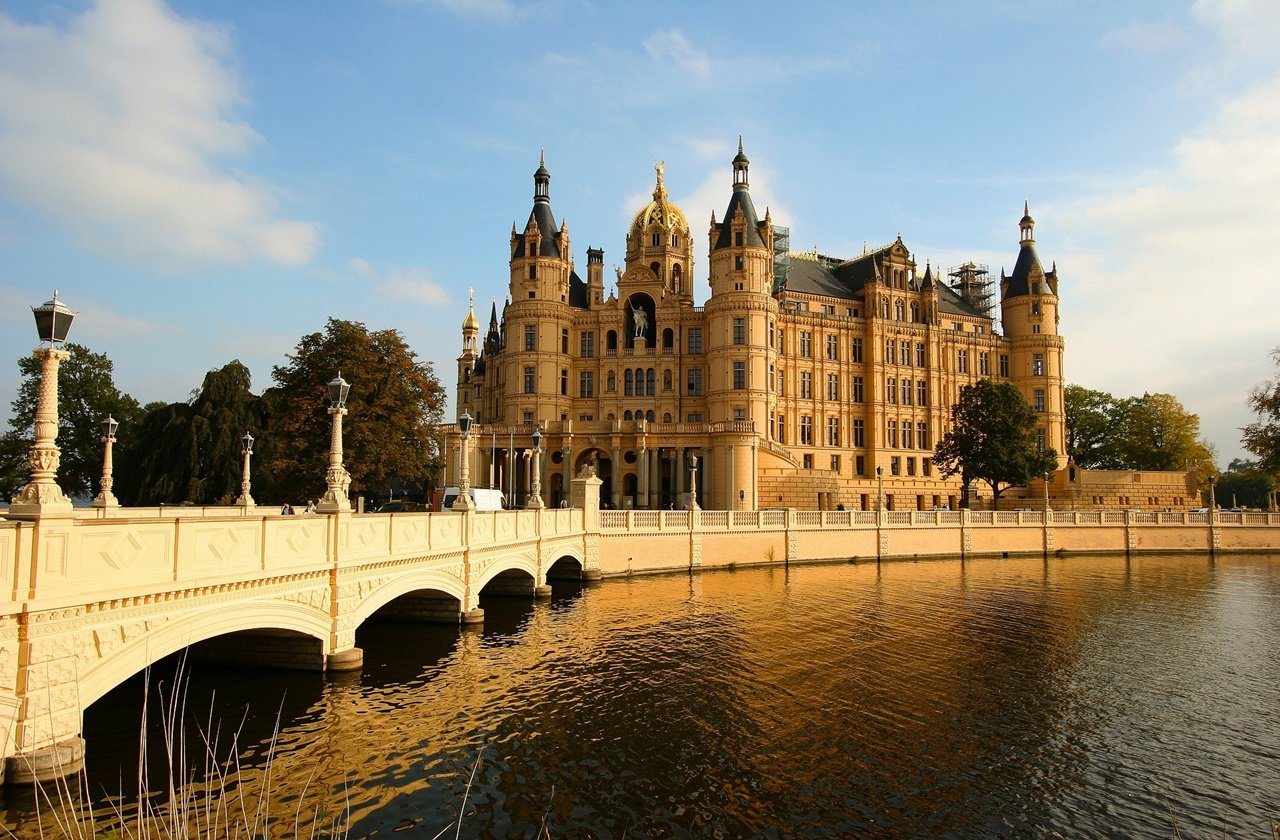 Photo by Kalahari on Pixabay
Address: Lennéstraße 1, 19053 Schwerin, Germany
Entrance fee: 8.50 EUR (adults), 6.50 EUR (students)
While most German castles sit on top of hills or in the middle of town, Schwerin Castle lies on an island in a lake. It served as a residence for the dukes of Mecklenburg, a museum, and a college. During the 18th century, Grand Duke Friedrich Franz II ordered a complete reconstruction, with Château de Chambord, one of the castles in France, serving as an inspiration for the design. As a result, Schwerin Castle became a prime example of romantic Historicism in Europe.
With dreamy spires, towering cupolas, and gorgeous scenery, Schwerin Castle is a castle fit for any fairytale setting. Its beauty and splendor earned its nickname, the Neuschwanstein of the North. Wander around its picture-perfect garden, explore the displays of fine china and silver, and see the collection of weapons. If you're looking for a spine-chilling time, ask your local guide about the resident poltergeist, Petermännchen!
8. Marburg Castle (Marburger Schloss)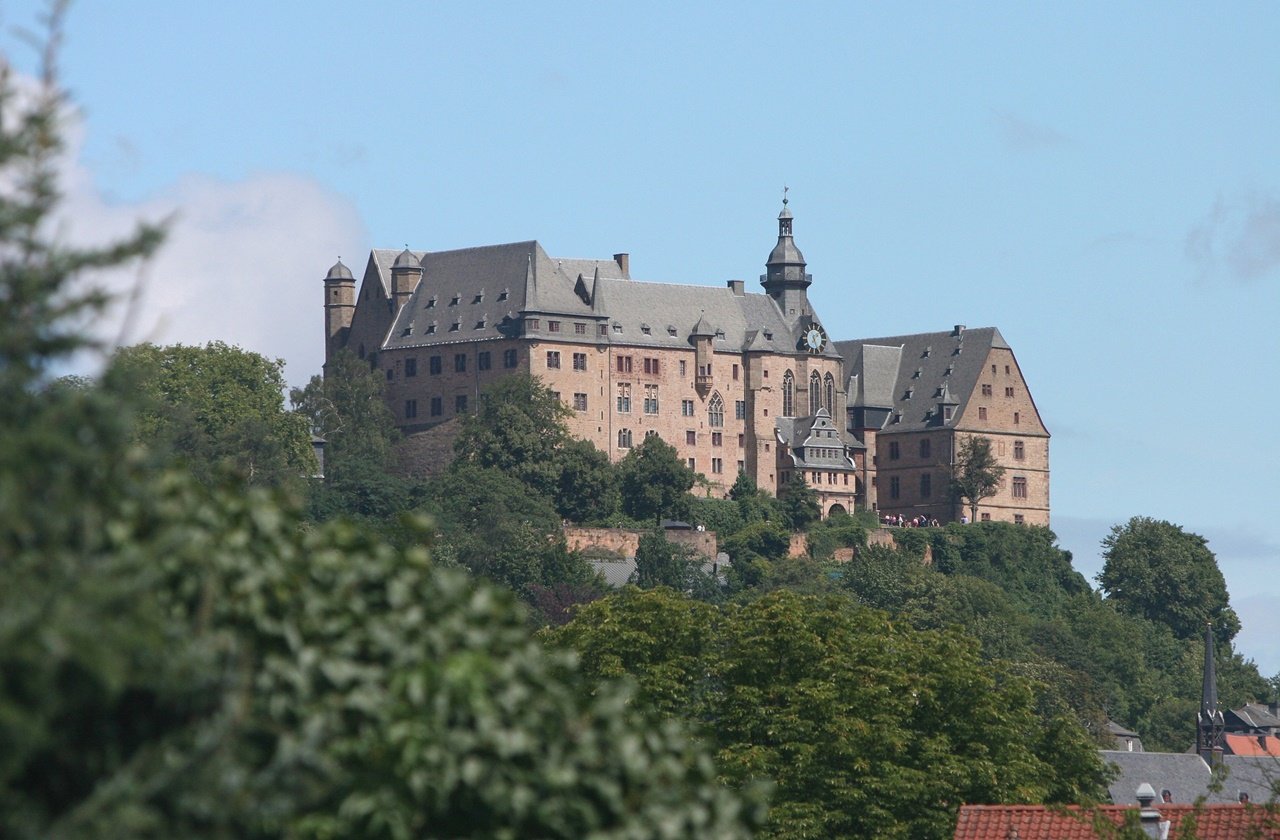 Photo by pgeyr on Pixabay
Address: 35037 Marburg, Germany
Entrance fee: 3 EUR (adults), 2 EUR (students, persons with disabilities), free for children under 18
A trip to Germany's Fairy Tale Route isn't complete without a visit to Marburg, thanks to its history with the famous Brothers Grimm. This charming town is also home to one of Germany's oldest hillforts, Marburg Castle. The castle dates back to as early as 1000 AD. It served as a residence of the Landgraves of Hesse, hence its other name Landgrafenschloss. Additionally, it was the location of the Marburg Colloquy, a meeting about the dispute between Martin Luther and Ulrich Zwingli.
Today, Marburg Castle is an event site and museum. Get a glimpse into the history of Hesse at the Museum of Art and Cultural History and find a wide collection of artifacts. At the west wing's basement, find fortifications from the 9th and 10th centuries. Walking tours are available all-year-round, making Marburg Castle a convenient visit no matter the season.
9. Lichtenstein Castle (Schloss Lichtenstein)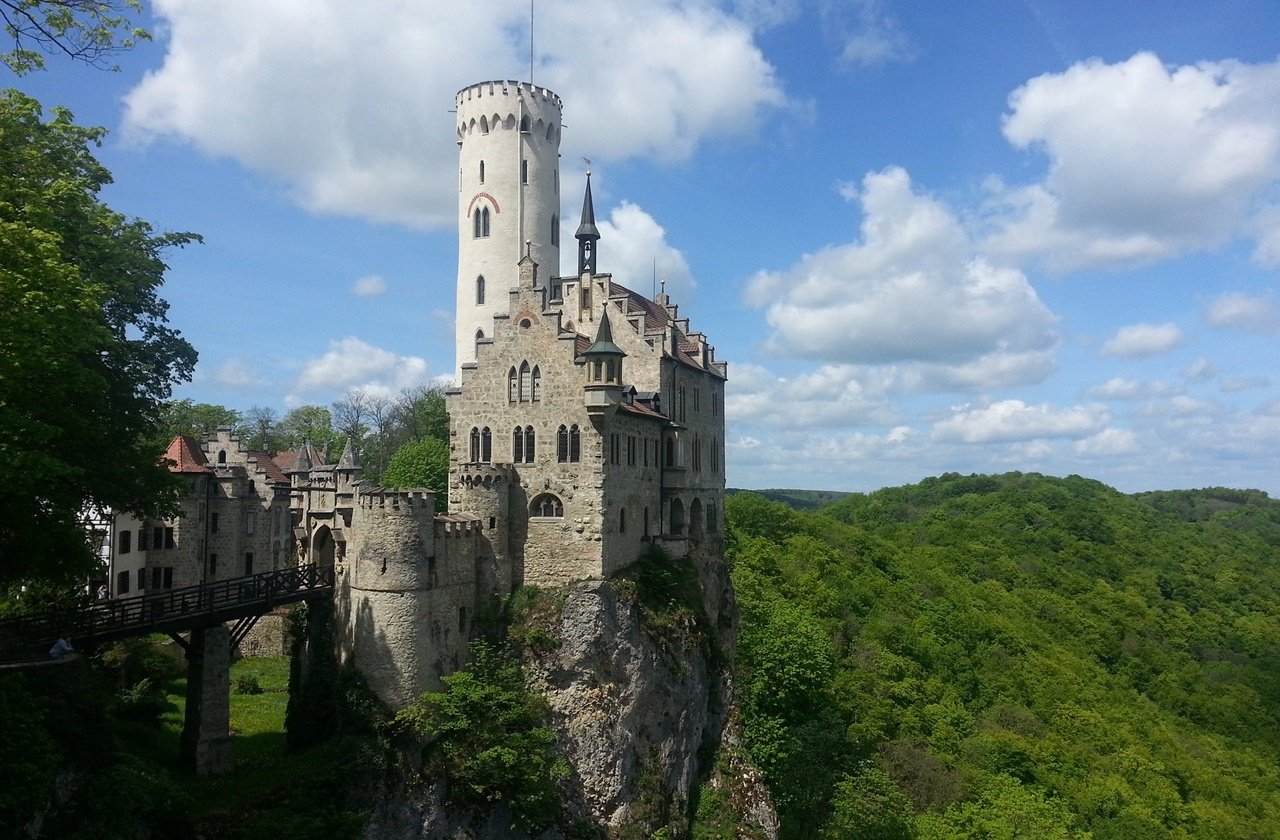 Photo by osmanzoellner on Pixabay
Address: Schloss Lichtenstein 1, 72805 Lichtenstein, Germany
Entrance fee: 3 EUR (adults), 1.50 EUR (children)
Less than an hour from Stuttgart is one of the most picturesque German castles, the Lichtenstein Castle. It sits on top of an outcrop near the edge of the Swabian Alps, overlooking thick forests and villages. Inspired by medieval history and architecture, the Duke of Urach commissioned the building of the castle in 1840. Completed in 1842, the castle served as the primary residence of the dukes of Urach.
Also known as the fairytale castle of Württemberg, Lichtenstein Castle is a beautiful Gothic Revival castle. It boasts elaborate rooms with lavish decorations and elegant furniture. Marvel at the halls and rooms, painted with intricate details from the ceiling to its walls. The ivy-covered walls make for a good photo spot and the courtyards make you feel like you've been transported into an old film.
10. Drachenburg Castle (Schloss Drachenburg)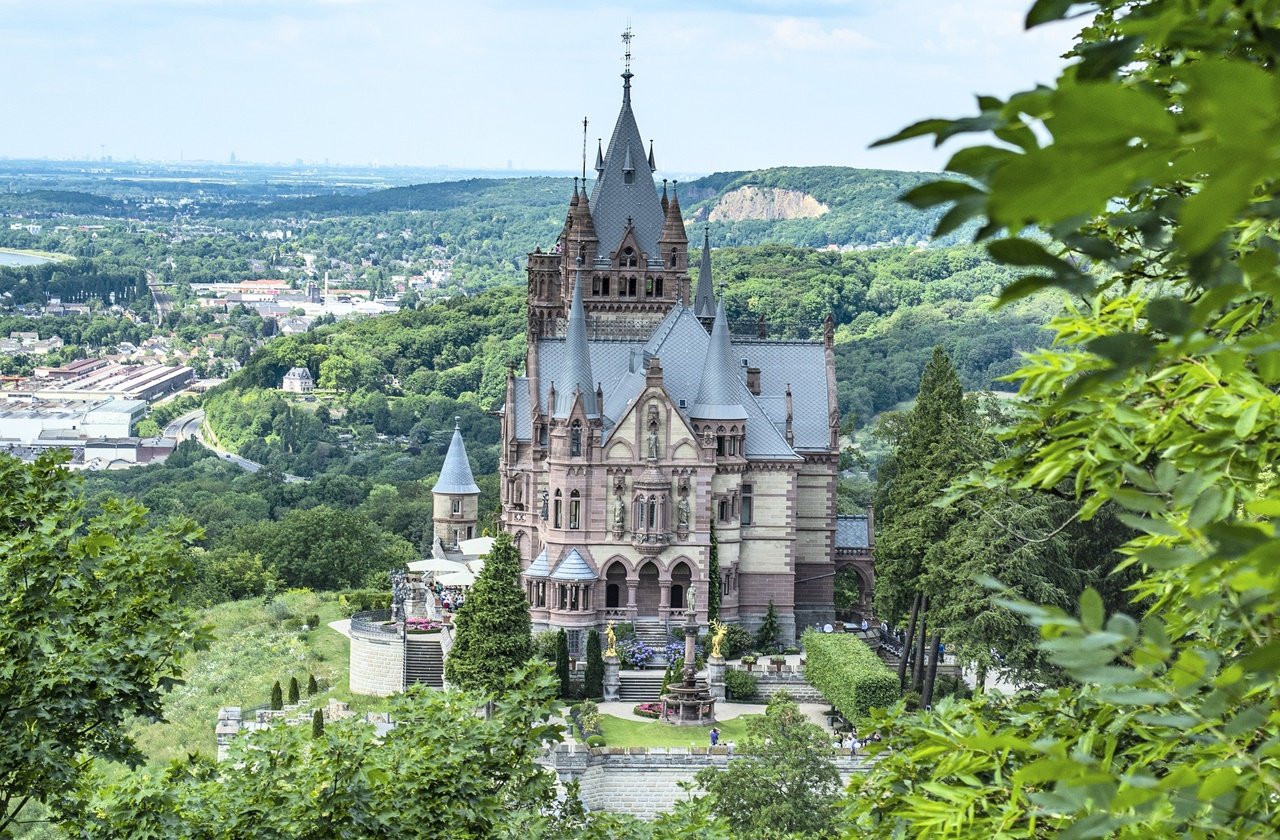 Photo by ValdasMiskinis on Pixabay
Address: Drachenfelsstraße 118, 53639 Königswinter, Germany
Entrance fee: 7 EUR (adults), 5 EUR (children, students, and persons with disabilities)
Drachenburg Castle is a charming hilltop castle in between Bonn and Cologne. It doesn't have a colorful or turbulent history unlike other German castles, but its location is a reason enough to visit it. Drachenfels hill is said to be where Siegfried, the hero of the German epic Nibelungenlied, killed the dragon Fafnir and bathed in its blood to become invincible. A baron started the construction of the castle in 1882, finished in two years, but passed away before he was able to live in it. Despite its tragic background, Drachenburg Castle became a popular tourist destination.
Explore the castle grounds and be in awe of the view of the mountains, rivers, and villages. Tour the rooms, feel like royalty as you go down its staircase, and take photos with its exterior. As a private castle, it had different owners, adding their own touch to the castle. One of the more fascinating objects in the castle is a fake pipe organ, where the previous owner would use to impress visitors — but the truth is, the music comes from a hidden tape recorder!
11. Eltz Castle (Burg Eltz)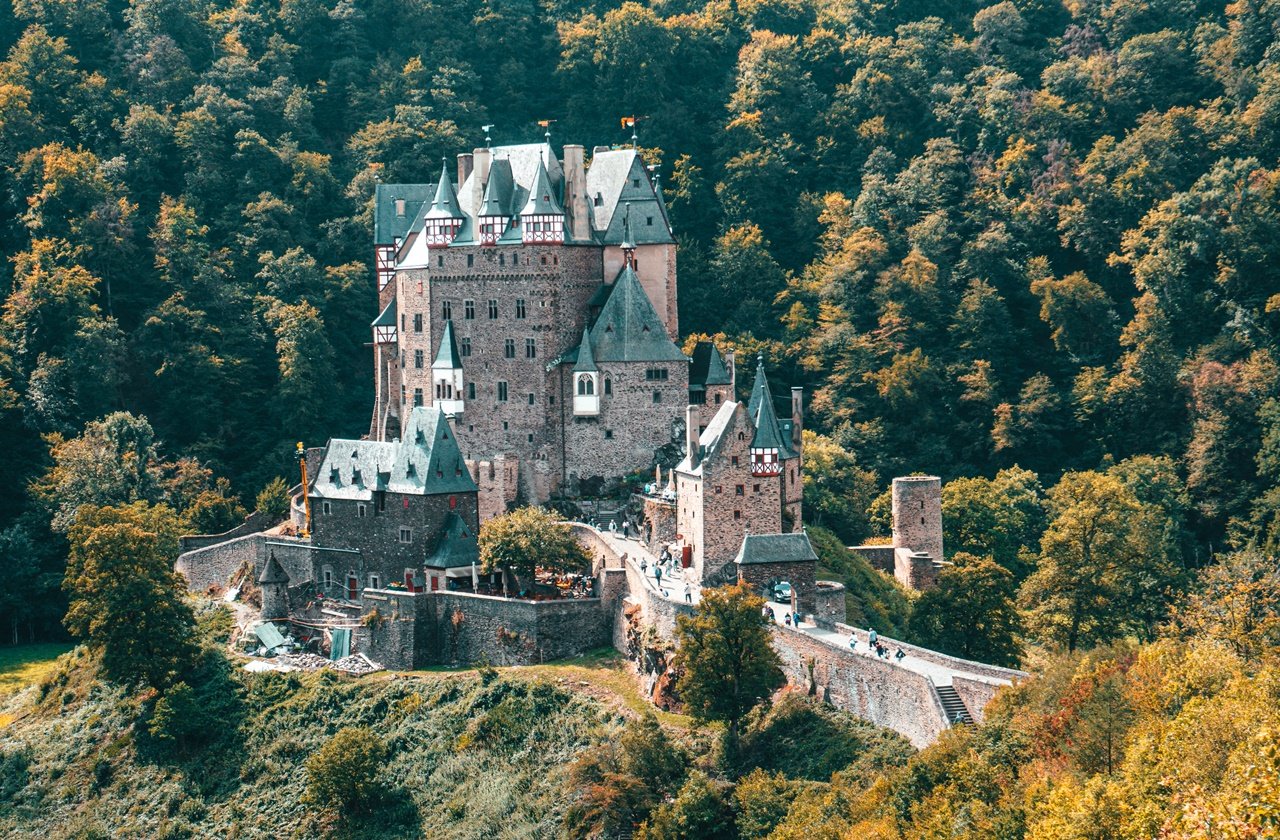 Photo by ruben daems on Unsplash
Address: 56294 Wierschem, Germany
Entrance fee: 11 EUR (adults), 7 EUR (students, and persons with disabilities)
Although Eltz Castle falls under the "Burg" classification, it still looks like a charming fairytale castle. It sits on top of a 70-meter tall rock, giving you the best views of Eltz Forest and the Elzbach River. Additionally, Eltz Castle is also one of the German castles that were never destroyed by war or other natural causes. Privately owned, the castle's owners have been from the same family that built and lived in the castle centuries ago.
Admire the timeless beauty of this Medieval Castle, well-preserved and maintained with most of its original furnishings and design. Visit the castle armory and treasury and find artworks, jewelry, weapons, and works from German goldsmiths and silversmiths. Outside the castle grounds, enjoy the view of mountains and thick forests.
12. Wartburg Castle (Schloss Wartburg)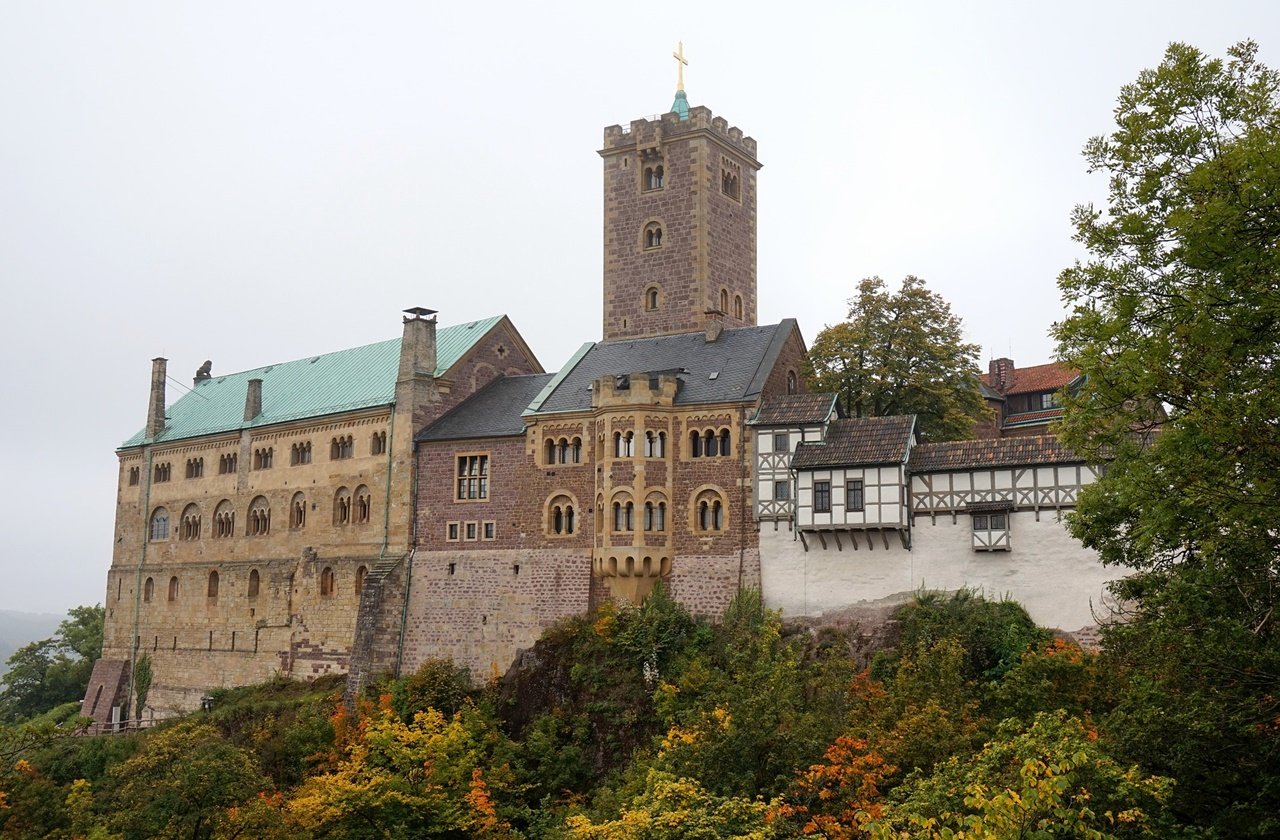 Photo by nervosa22 on Pixabay
Address: Auf der Wartburg 1, 99817 Eisenach, Germany
Entrance fee: 12 EUR (adults and senior citizens), 8 EUR (students and persons with disabilities), 5 EUR (children), free for children under 6
Situated more than 1,000 meters over the town of Eisenach, Wartburg Castle is a medieval castle steeped in history. Wartburg Castle was also where St. Elisabeth of Hungary grew up, living in the castle from 1211 to 1228. But perhaps the castle's biggest claim to fame is when Martin Luther stayed here following his excommunication. Here, Luther translated the New Testament from Greek to German.
Most of the original structures in the castle remain, but the interiors did not. Although the interiors were from the 19th century, they are still as impressive with golden mosaics, colorful tapestries, musical instruments, and silverware on display. Visit Wartburg Castle and explore this medieval castle. See the room where Luther stayed and worked as you learn more about his life during his excommunication. You may reach the castle by a shuttle bus or a more challenging hike up a steep slope.
13. Wernigerode Castle (Schloss Wernigerode)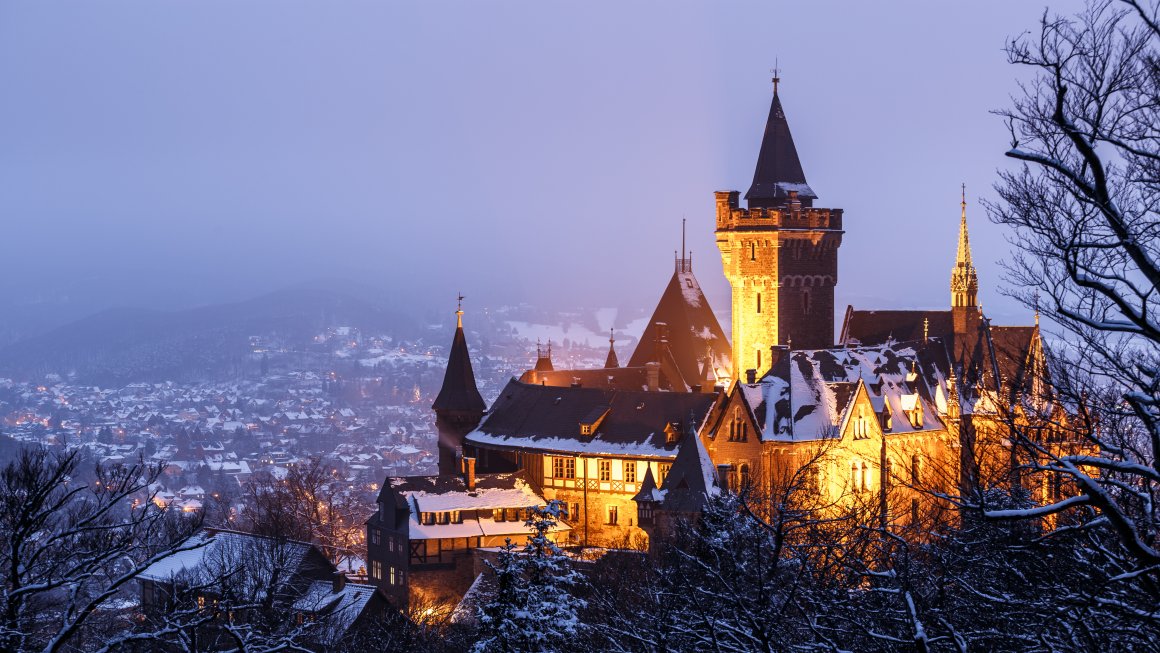 Photo by ohenze on Adobe Stock
Address: Am Schloß 1, 38855 Wernigerode, Germany
Entrance fee: 7 EUR (adults), 6 EUR (students), 3.50 EUR (children 6 to 14 years old), free for children under 6
Wernigerode Castle is an elegant Schloss in the Harz mountains in the German state of Saxony-Anhalt. It used to be a hunting lodge for the nobles and became a fortress during the Middle Ages. The Thirty Years' War damaged most of the castle's structures, but Count Ernest of Stolberg-Wernigerode had it reconstructed with a baroque design.
Open to the public, enjoy guided tours of Wernigerode Castle. Walk down the Renaissance-style staircase, gaze outside from the fancy arched windows, and marvel at the lavishly-decorated rooms. Don't forget to bring out your cameras and strike a pose with the terraced gardens and parks. If you're traveling with children, let them don fancy period clothing as they walk around the castle, feeling like a prince or princess. Other rooms are also available for rent for weddings and other events.
14. Marksburg Castle (Schloss Marksburg)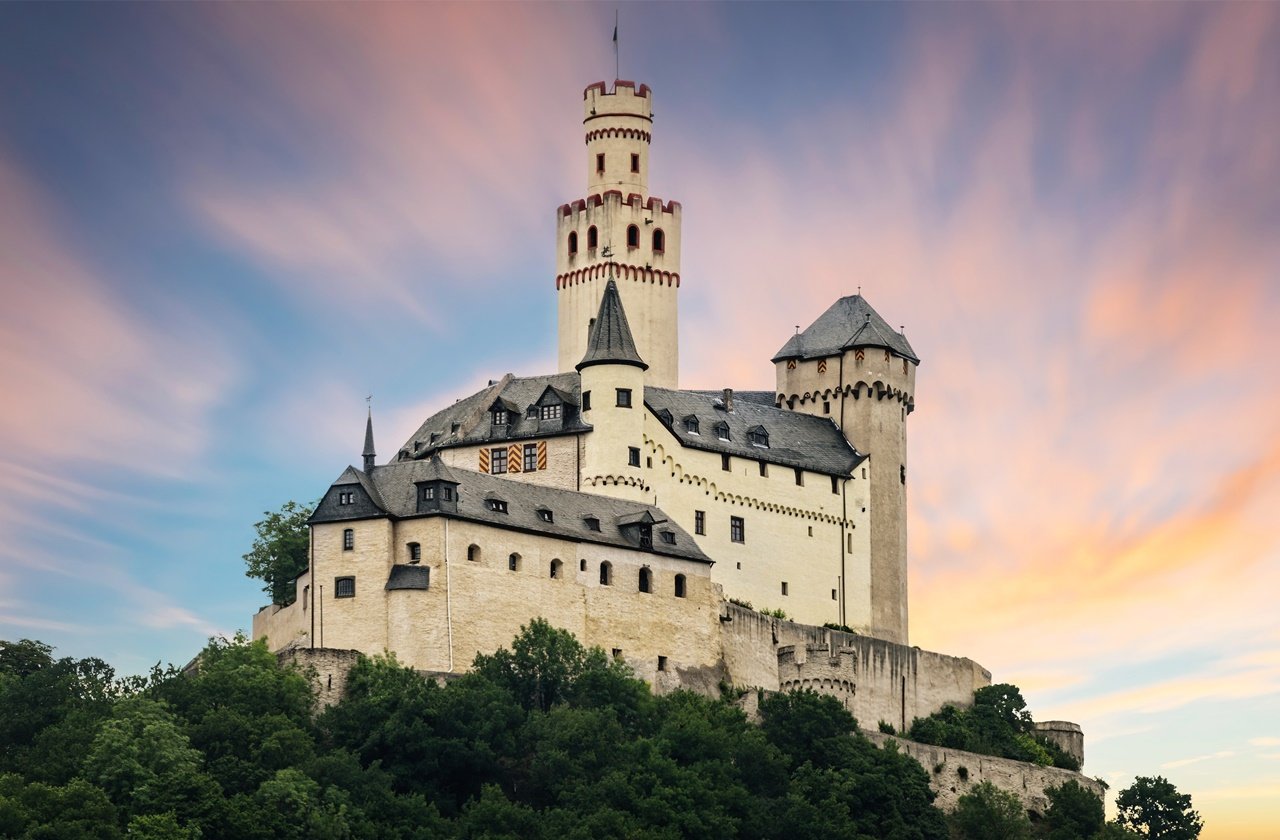 Photo by Ruth P. Peterkin on Adobe Stock
Address: 56338 Braubach, Germany
Entrance fee: 7 EUR (adults), 6 EUR (students), free for children under 6
Marksburg Castle is a Romanesque castle located thousands of feet above the Rhine River. Its triangular layout and overall structure remained untouched since Medieval times. In addition, it is also one of the few German castles that never fell into disrepair or were damaged from wars. The castle was used for protection despite its classification as a Schloss, but eventually fell into the hands of the French conqueror, Napoleon, during the 19th century. Now, the castle, under the ownership of the German Castles Association, is open to the public.
Enter and explore the well-preserved castle grounds at Schloss Marksburg. See the noble family's bed chambers, the great hall, and the castle kitchen. Visit the armory and see a dozen life-sized figures that depict the development of weapons and armors from the ancient to modern times. At the chapel, pay your respects then marvel at the intricacies of the wall and ceiling art.
15. Weesenstein Castle (Schloss Weesenstein)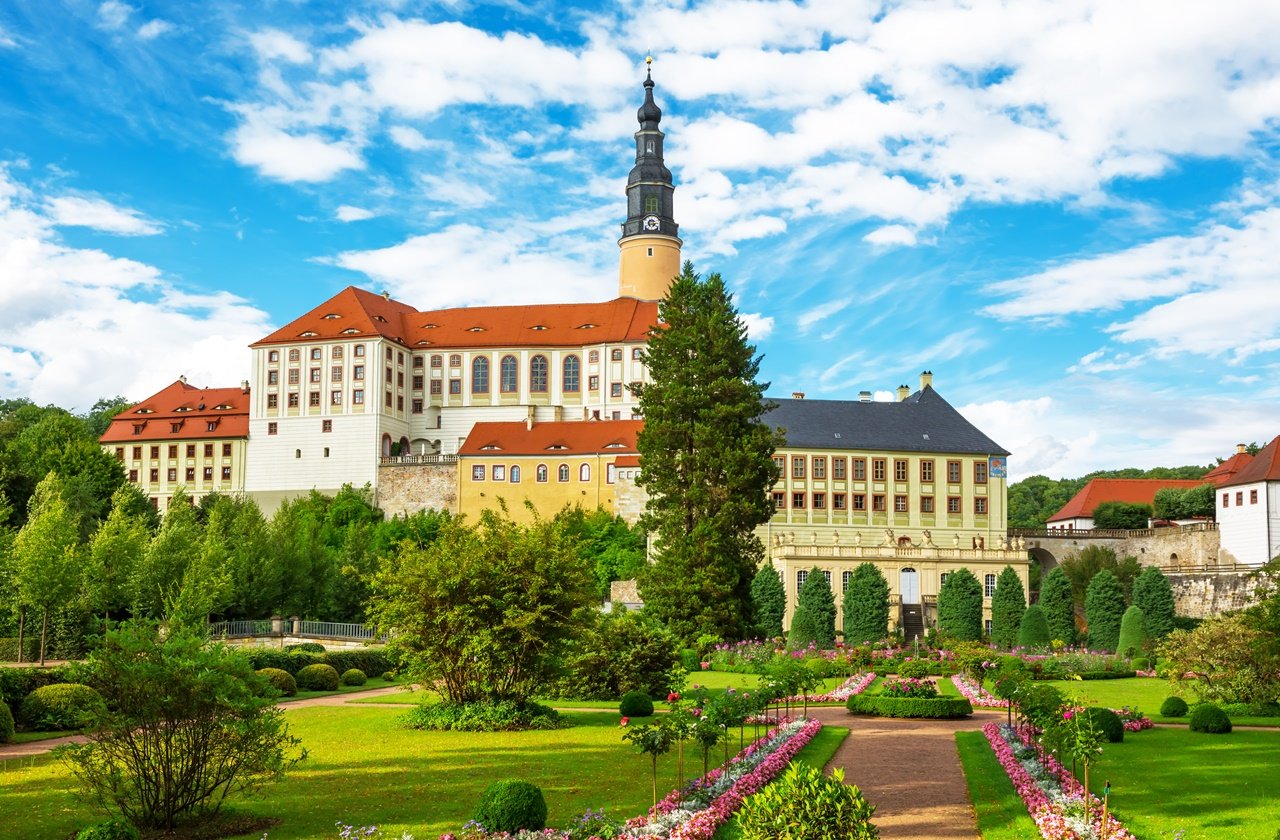 Photo by ptiptja on Adobe Stock
Address: Am Schloßberg 1, 01809 Müglitztal, Germany
Entrance fee: 7.50 EUR (adults), 6 EUR (students and persons with disabilities), 1 EUR (children 6 to 16 years old), free for children under 6
Sitting on top of a rocky crag overlooking the Müglitz River, Weesenstein Castle is a stunning castle in Germany. As with most German castles, it originated as a fortress until the 16th century when the Bünau family used it as a residential palace. As a Schloss, the castle housed three Kings of Saxony, namely, John of Saxony, Anthony of Saxony, and George of Saxony. Design-wise, it incorporates Gothic, Classical, Baroque, and Renaissance elements, evident in the different sections of the castle.
Join a tour and visit Weesenstein Castle's rooms, halls, and exhibitions. Roam around the formal gardens, teeming with blooming flowers around a grand fountain. At the Lower Castle, see the former residential quarters, elegantly decorated with antique furniture and tapestries. Another highlight of the castle is its Baroque-style chapel, built by King John in 1850. After exploring the castle, stop by the cafe for a needed break and enjoy a cup of coffee or tea paired with select pastries.
Final Thoughts
Not only is Germany famous for its Oktoberfest and delicious food, but it is also famous for its castles. Since German castles fall into stately homes or defensive fortresses, you can either find opulent dining halls, intimidating armories, or both in one place. Visiting castles is also a great way of learning about the life behind those who built or lived in them, as seen in Neuschwanstein Castle and the different styles in Weesenstein Castle.
Nonetheless, these castles tell you stories of war and glory better than any textbook and are worth every visit.