15 Best Things To Do In Philadelphia, Pennsylvania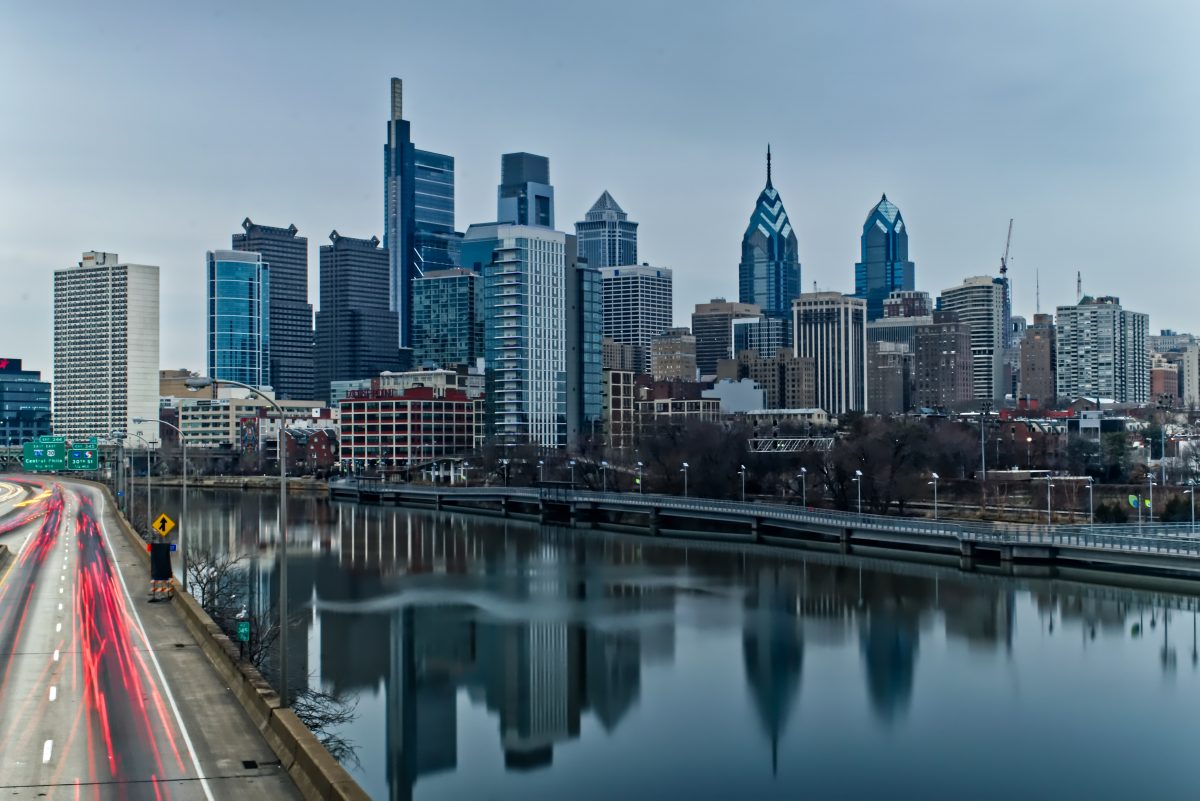 Known affectionately as Philly, Philadelphia is a city rich with history, art and food. Playing a significant role in American history, there is an endless list of historical sites and museums to bring you back in time. Furthermore, art lovers will be immersed in the fabulous art collections at various museums, awesome public art displays and talented local artist pieces.
Foodies do not despair, Philadelphia is for you. The homegrown Philly cheesesteak, thinly sliced beef with onions and cheese in a crusty roll, is just the beginning. Don't miss indulging in Tastykakes (butterscotch krimpets), scrapple (crispy fried breakfast meat), or tomato pie (thick focaccia like dough topped with tomato sauce).
Below is a list of 15 top places to visit in Philly where you can eat, drink, learn and go back in time.
1.
Reading Terminal Market
This 130-year-old farmer's market will take you on a food tour around the world. Authentically Philly, you will find stalls serving cuisine from Asia to the Middle East. Open from 8 am to 6 pm the Reading Terminal Market is the perfect place to have a Philly cheesesteak.
With over 80 mainly locally owned and family-run stalls, leave plenty of time to roam around. The closest Subway station is City Hall.
The first zoo in America does not disappoint. A see-through mesh trail allows animals with similar habitats to roam around freely into different areas. Home to many rare and endangered animals, you will see animals walking overhead and you can get right up close to them. Additionally, kids, as well as adults, can be prepared for a fun and educational time at the Philadelphia Zoo. A schedule is available for informative speeches given by the keepers. Furthermore, interactive educational activities, paddleboats, high ropes, zip lines, rides and other activities will keep anyone entertained for hours.
General admission for adults is $24 and children are $19, a parking spot is $16, members and children under 2 years old are free. Furthermore, tickets can be bought in advance online. Additionally, keep in mind that the North gate is open daily from 9.30 am to 5 pm, but the South Gate is only open on weekends. From November 1st to February 29, the zoo closes at 4 pm.
3.
Philadelphia Museum of Art
Rocky Balboa famously ran up these steps in victory in the 1976 movie Rocky. However, the impressive set of steps actually lead up to a far more impressive museum. This is the home for a fabulous collection from different eras and different cultures, including Van Gogh's Sunflowers. With over 200 galleries, the exhibitions are simply breathtaking. Furthermore, the museum building itself is beautiful architecturally and a very comfortable space to roam around. From European impressionist paintings to a unique Asian collection, make sure you don't rush.
Special exhibitions, performances and workshops are listed online. The museum is closed on Monday. It is open from 10 am each morning and closes at 5.45 pm except for Wednesdays and Fridays where it closes at 8.45 pm. Admission fee is $20 for adults, $14 for those with a student card and youths aged from 13-18. 12 years and younger get to enter for free. Additionally, check online for special discounts and Pay What You Wish entrance times.
4.
The Independence National Historical Park
The Independence National Historical Park is rich in historical significance. It consists of several sites that are related to the American Revolution and the Nation's founding history. This large area includes most of the historical part of Philadelphia. Both the Declaration of Independence and the U.S. Constitution were debated and signed on this site.
This piece of American history is found in the Independence Hall. Entrance to this hall is by tour only. Free timed tickets are required from March to December. However, on certain holidays no tickets are required. Additionally, the Benjamin Franklin Museum is also located at this site. It's a small museum with activities catered to children. In other words, with many informative exhibits, everyone will enjoy their time here. Admission is $5 for adults and $3 for children. Those aged 3 and under will receive free admission. Opening times are 9 am to 5 pm daily.
Finally, the Liberty Bell Centre, an international sign of liberty is not to be missed. Visitors do not need tickets to visit this site. Entrance is free. It is open from 9 am to 7 pm from July to August. From September to June it will be open until 5 pm.
Have you ever wondered how coins were made? Philly is home to the coin producing center in America. The entire coin making process that takes place in the factory can be seen.
The self-guided tour is free and takes about 45mins. The United States Mint is open Monday to Friday from 9 am to 4.30 pm. Furthermore, during the summer months, it is open on Saturday and during Memorial Day and Labour Day weekends. The SEPTA Market-Frankford subway line stops at 5th and Market Streets, a block from the United States Mint.
6.
Valley Forge Historical Park
A Philly trip wouldn't be complete without a visit to this park. Valley Forge Historical Park's historic structures, monuments, and close to 30 miles of trails, will give you plenty to explore. As an option, make your hike more meaningful by joining a ranger for it. In addition, there are also programs and events especially for children to enjoy. Check out their events calendar before planning your trip. Additionally, there may be some special events or programs you won't want to miss.
The park grounds are open year-round from 7 am to 30 minutes after sunset. Furthermore, the visitor centre is open from 9 am to 5 am.
7.
The Franklin Institute
You'll have a hard time pulling your children away from this fun and exciting science centre. Although the endless number of thrilling exhibits and theatrical experiences are not for children only. In honour of Benjamin Franklin, America's first scientist, have fun, learn, interact and enjoy. Learn about the brain, watch an IMAX movie, build technical and critical thinking skills at Tech Studio and more. During your visit to Philadelphia, the Franklin Institute must be on your to-do list.
General admission, which gives you access to all permanent exhibits and Fels planetarium costs $23 for ages 12 and up and $19 for ages 3 to 11. Add $7 for an IMAX viewing. Additionally, visit their website for a comprehensive list of prices for special exhibits. General Museum hours are from 9.30 am to 5 pm.
A hands-on museum suitable for young children. Please Touch Museum encourages young children to use their imagination and explore the world around them. In other words, let your children have fun while learning in this interactive museum.
The museum is open from 9 am to 5 pm daily. Additionally, on Wednesday it opens at 10 am and Sunday at 11 am. Price of admission is $19 for ages 1 and up. Children aged less than a year are free. It is located at Memorial Hall and can be reached by taking the SEPTA 38 bus.
9.
The Academy of Natural Sciences of Drexel University
This natural science museum is very old, in fact, it's the oldest in America. It was founded in 1812. There are four floors of permanent exhibits. Natural science lovers visiting Philadelphia will enjoy the educational exhibits for a couple of hours. Highlights include the dinosaur skeletons exhibit and the indoor tropical butterfly garden.
General admission for adults is $19.95 and for children is $16.95. On Monday to Friday the opening hours are 10 am to 4.30 pm and on the weekends they are open from 10 am to 5 pm.
10.
One Liberty Observation Deck
For the best view of Philly, One Liberty Observation Deck is the place to go. Boasting a stunning view of the Philadelphia skyline, it's spectacular day or night. In other words, as it is fully enclosed, come rain or shine (or snow). Furthermore, in the evening you can watch Philly light up. It is located 57 floors up and right in the city centre. In addition, various city tours are available by only walking a few steps around the observation deck.
General admission is $10 for youths (3-11) and $15 for adults (12+). You will find One Liberty Observation Deck at 1650 Market Street. From September 1st to April 30th it is open daily from 10 am to 8 pm. From May 1st to August 31st it is open from 10 am to 9 pm. Additionally, please note the last admission is 30mins before closing time.
11.
Eastern State Penitentiary
Once the most famous prison in America, the Eastern State Penitentiary is now a historical site and tourist attraction. Featuring Gothic style architecture and rich history this is an interesting place to visit in Philadelphia. Another first in Philly, this prison implemented a radical prison reform, and soon the world followed. Touring Al Capone's cell opening cells and gates with prison keys, are just a couple of examples of Hands-On History activities.
The admission fee of $14 is for adults, $12 for students and youths (aged 7 to 12) with free admission is given for those aged below 7. The Eastern State Penitentiary is open every day from 10 am to 5 pm, with the final entry at 4 pm.
12.
Philadelphia's Magic Gardens
Looking for something purely homegrown in Philly to do? Philadelphia's Magic Gardens is what you are looking for. Philly artist Isaiah Zagar has created a beautiful labyrinth that spans half a block. Zagar's unique mosaic art captures the spirit of Philadelphia. Furthermore, the tiled gardens weave around and under the neighbourhood. Mosaics are created with anything you might find lying on the street. This area is located on the South Street corridor.
Admission fee is $10 for adults and $8 for students and $5 for children (6-12). They are closed on Tuesdays and open from Wednesday to Monday from 11 am to 6 pm.
For those interested in human anatomy the Mütter Museum is not to be missed. This museum was inspired by the especially empathetic Dr Thomas Dent Mütter. During his day, he was willing to help patients with all kinds of deformities or abnormalities. This resulted in a unique collection of medical research materials. In other words, be prepared to view skeletons, deformed babies in jars, organs and more.
Adults admission is $18, students and youths (aged 6 to 17) are $13. Additionally, if you visit on Monday and Tuesday you can save $2. Opening hours are from 10 am to 5 pm daily.
14.
Philadelphia City Hall
Philadelphia City Hall is the location of Philadelphia's house of government. The 167m high ornate building with a clock tower is the world's tallest masonry building without a steel frame. An 11-meter statue of city founder William Penn sits atop the building. Therefore, this ornate and lavish building is definitely worth a visit.
The City Hall Interior Tour (including a tower tour) costs $15 for adults and $8 for students aged 3 and up. The tour is only available from Monday to Friday at 12.30 pm. Alternatively, City Hall Tower Tours are available Monday to Friday, every 15 minutes, from 9.30 am to 4.15 p.m. It costs $8 for adults and $4 for students ages 3 and up.
15.
Museum of the American Revolution
On April 19 2017, on the anniversary of the first battle of the war, the Museum of the American Revolution opened. Bringing the American Revolution to life through several thousand historic objects and recreated environments, the museum rose to popularity quickly in 2018. Learn about the American Revolution chronologically, read important manuscripts and feel the Revolution at the theatres.
General admission for adults is $21 and children aged 6 to 17 are $13. You can visit the museum from 10 am to 5 pm daily. Summer hours starting from June 15th are from 9.30 am to 6 pm. The museum is conveniently located a few steps from Independence Hall.