12 Best Small 2 Person Tents for Couples on a Camping Getaway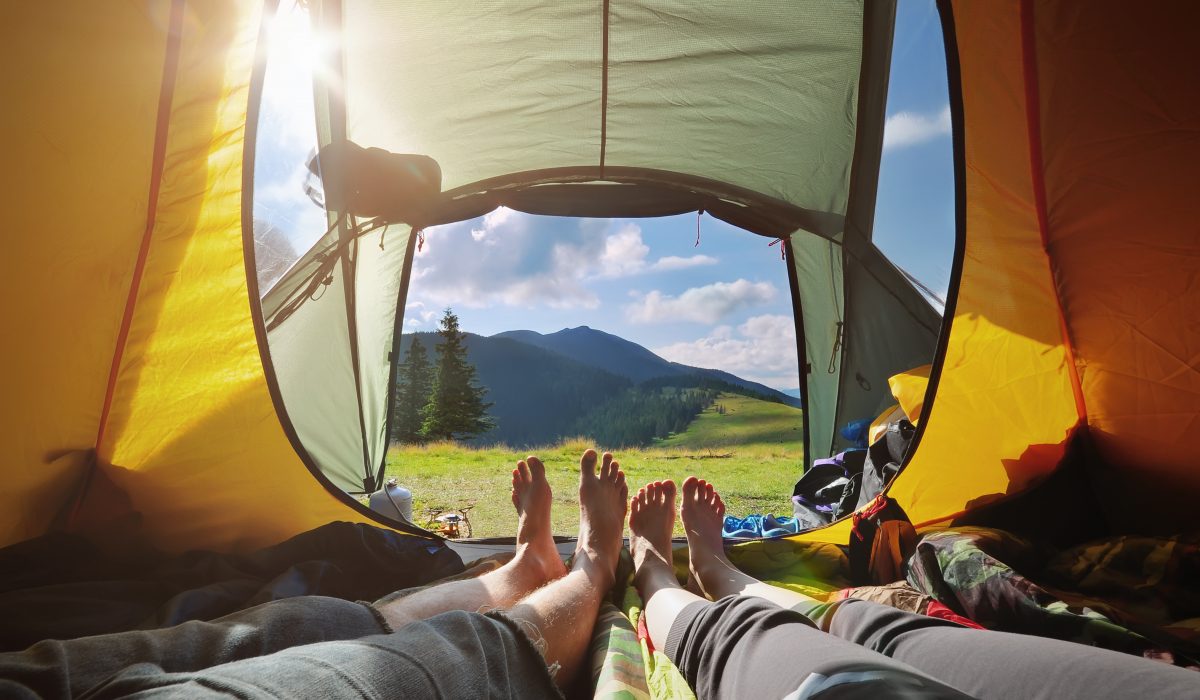 Finding the best small 2 person tents is a must for outdoorsy couples planning a hiking or backpacking trip. Since it is an important piece of camping gear, you need to make careful consideration of its features before making your choice. Aside from being lightweight, it also has to provide ample weather protection and be easy to set up. No one wants to spend hours pitching a tent, after all! In this article, we're looking at the best 2 person backpacking tent in the market and the features to look for when purchasing one.
Our Top Picks: 12 Best Small 2 Person Tents
1. Best Overall: MSR Hubba Hubba NX 2P Tent
Packed Size: 6 x 18 inches | Floor Area: 29 sq. ft. | Vestibule Area: 8.75 + 8.75 sq. ft.
After a long day outdoors, you'll need a stable and comfortable shelter to tuck into. The MSR Hubba Hubba NX 2P is among the most livable small 2 person tents on our list for many reasons. Firstly, it has a symmetrical geometry that maximizes both floor and overhead space. Its two sizable side-entry vestibules provide storage for your gear and other accessories. This means you can keep your living area mostly clutter-free.
With a packed weight of 3 lbs 8 oz, the Hubba Hubba is also one of the lightest tents on our list despite being a double wall design. This is all due to its Easton Syclone trademark poles, which are made from aerospace composite materials. These poles are not only lightweight but can also withstand strong winds. You need not worry about them bending or snapping if you encounter bad weather.
The tent also has excellent weatherproofing features. Its doors come with built-in gutters, and its cross-ventilating rain fly will keep the airflow going regardless of the weather. Moreover, the tent is made of 20-denier ripstop nylon with a 1200mm Xtreme Shield coating that will keep you and your outdoor gear dry. So whether you're out in the snow or battling a sudden downpour, rest assured that your shelter will keep you nice and cozy. Needless to say, there's a reason why the Hubba Hubba is a consistent favorite among campers throughout the years.
Pros:
Easy to set up, even for beginners.

Plenty of room for two people, plus their gear.
Cons:
Not versatile enough for solo camping.

Storage options could be improved.
Get the MSR Hubba Hubba NX 2P Tent on Amazon.
2. Best Value: Coleman Sundome 2 Person Tent
Packed Size: 24 x 6 x 6 inches | Floor Area: 34 sq. ft. | Vestibule Area: N/A
Finding the right ultralight backpacking tent doesn't mean you need to spend hundreds of dollars on it. The Coleman Sundome is one of the best budget-friendly small 2 person tents available. Its exclusive WeatherTec system features watertight inverted seams and welded floors. Coupled with its Insta-Clip pole attachments, you'll be protected from both rain and sudden wind gusts. In fact, its frame can withstand 35+ mph winds!
This dome tent is best used for summer camping and has adjustable Variflo airflow ventilation to keep the interior space cool during warmer months. Other great design features that add to its livability include a vented Cool-Air pot, an interior gear pocket, mesh side walls, electrical access ports, and a privacy vent window. With a peak height of 48 inches, you have plenty of overhead space to move around without breaking your back.
Setting it up is easy even for beginners because of its pole sleeve and C clips construction. You'll even find pitching instructions sewn on its storage bag, in case you need a refresher. While it weighs around 7 lbs, its weight can be divided as comes in two separate packages.
Pros:
Outstanding features but for a reasonable price.

Beginner-friendly.
Cons:
Small rain fly.

Only has a single door.
Get the Coleman Sundome 2 Person Tent on Amazon.
3. Best Headroom: The North Face Stormbreak 2 Two-Person Camping Tent
Packed Size: 7 x 22 inches | Floor Area: 30.56 sq. ft.| Vestibule Area: 9.78 + 9.78 5 sq. ft.
Whether you're headed to a backcountry camp or to one of your favorite trailhead campsites, The North Face Stormbreak 2 is a great shelter to bring along. It can provide 3-seasons of hassle-free camping and is able to fit two campers, with enough space for other gear. Our favorite feature would have to be the two doors and two vestibules, which allow for more space and ease of movement. The added vestibule space will come in handy if you tend to bring a lot of gear and don't want to dirty up the inside of your tent. From your boots to your cooking equipment, everything will fit nicely in its 9.78 sq. ft. vestibule space.
Because it's a freestanding 4-pole tent, setting up and packing it away is easy to do. Once you're done putting it together, the first thing you'll notice is the tall headroom. This is due to its pole geometry, a clever design detail that creates a steep wall rather than a sloping one. You can even secure a detachable gear loft or extra storage pockets in this space.
The ever-changing weather shouldn't be an issue for you either. The Stormbreak 2's canopy is made out of water-resistant polyester taffeta and has taped seams for added protection. During warmer days, however, you can increase ventilation by switching to the no-see-um mesh panels. This is also great for stargazing or taking in the morning views of your chosen camp.
Pros:
Good headroom.

Large tent doors.
Cons:
Footprint sold separately despite its price.

A bit heavier than most ultralight tents.
Get the North Face Stormbreak 2 Tent on Amazon.
4. Easiest to Set Up: Kelty Tents Late Start 2
Packed Size: 7 x 16 inches | Floor Area: 29.5 sq. ft. | Vestibule Area: 7.85 sq. ft.
The Kelty Tents Late Start 2 certainly lives up to its name; even if you're running late and daylight is fading fast, all you need are a few minutes to set it up. This is convenient, especially if you find yourself having to pitch a tent in bad weather as well. Given its Kelty Quick Corner technology, you no longer need to struggle just to get your shelter up.
This 3-season tent weighs in at about 4 lbs, which isn't bad at all for the floor space you're getting. While its design might be on the simpler side, it has all the key features that make for a comfortable temporary shelter. It has pre-bent poles, which create a larger interior space on top of making it easy for you to assemble the structure.
This tent has one door and one vestibule, which might seem humble compared to others on our list. Nonetheless, it does provide more than enough space for two people and their gear. You need not worry about weatherproofing either as it has a full-coverage rain fly. No wonder many consider it one of the best backpacking tents.
Pros:
Easiest to set up on this list.

Plenty of mesh for stargazing and extra ventilation.
Cons:
Single door.

Pole structure sometimes pinches under fly tension.
Get the Kelty Tents Late Start 2 on Amazon.
5. Best Storage: Big Agnes Copper Spur HV UL2
Packed Size: 19.5 x 6 inches | Floor Area: 29 sq. ft. | Vestibule Area: 9 + 9 sq. ft.
Outdoor enthusiasts will find more to love in the new and improved Big Agnes Copper Spur HV UL2. It has a pre-bent span pole and a high-volume angle hub that helps maximize both strength and stability when you're in harsher conditions such as rain and snow. Its TipLok Tent Buckles further secure the tent's lock pole tip while you're setting up, and help with stabilizing the overall structure. Despite being feature-loaded, this two-person tent weighs only 2 lbs 11 oz.
In terms of durability, the tent is made out of lightweight double ripstop nylon mixed-denier fabric. This boosts its puncture resistance and tear strength, but without the added cost of weight. Regardless of where you choose to camp, you won't have to worry about ventilation and moisture. The Copper Spur HV UL2 has dual low-vent vestibule doors and a high-fly vent, which increases airflow and reduces condensation regardless of the weather.
As for square feet, this is one of the small 2 person tents on our list that offer plenty. Aside from the interior space, it also comes with two vestibules and a 3D bin "mezzanine" that adds off-the-floor storage. On top of that is an oversized ceiling pocket located at its peak, where you can store various accessories.
Pros:
Sturdy construction.

Lightweight for its size.
Cons:
Doesn't come with a footprint given its price.

Only has one vent, which might be too little for some.
Get the Big Agnes Copper Spur UL2 on Amazon.
6. Best Beginner Tent: Marmot Tents Tungsten 2P Tent with Footprint
Packed Size: 7 x 21 inches | Floor Area: 32 sq. ft. | Vestibule Area: 9.8 + 7.8 sq. ft.
Some backpackers might consider the Marmot Tungsten 2P basic, but it is a great option for beginners and those looking for an affordable car camping tent. It has a packed weight of 4 lbs but you do get plenty of extra space, thanks in part to its zone pre-bent construction. This design helps create vertical interior walls, which also boosts the available sleeping area and provides added overhead room at the same time.
The Marmot Tungsten 2P may not be an ultralight backpacking tent, but it makes up for that with superior livability and ease of assembly. It has color-coded DAC Press-fit poles, clips, and fly to make pitching easy to figure out. Rainy weather will not put a damper on your plans with the Tungsten's seam-taped 1500 mm full coverage fly. The tent floor is protected by the included tent footprint, as well as a 2000 mm seam-taped 68-denier polyester taffeta.
Other design features include no-see-um mesh walls and vents to avoid condensation. You also get a number of interior pockets, including one for your headlamp so you can use it as an overhead light. With vestibules on either side of the tent, you get twice the storage space for your outdoor gear. With all these combined, the Tungsten definitely is one of the best beginner small 2 person tents from Marmot.
Pros:
Plenty of interior space.

Convenient gear loft and vestibules.
Cons:
Get the Marmot Tungsten 2P Tent with Footprint on Amazon.
7. Most Versatile: Black Diamond Distance Tent with Adapter
Packed Size: 5 x 12 inches | Floor Area: 26 sq. ft. | Vestibule Area: N/A
For the Black Diamond Distance Tent, the highlight is its versatility. Among its main features are peak and foot vents, which not only improve cross-ventilation but also prevent condensation from forming. If you ever find yourself trekking in Nepal or other mountainous areas where winds can be unpredictable, this is the shelter to go for.
It is also one of the lighter small 2 person tents on our list at 1 lb 9 oz in trail weight. Despite the small size, it holds up well to strong wind and sudden gusts thanks to its high-tenacity 3-denier polyester fabric that will not stretch even when wet. Its guy lines are also made out of polyester sheaths reinforced with Dyneema cores that also minimize stretching, adding further stability to your shelter.
Other fun yet practical features include a peak pocket, which can safely hold your headlamp for overhead illumination. It also has a mesh door for when you're camping during warmer months. As for its adapter, it easily attaches to most standard trekking poles. You won't really need it if you're already using Black Diamond Carbon AR poles, but it's a handy tool to have in your camping gear set.
Pros:
Tough and durable fabric.

Excellent ventilation.
Cons:
Not as compact as the others.

Takes a bit of practice when setting up.
Get the Black Diamond Distance Tent on Amazon.
8. Best for Summer: ALPS Mountaineering Zephyr 2-Person Tent
Packed Size: 6.5 x 19 inches | Floor Area: 31 sq. ft. | Vestibule Area: 17 sq. ft.
ALPS Mountaineering has a number of great small 2 person tents, including ultralight tents such as Taurus and Lynx. However, the Zephyr 2 person tent stands out because it has a special feature that makes it ideal for hot weather camping. As its walls are composed entirely of mesh, you won't have a problem with ventilation even when it gets muggy.
If you're ever caught in rainy weather, its 75-denier polyester fly will stay taut even when wet. Both fly and tent floors were factory-sealed to further reinforce weatherproofing. No need to worry about strong gusts either as its rainfly is buckled to the tent, making it more secure than your average elastic cord.
The ALPS Mountaineering Zephyr 2 also has a unique 2-pole design that boosts overhead space. This keeps the inner tent from feeling cramped, which is always a plus. Crafted out of aircraft alloy, these poles are both stable and lightweight. The package also includes pole clips that easily snap over the tent poles, making the setup very easy and quick. At about 4 lbs 12oz, it remains lightweight despite the added features.
Pros:
Includes a convenient gear loft.
Has lightweight yet sturdy aluminum poles.
Cons:
A bit lacking in headroom.
Sloping walls that eat into the interior space.
Get the ALPS Mountaineering Zephyr 2 Person Tent on Amazon.
9. Most Durable: REI Co-op Half Dome SL 2+
Packed Size: 7 x 20.5 inches | Floor Area: 33.75 sq. ft. | Vestibule Area: 22.5 sq. ft.
For long-distance backpackers, livable space and durability are a must in tents. The REI Co-op Half Dome SL 2+ was designed with this in mind. It's one of the best ultralight tents on our list, coming in at only 3 lbs 15 oz. Yet, it can withstand 3-season camping due to the REI Tents Exclusive tension-truss architecture that ensures stable sidewalls regardless of weather conditions.
To further provide weatherproofing, it too has a 40-denier ripstop nylon canopy and a 30-denier rainfly fabric. The tent floor is made out of 40-denier taffeta nylon, and also its own tent footprint to protect from both abrasion and ground moisture. The tent's lower panels are also made of the same ripstop fabric, which not only increases privacy but also acts as a buffer against wind draft and dust.
As for its interior space, there's more than enough for two adults. The package also includes two dual-stake vestibules, which not only provide easy access, but also additional storage for bags and other camping gear. Another great feature is its fly design, which allows for better airflow and opens up the tent to panoramic views. While you're at it, why not find the best camping chairs so you can comfortably enjoy the scenery?
Pros:
Reasonably priced considering its design and durability.

Great storage and organization features.
Cons:
Vestibules have a tendency to sag in heavy downpours.
Get the REI Co-op Half Dome SL 2+ on REI.com
10. Best Ventilation: Mountain Hardwear Strato UL 2
Packed Size: 6 x 12 and 2.5 x 16 inches | Floor Area: 31.1 sq. ft. | Vestibule Area: 14.7 sq. ft.
If you're the type to carry around minimal gear and only the essentials, the Strato UL 2 from Mountain Hardwear fits the bill without skimping on comfort. Its packed weight is just a little over 2 lbs 5 oz but provides ample living space for camping couples. Since the tent comes in two separate sacks, you can also divide up the weight between you and your partner.
When it comes to ventilation, the Strato provides some of the best. First off, it has a 3/4 mesh canopy that you can switch to if you're camping during warmer months. This allows for plenty of fresh air and also opens up the tent to your camping spot's views. Another detail to note is its peak height of 39 inches. This means more headroom and more space for air to circulate.
Unexpected bad weather shouldn't be a worry either since this tent from Mountain Hardwear is built to offer utmost protection. It features a fully waterproof 15-denier ripstop nylon canopy, a 30-denier ripstop nylon flooring, and a 20-denier ripstop nylon rainfly. The DAC Featherlight NFL poles also add stability and keep things ultralight.
Pros:
Small packed size.

Stable even in strong winds.
Cons:
A bit more expensive than others.

Low overhead space.
Get the Mountain Hardwear Strato UL 2 on MountainHardwear.com
11. Best Bikepack Tent: NEMO Dragonfly Bikepack 2P Tent
Packed Size: 19.5 x 6.5 inches | Floor Area: 29 sq. ft. | Vestibule Area: 10 + 10 sq. ft.
Among small 2 person tents, the NEMO Dragonfly Bikepack 2P is one of the lightest with a packed weight of 2 lbs 9 oz. Despite this, you'd be surprised at how much space it is capable of providing. This freestanding tent has a high-arching main pole that boosts overhead space along, with the peak and foot ends. This keeps the tent from feeling cramped even when closed up.
One of its standout features as a bikepacking shelter is its carry bag. It is made out of durable diamond ripstop, perfect for long-distance travel. The reinforced tiedown straps will keep it securely fastened to your bike along the way. Its design places emphasis on livability and comfort, especially if you're on the road. It comes with a tapered floorplan that saves on space, but doesn't eat into interior space. The tent also has a sizable vestibule, perfect for holding your riding gear.
As one of NEMO tents' flagship products, this ultralight tent provides superior protection against unpredictable weather. Its 15-denier premium ripstop nylon rainfly for one is coated with a silicone repellent. The flooring is a 20-denier nylon tub that's completely waterproof but also ultralight. Though, we suggest getting the Dragonfly 2 footprint for extra protection and to prevent damage to the underside of your tent.
Pros:
Ultralightweight and small packed size.

Has two doors for added convenience.
Cons:
The tapered foot area might feel cramped for some.

Pockets are placed a little too high up.
Get the NEMO Dragonfly 2 Tent on Amazon.
12. Best Hub Tent: Ozark Trail Mountain Pass Geo Tent
Packed Size: N/A | Floor Area: N/A| Vestibule Area: N/A
Not all Walmart tents are created equal and the Ozark Trail Mountain Pass Geo Tent certainly stands out. It is well-known for its simple yet smart hub design, which makes it easy to assemble. The fact that it also comes with lightweight fiberglass poles guarantees that setting up your temporary outdoor shelter would be a breeze. When you're tired from trekking, every minute counts when building camp.
Its packed weight of 7.8 lbs can be divided when carried, which should lower it to about 3.9 lbs per person. Though lightweight, it provides ample protection against the elements. Its seam-taped rain fly will keep rain, snow, and wind out. On hotter days, however, you can maintain ventilation and airflow by switching to the built-in mesh panoramic walls.
The tent provides ample overhead and floor space, but our favorite feature would have to be the storage pockets. If you've ever accidentally stepped on a piece of your gear that's scattered on the tent floor, then you know just how valuable extra storage space is.
Pros:
Ample storage space with extra pockets.

Good ventilation even without windows.
Cons:
Some difficulty with using the zippers.

Its poles may not be strong enough for rough winds.
Get the Ozark Trail Mountain Pass Geo Tent On Walmart.
What to Look for in Small 2 Person Tents
Trail Weight vs. Packed Weight
Simply put, packed weight refers to the entire tent weight, including all of its parts. This includes the tent body, poles, fly, stakes, stuff sacks, and guylines. This also takes into account accessories such as patch kits and pole repair sleeves.
The trail weight only counts the tent body, poles, and fly. This is the reason why a tent can seem much lighter than it really is when you're only looking at its trail weight. Of course, if you think about carrying the tent for the duration of your trip, the lighter the tent is, the better. So, when choosing ultralight 2 person tents, always look at the packed weight first as it is a more accurate representation of what it actually weighs.
Durability (Denier Count)
When looking for the best 2 person tents, another factor to consider is the denier count of your tent and fly fabric. The denier determines the thickness of its fibers. This means the higher the denier count, the bigger the diameter of the yarn. However, this isn't the only thing that guarantees the material's overall strength and durability. You might find fabric with a lower denier count but offers better resistance to wear and tear. Materials such as Nylon 6, Nylon 66, and polyester are all great options to look into, but in-depth research is key.
Aside from denier fabric count, the waterproof rating determines how well the tent can protect you during bad weather. For example, if it's been given a rating of 1200mm then that's the amount of water it can withstand before possible leakage. The waterproof coating also adds to the tent material's durability so look for ones with either a silicone coating or have undergone durable water repellent treatment.
Depending on when and where you often camp, always select the fabric most suited to your purpose.
Ease of Use
Just how easy is it to pitch and pack up the tent? These are important questions, whether you're a newbie or an experienced camper. After all, ease of use can significantly affect your camping experience. Most beginners will opt for pop-up tents or instant tents that only take a minute or less to set up. However, these aren't always the most stable.
Fortunately, there are many camping tent designs that have taken the ease of use into consideration. Features such as a spreader bar, pole hubs, pole clips, and color-coding may seem like minor details, but these add to a tent's user-friendliness. If you are able to test-pitch a tent you're interested in, give it a try as well. Remember, not all ultralight 2 person tents are easy to assemble!
Livability
Livability refers to how comfortable it is inside your tent. Camping pillows aside, features you should be looking at include floor plan, floor area, peak height, ventilation, vestibules, and a number of doors. Since most tents don't have perfectly rectangular floors, check if the floor plan has enough room by extending your shoulders and arms sideways. For small 2 person tents, this is especially important because you won't feel too squeezed in. Floor area simply refers to the square footage available for you to sleep and move around in.
Peak height may not give you an accurate measure of a tent's headroom, but a tall peak does mean you won't feel boxed in. Another element that's important to livability is ventilation. You want a tent that prevents condensation and allows for proper airflow. Mesh walls and canopies are just two examples of features that help improve tent ventilation.
Vestibules are the extensions you often find on the sides or at the front of a tent. Since they are created by extended parts of your tent's rainfly, they add extra space for your outdoor gear as well. Note that bigger vestibules will add weight so choose appropriately. Lastly, you have the tent doors. Having one door for each sleeper is convenient, though having a single big door is just as good. Do make sure you check for details such as door pulls as well!
Finding the Best Small 2 Person Tents for Couples is Easy!
Just like how people vary greatly in their camping style, so do tents. From the minimalist to those who want everything but the kitchen sink, there's always one that will suit you just right. With these things considered, we hope we were able to help you pick the best camping tent for your purpose.
To help you plan your next trip smoothly, here are the best legally free camping sites in the United States!