Best Things To Do In Hualien, Taiwan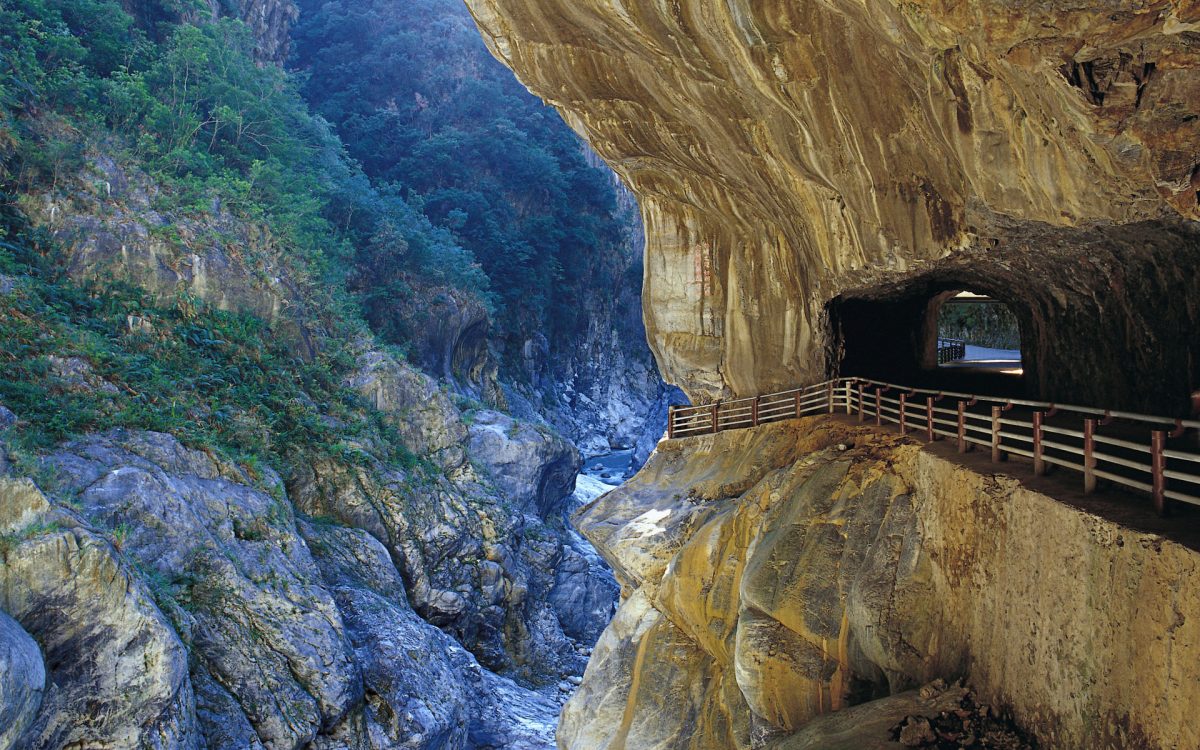 Hualien is the biggest county in Taiwan, located off the east coast of Taiwan. It holds magnificent beauties of nature and is also home to one of the most famous natural wonders in Taiwan. Additionally, Hualien has a rich and diverse indigenous culture.
Hualien is typically warm throughout the year. Its temperature averages around 18°C during winter, and around 32°C in summer. Hualien is also no stranger to earthquakes, and precautions are advised to be taken into consideration when you travel to Hualien.
Getting to Hualien from Taipei
By Plane
While the most expensive option, you can get to Hualien directly from Taipei Songshan Airport in just 50 minutes.
By Train
Take the Puyuma or Taroko express trains from Taipei Main Station to Hualien. It's a 2 hours ride and it costs around NT$440. Alternatively, the slower Tze-Chiang limited express and Chu-Kuang express trains can also get you to Hualien in around 2.5 to 4 hours, for NT$340.
By Bus
There are no direct buses from Taipei to Hualien. However, you can choose to take a bus at Taipei Bus Station to Luodong, before switching to the local train to get to Hualien.
You can travel around Hualien city centre easily through a rented bicycle. Besides exploring the city, here are the 12 best things to do in Hualien:
1.
Spend A Day At Taroko Gorge
Taroko Gorge is one of the most gorgeous natural sceneries in Taiwan – and rightfully so. This spectacular stretch of canyon is a sight to behold, with its breathtaking turquoise clear rivers and marble cliffs.
Taroko Gorge is one of the nine national parks in Taiwan, and perhaps the most famous out of all of them. There is plenty to see in this scenic spot. Not only are there natural sceneries, but there are also other attractions such as temples, museums and several hiking trails that you shouldn't miss. Taroko Gorge is also home to an aboriginal tribe, the Trukus.
There is no entrance fee into the park so for those up for an adventure, you can even spend two or even three days exploring the national park to your heart's content!
Pro-tip: Make sure to check Trails' condition before making your way there. Some may only be partially open due to safety reasons.
2.
Go Hiking On The Shakadang Trail
Also known as "Mysterious Valley Trail", the 4.1 kilometres long Shakadang Trail stretches through the Shakadang River. Located just after the Shakadang Tunnel, this scenic trail is very much suitable for people of all ages. It is also renowned for its crystal clear waters.
The trail meanders around various observable rock formations including rock folds, as well as a river dam. You can also take in the beauty of your surroundings while you hike along the river cliffs. An Observation Platform stands one third through the trail as well.
There are two abandoned Truku tribe settlements called 5D Cabin (Wujian wu) and 3D Cabin (Sanjianwu) near the Observation Platform and at the end of the trail, respectively. Don't forget to drop by these cabins! You can also buy back some souvenirs made and sold by the Truku natives from the stands at 5D Cabin.
3.
Reach The End Of The Baiyang Trail
The 2.1-kilometre long Baiyang Trail is located after Tianxiang Village in Taroko Gorge National Park. The trail of tunnels leads to a magnificent waterfall and a stunning Water Curtain at the end. It's one of the must-see sights in Taroko Gorge, one that will definitely leave you awestruck.
While this scenic trail is easy to hike due to its flat pavement, do bring along a torchlight as you will be passing through several pitch-black tunnels. Additionally, you can also choose to wear a raincoat to experience the Water Curtain up close.
4.
Go On A Road Trip Down The East Coast National Scenic Area
The East Coast National Scenic Area boasts an unspoiled coastline by the stretch of road along the east coast between Hualien and Taitung County.
You can take a road trip down the east coast and enjoy the beautiful landscapes. You can also stop by various attractions along the way. Let the comforting breeze wash over you or go swimming at Jici Beach, and visit the Henan Temple at the mountainside. Do check out Shitiping and its coastal terraces, and also drop by the Amis Folk Centre to learn more about the Amis aboriginal tribe.
There is an abundance of things you can look out for while traveling along the east coast. Hop on a tour or take a more relaxed drive down and explore the wonders of this picturesque scenic area.
5.
Enjoy The Local Delicacies In The Night Market
Night Markets are a staple in any traveler's itinerary to Taiwan. Hualien is no different. Spend the evening sampling all sorts of local snacks while soaking up the lively local culture.
Dongdamen Night Market is the largest night market in Hualien. It has a few sections, each distinct to the type of food sold. Besides Taiwanese food, there are also aboriginal snacks and Chinese cuisine.
Like most night markets in Taiwan, you can enjoy a wide selection of local treats. From classics such as stinky tofu, oyster omelette and grilled sausages to more unique snacks such as coffin toast, Dongdamen has them all.
There are also live music performances and game vendors which would definitely make your experience in the night market even more fun. Why eat out at expensive restaurants when you can fill your stomachs with cheap and delicious food at the night market?
Said to be one of Hualien's signature food, you should definitely try its mochi when you're in Hualien. Mochi is a snack made of glutinous rice pounded into a gel-like paste. Akin to rice cakes, mochi is one of the healthier snack choices.
Tzen Chi Mochi is one of the most famous gourmet mochi stores in Hualien. The soft and chewy texture with its selection of rich fillings is second to none in the county. Red bean, peanut, sesame and taro fillings – you can take your pick and it will still be equally tasty. It's also a perfect souvenir to bring home for your family and friends!
7.
Visit Hualien Sugar Factory
Situated in Guangfu Township, the Hualien Sugar Factory we see now was where the "Yamato Factory" used to stand. It used to produce sugar on a large scale before the factories got destroyed due to World War II. It has since then been rebuilt into Hualien Sugar Factory before it became one of the tourist destinations in Hualien.
Hualien Sugar Factory is now a recreational complex as well as a historical site. Historic Japanese style buildings dot the landscape, and you can also enjoy the vintage architectural buildings and structures around. Visit the cultural park and take part in the interesting creative workshops available!
You can also take a short rest at the pavilion while enjoying the factory's famous ice-cream, surrounded by the fish in the serene pond. There are also shops selling handicrafts and organic products that are worth checking out. Spend the afternoon reveling in the tranquil charm of this particular site!
8.
Drop by Chi-An Chinghisu Temple
Chi-An Chinghisu Temple is a Japanese-style Buddhist shrine located in Ji'an Township in Hualien. Also a historical site, the temple has been around since the Japanese colonial period as a Dojo, rebuilt in 1945 into a temple.
The main temple is made of sturdy wooden structures, with a Japanese-style four-pillar rooftop. This site holds significant historical importance and is classified as a third-class historical monument. It's a place many Japanese tourists like to visit when in Hualien. It's also a place where you can learn more about Taiwan's historical past.
Ticket costs only NT$30, with coupons you can use in the souvenir shop. The greenery surrounding the temple also gives the place a quiet charm for visitors.
9.
Be Charmed By Pine Garden
Set foot into Pine Garden and be charmed by the century-old pine trees and the lush greenery that's home to species of flora. The aquatic pond highlights the beauty of the garden, and it's as if you're stepping into the world of an aesthetic historical art piece.
The Pine Garden originally served as a command centre during the Japanese Colonial days in 1942. It was also a place of retreat for the Japanese ranked military officers. Situated at one of the highest points in Hualien city, the garden offers an amazing panoramic view of the city. Moreover, it overlooks Hualien Port, Meilun River, and the Pacific Ocean, making the sight even more unique.
The Pine Garden is also a cultural hub now where you can visit the souvenir shop, the bomb shelter, and art exhibitions in the building to learn more about the past. Additionally, you can also wind down at the cafe and relax in the calm and quiet atmosphere. General admission cost NT$50, and prices are discounted for students, seniors, and young children.
10.
Hualien Farglory Ocean Park
The ocean park, located in Shoufeng Township, is the largest man-made attraction in Hualien. It consists of eight different zones that represent the different aspects of marine life.
The amusement park features attractions such as the classic roller coasters as well as a variety of thrilling water rides. Furthermore, there's an underwater world and a fairy tale castle as well. You can take a ride up the cable car and be treated by the view of the landscape. Be sure to not miss out on the marine-animal shows too! The sea lions and dolphins will definitely capture your heart with their enchanting performance.
The ocean park also sets out to help visitors learn more about marine life and its conservation efforts, further enriching your experience in this wonderful ocean park.
Tickets are NT$890 each for adults and there are various discounted prices for children, seniors, and students.
11.
Visit Wuhe Tourist Tea Plantations
For all fans and lovers of tea, you should definitely visit Wuhe Tourist Tea Plantations at Ruisui Township in Hualien. The plantations are located on a river terrace southwest of where Hongye River and Xiuguluan River connects.
There, do try their famous and distinctive Honey Peach Black Tea! Part of their secret is that the plantations embrace a pesticide-free method of farming. Besides the Honey Peach Black Tea, the plantations are also known for their quality oolong tea.
You can also learn more about the agricultural process of farming tea leaves while taking in the aroma of the tea. There's nothing more relaxing than taking a break in the late afternoon while sampling some tea or tea snacks.
12.
Explore Hualien Cultural Creative Industries Park
Also known as a|zone Hualien Cultural Creative Industries Park, this cultural park aims to promote the creative arts. It is located in the centre of Hualien City, and it's also the largest creative market in Hualien.
Previously an old wine factory, it has since been transformed into a large industrial space with shops dotting the sides selling a variety of handicrafts. Entrance to the cultural park is free of charge. The park features 13 different individual cabins as well, and wherever you go, the place offers a great backdrop for photography shoots.
There are also markets in the park from Wednesday to Sunday, and events are sometimes held in on the grounds as well. Keep a lookout for those! It's a great place to check out the more culturally unique arts and maybe even bring home some souvenirs.
Make Your Trip To Hualien An Unforgettable One

With its stellar beauty and charming natural scenery, rich cultural sites, and scenic historical monuments, Hualien is a place that you should definitely consider visiting in Taiwan. The stunning terrain is unforgettable, and it's no wonder that it has attracted many visitors over the years.
The next time you're planning a trip to Taiwan, mark these destinations in Hualien down on your list!