Best Things To Do In Taichung, Taiwan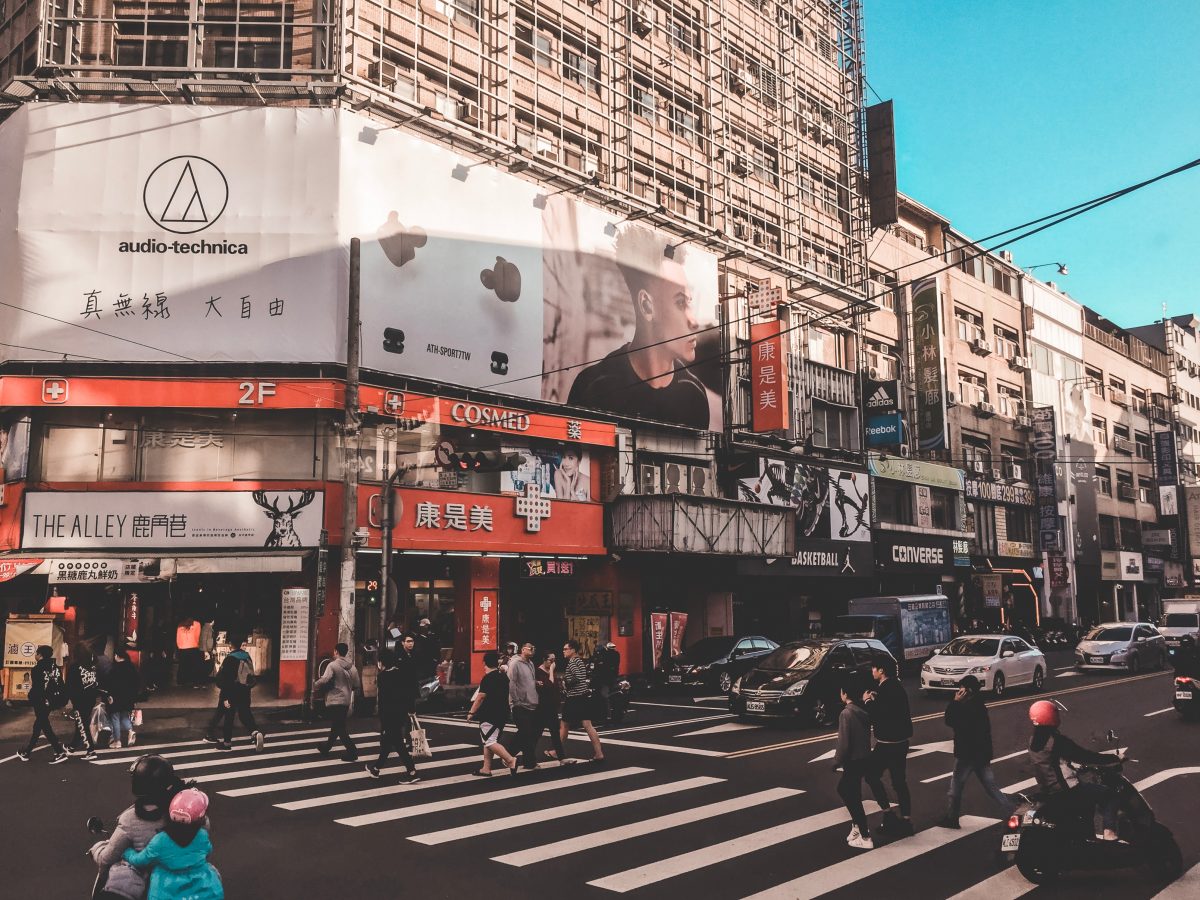 Taichung, Taiwan – a bustling city home to approximately 2.81 million people. Located in central Taiwan, Taichung is the second-largest city in Taiwan. Filled with life and energy, travelers will instantly fall in love with the charms of this city.
First Things First: How Do We Get To Taichung From Taipei?
Taichung is about 138 kilometres away from Taipei. You can get to Taichung from Taipei via a range of transportation modes.
By Bus
The bus ride will take about 2.5 hours, with fares priced at about NT$250. You can board to a bus to Taichung at the big bus terminal located just behind Taipei Main Station.
By High-Speed Rail
This option is the speediest and is recommended if you're traveling on a tight schedule. The High-Speed Rail would get you to Taichung from Taipei in slightly less than an hour. Fares range from NT$675 for non-reserved seats, NT$700 for reserved seats, to NT$1000 for business class seats. You can board the High-Speed Rail at Taipei Main Station or Banqiao. Do note that the train arrives at Wurih, and you would need to take either a public bus or taxi to get to downtown Taichung.
By Train
If you'd still like the comfort of traveling by train but are looking for a more budget-friendly option, you can also get to Taichung from Taipei via normal trains. The traveling time takes about an approximate 2 hours. The train tickets cost an affordable NT$380. You can board the train to Taichung at Taipei Main Station. Food is also sold onboard the train, so don't you worry about going hungry!
By Car
If you've rented a car while holidaying in Taiwan, you can simply drive to Taichung from Taipei. If traffic conditions are good, you can expect to arrive in Taichung in about 2.5 hours. The fastest route to Taichung from Taipei would be either Highway #1 or Freeway #3.
Weather In Taichung
Taichung enjoys a warm subtropical climate, with an average annual temperature of 23 degrees Celsius. In addition, Taichung is also well protected from typhoons thanks to the mountainous range flanking the city. So, for worrywarts, you can rest assured that the chances of your trip to Taichung receiving an unexpected shock from Mother Nature are vanishingly slim.
Now that you've learned more about getting to Taichung as well as what to expect of the weather there, it's time to get to the most exciting part. What is there to do in Taichung? We list our top 10 recommendations that you should definitely try out when you're in Taichung.
1.
Shop Till You Drop At Taichung's Night Markets
What is a visit to Taichung without a trip to their famous night markets? When night falls, Taichung gets even more exciting, especially at their famous night markets. A trip to one of Taichung's night markets would excite and engage all your senses. Marvel at the vibrant colors of the goods on sale. Salivate at the smells of piping hot food being cooked. Hear the raucous banter of vendors and customers fill the air at the night markets. It's an experience that goes beyond just merely shopping! Here are 3 Taichung night markets that you should note down in your itinerary:
Fengjia Night Market
With roots tracing back to 1963, Fengjia Night Market is Taichung's largest night market. Here, you can indulge in various authentic Taiwanese cuisine. From Taiwan's representative stinky tofu to scrumptious sausages and omelets, visitors are simply spoilt for choice. Even the pickiest eaters would find it hard to resist the delicious food on sale here!
Yizhong Night Market
Thanks to its close proximity to 3 universities, Yizhong Night Market is always bustling with life. Upon entering this lively market, you'd instantly feel the infectious energy of the youth. Yizhong Night Market is famous for its Feng Ren Shaved Ice, so be sure to get it when you visit!
Han Xi Night Market
Han Xi Night Market stands out from the rest of the night markets in Taichung thanks to its effort to include the marginalized groups in society. How so? Well, rent for stalls is halved for individuals with disabilities as well as for people from lower-income groups. Thanks to this initiative, Han Xi Night Market is simply filled with warmth and love. A visit to this kind night market will definitely be a meaningful experience. Beyond just pure hedonistic consumerism, you are actually doing your part to give back to society!
2.
Get A Dose Of Cuteness At The Totoro Bus Stop
Studio Ghibli fans, where you at? This adorable landmark is a must-visit for die-hard fans of the iconic anime, Hayao Miyazaki's My Neighbour Totoro. Here, you can re-enact scenes from the anime with life-sized sculptures. Even if you've never watched the anime before, this place is also charming in its own right. The vibrant sculptures make for a captivating photo-op. Remember to pack your camera when you visit!
3.
Watch An Opera At The National Taichung Theatre
If you want a night of refined entertainment, why not consider watching an opera at the famous National Taichung Theatre? Besides operas, you can also catch exhilarating dance performances as well as drama acts too. For a comprehensive list of programs on show, do check out the National Taichung Theatre's website.
If none of the shows appeal to you, fret not. Many have posited that the National Taichung Theatre is an opera in its own right. "What does that mean?!" The confused reader might exclaim. This praise alludes to the National Taichung Theatre's graceful architecture. The theatre's architect, award-winning Ito Toyo, designed the building to be one that the visitor "listens to" – sculpting the building to be composed of mostly curved walls. Thanks to this unique structure, as you walk through the various halls, you can hear various sounds. Natural lighting also features heavily in the National Taichung Theatre's architecture, adding another level of warmth to the place.
Besides admiring its ingenious architecture, you can also sign up for a guided tour. Here, you can learn more about Taiwan's performing arts.
4.
Have A Fun Photoshoot At Taichung Rainbow Village
If Greece has Santorini, then Taichung has its iconic Rainbow Village. Rainbow Village is a tiny settlement located in the Nantun District and has risen to fame in recent years thanks to its vibrantly painted houses. Once a relatively obscure area, it is now receiving an increasing amount of attention as word began to spread. Visitors flock here for a fun day of photos and posing.
However, behind the cheerful colors and bright murals, lies an unexpected story. The reason behind how Rainbow Village came to be is both heart-warming and heart-breaking. This small village was initially set for demolition. In a bid to save the settlement and his home, a grandpa began painting his house with comic characters. His actions soon gained traction as neighbors requested him to paint their houses too. The rest as we know is its history. Indeed, this inspiring backstory adds a deeper nuance to this otherwise cherubic community.
5.
Enjoy The Tranquil Gaomei Wetlands
If you're tired of the frenetic pace of life in the corporate world and are seeking a respite from it all, this place is for you. Gaomei Wetlands is arguably the best place in Taichung to return to the warm embrace of Mother Nature. Here, time feels like it has slowed to a standstill. Described by many as a beautiful place where the "sky meets the sea", Gaomei Wetlands is the perfect place to enjoy some quiet serenity.
Essentially a tidal flat, Gaomei Wetlands is also thriving with various wildlife. Visitors can spot various animals like crabs and mudskippers. Avid bird-watchers will also enjoy spotting various rare birds in this area. The rows of windmills also add a tinge of romance to the scenery. Linger a little longer when you visit so that your tired eyes can be treated to a resplendent sunset. If you've been feeling a little high-strung or jaded, this is definitely the place to be.
6.
Tuck Into Yummy Desserts At Miyahara
What's a vacation without indulging in some sweet treats? Miyahara is, by far, one of the most popular dessert shops in Taichung. On a usual weekend, this shop will be packed to the brim with both tourists and locals. When you visit Miyahara, be sure to try their ice cream. It's one of their representative food and a raving crowd favorite. There are so much flavors for you to choose from. 17 types of chocolate (yes, you read that right!), yogurt, tea, fruits and so on… I don't blame you if you take a good 10 minutes just to decide what to get! Besides ice-cream, you can also try a whole lot of other desserts – pineapple pastries, tea snacks, cookies—Miyahara has them all!
7.
Make Your Own Bubble Tea At Chun Shui Tang
Taiwan is well known for being the birthplace of bubble tea – the sweet concoction of thick milk tea with chewy tapioca pearls that's got the world screaming for more. Hence, it goes without saying that when in Taiwan, you'd definitely have to drink a cup of this sugary goodness! When it comes to bubble tea, there is truly no place other than Taichung that does it best.
In fact, did you know that Taichung was where this sweet dessert was first created? Chun Shui Tang, a teahouse in Taichung, proclaims to be the first to invent the Taiwanese pearl milk tea that everyone is so familiar with today. To take your bubble tea experience up a notch, why not try your hand at making it? Besides getting a sugar coma with their sweet desserts, Chun Shui Tang also offers you the unique experience of DIY-ing your own bubble tea! Let your creative juices flow and who knows? You might just come up with a mind-blowingly delicious concoction.
8.
Dance In Flower Fields At The Zhongshe Flower Market
Despite its name, Zhongshe Flower Market offers more than just the mundane chore of buying flowers. It's actually home to fields and fields of vibrant flower gardens. The colors are incredible and will definitely lift your mood. Various props like windmills and giant life-size photo frames litter the fields too, perfect for a quirky photoshoot. The picturesque rows and rows of flowers will make you feel like you've been plucked from reality and dropped into the filming set for a romantic musical.
Don't be shocked if you find yourself wanting to break into song and dance! P.S. Zhongshe Flower Market is also best known for its gorgeous tulip flowers which bloom from January to March. If you're in Taichung during this period, don't miss the chance to marvel at this scenic sight!
9.
Relive Your Childhood At Animation Alley
Animation Alley in Linsen Road, Taichung must be what heaven looks like to cartoon-lovers. The entire lane is an art gallery. Walls are filled with colorful and vibrant paintings of iconic cartoons.
Some famous cartoon characters you can spot decorating the alley include Bugs Bunny, Minions (from the movie Despicable Me) as well as Doraemon! Kids will have the time of their life running down this cheerful alley and spotting their favourite characters. For the adult, this area would definitely be a nostalgic trip down memory lane.
10.
Pick Fresh Fruit At Xing Feng Farm
If you've grown up surrounded by the concrete walls of the city, chances are you've never had the opportunity to visit a farm, let alone pick fresh fruits! Switch your cosmopolitan city lifestyle out for a day at Xing Feng Farm.
Here, you can try your hand at harvesting various fruits. Grapes, tangerines, oranges and even peaches, Xing Feng Farm grows a whole variety of delicious fruits for you to select from. The best part of this experience would be when you get to enjoy the fruits of your labor (pun intended!) after. Since you've put in the effort to obtain them, these hand-picked fruits would definitely taste sweeter than any fruits you've ever had before.
Final Thoughts On Taichung
Taichung, Taiwan is simply bursting with exciting things to do. Be sure to plan your itinerary carefully so that you can experience all this amazing city has to offer!