BEST Things You Can Possibly Do In Tainan, Taiwan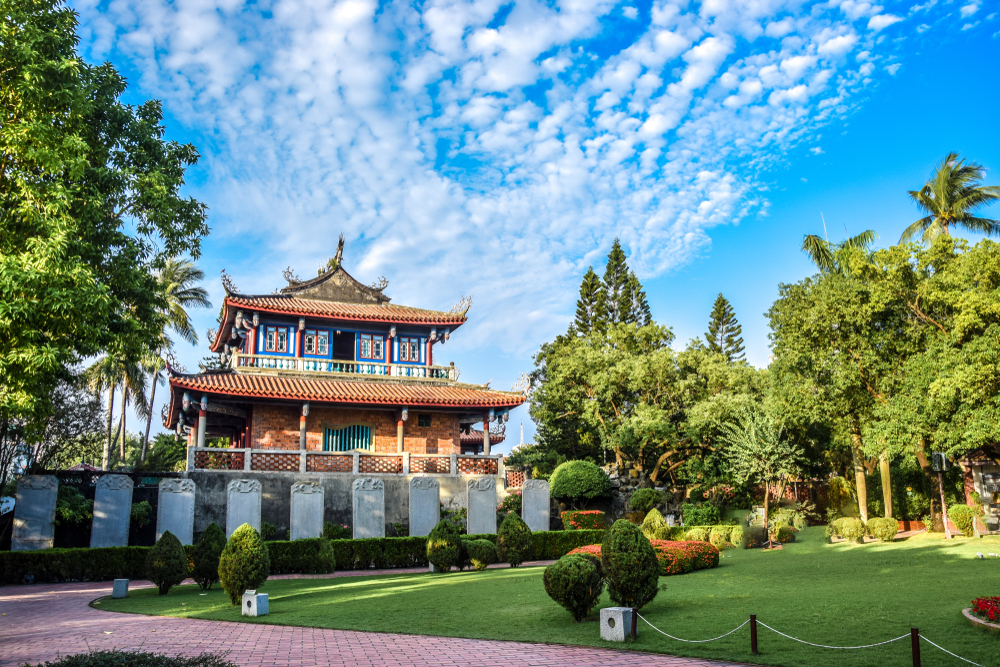 Known as the ancient capital of Taiwan, Tainan is the oldest city in the country. Though not the first destination to visit when Taiwan comes to mind, this laid back city oozes history and culture. Steeping foot in Tainan will transport you to a completely different time.
Getting To Tainan From Taipei
There are many ways to get to the city of Tainan from Taipei, the current capital of Taiwan.
By High-Speed Rail (HSR)
Albeit more expensive, the fastest way to get to your destination is by HSR. An experience in itself, the journey takes about an hour and a half to two hours. You can get your tickets at the Taipei HSR Station, or book through their website. We recommend the latter as you can ensure that tickets are available for your departure.
You will arrive outside the city center, at Tainan HSR Station. Once there, you can opt for free shuttles into the downtown area or take a taxi to your destination.
By Train
For a cheaper, more scenic route, take a regular train from Taipei Main Station. Run by the Taiwan Railways Administration, you can get to Tainan within three to four hours.
Similar to the HSR, you can purchase the tickets at the station or book them online. The Tainan Train Station is also conveniently located within the city, allowing you to start exploring once you arrive!
By Car
If you have a rental car, taking a fun road trip to Tainan is possible too. Follow Highway 1 or Highway 3 to get there, which will take you about four and a half hours. Not to worry, there are plenty of rest areas along the way for a snack or toilet break.
Weather In Tainan
Temperatures in the city are relatively temperate and mild. It is best to avoid Tainan between the months of May to October. Humidity levels are higher and frequent rains can be expected during this period. Typhoon season begins in mid-July as well, which can ruin your travel plans.
The best period would be from November to April. Rains are less frequent and temperatures are cooler. However, if you are looking to escape winter and the cold that comes with it, avoid the months of January and February.
Now, let's jump to the must-visit places of Tainan!
1.
Tainan Confucius Temple
One of Taiwan's oldest temples, the Tainan Confucius Temple has been in operation for more than 350 years. It is also Taiwan's first Confucius temple and school, sharing the teachings of Confucius. Today, it is a popular tourist attraction and a place where tradition is practiced and preserved.
There are various halls, shrines, and gates to admire and pay respects at, as well as to learn about the history of the place. After a tour around the temple, head to one of the street food stalls or cafes in the area for a bite or to cool down.
There is no admission fee to enter the temple and it is open daily from 8.30 a.m. to 5.30 p.m.
Chimei Museum is a comprehensive museum filled with collections of Western and European art, musical instruments, weaponry, and natural history. The founder of the museum, Mr. Wen Long Shi, was inspired to build a museum for the public to enjoy from his fond childhood memories spent at a local museum.
The museum boats such a varied collection of art that every visitor can find something to enjoy and appreciate.
Admission tickets for the general public cost NT$ 200. Discount tickets at NT$ 150 are available for students from age 7 to 22, and senior citizens aged 65 and above.
Opening hours of the museum are from 9.30 a.m. to 5.30 p.m. and is open every day except for Wednesdays, Chinese New Year Eve and Chinese New Year's Day. Check their website for any changes or announcements.
3.
Tainan Flower Night Market
Otherwise known as Tainan Garden Night Market, "Hua Yuan Ye Shi" is one of the most popular night markets in Tainan. Located on Haian Road, Section 3 of the city's north district, it is also the largest night market in Tainan.

Filled with Taiwanese street food like grilled or fried meats, fresh oysters, bubble tea, and sweet seasonal fruits, definitely visit with a full wallet and an empty stomach! Alongside delicious food, you can find trendy local fashion, handmade souvenirs, as well as carnival games.

The night market operates on Thursdays, Saturdays, and Sundays from 6 p.m. to around 1 a.m. Do note that the market may not be open if there are bad weather conditions.
Another popular night market to visit in Tainan is the Da Dong Night Market. Found in the east district, the market lies in Section 1 of Linsen Road.

The great thing about this night market is that it is open on days that the Tainan Flower Night Market is closed. This means that you can go to both without having to miss out on anything! Open on Mondays, Tuesdays, and Fridays, the market also operates from 6 p.m. to about 1 a.m.

Must-try street food includes stinky tofu, braised pork rice, oyster mee sua, and wild boar sausages. Wash it all down with some papaya milk before shopping for knick-knacks and clothes. With so many food stalls to choose from, join any with a queue and you'll rarely leave disappointed.

Pro tip: It's best to visit with a partner in crime or in a group so that you can share and conquer more food!
Once an old warehouse owned by Tait & Company that mainly dealt with the export of granulated sugar and camphor has now become a part of nature. A very old banyan tree took roots at this very place, taking over the abandoned building after years of neglect after World War II.
It is completely safe to explore the Anping Treehouse as the local government has done renovations to the place, adding staircases and viewing platforms to enjoy the view!
Exploring the area will definitely make you feel like an explorer of an ancient ruin. Need a break? Pop into the Treehouse Coffee Shop, a family-run cafe that sells coffee, baked goods, ice cream, sandwiches, and more.
The treehouse is open daily from 8.30 a.m. to 5.30 p.m. and the price of admission is TWD 50.
6.
Hayashi Department Store
Back in 1932, this used to be the tallest building in Tainan and held the very first commercial passenger lift in South Taiwan. After Japanese colonial times, the building was abandoned until 2006 when renovation began. In 2014, the department store was reopened to the public and there have been long queues of visitors wanting to catch a glimpse of its interior.
The beautiful thing is that most of the building's original interior was preserved, from the elevator and stairways to the ceilings and furniture. It now places an emphasis on culturally-inspired products in its store.
You can find local designer clothing, household items, traditional snacks, and sweets as well as a Japanese izakaya and tea shop inside. Not to be missed is a visit to the rooftop where a Shinto shrine from the Japanese colonial era still resides.
The building is open daily from 10.30 a.m. to 9.30 p.m.
7.
Taijiang National Park
This scenic park covers a wide range of land and water habitats including lagoons, mangrove swamps, and wetlands. Covering over 39,310 hectares, this national park plays a huge part in protecting biodiversity in the area as well as promoting the history of settlement and salt and fishing industries.
Besides looking at the flora and fauna the park has to offer, keep an eye out for old shipping channels and remnants of traditional industries in the area.
Visitors can cycle along any of the new bike trails, stroll through the various routes, or even canoe through the mangroves.
Taijiang National Park is open from Tuesday to Sunday from 9 a.m. to 5 p.m. The park is also free for entry and free parking is also available on-site!
A must-visit when in Tainan is Anping Old Street where you can rub shoulders with the locals and soak in the bustling environment. There are all sorts of street stalls and stores to have a look around and you won't leave empty-handed.
Try food like curried fishballs, peanut candy, tofu pudding, and their specialty, milkfish soup! Watch talented craftsmen make various handicrafts and admire the old-town architecture as you enjoy your street food.
Pro tip: Don't just stick to the main street, explore the little alleys weaving in and out of the street for more little shops and family-run businesses!
At the beginning of Anping Old Street, you will notice directions to the Anping Old Fort nearby. Built by the Dutch in 1624, it was known back then as "Fort Zeelandia".
With a rich past, the fort is a great place to visit and learn about an important part of Tainan's history. While the fort has undergone reconstruction due to neglect, many details are still around.
At the top of the fort sits an old, western-style house that was built during the Japanese occupation as well as an observation tower which is Tainan's city icon. More than 70 meters of the fort's outer walls still stand today, with the roots of old banyan trees intertwined together.
The site is open daily from 8.30 a.m. to 5.30 p.m. It costs TWD 50 for adults, TWD 25 for students, and free admission for children under six.
10.
Ten Drum Culture Village
For a fun experience to end things off, head to this abandoned sugar refinery that's converted into a cultural park. The Ten Drum Culture Village retained the sugar mill's rustic interior, giving a cool industrial feel to the place.
There are loads to do here; visit the Drum Museum to learn more about the art of drumming and view related exhibits, slide down a five-story slide, rock climb and catch your breath at the Maintenance Book House where you can purchase books as well as food and drinks from the cafe.
One of the highlights here is the Drum Show at the Tainan Dream Sugar Theater. Watch as the award-winning Ten Drum percussion group takes you on a journey through passionate drumming and performance.
Admission tickets cost TWD 399 for adults, TWD 380 for students, and TWD 350 for children. The park is open daily from 9.30 a.m. to 5 p.m.
Even though Tainan is known to be a quiet, slower city of Taiwan, there are still loads of activities and attractions to check out. Not only is it for history and culture buffs, but many of the food and sites are also perfect for a family vacation.