Things To Do In Milan, Italy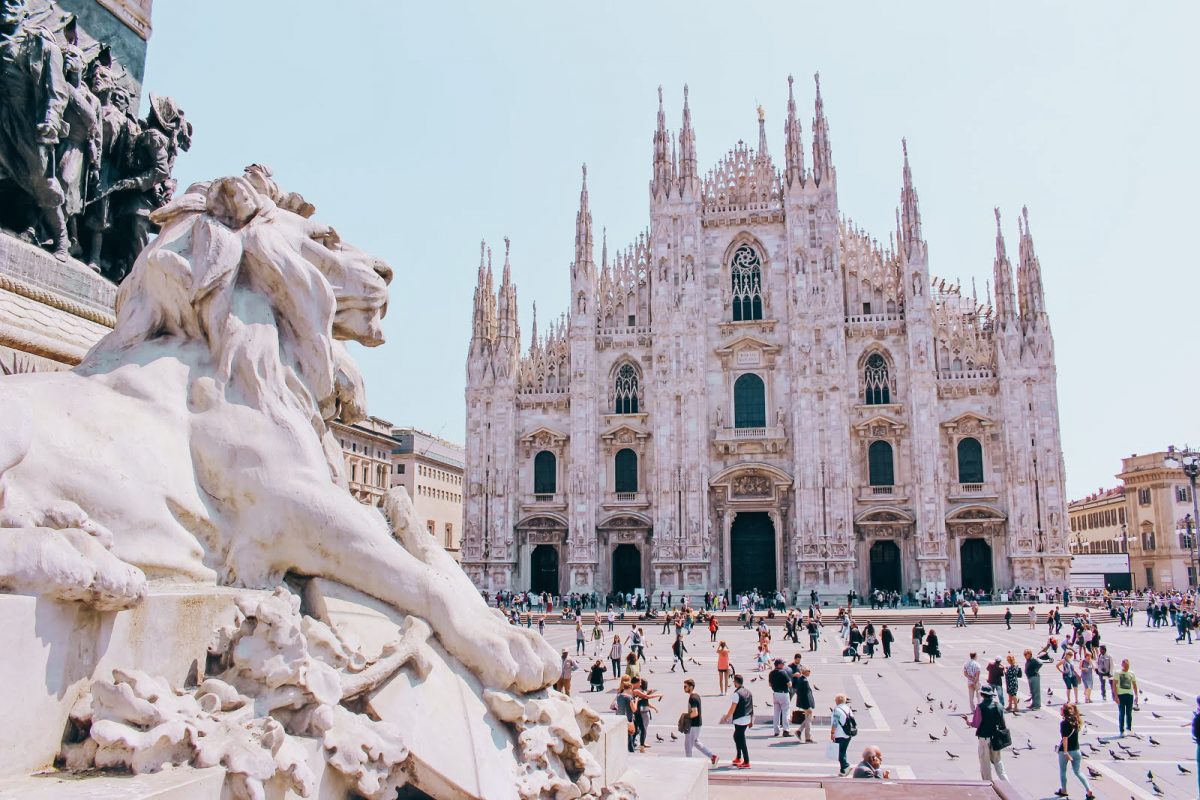 Known as Italy's fashion capital, Milan may be considered to be lacking in the olden day charm of other Italian cities. However, if you look beneath the surface you will see that Milan is often admired for its art legacy, fashion, architecture and culture.
Milan holds almost an overwhelming number tourist hotspots and exciting activities. We suggest that you plan your itinerary carefully and leave yourself with extra time to take in everything the country has to offer. We're sure that whether you are in Milan for its cultural history or its love for fashion, you will leave satisfied on both accounts!
1.
Start At The Piazza Del Duomo Milan
A symbol of the city, the sumptuous Duomo, with its huge proportions, is the most iconic Milan cathedral. Head to the roof for a wonderful panoramic view of Milan. Dazzling and ethereal, the Duomo boasts Gothic statues, gargoyles, and pinnacles that are guaranteed to leave you speechless.
Milan's Duomo was founded in 1386 by the ambitious Gian Galeazzo Visconti. Visconti had made it his mission to build the biggest church in Italy. Upon entering, you will find that the Duomo's interior poses a stark contrast to its gleaming white exterior.
Do take note that if you're hoping to take a picture of the catherdral's stunning stained glass, you may be charged a small fee. On the bright side, there is no charge to enter the church.
2.
Step Into Museo Del Novecento Inside Palazzo Arengario In Piazza Duomo
At the Palazzo dell'Arengario, you will find the Museo del Novecento. The Museo Del Novecento holds an impressive collection of 20th-century artwork. Expect to see names such as Pablo Picasso and Georges Braque, just to name a couple.
The Museo del Novecento caters to both art lovers and less experienced visitors with its selection of art pieces. This is great news if you find that you aren't exactly an art connoisseur.
3.
Shop Till You Drop At The Galleria Vittorio Emmanuele II
Also located at the Duomo, is the Galleria Vittorio Emanuele II, a 19th-century shopping arcade. A magnificent arching dome of iron and glass that houses luxury and upscale clothing brands.
This monumental arcade is Italy's oldest active shopping mall and is another major landmark of Milan. It is also often referred to as "the living room of Milan".
Expect to find luxury retailers, haute couture, jewellery, books and paintings. There honestly is no limit to what you can find at the Galleria Vittorio Emmanuele II. They even have a hotel, the Town House Galleria which is also home to the oldest shops and restaurants in Milan. Order a coffee or a cocktail from the bar at the Gucci Caffé and recharge so you can shop till you drop!
4.
Ogle At Velasca Tower's (Torre Velasca) Odd Shape
Unique in shape and standing 100 meters tall, the Velasca Tower defines the city's skyline. The Torre Velasca was both loved and hated since its inception, its "mushroom" silhouette was designed to resemble Renaissance watchtowers.
Emphasising its multi-functionality, the lower floors of the Velasca Tower hosts shops and offices. While on the airier top floors, you can find residential units with unparalleled views. A new exhibition area has opened to the public for both design shows and talks.
5.
Catch A Glimpse Of A Cheekily Vulgar Sculpture At Piazza Affari
At the very centre of Piazza Affari sits a four-meter-high, marble statue of a hand with only its middle finger standing erect.
Look closely and you will see that the other fingers are in fact cut off. One can derive that the sculpture is meant as a "f*** you" to the world of bankers and CEOs.
The statue is titled L.O.V.E. which stands for Libertà, Odio, Vendetta, Eternità. And it was created in 2010 by Italian artist Maurizio Cattelan who is known for his other provocative pieces.
Initially, the rather vulgar sculpture was supposed to stay within the Piazza Affari for only a short couple of weeks but the city government decided to keep it there indefinitely.
6.
Feel Like A King At The Royal Palace Of Milan (Palazzo Reale Milan)
The Royal Palace of Milan or Palazzo Reale Milan is situated in the heart of the city. In recent times, the building has become a popular exhibition venue.
In the 11th century, the Palazzo Reale served as the seat of the city council. It was the ducal residence of the Visconti, Sforzas, and the royal palace of the Austrian rulers.
The beautifully restored rooms of the Royal Palace are reason enough for a visit! However, the Museo Della Reggia and the Civico Museo d'Arte Contemporanea (CIMAC) will complete your stop. Entrance to Palazzo Reale charges a fee (€6-€14), while admission to the Museo Della Reggia is free.
7.
Head To A Charming Medieval Merchant's Square, Piazza Mercanti
The Piazza Mercanti is a mere stone's throw from the cathedral square of Duomo. Look for Piazza Mercanti's whispering gallery. What is a whispering gallery, you ask? It was a means of secret communication that was used during medieval times! Today the Loggia Dei Mercanti Whispering Gallery is used for photography exhibitions.
Venture south-west and you will find quiet little streets such as the Via Victor Hugo or Via Spadari. Keep walking and you will stumble upon quaint antique shops and charming places to eat.
8.
Head To The Oldest Art Gallery In Milan, Pinacoteca Ambrosiana
To the west of the cathedral square of Duomo, you will find a small piazza that leads to the historic Ambrosian Library (Veneranda Biblioteca Ambrosiana).
When Cardinal Federico Borromeo, started his art collection in 1618, he had but a single mission. That was to make beautiful works of art and science accessible to more than just the elite.
Keep your eyes peeled for the Canestra Di Frutta by Caravaggio. A simple painting of a fruit basket that manages to encapsulate life in all its beauty and wonder.
9.
Shop Luxury Fashion At Quadrilatero Della Moda Via Montenapoleone, Milan's Fashion District
Do your quintessential Milan shopping at the Quadrilatero Della Moda which translates to Fashion Quadrilateral.
The shops and showrooms that line these streets are brimming with both classic and international fashion houses. Think Armani, Versace, Prada, we could go on forever.
The heart of the neighbourhood lies in Via Monte Napoleone, ranking amongst the chicest and most expensive streets in the world – next to New York's Fifth Avenue and the Champs-Elysées of Paris.
10.
Go To The Opera At The Famous Teatro Alla Scala (La Scala)
Catch the opera at the decadent and world-famous Teatro Alla Scala. One of the world's most famous opera houses, which remains a cultural focus of Milan. The Teatro all Scala or La Scala was inaugurated in 1778 and is proudly still in operation today.
An important point to note, ticket prices may vary significantly. You will find tickers priced anywhere between €15 and €250. We suggest heading to the box office a couple of hours before their shows commence. This is because a number of last-minute tickets will have their prices slashes drastically.
If you don't have time to attend a performance, the Theatre Museum has a collection of art and artefacts that celebrate the history and glamour of Teatro Alla Scala. This is definitely worth a stop if you would like to grab yourself a small souvenir.
11.
Visit The Grand Museo Poldi Pezzoli
The Museo Poldi Pezzoli is located near the Teatro Alla Scala on Via Manzoni. You'll find that the Museo Poldi Pezzoli carries a 19th-century private collection of great Italian pieces by Gian Giacomo Poldi Pezzoli himself.
The building was originally a palace that was then rebuilt in 1850-1853. Be on the look out for its interior garden which we must admit makes a great place for some tourist shots!
The museum is praised for its broad collection of Northern Italian and Netherlandish/Flemish artists. The exhibition includes weaponry, glasswork, ceramics, jewellery, and furnishings. Grand Museo Poldi Pezzoli is open from 10am to 6pm and closed on Tuesdays and public holidays.
12.
See Leonardo Da Vinci's "The Last Supper" At The Church of Santa Maria Delle Grazie (Basilica di Santa Maria Delle Grazie)
Gaze upon one of the world's most recognised paintings, The Last Supper by Leonardo Da Vinci. The painting is located at the Church of Santa Maria Delle Grazie.
Listed as one of UNESCO's world heritage sites, this church and sanctuary are known worldwide as the home of The Last Supper. While Da Vinci is undoubtedly the star here, the church itself is a sight for sore eyes! The structure is a contrast of two buildings that often give the illusion of being two separate churches.
Due to the painting's fragility, visitors are divided into small groups. It is therefore recommended that you make a booking in advance. You don't want to have travelled at the way to Milan and have missed seeing a real-life Da Vinci.
13.
Check Out The Castello Sforzesco (Sforza Castle) For Leonardo Da Vinci and Michelangelo's Legacies
A castle turned museum, the Castello Sforzesco was built in the 14th century and was home to the Sforza family who ruled Renaissance Milan. This majestic red-brick structure was built initially to serve as a fortress and we're sure you can see why.
Start by admiring Leonardo Da Vinci's fresco at the Sala Delle Asse. Next, feast your eyes on Michelangelo's last masterpiece, the Pietà Rondanini, at one of the seven cultural and art museums within the castle.
14.
Take A Leisurely Stroll Outside At The Parco Sempione
The Parco Sempione (Sempione Park) is a gracious parkland that unfurls around the Castello Sforzesco. Some other attractions within the grounds itself include the Acquario Civico (Civic Aquarium of Milan).
The Acquarico is a stunning aquarium with more than 100 species of fish. The building itself is marked by a large statue of Neptune, making it hard to miss. You will be happy to know that admission to the aquarium is free.
While you're there, you might also want to check out the Torre Branca (Branca Tower). There you will be treated to an incredible view of Parco Sempione and the city's modern skyscrapers. Entrance to the tower will cost you €4 and it is open until midnight.
15.
Study Italian Design At La Triennale Di Milano
Regarded as Milan's hallmark of Italian design, La Triennale di Milano is a showcase of the best in contemporary art, design, architecture, fashion and craftsmanship.
The museum welcomes visitors all year round. Within La Triennale, you can find both permanent collections as well as an eclectic mix of expertly curated objects. For example, Giorgio de Chirico's Fountain of Mysterious Baths is located in the museum's garden.
16.
Visit Studio Museo Achille Castiglioni
The Studio Museo Achille Castiglioni is a hidden gem located close to the Castello. This tiny and underrated museum was once the studio of legendary Milanese furniture and industrial designer, Achille Castiglioni.
Look around and you will see its shelves are overcrowded with all sorts of gadgets, models and inventions. Secret drawers and cupboards reveal some of the inspiration that led to his most ingenious ideas. Remember to ask to see the miniature model of Castiglioni's iconic Arco lamp for Flo.
17.
Take A Modern Architecture Tour From Piazza Gae Aulenti
Looking to dive into some modern architecture around Milan, Italy? Dedicated to the late Italian architect Gae Aulenti, the AECOM-developed public square is perfect for you. The bustling Porta Nuova Garibaldi commercial area holds the best of Milan's modern architecture.
Piazza Gae Aulenti is a key element of an urban renewal project that defines cosmopolitan Milan. The square features a streamlined pool with three oval cascades that draw light and air down to the retail floors below. You may also want to visit the award-winning vertical forest, Bosco Verticale, through one of its elevated walkways.
18.
Party And Let Loose At The Alcatraz Milano
The largest multi-purpose space in Milan, this venue hosts a multitude of events, concerts, and conventions. You will find that every weekend here is a bit like New Year's Eve. We say this as when midnight strikes, the curtains open and the dance floor readies for a night of debauchery.
Friday nights at the Alcatraz Milano are more mellow than one might expect, with softer melodies and guitar solos. The club plays a mix of hip hop and rock music on Saturday evenings until 4am. So if it's wild you're searching for, Saturday nights at the Alcatraz Milano won't disappoint.
19.
Be Pampered At The Armani Hotel Milano
Expect nothing less than premium and luxury service at the Armani Hotel. Everything from its design, right down to the most minute details were overseen by Giorgio Armani himself.
Centrally located, in the heart of Milan's exclusive fashion district, the focus is on the Armani aesthetic. At the Armani Hotel Milano expect minimal and sophisticated sandy beige hues, offset by hints of black marble and mother of pearl.
We absolutely loved that this attention to detail extended to service at the Armani Hotel Milano as well. Upon check-in, every guest is assigned a "Lifestyle Manager", who ensures your stay is everything you imagined. Additionally, each and every one of the ninety-five rooms has an iPod-controlled sound system.
If you want to make the absolute most of your experience, we suggest you take advantage of the spa's relaxation pool, the Bamboo Bar and its Michelin-starred restaurant.
20.
Have A Picnic At Giardini Pubblici Before Visiting Museo Di Storia Naturale With The Kids
Giardini Pubblici is the largest garden in Milan. If you're looking for somewhere to escape the heat and noise of the city this is definitely our top recommendation. Giardini Pubblici is a great spot to have a family picnic or a romantic one for that matter.
In the summer, donkey rides, mini train rides and a merry-go-round are set up and can keep your children amused for hours. Take your curious tots to the Museo di Storia Naturale, which is popular for its reconstructed dinosaur collection.
Alternatively, you can check out the Planetario Ulrico Hoepli. The Planetario Ulrico Hoepli is the biggest in Italy and it was built back in 1930. Do take note that the themes in the planetarium change monthly so call or check for details at the tourist office.
21.
Admire The Palazzo Castiglioni, Milan's First Art Nouveau Architecture Building
Did you know that the Art Nouveau movement in Milan used to be referred to as Liberty-style? This particular style was thought to be rather scandalous since it revealed allegorical sculptures of nude females at the Palazzo Castiglioni.
The building was later remodelled into an office complex in the 1960s, meaning most of the original interiors were lost. However, the exterior with its rustic blocks that were made to look like natural rock formations remained intact. Its rough exterior coupled with sculptures of leaves and flowers make for a dramatic yet visually pleasing contrast.
22.
Visit Fondazione Prada To See Prada And Art Come Together
Built in the early 20th century, this former 19,000-square-meter gin distillery became Fondazione Prada's permanent home after undergoing an eight-year renovation.
Fondazione Prada aims to bring together all the best elements of Prada and the joy one derives from art. Modernised structures and iconic buildings intertwine. You will see Miuccia Prada's own art collections, screenings and temporary exhibits displayed side by side. One visit to Fondazione Prada and you will feel like you've been transported to another dimension.
For a surreal experience, visit the public hangout, Bar Luce, designed by the film director Wes Anderson. If you are a Wes Anderson fan you will definitely get a kick out of feeling like you're smack dab in the middle of a movie set.
23.
Shop At Luxury Department Store Excelsior Milano
The Excelsior Milano was designed by the architects Jean Novel and Vincenzo de Cotiis. This luxury department store is a proud seven storeys high and will make all your dreams come true. Excelsior Milano's spatial design transports you into a world of fashion, perfume, electronics and fine food through its futuristic video installations.
Antonia Giacinti, co-owner of the celebrated Antonia boutique of Milan, is in charge of the selection of the brands on the fashion floors. Meaning that you can expect only the best of the best.
If you start to feel peckish, head down to the basement for food. Take note that the area has been designed to recreate a traditional open-air market, giving you the feeling that you're enjoying an authentic Italian experience. Keep an eye out for the great installations by Joann Tan, famous creative director and head architect of Maison Moschino.
24.
Explore The Curious Streets Of Navigli
Once a bustling hub of commercial activity with historic canals is now a gentrified area of shops, bars and trattorias. Navigli has undergone extensive renovation. However, don't set your sights too high by expecting picture-perfect canals or pristine streets.
Navigli remains a popular location for those looking to enjoy Milan's nightlife. Once a working-class area with small artisan workshops lining the towpaths, Navigli has seen an increase in the restoration of the district resulting in the rising cost of rent. This, unfortunately, has pushed out many of the older workshops in order to make way for the new sleek, and trendy shops.
25.
Add To Your Vintage Collection At The East Market Milano
If you're a lover of all things vintage then the East Market Milano is the place for you. The East Milano Market has become the place to be on Sundays, especially if you can't resist snagging yourself a good vintage piece.
All of the exhibitors are carefully curated and come with their own unique pieces. The East Market Milano is now set in one of the few remaining old factories that haven't been converted into a loft or showroom yet. Meaning that you can expect the market to be brimming with character.
Stroll through the stands, you might just find the perfect trinket to take home. Remember to grab a nibble and a cold beer as you enjoy the DJ's beats that pulse through air.
26.
Wander Through Salone Del Mobile, Milan's Annual Furniture Fair
With more than 350,000 visitors from 160 countries, April's Salone del Mobile (Milan Furniture Fair) is Milan's largest annual event. When you visit the Fiera Milano fair, you can expect designs from over 1,270 exhibitors. You can find everything from the understated to the bizarre.
However, we personally think that the cocktail evenings at the Four Salone fringe are what make the Fiera Milano worth your while. The Salone del Mobile is usually open to the public on weekend onwards and require an entrance ticket.
27.
Get Ready For Some Wet & Wild Fun At Aquatica Park
Aquatica Park Milan is a great place to bring the little ones for a day of fun in the sun. A medium-sized water theme park located in the heart of Milan. You can expect to find everything from pools to thrilling slides, they even have artificial beaches.
Aquatica Park is a great activity for families with kids. This is definitely something for the list if you're looking for things to do with children in Milan. You and your kids will love the chance to splash in a pool and take a break from the Milan sun.
28.
Attention, Fans – AC Milan & Inter Milan Museum At Stadio San Siro (San Siro Stadium)
Built in 1925, and expanded for the World Cup in 1990, the San Siro Stadium is home to two of Italy's most famous football clubs. That's right they are the FC Internazionale (Inter Milan) and AC Milan. That's how we know that catching a match here will an unforgettable experience for all you hardcore fans!
However, if it happens to be a day without a match, head to the Stadio San Siro museum instead. Displays include trophies, flags and memorabilia relating to Inter Milan and AC Milan.
There are also guided tours of the stadium every day except Sunday and days when the matches are in progress. Be sure to call and check so as to avoid disappointment.

Casa Milan is another museum that you need to see if you're an AC Milan fan, so make a stop and immerse yourself in all things soccer.
Here children can participate in fun, educational tours. So if you're looking for something to do with kids while in Milan, the Casa Milan merchandise store promises to be fun for the whole family. Feel like you need to recharge? You can duck into Cucina Milanello for some quality eats.
29.
Take A Trip From Milano Centrale
Stazione Milano Centrale or Stazione Centrale is Milan's main railway station housed within a majestic building. The Milan train station was built with inspiration from several architectural styles, mainly art nouveau or art deco.
Milano Centrale is a grand structure adorned with bombastic sculptures of everything from winged horses to eagles adorning its roof. Definitely a sight that will take your breath away.
30.
Take A Romantic (Or Solo) Getaway To Lake Como
Surrounded by tall mountains and rugged hills, Lake Como has inspired writers, artists and musicians alike. Till today, it remains a hotspot for both celebrities and tourists.
At this upscale alpine resort you can enjoy a wide range of activities. Think boating trips, walks through the mountains, and visits to the lakeshore villas with wonderful views of dramatic scenery.
Lake Como is the deepest lake in Italy. Its temperate climate and lavish villas make Como the most romantic of the three major Italian lakes. You can also visit lakeside towns such as Bellagio, Lierna and Dervio. Set your sights for an amazing view of the lake while you relax at a top-notch restaurant or cafe.
Take in the view of the Grigne Mountains while indulging in a stay at the five-star Grand Hotel Tremezzo. We guarantee that you will feel like you're Italian royalty, especially with the hotel's authentic decor.
So if you're not too busy devouring the local Fritto Misto Di Lago (a fried mix of lake fish), be sure to visit Villa Carlotta's botanical gardens. You can get to Lake Como by train with regular service from Station Centrale to Como town which will take you 30 minutes.
31.
Take A Day Trip To Monza
Once the jewel of the Lombard empire (in 7th-century), Monza is now a quaint and affluent town. Drawing visitors mainly for its beautiful palazzi, gastronomic delights, and its staggeringly vast park. You can also find the world-famous Formula 1 racing track here in Monza.
No visit to Monza would be complete without a walk through the immense Parco di Monza, one of the largest parks in Europe. The park has some of the most beautiful villas and wooded areas that we are sure you will spend hours exploring.
Its many attractions include the enormous Villa Reale which opened after a lengthy restoration in 2014. What was formerly the Archduke of Austria's hunting lodge, the villa became a summer retreat for Italy's ruling family, the Savoy's. Aside from the park, Monza also features the luxurious Duomo di Monza and the gorgeous Ponte Dei Leoni.
32.
Head To The Countryside Of Bergamo
Northeast of Milan in the southern foothills of the Alps, Bergamo could not be more different from Italy's business capital. Historically more closely associated with Venice (Venezia), you can actually see Milan's skyscrapers from here on a clear day.
The remarkably unspoiled Bergamo is divided into the medieval Città Alta (Upper Town), 16th-century walls and the contrasting modern and traffic-filled Città Bassa (Lower Town).
A cable or funicular transports you to Città Alta and its picturesque cobbled alleyways and medieval and Renaissance buildings. See the elegant Venetian-style architectured of Piazza Vecchia, considered by Le Corbusier to be "the most beautiful square in Europe".
Additionally, see the Piazza del Duomo di Bergamo (Bergamo Cathedral) and Basilica di Santa Maria Maggiore. Two of Bergamo's most beloved churches. The highlight of the lower town is the Galleria Accademia Carrara and its collection of Venetian, Bergamesque and other works of art. Get there by the Milan Metro from Garibaldi FS.
33.
Visit The Heart Of The Violin-Making Industry In Cremona
A quiet market town on the banks of the River Po, Cremona has been the heart of the violin-making industry since 1566. Cremona is known internationally for making the world's best violins.
Antonio Stradivari, a legend amongst violin crafters, was born in Cremona in 1644. He is commemorated in the Museo Stradivariano, where you can find many of his tools on display.
In the middle of the town is Piazza del Commune, a fine medieval square with beautiful medieval monuments. You can find the likes of Torrazzo, the highest bell tower in Italy and the Palazzo del Comune which has a collection of historic violins, including examples by Amati and Stradivari. You can get to Cremona by regular train service from Station Centrale.
34.
See The Certosa Di Pavia Where Leonardo Da Vinci Was An Architect
The Certosa di Pavia is a monastery in Lombardy, northern Italy. It is located near a small town in the Province of Pavia, Milan. Some of the finest medieval buildings grace Pavia. However, the 14th-century monastery, Pavia Cathedral (Certosa di Pavia), is what really draws the crowd in.
Located 8km north of Pavia, the Certosa is one of the most extravagant religious buildings in Northern Italy with its lush marbled facade. Step inside and expect to be greeted by an abundance of both Renaissance and Baroque art.
The cathedral's architects include Leonardo da Vinci, Bramante and Amadeo. Pavia's rich heritage of art and architecture are reflected in this particular cathedral, the Visconti castle, and several smaller cathedrals.
Milan, Truly A City For Everyone
So whether you're travelling to Milan for its historical treasures, fashion, or just for a family trip —be sure to include a good mix of these activities in your itinerary. That way you can be sure you will experience the bustling contrast of this behemoth of a city—the second-most populous in Italy after Rome.
If you have any comments, questions, or attractions you think we've missed – we'd love to hear from you in the comment section below!