25 Best Things to do in Verona, Italy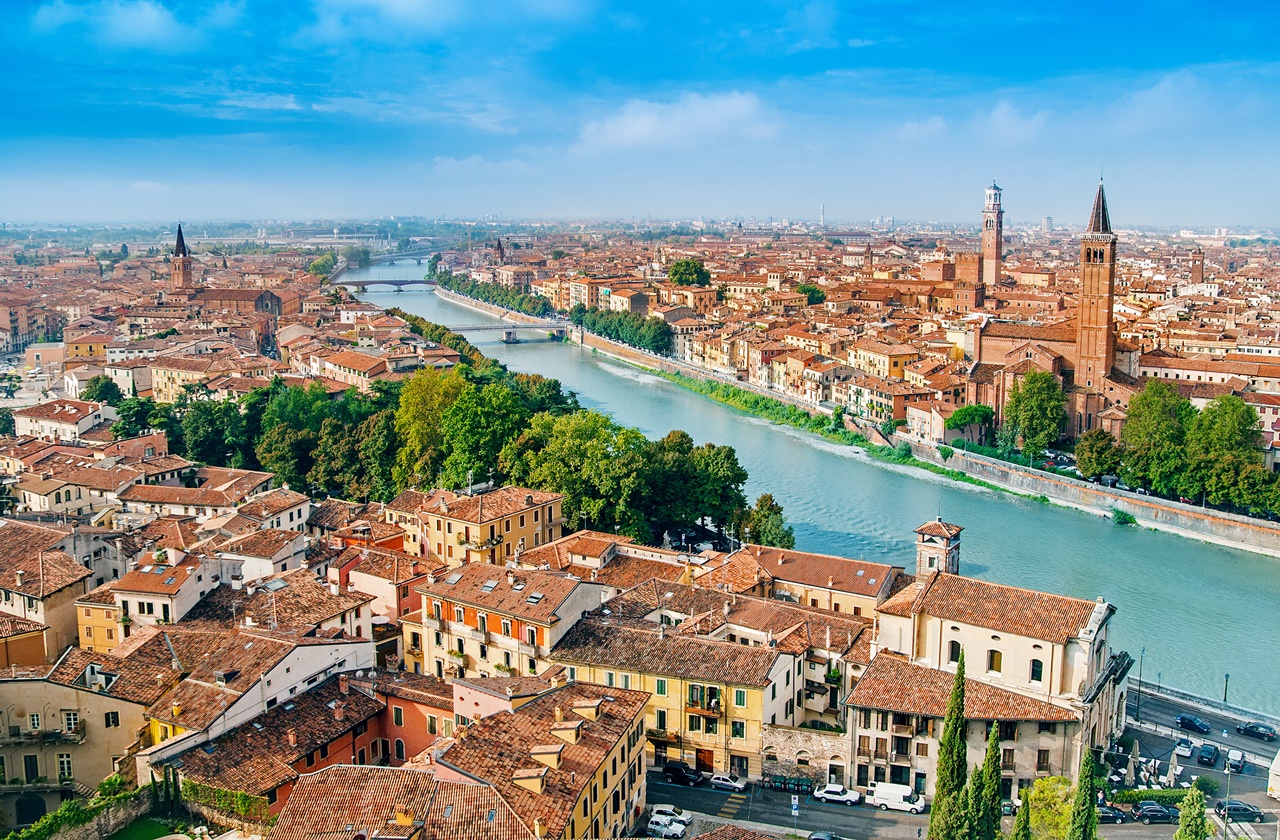 When you mention Italian destinations, big cities like Rome, Venice, and Florence are always the first cities that come to mind. However, there are also smaller cities that pack the same amount of history and popular landmarks. A good example is Verona, one of the major cities in the Veneto region. The city rose to popularity after being the setting of Romeo and Juliet, one of literature's best works. But even without its "Romeo and Juliet" claim to fame, there are still plenty of things to do in Verona. Picturesque castles, a bustling town square, and ancient libraries scattered around the city are just some of the must-visit places in the city.
If you find yourself spending a week or more in Venice, you can take a quick day tour in Verona and discover what the city has to offer. Without further ado, continue reading to find out what are the must-do activities when visiting Verona!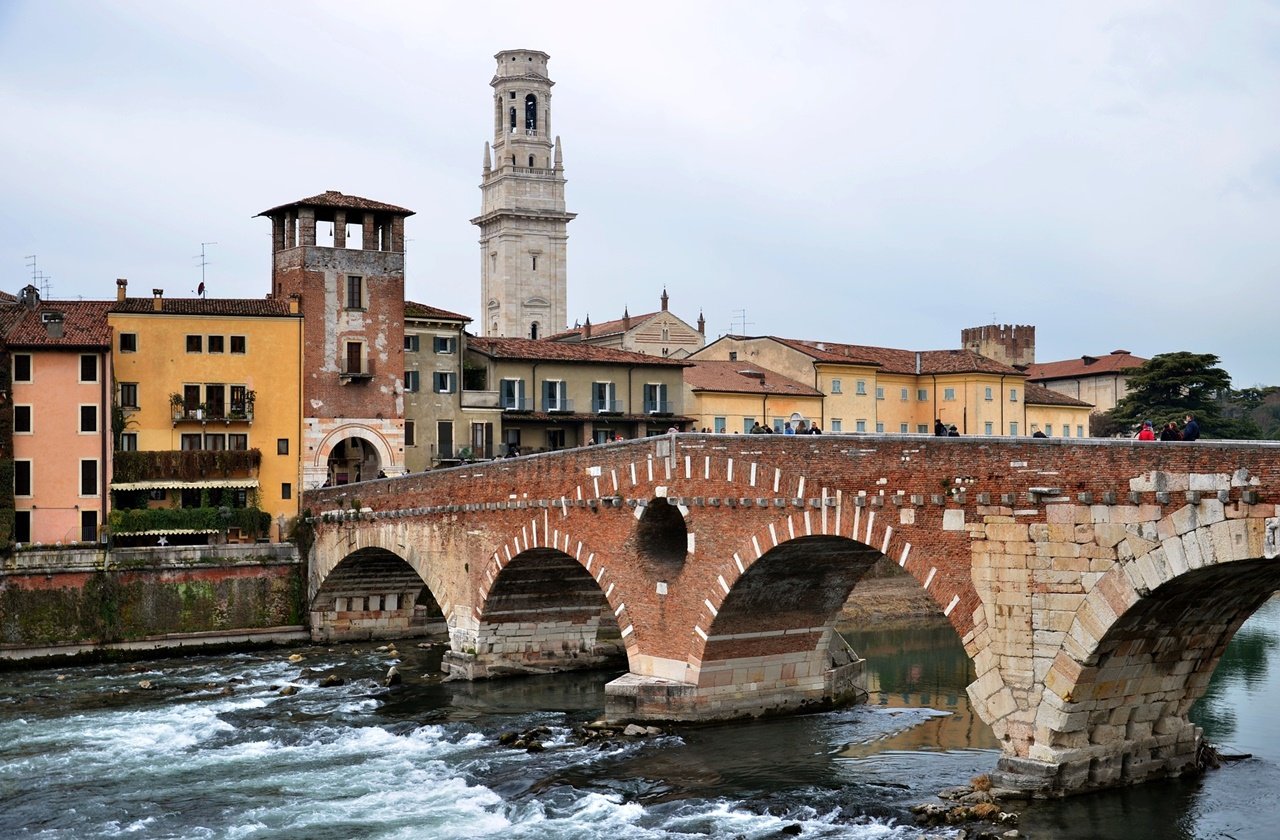 Photo by alex1965 on Pixabay
Located in northeast Italy, Verona lies near the Adige River, the second-longest river in the country. Verona is also the second-largest city in northeast Italy and is the largest city municipality in the region. It is bordered by Rovereto in the north, Vicenza in the east, Brescia in the west, and Mantua in the south.
Being 105 kilometers west of Venice, one can easily plan a day tour of Verona.
How to Get to Verona
One can go to Verona by plane, train, and by car. Depending on your allotted time for things to do in Verona, you can take the fastest route or take a more relaxed alternative.
The Verona-Villafranca Airport (VRN) is the closest airport to Verona and is 12 kilometers away from the city center. From the airport, take the shuttle bus service that connects the main railway station to the airport. Travel time takes only 15 to 20 minutes and the service runs every 15 minutes. Airports in Brussels, Dublin, London, Madrid, and Moscow all have flights going to Verona.
On the other hand, one can also take the train to Verona, although travel time may not be the fastest. From Milan, travel time by train to Verona takes about an hour and 30 minute; while a train ride from Venice to Verona takes more or less an hour. Rome Tiburtina and Termini stations have daily trips to Verona with a travel time of 3 hours. If you're coming from neighboring European cities like Munich, going to Verona will take 5 hours and 30 minutes.
Lastly, if you'll take a rental car to Verona, the city is in between two major Italian motorways, namely the Modena-Brennero and Milano-Venezia highways. From Florence, Verona is 230 kilometers away or 2 hours and 30 minutes, while Milan is 161 kilometers or 2 hours away.
Best Things to Do in Verona
1. Join a Shakespeare Tour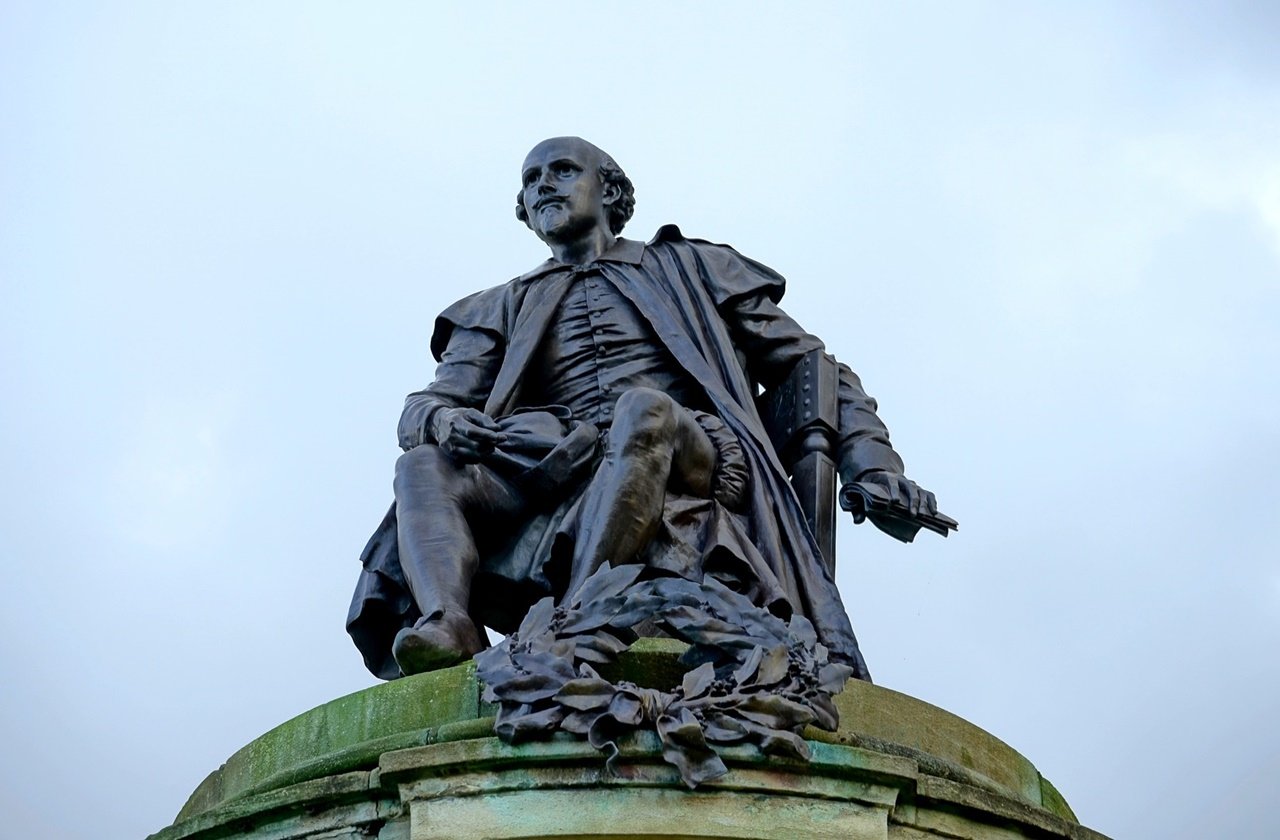 Photo by Mikes-Photography on Pixabay
When in Verona, don't skip on taking a Shakespeare-inspired tour of Verona! Although it wasn't confirmed if Shakespeare did, indeed, step foot in the city, his works helped boost the overall tourism in Verona. These guided tours visit important places mentioned in his works like the iconic Romeo and Juliet and the lesser-known The Two Gentlemen of Verona. Visit the House of Juliet, Juliet's grave, the street where Romeo and Tybalt dueled, and more.
2. Catch Sweeping Views from Torre dei Lamberti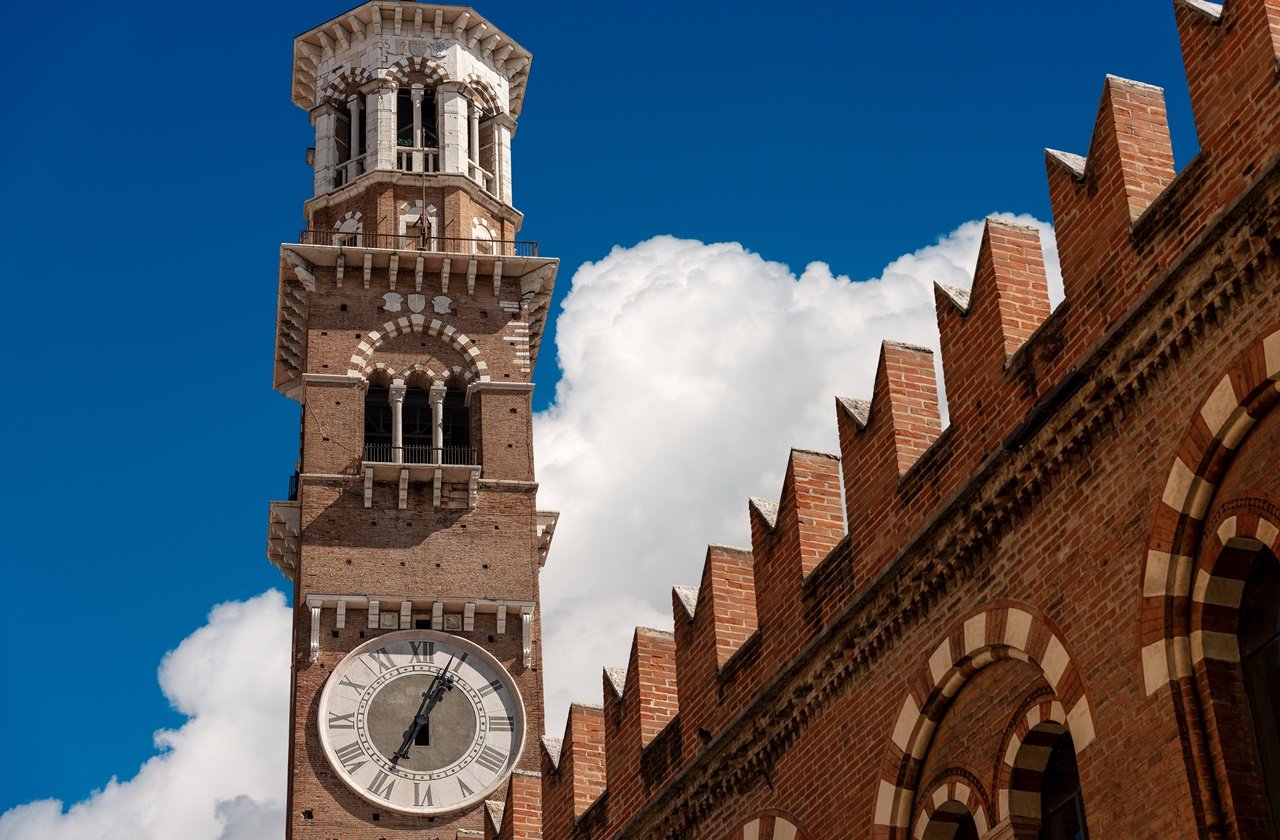 Photo by Alberto Masnovo on Adobe Stock
Standing 84 meters tall, the Lambert Tower (Torre dei Lamberti) is one of the most recognizable structures in the city. As such, climbing the tower is one of the best things to do in Verona. Climb hundreds of steps or take the lift (at an additional cost) in order to get to the top of the tower. Upon reaching the summit, marvel at the breathtaking bird's eye view of Verona. Your ticket includes admission to the Modern Art Gallery. But with a Verona Card, you can enjoy free admission to both attractions.
3. Go on a Day Trip to Lake Garda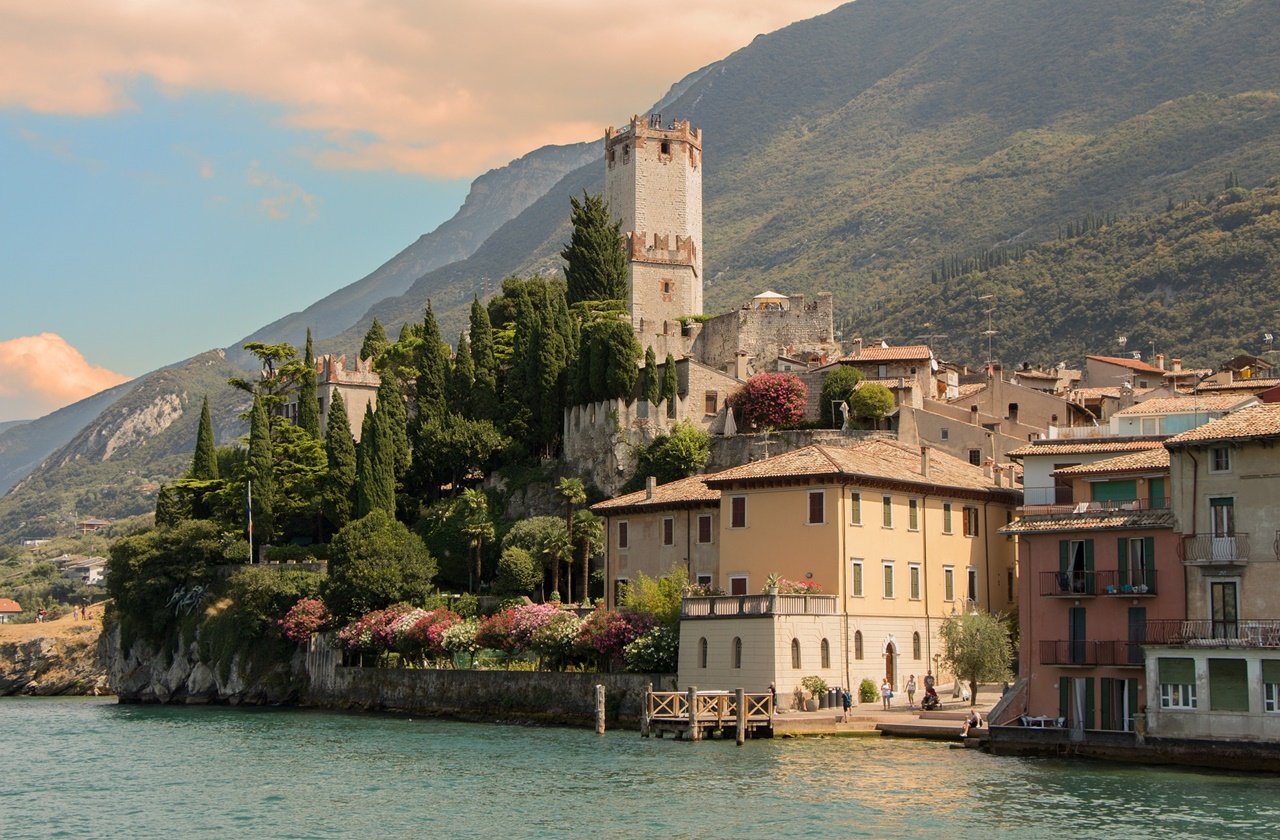 Photo by 6742595 on Pixabay
From Verona, take a short drive to Lake Garda. As the biggest freshwater lake in the country, there are plenty of things to do here. Take a walk to the top of a hill and visit the San Pietro Church, one of the oldest churches in the Sirmione commune. For adrenaline junkies, Lake Garda is also one of the best places for canyoning, and children and partake in this exciting activity.
4. See the Casa di Giulietta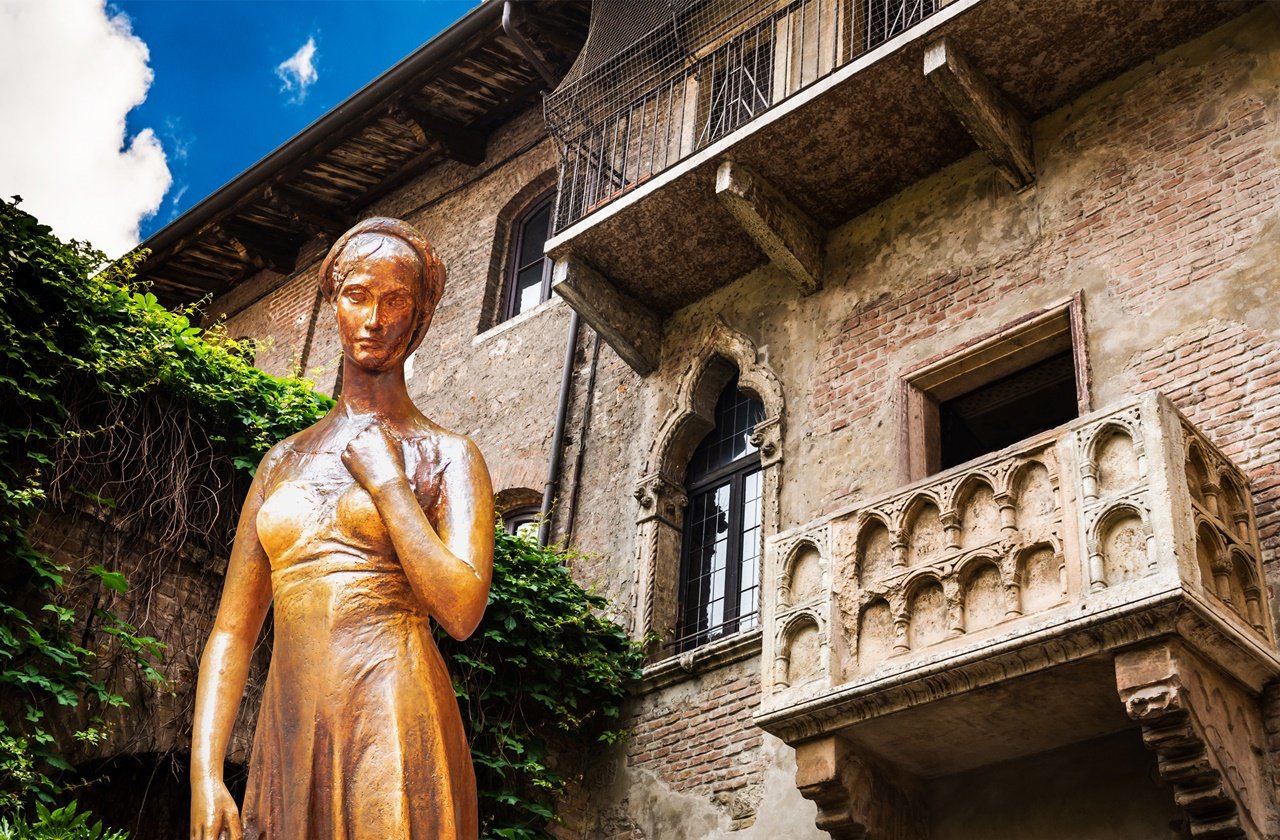 Photo by maximbolshakov on Adobe Stock
The House of Juliet (Casa di Giulietta) is perhaps the most photographed spot in Verona. It is said to be the location of the iconic balcony scene from Romeo and Juliet where the two characters share a conversation. Inside the Casa di Giulietta, there is also a museum that gives you a deeper insight into the house and its famous history. Since this is one of the popular things to do in Verona, make sure to avoid peak hours if you want to snap a photo of the balcony.
5. Have Coffee at Piazza Delle Erbe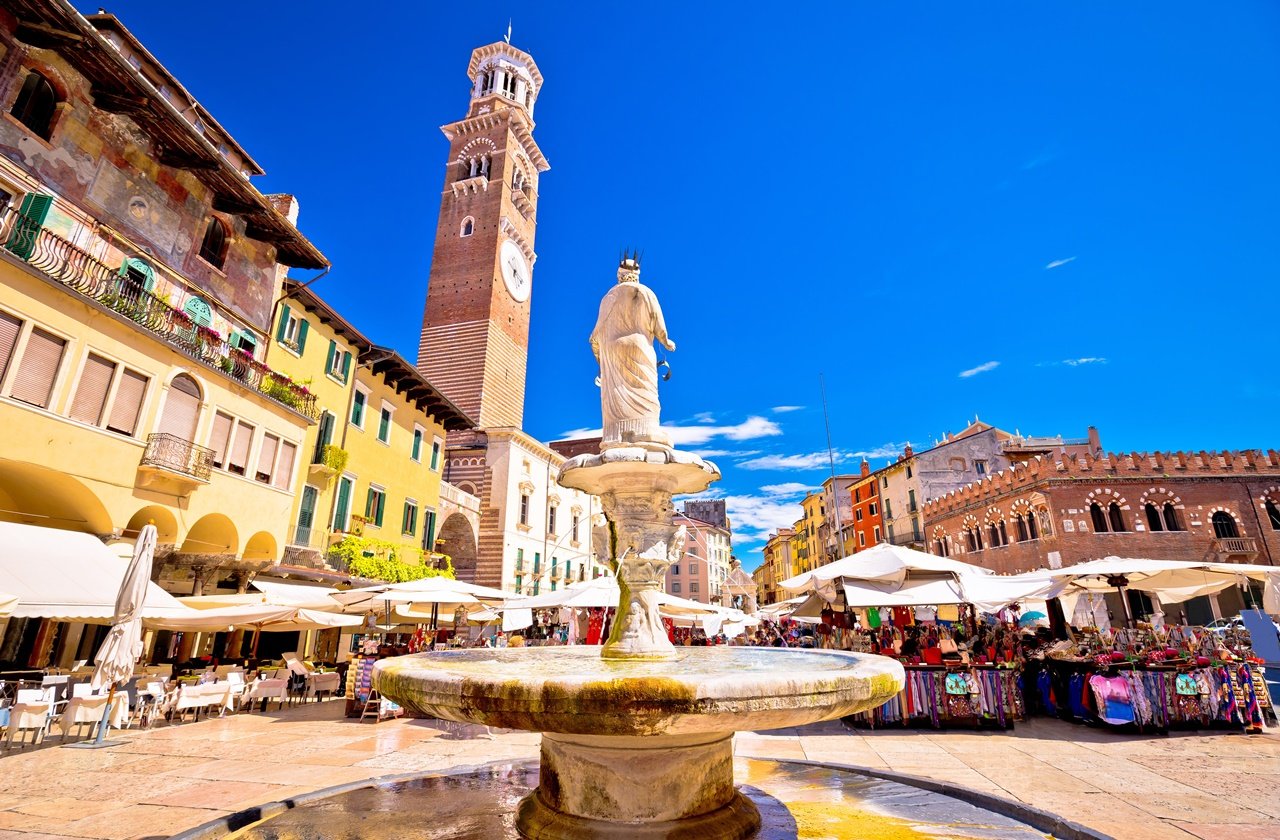 Photo by xbrchx on Adobe Stock
If you're looking for a break in the middle of sightseeing, head to Piazza Delle Erbe. It's not as busy and as crowded as Piazza Bra, so you can relax and enjoy a cup of coffee. The diamond-shaped town square offers plenty of cafes, restaurants, and stalls for shopping. However, the piazza attracts both tourists and locals alike because of the surrounding fountains, statues, and frescoed buildings. Piazza Delle Erbe is also near other popular attractions, ideal for those looking for a breather before resuming their sightseeing.
6. Visit Verona Cathedral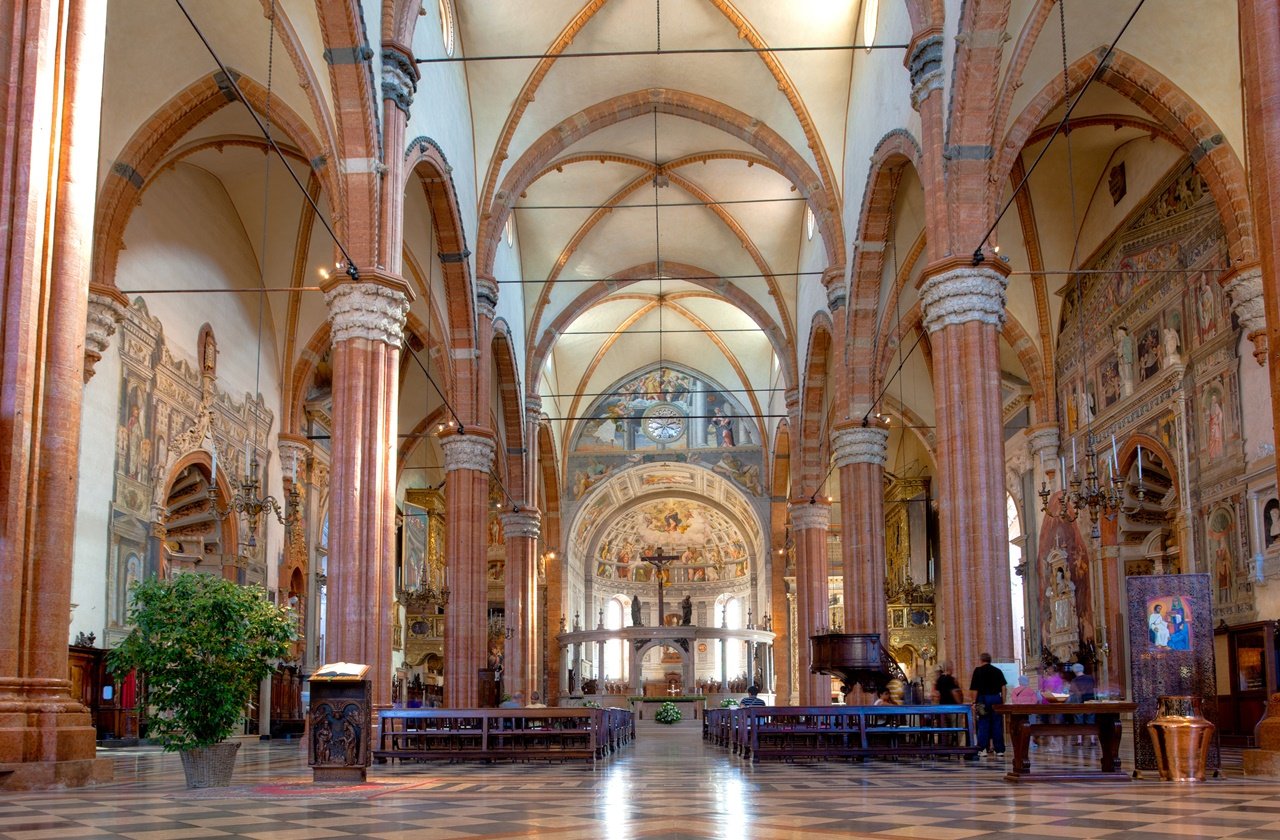 Photo by steheap on Adobe Stock
Don't let its simple exterior fool you; the Verona Cathedral is a beauty to behold. The cathedral boasts Romanesque designs with Biblical scenes carved around the door. Inside, the Renaissance frescoes decorate the ceiling along with red Verona marble. Find an ornate gold organ at the side of the altar, arguably the crowning glory of the cathedral. Like all churches, all visitors must adhere to the proper dress code. Make sure to wear clothing that covers your shoulders and knees before entering.
7. Walk Along the Giardino Giusti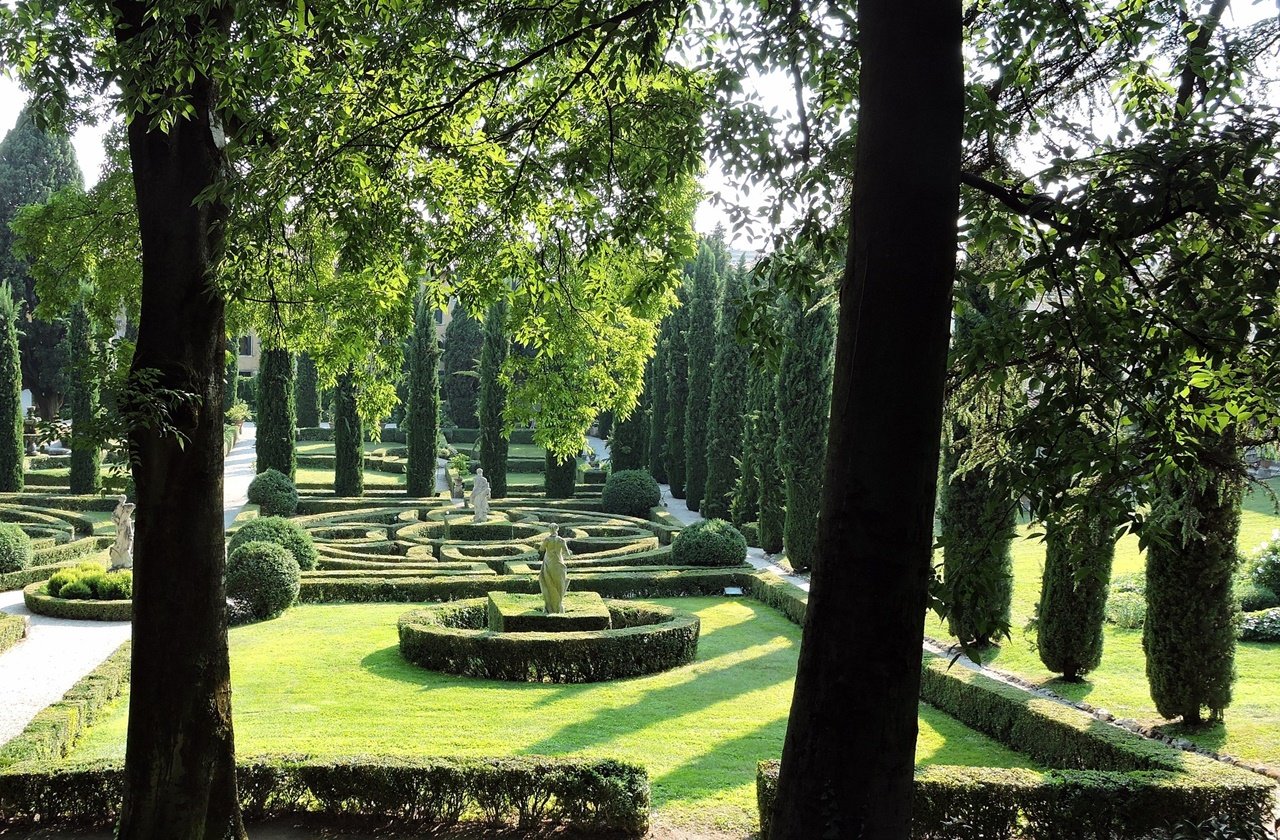 Photo by pcdazero on Pixabay
On a calm summer day, visit the Giusti Garden (Giardino Giusti), an Italian Renaissance garden widely regarded as one of the best Renaissance gardens in Europe. Explore the 8 squares, each designed differently with a central pièce de résistance, usually a fountain or a decoration. Bring out your cameras and get ready to snap Instagram-worthy photos at the Giardino Giusti! Walk around the hedge maze and admire the detail and effort that comes with maintaining these well-manicured gardens. If you want to bask in the serenity of the place, plan your visit in the early morning before the crowd comes in.
8. Go Shopping at Centro Storico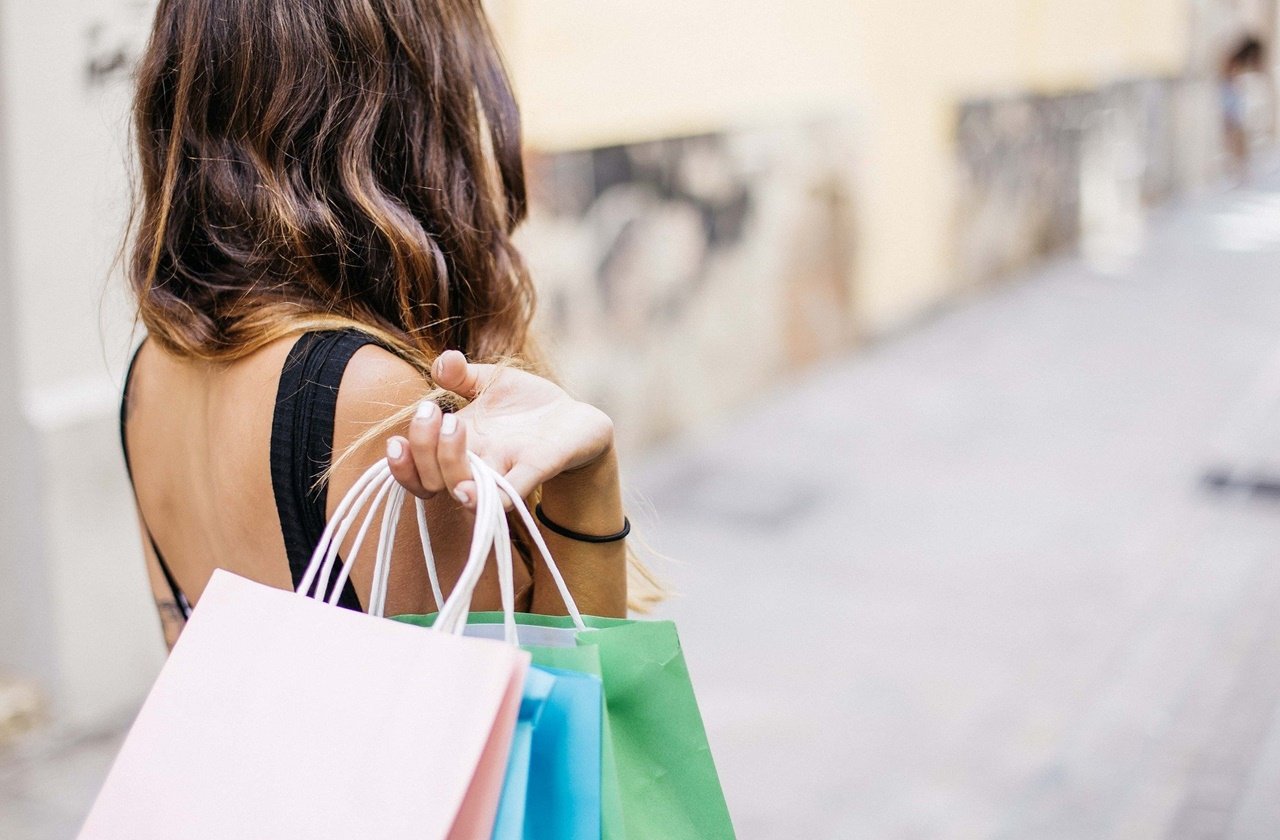 Photo by gonghuimin468 on Pixabay
As with the glamorous city of Milan, shopping is one of the best things to do in Verona. The Centro Storico, also known as the old town, boasts commercial and high-end brands like H&M and Valentino. From the main street at Centro Storico, continue wandering and explore the small streets near Via Mazzini and find quaint boutiques. Hop from one shop to another, either window shopping or actually buying a few pieces. Then, stop by at a cafe for a much-needed rest before heading out again.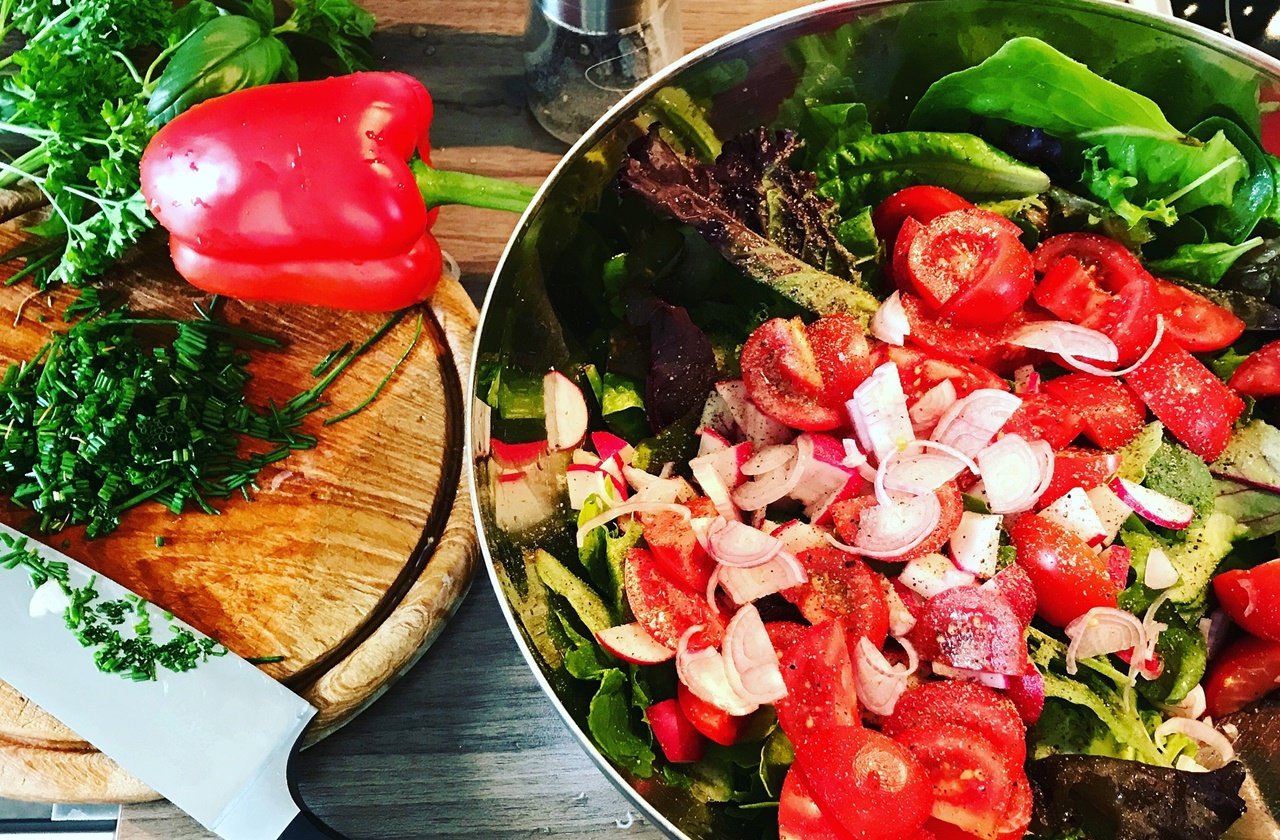 Photo by spinheike on Pixabay
Put on your chef's hat and apron and participate in a fun cooking class. This is a great way to appreciate and gain a deeper appreciation of the much-loved cuisine. Depending on the inclusions, learn the basics of making pasta by scratch, risotto, and tiramisu. In some classes, you may even visit a market to buy the ingredients needed for the class. At the end of the class, enjoy the fruits of your labor and receive a certificate as a souvenir.
10. Feel the Yuletide Spirit at the Christmas Market at Piazza dei Signori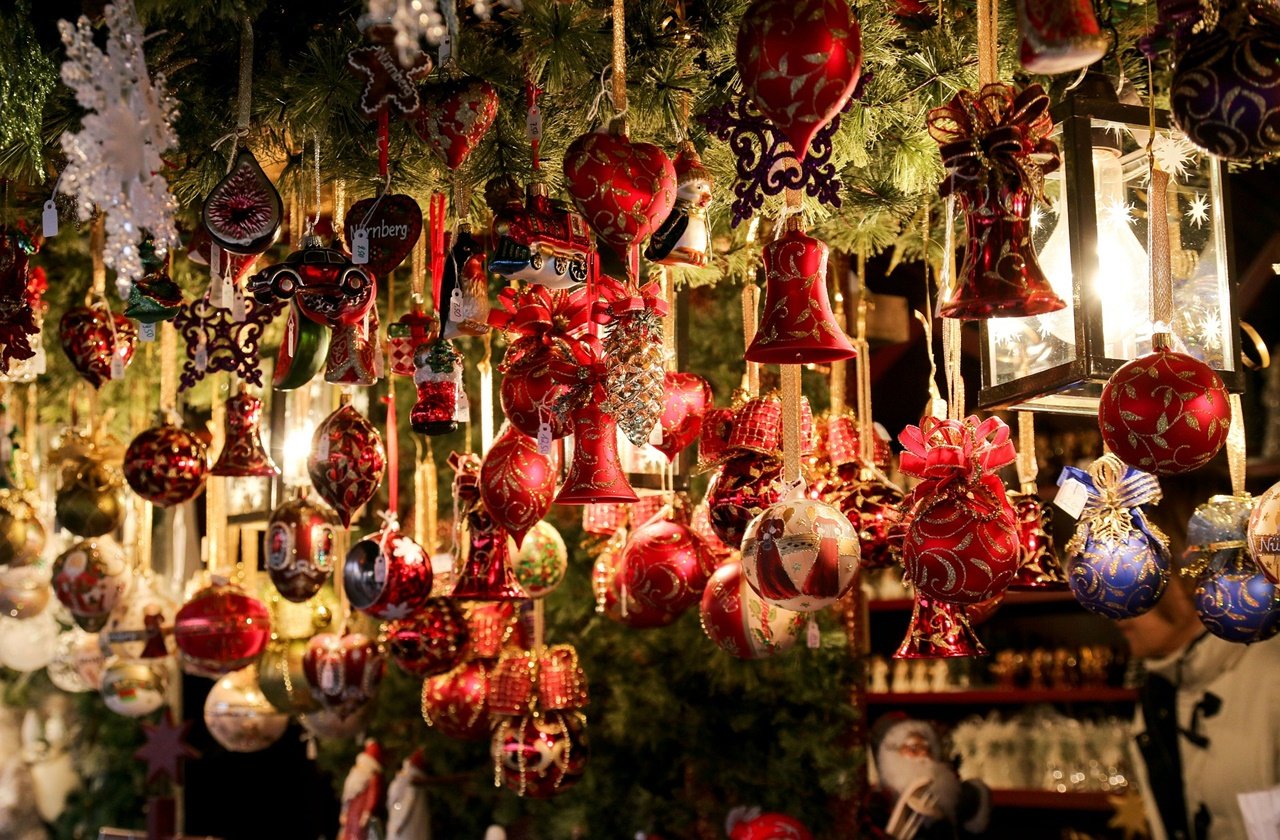 Photo by blende12 on Pixabay
For travelers visiting Verona in the winter months, don't miss the annual Christmas markets at Piazza dei Signori! This beloved European tradition dates back centuries ago and is where you can get an overview of the city's cuisine and culture. Find stalls selling handmade Christmas trinkets, toys, and items you can give as gifts. As you visit one stall after another, munch on spiced cookies or enjoy a mug of mulled wine. While they aren't as famous as the other Christmas markets, visiting the market at Piazza dei Signori is one of the best things to do in Verona.
11. Visit the Biblioteca Capitolare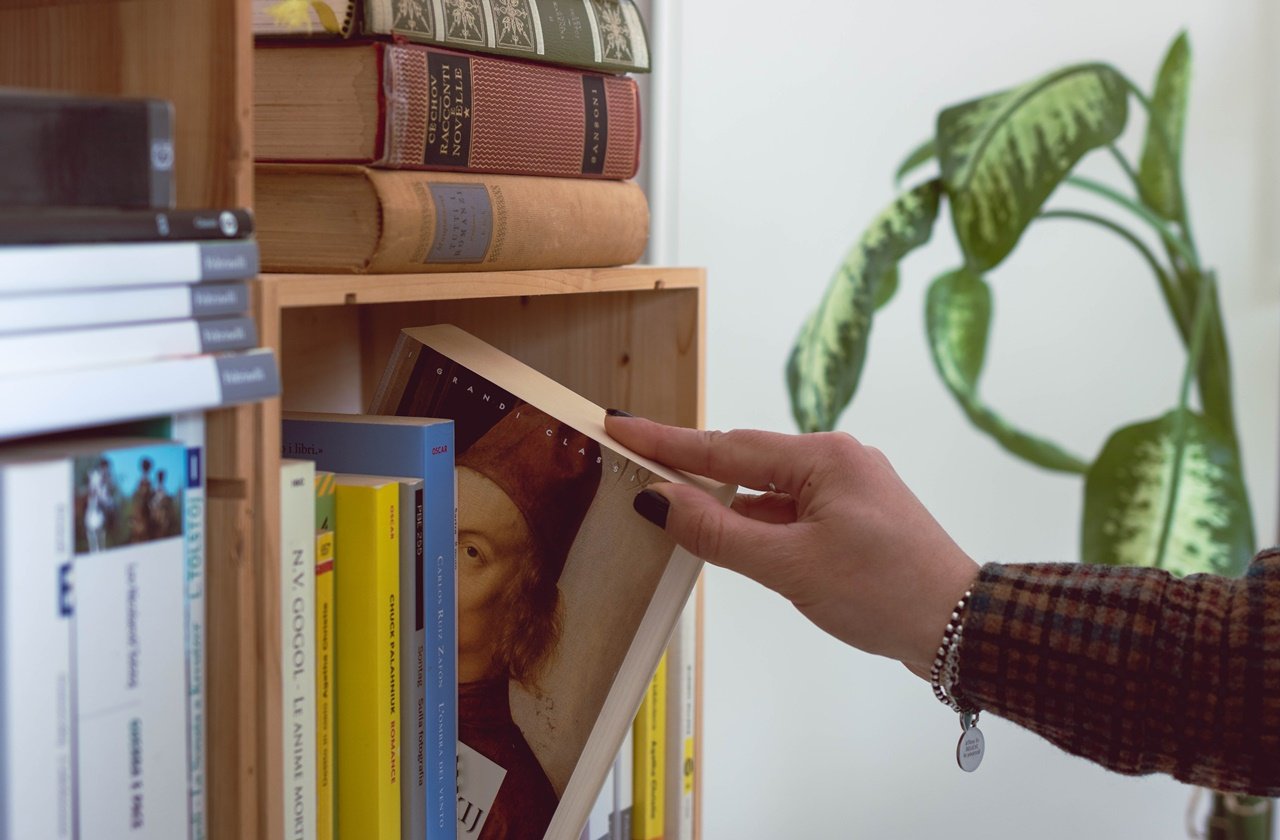 Photo by Ergita Sela on Unsplash
Located in Verona Cathedral is one of the oldest functioning libraries in the world. The Chapter Library of Verona Cathedral (Biblioteca Capitolare della Cattedrale di Verona) features a collection of manuscripts and ancient books. Travel back in time as you browse the library shelves, finding books dating back centuries ago. Find the book that contains early Church Orders, the oldest book of the Roman Rite, and others. Because of the books within its arsenal, the Biblioteca Capitolare earned its nickname, "Queen of ecclesiastical collections".
12. See the Arena di Verona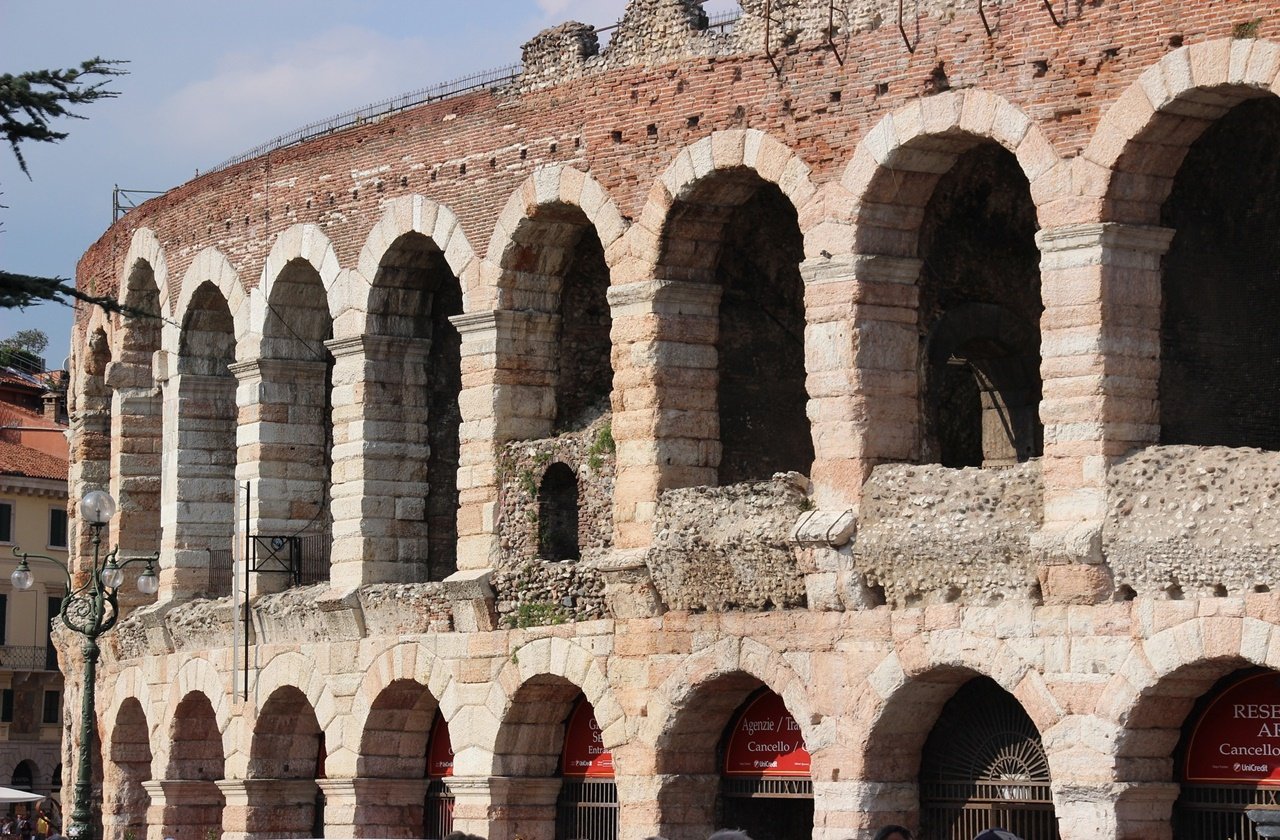 Photo by Sandmannwolle on Pixabay
A trip to the gigantic arena is one of the best things to do in Verona. Although Rome's Colosseum is the most recognizable amphitheater, the Verona Arena (Arena di Verona) is also worth visiting. Tucked in the city's historic center, the arena has much of its original interior and exterior. Although most parts of the outer part were damaged due to an earthquake, it is still well-preserved and is used for events and concerts. If you plan your trip ahead, you may get a chance to catch an opera performance here! Otherwise, you can simply go on a day tour and appreciate its architecture.
13. Explore Castelvecchio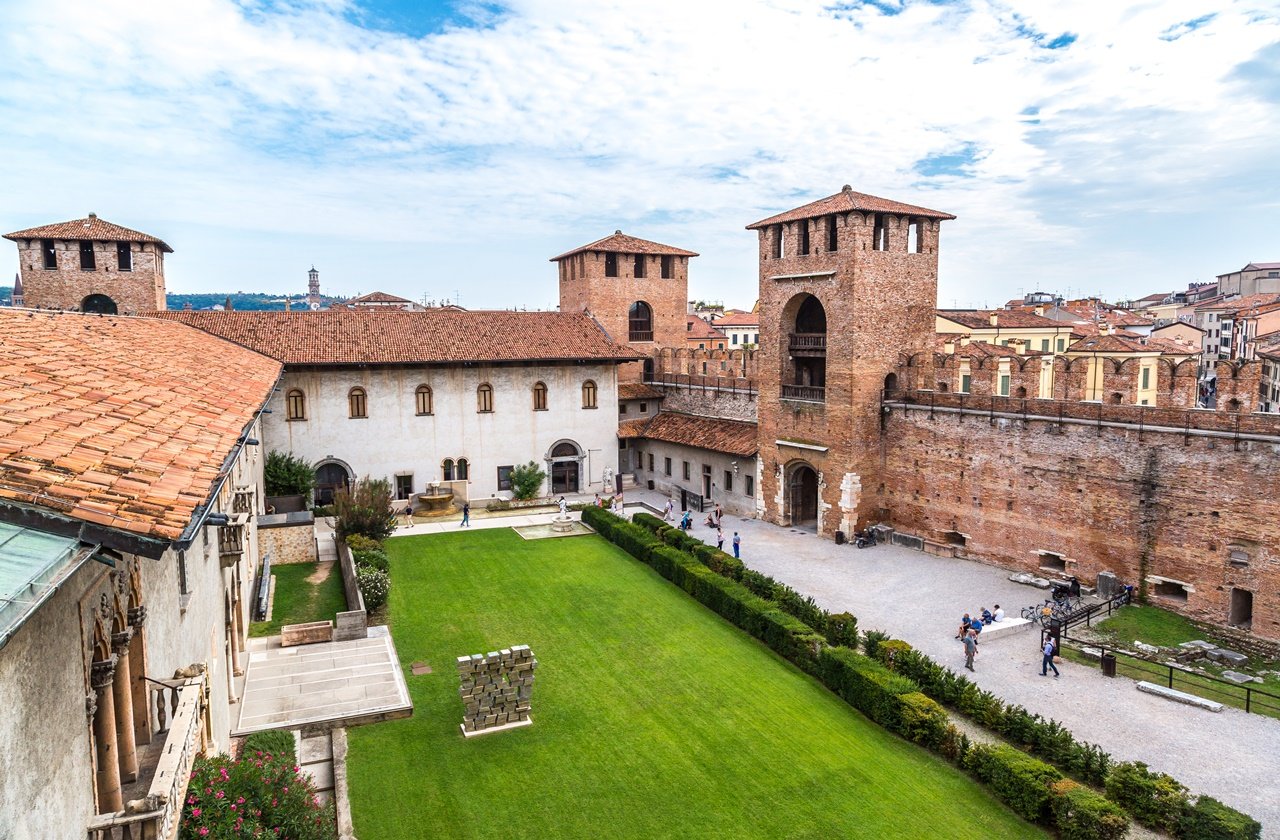 Photo by Sergii Figurnyi on Adobe Stock
Dating back to the 14th century, Castle Vecchio is among the must-visit sites in Verona. Built with red bricks, the castle is a perfect example of Gothic architecture. However, Castle Vecchio is far from the fairytale-like castles in France as it was built with the security of the residents inside the castle in mind. During the time of its construction, it was the most powerful military defense in the area. Go on a guided tour and explore the castle grounds as you learn more about its history. This is also one of the best things to do in Verona for families or travelers with children.
14. Admire the Art at Castelvecchio Museum and Gallery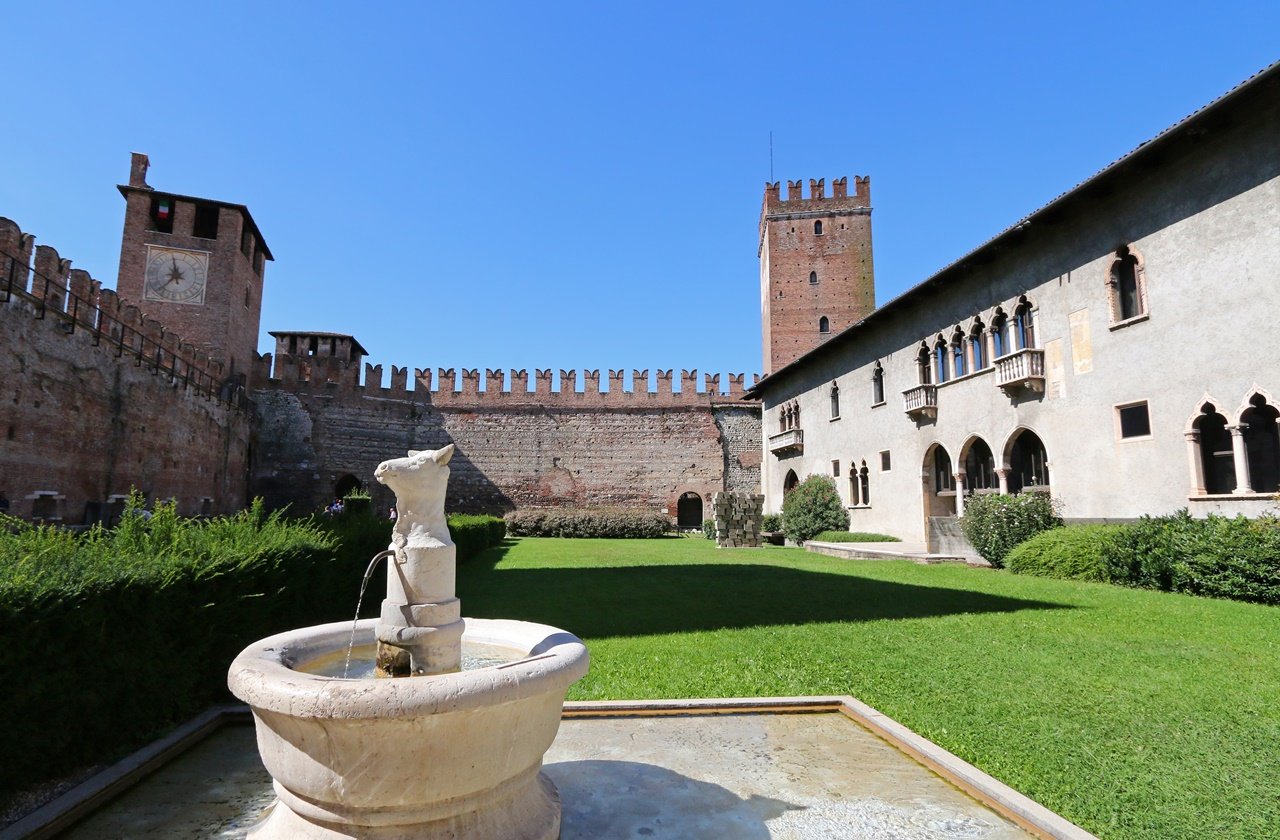 Photo by sasimoto on Adobe Stock
Make the most out of your trip to Castle Vecchio and pay a visit to the museum. The Castelvecchio Museum and Gallery showcases sculptures, paintings, ceramics, and other artworks from the Romanesque Period. Additionally, the museum was restored by the famous Italian architect Carlo Scarpa from 1959 and 1973, further enhancing and preserving the building. Combining modern and traditional elements, its design was considered unusual back then, but it eventually became common when it comes to renovation.
15. Enjoy Italian Food at Piazza Bra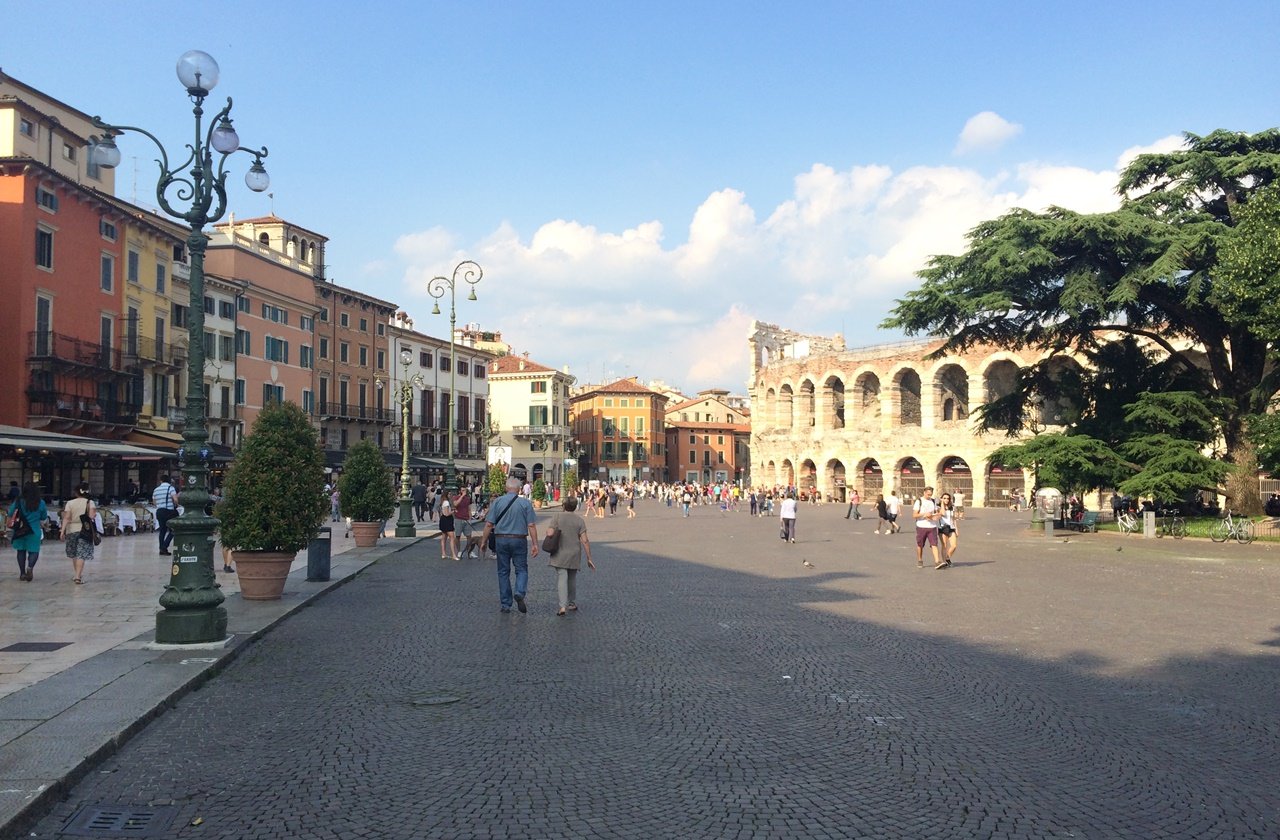 Photo by Veronika Bashak on Wikimedia Commons
Piazza Bra is the city's largest town square and is where you can find the best cafes, restaurants, and bars. It is also the project jump-off point for fun things to do in Verona like sightseeing, people-watching, and bar-hopping. While you can find the best places to eat in off-the-beaten-path areas in other cities, there are also good quality restaurants in Piazza Bra itself. Feast on delicious meals like pizzoccheri (buckwheat pasta with cheese and sage), pastissada de caval (braised horse meat), casoela (pork casserole), and more.
16. Cross the Ponte di Castelvecchio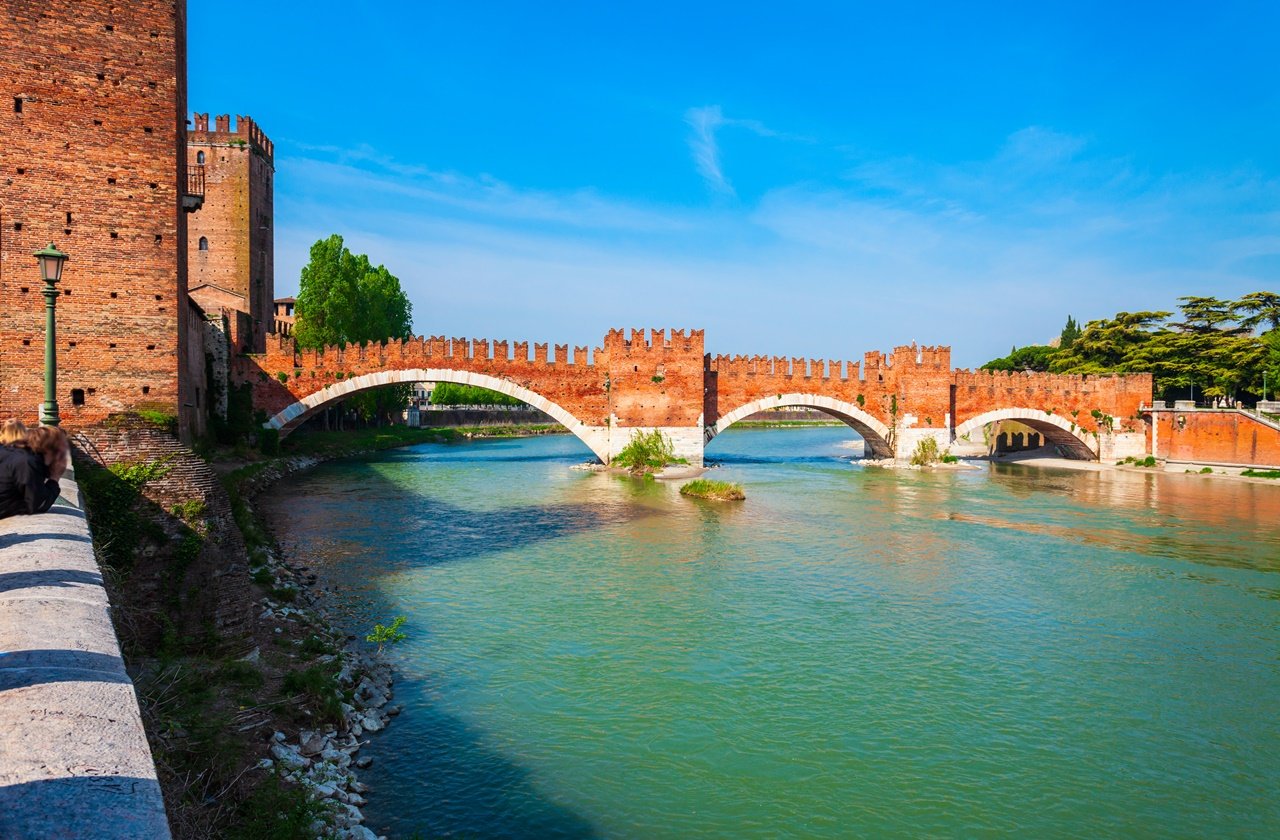 Photo by saiko3p on Adobe Stock
Complete your visit of Castle Vecchio and cross the famous Castle Vecchio Bridge (Ponte di Castelvecchio). Unlike the castle and the museum, the bridge is open all the time, so you have the freedom of choosing when to visit the bridge. Additionally, you can get a better view of the Verona cityscape from the elevated viewpoints along the bridge. After or before your visit to the castle, walk across the bridge and enjoy panoramic views of the river or the castle. Likewise, you can also get the best views of the bridge from Castle Vecchio.
17. Visit the Basilica of San Zeno Maggiore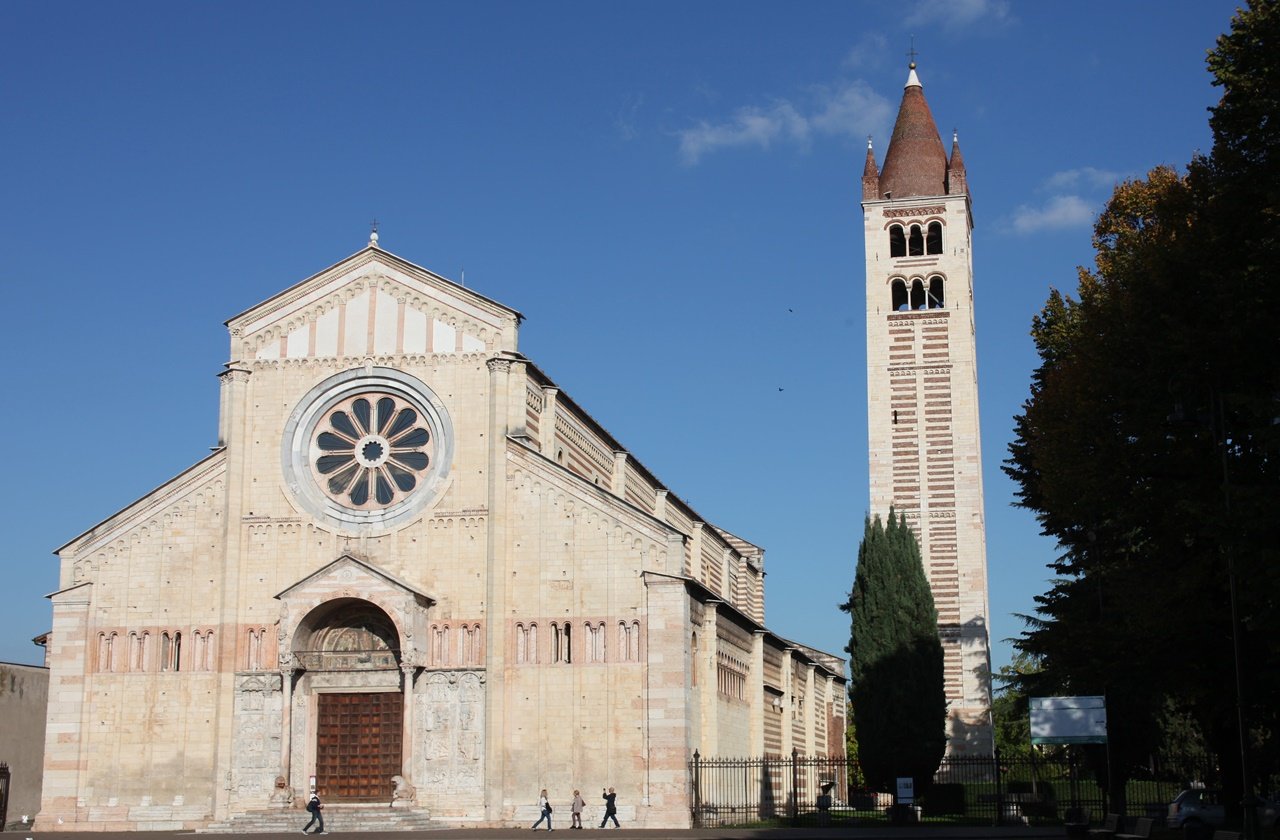 Photo by Rick Ligthelm on Flickr
A visit to the Basilica of San Zeno Maggiore is one of the essential things to do in Verona, especially for Romeo and Juliet fans. This is the basilica where the marriage between the star-crossed lovers happened in the play. But even if you're not a huge fan of their tragic romance, the basilica is still worth a visit! Famous for its Romanesque architecture and "rose window", the beautiful Basilica of San Zeno Maggiore is one of the important religious buildings in Verona. In addition, it also features a triptych of the Madonna with Child and Saints by Mantegna.
18. Take Pictures of the Palazzo della Gran Guardia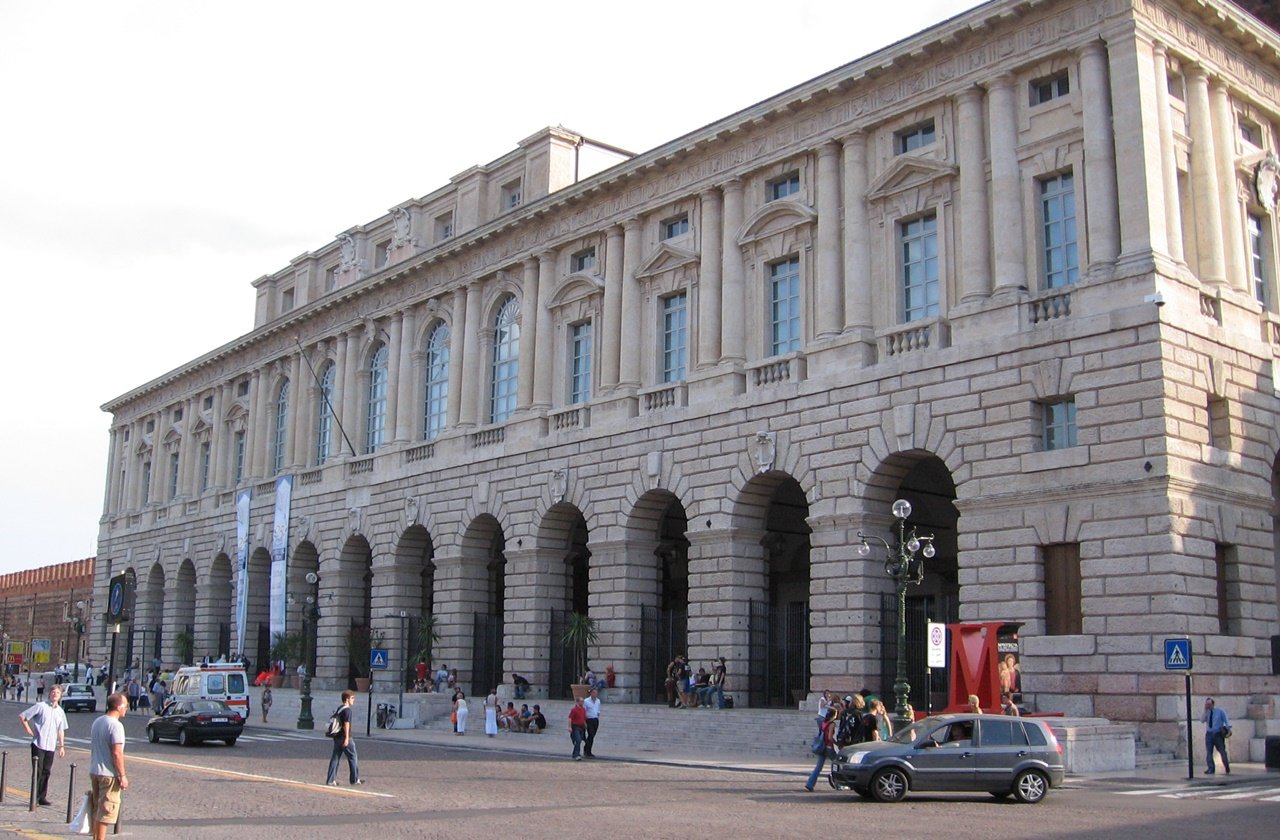 Photo by Jacopo Prisco on Wikimedia Commons
Admire the elegant arches and overall facade of the Gran Guardia Palace (Palazzo della Gran Guardia). Not only is the Gran Guardia Palace pleasant to look at, but it packs a lot of history. The palace became a training ground for soldiers and in 1848, it was used as barracks for the Austrian Army Forces. Now, the palace is utilized as a venue for conferences, cultural events, and art exhibitions. If you're coming from Piazza Bra, take a short walk to this beautiful landmark.
19. Watch the Sunset from Castel San Pietro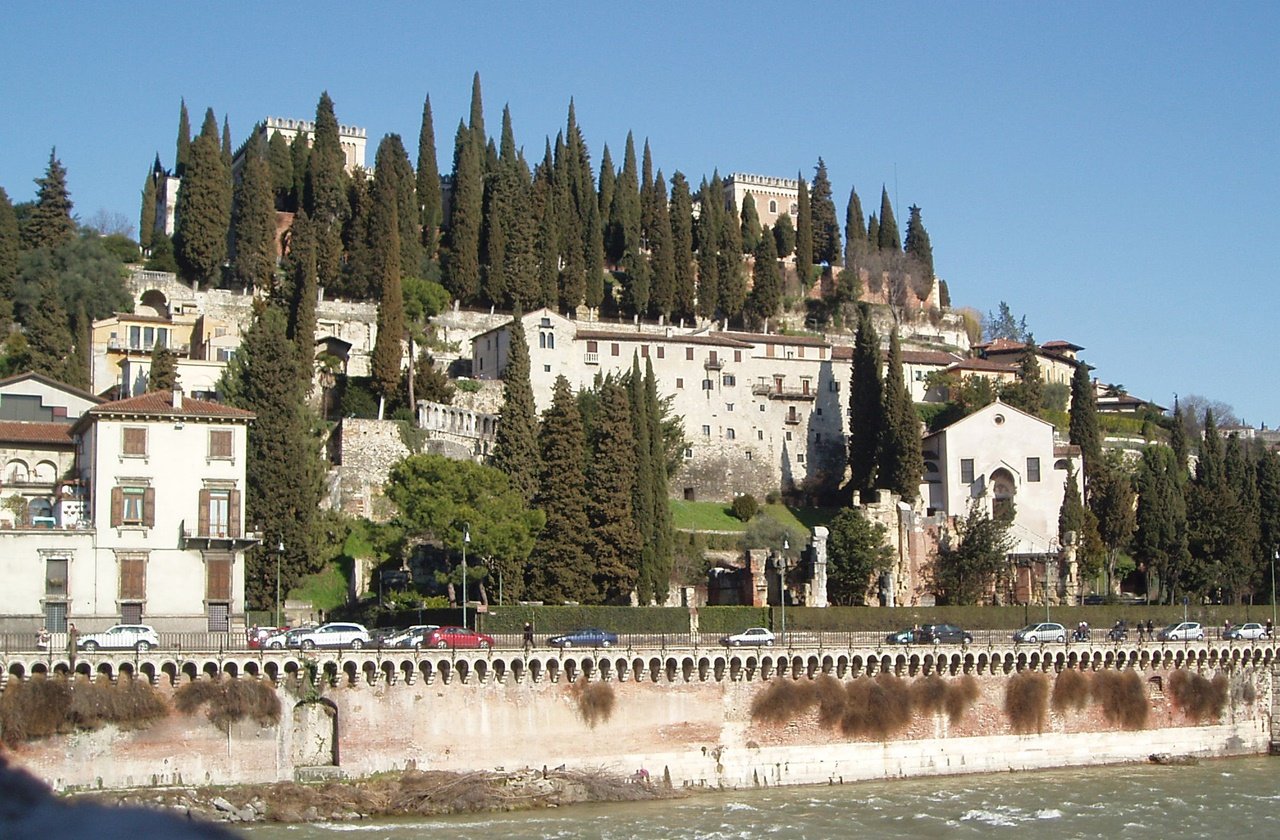 Photo by ilaria on Flickr
Cap off your day and catch the best sunset views at Castel San Pietro! Visiting Castel San Pietro is one of the best things to do in Verona because of its panoramic views of the city. From the hill, you can see the tiled roofs, the Lamberti Tower, and an overview of Verona. Hop on a funicular and enjoy the ride up the hill where you can see the Adige River winding around the city. When visiting Castel San Pietro, do as the locals do and make sure to bring wine, cheese, and other appetizers, and enjoy a picnic as you watch the sunset.
20. View the Scaliger Tombs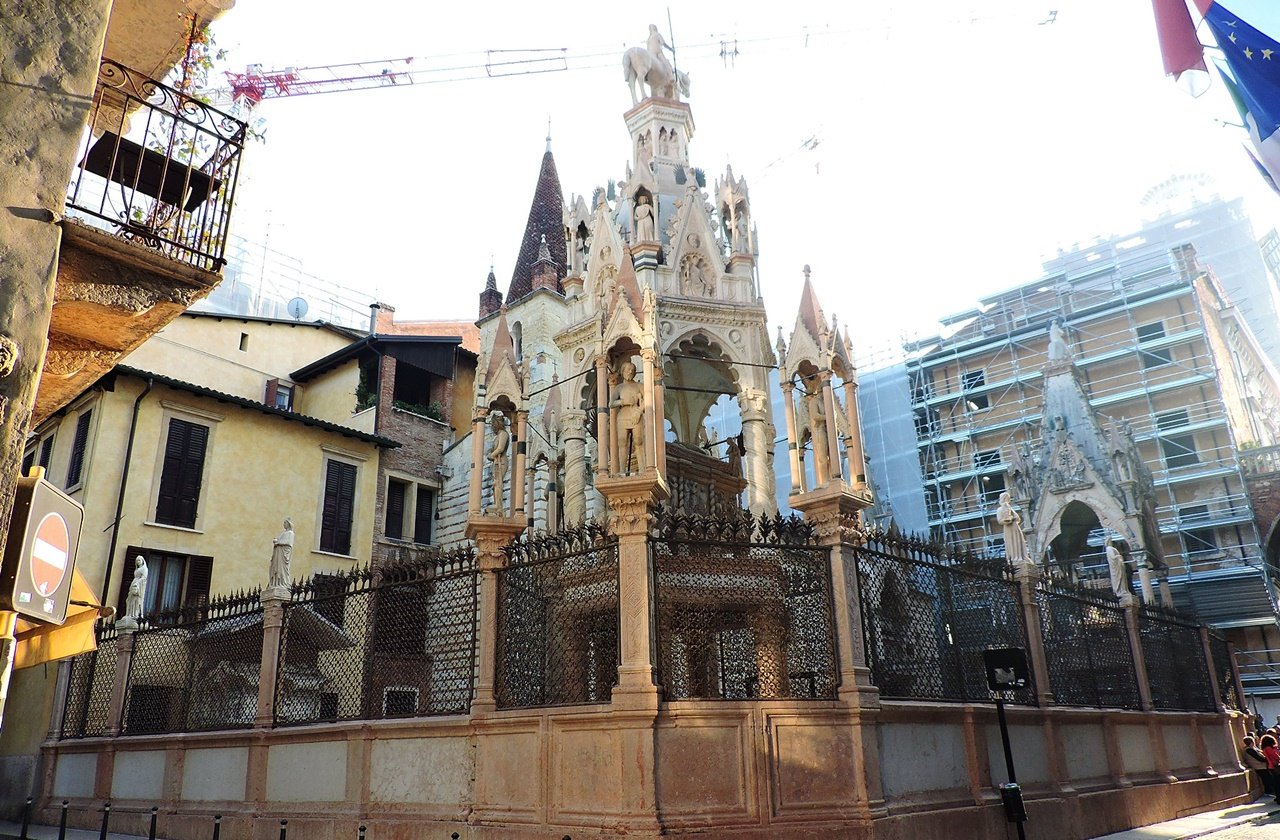 Photo by Dimitris Kamaras on Flickr
From the 13th to 14th century, the Scaliger family ruled over Verona. As such, the Scaliger Tombs were built to honor the famous family. Go on a short walk from Piazza dei Signori to see the funerary monuments dedicated to the five Scaliger lords. What makes this monument a popular one is its stunning Gothic architecture with tabernacle-like figures adorning it. The pointed towers with intricate decorations then made it one of the best examples of Gothic architecture not only in Verona, but in the entire country as well. Although you can see the Scaliger Tombs from the ironwork fence, get a closer look at the monuments for an extra fee.
21. See the Exterior of Casa di Romeo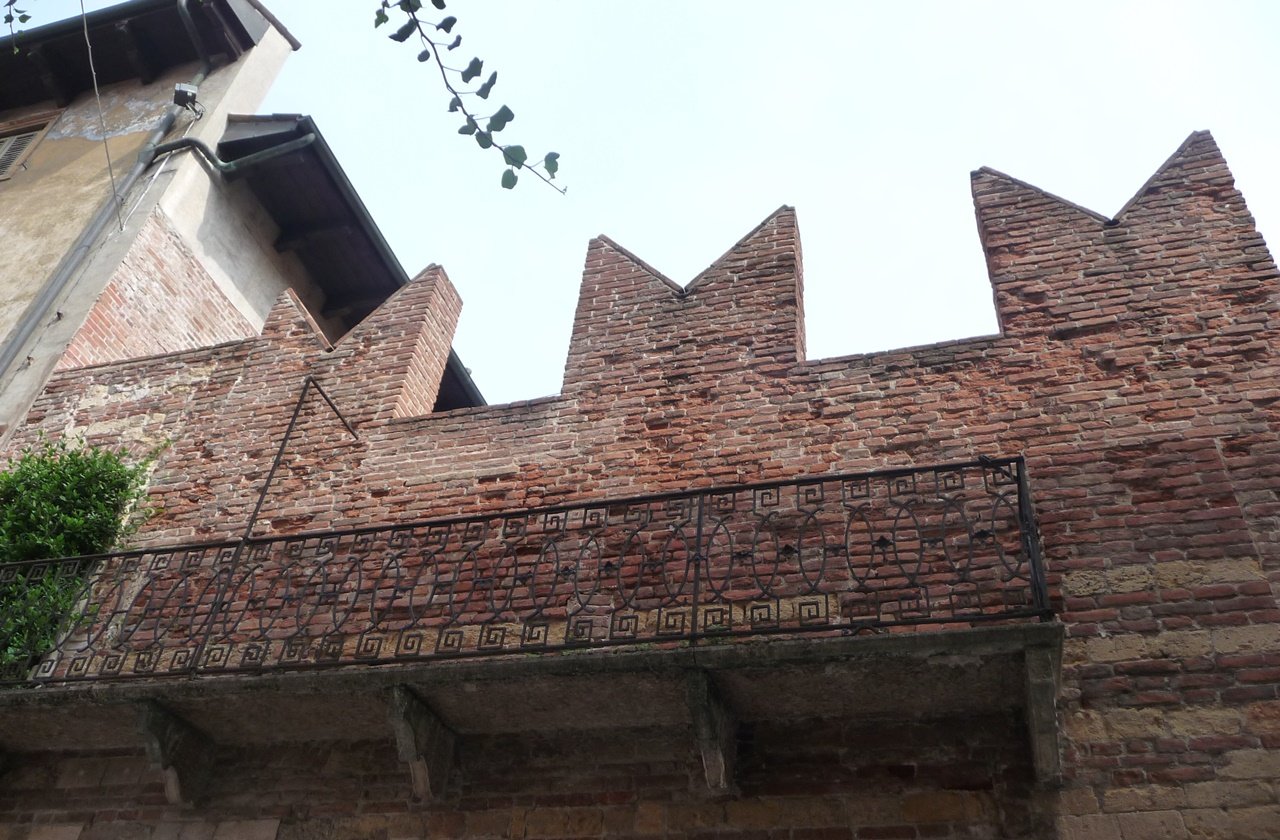 Photo by Marcok on Wikimedia Commons
Of course, when one visits the Casa di Giulietta, a trip to Casa di Romeo should follow! The smaller house is built with an internal courtyard within its 13th-century walls. Unfortunately, the Montague house is private property, so visitors are not allowed inside. But despite it being closed off from the public, Casa di Romeo is a short walk from Casa di Giulietta, making it a small yet meaningful addition to the best things to do in Verona.
22. Marvel at the Grandeur of Palazzo Barbieri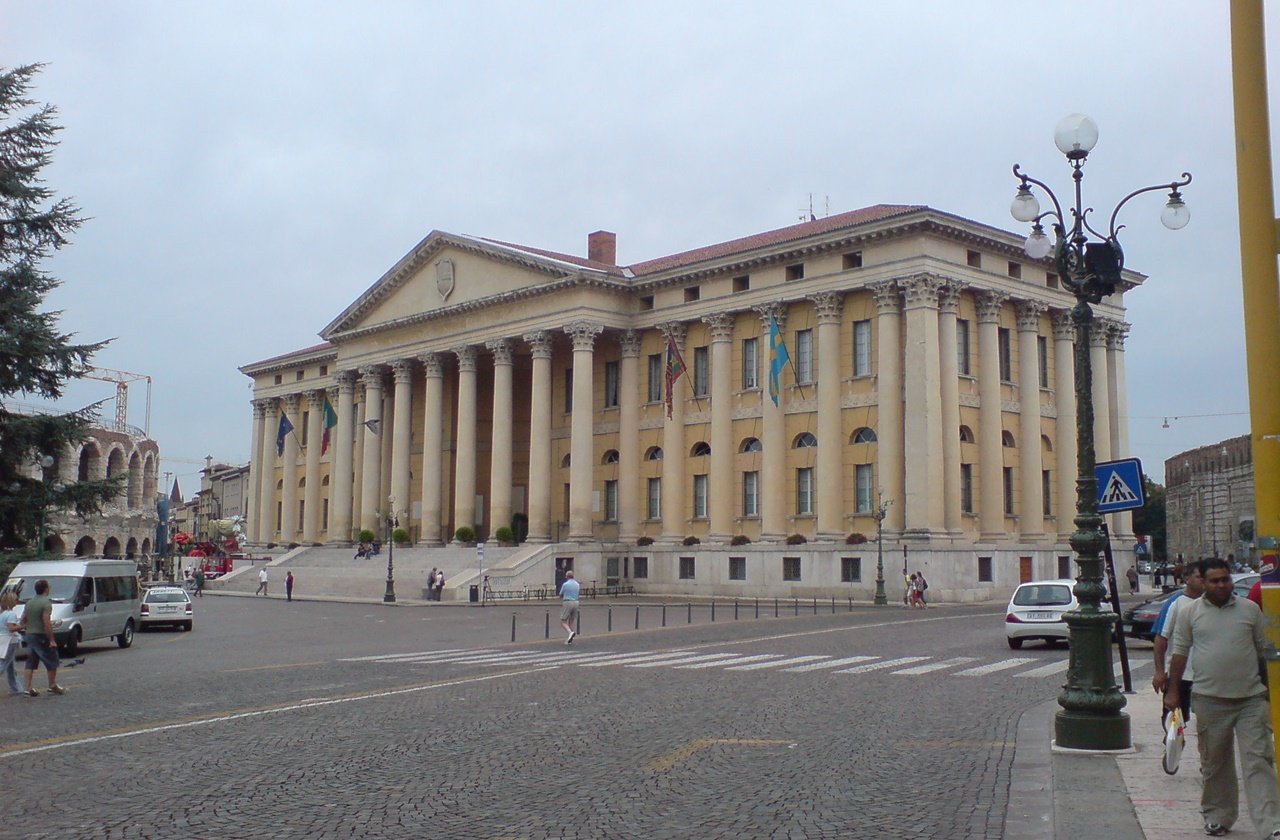 Photo by Cristian Martinez on Flickr
Along with Palazzo della Gran Guardia, don't miss the Palazzo Barbieri. This 19th-century Neoclassical palace serves as the city's town hall. The building's construction started in 1836 and was designed by Giuseppe Barbieri, hence its name. It was completed in 1848 and has been a popular tourist destination since. While Palazzo Barbieri doesn't allow visitor access, you're free to take photos and admire its facade from the outside.
23. Pass by the Arco dei Gavi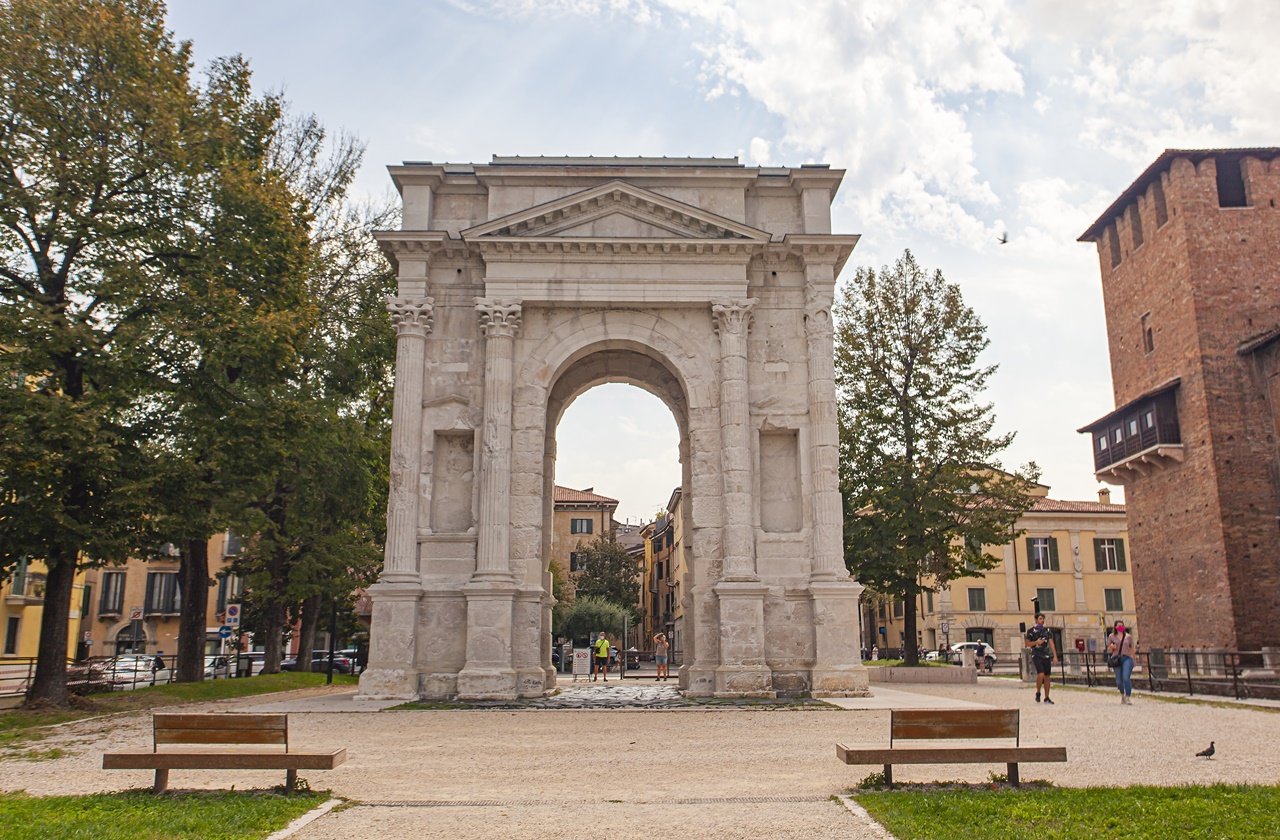 Photo by Filippo Carlot on Adobe Stock
Verona's Arco dei Gavi is reminiscent of Rome's Arch of Constantine. As beautiful as the arch looks, its history and significance are also worth noting. During the Middle Ages, the council used it as an entrance gate. However, during the Napoleonic rule, the arch was destroyed and was demolished by French engineers. In 1932, the reconstruction of the arch was done by using the stones from the original structure. While the Arco dei Gavi is a must-visit for day tours, one should also see the arch at night when illuminated by the city lights.
24. Try Eating Horse Meat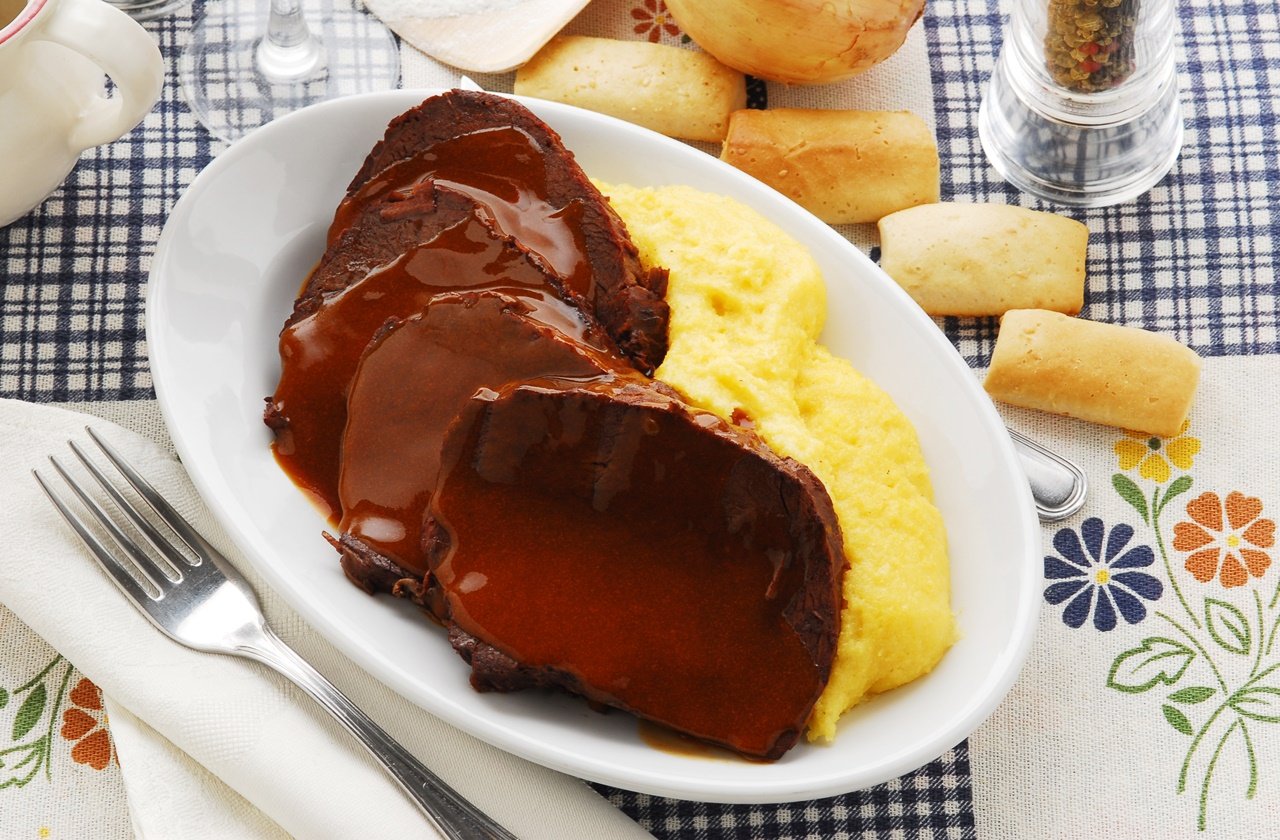 Photo by Comugnero Silvana on Adobe Stock
Go for the unusual and try one of Verona's local staples: horse meat! It may sound weird or even unappetizing for some, but horse meat is a common choice of meat in the area. Eating horse meat also dates back to a time when meat was scarce, and eventually became a classic dish. Try a braised horse meat stew, made with horse meat, seasoned with bay leaves, nutmeg, cinnamon, and other spices. You can also have horse meat on your pasta and risotto.
25. Go Whitewater Rafting at the Adige River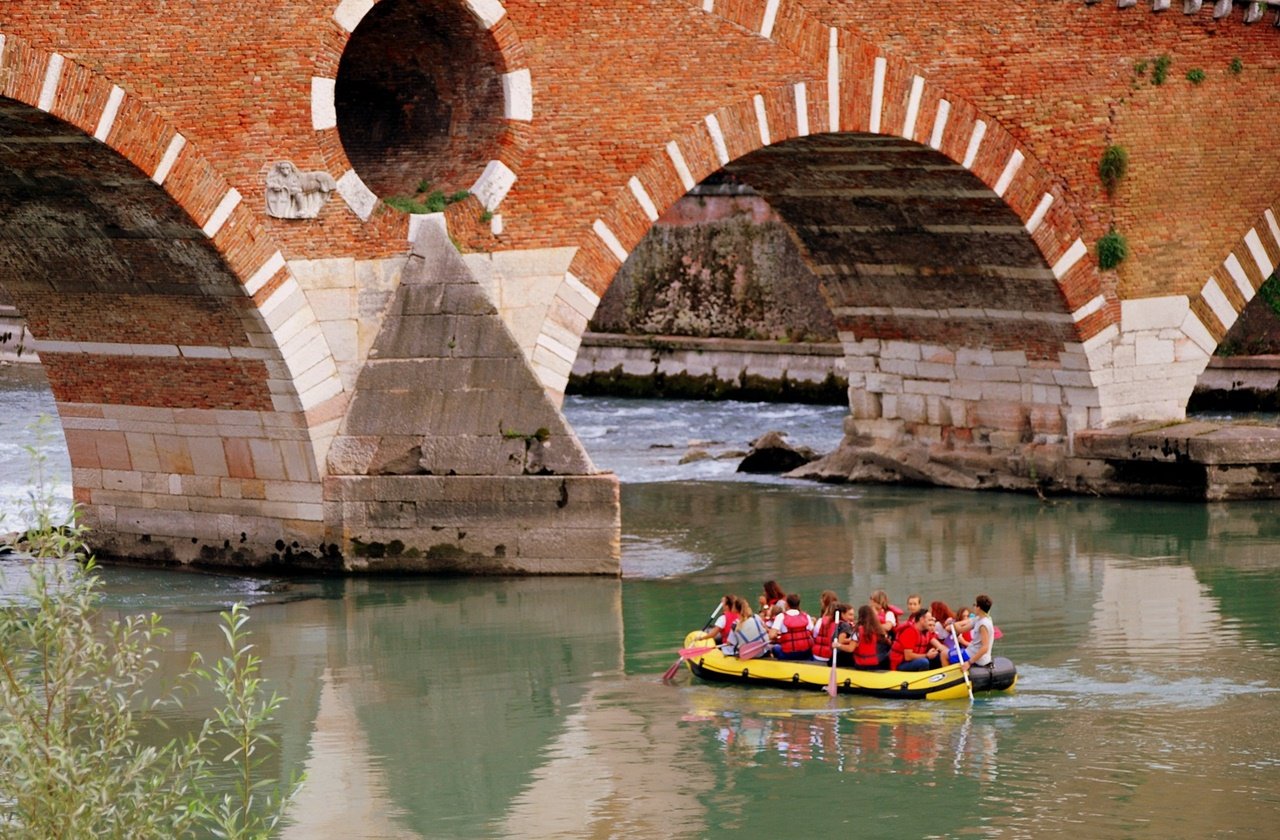 Photo by pcdazero on Pixabay
Rafting at the Adige River is one of the most exciting things to do in Verona for all ages! One might not think that whitewater rafting across a city is a thing, but Verona makes it possible. This also allows you to see the city from another perspective as you paddle under bridges and pass by iconic structures. You can also combine a rafting adventure with a bike tour or a wine tasting session, depending on the activity provider.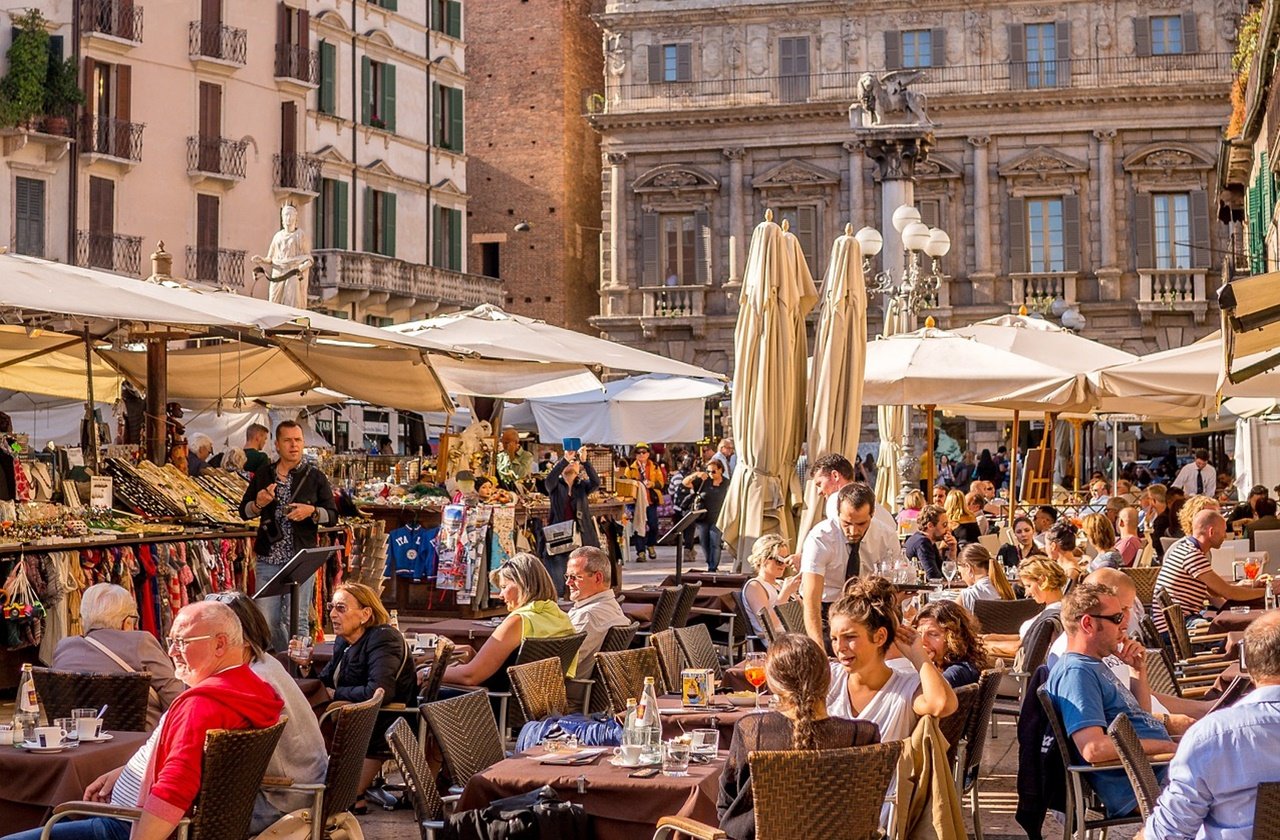 Photo by christophjkugler on Pixabay
Verona is a relatively safe city. As compared to other touristic cities like Naples, Rome, and Milan, Verona is a safer destination. The crime rate is low and there's no fear when walking around at night. There are little to no cases of violent crime and crimes involving foreign tourists.
However, there are still common crimes in Verona like pickpocketing. If you'll take public transportation or if you're heading to the city center, always keep an eye on your belongings. In addition, don't bring too much money and use a hotel safety deposit box to store your important items. Take note that some pickpockets also work in teams, sometimes with street vendors, so be careful when buying from street markets.
Despite Verona being one of the safer Italian cities, one still has to exercise safety measures, especially for solo and female travelers.
Helpful Tips When Visiting Verona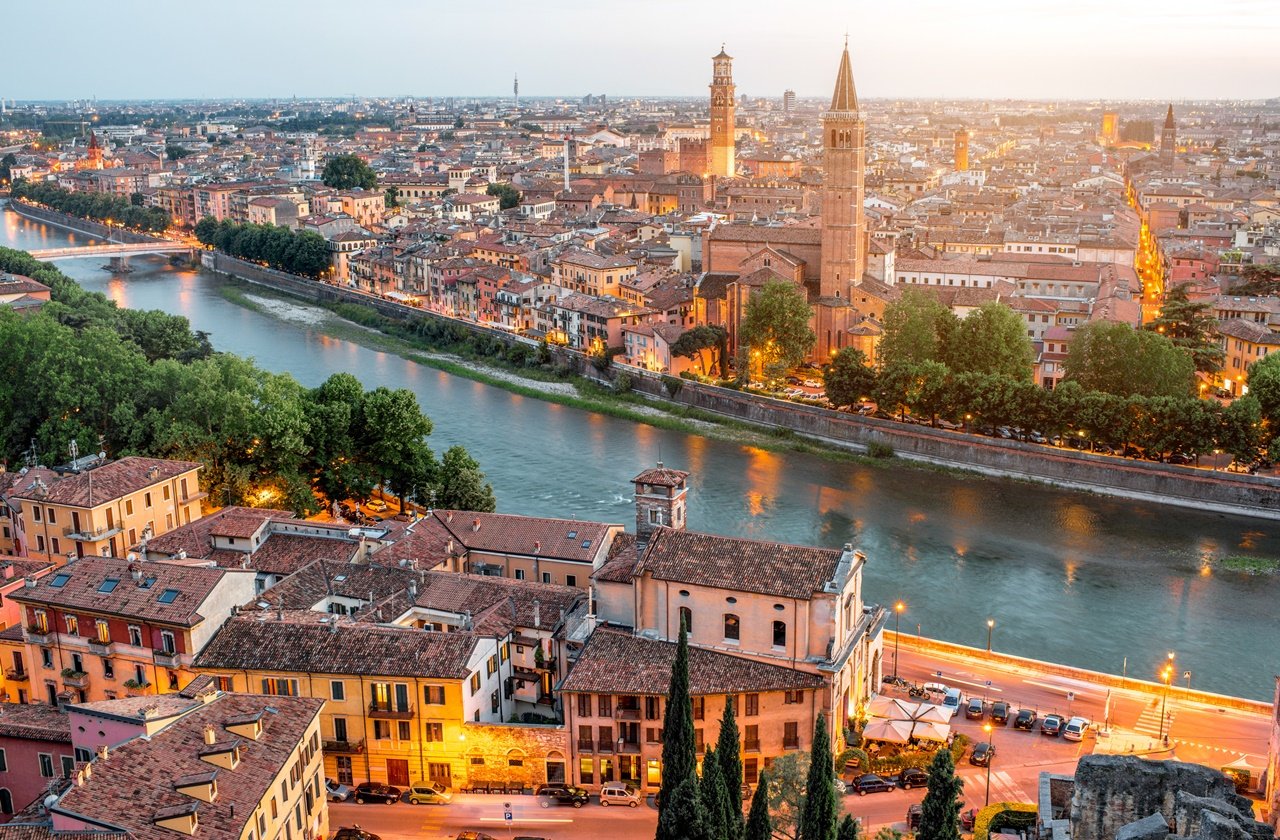 Photo by rh2010 on Adobe Stock
If you want to save money while sightseeing, purchase the Verona Card. The card includes free admission or discounted entry to most tourist sites. Spending on your itinerary, you can choose between 24 and 48 hours card validity.
Not sure how to plot your itinerary of things to do in Verona? You can get a free city map at a tourist office near the Porta Nuova Railway Station. The map includes all public transportation routes and information on local cultural events.
Early May to October are the best months to visit Verona. The high tourist season is from July to August, so be sure to book your accommodation ahead. If you want to visit during the low tourist season, plan your trip in November.
Looking for the best local eats? Ask locals around where to get the best and most authentic food. They can also give you insider tips on affordable yet delicious food that are far from touristy places.
Roaming charges are quite expensive as compared to other European cities. If you want to save money on calls, use the designated telephone booths near the malls and banks. You can also use phone cards sold in most newspaper kiosks around town.
See the Famous City of Romeo and Juliet!
There's definitely more to Verona than just being the location of Shakespeare's Romeo and Juliet! From centuries-old churches, ancient libraries, and lush gardens, you'll never get tired of its romantic scenery. Despite having a number of Neoclassical and Gothic structures, Verona is a surprisingly modern city as well. It is also safer to visit as compared to big cities like Naples, Rome, and Milan.
Aside from its sites and landmarks, there are plenty of things to do in Verona for every kind of traveler. The city boasts a number of cultural events, festivals, and concerts as well as festive Christmas markets in winter. During summer, you can also make a quick trip to Lake Garda, another Italian gem.
So if you're looking for an easy getaway from Milan or Venice, board a train or buy a plane ticket to Verona, an underrated yet fantastic city in Italy!