25 Things to Do in Bologna: Everything You Need to Know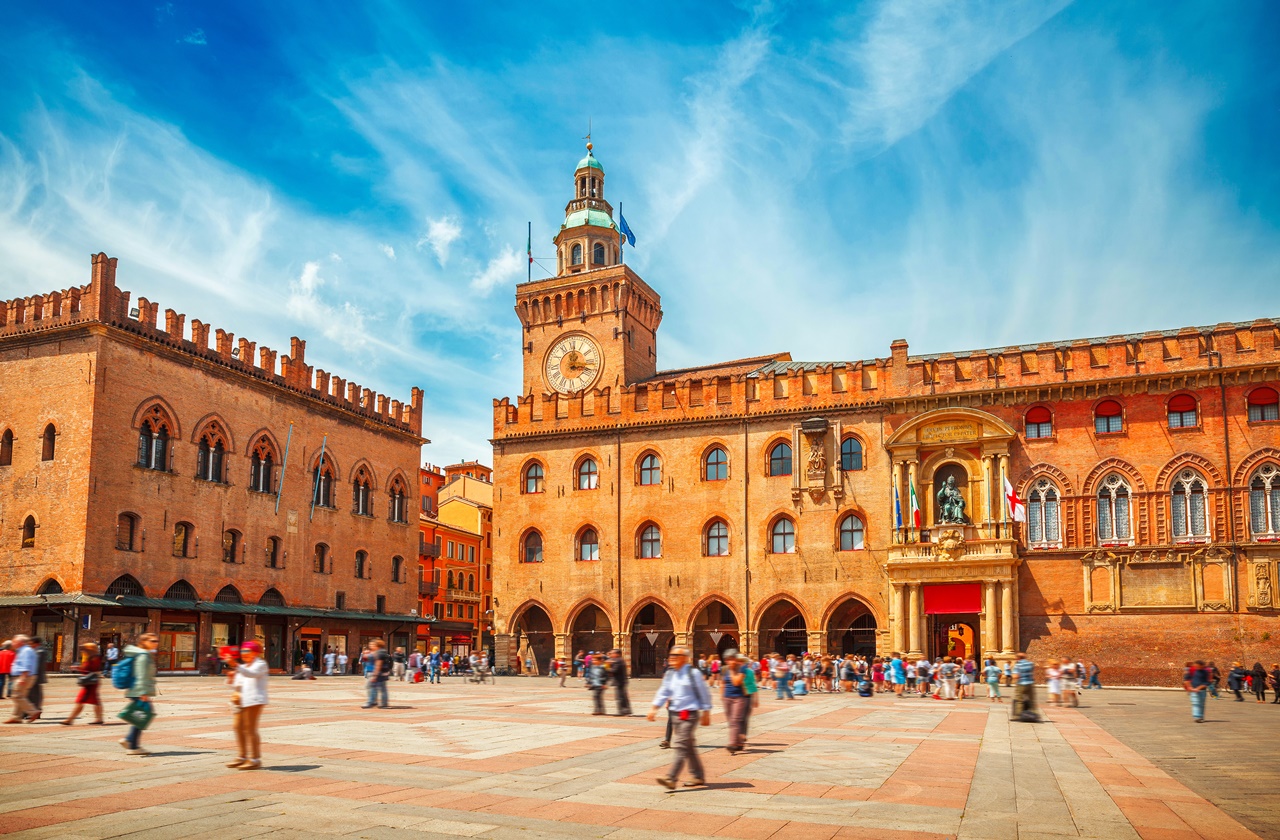 When people mention Italian food, the city of Bologna always comes to mind. After all, the capital city of the Emilia-Romagna region is also famous for being Italy's culinary capital. Bologna is known for its pasta dishes, cured meats, and gelato, one of the famous Italian desserts. But aside from its rich culinary tradition and mouth-watering eats, there are plenty of things to do in Bologna. From church-hopping and admiring its architecture to finding out the so-called "seven secrets", you won't run out of activities in Bologna.
Whether you're visiting the city for the first time or you're looking for the best day trips from neighboring cities like Florence or Venice, here's a guide to the best things to do in Bologna.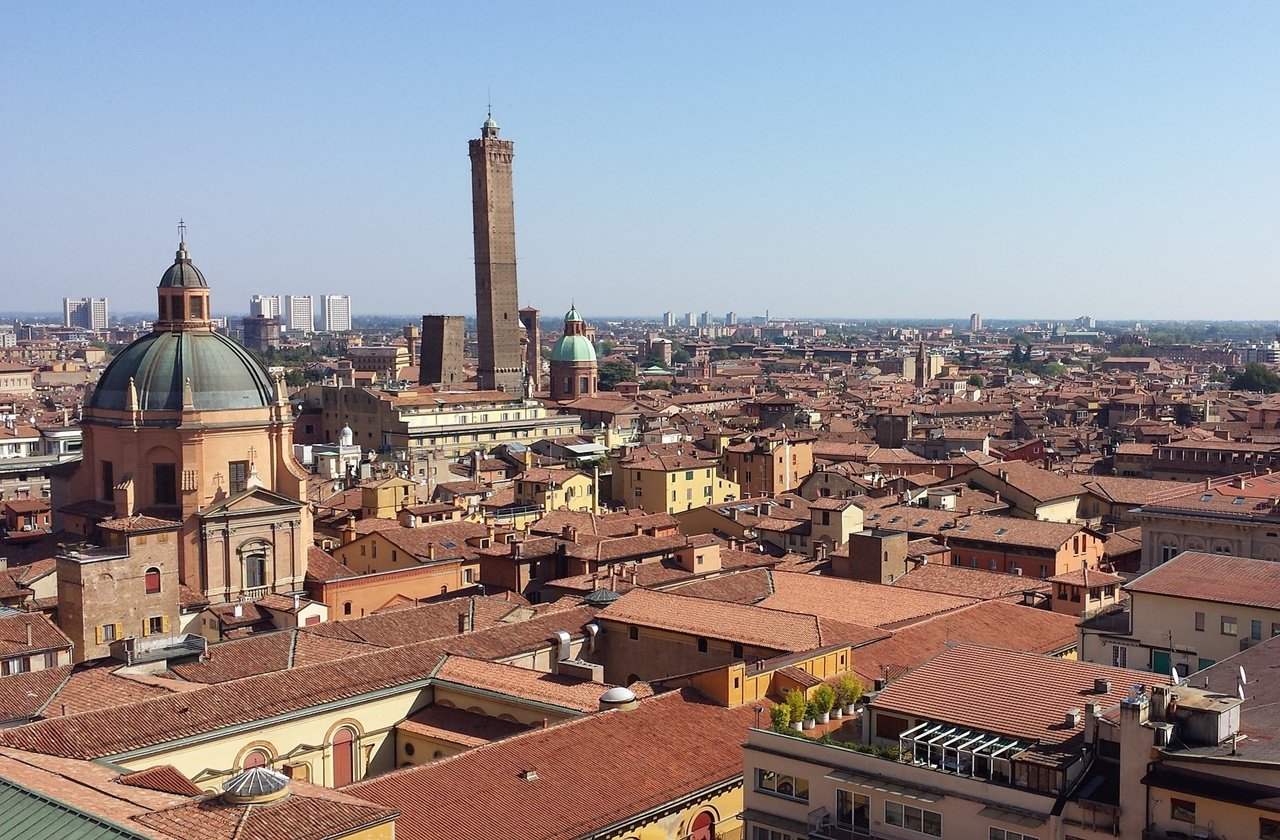 Photo by RitaMichelon on Pixabay
By Air
Bologna Guglielmo Marconi Airport is the only airport in Bologna, located six kilometers away from the city center. The airport is also one of the busiest in the country, welcoming millions of passengers every year. In addition, most Italian airlines and even low-cost European airlines have regular flights to Bologna.
From the airport, you can take the train, bus, or taxi to the city. Buses to the city may start as early as 5 in the morning and last trips at 12 midnight.
By Train
Bologna Centrale is the main train station in the city, providing access to several high-speed trains and regional trains. Located in the heart of the city, getting in and out by train is made easier. In addition, the train station is also conveniently near most hotels and popular attractions, making it easy for visitors to enjoy different things to do in Bologna.
As one of the major train stations in the country, visiting Bologna from other cities is easy. From Milan, high-speed trains to Bologna can take about an hour. It takes about an hour and 30 minutes from Venice while it only takes less than an hour to get to Bologna from Florence. Although Rome may be far from Bologna, getting to Bologna takes about 2 and a half hours from the Italian capital.
By Car
Bologna is easily accessible for those who prefer driving to their destination. The Autostrada A1 and Autostrada A14 connect most northern and southern Italian cities, making it easy to get in and out of the city. From Rome, driving to Bologna takes more or less 4 hours, while it only takes about an hour and 20 minutes from Florence. Meanwhile, travel time to Bologna from Venice takes about an hour and 40 minutes. However, take note that travel times are subject to traffic conditions, travel seasons, and holidays.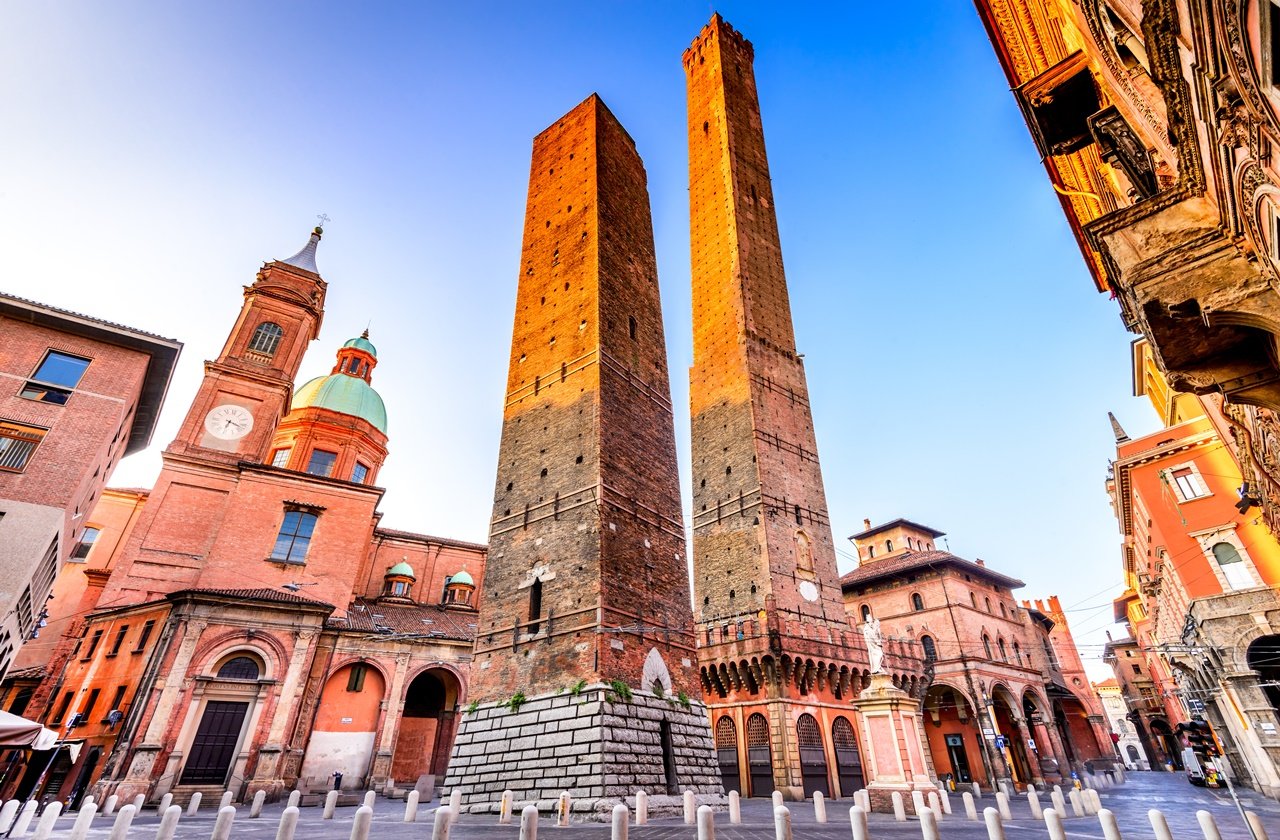 Photo by cge2010 on Adobe Stock
1. Climb the Asinelli Tower
Get the best views of Bologna and climb up the Asinelli Tower. Asinelli Tower is part of the iconic Two Towers of Bologna along with Garisenda Tower, although the former is open to the public. Conquer your fear of heights and climb up 498 steps to the top of the tower. Upon reaching, marvel at the panoramic view of the city. If you plan on climbing the tower, make sure to book your tickets in advance as tickets get easily sold out.
2. Stop by Piazza Maggiore
Bologna's Piazza Maggiore is widely considered the heart of the city. Located in the historic center of the city, this is the perfect starting point for sightseeing tours or for meeting with your friends. Start your day at Piazza Maggiore and watch as the main square comes to life, with nearby shops and cafes opening and people arriving. Grab a cup of coffee or a drink at a cafe and observe the regular hustle and bustle of the city.
3. Visit the Basilica of San Petronio
Stopping by the San Petronio Basilica is one of the best things to do in Bologna, especially since it's near Piazza Maggiore. This basilica is an iconic landmark in Bologna, noted for its half-brick half-marble facade that was left unfinished. Inside the church, find ancient organs, beautiful frescoes, and tranquil side chapels. The basilica's terrace is also a great vantage point for city views, although it's not as high as the Asinelli Tower.
4. See Different Works of Art at the Museum of Modern Art
Take a break from exploring historical and religious sites and visit the Modern Art Museum. This museum is housed in a former bakery. Also known as MAMBO (Museum of Modern Art Bologna), the museum is home to several permanent collections of precious artworks, organized into different themes. In addition, the museum also hosts temporary collections from local and foreign artists.
5. Explore the Markets of Quadrilatero
For food lovers, this is certainly one of the most fun things to do in Bologna. The streets of Quadrilatero house the oldest markets in the city, filled with fresh produce and local eats. This is also the best place to kickstart your food crawl and discover what makes Bologna Italy's culinary paradise! Try the freshly made pasta, balsamic vinegar, sumptuous cured meats, and delicious wine. Several casual dining restaurants and cafes are also found in the area for those who want a more fulfilling meal.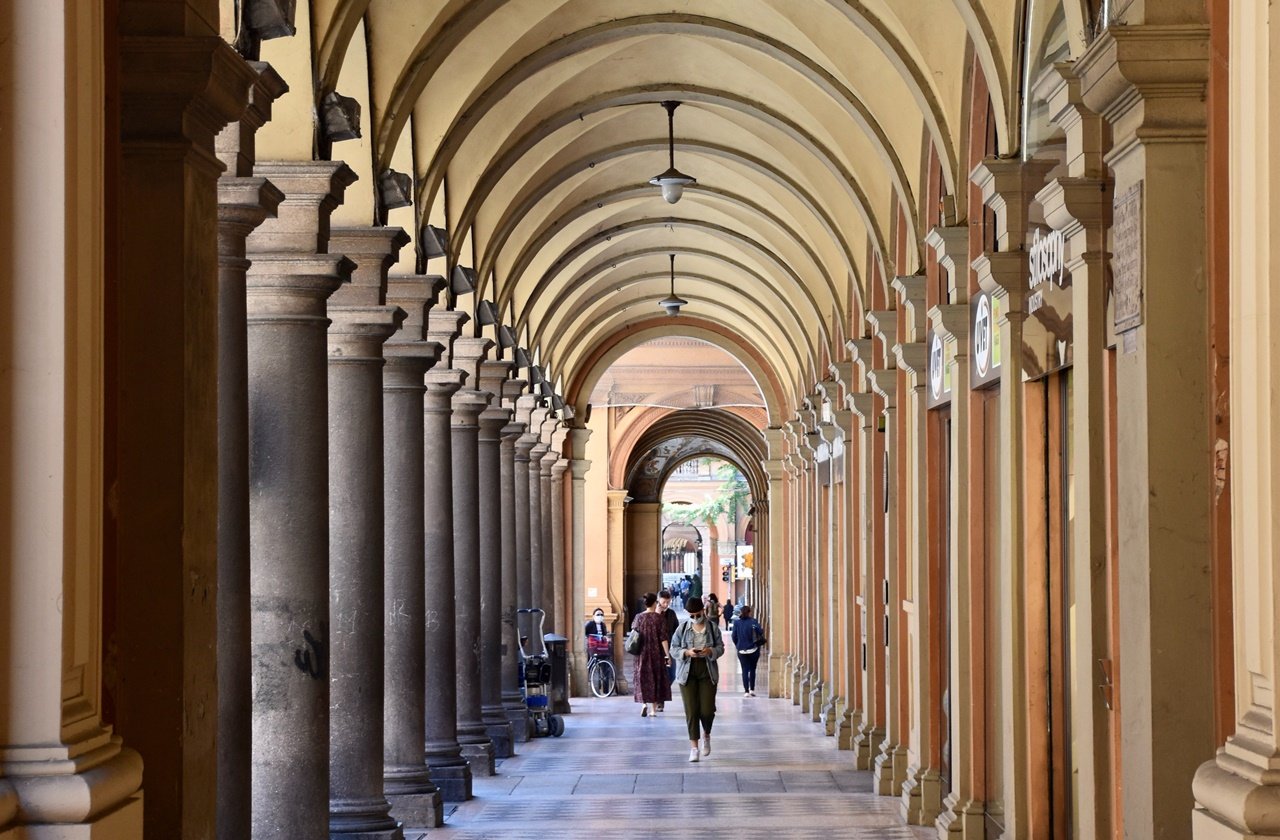 Photo by Arno Senoner on Unsplash
6. Walk Along the Porticos
The porticos of Bologna are one of its defining landmarks. These covered walkways stretch up to 40 kilometers and have been around since the Middle Ages. From the porticos at Piazza Santo Stefano to the wooden ones at Via Marsala, these porches serve their own purposes. Some locals prefer having a cup of espresso under a portico while others use it to walk their pets when it's raining. Nonetheless, walking along the historic porticos of Bologna is a must when in the city.
7. Ride the Bologna City Red Bus
Although Bologna is generally a city that's easy to walk around and navigate, taking the City Red Bus is a great way of exploring the city in one sitting. These red buses work similarly to a hop-on hop-off bus where you get to board and alight at the designated stops for as long as your ticket is valid. This is also perfect for those visiting on day trips from Milan or other cities as it lets you see Bologna's highlights in one trip.
8. Join a Food Tour of Bologna
Being in the so-called culinary capital of Italy can be overwhelming, especially if you're not sure where to start your food crawl. Luckily, there are plenty of tour operators offering group or private food tours of the city. Led by an expert foodie guide, learn about Bologna's culinary history. On your food tour, you may also visit a pasta factory and see how fresh pasta is made (and even get a chance to try it!) and visit different restaurants and markets.
9. Watch a Movie at Piazza Maggiore
Every summer, Piazza Maggiore transforms into an open-air theater where tourists and locals can enjoy different movies. The Il Cinema Ritrovato film festival is dedicated to screening restored and classic films. It started out as a small three-day event, but over the years it gained popularity and became one of the major events in Bologna. In 2018, the festival screened 500 films in just nine days, making this one of the best things to do in Bologna for cinephiles and casual film enthusiasts.
10. Enjoy a Delicious Cup of Gelato
Whether you're on a food tour or just exploring the streets of Bologna, having a cup of gelato is a must. Around town, you can find numerous stalls and shops selling these famous Italian desserts, but it's always better to ask the locals themselves for their best recommendations. Cremeria Cavour near Piazza Cavour is a popular choice due to its classic yet delicious flavors like pistachio, hazelnut, and caramel panna cotta.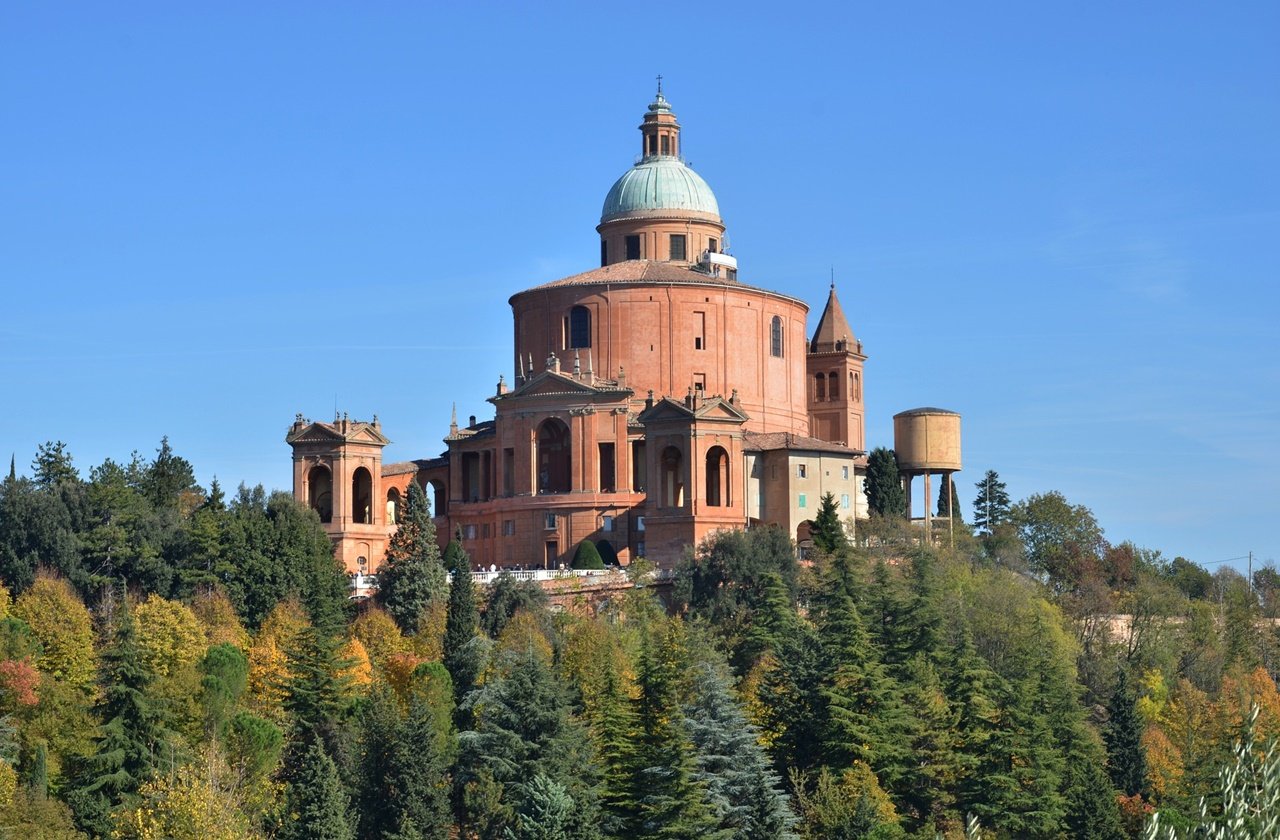 Photo by alex1965 on Pixabay
11. Head up to the Sanctuary of the Madonna Di San Luca
Along with the Two Towers, the Sanctuary of the Madonna Di San Luca is one of Bologna's iconic sites. As such, visiting this hilltop basilica should be on your list of things to do in Bologna. You can have the option to walk to the basilica via the Portico San Luca, the longest in the world, or catch the express bus. Upon arriving, marvel at the panoramic views of Bologna from the sanctuary. Go inside the basilica and see the gorgeous frescoes and decorations, including a painting of the Virgin Mary said to have been painted by Luke the Evangelist.
12. Become a Chef for a Day at a Cooking Class
Take the flavors of Bologna home and learn how to make your favorite Bolognese dishes at a cooking class. Like food tours and other sightseeing activities, there are plenty of cooking classes available. Some classes are held at restaurants while some are at family houses. Depending on your class, you may visit a market first to purchase fresh ingredients. Then, head back and let an expert chef teach you the secrets of making the perfect pasta dish. At the end of the class, you may receive a certificate as a souvenir.
13. Shop at La Piazzola Market
La Piazzola Market has been around since 1251 and was originally a cattle market. Today, the market boasts over 400 stalls selling anything and everything. From clothes, pottery, and souvenirs to jewelry and spices, you can find them here. The lively market atmosphere is fascinating although it can be overwhelming for window shoppers. This is also the perfect place to brush up on your haggling skills!
14. Learn About the History of Bologna at the Archaeological Museum
Located in the heart of the city, visiting the Museo Civico Archeologico is one of the best things to do in Bologna. It houses a wide collection of artifacts, sarcophagi, and other treasures from different eras. Find terracotta urns and vases from the Roman era and ancient artifacts from Velzna. The museum is conveniently located near Piazza Maggiore so it's easy to incorporate this in your itinerary.
15. Try its Local Specialties
From fresh pasta to sweet gelato, Bolognese cuisine is simply one of the world's best. While the Italian Riviera is famous for its pesto and seafood, Bologna has plenty of must-try dishes. Try an authentic tagliatelle al ragù, parmigiano reggiano paired with a tangy Balsamico di Modena. For a quick snack, grab a piadina, a flatbread rolled or folded with ham, cheese, and vegetables. Additionally, you can ask locals or your hotel concierge for off-the-radar recommendations.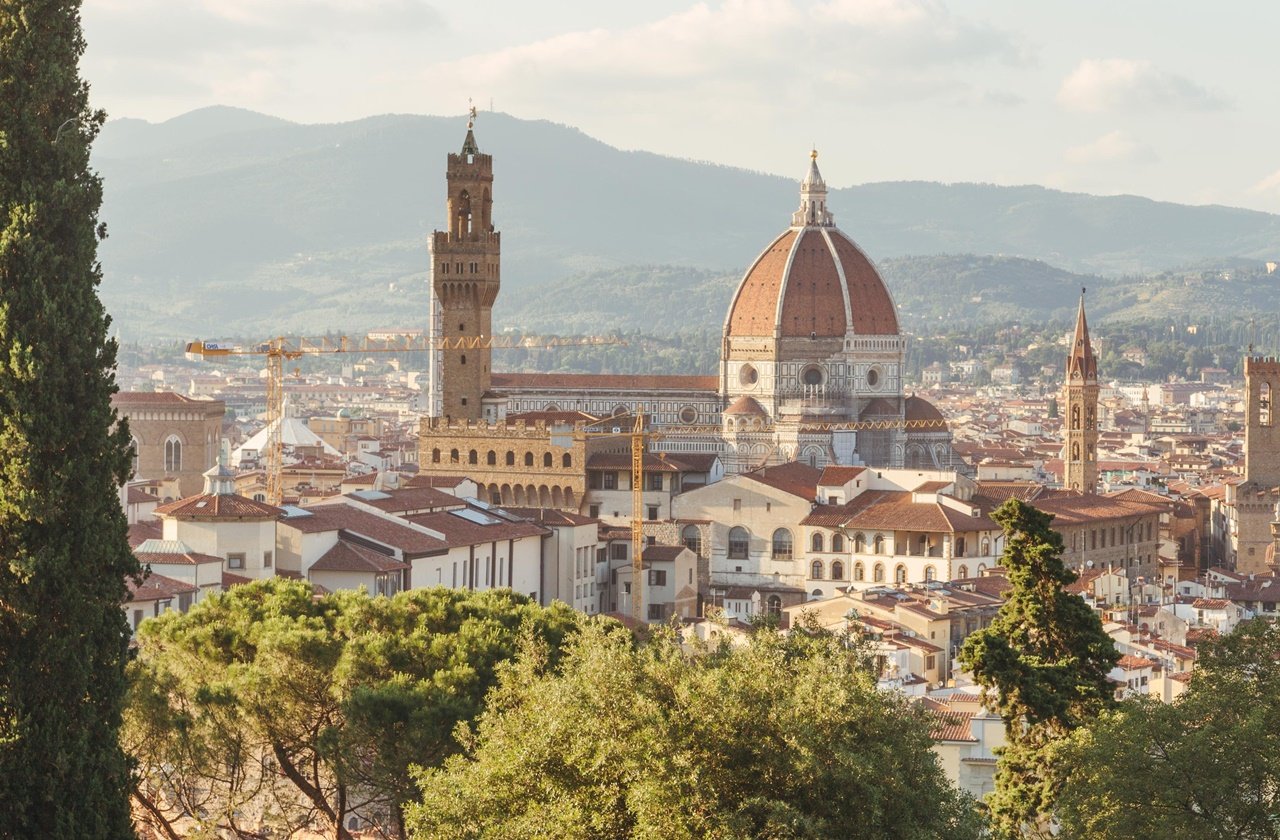 Photo by Giuseppe Mondì on Unsplash
16. Go on a Day Trip Outside the City
If you're staying in Bologna for a few days or more, you can go on day trips from Bologna. These day trips allow you to discover new towns and guarantee that you make the most of your stay in the region. Visit Rimini for its gorgeous beaches, Verona for the famous Romeo and Juliet house, and Modena for its balsamic vinegar. Florence, the cradle of the Renaissance, is also an hour and 20 minutes away by car.
17. Hunt Down Bologna's Hidden Canals
For those who prefer unusual things to do in Bologna, finding its hidden canals is a fun way to explore the city. Like Venice, Bologna used to be a canal city, with canals that date back to the Middle Ages. Over time, these canals were replaced by roads but you can still find a few canals at certain locations. Find the city's canals at Via Piella, Via Capo di Lucca, and the bridge at Via Malcontenti.
18. Discover the Seven Secrets of Bologna
Like hunting for the hidden canals, finding out the so-called seven secrets is one of the best things to do in Bologna. Only known by heart by locals, these interesting places of interest have a fascinating story behind them. From the secret behind Neptune's Fountain, a broken vase at the Asinelli Tower, get a chance to discover a different side of Bologna. This is also best done on a group tour as your guide will tell you the history behind these.
19. Marvel at the Oratory of Battuti
The Oratory of Battuti is another breathtaking place of worship in Bologna. Located in the Sanctuary of Santa Maria della Vita near Piazza Maggiore, it's a smaller but well-decorated site. Find beautiful Baroque paintings, sculptures, frescoes, and statues. The oratory also includes the famous Death of the Virgin, an intricate ensemble of statues by Alfonso Lombardi. Because of the room's acoustics, musical programs and concerts are also held at the Oratory of Battuti.
20. Take a Walk at Via Drapperie
In Bologna, you'll never run out of nearby cafes, restaurants, and markets. Every corner and every turn, you can find a small cafe or a hole-in-the-wall restaurant. At Via Drapperie, your food options are endless! Find fresh fruits, produce, cured meats, flower stalls, and more. But if you've had your meal, the street also makes for a perfect afternoon stroll. Whether you're on the hunt for good cheese or you're just exploring the city, going on a leisurely stroll across Via Drapperie is one of the best things to do in Bologna.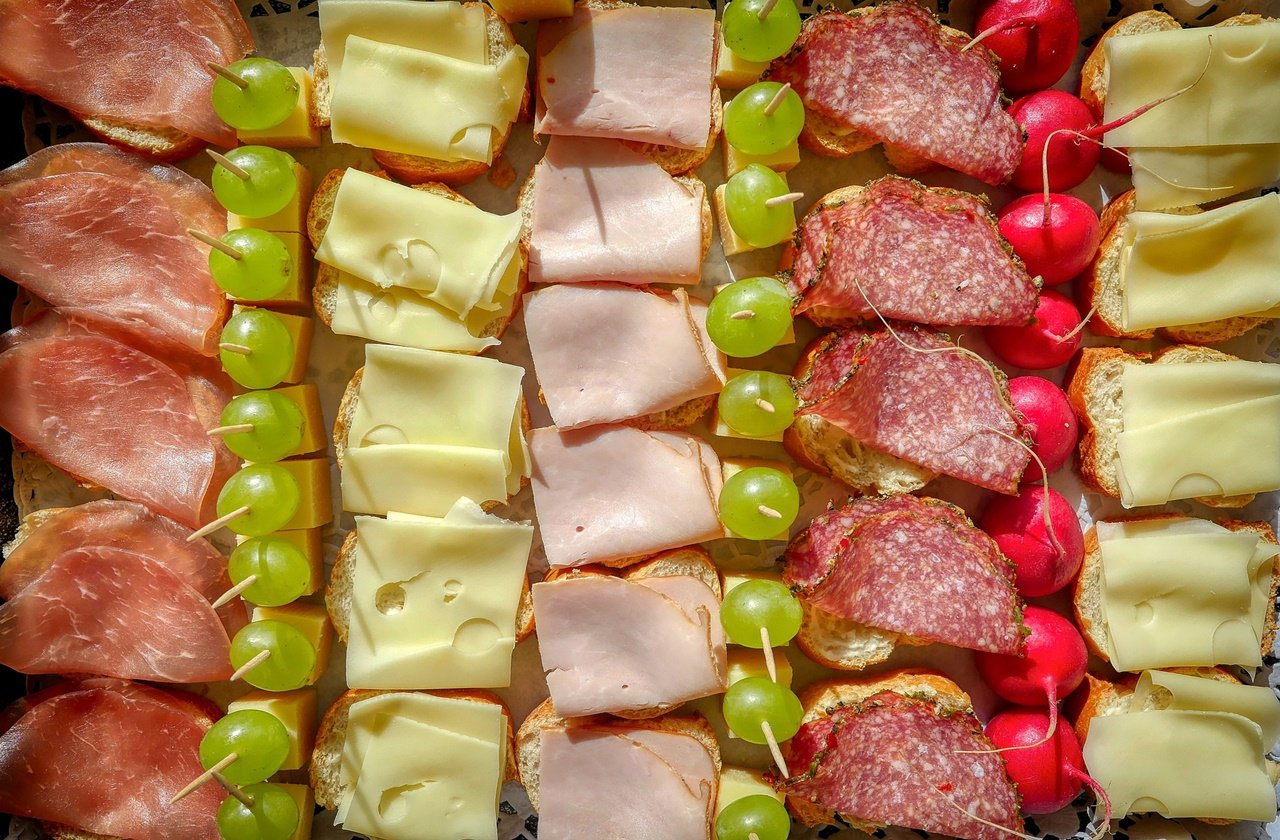 Photo by fietzfotos on Pixabay
21. Taste Bologna's Cured Meats
Aside from its pasta, Bologna is also famous for its cured meats. These savory delicacies can be enjoyed as is or over a glass of Prosecco. In addition, they are widely available in most markets, stalls, and restaurants. Try their mortadella, a kind of sausage made of heat-cured pork and flavored with pepper grains and pistachios. Bologna sausage is also a similar kind of cured meat, although it is made of pork fat.
22. Relax at San Pellegrino Park
Step away from the cobbled streets of Bologna in exchange for the grassy fields of San Pellegrino Park. The park offers panoramic views of Bologna and San Luca and is especially beautiful in spring when wildflowers are in bloom. You can head to San Pellegrino Park in the afternoon to escape the summer heat or you can bring some snacks and drinks for a lovely picnic.
23. Eat Your Heart Out at Mercato Delle Erbe
Mercato Delle Erbe is another great place for a food crawl. The huge indoor market contains a huge variety of fresh fruits, vegetables, meat, and other local food. What's good about Mercato Delle Erbe is that a part of the market is turned into a food court where you can sit down and enjoy your meal. For a one-stop place for Bologna's best eats, visit Mercato Delle Erbe.
24. Visit Bologna's Jewish Quarter
The Jewish Ghetto, also known as the Ghetto Ebraico, is a neighborhood where you can find vintage shops and boutiques as well as quirky cafes and bars. This hidden gem is often overlooked for the more touristy areas, but it's worth visiting especially if you need to get away from the crowds. Don't forget to keep an eye out for the colorful street art and murals before stopping at a cafe for a cup of coffee or an Aperol spritz.
25. Explore the Archiginnasio of Bologna
Visiting the Archiginnasio is one of the most fascinating things to do in Bologna. The complex is one of the city's important buildings, home to the Archiginnasio Municipal Library and the Anatomical Theatre. While the buildings themselves are a sight to behold, the Anatomical Theatre is the main highlight of the place. The small room contains several wood-carved figures of famous doctors and an ornate table where students once witnessed dissections and surgery demonstrations.
Where to Stay
Hotel Astoria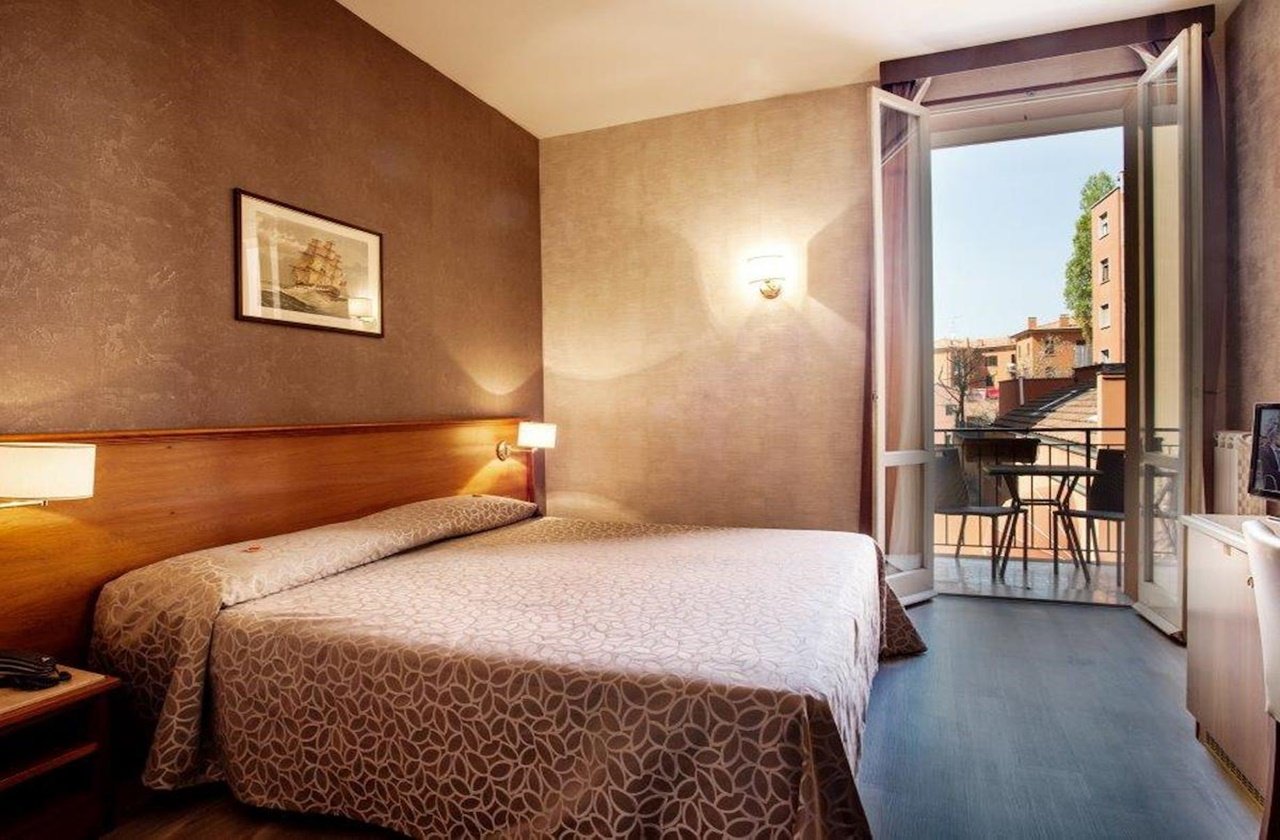 Photo from Hotel Astoria Booking.com Page
Address: Via Fratelli Rosselli 14, 40121 Bologna, Italy
Price: Starts at 98 USD per night
Hotel Astoria in Bologna offers affordable yet good quality rooms and facilities. Located near popular tourist attractions like the Museum of Modern Art and the Parco della Montagnola, this is the perfect option for tourists who want a centrally-located hotel. In addition, Hotel Astoria is also a walking distance away from restaurants, cafes, and other shopping centers. Aside from its practical yet comfortable rooms, the hotel offers free WiFi, private bathrooms, and an inner courtyard where guests can relax or enjoy their meals.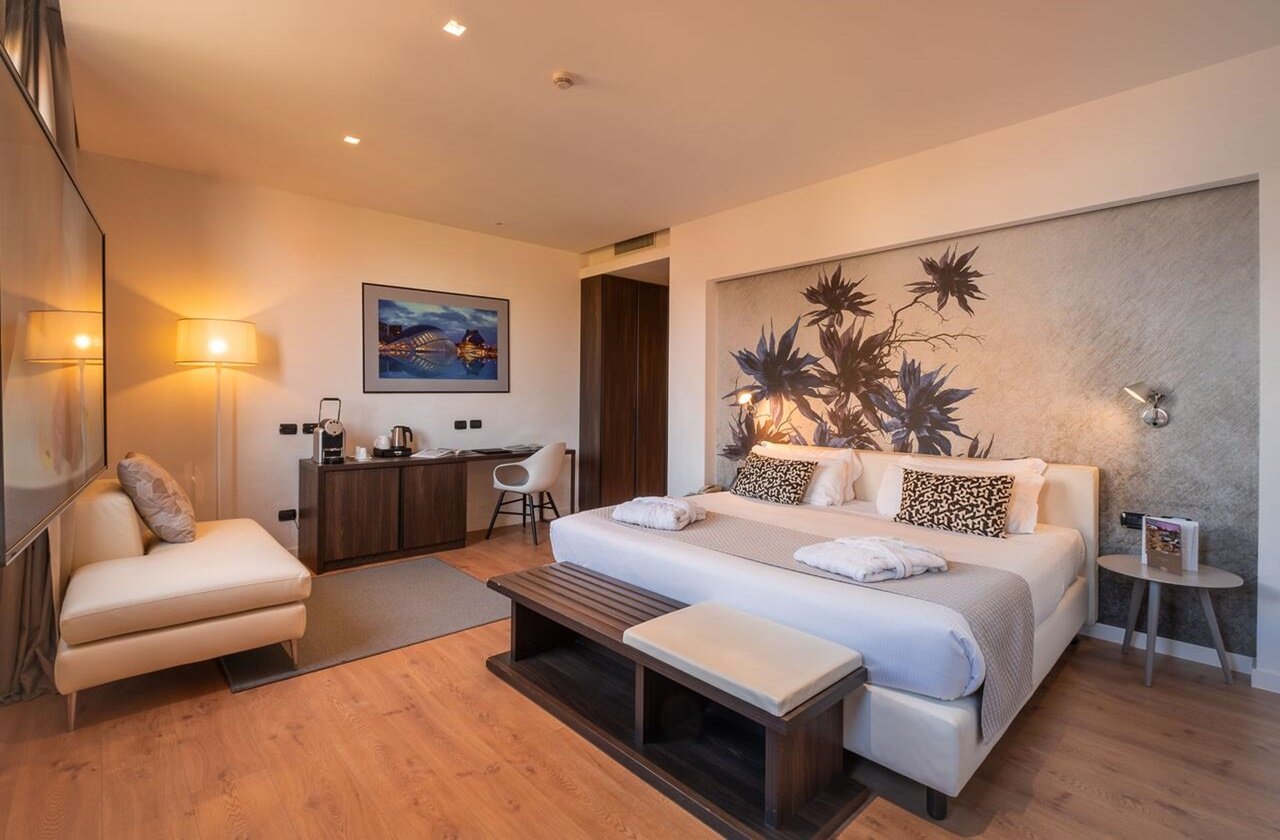 Photo from Aemilia Hotel Bologna Booking.com Page
Address: Via Giovanna Zaccherini Alvisi 16, 40138 Bologna, Italy
Price: Starts at 121 USD per night
Offering clean and modern rooms, Aemilia Hotel Bologna is another great hotel option in the heart of the city. Its central location makes it easier for guests to enjoy things to do in Bologna like sightseeing or going on a food crawl. As for its rooms, they are clean, modern, and are complete with flat-screen TVs, air conditioning, and free WiFi. Other rooms also have a picture-perfect view of the city.
Grand Hotel Majestic gia' Baglioni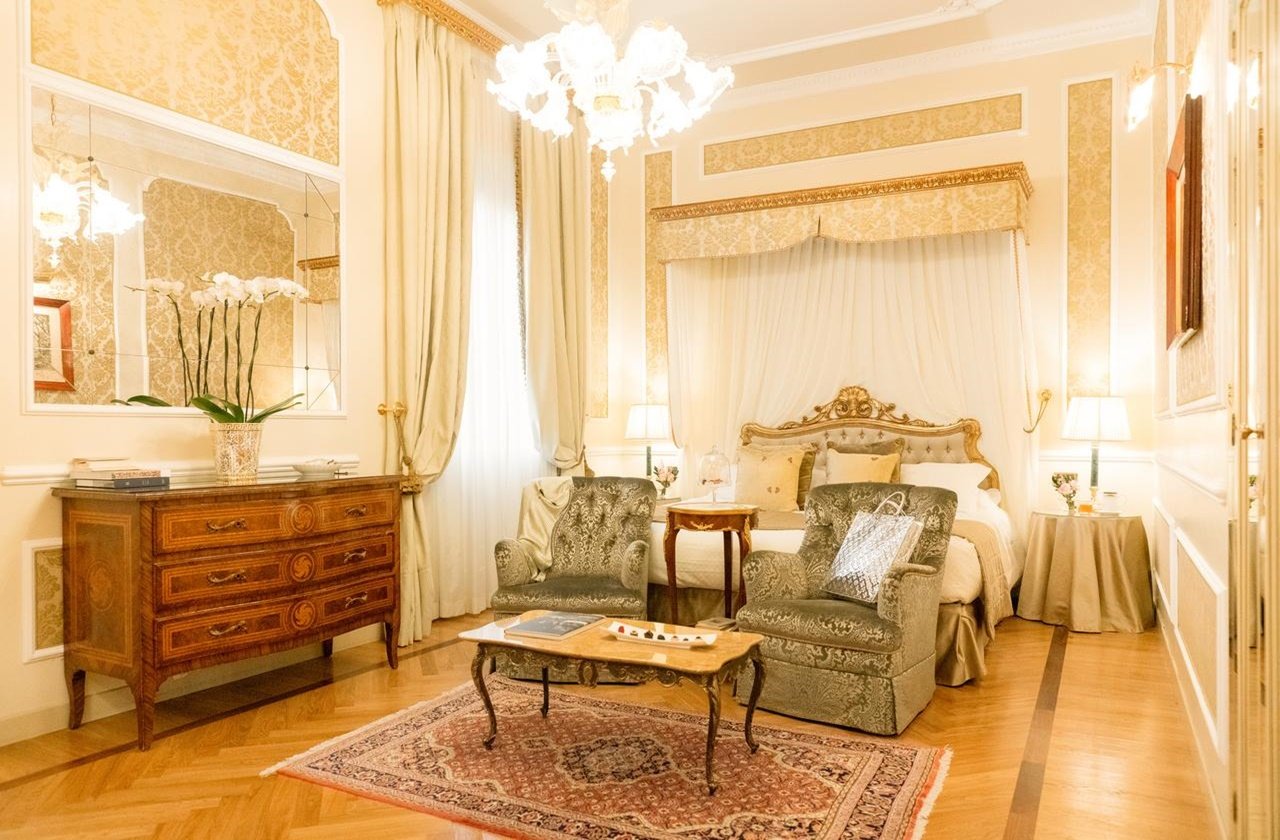 Photo by Grand Hotel Majestic gia' Baglioni Booking.com Page
Address: Via Indipendenza 8, 40121 Bologna, Italy
Price: Starts at 403 USD per night
For the ultimate luxury accommodation, stay at the Grand Hotel Majestic gia' Baglioni. The five-star hotel is only within a walking distance from Piazza Maggiore and the iconic Two Towers. Bologna Centrale Train Station is only a short walking distance away as well. Housed within a well-restored 18th-century palace, its rooms have a luxurious classic decor complete with Murano glass lamps. Its in-house restaurant, Ristorante I Carracci, serves regional cuisine while the nearby cellar offers hundreds of Italian and foreign wine labels.
Best Time to Visit Bologna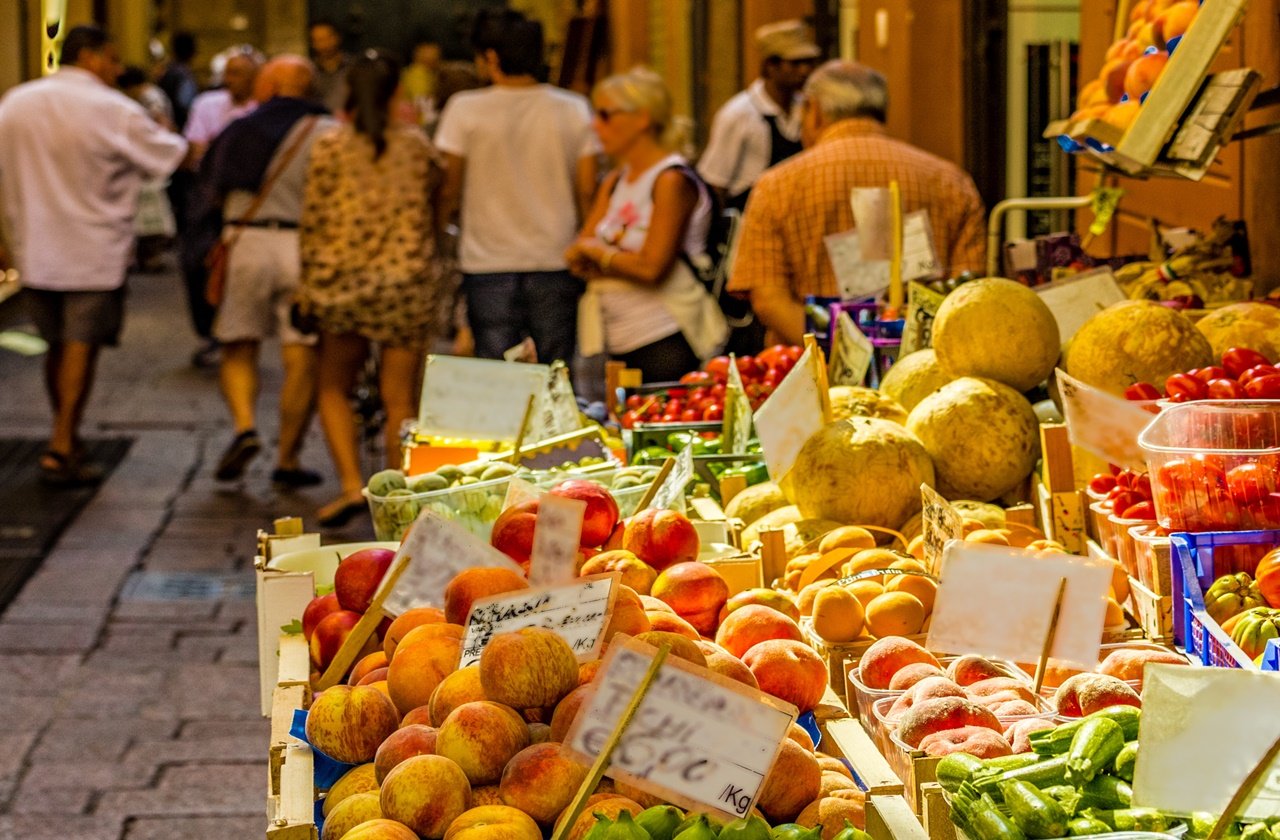 Photo by Vivida Photo PC on Adobe Stock
The best time for things to do in Bologna is from April to May and September to October. The weather is warm and perfect for outdoor activities or al fresco dining at the city squares. There are few chances of rainfall, but this shouldn't cause delays or changes in your itineraries. Prices for hotels, airfare, and tours are relatively cheaper than in summer. September to October also marks the city's truffle season and if you're visiting Bologna for its food, this is the best time to go on a food tour. Restaurants and markets also feature meals highlighting truffle and other seasonal ingredients.
Visiting from December to February is ideal for budget travelers since everything is cheaper. Although there are fewer opportunities for outdoor activities, the Christmas markets are the highlight of this season. Try their seasonal delicacies like Lambrusco sparkling wine, nougat, and Certosino, a kind of Christmas cake. You can also find various trinkets and handmade crafts for souvenirs, gifts, and ornaments for your Christmas trees or nativity scenes.
Take note that June to August is the high tourist season and aside from a larger number of crowds, the weather is hot and humid. Since it's also summer vacation in most of the country, some shops and restaurants may have different operating hours. Hotel prices and airfare are also relatively more expensive. If you plan on visiting Bologna during this season, make sure to book everything in advance to avoid overpaying.
Visit Italy's Food Capital, Bologna!
With its rich cuisine, beautiful porticos, and thriving markets, Bologna is one of the most beautiful cities in Italy. It delights foodies, architecture enthusiasts, and the curious traveler. Aside from its delectable pasta dishes, cured meats, and other Italian classics, Bologna's history and landmarks shouldn't be overlooked. There are also other interesting things to do in Bologna if you're not too much into food: there are open-air film festivals, intriguing secrets of the city hidden behind statues and walls, and museums to visit.