10 Things To Do In Hamburg, Germany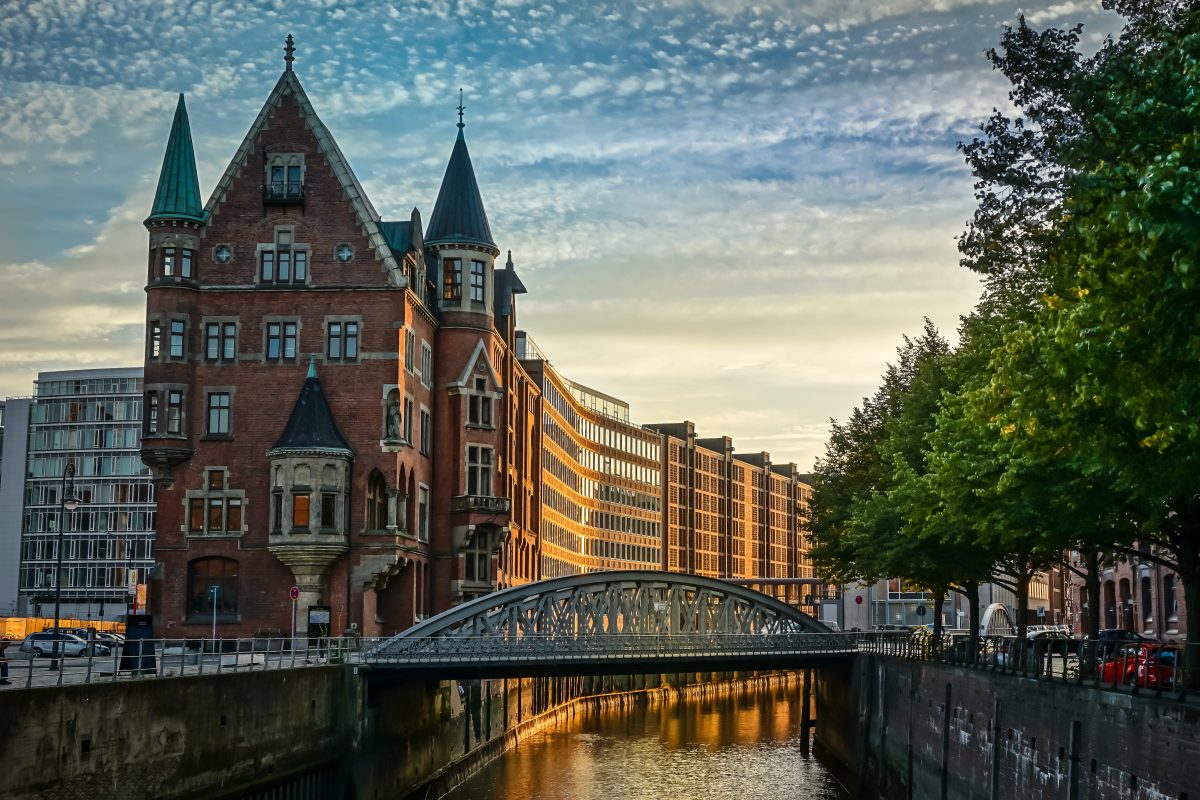 Hamburg, Germany is a modern European city that is deeply steeped in a rich history. While many people travel to Berlin or Munich but Hamburg is arguably one of the most diverse and interesting cities in the world. Apart from being one of the most populated cities in Germany, Hamburg is inundating with interesting facts. Dig deeper, you'll know why Hamburg has more than what it takes to be on your travel list.
If you're looking for things to do in Hamburg, look no further. From the delicious Hamburg food to all of the fun things Hamburg has on offer, this guide will help you determine the best choices for your visit to Hamburg. Of course, you'll want to customize it to your personal preferences, but this list will give you a great start to one of the best vacations of your life.
Hamburg Airport to City Centre:
Public Bus: Day bus line 392, 28, 292 and Night bus line 606 to the city centre at €3.20 ($3.60).
Train: S1 S-Bahn runs every 10 minutes from Hamburg airport to Hamburg central station. The duration takes around 25 minutes. A day ticket cost €6.20 ($7) per person and a one-way ticket cost €3.20 ($3.60).
Taxi Service: Hire a licensed taxi driver at Hamburg Airport Taxi stand and the average taxi fare cost around €25 ($28).
1.
Speicherstadt Hamburg (Hamburg's Warehouse District)

This is easily one of the most popular, if not the most popular, attractions in Hamburg. Speicherstadt (the City of Warehouses) is a World Heritage site and it's easy to see why it gained that title. When you first approach, you'll see rows of brick buildings. Between these two rows, flows a wide river, giving the area an impression that is reminiscent of Venice.
Though it was historically a place of commerce and business, now Speicherstadt is the warehouse district that is both fascinating to watch and just to take a stroll through the red-brick canyons. If not, visit the warehouse converted museums that are quite delightful to explore. One of the most popular ones is the Miniatur Wunderland (Miniature Wonderland), where Guests can travel around looking at an expansive model train civilization.
To some people, this may seem a bit dull; however, it is often described as feeling "magical" and "whimsical." If a miniature world doesn't interest you, there are also a harbour, commerce and dungeon tours available. Even if you don't take a tour, it's worth spending your day here, embracing the rich history and stories each of the tall brick walls contains. If you do decide to take a tour, the prices vary but admission to the museum is €4 ($4.50) for adults and €3 ($3.50) for anyone under the age of 17.
2.
Planten un Blomen (Botanical Gardens)

Planten un Blomen, or Plants and Flowers in English, is a park centrally located in Hamburg. Imagine Central Park in New York City but exponentially larger and more theatrical. In addition to the lovely green spaces, it also contains a botanical garden and multiple shows. These shows range from spectacular water and light concerts to theatrical performances.
Hamburg is a large city and this park provides a welcome respite from the hustle and bustle of the city. You could easily spend an entire weekend there and still not see everything on offer. If you're planning a long visit, ensure this makes it onto your itinerary. It's entertaining and historical while also being tranquil and relaxing. The best part, it's also open daily to the public without any charges.
3.
Kunsthalle Hamburg (Art Gallery Hamburg)

If art and culture is your cup of tea, then Kunsthalle is a must-see attraction. Located in the heart of Hamburg, Kunsthalle or 'Art Museum' is essentially an expansive art lover paradise. As one of the largest museum in the country, it contains many works from the world-famous painters like Monet and Rembrandt. Undoubtedly, this colossal museum houses many many famous works of art that you can barely contain. Though the admission is slightly higher; however, we promise it worth every penny. Expect to pay €14 ($15.80) for general admission and €8 ($9) for students, teachers and the disabled.
In addition to the incredible artwork, tours, seminars and events are often hosted. Don't miss out the monthly events here. If you're lucky, you might bump into the different display of arts by Leonardo Da Vinci.
4.
Explore St Pauli District

St Pauli is unlike any other neighbourhood in Hamburg. It's really only appropriate for adults and only for adults who are informed. It is an industrial part of town covered in graffiti that is seedy, but still famous. Dating back to its historic past, the Beatles once performed in St Pauli and the live music is one of the biggest draws to this area.
Though it is beautiful and unique in its architecture, it shows a darker side of a classic European city. It is still a city and St Pauli will brazenly display that. Famously compared to the Red Light District in Amsterdam. You're most likely to be caught by the attention of lively adult-only clubs and shops. The love-or-hate scene happens here all the time and it is arguably one of the worst and best parts of Hamburg. However, if you want bars, music and sordid adult-themed areas, this is easily the best place for you.
Bar crawls are one of the most popular and they typically start at €14 ($17), excluding alcoholic beverages. Take note; most bar crawls have deals made with the local bars that allow participants to get specials on certain drinks, which can make paying a few euros certainly worth it.

If you prefer a more chaste breathtaking experience, Church St Michaelis is a fantastic option. This church is often lovingly referred to a "Michel." The architecture is stunning, and it features a tall tower. After climbing multiple stories up to this tower, you are rewarded with grand views of the city and harbour. It is an awe-inspiring sight to behold but the church itself is also intricate. The interior of the church is all whites and golds. It is opulent inside while still being humble on the outside. If you'd like to attend mass in the historic setting, the church holds 3000 so you're likely to find a seat.
6.
Visit Fischmarkt Hamburg (Fish Market Hamburg)

Hamburg Fischmarkt is unlike any other market in the world. It takes place along the Elbe river and is open-air. As you might imagine, there are many types of fresh (as in not even an hour old!) seafood but that is not all this market sells. In fact, Fischmarkt has anything you can imagine. From livestock, spices to handmade goods and porcelain, there is always something for everyone. The market opens daily starting at 5 am to 9.30am. Come here to stock up your smoked fishes if not grab a Fischbrötchen on the go. Otherwise, go for the live music and German beers at neighbouring Fischauktionshalle. We promise it's quite a delightful treat to make up for your Sunday's beauty sleep.

This may seem like an odd category because it is so general; however, Hamburg is often dubbed the "City of Bridges." There is no city in Europe that has more bridges than Hamburg (not even Venice!). It is surrounded by water on most sides, so this makes sense.
The bridges, however, are not simply utilitarian. Many of the bridges were designed by artistic engineers who valued aesthetic as much as functionality. Köhlbrandbrücke is one of the largest bridges in Germany and is a visual wonder. This bridge is suspended by a long thin cable, making it exceptionally interesting. The precipice of the bridge resembles an angular drop of water, which is appropriate given the local. Kattwyk-Brücke is another technical marvel and is the largest vertical bridge in the world.
The entrances to the bridge are adorned with classical architecture with ornate stonework and designs; however, the middle of the bridge is all modern with steel and pavement. If you prefer a more historical bridge, the Lombardsbruecke is for you. This bridge was rebuilt in the middle of the 1800s and has been maintained and restored since then.
While there are no bridge-specific tours, the Hamburg Harbour Boat Tour provides a look at many of the most popular bridges accompanied by a brief history of Hamburg and its maritime origins. You can enjoy the history of Hamburg while having the luxury of sitting. After walking through cities all night and day, this is a great way to relax while still getting the most out of your time.
8.
Elbphilharmonie (Elbe Philharmonic Hall)

Elbphilharmonie— known as Elbe Philharmonic Hall, is one of the most impressive modern concert halls. It is expansive but also has been deemed a feat of architectural brilliance. Though it's situated on the Elbe river, Elbphilharmonie mainly reflects the spirit of the river itself. Covered in glass panes, it is reflective and bright like the river on a sunny day but also has architectural lines that call to mind images of sails or waves.
The bottom of the building sits on top of an old warehouse and it truly brings to mind the picture of an old ship. The hall features various concerts that range from school exhibits to world famous musicians. In addition, it also hosts famous speakers and shows. The shows and concerts vary in range, but a tour of the hall costs a consistent of €15 ($17). Come here in the morning for your perfect Instagram shot, the place turns into an activity hub in the afternoon and evening.
9.
Food Hunting In Hamburg
After all of the sight-seeing and historical tours, you will likely have worked up an appetite and want some of the delicious Hamburg food. Whether or not it's upscale restaurants or just cafe by the street, Hamburg has it all. If you want a taste of traditional Germany, Das Dorf, Fischereihafen Hamburg has everything you need. From Weiner Schnitzel, Grünkohl, Aalsuppe, to dessert like Rote Grütze. We promise it will not disappoint. Don't leave without chugging down a few German beers. After all, this is Germany.
10.
Außenalster (Alster Lakes)
Now that you've had your fill of food and alcohol, you might want to consider burning off those extra calories. One of the most popular places for fitness fans to meet is at Außenalster (Outer Alster Lake). Außenalster is Hamburg's man-made lake that connects to the Alster River. Running, sailing, rowing and many other recreational activities take place at the Außenalster. Don't forget to take your afternoon stroll along the meandering pathways by the lake especially for the sunset.
Despite being a large body of water, it isn't suggested to go swimming in it because of the huge quantity of boats. It gets very windy on the water, which makes it a popular location for sailing. If you're lucky enough to visit Hamburg during the month of May, the Cherry Blossom Festival is held at Außenalster and is one of the most beautiful places to visit in Hamburg city. The green banks, glassy water and colourful blooms make this one of the cities most beautiful areas other than the Planten Un Blomen nearby Hamburg city centre.
Bottom Line
Like most European cities, Hamburg offers rich history and gorgeous architecture; however, it also does not forget its citizens like some cities tend to do. Hamburg is a tourist destination, but it is still lovable, and every city project or business caters to the residents of Hamburg.
For this reason, its residents are friendly and welcoming to tourists who come from all around the world. It still boasts stunning architecture and historical tours and lessons, but it also provides festivals, daily activities and a vibrant nightlife. From outdoor markets and cycling around lovely lakes to old churches and lush gardens, it has something for everyone.
Tourist Secrets
Hamburg is the only city that has more bridges than anywhere else in the world.
If you're a fan of the Beatles, you'll know that their music career actually begins in Hamburg.
Hamburg Port is the second largest port in Germany after port Rotterdam.
Visitors flocked into this city for the world-class shopping experience, if not, for the festive weekly markets.
The first zoo that is open to the public without cages was in Hamburg— Tierpark Hagenbeck.