Best Luggage Tags Under US$10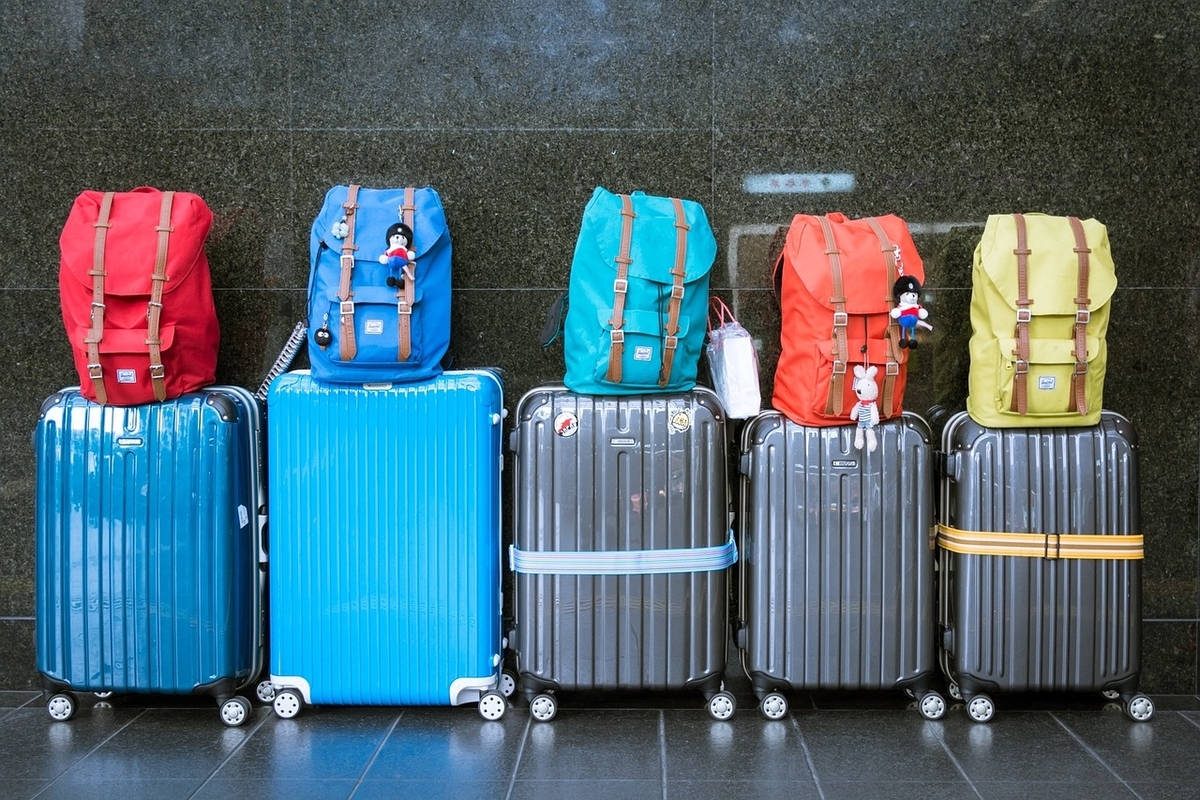 When you're traveling, you're already stressed enough as it is. Having a hard time looking for your luggage will only add to this dilemma. That's why luggage tags play an essential role in your travel escapades. They make you spot your bags easily and make sure you're getting yours.
If you don't have luggage tags yet, you might want to start shopping weeks before your departure. This is so you can check out all the available options to you at the right price. Plus, there are essential qualities that you should look out for when shopping for bag tags. So, let's start with the options available to you.
When it comes to personalized luggage tags, this one is the most used among travelers around the world. It's made from a variety of materials, but the sturdiest ones are leather and hard plastic. Traditional bag tags are strapped on the bag and show the owner's information such as name, phone number and email, and home address.
If you are more on the techy side, smart luggage tags are perfect for you. Smart Luggage Tags are equipped with a unique QR code containing the owner's information. If it so happens that your luggage is lost or stolen, you can easily track it on the manufacturer's website to know its location.
These aren't tags per se, but they can work similarly to the traditional luggage tags to help you in spotting your bag from afar. The only downside to this is that they can accidentally come off if the sticker quality is not that great or can be easily removed. If you're fond of using luggage stickers, make sure to use personalized luggage tags at the same time.
Things To Look For In A Luggage Tag
Luggage tags make your bag recognizable. And with the stress that comes along with frequent travels, the last thing you would want to worry about is a lost and broken tag with your information on it. So when you're looking to buy a new luggage tag, take note of these things:
As you wait for our luggage to show up at the airport carousel, you want to be able to see and distinguish it immediately. According to the most frequent travelers, your luggage will be more visible if your bag tag is bigger and has a color that stands out. It should also be easy to read so make your handwriting prominent and only provide the essential information.
Whether you have a designer suitcase or a ten-year-old duffle bag, airport handlers aren't as gentle as we want them to be with our bags. If you happen to be a frequent traveler, you need your bag tags to be sturdy because it's going to go through different weather and travel conditions.
Many have fallen victims to getting the wrong bags in the luggage carousel because it looks similar to their bags and luggage tags. One thing to keep in mind when you have a simple looking bag is to pair it with a unique luggage tag. Whether it's a 6-inch tag in the shape of a dog or a banana, make sure it is unique and you can distinguish your luggage right away because you're confident that no one else has that type of tag.
Top Picks For The Best Luggage Tags Under $10
The best luggage tags don't always have to be expensive. You have to be smart when looking for quality, durability, and how it can serve its purpose. Here are our best picks for the top 10 luggage tags under $10:
If you are looking for cute luggage tags, this is probably the cutest one there is. They're bright, fun, sturdy, and has a good review rating on Amazon. What makes these bag tags unique is they come in three different shapes (pineapple, ice cream, and juice drink). It also has a sturdy steel loop and silicone material so it can withstand heavy pulling and prevent natural breaking, and of course, a notecard to write in your contact information.
This luggage tag retails on Amazon for $9.99.
If you are a big Disney fan, this Minnie Mouse Tag is one of the best Disney luggage tags from American Tourister. It has a somewhat flexible and adjustable luggage strap, made out of synthetic material that's good for the environment, and a place to insert your information card at the back. This luggage tag also comes with other Disney characters like Mickey Mouse, Cinderella, Darth Vader, and Stormtrooper.
This luggage tag retails on Amazon for $3.59.

When you have a luggage tag, it's rather easy for bag handlers and other travelers to see your name and contact information. If you're more on the cautious side, this travel tag is perfect for you. The set comes with two tags that are made with steel loops, high-quality rubber designed to be fully bendable to avoid any scratches and cracks, a back privacy cover, and an identification card. This travel tag is so highly rated on Amazon because according to reviewers, it's heavy-duty and so well-made.
This luggage tag retails on Amazon for $7.99.

The Travelambo Leather Luggage Bag Tags is one of the most highly recommended leather luggage tags. For the affordable price, you can get two tags per purchase. Each tag has a privacy flap that protects your information, a buckle made out of durable stainless steel, and a two-sided information card where you can put different contact information on each side. It also comes with 20 different colors so you have a wide variety to choose from.
This luggage tag retails on Amazon for $6.99.
If you are looking for a unique bag tag that's sturdy and can get the job done wherever in the world you may be, this one will work for you. This travel tag is useful if you're someone who uses simple bags but still wants that pop of color, especially when you're getting your bags in the airport carousel. Made with premium leather, it also comes with two different design travel tags, durable loop locks that ensure security and easy installation, and privacy covers to protect your personal information such as name and contact number.
This luggage tag retails on Amazon for $8.99.
Personalized luggage tags can be quite expensive but are worth the money if you're into unique things and custom-made.
This is made out of anodized aluminum, which makes it withstand every weather and climate. You also have the option to choose which strap you prefer (rubber loop or stainless steel), what information you want to put into your tag, and which color you like (black, gold, purple, red, and blue).
This luggage tag retails on Amazon for $8.99.
If you and your partner are going on a trip together or you're looking for a perfect wedding gift for traveling couples, this Mr & Mrs. Luggage tag is the best choice. It is also perfect as Valentine's Day or anniversary gift. Aside from being made out of plywood, this bag tag comes with an adjustable leather strap and an information tag at the back you can write on.
This luggage tag retails on Amazon for $9.99.
Don't you love it when you can bring your sense of humor anywhere you go? If you're into that, this is perfect for you. This luggage tag is made out from durable acrylic, comes with an information card that you can slip into the clear film window at the back, and has a vinyl loop that securely attaches to your bags. The best thing about this tag is you can select the style and color you prefer.
This luggage tag retails on Amazon for $5.25.
Having your initials on things makes it feel more personal and secured. If you prefer those kinds of luggage tags, this one from Shacke is perfect for you. It is composed of two initial letters on each side, has a privacy cover to protect your information, made out of high-quality rubber so its bendable and will not easily break, has a sturdy steel loop, and it's also easy to clean.
This luggage tag retails on Amazon for $7.99.

Luggage tags don't always come with the owner's information. Sometimes it's just used to identify your luggage from afar. If you prefer that, this Pomchies POM-ID luggage identifier is the one for you. This highly-rated bag tag from Pomchies is not only durable but also very versatile as it can also be used as hair scrunchie, added flair for pet collars and bags, and sometimes, even for costumes. It is also very durable, water-resistant, and is stain-resistant because it's made from soft swimwear fabric.
This luggage tag retails on Amazon for $5.95.
Takeaway
The next time you travel, make sure each of your bags has its own luggage tag, whether it's check-in baggage or a carry-on. Spot your bag easily and head out the airport without stressing out. Plus, it's fun to shop around for beautifully designed luggage tags anyway!