10 BEST Kids Luggage Kids Would Love & Moms Approved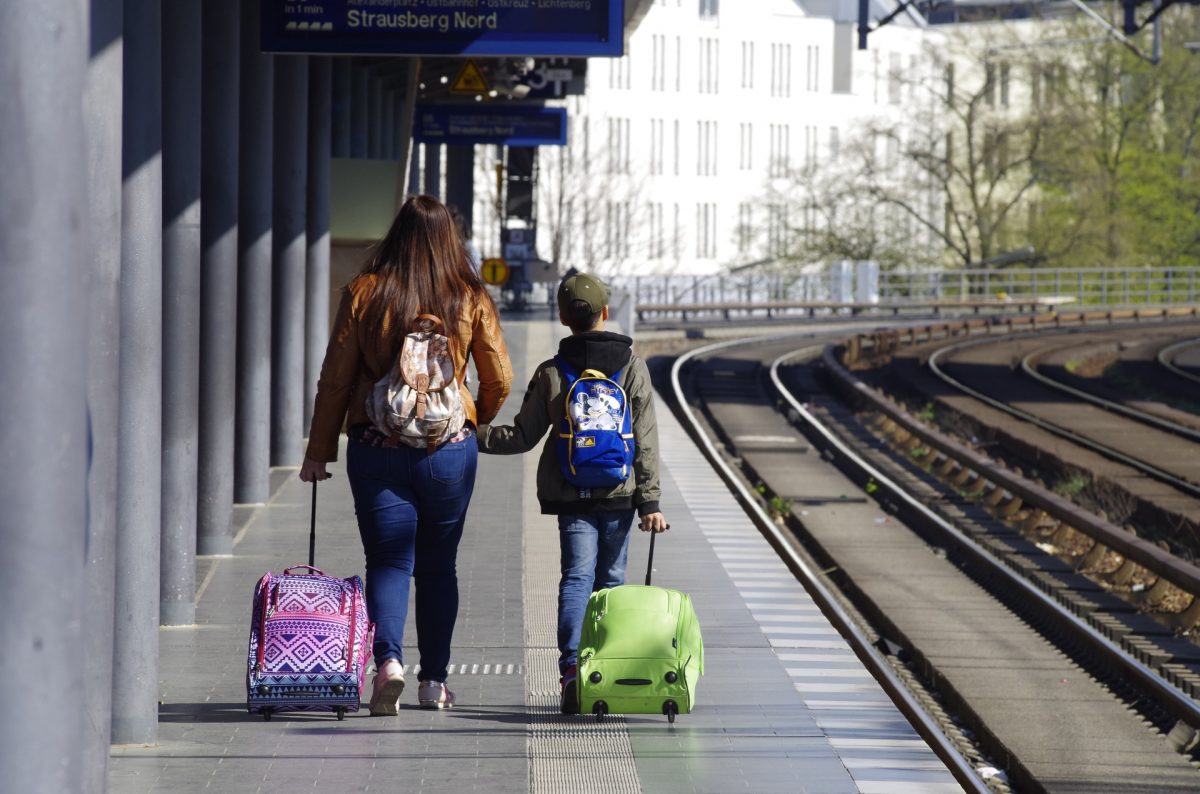 Traveling with kids is fun, but it requires a little organization to prevent topsy-turvy situations, especially on the plane. After all, the last thing somebody wants is to be disturbed by a crying kid because his parents forgot to pack any of his toys due to less luggage space. Yikes! Thankfully, there are many kinds of kids' luggage available in the market to save you from such an incident. In this article, we are giving you our curated list of the best kids' luggage you can buy, ranging from the flexible travel backpacks to the adorable suitcases with wheels.
Which Is Better For Kids: Backpack Or Suitcase?
The travel backpack is ideal for short trips, and especially if your kid has fewer items to bring. It supports flexible straps in which you can adjust to perfectly fit the bag on your child's back without sacrificing his posture. Not to mention, backpacks give you an assurance that your kids' items wouldn't be stolen whether your child gets too playful and forget all about his luggage.
On the other hand, rolling suitcases are much more convenient if you plan to travel on longer days. This is because this type of luggage carries more space than a normal backpack, and your child can just easily pull on the handle without carrying the weight on his back. Just make sure that the wheels roll smoothly to avoid annoying and petty accidents, such as tripping luggage on a busy lane.
Where To Buy Kids Luggage
There are many shops both physical and online that sell high-quality kids' luggage. For online shops, we have Amazon, eBags, Bed Bath and Beyond, Walmart, Target, and so much more. However, we recommend that you buy in physical stores so you can test and fit the items on the spot. This way, you can personally see the quality and immediately determine whether it matches your child's style and comfort. Also, you won't have to bother shipping the item back in case it doesn't meet your expectations. Saves time, money, and effort!
Kids Luggage On Wheels
1.
Rockland ABS Expandable Carry On Luggage
Every journey needs a strong and sturdy buddy for your kid. Rockland Expandable Carry-On Luggage is your ideal option for that. The roller luggage comes in a variety of colors your little one would love, including a shade of pink, navy, red, and more. Featuring a durable polycarbonate shell and ABS material, the luggage can withstand major impacts and gives you an assurance that the luggage is better among the majority of its competitors.
The item boasts 360 degrees spinner wheels that roll smoothly to give children, particularly the small ones, the ease of pulling their own luggage in style. The luggage also presents a great deal when it comes to locks. In fact, it features TSA-friendly combination locks for intense garment protection. Your kid can freely squeeze in his essentials inside as the luggage can hold up to 31 liters of storage, along with colorful under coverings, internal compression straps and a hidden laundry bag. The best feature of Rockland Carry-On Luggage perhaps is an ergonomic aluminum telescoping handle.
2.
American Tourister Disney Kids Hardside Upright
For years, American Tourister has remained to be the top producer of durable kids' luggage. That means, American Tourister Disney Kids Luggage takes the reputation to the next level in collaboration with Disney. It comes with four smooth-rolling wheels that spin 360 degrees, making it easy to maneuver even on rough surfaces, along with internal straps to hold all items in place and a large zip-around mesh divider that functions as an ideal compartment for kids' extra essentials.
Your kid will surely grab the chance of packing their own garments as this cute luggage for kids features Disney characters design that ranges from Star Wars, Disney princesses, and the like. Worried about having the luggage destroyed by strong impacts? Don't fret. The item is covered in a strong ABS plastic exterior, making it highly impact-resistant even if your kid steps and sits on top of it.
Also, the American Tourister Disney Kids Luggage offers easy to operate dual-tube pull handle that even little hands can manage without struggling. With these designs and features, your kid will surely love to have this luggage on your next trip.
3.
Heys America Travel Tots Kids 2 Pc. Luggage Sets
A list of the best kids' luggage wouldn't be complete without Heys America Travel Tots Luggage Set. Unlike the other luggage on this list, the product features an 18" carry-on luggage with 13" backpack that makes it seem you are hitting two birds with one stone!
It is the perfect travel companion for your kid as it doesn't only tout a variety of colorful animal designs to catch their eyes but also a sturdy exterior capable of handling low to high impact. The prints are also protected by a layer of clear coat, showcasing a head-turning sheen.
Inside, you'll find a vibrant polyester lining for the backpack and compression straps for the luggage to tightly pack items together. As for the locks, the product has no built-in security measures. It only comes with all-around zippers with loops to insert your lock on. Likewise, the luggage doesn't support internal or external pockets for the safekeeping of your small items. Heys America Travel Tots makes a great deal on Amazon for only $75 USD.
Kids Ride-On Suitcases
4.
JetKids By Stokke BedBox
There are many reasons why you should consider JedKids Bedbox as your kid's luggage for your next trip. One, it is made up of lightweight yet durable casing that can hold up to 35 kg of weight. Two, the 20L storage provides ample space for your kids' essentials such as garments and toys. Third, it has four smooth-running wheels so you can just wheel the luggage without any struggle in case you're running late for your appointment.
And last and probably the best feature, JetKids functions as your kids' leg rest or bed on the airplane to allow your kids to rest without carrying them or occupying too much seat space, which can be bothersome especially for long-haul flights.
What more, this luggage isn't only limited to plane travels. You can also carry this when you're venturing on buses or trains. While these highlights are indeed beneficial for traveling kids, it comes with a hefty price of $200 USD. If you don't mind shelling some extra bucks out, this luggage is worth your investment. Buy yours now at Amazon.
Touristsecrets tip: JetKids by Stokke Bedbox is a carry-on suitcase. However, make sure to ask your airline if any type of leg rest is allowed on the plane.
5.
Trunki Original Ride-On Suitcase
When it comes to kids' ride-on suitcases, Trunki doesn't come last. In fact, it is one of the most-loved choices of parents when traveling with their little ones simply because it is sturdy and can hold a decent amount of stuff including clothes, toys, a few books, and other must-haves. With internal pockets, elastic straps and lock, all of your kids' essentials are kept systematically and securely as your child moves along.
Your child can choose from an array of colorful designs such as Unicorn, Firetruck, Bee, Tiger. to perfectly fit his taste and style. Or, he can even customize his own Trunki by picking his ideal colors for the different parts.
Additionally, Trunki Original Ride-On Suitcase has horns used for steering and an adjustable shoulder strap that doubles up as a tow leash if your kid is in the mood to have some fun. This product is available on Amazon for $50 USD.
6.
O-Toys 2 in 1 Kids' Ride-On Luggage
Another ride-on luggage your kid will love is O-Toys Ride-On Luggage. Just like the majority of ride-on suitcases, this product features organizer bag large enough to fit all of your kids' important belongings, smooth-rolling wheels made from rubber, sturdy protection of ABS plastic covering, and a collection of modern and colorful design that will surely catch everyone's attention as you stroll along the way.
You can buy this cute luggage for kids at an affordable price on Amazon.
7.
ZincFlyte Kids Scooter Luggage
You can now travel in style with ZincFlyte Scooter Luggage. Unlike the other ride-on luggage on this list, this product is designed to be a cabin-sized suitcase, trolley, and a scooter. Now, your kid will not only develop a sense of responsibility in packing his must-haves but also practice his scooting skills inside or outside the airport.
ZincFlyte Scooter Luggage features 25 liters of storage capacity, perfect to fit all of your little one's necessities, including snacks and toys. It also features inner pockets and secure straps to hold all the items together. If your kid opts to use it as a trolley, fold it away, and it automatically locks in place to give you smooth rollers.
Unlike the majority of ride-on luggage on the list, ZincFlyte is made up of fabric with a stylish matte finish, so you have to go the extra mile of protecting the case from liquids and similar.
Kids Travel Backpacks
At first glance, you might think that this is a car seat for kids. You're not wrong. It's a travel backpack that doubles up as a booster seat, made perfectly for little children who often snooze en route. The 8-liter storage capacity is more than enough to pack all of your child's essentials, such as diapers, clothing, some toys, snacks, and a water bottle. However, it can be a little heavy when fully loaded so make sure to only store what they really need before your child sits on it.
BoostApak is made up of breathable and comfy back and shoulder pads, making it easier to carry as a backpack. The hard plastic internal covering shelters the contents of the bag, preventing them from being squeezed out when your child rests on it. It also supports a wipe clean removable cover in case you accidentally got the bag dirty.
Your child will be truly relaxed the entire duration of your trip, and you can also catch peaceful naps along the way. Grab yours at Amazon.
9.
Mountaintop Kids Backpack
If you're looking for a travel-cum-school backpack, look no further than Mountaintop. It is made up of water-resistant polyester, making it ideal for hiking, camping, and other activities. This backpack also has wide adjustable sternum straps, so they can be worn comfortably even for a long period of time.
Inside, you'll find a large main compartment for your kids' clothes, toys, and books, along with an organized wet-laundry compartment. Your kid can choose from a wide range of designs. For the price of $19.99 USD, Mountaintop backpack is a better investment than other large travel bags since it's timeless, lightweight, and versatile.
What are you waiting for? Grab one now at Amazon.
10.
Skip Hop Zoo Little Kids Backpack
Skip Hop Zoo Little Kid' Backpack presents a number of animal designs for younger children. With a side mesh pocket and a front pouch, your little one can hoard all of his stuff, including snacks and a water bottle. It also has comfy and adjustable padded straps so your little one can flaunt it with ease and fashion.
Don't forget to match the backpack with a lunchbox, straw bottle, and utensils, tailored specifically to the same design as the bag. Check the latest price here.
Choose A Kid's Luggage That Will Grow With Your Child
Having a durable kids' luggage is a good investment for traveling families. Alongside the design, choose something that is convenient to handle and won't easily break despite the transfers you undergo to and from the airport. After all, children are motivated to pull on their own luggage when they see that their bag is sturdy and customized the way they like it. A happy child means a happy parent!